21Uploads
10k+Views
14k+Downloads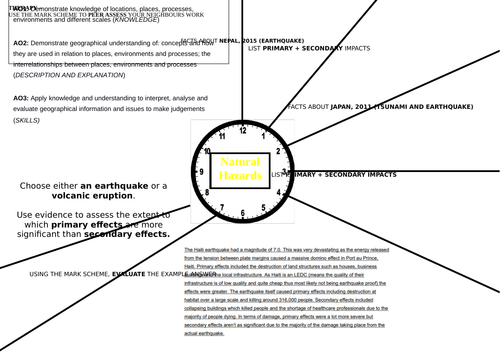 Revision clock adapted for use with AQA past paper question KS4 Natural Hazards, Paper 1 - Living with the physical environment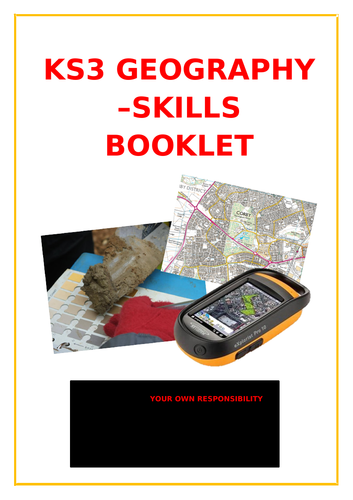 Geographical skills revision booklet for use with KS3 and KS4
Sorting activity (social, economic, environmental impacts of earthquakes) Use in KS3 and KS4 Challenge task included (Pinched and adapted from @mrfitzhist , Twitter)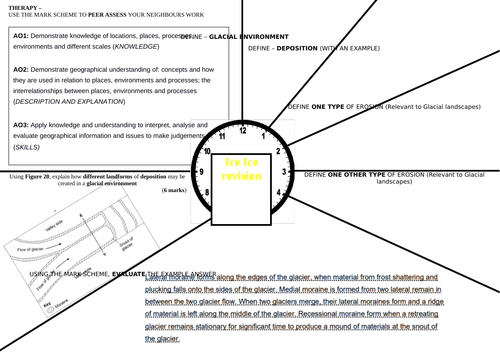 Revision material to use alongside AQA markscheme, developing literacy and GCSE style answers. KS4 Glacial environments. 6 mark question from AQA past paper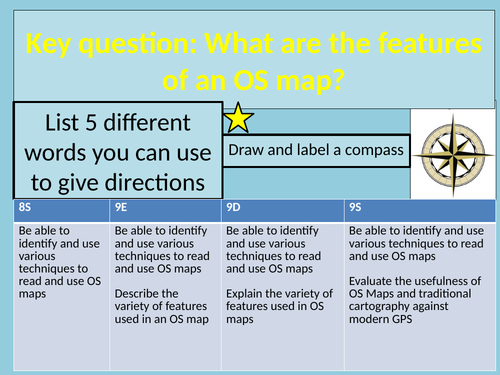 AQA Specification Geographical skills For use with KS3 and KS4 (Yr9 and 10), but could be adapted for younger years Introduction to basic cartographical skills (grid references, OS symbols, contour lines etc) Questions levelled for different abilities. "Star Challenges" for "Stretch and Challenge" OS maps are in reference to Corby but could be adapted to local area for increased engagement Videos embedded but can be located on Youtube LINK TO OS SYMBOLS CARDS : https://www.ordnancesurvey.co.uk/docs/teaching-resources/25k-map-symbol-flashcards.pdf FORTNITE/MONOPOLY summary ; Make a map using all the skills developed in lessons. Tested it out with our Year 9 classes and they LOVED it! (Creators - Mr Jonathon Chew and Miss Jennifer McDougall)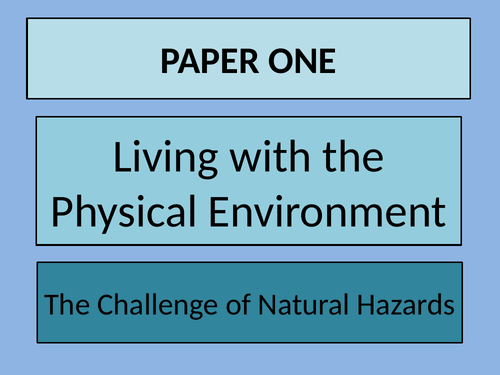 AQA Specification KS4 Living with physical environments, the challenge of natural hazards, Paper 1 Activities included, star marked challenges for "stretch and challenge"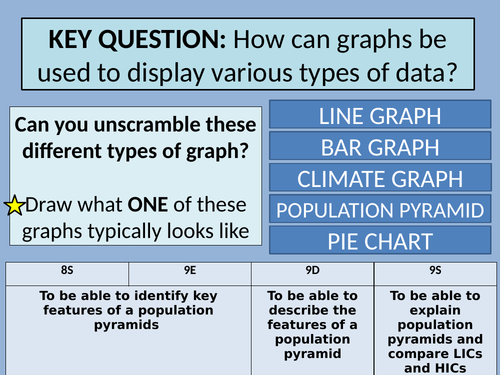 Following AQA specification KS3 and KS4 (Use for both Yr9 and 10) Skills lesson looking at how to interpret population pyramids Levelled questions in relation to materials (red to green with "challenge stars" for "stretch and challenge") Card sort for use with slide 4, activities 1 and 2 (highlighted in red)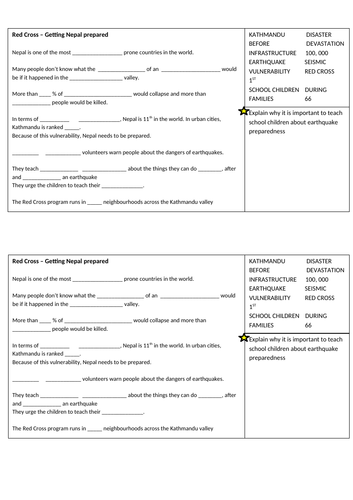 AQA Specification KS4 Living with physical environments, the challenge of natural hazards, Paper 1 Activities included, star marked challenges for "stretch and challenge" with question matrix Video link in PPT notes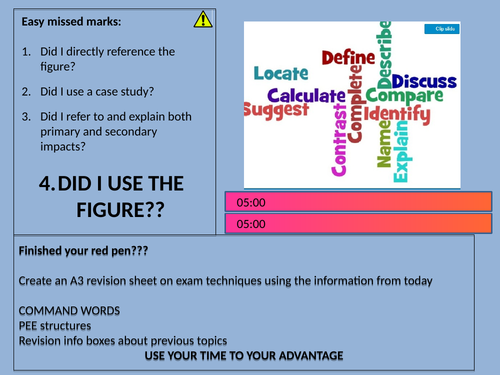 AQA Specification KS4 Living with physical environments, the challenge of natural hazards, Paper 1 Activities included, star marked challenges for "stretch and challenge" Video embedded Marking grid included with structure strip Materials for round robin included, resourced from other sites (however, I cannot remember where!)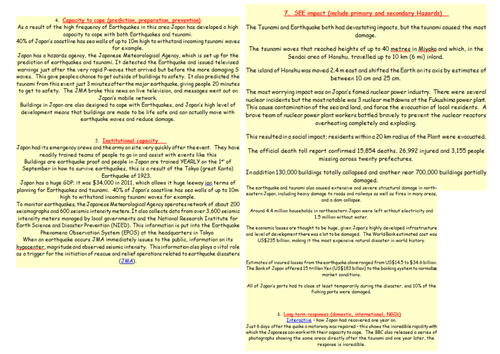 AQA Specification KS4 Living with physical environments, the challenge of natural hazards, Paper 1 Activities included, star marked challenges for "stretch and challenge" Video link in PPT notes Info sheet part adapted from "Coolgeography"
Based on AQA Geography (9-1), Hot Deserts. Some lessons require use of pages from the text book. 8 lesson topic, including full PowerPoints , resources and assessment/assessment rubrics. Lesson 1: Climate and background Lesson 2: Ecosystem/biodiversity Lesson 3/4: Opportunities Lesson 5/6: Challenges (human and natural) Lesson 7: Desertification Lesson 8: Revision, Exam question practice + peer assessment EDIT: "Example answer snippets" added for lesson 4 Re-upload of Lesson 6 and 7 to correct errors.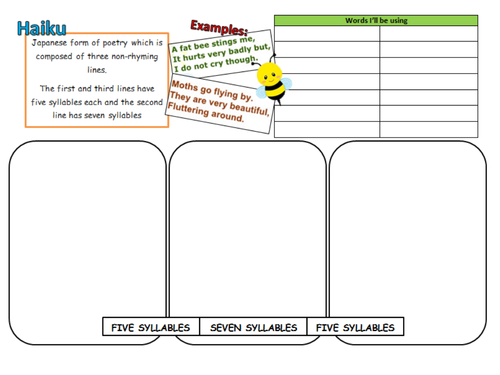 **Inspired by having a very sore throat and nasty cold! ** Minimal speak tasks for teachers. Hand out the challenge sheets as students arrive, let them loose and encourage them to share their poems at the end! KS3 Tasks focused on developing literacy and oracy Developing independent learning Persuasive and creative writing development Includes challenge levels for more able students (Secured) Mini Thesaurus adapted from Pinterest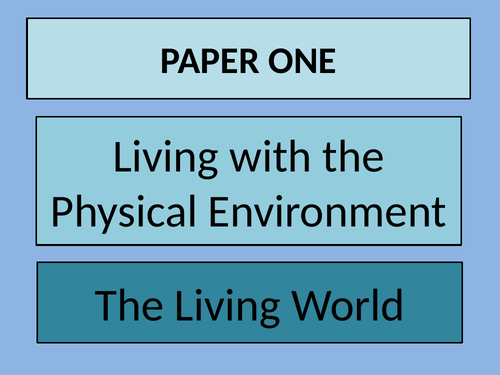 AQA Geography Paper 1 Living World Case study lesson on Borneo with Rubix cube opportunities and problems activity
For practicing the verb "to go". Past, positive and negative. Scaffolded to develop both questions and answers. Requires a medium level of hirigana.
Power Point and "fact posters" AQA GCSE Geography (however, could be adapted for other exam boards). Exam question practice with mark scheme (adapted from AQA). Compare and contrast language focus. Video section with link in comments. Homework included.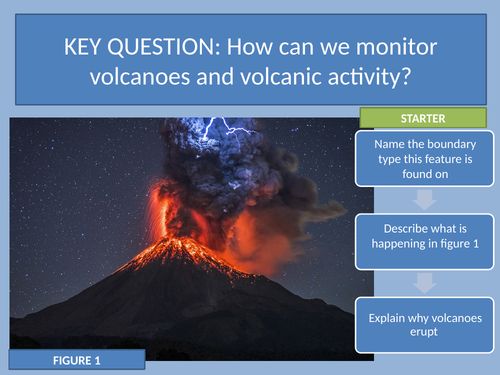 AQA Specification KS4 Living with physical environments, the challenge of natural hazards, Paper 1 Activities included, star marked challenges for "stretch and challenge" with flash card activity and "naughts and crosses" style plenary.
For practicing the verb "to watch". Past, positive and negative. Scaffolded to develop both questions and answers. Requires a medium level of hirigana.
A 10 lesson narrative writing unit. Includes a PowerPoint for each lesson, worksheets, assessment sheet and self assessment/teacher assessment rubrics. Focus on use of simple past and past continuous, along with developing vocabulary. Student led, encouraging independent thought and discussion. Follows "Ready to Write 1" (Karen Blanchard & Christine Root, 2017) Used in Japanese highschool for English writing class. (Homework on conjunctions not included). NOTE: There are 6 "lessons". 5 that are teacher led, and one assessment lesson. Lessons were created for use in 100 minute class (15 minute break inbetween). Therefore, each lesson could be split into two and points expanded upon!
Based on AQA Geography (9-1), Rainforests. Some lessons require use of pages from the text book. 8 lesson topic, including full PowerPoints , resources and assessment/assessment rubrics. Lesson 1: Climate and background Lesson 2: Ecosystem/biodiversity Lesson 3: Deforestation (causes) Lesson 4/5: Deforestation (impacts) Lesson 6: The value of the rainforest Lesson 7: Managing rainforest environments Lesson 8: Revision, Exam question practice + peer assessment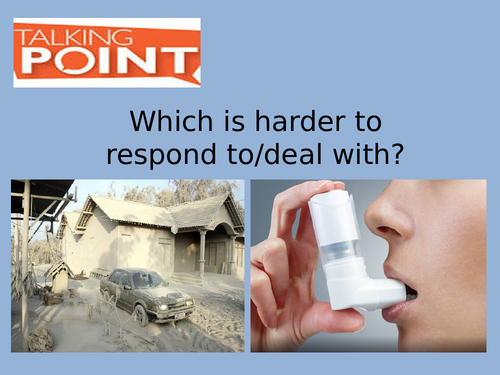 AQA Specification KS4 Living with physical environments, the challenge of natural hazards, Paper 1 Activities included, star marked challenges for "stretch and challenge"