NorthSide Classroom
K-12 Digital Lesson Plans
15Uploads
472Views
20Downloads
K-12 Digital Lesson Plans

"The Polar Express" Lesson Plan This lesson includes: Benchmarks Pre, Post, and During Reading Activities Comprehension questions Sequencing Retelling of the story Plot, Character, Setting, Problem Chart Word Sorts Happy Holidays! Jenna J.

Simple Machines Unit (29 pages): identifying, defining, and labeling 6 simple machines explaining the use of simple machines in every day life understand that simple machines are a part of larger machinery new vocabulary 3 types of work; push, pull, and lift be able to explain the purpose of simple machines the position and tools tools and safety the lever and its parts the inclined plane the pulley the screw the wedge the wheel and axle labeling charts background knowledge assessment Happy Teaching, Jenna J.

Map Skills Unit; 20 pages After this unit students will be able to: identify major elements of maps be able to create their own map be able to use a map to locate places understand that different maps serve different human needs use a compass rose to identify a direction of travel find coordinates of a certain place Have Fun Teaching, Jenna J.

Rounding Whole Numbers Pack is an 8 page booklet with visual explanations on rounding rules and practice worksheets. Ideal for students in grades 3-5. Happy Teaching! Jenna Jons

Natural Resources Unit: 18 pages natural resources renewable and non-renewable resources flow resources difference between renewable and non-renewable and their costs importance of resource conservation how humans use natural resources identify raw resources and their uses new vocabulary Jenna J.

Binary System Conversion Lesson Plan - is a visual, step-by-step guide for students in grades 8-12 and all others who are knew to computer coding. The lesson plan consists of examples on binary to decimal conversion and decimal to binary conversion, as well as, post lesson knoweldge application/practice. Happy Teaching! Jenna Jons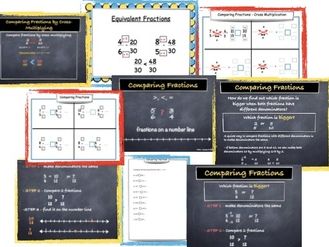 Comparing fractions when denominators are the same and different. Comparing fractions by cross multiplying, and by making denominators the same. 9 pages of visual problem solving Thank you, Jenna J.

Christmas Math - Boom Cards A fun, interactive, online math game for kids ages 5-7. Concepts covered: Patterns Number sequence Reading calendar Skip Counting Counting Sorting More, Less, Equal This resource is great for: Math practice Mini lesson Math centers Distance Learning Homework Early finishers Have Fun Learning Math :) If you have any questions about Boom Task Cards access, please email me @ jennajonscreations@gmail.com

258 page, STEM Challenges YEAR BUNDLE 50+ Challenges and Science Stations Bridge Building Challenges Mixture & Solutions Challenges Liquid Density Challenges Water Surface Tension Challenge Solar System Model Challenge Change of Matter Challenge Laws of Motion Challenges Center of Gravity Challenge Anti- Gravity Challenges Magnetic Field Challenges Buoyancy Challenges Boat Building Challenge Tower Building Challenge Make a Levitator Challenge Water Cycle Challenges Air Resistance Challenge Landforms challenges Build a Short Circuit Challenge Build an Energy Efficient God House Challenge **Have Fun Teaching! Jenna J. **

This is an original, 93 page Summer STEM Pack Bundle. Bound to fill your summer with fun and STEM learning. Aligned with curriculum standards and cross cutting curriculum. This booklet is packed with challenges and activities from building bridges, weather tool and robots to experimenting with magnets and making lavitators. Happy STEMing! Jenna Jons

Earthquake Unit, 21 pages, includes the following: Earthquake origination Earthquake wave types Determination of an epicenter Identification of earthquake zones on Earth Earthquake strength The relation of the type of earthquake and destruction Earthquake simulation, hands on engineering activity Happy teaching, Jenna J.

Scarcity Reading Daily Choices Activity - cost and benefit Opportunity Cost The Story of Three Little Pigs Post Lesson Questions & Answers - Needs & Wants Scarcity - needs and wants Word Search

29 page, "Animal Classification" Unit classification of mammals, birds, reptiles, amphibians, and fish comparing and contrasting background information and assessment of each group unique characteristics animals in your community Have Fun Teaching, Jenna

17 page, Polar Regions - Arctic and Antarctic lesson covers: characteristics of the polar regions polar adaptations plants and wildlife characteristic to each region post assessment answer sheet Happy Teaching, Jenna J.

"We Are All Greta: Be Inspired to Save the World" - Lesson Plan" by Giannela- Lesson Plan/ Discussion Guide. This is a cross curriculum science and social studies text, ideal for intermediate grades. Concepts covered: emissions, vulnerability, resilience, migration, sustainability, deforestation, renewable and non-renewable resources, biodiversity, urban and rural centers, etc. This lesson pack includes: pre, post, and during reading activities reading comprehension questions extension resources; Ecological footprint, carbon-dioxide emissions, 4Ocean, & a radial plan to end plastic pollution word search This file is available in Google Classroom as well. If you would like access please email me @ MrsLenaMed@gmail.com