10Uploads
11k+Views
5k+Downloads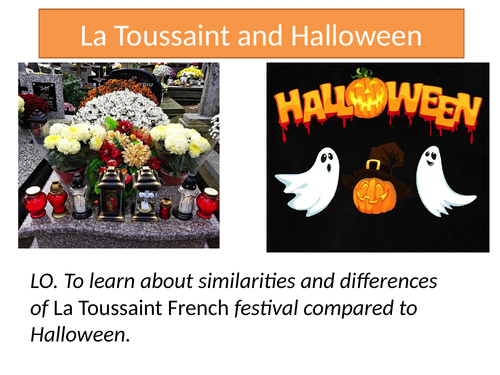 The PPT covers 19 slides for: an active task to find information related to La Toussaint festival (with student question sheet, and lower ability help sheet) chorus repetition task for 12 sets of Halloween vocab in French (with pictures) song / video task to apply the vocab in a fun way (with a lower ability version) video in English to discover more on the French Toussaint customs both in France and in Guadeloupe. plenary task of True / False Teacher notes are included in the PPT note sections. The lesson is meant to last for about 1 hour. It would be suitable for KS3 and KS4, and it is linked to GCSE festival topic.
Booklet and slides to study the** French film 'Une vie de chat' (A cat in Paris)**. The resources are designed to last at least 3 lessons (1 hour x 3), with a bit of the film to watch each time. My y8 students watch it in French with English subtitles (1 hour film) Students will study the trailer, Paris landmarks and the characters. I included two sentence builders to support their writing tasks (past tense and opinions) I made a Kahoot to check comprehension, the link is provided. Answers are all provided on the slides. I included some free resources produced by Discovery Film Festival. **If you like my resource, please: check out my other video-based resources leave a review Thank you.
Based on the French film 'Ma vie de Courgette' (2016) available in French with English subtitles. DVD to be purchased separately with online retailer. It is a great film (lasting 66min) which I used to engage my year 9 mixed ability classes and it is a good resource to describe characters and discuss serious Friends and Family themes. I did slides to accompany the film, and there is enough for two to three hours of lessons: pre-viewing activities with the poster and main characters, including a dictation activity, matching up tasks, speaking task. (with answers on slides) a writing task as a plenary after viewing. questions post-viewing to discuss the main topics (in English, but it can be translated to challenge top sets). No set answers, as this is to generate discussions. Also a plenary writing in French to wrap up the film study. a total of 22 slides, with Notes under the slides for guidance. a printable worksheet based on the slides activities to hand out to students. additional free worksheet resources Please leave feedback and check out my other video-based resources. Thanks.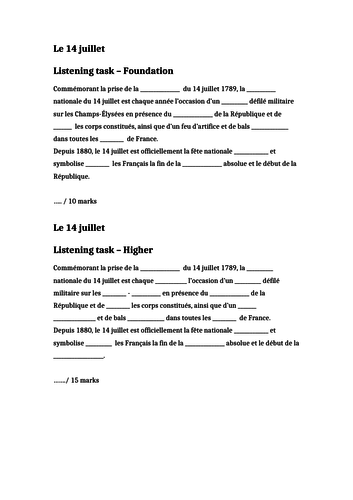 Resource used with my year 9 to teach key facts about the significance of the French Revolution and the meanings of the French Celebration of 14th July. It links in the GCSE Theme 1 (Customs) and it provides cultural awareness. PPT has 27 slides and covers two lessons with: 2 cultural starters Fact finder activity with worksheet (differentiated) and slides (to print out to display around the room) extension with a historical timeline to create. mini plenaries (short quiz, game, Q&A…) links to youtube videos: 1. historical fact recap (in English), 2. a fun song parody, 3. French TV of 14th July parade, 4. Extract of Les Miserables (English) and La vie en rose (French) a listening gapfill (teacher reading it out, differentiated worksheet) link to Studio 2 Vert (No screenshot due to copyright) This is probably more for lower set y9 or early KS3 due to the easy structures and input in English, but the videos are lighthearted to engage students. (Updated slides, with links seen on the slide now)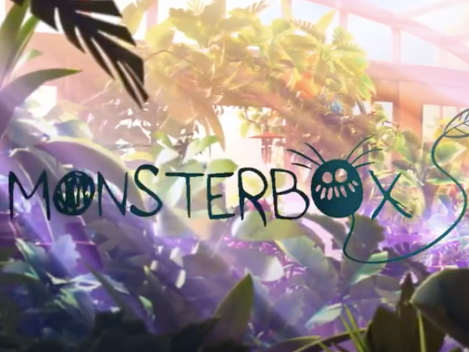 One-off lesson based on Monsterbox animated film, to use basic French phrases and colors and apply them in a different context. Looking at a different way to engage your class? Try this lesson to extend student's curiosity on how animated films are created and discover the concept artists behind the scenes. Here's a resource based on the short animated film called 'Monsterbox' (7min 40), available online. Synopsis: The quiet life of an old flower shop owner is interrupted by the constant visits of a little girl who wants to find a house for each of her little monsters. There are no dialogues, so the film and its themes are the basis for different activities I created for my year 7 French classes. The resources are for one lesson in French, aimed at year 7 / KS3: PPT with 16 slides, answers provided (no answers for the open questions in English) Worksheet (3 pages) for the tasks seen on the PPT Tasks are : labelling characters / objects seen in the film (words in French, to recap on key words and colors) comprehension questions (one in French, one in English) three follow up tasks (in English) to engage students with the themes and to raise awareness of the French concept artist and his methods for character design. Please leave feedback and also check out my other film-based resources, thanks!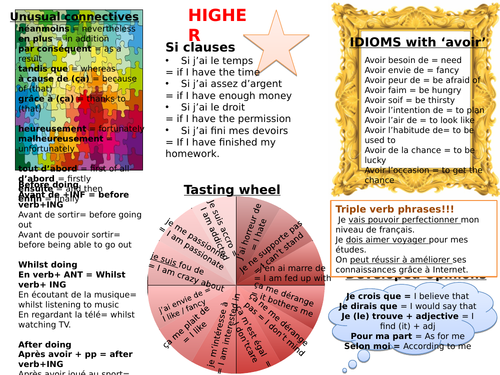 A collection of words and phrases for Foundation and Higher levels for GCSE French to support students during writing and speaking practice. Applicable to any topics. I borrowed another TES contributor's layout and visuals, but I collated the vocab and phrases to show students what they should use in their writing and speaking to score well under the language criteria. You can either print off double sided and laminate to use as table mats. Or it is also designed to be folded to create a triangle standing up as a table talker shape. Reviews are also appreciated, thanks!
A one off lesson using a short film called 'French Roast' (8min). - Two pre-activities on the main characters (a customer, waiter, nun, policeman, beggar) and objects. - Two tasks to do whilst viewing, with model answers. - Three follow up activities: short summary with suggested vocab, themes to link with characters, short task on tenses in the film context. - Links to online streaming of film (Free) The film is easily accessible as there are little French spoken. It is more a springboard to use to describe the pictures and express themselves. Perfect for year 11 or AS French, as this helps with picture descriptions, summary skills, complex sentences, and social issue topic. Quick enough as a one off session. Please leave feedback and check out my other video-based resources. Thanks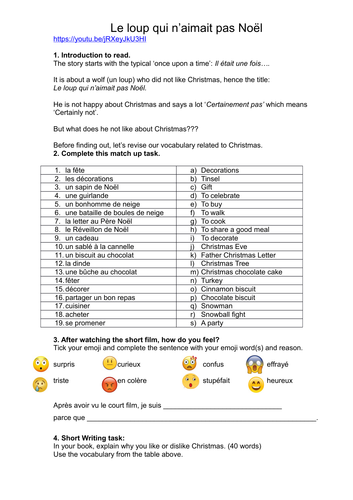 This is a worksheet to study and enjoy a good Christmas story with the famous French Loup. It links with the youtube video to the book with spoken story lines. It is accessible to KS3. The worksheet has pre-listening vocab to prepare students, and has a post listening tasks (opinion and writing task) Enjoy and please review. UPDATED alternative versions of the worksheet are available too, to make it more accessible.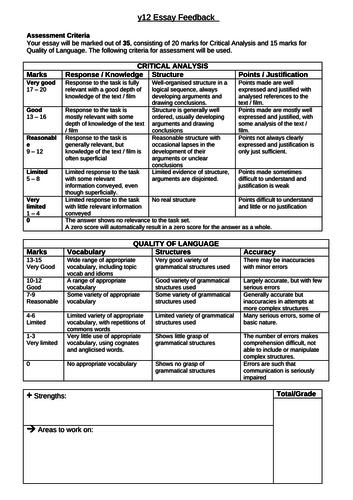 This is based on AQA A level criteria to evaluate the Literature and Film Essays. I broke it down into smaller categories so that my students can see quickly where their strengths and weaknesses are. And it makes it easier and quicker to grade essays. There are two versions: one for AS level and one for A-level. If you find this resource useful, please leave feedback!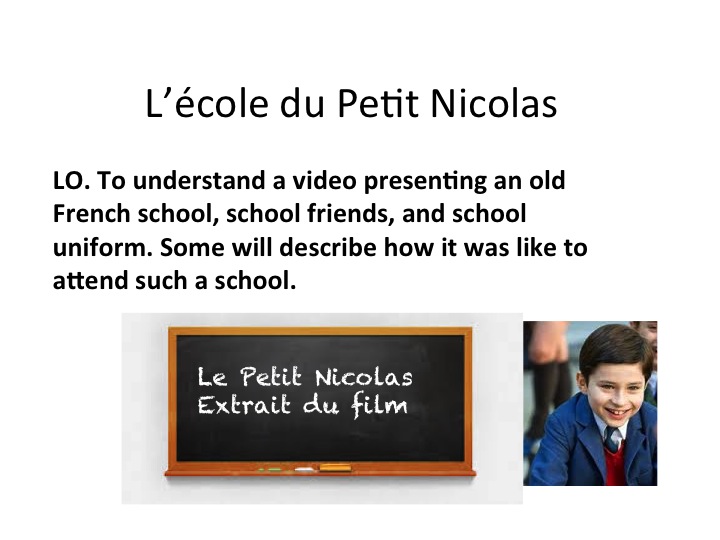 One lesson to revise school topic using the famous Petit Nicolas film (short extracts only). To be used after covering school topic (uniform, rules, building, subjects etc). To apply the use of the Imperfect tense. To extend writing with opinions. This resource includes 5 slides: - title and LO - speaking activity to describe a picture showing the school friends - listening activity based on selected short extracts from the film (video included), including answers - writing activity to apply topic vocab, Imperfect tense, with Higher tier opinions.