15Uploads
10k+Views
4k+Downloads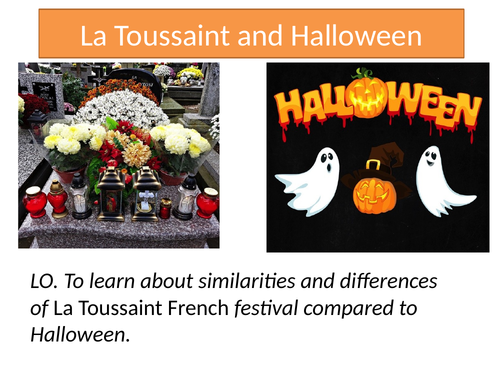 The PPT covers 18 slides for: an active task to find information related to La Toussaint festival (with student question sheet, and lower ability help sheet) chorus repetition task for 12 sets of Halloween vocab in French (with pictures) song / video task to apply the vocab in a fun way (with a lower ability version) plenary task of True / False Teacher notes are included in the PPT note sections. The lesson is meant to last for about 1 hour. It would be suitable for KS3 and KS4, and it is linked to GCSE festival topic.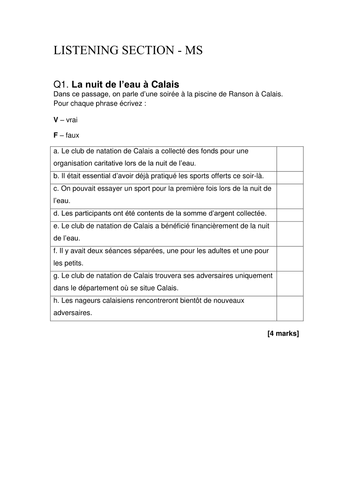 This assessment mirrors in format and marking the Paper 1 AQA new French AS exam. The resource includes: - Student paper - Marking schemes - Audio file The test covers the Benevolat (Volunteering) and Patrimoine (Heritage) units. There are 2 listening activities, 2 reading activities, 1 translation into English.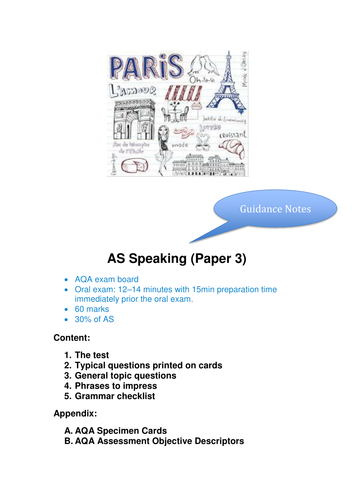 This 10 page document covers: - the AQA speaking test (summary of test format, timings) - typical test questions on the stimulus cards - typical topical questions (to get used to handle topic related questions on the 6 AS topics) - list of phrases to impress examiners - grammar checklist (to show what is expected) These notes follow the new AQA AS level French. I handed it out to my students for their revision and to guide their self-study. A complement to this resource is to download from AQA website the specimen cards and the assessment criteria.
This resource is now updated, with an additional resource and updated documents! This bundle is meant to be used as a complement to lessons, as a way to consolidate book knowledge and to focus on critical analysis. It follows the new AQA Spec for the book No Et Moi by Delphine de Vigan. This bundle contains: a comprehensive booklet (28 pages) to support the study of key passages. Answers are not included due to copyrights, as I got my inspiration for answers from other bought resources online and in study guides. activities (6 pages) to explore the 6 main characters (through adjectives, translations, quotes, symbolic details) activity on 44 key quotes relating to the main themes (Long list of quotes taken throughout the book to stick under the correct themes) an annotated essay on the theme 'L'exclusion sociale' (There is another exemplar essay published by AQA, available on their website) a list of 19 essay titles for AS and A level (the 4 titles in the Specimen Papers and the rest are inspired by specimen essay titles published by AQA) Please leave feedback, it is always appreciated to hear back! Thank you.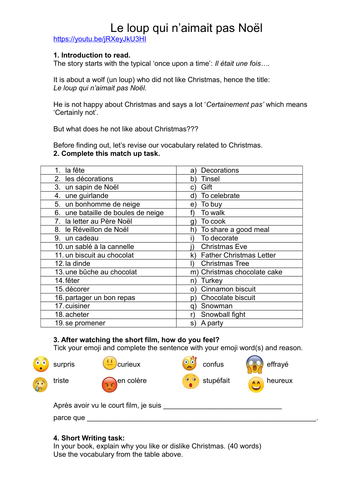 This is a worksheet to study and enjoy a good Christmas story with the famous French Loup. It links with the youtube video to the book with spoken story lines. It is accessible to KS3. The worksheet has pre-listening vocab to prepare students, and has a post listening tasks (opinion and writing task) Enjoy and please review. UPDATED alternative versions of the worksheet are available too, to make it more accessible.
Resource for one lesson focusing on the new A-level French Spec topic of Heritage, looking at one particular French place: Viaduc de Millau, and addressing the question whether new structures can be considered part of France's heritage. LO. To describe a modern architecture, to get the gist of a description, to express opinions on modern works. This resource includes 8 slides: - LO slide - brief information and facts on the site - video activity - interactive map to discover the site - grammar point - listening activity - questions for speaking activity - link with one text in textbook referenced in this resource
Based on the French film 'Ma vie de Courgette' (2016) available in French with English subtitles. DVD to be purchased separately with online retailer. It is a great film (lasting 66min) which I used to engage my year 9 (after they have chosen their Options!) and it is a good resource to describe characters and discuss serious Friends and Family themes. I did slides to accompany the film, and there is enough to do two to three hours of lessons: pre-viewing activities with the poster and main characters, including a dictation activity, matching up tasks, speaking task. (with answers on slides) a writing task as a plenary after viewing. questions post-viewing to discuss the main topics (in English, but it can be translated to challenge top sets). No set answers, as this is to generate discussions. Also a plenary writing in French to wrap up the film study. a total of 22 slides, with Notes under the slides for guidance. a printable worksheet based on the slides activities to hand out to students. Also, my slides link with supporting worksheets (from external free source) to extend and to adapt to age group and extension activities based on a free guide (but it needs to be tailored to your group ability and interest) Please leave feedback. Thanks.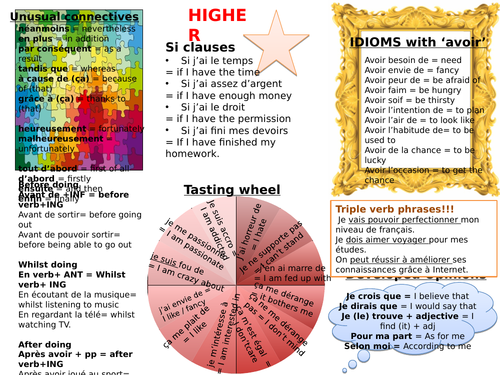 A collection of words and phrases for Foundation and Higher levels for GCSE French to support students during writing and speaking practice. Applicable to any topics. I borrowed another TES contributor's layout and visuals, but I collated the vocab and phrases to show students what they should use in their writing and speaking to score well under the language criteria. You can either print off double sided and laminate to use as table mats. Or it is also designed to be folded to create a triangle standing up as a table talker shape. Reviews are also appreciated, thanks!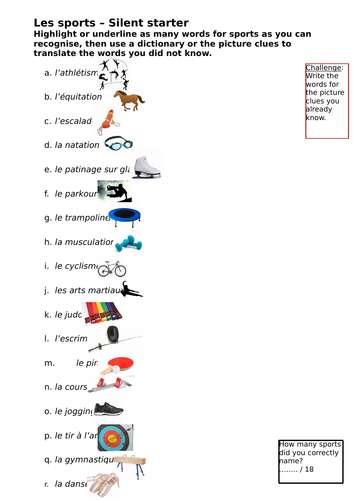 A quick starter to assess prior knowledge and develop students' skills (dictionary / translation) on leisure / sports / fitness / physical activities. With useful visual clues and extension. Done for y9 French with a view to teach non-cognates sports vocab required at KS4.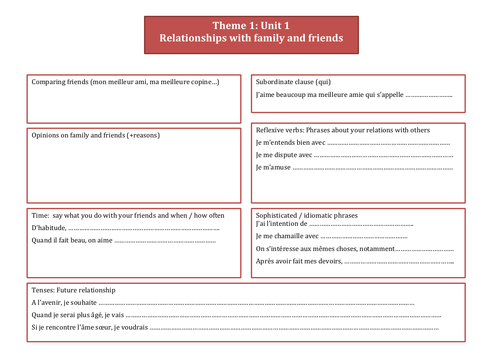 The 6 worksheets are templates for students to complete on their own (with the vocab mats and some teacher / peer guidance) during GCSE French revisions. It is designed as a revision tool to focus on key vocab and grammatical structures, which can be learnt to support both speaking and writing tasks. They are mixed-level sheets. There is one page per sub-topic (see list below), see a pdf as an example. The organizers cover most sub-topics in all 3 themes. (Updated, with sentence starters for all 6 worksheets) **- Family, friends, relationships Technology Freetime Home and town Holidays and travel School** All 6 files are zipped, which, once downloaded, will open as Word document, so you can adapt if necessary. I have included all the vocab mats I have collated along the way, I have included them for free, as I used the published list, which are then updated and organized to help students. Feel free to use.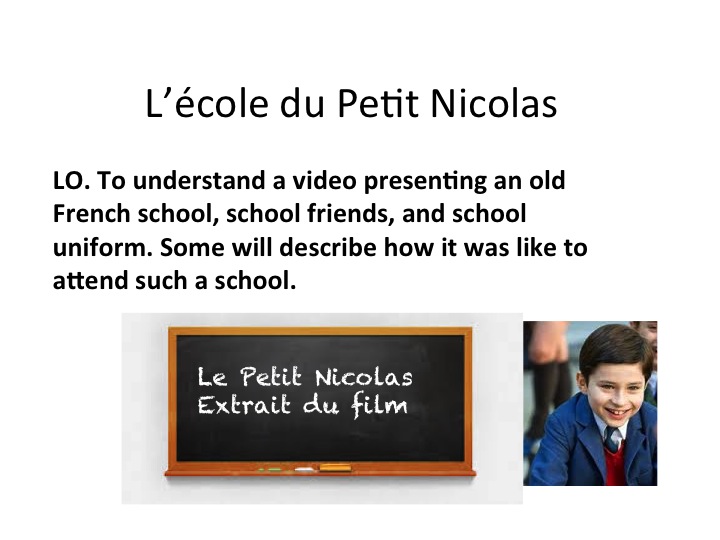 One lesson to revise school topic using the famous Petit Nicolas film (short extracts only). To be used after covering school topic (uniform, rules, building, subjects etc). To apply the use of the Imperfect tense. To extend writing with opinions. This resource includes 5 slides: - title and LO - speaking activity to describe a picture showing the school friends - listening activity based on selected short extracts from the film (video included), including answers - writing activity to apply topic vocab, Imperfect tense, with Higher tier opinions.
A one off lesson using a short film called 'French Toast' (8min). - Two pre-activities on the main characters (a customer, waiter, nun, policeman, beggar) and objects. - Two tasks to do whilst viewing, with model answers. - Three follow up activities: short summary with suggested vocab, themes to link with characters, short task on tenses in the film context. - Link to online streaming of film (Free) The film is easily accessible as there are little French spoken. It is more a springboard to use to describe the pictures and express themselves. Perfect for year 11 or AS French, as this helps with picture descriptions, summary skills, complex sentences, and social issue topic. Quick enough as a one off session.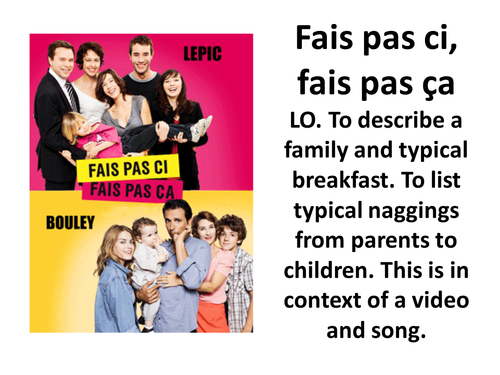 Engaging way to introduce the French AS topic of family by revising family / daily life vocab through a modern TV programme. Followed up by a detailed study of the song (taken from the opening credits) to be able to list common reasons why parents nag children. It was a great starter of the unit 'La famille en voie de changement' and it enthuses students to check out the TV series and listen to music. LO. To describe a family and typical breakfast. To list typical naggings from parents to children. This is in context of a video and song. PPT (14 slides) - info on TV series and singer - link to the series episode studied in the lesson ( to stream on You tube) - link to song, one of which with visuals to differentiate (to stream on Youtube) - answers to activities - worksheet for song gap fill (separate Word doc)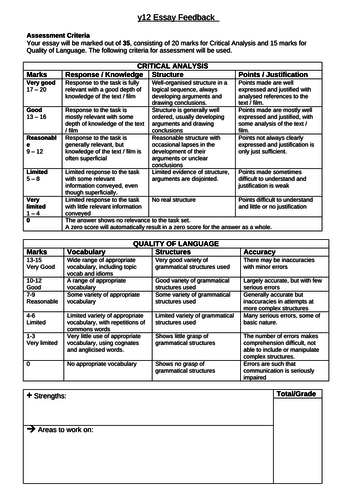 This is based on AQA A level criteria to evaluate the Literature and Film Essays. I broke it down into smaller categories so that my students can see quickly where their strengths and weaknesses are. And it makes it easier and quicker to grade essays. There are two versions: one for AS level and one for A-level. If you find this resource useful, please leave feedback!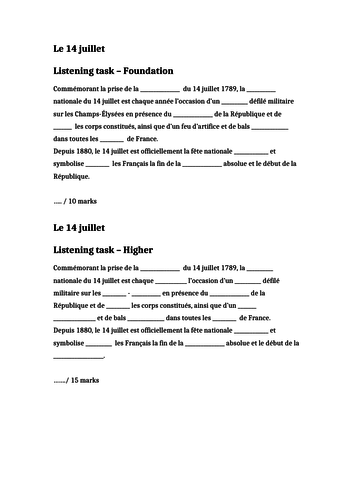 Resource used with my year 9 to teach key facts about the significance of the French Revolution and the meanings of the French Celebration of 14th July. It links in the GCSE Theme 1 (Customs) and it provides cultural awareness. PPT has 27 slides and covers two lessons with: 2 cultural starters Fact finder activity with worksheet (differentiated) and slides (to print out to display around the room) extension with a historical timeline to create. mini plenaries (short quiz, game, Q&A…) links to youtube videos: 1. historical fact recap (in English), 2. a fun song parody, 3. French TV of 14th July parade, 4. Extract of Les Miserables (English) and La vie en rose (French) a listening gapfill (teacher reading it out, differentiated worksheet) link to Studio 2 Vert (No screenshot due to copyright) This is probably more for lower set y9 or early KS3 due to the easy structures and input in English, but the videos are lighthearted to engage students.