Lively Learning!
Lively learning activities for all ages and curriculum areas.
229Uploads
37k+Views
18k+Downloads
Lively learning activities for all ages and curriculum areas.
CHRISTMAS IS NEARLY HERE! 10 GERMAN CHRISTMAS WORD SEARCHES, DIFFERENTIATED WITH ANSWER KEYS! My younger students really love word searches, as they like to learn independently and work their way through the increasing challenges of the word searches. My Christmas word searches are a real winner - the Christmas-theme seems to be a great motivator! There are 33 German Christmas words, and I've chosen a selection of more generic Christmas words, and also some which are very German-specific, such as Sankt Nikolaus and Knecht Ruprecht. and we definitely don't attempt to learn all these - the objective of the word searches is to engage with German, to really focus on the individual words, genders and articles, and to have lots of practice at general recall of vocab. There is an increasing challenge through the grids, and that differentiation does ensure that all students are challenged. I've included 5 German to German grids, with a vocab list to fill in too. There are also five English to German grids, with a vocab list to complete - that's a great way to really get students' recall skills working! Students can identify the level of challenge by the increasing size of the grid, number of words to search for, and the direction the words appear in, which they can see by the direction of the arrows at the top of the grids. Answer keys are essential in my view, and I always give them to students. Not only are they a great teacher-time saver, they really do give students an additional opportunity to engage with language - they also love to 'mark' each other's work! I've put a couple of extra challenges in too, to encourage students to look really carefully at the words - for example, they may have to find 'CANDLE' and work out what that is in German - only the prompt DIE ADVENTSKERZE appears in the reference list. The word searches are really versatile - we use them as starters, refreshers, for sub lessons, free-choice activities and or fun-time fillers at any time during the CHRISTMAS season. My students really like the challenge of working their way through a number of grids on one go too! I've uploaded two versions of the word searches and keys - either with a color or B&W background — you may prefer to print in B&W to keep prep costs down. Laminate the answer keys if you can - they'll last for many CHRISTMASTIMES to come! There are 6 non-editable files. The product is copyright, and may not be share or copied in any way - the license is a single-user license only. Please read my TERMS OF USE carefully. VIELEN DANK UND FROHES WEIHNACHTSFEST!
198 HIGH-FREQUENCY SPANISH VERBS IN THE INFINITIVE FORM I've always used these kinds of games cards for essential vocabulary with my students - they really do give them a flying start with a wide range of verbs they'll find essential throughout their language programme. The cards are really versatile, and I've described several games and activities that have worked well for me and my groups that you can try with your students. There's definitely some prep involved - with 198 verbs in both SPANISH and ENGLISH, there are 396 cards in total - I always laminate resources like these because they stay in excellent condition, and I can use them for years! I don't always distribute entire sets though - students can play with a select number of verbs, according to which ones you might want to focus on - but a random selection works really well too. The workbooks both have 18 pages, and are print-out and photocopy. There's a full alphabetical SPANISH-ENGLISH verb list in each workbook, with a NOTES AND NEXT STEPS template. I always encourage students to revisit the template on a regular basis, as this helps them to map their own progress. There are 3 differentiated challenges in the workbooks. The first is a straightforward recall and write from an alphabetical SPANISH prompt. The second prompts with the individual SPANISH verbs too, but in random, rather than alphabetical order. That's a slightly increased challenge. The third prompts with an ENGLISH verb, as recalling the verb in SPANISH and writing it correctly, is definitely a further challenge. To get the best from the cards and workbooks, I'd recommend you let students work with them at regular intervals during the school year, even across a number of school years - more advanced learners always benefit from going back to the start from time to time in my experience! There are 4 non-editable files in a zipped format. They're also available individually each priced at £3.00. Please use the TERMS OF USE carefully: the resource is copyright, and for single-teacher / purchaser / classroom use only. ¡MUCHAS GRACIAS Y QUE OS DIVIRTÁIS!
Great for quick conjugation recall practice! This is a bundle of ten 'quick conjugation' workbooks, which provide students with lots of opportunities to practise how to conjugation a range of high-frequency verbs in German. The workbooks feature regular, irregular & mixed, separable & inseparable verbs across three tenses: present, perfect and imperfect. One of the workbooks focuses on verbs taking SEIN in the perfect tense. There are 150 conjugations in each workbook, with an individual focus on 25 high-frequency verbs. That's 1,500 quick conjugations in total. There is a complete answer key for the individual workbooks too - my students really like to have the answer keys, as they find it enables them to work more independently, and they benefit from both self and peer assessment. I give my students regular and frequent chances to revisit the workbooks, including noting their thoughts on the NOTES AND NEXT STEPS template. That really does help them to focus on their progress. Even my advanced students get the chance to go 'back to the beginning' and work quickly through the conjugations, just to be sure that they have really grasped the concept. I use the workbooks as classwork, as homework, as 'free choice' resources, holiday refresher and revision work, and also as focused activities for cover/sub lessons. They really do work well in a broad range of contexts. IN THIS BUNDLE: RESOURCES 1-3 25 high-frequency regular verbs, conjugated in the present, perfect and imperfect tenses RESOURCES 4-6 25 high-frequency irregular and mixed verbs, conjugated in the present, perfect and imperfect tense RESOURCES 7-9 25 high-frequency regular and irregular separable verbs, conjugated in the present, perfect and imperfect tense RESOURCE 10 25 high-frequency regular and irregular verbs, including separable verbs, all taking SEIN in the perfect tense IN EACH WORKBOOK: Two alphabetical verb reference lists: GERMAN-ENGLISH and ENGLISH-GERMAN. Three conjugation challenges, each with 50 individual conjugations: CHALLENGE 1: each verb conjugated in GERMAN across a range of pronouns, with students writing the corresponding ENGLISH verb conjugation. CHALLENGE 2: gives the infinitive of each verb in GERMAN, specifying the target pronoun. Students write the corresponding verb conjugation in GERMAN. CHALLENGE 3: students write the corresponding GERMAN verb conjugation, and its infinitive, from an ENGLISH prompt. Please make sure you don't already have any of the workbooks either individually, or as part of any of my other bundles. Please read the TERMS OF USE carefully. This bundle is copyright, and for single-teacher / classroom / purchaser use only. The bundle may not be shared in any way. Multiple-user/whole-school licenses are available. VIELEN DANK UND VIEL SPAß BEIM KONJUGIEREN!
These FRENCH speaking cards are perfect for developing speaking skills - there are 100 question and answer cards and a reference booklet focusing on general conversation, with some cultural information and a range of tenses. They're also great for multi-skill language learning - they give your students structured talk opportunities and will also get them listening, reading and writing. They're ideal for independent learning, and perfect for pair and small-group work. The prompt cards also feature language and structures that your students are likely to meet in the beginning and more intermediate stages of their FRENCH learning, including a range of tenses. The REFERENCE BOOKLET includes all the questions and answers written out in FRENCH. Students find it a very useful learning support resources and it's also handy for whole-group pronunciation and reading-out loud practice. Students use the NOTES AND NEXT STEPS template to reflect on their learning, and think about what they might reasonably do to progress in their learning. The QUESTION AND ANSWER WRITING CARD TEMPLATES give students the opportunity to apply their FRENCH very practically, as they create both questions and answers for each other. This is a great team activity too. This set is a great complementary resource to my other TALK TIME IN FRENCH speaking cards, but works perfectly well as a standalone resource too. You can also use the cards for a whole range of games, and I've described how to play several you can start with. The resource consists of two non-editable files in a zipped format. SETS 1 & 2, with a focus on beginning/general conversation, with cultural information and a range of tenses, featuring 200 question and answer conversation cards and two reference booklets, are available together at the special price of £5.00: https://www.tes.com/teaching-resource/french-speaking-cards-1-and-2-11417981 Please read the TERMS OF USE carefully: this resource is copyright, and for single-teacher/purchaser use only. MERCI BEAUCOUP ET BONNE CONVERSATION!
40 A4 posters showing French-speaking countries, capital cities and flags - les pays francophones - the perfect back to school classroom decor for the new school year! My students really enjoy seeing the scope of the Francophone world - the posters create an instant introduction to it, and give the learning environment a great French look and feel. I've included countries or regions where a significant number of the population speak FRENCH as either their first or second language, such as Viet Nam. I've also included two posters for some countries, such as FRANCE, officially known as the RÉPUBLIQUE FRANÇAISE - you can choose either the more frequently-used LA FRANCE or the RÉPUBLIQUE FRANÇAISE to display. There may be a number of countries and capital cities that students do not know, or are not aware of, so the posters also help them develop their general awareness, knowledge and understanding of world geography. This is a copyright non-editable file - all rights are reserved. It can't be shared in any way, and but if your colleagues wish to display them, there are whole-school licenses available, or they can purchase a license to display them. MERCI BEAUCOUP ET BON VOYAGE !
150 quick recall conjugations with 25 high-frequency -FRENCH ER verbs in the present tense. My students have always really enjoyed working through these quick recall conjugation exercises. They're ideal for practising, reinforcing and revising how to conjugate high-frequency FRENCH verbs, and work well in a range of contexts such as independent work either in class time or at home, holiday refresher work, or individual activities for cover/sub lessons. My students like to have several opportunities to work through the conjugations, once or twice a term across a whole school year. This helps them to map their own progress and to really develop a sound understanding of how to conjugate the verbs. The workbook focuses on 25 high-frequency regular -FRENCH ER verbs in the present tense. I've included a couple of -GER and -CER verbs to ensure that students are able to practise the addition of an E and Ç in the present tense NOUS form. It comprises the following conjugation exercises: * Two alphabetical verb reference lists: FRENCH-ENGLISH and ENGLISH-FRENCH. * Three conjugation challenges, each with 50 individual conjugations: CHALLENGE 1: each verb conjugated in FRENCH across a range of pronouns, with students writing the corresponding ENGLISH verb conjugation. CHALLENGE 2: gives the infinitive of each verb in FRENCH, specifying the target pronoun. Students write the corresponding verb conjugation in FRENCH. CHALLENGE 3: students write the corresponding FRENCH verb conjugation, and its infinitive, from an ENGLISH prompt. * NOTES & NEXT STEPS template, which encourages students to think about how their understanding of FRENCH conjugation works, what progress they have made, what their targets for improvement might realistically be, and what they might reasonably do in order to meet those targets. There is also a 6-page ANSWER KEY booklet which my students really like to have, either to self- or peer-assess - It's a great time-saver for teachers too! Please read the TERMS OF USE carefully - the resource is copyright, and for single-teacher / purchaser / classroom use only. MERCI BEAUCOUP ET BONNE CONJUGAISON !
Exploring France is the perfect introduction to learning French, as well as a great back to school activity. I've found that these activities work well across a series of lessons, particularly at the beginning of the school year. Here I've focused on 20 facts on the French language, nation, arts & culture, famous people and history. There are four facts cards per 1 page. I've written the facts in fairly basic English, as well as in more complex sentences. The recording sheets are differentiated, from a general repetition of facts in writing to the more open-ended question: What did you learn? I generally let my students select their own challenge. I like to do the presentation/discussion activity first, moving on over the following lessons to the facts cards. There are also 24 question cards with an answer recording sheet, again with a differentiated level of challenge. There are 6 non-editable files in a zipped format. Please read the TERMS OF USE carefully - the pack is copyright, and for single-teacher / purchaser / classroom use only. MERCI BEACOUP ET BON VOYAGE !
IDEAL FOR DEVELOPING SPEAKING SKILLS IN FRENCH - QUESTIONS AND ANSWERS WITH A FOCUS ON BEGINNING CONVERSATION - 100 QUESTION & ANSWER CARDS WITH REFERENCE BOOKLET Perfect for speaking practice, and multi-skill language learning, this set of question and answer speaking cards gives your students structured talk opportunities, and will also get them listening, reading and writing. They're ideal for independent learning, and perfect for pair and small-group work. The prompt cards also feature language and structures that your students are likely to meet in the beginning and more intermediate stages of their FRENCH learning. The REFERENCE BOOKLET includes all the questions and answers written out in FRENCH. Students find the booklet a very useful learning support resource and it's also handy for whole-group pronunciation and reading-out loud practice. Students use the NOTES AND NEXT STEPS template to reflect on their learning, and think about what they might reasonably do to progress in their learning. The QUESTION AND ANSWER WRITING CARD TEMPLATE gives students the opportunity to apply their FRENCH very practically, as they create both questions and answers for each other. This is a great team activity too. You can also use the cards for a whole range of games, and I've described how to play several you can start with. The resource consists of two non-editable files in a zipped format: 100 QUESTION AND ANSWER SPEAKING CARDS WITH SPEAKING CARD TEMPLATE REFERENCE BOOKLET SETS 1 & 2, with a focus on beginning/general conversation and cultural information, featuring 200 question and answer speaking cards and two reference booklets, are available together at the special price of £5: https://www.tes.com/teaching-resource/french-speaking-cards-1-and-2-11417981 Please read the TERMS OF USE carefully: this resource is copyright, and for single-teacher/purchaser use only. MERCI BEAUCOUP ET BONNE CONVERSATION!
EUROPE COUNTRIES, CAPITAL CITIES & FLAGS - 4 QUIZZES IN FRENCH! These are great quizzes, suitable for a wide range of learning stages at any time of the school year! Students can develop their knowledge of the geography of EUROPE in a cooperative, communicative and interactive way, using FRENCH as the means of communication. They're really useful for listening, speaking, pronunciation and reading out loud. They work well as a whole-group team quiz, and are also perfect for pair or small-group learning. Revisit regularly - can students beat their own record? The set contains all EUROPEAN countries and capitals, including some island communities such as the FAROE ISLANDS. Each question has 3 answers to choose from. The quiz cards are numbered, but can also be asked in a random order: simply place all the cards in a bowl, box or tin, and work your way through! CHALLENGE 1 has 60 multiple-choice questions, and requires students to choose the correct capital city of a specific country from a choice of three CHALLENGE 2 has 60 multiple-choice questions, and requires students to choose the correct country of a specific capital city from a choice of three CHALLENGE 3 requires students to write the correct capital city from a country prompt CHALLENGE 4 requires students to write the correct country from a capital city prompt Award extra points for perfect pronunciation and spot-on spelling! The quiz card templates allow students to put their memory to the test in a different way, and to apply their knowledge very practically, as well as engaging with some basic writing in FRENCH: they can create their own set of multiple-choice questions for each other! There is also an alphabetical by country reference list of all countries and capitals, which students find useful to read through before playing. Laminate the cards and reference sheets if you can - you'll be able to use them for years to come! The resource consists of three, non-editable files in a zipped format; please read the TERMS OF USE carefully - the resource is copyright, with all rights reserved - the license for purchase is for single-user/classroom only - school licenses are available if colleauges also wish to use the quizzes. It is illegal to copy or share the resource in any way. MERCI BEAUCOUP ET BON VOYAGE !
NEWLY-REVISED AND UPDATED RESOURCE COMING SOON! IDEAL FOR CREATING AN INSTANT INTRODUCTION TO EUROPE AND PERFECT FOR DEVELOPING GEOGRAPHICAL KNOWLEDGE! This combined pack of 70 posters features all the countries, capitals cities and flags in EUROPE, and four multiple-choice quizzes. Brighten up your classroom with this set of posters showing European countries, capitals and flags. They give your learning environment a great multicultural look and feel, and are a great visual prompt when you are discussing world geography in general, and EUROPE in particular. There may be a number of countries and capitals that students don't know, or are not aware of, so the posters can certainly help students develop their general knowledge and understanding of EUROPE and its geography. I've included a range of islands, such as the FAROE ISLANDS, to extend students' knowledge of EUROPE a little further, and I've shown some countries, for example ARMENIA, that are often classed as belonging either to EUROPE or to ASIA. I've also included two posters for some countries, such as GREECE, officially known as the HELLENIC REPUBLIC - you can choose either the more frequently-used GREECE or the HELLENIC REPUBLIC to display. THE QUIZZES are suitable for any appropriate year group, at any time of the school year. Students can develop their knowledge of the geography of EUROPE in a cooperative, communicative and interactive way, giving their memory a workout at the same time! The quizzes work well as whole-group team quizzes, and are also perfect as a pair or small-group activity. There are 4 quizzes: QUIZ 1: the oral questions prompt for a capital city from a particular country QUIZ 2: the oral questions prompt for a country from a particular capital city QUIZ 3: the written questions prompt for a capital city from a particular country QUIZ 4: the written questions prompt for a country from a particular capital city Each question has 3 answers to choose from. The correct answers are given in blue (CHALLENGE 1) or green (CHALLENGE 2), and also underlined/in bold if you prefer not to print in colour - this ensures that all students can participate. The quiz card templates allow students to put their memory to the test in a different way, and to apply their knowledge very practically: they can create their own set of multiple-choice questions for each other. They can also put their knowledge to the test in writing, by completing the two recall and write quizzes, which prompt for both the capital city, and the country - great when played against a timer. The resource itself comprises 3 non-editable files. The posters and quizzes are also available separately if you prefer, each priced at £4. Please read the TERMS OF USE carefully - this resource is copyright, and for single-teacher/purchaser use only. THANK YOU AND ENJOY YOUR JOURNEY!
These PRIMARY LATIN NUMBERS 0-20 CHALLENGE CARDS are really popular with my young and beginning learners of LATIN, and really do help to create a lively language learning environment. Children can develop, embed, reinforce and refresh their knowledge of LATIN numbers in a cooperative, communicative and interactive way, independently of the teacher. They have a bonus multi-skill focus on listening, speaking, reading and spelling. They're great for helping students familiarize themselves with, and develop competence in, speaking, reading, writing and spelling in LATIN in general, and certainly in LATIN numbers in particular. The cards are useful not only when you're focusing on Numbers 0-20, but also as an all-year-round starter, plenary and general 'pick-me-up' activity, as the goal is not simply to learn how to count in LATIN, but also to enjoy working with LATIN, and to feel confident about doing so. The questions range in complexity and challenge, and are great for honing numeracy skills too - especially if calculators are not allowed! I've used English language mathematical symbols because learners are familiar with these, and are able to access and engage with the questions straightaway. The resource comprises the following non-editable files in a zipped format: Set of 36 question cards, 4 per A4 (8.5 x 11) paper. Print, laminate and cut out. Depending on how long you want the activity to last for, choose a particular number of cards per small group of students, and place them in a tin, bowl or small box so that students can easily select a card, and then replace when they have answered the question. You can simply place all the cards in the bowl/box and let students work their way through, either in a single lesson, or across a series of lessons. Students do need to remember to file their recording sheets carefully! Colour & B&W answer recording sheet - colour & B&W background answer key, laminate for longevity - colour & BW background - one answer key for each small group is sufficient. 4 question cards template for students to apply their knowledge practically, and to create questions for each other - this is a really challenging and popular activity! Number reference sheet which students really useful as a learning support resource - it's great as a year-round resource too, which they can put into their learning files/folders to call upon whenever they need it! Colour & B&W background. Please read the TERMS OF USE carefully - the resource is copyright, and for single-teacher / purchaser / classroom use only. GRATIA PLENA!
TEN PRIMARY FRENCH CHRISTMAS WORD SEARCHES - PERFECT FOR DEVELOPING FRENCH LANGUAGE SKILLS WITH A FESTIVE FEEL! My younger students love to do these word searches around Christmas time - we do them several times in the run up to Christmas - they really are great for developing reading, writing and spelling in French - and engaging with French Christmas vocabulary too. There are 30 French Christmas words, which helps them to develop awareness of some Francophone Christmas traditions and figures, such as Saint Nicolas and Père Fouettard. Word searches are really easily differentiated - here I've included 5 FRENCH to ENGLISH grids, as well as an ENGLISH word list that they have to complete, really putting their knowledge to the test! I've also included 5 ENGLISH to FRENCH grids, where the prompt words are given in ENGLISH, and learners have to find the FRENCH equivalent in the grid - they also have to complete the FRENCH word list on each page for extra spelling and vocab practice. The challenge gets more intense through the grids - students can tell in which direction the words are written by looking at the arrow key on each grid. I always give answer keys to my word searches - that works really well in terms of helping students work and learn independently together without me, and gives them even more opportunity to engage with French. For my younger beginners' French learners, who are often still developing literacy skills in their first language, I've found that a single grid per 8.5x11 (A4) page in landscape format is best for them to access the language, and to feel confident and comfortable about doing so. There's a reference list of all the French words too - this is a really useful support resource to ensure all learners can do the searches. They'll have to look carefully at some of the words though - for a little extra challenge, sometimes I've changed words slightly - such as using 'an elf', where the reference list shows 'the elves'. I use as starters, refreshers, plenaries or fun-time fillers at any time during the CHRISTMAS season. Students do like the challenge of working their way through a number of grids on one go! There are two versions of the word searches and keys - either with a colour or B&W background — you may prefer to print in B&W to keep prep costs down. Laminate the answer keys if you can - they'll last for many CHRISTMASTIMES to come! The resource consists of five non-editable files. Please read the TERMS OF USE carefully - the resource is copyright, and the licencse is for single-teacher/purchaser use only. MERCI BEAUCOUP ET JOYEUX NOËL !
PERFECT FOR DEVELOPING SPEAKING SKILLS IN FRENCH - QUESTIONS AND ANSWERS WITH A FOCUS ON BEGINNING / GENERAL CONVERSATION & CULTURAL INFORMATION - 200 QUESTION & ANSWER CARDS WITH REFERENCE BOOKLETS Perfect for speaking practice, and multi-skill language learning, this combined pack of TALK TIME IN FRENCH, SETS 1 and 2, provides 200 question and answer prompt cards that give your students structured talk opportunities, and will also get them listening, reading and writing. They're ideal for independent learning, and perfect for pair and small-group work. These sets focus on beginning conversation, with a flavour of cultural and geographical knowledge. The prompt cards also feature language and structures that your students are likely to meet in the beginning and more intermediate stages of their FRENCH learning, including a range of tenses. The REFERENCE BOOKLETS include all the questions and answers written out in FRENCH. Students find these very useful learning support resources and they're also handy whole-group pronunciation practice and reading-out loud resources. Students use the NOTES AND NEXT STEPS template to reflect on their learning, and think about what they might reasonably do to progress in their learning. The QUESTION AND ANSWER WRITING CARD TEMPLATES give students the opportunity to apply their FRENCH very practically, as they create both questions and answers for each other. This is a great team activity too. These sets are great complementary resources to other sets in the FRENCH TALK TIME series, but work perfectly well as standalone resources too. You can also use the cards for a whole range of games, and I've described how to play several you can start with. The resource consists of four non-editable files in a zipped format: SET 1 PROMPT CARDS with writing template and REFERENCE BOOKLET SET 2 PROMPT CARDS with writing template and REFERENCE BOOKLET The sets are also available individually if you prefer, each priced at £3.00. Please read the TERMS OF USE carefully: this resource is copyright, and for single-teacher/purchaser use only. MERCI BEAUCOUP ET BONNE CONVERSATION!
THE GREAT BIG EUROPE QUIZ - 100 MULTIPLE-CHOICE QUESTIONS ON ALL THINGS EUROPEAN - PERFECT FOR THE EUROPEAN DAY OF LANGUAGES! This set combines THE GREAT BIG EUROPE QUIZ 1 and THE GREAT BIG EUROPE QUIZ 2. Each quiz features 50 multiple-choice questions, and is perfect for developing students' awareness, understanding and knowledge of all things EUROPEAN. The questions range from basic general knowledge to more specialised factual knowledge. They address a comprehensive range of topics: art, culture, food, geography, history, language, literature, music, people, politics, science and society. You can be QUIZ QUESTION MASTER, but students do enjoy taking on that role in turns. The questions often stimulate further and deeper discussion about particular themes and topcs - for example, the question regarding Pythagoras' identity always gets students talking about Pi, 3.14 and how many points they can remember! The quizzes are basic, editable files, with the correct answer revealed in bold on the second click. They're is ideal for whole-group quizzes, with students choosing a European-themed team name. Play in form-time or in any subject area lesson as a brain-break - the questions really are cross-curricular! Play several times at intervals across the school year - this really does put students' memory and developing knowledge to the test. The quiz goes down particularly well at key points in the school year: end of year, back to school, Christmas and so on. This quiz is copyright, all rights reserved. The user license for sale is for single-user/classroom use only; neither the user license nor the resource may be shared in any way. School licenses are available. Please read the TERMS OF USE. THANKS AND HAVE FUN!
PERFECT FOR DEVELOPING FRENCH LANGUAGE SKILLS AND INTRODUCING AND PRACTISING VERB CONJUGATION IN FRENCH - 10 DIFFERENTIATED WORD SEARCHES WITH ANSWER KEYS! MOTS CACHÉS are a fabulous way of encouraging learners to engage with the written word in FRENCH, refreshing and reinforcing language as they complete the grids. This set focuses on two key FRENCH verbs, ÊTRE and AVOIR, and features 10 differentiated word searches, with each consecutive grid increasing in challenge. There are 5 FRENCH to FRENCH grids, where learners are prompted with FRENCH verbs, and look for them in FRENCH in the grid. For additional consolidation, each grid also features an ENGLISH verb list that they have to complete, really putting their knowledge to the test! There are also 5 ENGLISH to FRENCH grids, where the prompt verbs are given in ENGLISH, and learners have to find the FRENCH equivalent in the grid. For additional consolidation and practice in conjugating verbs in FRENCH, they also complete the FRENCH verb list on each page. Learners can tell in which direction the words are written by looking at the arrow key on each grid. There is an answer grid for each word search, so that learners can check their own or each others' answers - or use for a little extra help if they need it! The word searches are in landscape format, as this mirrors the common direction of reading from left to right, facilitating learner engagement with the activity. I've also included a FRENCH-ENGLISH reference sheet for a little additional support - you can either laminate this to share around small groups of learners, or give one to each learner to stick into their learning workbooks as an all-year-round reference. Use as starters, refreshers, plenaries or fun-time fillers at any time during the school year, as well as when you're introducing the concept of verb conjugation in FRENCH. For a real focus, and to facilitate learner independence, photocopy all the grids as a workbook, and let learners simply work their way through. The workbook format is great for home learning activities too. Create an answer key booklet - one booklet for small groups of 3 or 4 learners is sufficient. If you create workbooks and answer key booklets, these are best prepared photocopied double-sided and with a double staple on the left-hand side. This format is far more reader, writer and learner-friendly than using a single-staple in the top left-hand corner for example. This pack comprises 3 non-editable files in a zipped format; please read the TERMS OF USE carefully: this resource is copyright, and for single-teacher / purchaser /classroom use only. MERCI BEAUCOUP ET BON DIVERTISSEMENT !
297 HIGH-FREQUENCY FRENCH VERBS - 594 MATCHING FRENCH AND ENGLISH VERBS CARDS WITH THREE REFERENCE, RECALL AND WRITE WORKBOOKS Working with these cards and workbooks have proved really popular and effective with my students over the years - they come in three sets, each with its own reference, recall and write workbook. I tend to have several sets all ready and in folders, so that we can use them not only when we're specifically focusing on building French verb vocabulary, but also as grab and go free-choice activities - giving students frequent and regular opportunities to engage with language definitely works best for them! My students have always really enjoyed being able to work independently, and have found it a great way of developing their French skills in general, and of embedding essential vocab into their longer-term memory. I've included alphabetical French-English reference lists of all 297 verbs - they work well as a long-term learning support and reference resource. The cards are versatile, and can be used for a number of language learning games; I've described several games you can play and ways you can use them in the classroom. The game card template lets your students put their knowledge of French verbs to the test as they create quiz cards for each other. There are 3 differentiated FRENCH VERBS VOCABULARY RECALL CHALLENGES in each 18-page workbook: Challenge 1 Students recall and write all the verbs in English from a FRENCH prompt - the FRENCH verbs are in alphabetical order Challenge 2 Students recall and write all the verbs in English from a FRENCH prompt, with the verbs appearing in random, rather than alphabetical order Challenge 3 Students recall and write all the verbs in FRENCH from an English prompt - this really does put their knowledge to the test - and is great for practicing spelling in FRENCH too. We revisit the NOTES AND NEXT STEPS TEMPLATE regularly too - my students find that this really helps them to reflect on their learning, and to set progress targets. I always laminate my language learning cards - it's time-consuming and a bit of an extra expense, but definitely worth it - they're far more user-friendly and last for years! The workbooks are ready to go - simply print and staple. Each set is available separately for £3. This bundle comprises 6 non-editable files: the VERBS CARDS x 3 and the REFERENCE, RECALL AND WRITE WORKBOOKS x 3. Please read the TERMS OF USE carefully: the resource is copyright, and may not be shared or copied in any way - the license is a single-user license only. MERCI BEAUCOUP ET BON DIVERTISSEMENT !
PERFECT FOR DEVELOPING SPEAKING SKILLS IN GERMAN - QUESTIONS AND ANSWERS WITH A FOCUS ON SEPARABLE VERBS IN THE PRESENT TENSE - 100 QUESTION & ANSWER CARDS WITH REFERENCE BOOKLET PERFECT for speaking practice, and multi-skill language learning, TALK TIME IN GERMAN is a set of 100 question and answer prompt cards that give your students structured talk opportunities, and will also get them listening, reading and writing. They're ideal for independent learning, and perfect for pair and small-group work. The prompt cards feature language and structures that your students are likely to meet in the earlier stages of their GERMAN learning - I've classed the resource as suitable for ages 11-18, but it really does depend on the age at which your students began their GERMAN learning, and the stage they're currently working at. The reference booklet includes all the questions and answers written out in full. Students use the NOTES AND NEXT STEPS template to reflect on their learning, and think about what they might reasonably do to progress in their learning. The question and answer writing templates give students the opportunity to apply their GERMAN very practically, as they create both questions and answers for each other. This is a great team activity too. This set is a great complementary resource to other sets in the TALK TIME series in terms of learner progression, but it works perfectly well as a standalone resource too. You can also use the prompt cards for a whole range of games, and I've described how to play several games and activities that you can start with. The prompt cards do take a bit of prep: printing and laminating. Laminating is definitely recommended, as you'll be able to use the cards for years to come. Print out an appropriate number of question and answer templates (black and white is fine). Students should ideally have their own individual reference booklet that they can keep in their learning folders to use for reference, practice and revision when they need to. SETS 3 & 4 with 200 conversation cards and two reference booklet, with a focus on separable verbs in both the present and perfect tense, are available as a combined resource for £5.00: https://www.tes.com/teaching-resource/german-speaking-cards-3-and-4-11417814 The resource consists of two non-editable files in a zipped format; please read the TERMS OF USE carefully. VIELEN DANK UND VIEL SPAß BEIM PLAUDERN!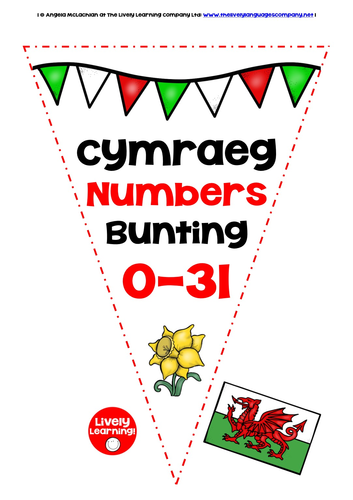 Brighten up your classroom for the new school year with WELSH NUMBERS 0-31! Even if your students are way beyond learning to count in WELSH, the bunting creates a great WELSH look and feel to your learning environment. You can also use the banners/bunting as flashcards for younger learners of WELSH. I don't profess to be an accomplished speaker of WELSH (far from it!) - these websites have proved invaluable: http://www.learn-welsh.net/ http://www.omniglot.com/language/numbers/welsh.htm Any mistakes definitely my own - if you spot any, please let me know! Please read the Terms of Use carefully - this resource is copyright. It's entirely free to download, but is subject to a range of font/clipart licensing conditions. DIOLCH!