MRedero's Shop
Resources for Spanish teachers in Secondary schools
15Uploads
659Views
251Downloads
Resources for Spanish teachers in Secondary schools

These 10 speaking cards are designed for year 12 and year 13 students. I have followed the new specifications. Ideal resources to be prepared for the new A-level exam. AQA In this bundle, you will find plenty of speaking cards for topic sub-topics such as regional identity, traditional values, religion… in the specifications. Movimientos populares/ gastronomía/ patrimonio cultural/ igualdad de sexos/ identidad regional/ convivencia entre culturas/ derechos de gay y personas transgénero/ costumbres y tradiciones/ iglesia católica

Set of cards to speak about family, religion, gay marriage, franquismo… All cards contain a list of questions, useful words, an image and a link to an article related to the topic and questions.

Speaking cards covering different topics to prepare your students before they take their A /AS level exams. Ideal for year 12 and year 13 students. Topics: immigration, racism, unemployment, culture, 15M, Inmigración, racismo, desempleo, patrimonio cultural, movimientos sociales, lenguas en España… All cards contain several questions and two quotes with opinions to introduce the debate and discussion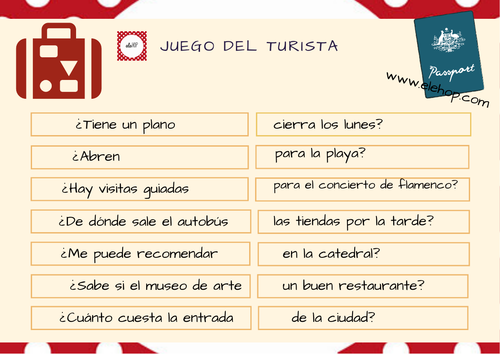 This resource has two parts: A worksheet with an activitiy to match up sentences . The objective is to create typical questions that make sense and a tourst might ask when visiting Spain A board game. They need to follow the arrows and ask questions for those places, another student or player will have to answer the question Fun way to prepare for the Role Play Task in the speaking exam.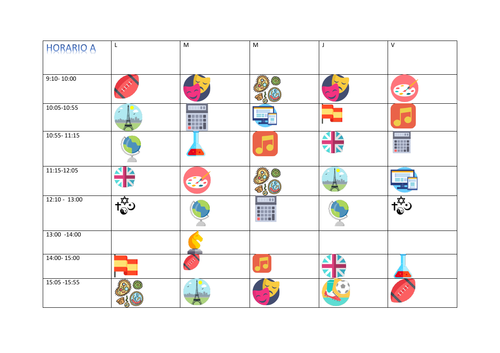 Pdf with two school timetables. Ideal to do speaking activities in pairs working on subjects and time. potential questions: ¿ Qué asignaturas tienes el lunes? ¿ el martes…? ¿Cuándo tienes matemáticas? ¿A qué hora tienes? Students need to ask their classmates with a different timetable in order to find as much information as possible.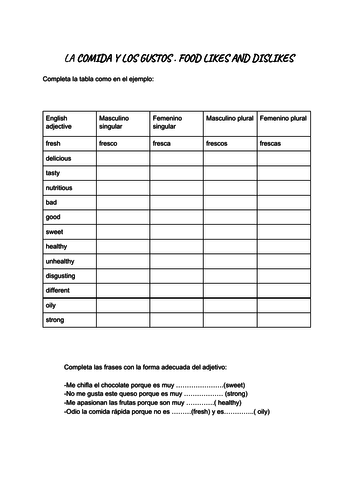 Worksheet with adjectives that can be used to describe different foods. Sentences to reinforce opinion verbs and justifications. The last activity could be use as speaking prompts to work in pairs or as a writing activity.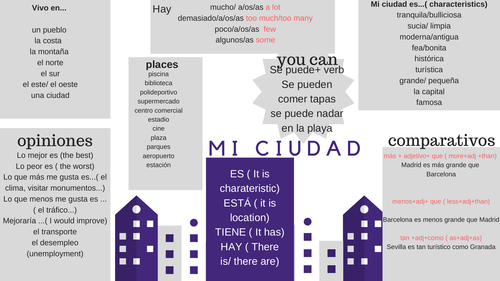 Topic. Dónde vives y la ciudad. It contains key structures and vocabulary. places, comparatives, opinion phrases …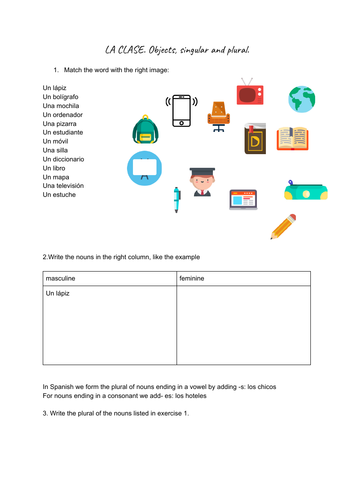 Clasroom objects vocabulary to reinforce the use of un/ una/ unos/ unas. Singualr and plural. It contains a worksheet and two pages to print and play a memory game. They need to find the pairs with the same objects and say what do they see using singular and plural nouns. Example: hay un lápiz vs hay unos lápices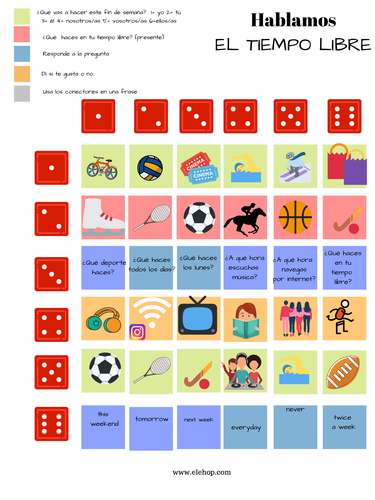 A resource to speak about free time. Different colours to create sentences using frequency expressions, present and near future in Spanish. Ideal to revise free time activities and sports You roll the dice twice, to find the question you need to answer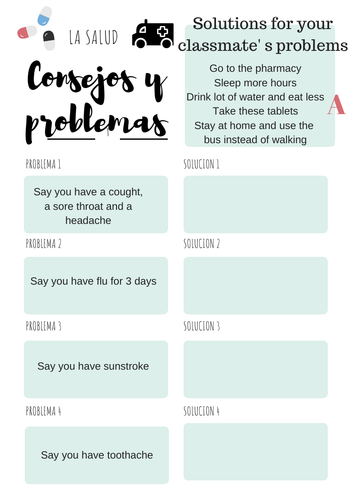 Speaking activity to do in pairs. A student will explain his problem and the other one will have to say an appropriate solution, either using Imperative or tienes que+ infinitive. Body parts/ Health/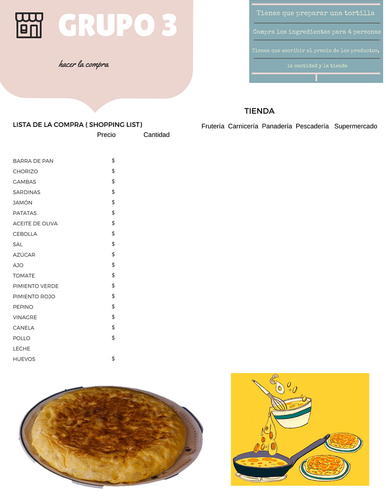 Speaking activity to create conversations where students go and buy different ingredients . Vocabulary: shops , food, quantities, quantifiers It is good for role plays Also good for a cultural insight into Spanish gastronomy . It contains 3 recipes that student will need to put in the right order/ translate

pdf with cards to cut and match them up. Students will match up the meaning the French phrase with the English meaning. Revision of key verbs to talk about hobbies using near future and past tense.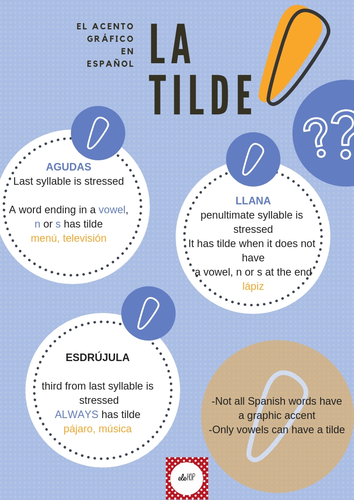 A simple poster that explains when the graphic accent should be used. Available in Spanish and English.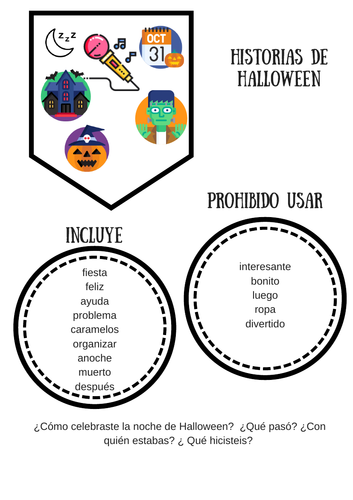 Activity to introduce create writing about Halloween. It includes some taboo words that students cannot used and a list of words that the story should have.

A support material to help your Spanish students remember some key phrases to use when describing a picture. ( It containts information about who is in the picture, where are those people , what are they doing, what are their feelings, what is the weather like , make some hypothesis…) The pdf has been created to be printed on both sides and then laminate it.