13Uploads
3k+Views
2k+Downloads
Booklet of tasks based on the regions of France. Aimed at S2 (Scotland) but could be adapted to other ages/years. Perfect for group work and online cultural learning.
A long lesson (probably best split into two) on my dream holiday. Looking at the conditional tense within the context of holidays and adjectives too (all masculine as going with c'est).
not all my own work - inspired by resources found from TES over the years*unable to credit as lost the download details. A series of two (50 min) lessons on places in town. Have split with a blank slide.
places of work - lieux de travail jobs - au boulot / le travail and job qualities vocab knowledge organiser
Modern Languages challenge cards organised by blooms readings. SPELLING CORRECTED 72 cards/challenges for quick finishers/plenaries. Mostly generally MFL based but some specific to French.
A series of three lessons on pets in French including colours, describing name age etc of pet.
Inspired by @TheFrenchie_uk (twitter)'s poster to help pupils remember verbs which take être in the perfect tense.
Helpful resource to prepare talking for a debate-style activity in French. This resource includes: helpful vocab key vocab boxes for students to add in their own vocab space for argument planning or mind maps space for motion title in the target language
French job introduction slides - inspired by other TES users unable to credit as unable to find download links.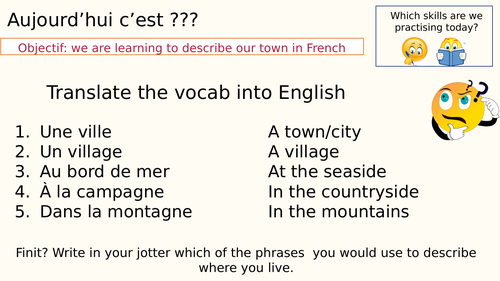 Short lesson on what activities learners can do in their town. Followed up by a writing task.
A series of two lessons on school rules in French. Split with a blank slide. Questioning included.
Spanish booklet on the autonomous communities. Lots of tasks included and can be given as cover work as fairly independent. A rather challenging booklet but can be differentiated for lower ability.
Helpful resource to prepare talking for a debate-style activity in Spanish. This resource includes: helpful vocab key vocab boxes for students to add in their own vocab space for argument planning or mind maps space for motion title in the target language