Mrs Stow's Shop
Just bits and pieces that could help...
16Uploads
1k+Views
720Downloads
Just bits and pieces that could help...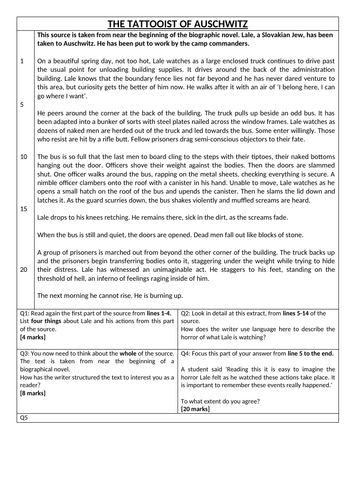 I've used the Mini Mock format another teacher has uploaded and created 8 more, using mock papers I have collected. These include: Fahrenheit 451 A Sunrise on the Veldt Shadows on the Nile Survival The Blind Assassin The Flowers Harry Potter and the Philosopher's Stone The Tattooist of Auschwitz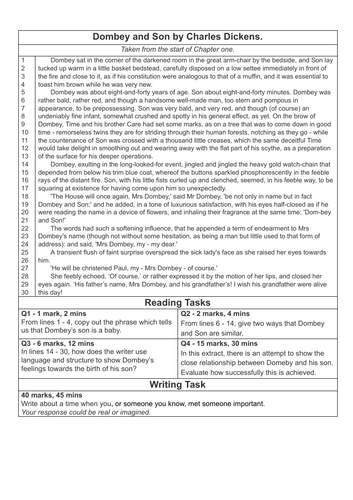 10 mini mocks consisting of extracts followed by exam style reading questions and accompanying writing task. Extracts from David Copperfield, Jane Eyre, Nicholas Nickelby, Silas Marner, Dombey and Son, Oliver Twist, King Solomon's Mines, Treasure Island and, Black Beauty.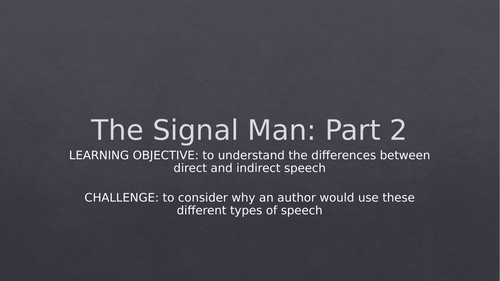 This is a 5-6 part SoW aimed at year 7 stepping up into year 8. This short unit looks at the conventions of ghost stories, how Dickens creates setting, direct and indirect speech and then planning & writing their own ghost story. There is also a summer holiday homework task, where there are 5 tasks of which students complete 2. Whilst this is only 5-6 lessons long, it could easily be extended.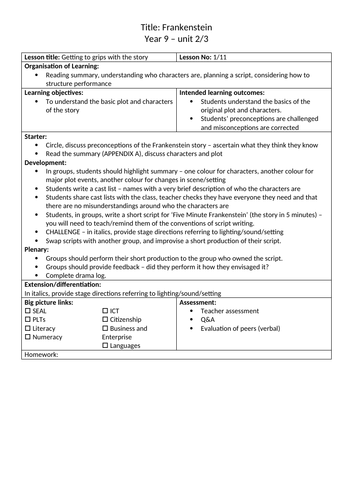 An 11x 100 minute SoW exploring Frankenstein through a range of dramatic techniques and styles. This unit was designed to introduce and support the teaching of Frankenstein in KS4 English, giving students a creative and engaging way into this dense text. When planned, we had non specialists teaching drama and this SoW was supposed to be pretty self explanatory.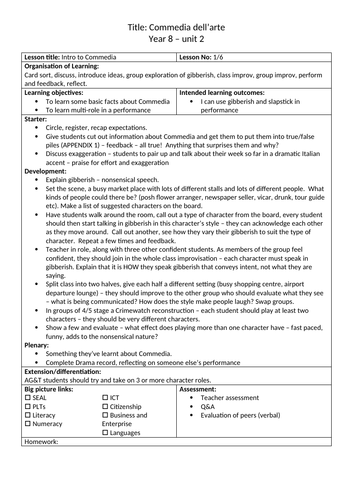 This scheme of work introduces students to Commedia dell'arte through a range of activities. The 6x100 minute lessons cover: Intro to Commedia Exploring status Lazzi Developing Commedia Characters Setting up an assessed performance assessing a performance This SoW was designed for non-specialist teachers to teach and offers lots of explanation and support. Additionally, I have included the drama log that we used alongside.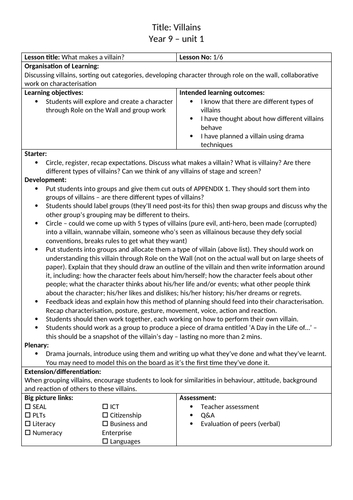 This 6x100 minute lesson SoW explores villains through a range of dramatic techniques such as role on the wall, use of voice and stage combat. The unit ends with a performance and then a written evaluation,for which there is a scaffolding resource. All resources required are at the end of the SoW. This unit of work was written with non-specialists in mind therefore it offers explanation and guidance. I have also included the drama log that we used alongside the SoW for students to record and reflect on their learning in. This is a lesson I taught to help students recap their learning of R&J. We watched the Carlo Carlei version of the film, discussed and reviewed it. Whilst they enjoyed watching it, many were disappointed with the watered down script and alterations to the storyline. Many were also critical of the casting. It stemmed a lot of debate and recollections of the script. This also tied in nicely with the Transactional Writing element of the GCSE.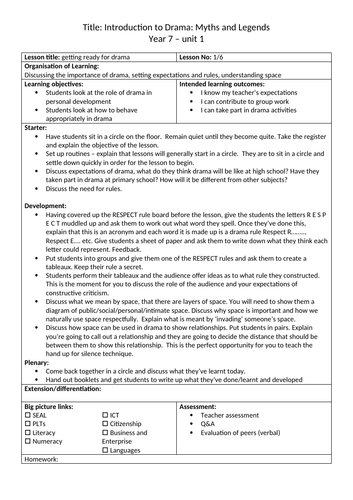 I wrote this comprehensive SoW for non-drama specialists to teach. It introduces students to a range of dramatic devices such as physical theatre, tableaux, soundscapesn and stock characters. The unit consists of 6x 100 minute lessons however this can easily be adapted to suit 50/60 minute lessons. Additionally, I have included a copy of the drama log that students were encouraged to fill in as a plenary. This includes a copy of the drama rules (based on RESPECT) and a glossary that they would complete throughout the year.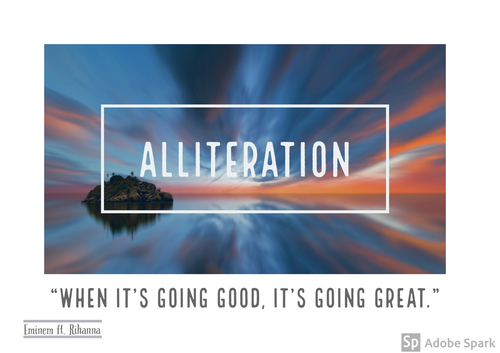 A set of 26 colourful posters presenting a range of language devices. Each language device is coupled with lyrics from a popular song that use this device. Each lyric is referenced to the artist - these are not my lyrics! These were made using Adobe Spark.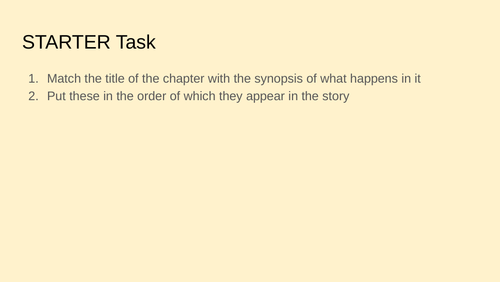 A comprehensive 10 lesson revision pack. Pack includes: Lesson PowerPoints Revision Workbooklet Detailed Scheme of Work The 10 lessons cover: 1 - exam expectations 2 - plot & narrative structure 3 - characters 4 - Mr Jerome 5 - themes 6 - betrayal 7 - the Gothic genre 8 - setting & place 9 - consolidating knowledge with a Knowledge Organiser 10 - walk the mock I wrote this booklet, compiled of a range of resources and activities, when I taught AQA Macbeth two years ago. This is a comprehensive, 55 page, workbook to be used alongside teaching the text and designed to be used instead of an exercise book. This booklet was designed to teach to a mixed ability class and therefore has challenge tasks embedded but can also be taught to LAPs. Whilst tailored to AQA, this could easily be adapted to suit other exam boards.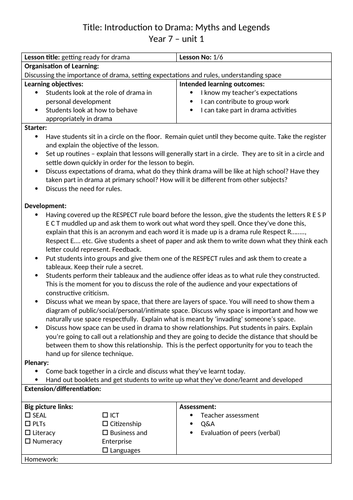 A 6x100 minute lesson SoW written for non-specialist teachers in mind. Complete with resources and detailed walkthrough of tasks/activities.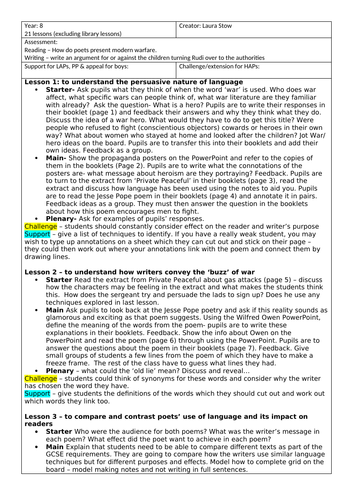 This is a unit I wrote a couple of years ago, aimed at building year 8s knowledge of poetry and narrative writing. This unit starts of by introducing WW1 propaganda and then leads into Wilfred Owen. The booklet then supports to teaching an analysis of The Machine Gunners, along with teaching skills of non-fiction writing such as diaries, newspapers and argumentative writing. This is a term's worth of work and broken up into 100 minute lessons. This could easily be adapted to fit 50 or 60 minute lessons. Additionally, I have attached the Take Away Homework that ran alongside the unit. I really enjoyed teaching this unit, the students also enjoyed it too. The unit begins with a detailed exploration of the rhetoric involved in a number of non-fiction persuasive texts: written, spoken and visual. Students analyse and imitate various non-fiction text types . Students develop a knowledge of the conventions of a range of non-fiction text types in order to emulate them in their extended project. The second section of the unit is an extended group project (although could be repurposed as a HW on individual task) relying on team spirit, group cooperation, coordination, and independent study. This unit culminates in students pitching their idea to their peers and then the most successful teams battle it out in front of a panel of judges to be crowned overall winner of 'Toy Den'. All PowerPoints and resources included, as well as a detailed SoW with lesson by lesson walk through.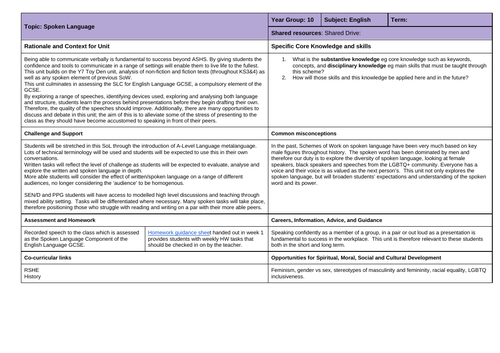 Comprises: Detailed Scheme of Work Weekly PowerPoints (7 1hr lessons per fortnight) Resources HW task Being able to communicate verbally is fundamental to success beyond school. Giving students the confidence and tools to communicate in a range of settings will enable them to live life to the fullest. In the past, Schemes of Work on spoken language have been very much based on key male figures throughout history. The spoken word has been dominated by men and therefore our duty is to explore the diversity of spoken language, looking at female speakers, black speakers and speeches from the LGBTQ+ community. Everyone has a voice and their voice is as valued as the next person's. This unit not only explores the spoken language, but will broaden students' expectations and understanding of the spoken word and its power. This unit culminates in assessing the SLC for English Language GCSE, a compulsory element of the GCSE. By exploring a range of speeches, identifying devices used, exploring and analysing both language and structure, students learn the processes behind planning presentations before they begin drafting their own. Therefore, the quality of the speeches should improve. Additionally, there are many opportunities to discuss and debate in this unit; the aim of this is to alleviate some of the stress of presenting to the class as they should have become accustomed to speaking in front of their peers. Students will be stretched in this SoL through the introduction of A-Level Language metalanguage. Lots of technical terminology has been used and students will be expected to use this in their own conversations. Written tasks will reflect the level of challenge as students will be expected to evaluate, analyse and explore the written and spoken language in depth. More able students will consider the effect of written/spoken language on a range of different audiences, no longer considering the 'audience' to be homogenous. SEN/D and PPG students will have access to modelled high level discussions and teaching through mixed ability setting. Tasks will be differentiated where necessary. Many spoken tasks will take place, therefore positioning those who struggle with reading and writing on a par with their more able peers.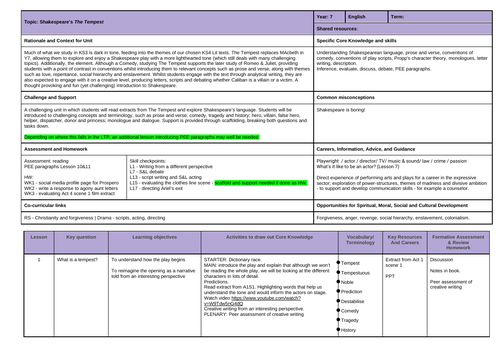 This scheme of work will cover around 18-20 60min lessons. All powerpoints and resources are provided, as well as a detailed scheme of work to follow. Page references refer to Cambridge School edition play script. Film references are to the 2010 Helen Mirran version.