4Uploads
69Views
26Downloads
Five sets of comprehension questions. Focuses on key KS2 reading skills such as retrieval, predicting, word analysis, summarising, skimming and scanning, inference and questioning author's intention. Based on the non-ficton book 'Arctic and Antarctic' (Eyewitness). Perfect for lower KS2 if studying the Polar Regions.
This pack covers Year 4 Place Value objectives. Understanding how numbers can be represented using counters, creating own 4-digit numbers from counters, using place value grids to learn how to add and subtract (no regrouping), challenge application questions, introduction of column method, rounding to 1000.
These easy use Igbo to English /English to Igbo flashcards are great for the classroom and homework! Children can reinforce their learning of the words using the bright, engaging images and bold lettering/colours. Ideal for a standalone activity or as part of a unit on Africa and African/Nigerian languages.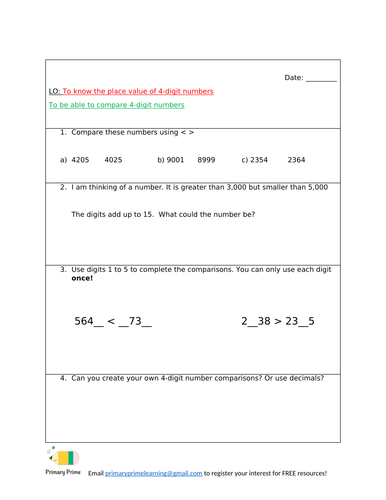 Perfect as a starter activity, plenary or mini assessment to recap prior learning. Focus in Year 4 place value, comparing 4-digit numbers with increasing challenge throughout the tasks.