7Uploads
5k+Views
2k+Downloads
Media Studies Resources This is an extremely comprehensive revision guide for the Component 2 Section A set text, BBC Radio 1 Breakfast Show. The booklet contains contextual information, revision exercises and personal learning checklist to ensure success in this part of the exam. This booklet can also be used in conjunction with the teaching of this unit as it serves as a good consolidation of the content studied. Please see other resources in my library.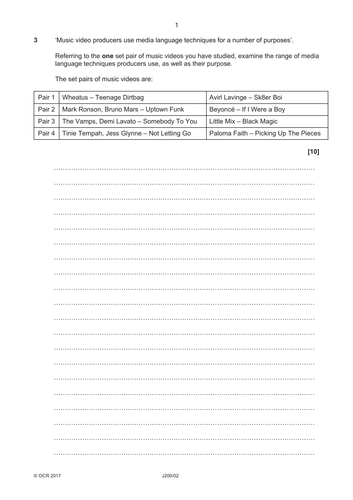 A selection of 7 practice questions for the OCR GCSE Media Studies Paper 2, Q3 (Music Video; Language, Representation & Audience study). Feel free to use as you like. Potentially end of topic tests or perhaps in an mock exam paper…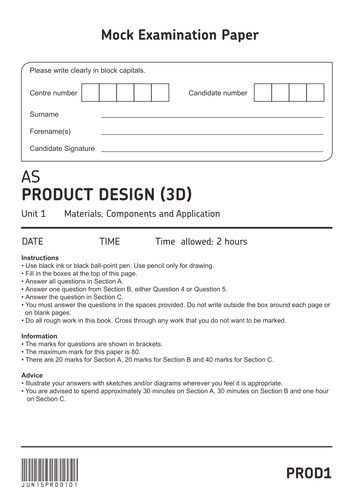 Based on current AQA Specification for AS Level 3D Design. It can serve as a good practise paper to use in class for revision. Questions include; recycling, suitability of polymers and timbers, moulding processes, metal processes and matching questions. The layout of the paper is the same: 20, 20, 40, with a choice of Qs in Section B. Mark Scheme will follow shortly as a separate resource and lower price. This is a fully resourced scheme of work for OCR Alevel Media Studies, Paper 1 Section B - Advertising. This unit of work includes: 6 planned and differentiated lessons Practice questions and scaffolded planning worksheets Critical reading required at 6th form level Exemplar student responses This is a perfect scheme of work for a teacher new to Media Studies or simply for someone looking for some new resources and ideas.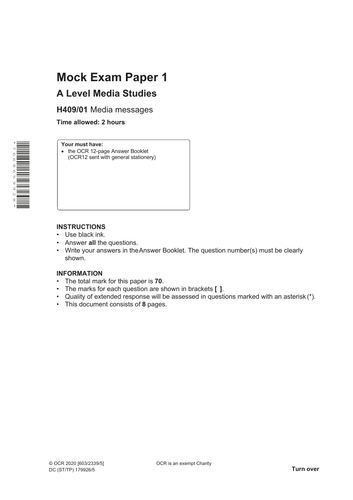 A media messages paper for the new OCR ALevel Media Studies. This resource is to be used by schools only for mock exam purposes. Please note I have no affiliation with OCR in creating these materials.