This contains many revision sheets covering the majority of Topic 7 Ecology. Sheets included cover the following:- competition, abiotic and biotic factors, food chains, webs, trophic levels, pyramids of biomass, biomass transfer, efficiency calculations, farming, food security, biotechnology examples (mycoprotein, insulin production), biodiversity and waste, global warming, deforestation, maintaining ecosystems and over fishing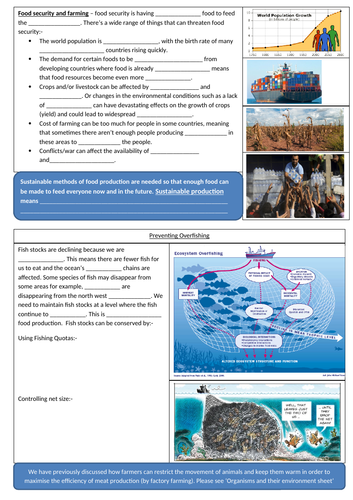 AQA GCSE Biology - a collection of 3 revision sheets on food production and security including general problems, biotechnology using fermenter (including application on the design of a fermenter) and microorganisms to make mycoprotein and the genetic engineering of bacteria to produce insulin
Includes a total of 24 revision sheets on the following topics:- Hormones, including the menstrual cycle, how hormones are used for fertility treatments and contraception plant hormones/auxins The homeostatic control of blood glucose concentration Thermoregulation The Nervous system, synapses, reflexes, brain and eye Kidney and excretion, nephron, osmoregulation, the consequences of not balancing water concentration, dialysis and kidney transplant.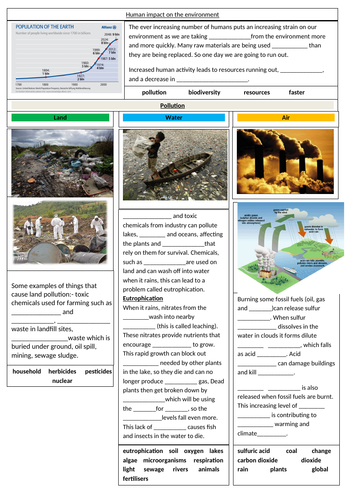 AQA GCSE Biology - includes 4 detailed revision sheets on Human impact on the environment including different types of pollution, greenhouse effect, global warming, deforestation, effect on biodiversity and maintaining biodiversity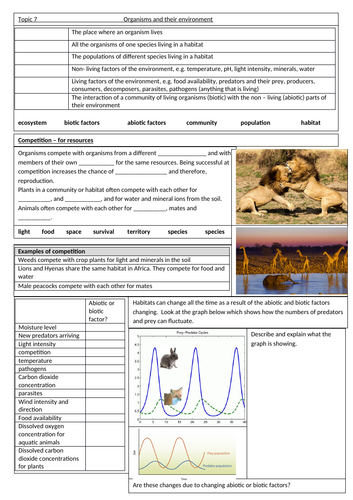 AQA GCSE Biology - 4 detailed revision sheets including competition, predator prey, interdependence, trophic levels, food chains and webs, pyramids of biomass, energy and biomass efficiency calculations, and farming techniques to decrease energy loss.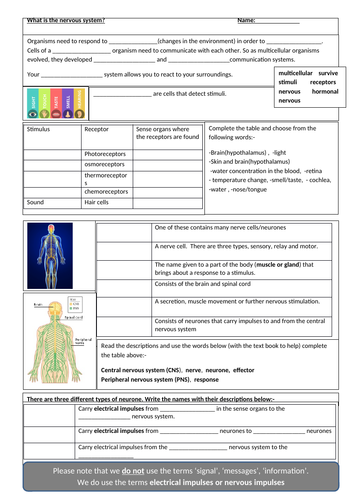 AQA GCSE Biology - includes a collection of 9 revision sheets, including some example exam questions, covering the nervous system, the brain and the eye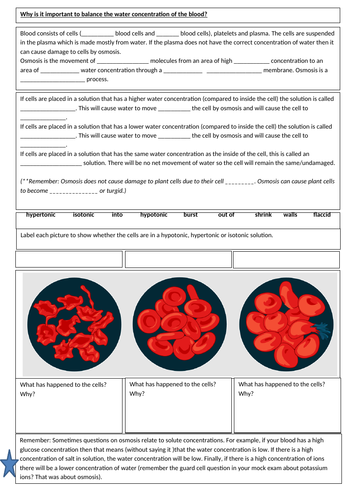 AQA GCSE Biology 4 revisions sheets ideal for the higher achiever, covering general function of the kidney, details of the nephron and excretion, osmoregulation and ADH, consequences of not being able to balance water concentration in the blood linking in to osmosis, and dialysis and transplant.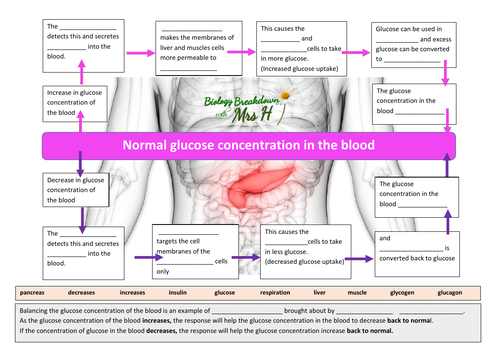 AQA GCSE Biology revision sheets on controlling blood glucose concentration, homeostasis and negative feedback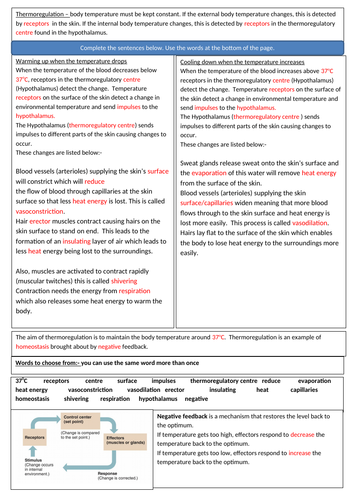 AQA GCSE Biology revision resource on Thermoregulation as an example of a negative feedback mechanism. These two sheets enable students to recall the specific language required to gain the best marks possible.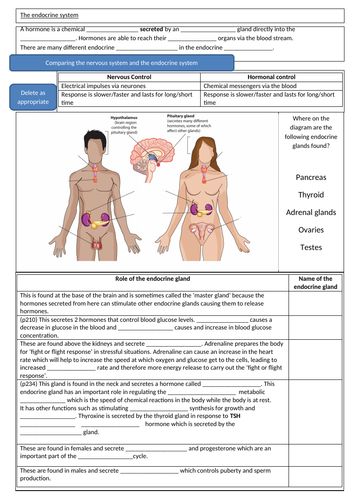 AQA GCSE Biology - includes a total of 7 revision sheets. 4 on hormones in general, menstrual cycle and use of hormones for fertility and contraception. 1 revision sheet including a flow diagram simplifying the menstrual cycle. This is very good to complete together and memorise as a whole class each stage, students take in turns to recall the different stages. There are a further 2 revision sheets on plant hormones including fact recall and an example of an application style question based on the well know Auxin investigations.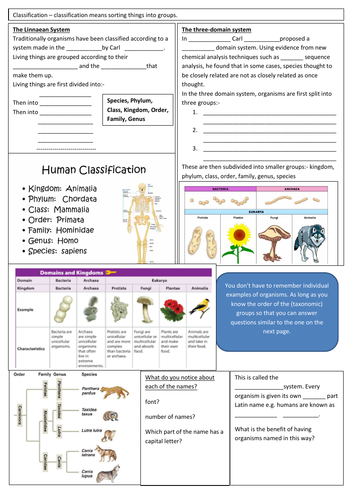 AQA GCSE Biology- revision resource consisting of three sheets on classification including the Linnaeus, Woese , the use of evolutionary trees and some example exam questions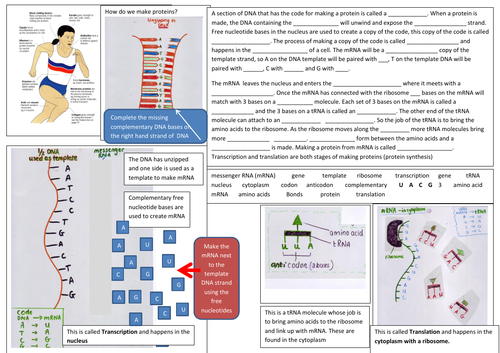 AQA GCSE Biology 9-1 Everything you need to know about the process of protein synthesis on one sheet