Religion, Philosophy, Politics, Business Studies, PSHE
Religion, Philosophy, Politics, Business Studies, PSHE
34Uploads
4k+Views
752Downloads
Religion, Philosophy, Politics, Business Studies, PSHE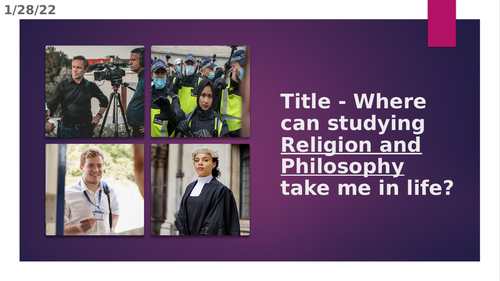 Religious Studies - Religious Education - Philosophy CAREERS EMPLOYABILITY JOBS Where can studying Religion and Philosophy take me in life? Powerpoint for careers week. Detailing where RE and Philosophy can leade in the world of work. Suitable for a whole lesson. Studying religion and philosophy is valuable no matter the career path one pursues, from academia to business to entertainment to politics. It is a very prestigious qualification. Many top companies look to hire religion and philosophy students as it shows employers that at a very high level you can think deeply, understand people and write essays and convincing arguments. QUESTION Why do you think employers want people who can (a)understand people, (b)think deeply and ©write essays and convincing arguments, all at a high level? Question - What are the main jobs that religion and philosophy students go into?ANSWER – The main ones are lawyer, journalist, teacher, politician, civil service, policemen, priest and social worker. Jobs which requires working with people and understanding society will require knowledge of religions and world philosophy.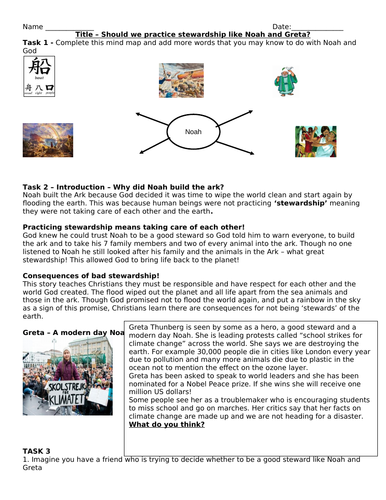 KS3 Worksheet - Outstanding / Observation Lesson - Stewardship, The Bible, Noah, Climate, Greta Thunberg Worksheet used in an outstanding lesson linking the Biblical account of Noah and modern day activist Greta Thunberg Excellent for making Bible stories relevant. Very good for promoting climate change in your school
Conservatism A level PowerPoints and slides with accompanying tasks and questions for students Human Imperfection, Oakeshott, Rand, Tradition, Robert Nozick, Neo Liberalism, Paternalism and Pragmatism Ideal for: Specialist teachers as a framework to have wider discussions Non specialist and supply teachers as questions and tasks for students are included Personal study and homework for students before a lesson e.g. Flip learning, personal study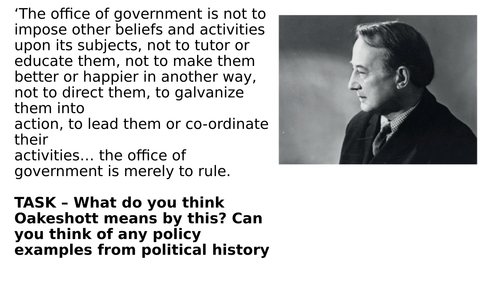 Conservatism and Michael Oakeshott A level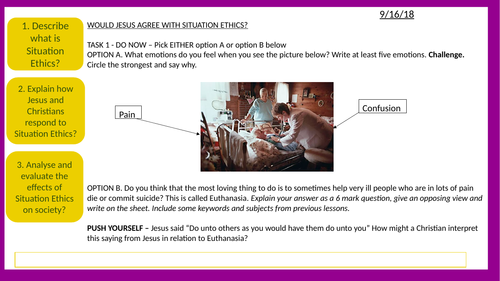 Lesson I gave on Jesus and Situation Ethics that was rated outstanding in an observation Worksheets to support such as circle of inference and frameworked lesson for SEN students. Ray x
Why are the 5 K's so important to Sikhs? Worksheet helping student sto understand and think deeply about the 5 k's The 5 Ks date from the creation of the Khalsa Panth by Guru Gobind Singh in 1699. The Guru introduced them for several reasons: Adopting these common symbols would identify members of the Khalsa Because all members of the Khalsa wear the 5 Ks the members of the community are more strongly bound together Each K has a particular significance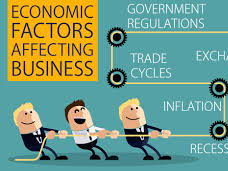 Worksheet on economic factors affecting businesses. Suitable for all AS level and A level boards. Specifically done for a lesson that was rated Outstanding. Higher and lower ability sheet included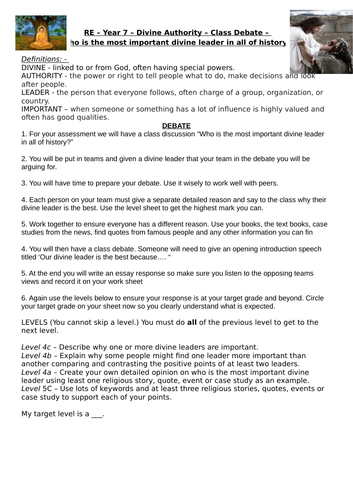 Outstanding observation lesson - Religious Education - Who is the most important religious leader?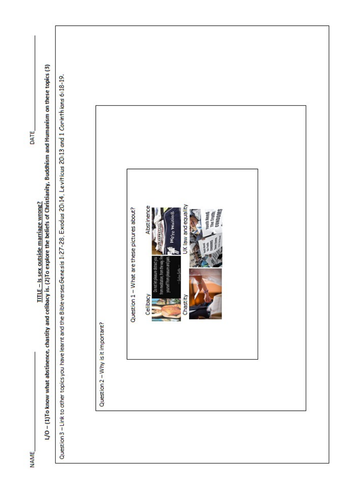 Outstanding resource used in a successful interview to a private school Concerning Eduqas and AQA Religious Studies new GCSE 9 to 1 Can be used for any year group but specifically GCSE
KS3 Worksheet - Outstanding / Observation Lesson - Humanities Lesson /Geography / History - Citizenship The European Union / The Eu / Brexit - Should we stay?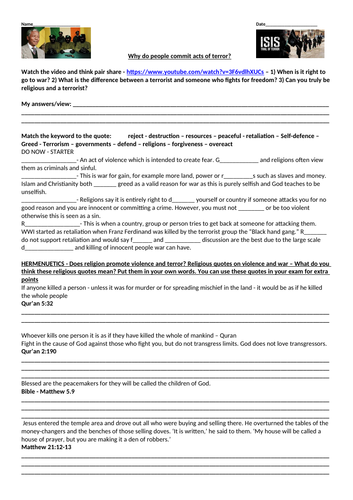 AQA - GCSE - Religious Studies - Religion Peace and Conflict Worksheet - Terrorism Save time and effort with this worksheet that includes links to videos, innovative activities and essay practice. Could also be used as a homework or cover with higher ability students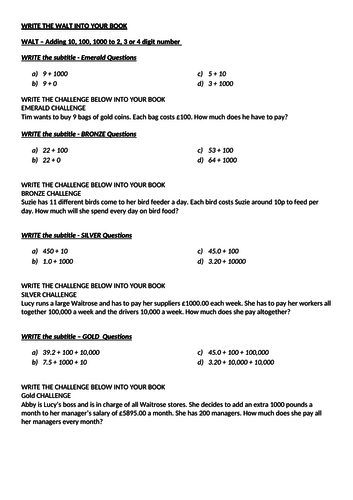 Math Worksheets differentiated - Fractions, Decimals, Multiplication, Word Problems, Subtraction, Addition etc 1.Save yourself 100's hours or resource and lesson preparation time 2.Use this outstanding resource to differentiate your lessons and make them accessible and outstanding for all students 3.Covers the Maths Curriculum 4.High quality extension and word problems **** Again.Save yourself 100's hours or resource and lesson preparation time****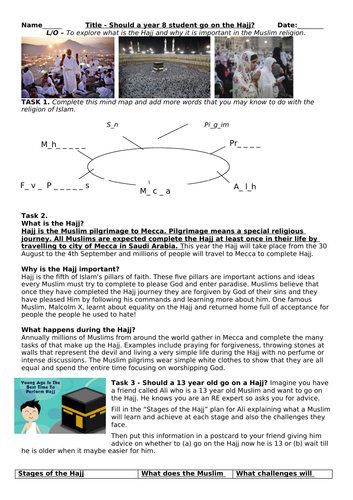 Hajj - Islam - 5 Pillars - Worksheet This was delivered in an interview for a head of department job and I received a good/outstanding rating for the lesson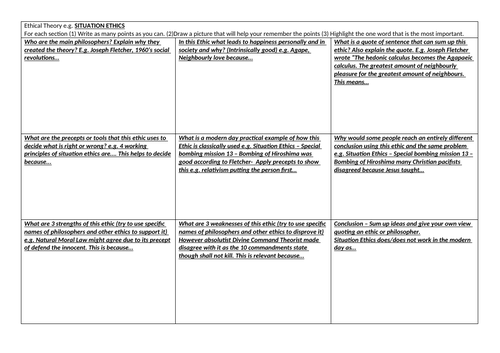 Wall planner and revision board for A level religion Ethics. Can be used with AQA. Edexcel, Eduqas. Perfect for year 12 and 13 students to complete at home or in class and then attach to the walls of thier class or bedroom.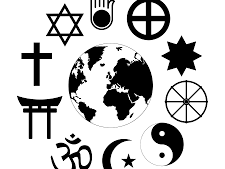 Outstanding and Comprehensive worksheet - Types of utilitarianism
Why do people commit acts of terror worksheet - GCSE peace and conflict