Learning Apples' Store
Worksheets, lesson plans.
39Uploads
2k+Views
257Downloads
Worksheets, lesson plans.
Students will count the number of balloons in the hand of the bear.
This is one page worksheet for practicing plurality and singularity with school supplies. Students will color the correct answer.
Students will follow the path and reach to the heart. It is a fun activity in Valentine Day's.
In this worksheet paper, student are going to place words into box on the body of the boy. With this, they are going to practice body parts effectively.
It is one page PDF format. It is in Valentine Day's theme. Students will fill in the blanks for the days of the week.
It is one page PDF format. In this worksheet, students will fill the missing letters in the alphabet and colour valentine cupcakes.
Students will find the words about Valentine's Days in scrambled words. They will have fun with this.
It consists of three pages of worksheets about shapes. It is a fun resource for kids to learn and practice shapes. They will paint shapes according to instructions. It presents an attractive resource for them.
This speaking lesson plan is for pre-intermediate learners. It is about asking and giving directions. It includes pre-speaking, while-speaking, and post-speaking parts. All parts are explained thoroughly. Objectives and activities are given. It is an authentic lesson plan.
It is a good source for preschoolers to learn about preposition between. In the second page, they will draw a picture of a pet between two items. They will use their own creativity by this worksheet as well.
This is one page PDF for practising the objects in the classroom. Student will choose the words below and write them in the boxes on the objects.
It is a paper about writing Christmas wish to the Santa. It is a good practice for kids.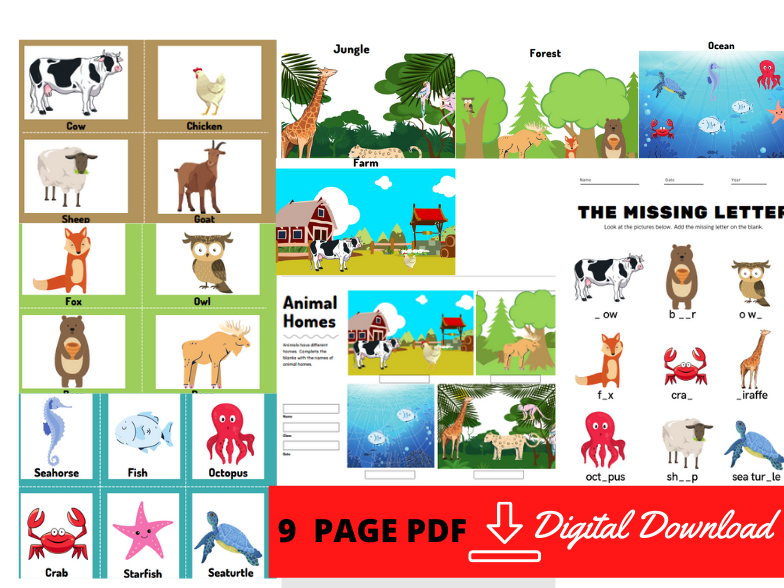 It consists of 9 pages of PDF formats. Animals in different habitats (in ocean, in farm, in forest, in jungle are presented. Animals are showed in their habitats in 4 PDF formats. 1 page is for completing the blanks activity. Students can complete them by looking at colorful pictures. 1 page is for missing letter activity. Besides, flashcards are included (3 pages). This is a great source for pre-schoolers.
This is one page worksheet for practising classroom language. Students will look at pictures and then they will match them with writings. It is a great source of practising classroom language.
This powerpoint slides includes hobbies and games questions. They are presented in two options with a colorful picture. Students choose an option and then the correct answer appears on the slide. The questions are seen in below: Going camping or going fishing? Playing tag or playing checkers ? Making origami or doing sculpting? Playing dodgeball or playing football? Playing hopscotch or playing blind man's buff? Playing domino or playing Chinese whispers?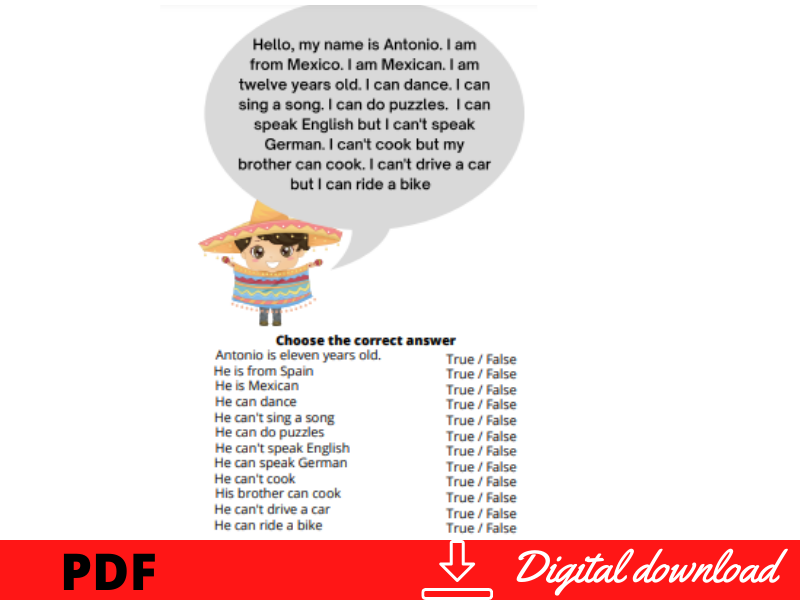 This is a reading text for practicing can and can't. Students practice hobbies/ games and nationalities/countries at the same time.
It is designed for students to write their thankfulness in thanksgiving.