Ms Hughes Teaches
History resources to engage and educate.
11Uploads
42k+Views
15k+Downloads
History resources to engage and educate.

Can your students decide what happened to the Mary Celeste and all of her crew? In this lesson they will compare and evaluate 12 possible theories before deciding on the most likely scenario as the 'winner'. They will then justifying their decision both verbally and in writing. The lesson works as a knockout tournament, comparing two theories at a time. They must apply the background in formation presented to them along with the theories to come up with the most plausible answer. It is great for developing higher order thinking skills especially when they have to tease out the strengths and weaknesses of each idea. It also provides me with some fabulous display ideas using the students work! The lesson contains: 23 slide powerpoint. -12 Theory cards (on powerpoint to be printed off in handout mode and cut out - they are in colour and black and white to help you save some ink!) 2 page background information handout. 3 page detailed lesson plan Tournament structure handout (also on powerpoint in colour and Black and white) The last task is to write a paragraph explaining what they think was the most likely scenario based on what they have learned. **TERMS OF USE: ** This download (free or purchased) is for your own personal use in your classroom or your home. Please do not share my resources with others unless given explicit consent by me. Please direct them to my store instead. This download MAY NOT be used in whole or in part on any distance learning course platforms including, but not exclusive to, Outschool or Udemy. You may not share this download. You may not alter any item in this download, resell and claim as your own work. Similarly, you may not sell or share these resources with anyone and you may not use the contents of this download to create anything for commercial purposes or other commercial products. If you are an education board or school and would like to use my resources district wide, please contact me about licensing. © A. Hughes (MsHughesTeaches) All rights reserved.

Can your students decide who Jack the Ripper was out of a cast of 12 suspects? In this lesson they will compare and evaluate 12 possible suspects before deciding on the most likely guilty person. They will then justifying their decision both verbally and in writing. The lesson works as a knockout tournament, comparing two suspects at a time. They must apply the background information presented to them along with the suspect cards to come up with the most plausible answer. It is great for developing higher order thinking skills especially when they have to tease out the strengths and weaknesses of each suspect. It also provides me with some fabulous display ideas using the students work! Update! Students can now click to read each suspect's details on the screen. Save yourself the printing and easier for distance learning too!* The lesson contains: 23 slide powerpoint. 12 Suspect Information cards (on the powerpoint to be printed off in handout mode and cut out - they are in colour and also black and white versions to help you save some ink!) Information handout sheet on the five acknowledged victims of Jack the Ripper. 3 page detailed lesson plan. Tournament structure handout sheet (also on PowerPoint in colour and black and white) The last task is to write a paragraph, if you would like a framework for this you might like to check out my 'P.E.E.L. PARAGRAPH LITERACY MATS' The lesson is does not contain any graphic imagery, all photos of the victims are from when they were alive. But the written content on the victims, being as it is about a serial killer, is a bit gory. So I recommend this for high school more than middle school. TERMS OF USE: This download (free or purchased) is for your own personal use in your classroom or your home. Please do not share my resources with others unless given explicit consent by me. Please direct them to my store instead. This download MAY NOT be used in whole or in part on any distance learning course platforms including, but not exclusive to, Outschool or Udemy. You may not share this download. You may not alter any item in this download, resell and claim as your own work. Similarly, you may not sell or share these resources with anyone and you may not use the contents of this download to create anything for commercial purposes or other commercial products. If you are an education board or school and would like to use my resources district wide, please contact me about licensing. ©Amy Hughes (MsHughesTeaches) All rights reserved.

This lesson focuses on the primary evidence from the time to describe and explain what life was like for slaves on American plantations in the 19th century. The lesson begins with a desk jigsaw that the students must put together and attempt to work out the topic of the lesson. They then use the source material as a DBQ to identify, describe, explain and analyse. This works well to develop their historical skills. The lesson resources are differentiated by level of activity that match the respective lesson objectives and by the amount of resources they must use for the DBQ. You can use the same with the whole class or if you have a very widely varied ability level you can give out the relevant sheets to match each student. The top ability are encouraged throughout to consider a sources reliability based on the origin, nature and purpose. However, I think all students can begin to do this and evaluate the sources in front of them. ***Lesson contains: ** Simple lesson plan A 20 slide animated powerpoint with notes for teacher direction where needed. 3 differentiated source DBQs with differentiated tasks.

The death of Emily Wilding Davison at The Derby in June 1913 was one of the key events of the Suffragette movement in the UK. When she ran in front of the King's horse, Anmer did she intend to commit suicide or was she merely trying to break up the race in protest? This has interested historians for over one hundred years. This lesson asks whether her death was a suicide or a protest 'gone wrong'. Your students must gather the evidence and evaluate it to ultimately come to a decision on what they think. They then use this to write an extended piece supported by the evidence available. The lesson contain: *13 slide animated PowerPoint presentation *A full lesson plan * A clue sheet * Evidence graphic organiser. This is great lesson for developing your students' historical skills as well as improving their knowledge of women's history and the campaign for the right to vote. Thanks ***************************************************************************** TERMS OF USE: This download (free or purchased) is for your own personal use in your classroom or your home. Please do not share my resources with others unless given explicit consent by me. Please direct them to my store instead. This download MAY NOT be used in whole or in part on any distance learning course platforms including, but not exclusive to, Outschool or Udemy. You may not share this download. You may not alter any item in this download, resell and claim as your own work. Similarly, you may not sell or share these resources with anyone and you may not use the contents of this download to create anything for commercial purposes or other commercial products. If you are an education board or school and would like to use my resources district wide, please contact me about licensing. © A. Hughes (MsHughesTeaches), All rights reserved.

This is a simple lesson designed to introduce the main reasons the Romans invaded Britain under Caesar. The learning objectives are staggered and your students show their developing knowledge as the lesson goes on by answer set questions. The lesson begins by introducing the Romans Empire and what an empire is. Next the class completes an activity matching the reasons with simple explanations. Finally the class put what they have learnt to use by answering a choice of questions based on ability. The harder question involves weighing up and deciding what they think is the MAIN reason for the Roman invasion. Lesson Includes: 15 slide animated PowerPoint presentation One page worksheet/cardsort. TERMS OF USE: This download (free or purchased) is for your own personal use in your classroom or your home. Please do not share my resources with others unless given explicit consent by me. Please direct them to my store instead. This download MAY NOT be used in whole or in part on any distance learning course platforms including, but not exclusive to, Outschool or Udemy. You may not share this download. You may not alter any item in this download, resell and claim as your own work. Similarly, you may not sell or share these resources with anyone and you may not use the contents of this download to create anything for commercial purposes or other commercial products. If you are an education board or school and would like to use my resources district wide, please contact me about licensing. © A. Hughes (MsHughesTeaches), 2014 All rights reserved. Graphics on the preview From the Pond http://frompond.blogspot.com

Get your students thinking and working like historians with this lesson. I have used this lesson for several years as part of a project on developing history skills in my pupils. Students have to infer and reach a reasoned judgement based on the evidence. This includes primary sources in the form of artefacts and secondary reports. The class works in pairs to decide why and how the man found in the peat bog in Denmark died. They assess the evidence to decide whether it was: Murder Suicide or Sacrifice (you can choose the most appropriate option depending on the needs of your students) Illness/natural causes. The evidence is not given to them all at once, instead the teacher drip feeds it throughout the lesson. This is in a bid to challenge preconceived ideas and see if pupils will change their minds when faced with new information or sources. The last task is to write a paragraph or more (a bit like a mini DBQ) explaining what the different options were and what they believe happened to Tollund Man based on the evidence they have collated. There is a very basic outline that can be used if it is wanted but students are encouraged to write their views based on the evidence in their own way using PEEL. The final piece can be marked using the grade boundaries on the end slide. The lesson fits with the common core requirement for students to analyse, evaluate and consider causation. The grade boundaries/descriptors are skills based: i.e: identify, then describe then explain then evaluate at the top end of ability. The zip file contains: fully animated powerpoint Clues from the crime scene worksheet Answer table worksheet with choice of options 'WH' questions worksheet. Full lesson plan description This lesson is engaging and can be used as a stand alone or as part of a project on historical skills. It works very well as an introduction to History during secondary school transition at Year 7. TERMS OF USE: This download (free or purchased) is for your own personal use in your classroom or your home. Please do not share my resources with others unless given explicit consent by me. Please direct them to my store instead. **This download MAY NOT be used in whole or in part on any distance learning course platforms including, but not exclusive to, Outschool or Udemy. ** You may not share this download. You may not alter any item in this download, resell and claim as your own work. Similarly, you may not sell or share these resources with anyone and you may not use the contents of this download to create anything for commercial purposes or other commercial products. If you are an education board or school and would like to use my resources district wide, please contact me about licensing. © Amy Hughes (MsHughesTeaches) All rights reserved.

"Remember, Remember The 5th of November. Gunpowder, Treason and Plot?" Get your students thinking like historians and evaluating evidence. In this lesson students have to infer and reach a reasoned judgement based on the evidence at hand. This includes primary sources and secondary reports. The class works in pairs to decide whether Guy Fawkes and his fellow accused were guilty of attempted mass murder or if they were framed by the government at the tim was an excuse to crack down on Catholicism in Britain. The evidence is not given to them all at once, instead the teacher drip feeds it throughout the lesson. This is in a bid to challenge preconceived ideas and see if pupils will change their minds when faced with new data or sources. They begin with a clip telling the traditional story of events from Horrible Histories. Then in 3 minute intervals more evidence is presented either not the whiteboard or on a sheet of clues. The last task is to write an extended piece (like a DBQ) explaining whether or not they believe the men were framed, innocent or (most may say) entrapped. The lesson fits with the common core requirement for students to analyse, evaluate and consider causation and consequence. It is designed for the UK National Curriculum and I have kept in the level descriptors as these may help you with grading your students as they are skill descriptors: ie: identify, then describe then explain then evaluate at the top end of ability. But if not they can be easily deleted from the slides. The zip file contains: - 13 slide, fully animated powerpoint - Clues from the scene worksheet - Answer worksheet - 3 minute clip Horrible Histories (also available on Youtube) - lesson plan description My classes have had great fun with this lesson. It can stand alone or be used a a project, for example on The Stuarts. I hope you find this useful and enjoyable. If you do, please check out my other History Mysteries, including my Bundle… ***************************************************************************** TERMS OF USE: This download (free or purchased) is for your own personal use in your classroom or your home. Please do not share my resources with others unless given explicit consent by me. Please direct them to my store instead. You may not share this download. You may not alter any item in this download, resell and claim as your own work. Similarly, you may not sell or share these resources with anyone and you may not use the contents of this download to create anything for commercial purposes or other commercial products. If you are an education board or school and would like to use my resources district wide, please contact me about licensing. © A. Hughes (MsHughesTeaches), 2016 All rights reserved.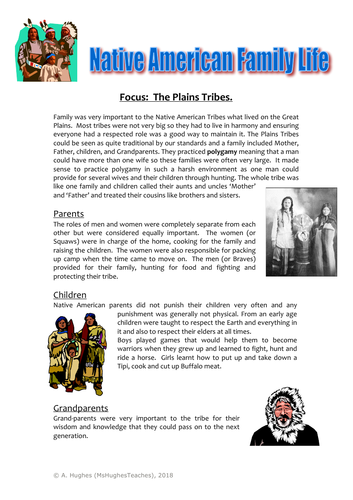 This is a two page worksheet with information on the family dynamics of the Plains Tribes at the time of European expansion. It covers briefly how marriage worked in the tribes as well as the roles of parents, children and grandparents. There are 6 comprehension and thinking questions and a table to complete comparing similarities and differences to modern family life. A simple and straight addition to any unit on the indigenous people of the Americas or a s stand alone lesson. May also be of interest to those studying world religions in RE as a comparison activity.

In this activity, students have to evaluate the impact of certain events during the English Civil War on the two sides. Beginning with the Roundheads they must decide how much each event impacted their fortune in war. Print the graph on A3 size paper and cut out the events cards with one set per pair. Once the students have done that for the Roundheads they must move the cards around the graph to show how the same events impacted the Cavaliers. As an extension I ask my students to think outside the box. For example how would these events impact on a peasant woman that worked for a Monarchist? The aim to get our young people thinking about the effect the same events can happen on different people depending on their background and personal experience. It can also be used to discuss 'key turning point' and 'to what extent…' questions Then I ask them to write up their findings in an extended answer using the P.E.E.L. structure.

Can your students beat the puzzle code and find out at least three causes of American intervention in Vietnam? This is an interesting way to introduce the topic of the conflict in Vietnam. It is also perfect as a bell ringer or as home work.It is an interesting topic and works well as a bell ringer or introduction to the topic. The paragraph students must decipher includes the domino theory, the weakness of President Diem and the initial civil war. Students have to work out the letter/number code and fill in the paragraph accordingly. Each letter of the alphabet has been randomly assigned a number. The students must use the four already provided to try and work out what the rest says. I introduce an element of competition to keep my classes focused. Not only do they have to fill in the paragraph they must pick out at least 3 key facts and be the first to tell me as the teacher. Keeps the students heads down and learning something right until the end of term! TERMS OF USE: This download (free or purchased) is for your own personal use in your classroom or your home. Please do not share my resources with others unless given explicit consent by me. Please direct them to my store instead. This download MAY NOT be used in whole or in part on any distance learning course platforms including, but not exclusive to, Outschool or Udemy. You may not share this download. You may not alter any item in this download, resell and claim as your own work. Similarly, you may not sell or share these resources with anyone and you may not use the contents of this download to create anything for commercial purposes or other commercial products. If you are an education board or school and would like to use my resources district wide, please contact me about licensing. Copyright A. Hughes (MsHughesTeaches) All rights reserved.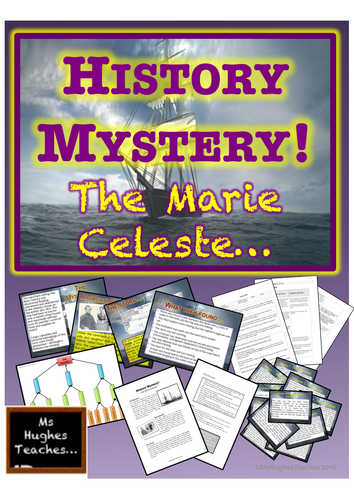 Can your students decide what happened to the Mary Celeste and all of her crew? In this lesson they will compare and evaluate 12 possible theories before deciding on the most likely scenario as the 'winner'. They will then justifying their decision both verbally and in writing. The lesson works as a knockout tournament, comparing two theories at a time. They must apply the background in formation presented to them along with the theories to come up with the most plausible answer. It is great for developing higher order thinking skills especially when they have to tease out the strengths and weaknesses of each idea. It also provides me with some fabulous display ideas using the students work! The lesson contains: - 23 slide powerpoint. -12 Theory cards (on powerpoint to be printed off in handout mode and cut out - they are in colour and black and white to help you save some ink!) - 2 page background information handout. - 3 page detailed lesson plan - Tournament structure handout (also on powerpoint in colour and Black and white) Please read my TERMS OF USE document attached to this lesson download.

This lesson asks the big question 'why did the Great Fire of London Spread so far and so fast in 1666?'. Your students have to evaluate the evidence available to decide what they think was the biggest contributing factor. Students have to infer and reach a reasoned judgement based on the evidence at hand. This includes primary sources and secondary reports. The class works in pairs or groups to decide why the Great Fire of London was able to spread so far in such a short space of time. They assess the evidence to decide whether the main reason was: -Human mistakes, -Weather conditions -Housing -Firefighting equipment. The evidence is not given to them all at once, instead the teacher drip feeds it throughout the lesson. This is in a bid to challenge preconceived ideas and see if pupils will change their minds when faced with new data or sources. The lesson also works well as a station activity with the children moving around the room to gather information. The last task is to write an extended piece (like a DBQ) explaining what the different factors were and what they believe was the biggest contributing factor to the fire spreading in this way. The lesson fits with the common core requirement for students to analyse, evaluate and consider causation. It is designed for the UK National Curriculum and I have kept in the level descriptors as these may help you with grading your students as they are skill descriptors: ie: identify, then describe then explain then evaluate at the top end of ability. But if not they can be easily deleted from the slides. The zip file contains: fully animated and annotated PowerPoint Clues from the scene worksheet Answer worksheet graphic organiser Full lesson plan description My classes have had great fun with this lesson. It can stand alone or be used a a project, for example on Stuart housing. I hope you find this useful and enjoyable. If you do, please check out my other enquiry lessons like this on various topics and I even have a growing bundle of them in my store. TERMS OF USE: This download (free or purchased) is for your own personal use in your classroom or your home. Please do not share my resources with others unless given explicit consent by me. Please direct them to my store instead. This download MAY NOT be used in whole or in part on any distance learning course platforms including, but not exclusive to, Outschool or Udemy. You may not share this download. You may not alter any item in this download, resell and claim as your own work. Similarly, you may not sell or share these resources with anyone and you may not use the contents of this download to create anything for commercial purposes or other commercial products. If you are an education board or school and would like to use my resources district wide, please contact me about licensing. © A. Hughes (MsHughesTeaches), 2014 All right

Get your students thinking and working like historians I have used this lesson for several years as part of a project on developing history skills in my pupils. Students have to infer and reach a reasoned judgement based on the evidence at hand. This includes primary sources in the form of artefacts and secondary reports. The class works in pairs to decide why and how the man found in the peat bog in Denmark died. They assess the evidence to decide whether it was: Murder, Suicide OR Sacrifice - you can choose depending on your students needs. Illness/natural causes. The evidence is not given to them all at once, instead the teacher drip feeds it throughout the lesson. This is in a bid to challenge preconceived ideas and see if pupils will change their minds when faced with new information or sources. The last task is to write at least a paragraph or more explaining what they think happeend based on the evident. It is a bit like a DBQ) explaining what the different options were and what they believe happened to Tollund Man based on the evidence they have collated. The lesson encouraged students to analyse, evaluate and consider causation. The grade descriptors are skills based - i.e: identify, then describe then explain then evaluate at the top end of ability. This can be used to mark the written work produced. The zip file contains: fully animated and annotated PowerPoint Clues from the crime scene worksheet Answer Table worksheet (with two opt Full lesson plan description My classes have had great fun with this lesson. It can stand alone or be used part of a project on historical skills. If you like this method you may also be interested the following 'history mystery' resources in my shop. I hope you find this useful and enjoyable and that your students have as much fun as mine have over the years! Thanks © A. Hughes (MsHughesTeaches), 2014 Keywords: history skills social studies mystery cause critical thinking evidence sources argument TERMS OF USE: This download (free or purchased) is for your own personal use in your classroom or your home. Please do not share my resources with others unless given explicit consent by me. Please direct them to my store instead. This download MAY NOT be used in whole or in part on any distance learning course platforms including, but not exclusive to, Outschool or Udemy. You may not share this download. You may not alter any item in this download, resell and claim as your own work. Similarly, you may not sell or share these resources with anyone and you may not use the contents of this download to create anything for commercial purposes or other commercial products. If you are an education board or school and would like to use my resources district wide, please contact me about licensing. Amy Hughes (MsHughesTeaches) All rights reserved.

"Remember, Remember The 5th of November. Gunpowder, Treason and Plot?" Get your students thinking like historians and evaluating evidence. In this lesson students have to infer and reach a reasoned judgment based on the evidence at hand. This includes primary sources and secondary reports. The class works in pairs to decide whether Guy Fawkes and his fellow accused were guilty of attempted mass murder or if they were framed by the government at the time was an excuse to crack down on Catholicism in Britain. The evidence is not given to them all at once, instead the teacher drip feeds it throughout the lesson. This is in a bid to challenge preconceived ideas and see if pupils will change their minds when faced with new data or sources. They begin with a clip telling the traditional story of events from Horrible Histories. Then in 3 minute intervals more evidence is presented either not the whiteboard or on a sheet of clues. The last task is to write an extended piece (like a DBQ) explaining whether or not they believe the men were framed, innocent or (most may say) entrapped. The lesson fits with the common core requirement for students to analyse, evaluate and consider causation and consequence. It is designed for the UK National Curriculum and I have kept in the level descriptors as these may help you with grading your students as they are skill descriptors: ie: identify, then describe then explain then evaluate at the top end of ability. But if not they can be easily deleted from the slides. The zip file contains: 13 slide, fully animated powerpoint Clues from the scene worksheet Answer worksheet Uses a 3 minute clip Horrible Histories ( available on Youtube https://www.youtube.com/watch?v=fMNOnYxhpOY) lesson plan description My classes have had great fun with this lesson. It can stand alone or be used a a project, for example on The Stuarts. TERMS OF USE: This download (free or purchased) is for your own personal use in your classroom or your home. Please do not share my resources with others unless given explicit consent by me. Please direct them to my store instead. This download MAY NOT be used in whole or in part on any distance learning course platforms including, but not exclusive to, Outschool or Udemy. You may not share this download. You may not alter any item in this download, resell and claim as your own work. Similarly, you may not sell or share these resources with anyone and you may not use the contents of this download to create anything for commercial purposes or other commercial products. If you are an education board or school and would like to use my resources district wide, please contact me about licensing. © A. Hughes (MsHughesTeaches), 2016 All rights reserved.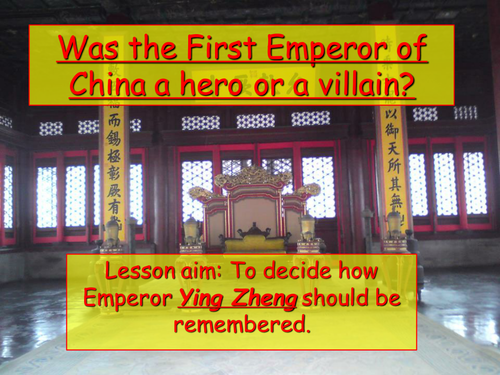 In this lesson students are asked to decide whether Emperor Ying Zheng should be remembered as a hero or a villain based on his actions. He was the first emperor to unify the seven warring states of China. The lesson includes: - A handout describing Ying Zheng's a life. - A worksheet with questions and activities for the students to complete. - A powerpoint with instructions and activities and also some recent photographs of the Forbidden City and the Great Wall of China. - A link to a video (3.26 minutes) from the documentary "The man who made China". - Optional and simple essay planning sheets for extended writing. This lesson was devised to go along with a whole unit I teach on China: past and present. The lesson contains cloze questions and higher order thinking tasks. To extend my students I ask them to consider what makes a good leader and can a person be a good leader but still be considered a villain, for example. The preview file only has a sample of the slides. I had tried to make a PDF with pictures of all the slides and worksheets but it was too big to upload! This lesson would work well as part of a world History study as well as being quite timely for Chinese New Year. Thanks for looking and I hope you find this helpful! © A. Hughes (MsHughesTeaches)

This lesson is about the religious beliefs specifically of the Native American Tribes on the Great Plains up tot he 19th century. The information was based on the textbook 'The life of the Plain's Indians' a textbook published in the UK. This worksheet based lesson teaches pupils about the Great Spirit or Wakan Tanka, visions and the purpose of ceremonies like the sundance and the work of medicine men. Pupils read the information and complete the large worksheet about each topic. Very good as part of a topic on Native Americans before the clash of civilisations. ***************************************************************************** TERMS OF USE: This download (free or purchased) is for your own personal use in your classroom or your home. Please do not share my resources with others unless given explicit consent by me. Please direct them to my store instead. This download MAY NOT be used in whole or in part on any distance learning course platforms including, but not exclusive to, Outschool or Udemy. You may not share this download. You may not alter any item in this download, resell and claim as your own work. Similarly, you may not sell or share these resources with anyone and you may not use the contents of this download to create anything for commercial purposes or other commercial products. If you are an education board or school and would like to use my resources district wide, please contact me about licensing. (MsHughesTeaches) All rights reserved. © A. Hughes (MsHughesTeaches)

I use this lesson as part of a unit on the First World War and life in the trenches. In this lesson the students have to identify the interpretation of the war of two poets based on their poems. Then the students have to write their own poem from either point of view. There is one photo on the presentation that is quite graphic showing mens bodies waiting to be buried. The powerpoint is editable so you could delete this if you do not think it is suitable for your students. I use this lesson with 13 year olds and I've not had a problem with them. Included: - 11 slide powerpoint - handout with the poems on it. - Lesson plan Thanks for looking. ***************************************************************************** TERMS OF USE: This download (free or purchased) is for your own personal use in your classroom or your home. Please do not share my resources with others unless given explicit consent by me. Please direct them to my store instead. This download MAY NOT be used in whole or in part on any distance learning course platforms including, but not exclusive to, Outschool or Udemy. You may not share this download. You may not alter any item in this download, resell and claim as your own work. Similarly, you may not sell or share these resources with anyone and you may not use the contents of this download to create anything for commercial purposes or other commercial products. If you are an education board or school and would like to use my resources district wide, please contact me about licensing. All rights reserved. © A. Hughes (MsHughesTeaches)

This lesson contains an 18 slide powerpoint, 3 page word worksheet of information and questions. There are also several links to video clips on the topic and questions relating to these. The lesson focuses on the Native American Civil Rights protest campaign in the 1970s. It has background on the sheet and powerpoint on exactly who the indigenous peoples of the Americas are. It briefly covers the conflict in the 19th century and primarily focuses on the growth of RED POWER and the actions taken in the 1970s. The lesson contains tasks based not he siege at Alcatraz and the siege at Wounded Knee. The lesson has elements of independent work and class discussion as well as some lecture by the teacher. The final task is to write a short essay answering the question - how successful were the Native Americans in achieving their aims by the end of the 1970s? There is also a research homework task on the significance of Mount Rushmore in the campaign for students to complete. I hope you find this useful. ***************************************************************************** TERMS OF USE: This download (free or purchased) is for your own personal use in your classroom or your home. Please do not share my resources with others unless given explicit consent by me. Please direct them to my store instead. This download MAY NOT be used in whole or in part on any distance learning course platforms including, but not exclusive to, Outschool or Udemy. You may not share this download. You may not alter any item in this download, resell and claim as your own work. Similarly, you may not sell or share these resources with anyone and you may not use the contents of this download to create anything for commercial purposes or other commercial products. If you are an education board or school and would like to use my resources district wide, please contact me about licensing. (MsHughesTeaches) All rights reserved. © A. Hughes (MsHughesTeaches)

Powerpoint, graphic organisers, information texts and full lesson plan. This thorough lesson begins with the reasons for large scale immigration into the USA from Central and South American countries in the mid 19th century and looks at the situation for Hispanic Americans in the USA at that time. There is a particular focus on Mexican Americans and the Chicano American campaigns as the largest minority group. The lesson begins by discussing what is meant by the term Hispanic and where culturally do hispanic Americans come from with a map activity. Students sift and sort Push and Pull factors on immigration and categorise them into political, social and economic factors. The song 'I like to be in America' from West Side Story is used as hook to consider positive and negative experiences for immigrants into America in the 1950 and how these experiences framed the civil rights movement into the 1960s and 1970s. (the link to a version on Youtube is on the powerpoint slide) The class finds more information around the room and summarises it with a graphic organiser before assessing the successes and limitations of the campaign into the 1970s. They complete a 15 minute written essay using their notes and the mark scheme. Lesson contains: 21 page animated and annotated PowerPoint Differentiated information texts 2 graphic organisers 'I like to be in America' lyrics - annotated with examples. Full lesson plan. I hope you find this useful. Thanks for having a look! ***************************************************************************** TERMS OF USE: This download (free or purchased) is for your own personal use in your classroom or your home. Please do not share my resources with others unless given explicit consent by me. Please direct them to my store instead. This download MAY NOT be used in whole or in part on any distance learning course platforms including, but not exclusive to, Outschool or Udemy. You may not share this download. You may not alter any item in this download, resell and claim as your own work. Similarly, you may not sell or share these resources with anyone and you may not use the contents of this download to create anything for commercial purposes or other commercial products. If you are an education board or school and would like to use my resources district wide, please contact me about licensing. © A. Hughes (MsHughesTeaches) All rights reserved.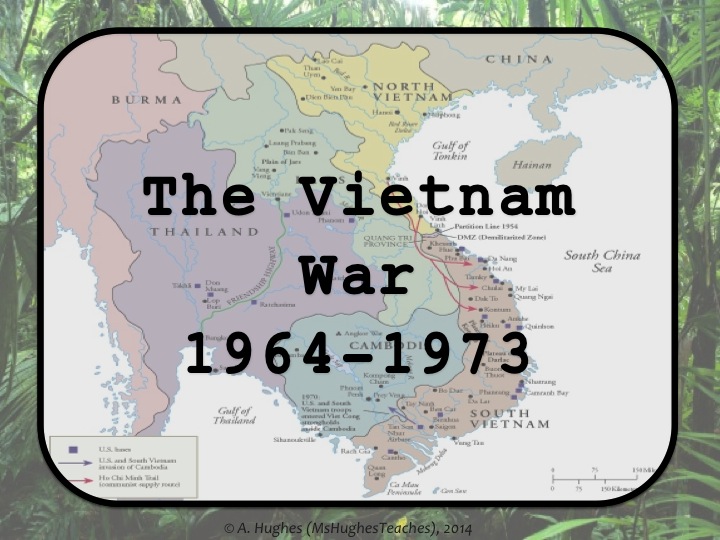 This display packet can be printed out in colour or in greyscale and used on a word wall in your classroom. I usually have mine on the wall in the shape of a giant 'V' to remind the students what the topic is! The packet contains 49 key words including people, places and events. Most of the cards contain a definition or description too and I have used pictures to illustrate some of the main words. These could easily be used a flash cards during test preparation and revision if printed on smaller paper. I hope you find this useful. ***************************************************************************** TERMS OF USE: This download (free or purchased) is for your own personal use in your classroom or your home. Please do not share my resources with others unless given explicit consent by me. Please direct them to my store instead. This download MAY NOT be used in whole or in part on any distance learning course platforms including, but not exclusive to, Outschool or Udemy. You may not share this download. You may not alter any item in this download, resell and claim as your own work. Similarly, you may not sell or share these resources with anyone and you may not use the contents of this download to create anything for commercial purposes or other commercial products. If you are an education board or school and would like to use my resources district wide, please contact me about licensing. All rights reserved. © A. Hughes (MsHughesTeaches)