Ms Hughes Teaches
History resources to engage and educate.
11Uploads
42k+Views
15k+Downloads
History resources to engage and educate.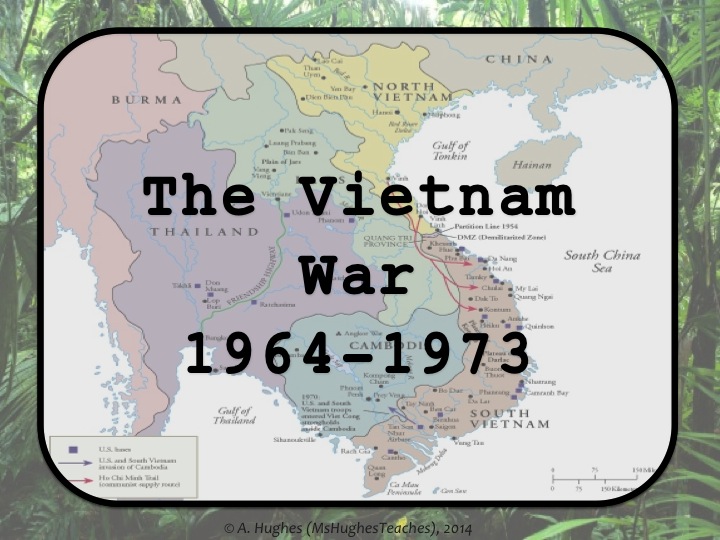 This display packet can be printed out in colour or in greyscale and used on a word wall in your classroom. I usually have mine on the wall in the shape of a giant 'V' to remind the students what the topic is! The packet contains 49 key words including people, places and events. Most of the cards contain a definition or description too and I have used pictures to illustrate some of the main words. These could easily be used a flash cards during test preparation and revision if printed on smaller paper. I hope you find this useful. ***************************************************************************** TERMS OF USE: This download (free or purchased) is for your own personal use in your classroom or your home. Please do not share my resources with others unless given explicit consent by me. Please direct them to my store instead. This download MAY NOT be used in whole or in part on any distance learning course platforms including, but not exclusive to, Outschool or Udemy. You may not share this download. You may not alter any item in this download, resell and claim as your own work. Similarly, you may not sell or share these resources with anyone and you may not use the contents of this download to create anything for commercial purposes or other commercial products. If you are an education board or school and would like to use my resources district wide, please contact me about licensing. All rights reserved. © A. Hughes (MsHughesTeaches)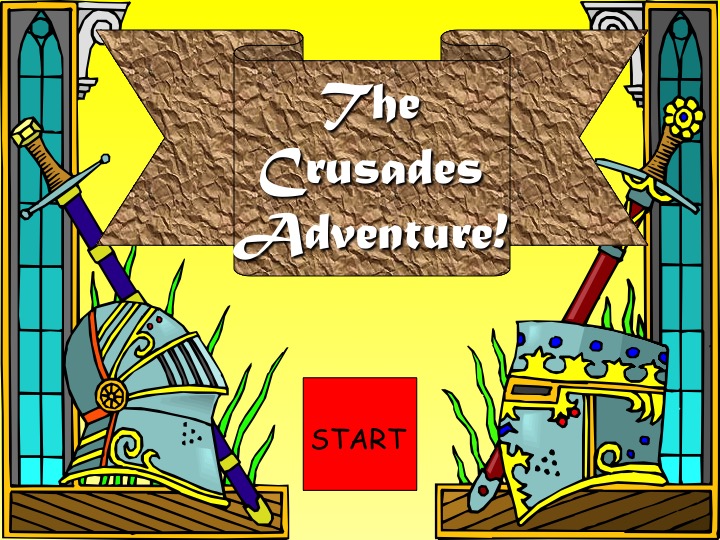 If you're looking for a fun and interactive way for your students to learn about the crusades this powerpoint based game could be for you. It's based on the idea of 'choose your own adventure' games. They time travel back to Medieval England and find out the reasons why people went on the crusades to Jerusalem. Students have to navigate their way through the presentation making decisions on who they 'speak' to and what they read in order to answer the questions on the question sheet. The students then can use their discoveries to answer the 'mini-essay' question: Why did people go on Crusade in the Middle Ages? CONTAINS: INTERACTIVE POWERPOINT QUESTION SHEETS MODEL ANSWER SHEETS I have used this with my classes every year and they enjoy it a lot. It's just a different way to learn the topic. If you have access to a computer suite it works very well as an individual or pair lesson but it easily be used in a teacher led lesson with the whole class. I have done this both ways and it has been successful. With older years (grade 7) it would work well as a supplement to a wider unit on the crusades. Thanks for looking. **TERMS OF USE: ** This download (free or purchased) is for your own personal use in your classroom or your home. Please do not share my resources with others unless given explicit consent by me. Please direct them to my store instead. ***This download MAY NOT be used in whole or in part on any distance learning course platforms including, but not exclusive to, Outschool or Udemy. You may not share this download. You may not alter any item in this download, resell and claim as your own work. Similarly, you may not sell or share these resources with anyone and you may not use the contents of this download to create anything for commercial purposes or other commercial products. If you are an education board or school and would like to use my resources district wide, please contact me about licensing. ©Amy Hughes (MsHughesTeaches) All rights reserved.

This lesson asks the big question 'why did the Great Fire of London Spread so far and so fast in 1666?'. Your students have to evaluate the evidence available to decide what they think was the biggest contributing factor. Students have to infer and reach a reasoned judgement based on the evidence at hand. This includes primary sources and secondary reports. The class works in pairs or groups to decide why the Great Fire of London was able to spread so far in such a short space of time. They assess the evidence to decide whether the main reason was: -Human mistakes, -Weather conditions -Housing -Firefighting equipment. The evidence is not given to them all at once, instead the teacher drip feeds it throughout the lesson. This is in a bid to challenge preconceived ideas and see if pupils will change their minds when faced with new data or sources. The lesson also works well as a station activity with the children moving around the room to gather information. The last task is to write an extended piece (like a DBQ) explaining what the different factors were and what they believe was the biggest contributing factor to the fire spreading in this way. The video clip that I use when teaching this is from the BBC drama Charles I The Power and the Pas The lesson fits with the common core requirement for students to analyse, evaluate and consider causation. The grade descriptors are skill based ie: identify, then describe then explain then evaluate at the top end of ability. The zip file contains: fully animated and annotated PowerPoint Clues from the scene worksheet Answer worksheet Full lesson plan description This is a fun and memorable lesson that can be taught as a stand alone or as part of a project for example on Stuart housing. I have had teachers tell me that they used this to create a whole day of historical enquiry. TERMS OF USE: This download (free or purchased) is for your own personal use in your classroom or your home. Please do not share my resources with others unless given explicit consent by me. Please direct them to my store instead. This download MAY NOT be used in whole or in part on any distance learning course platforms including, but not exclusive to, Outschool or Udemy. You may not share this download. You may not alter any item in this download, resell and claim as your own work. Similarly, you may not sell or share these resources with anyone and you may not use the contents of this download to create anything for commercial purposes or other commercial products. If you are an education board or school and would like to use my resources district wide, please contact me about licensing. © A. Hughes (MsHughesTeaches), All rights reserved.

The death of Emily Wilding Davison at The Derby in June 1913 was one of the key events of the Suffragette movement in the UK. When she ran in front of the King's horse, Anmer did she intend to commit suicide or was she merely trying to break up the race in protest? This has interested historians for over one hundred years. This lesson asks whether her death was intentional or a protest 'gone wrong'. Your students must gather the evidence and evaluate it to ultimately come to a decision on what they think. They then use this to write an extended piece supported by the evidence available. The lesson contains: 13 slide animated PDF presentation A full lesson plan A clue sheet Evidence graphic organiser. This is great lesson for developing your students' historical skills as well as improving their knowledge of women's history and the campaign for the right to vote. The lesson has also been edited to use the phrase 'intentional' rather than suicide as this word can be triggering for some people in our classes. TERMS OF USE: This download (free or purchased) is for your own personal use in your classroom or your home. Please do not share my resources with others unless given explicit consent by me. Please direct them to my store instead. This download MAY NOT be used in whole or in part on any distance learning course platforms including, but not exclusive to, Outschool or Udemy. You may not share this download. You may not alter any item in this download, resell and claim as your own work. Similarly, you may not sell or share these resources with anyone and you may not use the contents of this download to create anything for commercial purposes or other commercial products. If you are an education board or school and would like to use my resources district wide, please contact me about licensing. © Amy Hughes (MsHughesTeaches) All rights reserved.

This lesson aims to get students empathising with those that lived through the Medieval Black Death. They must put the events of the 1348 plague in the correct chronological order and then consider the emotions people would have felt at those different times. Each student has a set of emotion cards to hold up for each event. When I first taught this lesson I envisaged students holding up just one emotion card for each date and event but they surprised me with the complexity of their thinking and reasoning. Many students were able to use the emotions cards to explain how they might have conflicting emotions when, for example they hear rumours from the nearest town or when the plague has passed them by. Ultimately the students cut and stick the event cards in chronological order and then draw an emotion picture next to it to show how they would feel at each point. They should also write down AT LEAST one sentence explaining why they would feel this way. I use this lesson as preparation for writing their own historical fiction about the Black Death. It works well for character building and character motivation later on. It also helps students to think about cause and effect and the impact on individuals of major events. Lesson contains: 13 slide PowerPoint (print out as a handout to use the events slides as cards) 6 emotion 'cards' (one blank for the students to create their own) An example of student work to give an idea of outcome. Thanks for looking! ***************************************************************************** TERMS OF USE: This download (free or purchased) is for your own personal use in your classroom or your home. Please do not share my resources with others unless given explicit consent by me. Please direct them to my store instead. This download MAY NOT be used in whole or in part on any distance learning course platforms including, but not exclusive to, Outschool or Udemy. You may not share this download. You may not alter any item in this download, resell and claim as your own work. Similarly, you may not sell or share these resources with anyone and you may not use the contents of this download to create anything for commercial purposes or other commercial products. If you are an education board or school and would like to use my resources district wide, please contact me about licensing. © A. Hughes (MsHughesTeaches)All rights reserved.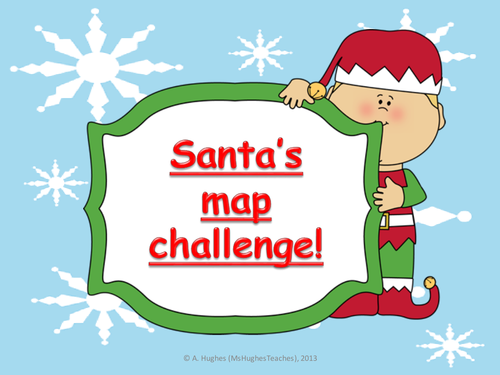 Have your students got what it takes to help save Santa this Christmas? He's lost his presents and the big day is looming. Teach your students 4-figure grid referencing in a fun way with this full animated powerpoint lesson. Go through each step of working out a grid reference on the board or it can be printed out for individual use (I've added the same slides to the end of the powerpoint but without the overlapping animation so they are easy to print out and use. Then get the class to draw their own maps and then test each other's map skills. Great for AFL and Peer assessment activities. The should take one teaching lesson but can also take up to two depending on your class's age and stage. I tend to spend the second part letting the students use their imaginations to create their own detailed maps. You'll get some great display material out of your class. Thanks for looking!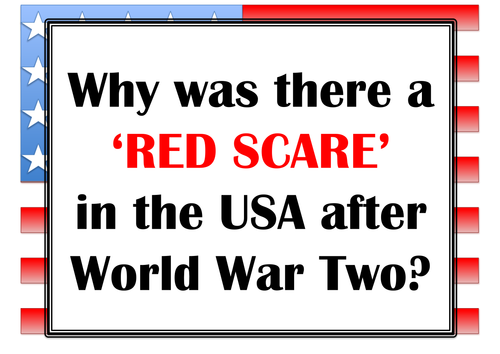 This worksheet divides the causes of the Red Scare after WW2 into internal paranoia and external events and how they increased the public and government's fear of communism in the USA. Students have to read a passage and highlight the internal and external events in two different colours. They then have to develop their own explanation of how these things increased the fear of Communism. Finally the class must write two P.E.E.L. paragraphs explaining these factors. I have used this lesson with my GCSE classes for many years and find it is a good and clear way to teach quite a complex topic. Thanks for looking. (This resource can be used only be the teacher purchasing it within their class. Please do not share, adapt or sell this resource. If others would like a copy please direct them to my store. Read my Terms of Use attached to this download)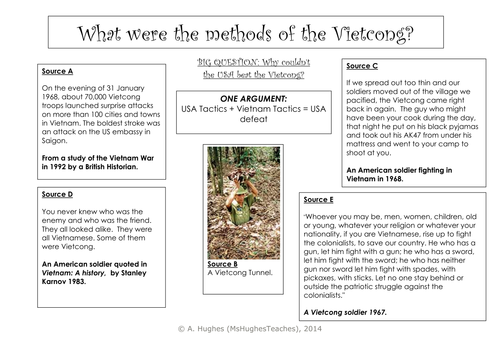 This worksheet uses contemporary sources to investigate the different methods used by the Vietcong fighters during the Vietnam war. The focus is on the Guerrilla tactics and the American GI's reactions to them. Students have to be able to infer from the sources to get a fuller picture of the methods used by the Vietnamese. I use this lesson as part of several on the methods of the Vietcong AND the methods of the American troops to help explain why America was unable to win the war. Students have to complete 5 questions using the sources and then write a diary entry as either an American GI or a Vietnamese fighter using the sources they have just interrogated.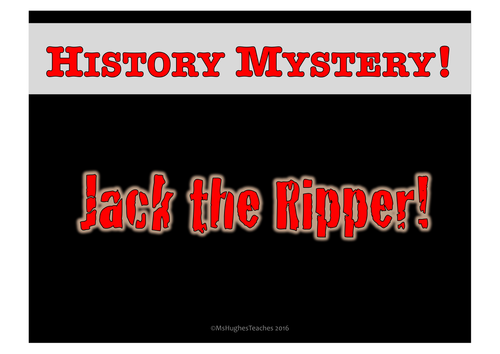 Can your students decide who Jack the Ripper was out of a cast of 12 suspects? In this lesson they will compare and evaluate 12 possible suspects before deciding on the most likely guilty person. They will then justifying their decision both verbally and in writing. The lesson works as a knockout tournament, comparing two suspects at a time. They must apply the background information presented to them along with the suspect cards to come up with the most plausible answer. It is great for developing higher order thinking skills especially when they have to tease out the strengths and weaknesses of each suspect. It also provides me with some fabulous display ideas using the students work! The lesson contains: - 23 slide powerpoint. -12 Suspect Information cards (on the powerpoint to be printed off in handout mode and cut out - they are in colour and also black and white versions to help you save some ink!) - Information handout sheet ont he five acknowledged victims of Jack the Ripper. - 3 page detailed lesson plan. - Tournament structure handout sheet (also on powerpoint in colour and black and white) - The last task is to write a P.E.E.L. paragraph. The lesson is does not contain any graphic imagery, all photos of the victims are from when they were alive. But the written content on the victims, being as it is about a serial killer, is a bit gory. So I recommend this for high school more than middle school. Thanks for looking! ********************************************************************************************************************* TERMS OF USE: This download (free or purchased) is for your own personal use in your classroom or your home. Please do not share my resources with others unless given explicit consent by me. Please direct them to my store instead. This download MAY NOT be used in whole or in part on any distance learning course platforms including, but not exclusive to, Outschool or Udemy. You may not share this download. You may not alter any item in this download, resell and claim as your own work. Similarly, you may not sell or share these resources with anyone and you may not use the contents of this download to create anything for commercial purposes or other commercial products. If you are an education board or school and would like to use my resources district wide, please contact me about licensing. © A. Hughes (MsHughesTeaches) All rights reserved.

This lesson could be used when teaching a unit on Elizabeth I and the Tudor and Stuart explorers or as part of a unit on the Native Americans. It would be interesting to use this around Thanksgiving. The worksheet contains primary and secondary sources all focused on the reasons why people left England in the 16th century to travel to America. The students have to identify all the reasons the sources suggest for why people chose to leave England. They also have to identify the origin, nature and purpose of the sources to decide how useful they are to an historian. I have also now added a powerpoint starter looking at the famous painting of the Pilgrim fathers arriving in the USA. This could fit nicely with the history common core changes focussed on the use of evidence and evaluation of sources. Hope you find this useful and thanks for looking! ***************************************************************************** TERMS OF USE: This download (free or purchased) is for your own personal use in your classroom or your home. Please do not share my resources with others unless given explicit consent by me. Please direct them to my store instead. This download MAY NOT be used in whole or in part on any distance learning course platforms including, but not exclusive to, Outschool or Udemy. You may not share this download. You may not alter any item in this download, resell and claim as your own work. Similarly, you may not sell or share these resources with anyone and you may not use the contents of this download to create anything for commercial purposes or other commercial products. If you are an education board or school and would like to use my resources district wide, please contact me about licensing. (MsHughesTeaches) All rights reserved. © A. Hughes (MsHughesTeaches)

I created this lesson to help my classes get to grips with inference in history and the use of artefacts. Many young students get stuck at the idea that we can never know what happened in the past because no one alive was there to be our witnesses. This lesson requires students to develop and use their inference skills to work out for themselves what an object is and what it can tell us about the past, its people and in some cases its events. <br /> <br /> YOU NEED TO PROVIDE 6 ARTEFACTS YOURSELF. These are not included in the lesson but should be quite easy to come by. For example I have used a variety of different things - thats the joy of this lesson - including a St. John Ambulance nursing hat that belonged to my mother, a commemorative coin, a ration book (replica from the internet) through to a hand made crucifix from WW2 found a yard sale! I have even used 1980s cassette tapes of music because, scarily, it was 'historical' to my students!<br /> <br /> The lesson contains:<br /> 18 slide powerpoint<br /> A worksheet to model inferring with a bejewelled dagger.<br /> 3 differentiated writing frames for the students archeology reports.<br /> Full and detailed lesson plan <br /> <br /> My students have always gotten a great deal form this lesson and helps to develop peer and independent learnings skills. It also forces them to back up their ideas with explanation and consider the 'most likely' scenarios.<br /> <br /> I hope you find this lesson useful. I will be putting more History skills lessons in my store soon.

Can your students beat the puzzle code and find out who the dictator was and three key facts about him? This word code puzzle is about the rise of Stalin. It is an interesting topic and works well as a bell ringer or introduction to the topic. It also works well simply as a brain teaser for any topic in high school social studies. Students have to work out the letter/number code and fill in the paragraph accordingly. Four letters have been given already to help start them off. I introduce an element of competition to keep my classes focused. Not only do they have to fill in the paragraph they must pick out at least 3 key facts or inventions and be the first to tell me as the teacher. Keeps the students heads down and learning something! Thanks for looking! *************************************************************************** TERMS OF USE: This download (free or purchased) is for your own personal use in your classroom or your home. Please do not share my resources with others unless given explicit consent by me. Please direct them to my store instead. This download MAY NOT be used in whole or in part on any distance learning course platforms including, but not exclusive to, Outschool or Udemy. You may not share this download. You may not alter any item in this download, resell and claim as your own work. Similarly, you may not sell or share these resources with anyone and you may not use the contents of this download to create anything for commercial purposes or other commercial products. If you are an education board or school and would like to use my resources district wide, please contact me about licensing. © A. Hughes (MsHughesTeaches)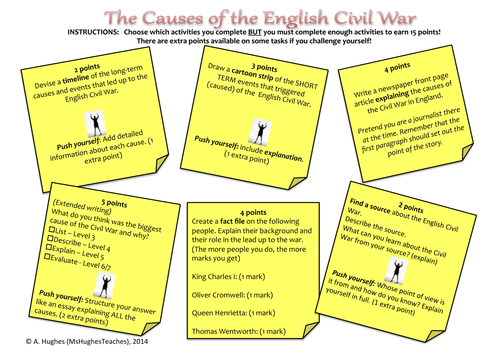 This resource can be used in lessons as part of a project on the English Civil War or as homework assignments. Each task earns a certain number of points and some tasks have the option of earning extra points if they' Push themselves' in an extension. Students have to choose what assignments they want to complete but the total number of points must add up to 15. Tasks include: Devise a timeline of long term causes Draw a cartoon strip of short term sparks An extended writing piece (Essay Question) Create Fact files on individuals Write a newspaper article Find and analyse a source on the Civil War. This could be used as part of a unit of study on the English Civil War or Stuart England, or they can be completed using text books or the internet. Great for improving independent learning, my classes have enjoyed them! Thanks for looking. ***************************************************************************** TERMS OF USE: This download (free or purchased) is for your own personal use in your classroom or your home. Please do not share my resources with others unless given explicit consent by me. Please direct them to my store instead. This download MAY NOT be used in whole or in part on any distance learning course platforms including, but not exclusive to, Outschool or Udemy. You may not share this download. You may not alter any item in this download, resell and claim as your own work. Similarly, you may not sell or share these resources with anyone and you may not use the contents of this download to create anything for commercial purposes or other commercial products. If you are an education board or school and would like to use my resources district wide, please contact me about licensing. © A. Hughes (MsHughesTeaches)

Help your students improve their inference and deductions skills with these lessons. In these lessons students work in pairs or groups to evaluate the evidence and arguments given and reach a valid judgement. Save over 30% on the items if bought separately! Check out the individual lessons in my store. Grab a bargain.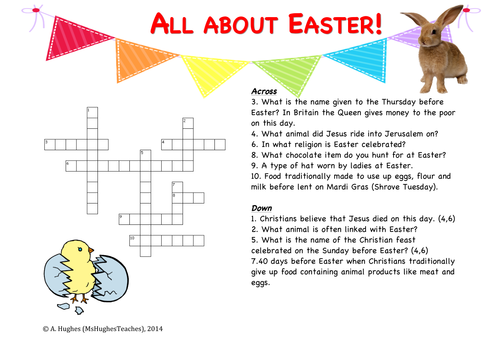 This crossword has 10 questions about the Easter celebration and traditions. It would work well as a starter activity or bell ringer. Clip art from: www.clipartstand.com Digital Dollface https://www.teacherspayteachers.com/Store/Digital-Dollface Digital Dollface ***************************************************************************** TERMS OF USE: This download (free or purchased) is for your own personal use in your classroom or your home. Please do not share my resources with others unless given explicit consent by me. Please direct them to my store instead. This download MAY NOT be used in whole or in part on any distance learning course platforms including, but not exclusive to, Outschool or Udemy. You may not share this download. You may not alter any item in this download, resell and claim as your own work. Similarly, you may not sell or share these resources with anyone and you may not use the contents of this download to create anything for commercial purposes or other commercial products. If you are an education board or school and would like to use my resources district wide, please contact me about licensing. © Amy Hughes (MsHughesTeaches) All rights reserved.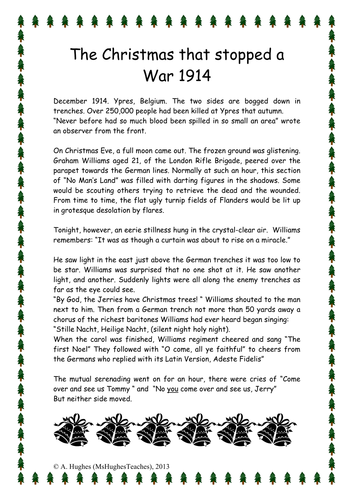 This worksheet tells the story of the Christmas that stopped a war. On Christmas Day 1914 the battlefields of Northern Europe became peaceful as soldiers from both the German and British front lines stepped out on to No-mans-land, shook hands, exchanged gifts, sang carols and played football. The very next day they went back to fighting each other. I think this is a really inspirational true story showing the spirit of Christmas. It consists of a 3 page worksheet with 5 tasks at the end. You can use the clip from the film 'Oh, what a lovely war' on you tube to illustrate this. The URL is also on the worksheet. I think this story would be relevant to several ages but you might just want to change the activities. Possibly story get the younger years to storyboard in a cartoon strip instead of answering the questions. I hope your class find this as interesting as my classes have. Thanks for looking! ***************************************************************************** TERMS OF USE: This download (free or purchased) is for your own personal use in your classroom or your home. Please do not share my resources with others unless given explicit consent by me. Please direct them to my store instead. This download MAY NOT be used in whole or in part on any distance learning course platforms including, but not exclusive to, Outschool or Udemy. You may not share this download. You may not alter any item in this download, resell and claim as your own work. Similarly, you may not sell or share these resources with anyone and you may not use the contents of this download to create anything for commercial purposes or other commercial products. If you are an education board or school and would like to use my resources district wide, please contact me about licensing. All rights reserved. © A. Hughes (MsHughesTeaches)

This lesson aims to get students to understand how something as horrific as the Nazi Holocaust could happen in a seemingly civilised society. The lesson focuses on the gradual removal of Jewish people from everyday life in Germany throughout the 1930s. I use the equation of Propaganda + Terror + Laws allowed this to happen. The lesson suggests that it was a combination of all of these three methods that made Jews outcasts in their own countries. The lesson contains: - 11 slide PDF presentation (not adaptable) - 2x differentiated worksheets to complete based on ability. (photocopy on A3 for enough space to write.) - 1 information sheet - Full lesson plan - Essay proformer sheet if needed. Students are taught by presentation and then complete the sheets using the information sheet provided. The sheets are differentiated by task from identify and describe through to explain and evaluate. Thanks for looking! **************************************************************** TERMS OF USE: This download (free or purchased) is for your own personal use in your classroom or your home. Please do not share my resources with others unless given explicit consent by me. Please direct them to my store instead. This download MAY NOT be used in whole or in part on any distance learning course platforms including, but not exclusive to, Outschool or Udemy. You may not share this download. You may not alter any item in this download, resell and claim as your own work. Similarly, you may not sell or share these resources with anyone and you may not use the contents of this download to create anything for commercial purposes or other commercial products. If you are an education board or school and would like to use my resources district wide, please contact me about licensing. © Amy Hughes (MsHughesTeaches) All rights reserved.

Three lessons on various aspects of the First World War, including war poetry, desertion using primary source materials and The 1914 Christmas Truce int he trenches.

This lesson focuses on President Herbert Hoover and his reaction to the Great Depression after the Wall Street Crash 1929. Your students have to use the information provided to decide whether he was a bad leader or if he was just unlucky to be President at the time of the Crash. The class have to read through the sheet provided and highlight the information that supports both interpretations of Hoover in two different colours. they then use this to write the concluding paragraph to the essay "Did President Hoover deserve to be so unpopular?" If you have more time you could get the students to write the full essay. Lesson Contains: 5 slide powerpoint 3 sided worksheet of information for students to infer from. lesson plan Thanks for looking. ***************************************************************************** TERMS OF USE: This download (free or purchased) is for your own personal use in your classroom or your home. Please do not share my resources with others unless given explicit consent by me. Please direct them to my store instead. This download MAY NOT be used in whole or in part on any distance learning course platforms including, but not exclusive to, Outschool or Udemy. You may not share this download. You may not alter any item in this download, resell and claim as your own work. Similarly, you may not sell or share these resources with anyone and you may not use the contents of this download to create anything for commercial purposes or other commercial products. If you are an education board or school and would like to use my resources district wide, please contact me about licensing. All rights reserved. © A. Hughes (MsHughesTeaches)

This worksheet helps students to evaluate when they have been a good learner. It is designed to help students to think about their learning skills as opposed to just their knowledge. I get my classes to fill it in as they go through the year but can be an end of unit or curriculum task. Students have to write down examples of when they have been: - An independent enquirer - A creative thinker - A reflective learner - A Team worker - A self-manager - A Participator It can be filled in over a period of time when they have got examples of showing their different learning skills. The powerpoint to be printed out has a version with semi-transparent pictures behind the text related to each skill and one without the pictures in case your students have trouble reading over the diagrams. Other than the picture background, both sheets are the same. I hope you find this useful! ***************************************************************************** TERMS OF USE: This download (free or purchased) is for your own personal use in your classroom or your home. Please do not share my resources with others unless given explicit consent by me. Please direct them to my store instead. This download MAY NOT be used in whole or in part on any distance learning course platforms including, but not exclusive to, Outschool or Udemy. You may not share this download. You may not alter any item in this download, resell and claim as your own work. Similarly, you may not sell or share these resources with anyone and you may not use the contents of this download to create anything for commercial purposes or other commercial products. If you are an education board or school and would like to use my resources district wide, please contact me about licensing. © A. Hughes (MsHughesTeaches) AFL - reflective learners - self-assessment - holistic