Ms Hughes Teaches
History resources to engage and educate.
11Uploads
42k+Views
15k+Downloads
History resources to engage and educate.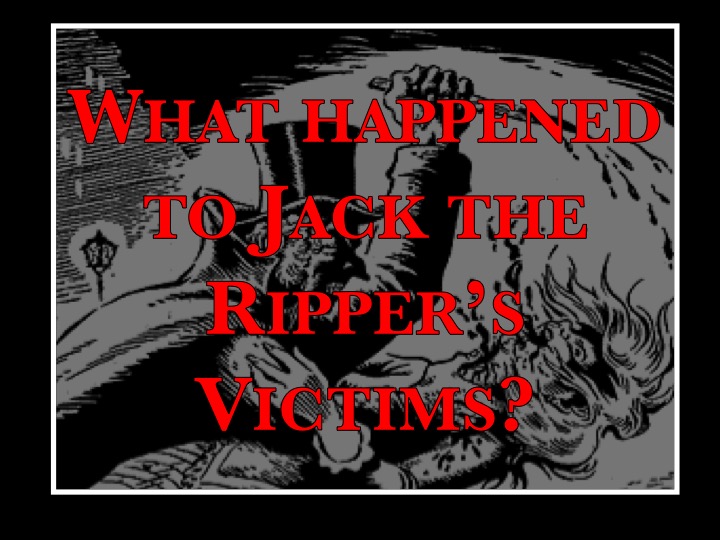 This worksheet covers the details of the five murders officially attributed to Jack the Ripper. The students have to read the information on each victim and complete a table (included) on each woman. The extension question 'Why might these murders have attracted so much public attention at the time?' You may also be interested in my complete *History Mystery Lesson on Jack the Ripper suspects * also available in my TES shop. Thank for looking! TERMS OF USE: This download (free or purchased) is for your own personal use in your classroom or your home. Please do not share my resources with others unless given explicit consent by me. Please direct them to my store instead. This download MAY NOT be used in whole or in part on any distance learning course platforms including, but not exclusive to, Outschool or Udemy. You may not share this download. You may not alter any item in this download, resell and claim as your own work. Similarly, you may not sell or share these resources with anyone and you may not use the contents of this download to create anything for commercial purposes or other commercial products. If you are an education board or school and would like to use my resources district wide, please contact me about licensing. ©Amy Hughes (MsHughesTeaches) All rights reserved.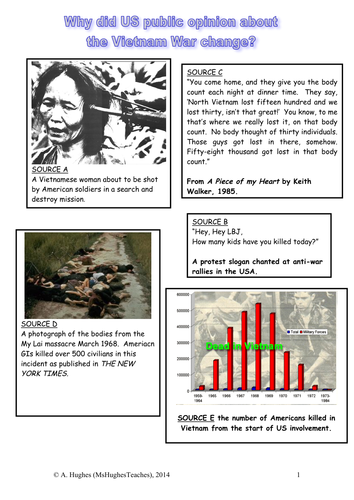 This worksheet asks the question why the majority of the USA's population in 1963 supported the Vietnam war but by 1968 most people had turned against it. Students use primary and secondary sources to find out the answer. There are 5 sources and 8 questions ending in writing the answer to the big title question. This lesson develops students' source analysis skills. Thanks for looking! ***************************************************************************** TERMS OF USE: This download (free or purchased) is for your own personal use in your classroom or your home. Please do not share my resources with others unless given explicit consent by me. Please direct them to my store instead. This download MAY NOT be used in whole or in part on any distance learning course platforms including, but not exclusive to, Outschool or Udemy. You may not share this download. You may not alter any item in this download, resell and claim as your own work. Similarly, you may not sell or share these resources with anyone and you may not use the contents of this download to create anything for commercial purposes or other commercial products. If you are an education board or school and would like to use my resources district wide, please contact me about licensing. © A. Hughes (MsHughesTeaches)

***Newly Added - RED SCARE WORD WALL/FLASH CARDS!*** This growing bundle contains 6 RESOURCES on key people and campaigns in 20th century USA. Lessons included look at the presidencies of Herbert Hoover and Bush Sr, as well as the Civil Rights movement and The Red Scare. SAVE OVER 30%

Can your students work out the puzzle code and find out why the police could not catch Jack the Ripper? It is an interesting topic and works well as a bell ringer or introduction to the topic. It also works well simply as a brain teaser for any topic. Students have to work out the letter/number code and fill in the paragraph accordingly. Five letters have been given already to help start them off. I introduce an element of competition to keep my classes focused. Not only do they have to fill in the paragraph they must pick out at least 3 key facts or inventions and be the first to tell me as the teacher. Keeps the students heads down and learning something! YOU MAY ALSO LIKE MY PUZZLE GROWING BUNDLE IN MY STORE. Thanks for looking! TERMS OF USE: This download (free or purchased) is for your own personal use in your classroom or your home. Please do not share my resources with others unless given explicit consent by me. Please direct them to my store instead. This download MAY NOT be used in whole or in part on any distance learning course platforms including, but not exclusive to, Outschool or Udemy. You may not share this download. You may not alter any item in this download, resell and claim as your own work. Similarly, you may not sell or share these resources with anyone and you may not use the contents of this download to create anything for commercial purposes or other commercial products. If you are an education board or school and would like to use my resources district wide, please contact me about licensing. ©Amy Hughes (MsHughesTeaches) All rights reserved. © A. Hughes (MsHughesTeaches) 2018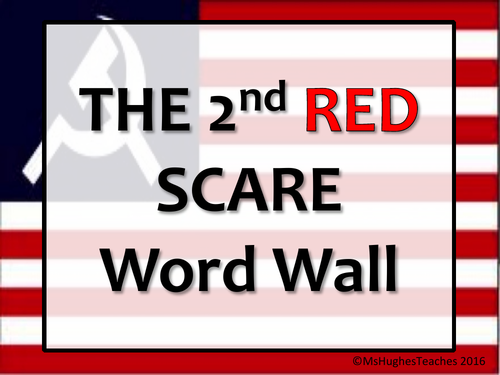 This display packet covers the key individuals and events during the second Red Scare of the 1940s and 1950s. It can be printed out in colour or in greyscale and used on a word wall in your classroom. The resource can also be put into a mind map on your wall - I find this helps my young people to think thematically. ***The packet contains 30 key words including people, places and events. Examples of some of the cards are shown in the preview thumbnails. *** Words and definitions included: Alger Hiss The Rosenbergs Joseph McCarthy Witch hunts Berlin Blockade President Truman Red Scare HUAC Soviet Union Cold War Communism Capitalism The Hollywood Ten The Fifth Amendment FBI Loyalty Boards FELP Senator Tydings The McCarran Act 1950 Multiple Untruth Blacklisted President Eisenhower McCarthy/Army Hearings 1953 Joseph Welch No Smoke Without Fire Espionage Chinese Civil War The Korean War NKVD J Edgar Hoover Joseph Stalin All of the cards contain a definition or description too and I have used pictures to illustrate most of the main words. These can easily be used a flash cards during test preparation and revision. I hope you find this useful and if you do, please leave feedback! Thanks for looking. TERMS OF USE: This download (free or purchased) is for your own personal use in your classroom or your home. Please do not share my resources with others unless given explicit consent by me. Please direct them to my store instead. This download MAY NOT be used in whole or in part on any distance learning course platforms including, but not exclusive to, Outschool or Udemy. You may not share this download. You may not alter any item in this download, resell and claim as your own work. Similarly, you may not sell or share these resources with anyone and you may not use the contents of this download to create anything for commercial purposes or other commercial products. If you are an education board or school and would like to use my resources district wide, please contact me about licensing. ©Amy Hughes (MsHughesTeaches) All rights reserved.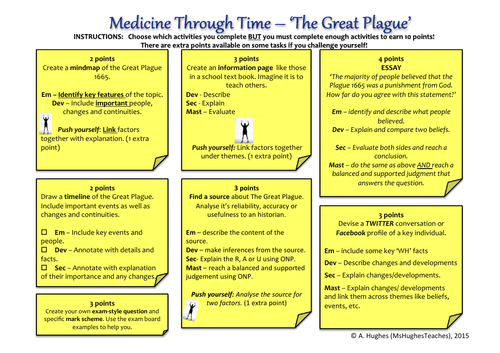 This resource can be used in lessons as part of a project on The Great Plague of 1665 or as homework assignments. Each task earns a certain number of points and some tasks have the option of earning extra points if they 'Push themselves' in an extension. Students have to choose what assignments they want to complete but the total number of points must add up to 10. The worksheet was designed to fit with the UK GCSE (10th/11th grade) exam units on 'Medicine Through Time'. Tasks include: Devise a timeline. Create a Mindmap of the Great Plague. An extended writing piece (Essay Question) A source analysis of their (or your) choosing. Make up a Facebook profile or Twitter Feed of a key individual at the time. Create their own exam style question and mark scheme Design an information text book page on the topic. Each task has a defined criteria, These are based on the targets of EMERGING, DEVELOPING, SECURING, MASTERING which link most closely with the skills needed in history of identifying, describing, explaining and then evaluating. Again these can be substituted for actual academic grades in either number or letter from spending on your state or country's criteria. This could be used as part of a unit of study Medicine through time or the Stuarts. The tasks can also be completed using text books or the internet. Great for improving independent learning, my classes have enjoyed them! Thanks for looking and feel free to check out my other resources. TERMS OF USE: This download (free or purchased) is for your own personal use in your classroom or your home. Please do not share my resources with others unless given explicit consent by me. Please direct them to my store instead. This download MAY NOT be used in whole or in part on any distance learning course platforms including, but not exclusive to, Outschool or Udemy. You may not share this download. You may not alter any item in this download, resell and claim as your own work. Similarly, you may not sell or share these resources with anyone and you may not use the contents of this download to create anything for commercial purposes or other commercial products. If you are an education board or school and would like to use my resources district wide, please contact me about licensing. ©Amy Hughes (MsHughesTeaches) All rights reserved.

This lesson was designed as part of a unit the significance of individually in history. The main purpose of the unit is to encourage pupils decision-making and reasoning skills in history. Includes: 31 slide PowerPoint. hot air balloon writing worksheet full lesson plan important people word search important people cryptogram How it works: In this lesson students are given cards with information on 10 different people from history and have to imagine they are in a hot air balloon that is plummeting to the earth. With them are these key people BEFORE they have done what they became famous for. Pupils work in pairs to decide who should be thrown out of the balloon and who should be saved based on how important their actions turned out to be for our current lives. The people cards included are as follows. (I would select no more than 10 cards in a lesson) Mahatma Gandhi Alexander Fleming Edward Jenner Martin Luther King Wernher Von Braun George Jennings Albert Einstein Nikola Tesla Leonardo Da Vinci Christopher Columbus Anuria Bevan Oliver Cromwell Alexander Graham Bell William Shakespeare Emmeline Pankhurst. Once each pair has decided on their surviving person they must explain why they saved them on the hot air balloon writing sheet. I have also included two puzzles for early finishers or homework. File includes: Full lesson PowerPoint (31 slides. The people cards should be printed out and used as pair talk cards.) Hot air balloon writing sheet Lesson plan Two puzzles. Thanks for looking! critical thinking - pupil talk - debate - card sort - history - evaluation. TERMS OF USE: This download (free or purchased) is for your own personal use in your classroom or your home. Please do not share my resources with others unless given explicit consent by me. Please direct them to my store instead. This download MAY NOT be used in whole or in part on any distance learning course platforms including, but not exclusive to, Outschool or Udemy. You may not share this download. You may not alter any item in this download, resell and claim as your own work. Similarly, you may not sell or share these resources with anyone and you may not use the contents of this download to create anything for commercial purposes or other commercial products. If you are an education board or school and would like to use my resources district or school wide, please contact me about licensing. ©Amy Hughes (MsHughesTeaches) All rights reserved.

This lesson is designed to evaluate the significance to several people in the discovery of the circulatory system in particular and of anatomy more generally. Perfect for Biology background or Medicine Through Time in History. It covers the importance of Galen, Vesalius and William Harvey in the Renaissance period and the supplying of cadavers in the 18th and 19th centuries. The students use information from the handouts to decide whether William Harvey, Vesalius, Galen or the body snatchers were the most important in developing our understanding of how the body works and the circulatory system. Pack includes: A4 page handouts of the different people. A worksheet with all four people on two pages A fully animated PowerPoint annotated with instructions. This is pretty much a print and go lesson. I hope you find it helpful. TERMS OF USE: This download (free or purchased) is for your own personal use in your classroom or your home. Please do not share my resources with others unless given explicit consent by me. Please direct them to my store instead. This download MAY NOT be used in whole or in part on any distance learning course platforms including, but not exclusive to, Outschool or Udemy. You may not share this download. You may not alter any item in this download, resell and claim as your own work. Similarly, you may not sell or share these resources with anyone and you may not use the contents of this download to create anything for commercial purposes or other commercial products. If you are an education board or school and would like to use my resources district wide, please contact me about licensing. ©Amy Hughes (MsHughesTeaches) All rights reserved.

Going back to school can be a challenging time for many people. Can your students beat the puzzle code and work out the advice in the paragraph? It works well as an icebreaker at the start of term or simply as a brain teaser. Students have to work out the letter/number code and fill in the paragraph accordingly. Four letters have been given already to help start them off. I introduce an element of competition to keep my classes focused with a small prize for the first to finish. This puzzle contains an extension whereby the class have to come up with their own advice to new students. This keeps the students heads down and learning something! YOU MAY ALSO LIKE: PUZZLE GROWING BUNDLE: Click here Get the year off to a smooth start! The answer key is included. TERMS OF USE: This download (free or purchased) is for your own personal use in your classroom or your home. Please do not share my resources with others unless given explicit consent by me. Please direct them to my store instead. This download MAY NOT be used in whole or in part on any distance learning course platforms including, but not exclusive to, Outschool or Udemy. You may not share this download. You may not alter any item in this download, resell and claim as your own work. Similarly, you may not sell or share these resources with anyone and you may not use the contents of this download to create anything for commercial purposes or other commercial products. If you are an education board or school and would like to use my resources district wide, please contact me about licensing. ©Amy Hughes (MsHughesTeaches) All rights reserved.

This fun, interactive quiz is a great way to finish up a unit on Medieval History and the Black Death. There are 11 multiple choice questions with some bonus questions to extend the thinking of the students. The answers also have extra information attached to develop pupils understanding. A score card is also included to your students can keep track of who is winning! The whole quiz has sound effects and animation throughout to add to the class engagement. The lesson lends itself well to paired teams and even white boards if they are available. This quiz is self contained and works well for home school learning and distance learning too. The preview shows a question and answer to an idea of what the rest is like. TERMS OF USE: This download (free or purchased) is for your own personal use in your classroom or your home. Please do not share my resources with others unless given explicit consent by me. Please direct them to my store instead. This download MAY NOT be used in whole or in part on any distance learning course platforms including, but not exclusive to, Outschool or Udemy. You may not share this download. You may not alter any item in this download, resell and claim as your own work. Similarly, you may not sell or share these resources with anyone and you may not use the contents of this download to create anything for commercial purposes or other commercial products. If you are an education board or school and would like to use my resources district wide, please contact me about licensing. ©Amy Hughes (MsHughesTeaches) All rights reserved.

This lesson is used to introduce the contenders for the throne of England in 1066 and how this lead up to the Battle of Hastings and the Norman Conquest. The lesson focuses on Harold Godwinson, Harald Hardrada and William, Duke of Normandy and their respective claims to the throne. Students must decide what makes a good leader today, who that might be different to the medieval period and then decide which man should have the throne and why. The lesson contains: 2 page worksheet with information and activities. A table to complete on the contenders and the validity of their claims. 10 slide Presentation covering the information and containing tasks (the PDF is of a PowerPoint and is not editable) The worksheet provides the information to complete the graphic organizer on the claimants. Activities on the presentation include a simple gap fill, class discussion on leadership, speech bubbles for student to act out if you wish and a plenary bingo game to show what they have learned in the lesson. At the end the students must decide who they believe had the strongest claim ot the throne. This is suitable for home schooling and distance learning. Tasks are clearly laid out in order. TERMS OF USE: This download (free or purchased) is for your own personal use in your classroom or your home. Please do not share my resources with others unless given explicit consent by me. Please direct them to my store instead. This download MAY NOT be used in whole or in part on any distance learning course platforms including, but not exclusive to, Outschool or Udemy. You may not share this download. You may not alter any item in this download, resell and claim as your own work. Similarly, you may not sell or share these resources with anyone and you may not use the contents of this download to create anything for commercial purposes or other commercial products. If you are an education board or school and would like to use my resources district wide, please contact me about licensing. ©A. Hughes (MsHughesTeaches) All rights reserved.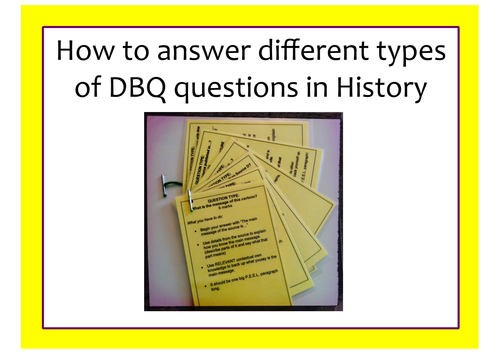 In a bid to help our students think more like historians we set them various styles of question based on the sources in DBQs. These helpful little cards can be used with any document or piece of evidence in history. They work for any time period and help our students to address real issues of provenance and purpose. I devised these initially to support the English GCSE OCR History syllabus followed in my school and to help prepare my students for any question that might come up in their end of year exam. However, they would be helpful to any student getting to grips with analysing sources and also how to write to write good answers with an analytical focus. Excellent as revision aids. You can print out the 8, two-sided cards. Fold them over length ways and the correct backing is with the correct frontispiece. One side explains how to address a particular type of question and the other gives examples of sentence starters or good answers. Questions include: - Why was this source published? - What is the main message of this source? - Do you trust this source over another? - How far do you agree with the statement…? - Does the source prove that…? - How useful is this source to an historian?- How similar are these sources? - What could an historian learn from this source about…? I had mine printed on yellow card and laminated for every student in my exam classes. They have proven invaluable to them as they practiced exam style questions in test prep and revision. I hope you and your students find them as useful.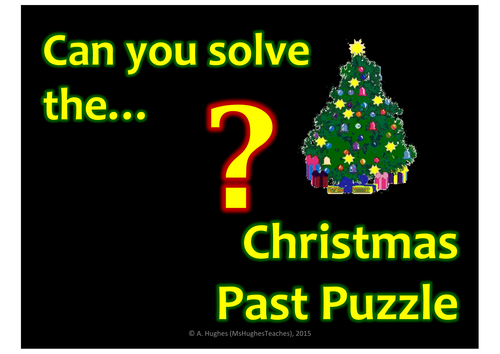 Can your students beat the puzzle code and find out at least three key facts about Christmas in a particular period. This word code puzzle is about Christmas under the Puritans when celebrations were banned. It is an interesting topic as many people think that such devout Christians would have loved the season! Students have to work out the letter/number code and fill in the paragraph accordingly. Four letter shave been given already to help start them off. I introduce an element of competition to keep my classes focused. Not only do they have to fill in the paragraph they must pick out at least 3 key facts and be the first to tell me as the teacher. Keeps the students heads down and learning something! Thanks for looking!