PSYCHOlogy
This shop offers a variety of resources for use with AQA A and AS level Psychology
17Uploads
4k+Views
385Downloads
This shop offers a variety of resources for use with AQA A and AS level Psychology

This pack includes an A3 printable resource - which are great laminated! Can be used with dry erase pens or the tiles included . The image is a final resource, the tiles can be used as they are in the file, added to or changed as you see fit. The A4 worksheet is great for individual work - to be filled in with either Maslow's hierarchy for later revision purposes in students notes/files, or used as a task for the student to think about what their own hierarchy would be. This promotes thought about the concept of Humanism. (A powerpoint lesson to accompany this will be up in the next few days and available separately or as part of a pack). This task allows students to think about Maslow's ideas of what the hierarchy looks like and what their own would look like, and how the impact of simple things such as food and shelter do have an impact on our goals and what we can achieve. When used alongside a scenario as in the powerpoint this can be a powerful tool to promote discussion and deeper thought about the topic of humanism. This download also includes a Humanism handout giving an overview of the approach with evaluation points. The printable section has the tiles which you can add to or remove from, and includes some blank squares which are great to use if students want to add their own ideas in there to. Which can be added as an extension task. You can also add the tiles with the layer names on as an extension and discuss whether these might move if they re-arranged the tiles for themselves. Its a nice task, to look at how Maslow suggests it should look and then getting students to re-arrange it for what they think it might look like for them. *I do not own the copyright to the image of Maslow, this was sourced via creative commons on a search engine.

This is a complete opening lesson for FORENSIC psychology. The pack includes: Powerpoint Lesson plan Printable - Case study sheet 1 per group/table Homework sheet 2 x posters in A3 - word and PDF file options (as per thumbnail for resource 2 x posters in A3 - word and PDF file options (same as above but with descriptions for each issue) This lesson focuses on defining crime and the four main issues, it includes group work and class discussion and focuses on issue with an activity for each, and checks for learning throughout - it leads to homework which touches on future content, provokes thought and involves use of data handling (numerical). This is a comprehensive resource bundle to engage and stimulate students and provide an opening to the topic. It uses examples from current culture and encourages use of group work, class discussion and use of mobile devices as well as engaging activities. This lesson contains images that were available in the public domain, any articles used are referenced with a link on the page to the original materials. This lesson is entirely my own creation and more lessons in this range will be uploaded soon. There will be a bundle of the entire topic should anyone be interested once all lessons are uploaded.

This resource is for the first 1 hour lesson in Criminology focusing on the awareness of crime and covering white-collar, moral and state crime. This lesson is 1 of 2 on this subject. This resource includes powerpoint and lesson plan, as well as the first of the definitions cut outs to begin creating a wall of useful definitions for the subject. It also includes part 1 of a 2 part poster covering the 5 crimes covered in this unit - this is an a3 poster, but could be printed a4 and includes space to write on examples of crimes or add on post it notes with crime examples on and is designed for individual teacher creativity - it covers only definitions of the 3 crimes covered in this lesson but is useful as a visual prompt reminder. There is no home work for this lesson and part 2 will be up shortly.

This bundle is a lesson on sampling techniques including: 1.Power point lesson 2.Teacher guidance notes 3.Student workbook 4.Match up AFL sampling techniques scenarios - done as part of powerpoint or on paper/activity 5.Sort your sample palette - alternative to buying paint palettes 6.How to... work out mean, median, mode and percentages 7.Sampling techniques/research methods homework - including bar chart interpretation and percentages 8.Revision tools document which has 1 page which is to be split to create revision cards and 1 page for a spidergram revision tool which i do at the end of every lesson for a few minutes (there are 2 tools so students have choice of which to make) These resources used together create a lesson on the different types of sampling techniques - but also involves calculating percentages as well as drawing and interpreting data from bar charts. And encourages thought around advantages and disadvantages of each technique. The homework sheet could be done in class as an end of lesson AFL to be handed in for marking. Its a simple lesson but effective in delivering the concept of the 5 sampling techniques, how they are used, and gets students thinking about the concept of samples and how they represent society as a whole - useful particularly when it comes to social influence later on where the studies had male participants.

This printable activity helps learners to think about the concept of plasticity of the brain through the analogy of an incident on a road and a re-routing exercise. This activity comes as 4 word files 1. The instructions 2. The road pieces - which should be printed out for as many groups as you have 3. The 'playing' pieces which come in 6 colours and are to be printed once (for 6 groups) 4, Additional more cosmetic pieces to add to the exercise, to be printed once - useful for photographs etc. This is a great task just printed on paper but also laminated for longevity and also makes a great wall display item.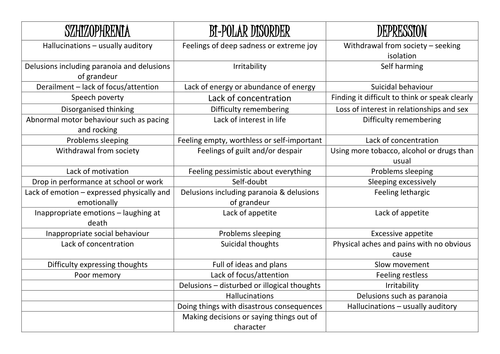 This is an activity to be used to help students understand the problems faced with diagnosis. It consists of a 3 page document. Page 1 to be printed on one sheet and page 2 and 3 to be printed double sided. The students use a symptom sheet for 3 disorders that have similar symptoms and use this to populate a tick box sheet - they can tick, or shade the boxes for the disorders that have the same symptoms which then enables them to see the issues with co-morbidity and how a disorder can easily be diagnosed. A great tool to help students understand what co-morbidity is. And can be used to help them distinguish the symptoms of schizophrenia - can be used with scenarios which have been added to this download - or at least some examples of scenarios. You could develop your own if you wanted, these were just a few I came up with.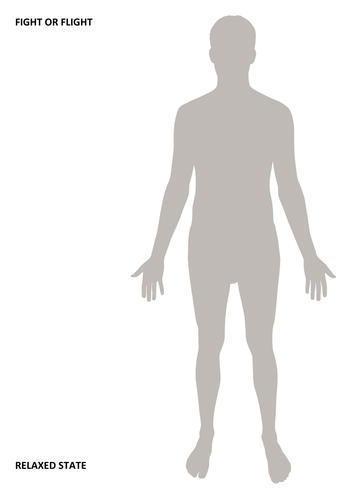 This A3 printable features a human body and is a great resource to print and laminate for best value and use. It is a double sided resource, though can be printed and used to make a display poster highlighting the body in its 2 states of relaxation and anxiety. On one side a group talks about what it feels like to be relaxed - how they feel physiologically and mentally and then they flip it over and think about a time they felt scared or anxious (perhaps reacting to a phobic stimulus) and they populate this side with how they feel physiologically and mentally. A nice starter task to the endocrine system, rather than a part of the topic - if you use this initially you can get them thinking about bodily changes before you even get on to the more in depth details of the endocrine system and the fight or flight response. You could go back to this later on and revisit the task when you get to the endocrine system and draw out the important sites within the endocrine system.

This pack contains 6 word download files that are aimed at helping students work on how to break down questions in order to answer them efficiently for the most marks. There is a 4 square sheet ideal for exam question structuring and a great tool for AFL to check students have grasped the topic and how to use their knowledge to answer a question. There is also a dual sided worksheet which is aimed at questions that focus on studies, this enables students to break down what the study is about on one half, then be able to use that information and focus it on the question. Sometimes, students find it hard to use their knowledge in the correct way, this sheet helps and comes with an instruction download to give you some ideas on how to use it. There is also a study breakdown worksheet useful for revision and a STEM worksheet which helps students to identify the psychology in the question and link it to the examples in the stem. These resources are unlocked and so you can type on them, alter them or just print them as they are and come with 5 PNG image files that you can print out any size you prefer. If anyone is interested in these individually they will be added in the next few days as well as other resources aimed at helping students tackle exam questions, and guide them in how to structure answers in order to gain better results.

This take on a very famous board game encourages students to not ask about appearance but more in-depth information to guess who their opponent has. This is a nice end of year task that makes revision fun and gets students thinking about what to ask and how. Great to print and laminate and easy to store and carry. All you need is a board for each player to use (dry erase markers if you are laminating them) and then another board printed out and cut out to make the cards that players choose their psychological figure from. A lot of fun!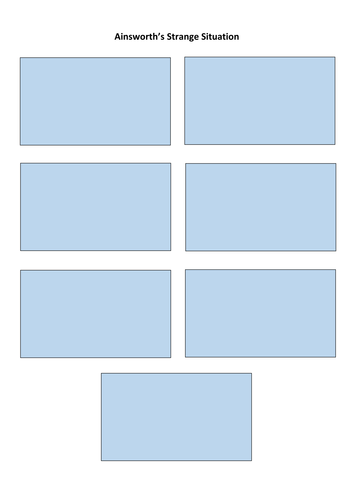 This A3 printable is great to laminate or just use as is. This task can be used in groups, pairs or as individuals and aims to get students to draw a representation of each of the stages of Ainsworths study, i.e mother, baby and stranger in one box, in another just stranger and baby. They can include words about emotions or add descriptions, but this gives the students license for their own artistic expression and is useful for more visual learners. This could also be used in A4 format to add to students files as a quick revision tool for the different conditions within the strange situation.

This resource enables students to be able to separate the study from the psychology. The worksheet has space to write out everything they know about the study and then below how that relates to the psychology from the question. Sometimes students find it hard to think about what the study entailed and the psychology of it, and then to use that knowledge to answer a question - this enables students to practice pulling apart studies in relation to specific questions. This download has 3 files - 1 is an instructional example file, the second is a worksheet with question and conclusion fields and the third is a simple sheet with no question or conclusion fields, useful for practice - such as writing information about studies across the top and then writing what psychology it relates to at the bottom, such as arguments it supports, approaches it belongs to etc.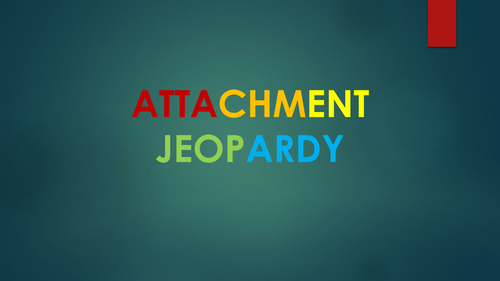 I took this basic jeopardy framework and made a great topic revision game for ATTACHMENT

This simple resource is a great tool for files and AFL - which allows students to record the important elements of a study, including procedure etc. A great way to break a study down to make it easier to revise.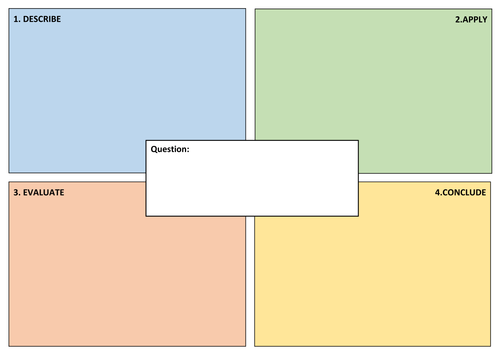 A nice simple worksheet to use to help students focus on what a question is actually asking them. A colourful way to organise and break down knowledge in order to understand what is needed to answer a question. This is a great AFL tool as students can fill them in for exam questions and hand them in, this can help identify where the student needs to make improvements and can help them in better planning for answering exam questions.

This resource includes a flow chart poster in A3, as well as an acitivity that includes both an easy and hard level, or AS and A2 level worksheet task. The activity document contains an instruction sheet for easy and hard as well as a blank flowchart for both difficulties. The idea is to fit all the terms into the flowchart to complete the structure of a psychological study: Great as an introduction for AS - the sections are colour coded and match up with future resources, this enables sectioning of the materials and easier delivery and understanding. This can be delivered as a starter to get students thinking or at the end of delivery to check learning and understanding. Great as an overview for A2 after delivery of second year content, at this stage they should be able to complete the flowchart with ease. Included is a blank A3 resource with cards for each of the elements that students can use in a more hands on way in groups, arranging the cards on the flowchart where they think they should go - there is an easy version with coloured cards and a hard version with boxes without colour. The different versions will stretch and challenge and can be used to cater to different levels of ability and learning. More resources will be added on research methods, these will be colour coded to the specific areas on the flowchart.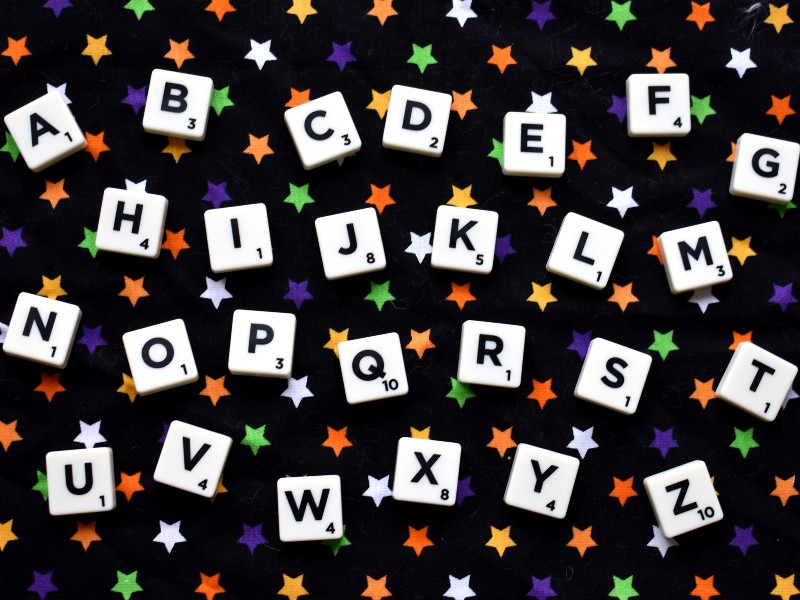 This double sided placemat was designed for a student in my creative writing and english literature classes that has dyslexia, she has an alphabet in front of her on paper to help her form the words she wants to write and I designed and made this and laminated it so she could put it in her file and have it for every lesson instead of the scrap of paper she kept losing. This was a great success for her and formed part of my QTLS entry.

This resource aims to help students who struggle with STEM questions, enabling them to write the question on the sheet then split the psychology and find the example in the stem and write it in another box alongside it. This enables the student to practice examining the stem for the psychology required to answer the question, and then to look at the STEM example and find the example that goes with the psychology,