84Uploads
39k+Views
19k+Downloads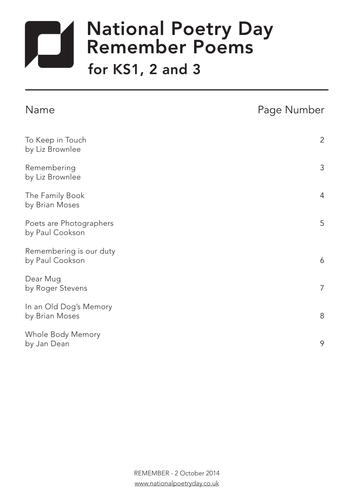 Here's a set of eight new poems for primary school children by five leading contemporary children's poets. To keep in touch by Liz Brownlee Remembering by Liz Brownlee The Family Book by Brian Moses Poets are Photographers by Paul Cookson Remembering is our duty by Paul Cookson Dear Mug by Roger Stevens In an old dog's memory by Brian Moses Whole body memory by Jan Dean

Riddle writing poetry activities for KS3 students. Includes 3 riddles (and answers for teachers!) as well as detailed prompts for how to structure activities for different group sizes (class, group and individual work).

National Poetry Day 2017 is on 28 September and is a chance for everyone to share poetry, read poetry, write poetry, and enjoy poetry. Use this resource created by CLPE (Centre for Language in Primary Education) to inspire children to write their own poem based on Matt Goodfellow's When I Swing.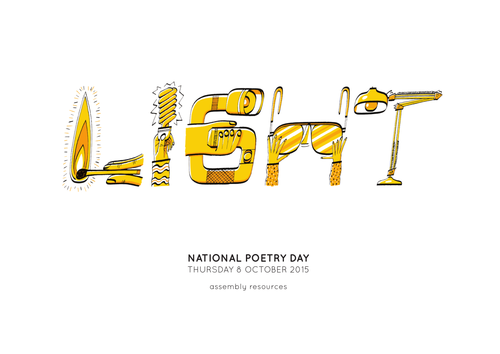 This year's theme is LIGHT. We have wonderful education resources available to you here, to use in the run up to National Poetry Day 2015 on 08 October. Whatever you do, share your plans with us on Twitter with hashtag #nationalpoetryday.

National Poetry Day 2017 is on 28 September. It's about everybody sharing poetry, reading poetry, writing poetry, and enjoying poetry. This activity has been created specially by the Poetry School. The Poetry School is a national organisation running classes and projects to teach poetry. This resource features the poem The New Colossus by Emma Lazurus, which is engraved onto the Statue of Liberty in New York, as a starting point for discussion and a writing exercise.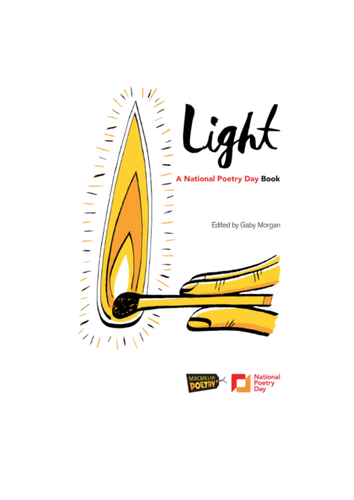 A free anthology from Macmillan Children's Books and National Poetry Day, featuring the National Poetry Day Children's Ambassadors. Enjoy!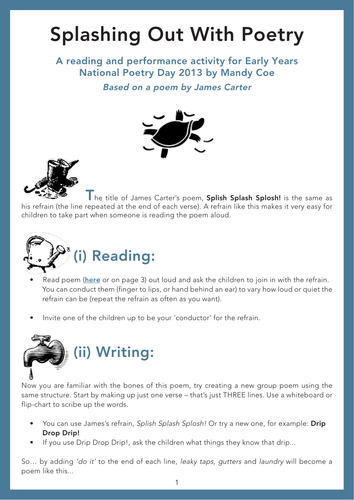 Splashing Out With Poetry: a reading and performance activity for Early Years. For National Poetry Day 2013 by Mandy Coe. Based on a poem by James Carter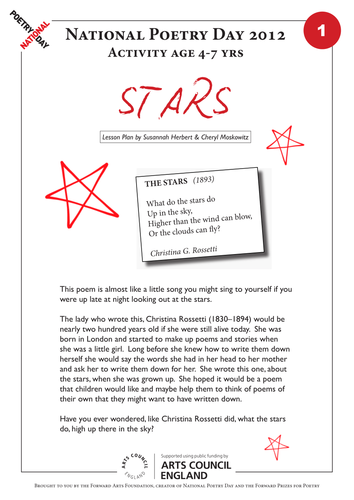 Use this magnificent new lesson plan to spark off classroom discussion and inspire students to write their own poetry. It is written by poet Cheryl Moskowitz and features a huge variety of poems, all loosely related to the theme of stars. This lesson plan features a poem by Christina Rossetti.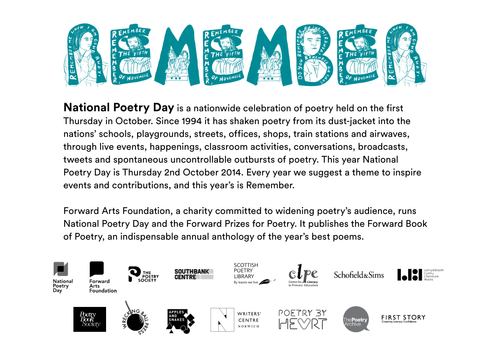 Here is a sheaf of glorious lesson plans and activities on the theme of Remember. There is something for every age group and really excellent poets are involved, so download and read through them all when seeking inspiration. If you like any one in particular, let its creators know: all the NPD poetry partners – from England, Scotland and Wales – have been involved.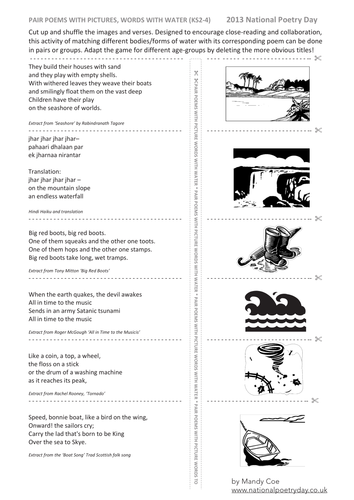 Cut up and shuffle the images and verses. For National Poetry Day 2013 by Mandy Coe. Designed to encourage close-reading and collaboration, this activity of matching different bodies/forms of water with its corresponding poem can be done in pairs or groups. Adapt the game for different age-groups by deleting the more obvious titles!

Using a classic poem from Paul Laurence Dunbar (influential for poets such as Maya Angelou), this guide explores how to write a poem about freedom (or its opposite). Group activities designed for KS3, and featuring links and prompts for further exploration of Dunbar's legacy and other poetry writing techniques.

Activities and lesson plans based on Rachel Rooney's poem Russian Doll designed to get children thinking about their emotions and their response to the poem. Includes link to live performance of the poem by Rachel Rooney.

A complete KS2/KS3 lesson plan designed to teach students to write creatively in the past, present and future. Includes a copies of 'Past' and 'Future' by students from Leith Primary School in Edinburgh as inspiration.

A comprehensive creative writing lesson plan for KS3 students, designed to teach them the value of drawing from personal experiences when writing creatively. Includes a copy of Joshua Siegal's poem 'The Both of Us' and further resources from the National Literary Trust as inspiration. A National Poetry Day resource created by the National Literacy Trust.

A comprehensive KS3/KS4 creative writing lesson plan using King Henry's famous 'Once more unto the breach' speech from William Shakespeare's 'Henry V' as inspiration. Includes extracts from the play, as well as an abridged version of the speech for younger students.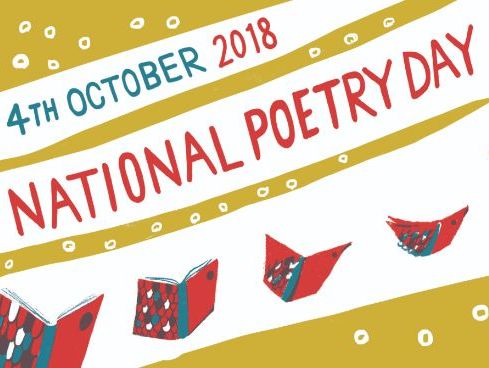 A comprehensive poetry analysis lesson plan for KS3 English students that uses Casia Wiliam's poem 'Help' to encourage students to think more deeply about poetic voices and different meanings a poet might be trying to convey. Includes a copy of Casia William's poem as well as links to external websites which discuss climate change in more detail.

Classroom activities for KS1 and KS2 students based on Benjamin Zephaniah's poem 'Fair Play'. Designed to teach students about using humour and falsehoods in poetry to entertain their audience or readers. The activity encourages performance and group work.

A comprehensive poetry analysis lesson plan for KS2 English students that uses Joseph Coelho's poem 'Gingerbread Man'. The poem deals with issues around being teased or picked on at school, and includes useful links and resources on how to broach this subject sensitively in the classroom. Includes a copy of Joseph's poem as well as links to more of his work and free teaching resources from CLPE.

A comprehensive poetry analysis lesson plan for KS2 English students that uses Charles Causley's poem 'The Owl Looked Out of the Ivy Bush' to encourage students to think more deeply about poetic voices and the intention's behind 'nonsense poetry'. Includes a copy of the poem and suggested lesson structure.

Cut out the jellyfish and fill it with words or a poem. Hang them up with string to make a display. For National Poetry Day 2013 by Mandy Coe. Goes with the Handfish and Jellyfish lesson plan for KS1.