95Uploads
64k+Views
132k+Downloads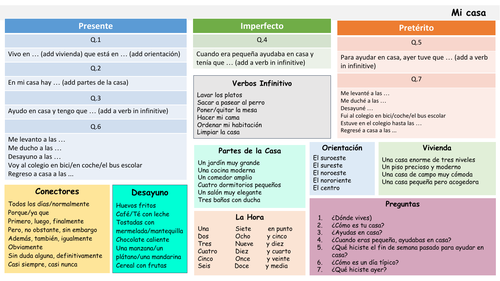 This is an amazing resource to help weak students get amazing results. It contains all the topics of the oral exam with questions ans models of answers. It promotes creativity and independent learning giving students a secure basis to construct their own answers.

22-slide PPT with interactive listening, reading, writing and speaking activities to introduce and practice this topic. Ideal for KS2 and KS3. Drinks Typical Spanish Food Menu Spanish Restaurant

My school, mi instituto, mi colegio, mi escuela Facilities, instalaciones escolares School subjects, asignaturas escolares Rules, las reglas de mi instituto, las reglas de mi escuela, las reglas de mi colegio Uniform, mi uniforme escolar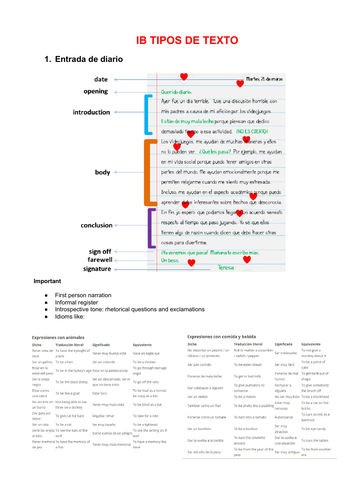 This is a very clear and detailed document that explains what it is necessary to include for each type of text. An example is provided.

Very attractive and step by step PPT to explain and practice the conjugation of regular and irregular verbs. Conjugación de verbos regulares e irregulares en el tiempo presente.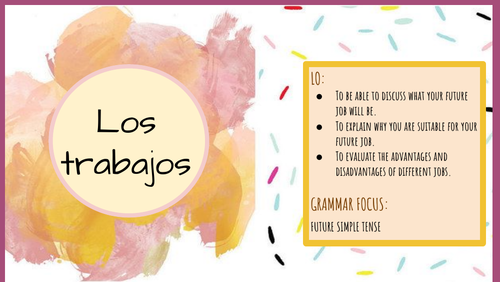 Very attractive PPT that covers jobs and the present simple. It also relates these topics to adjectives . Jobs in Spanish KS3 Tenses Present

Life saving booklet with all the essential grammar points that your students need to know for their GCSE/IGCSE Spanish Exam. It contains succinct explanations and practical exercises that go from controlled, semi-controlled to free activities where they can put into practice what they have learned. This booklet can be used for homework, cover lessons or for a grammar clinic. The activities are fun and interesting, and cover: the present (including reflexive verbs and "gustar"), the preterite, imperfect, conditional and the future tenses (regular and irregular verbs) as well as comparatives and superlatives. Some of the irregular verbs are: ser/estar (to be) tener (to have)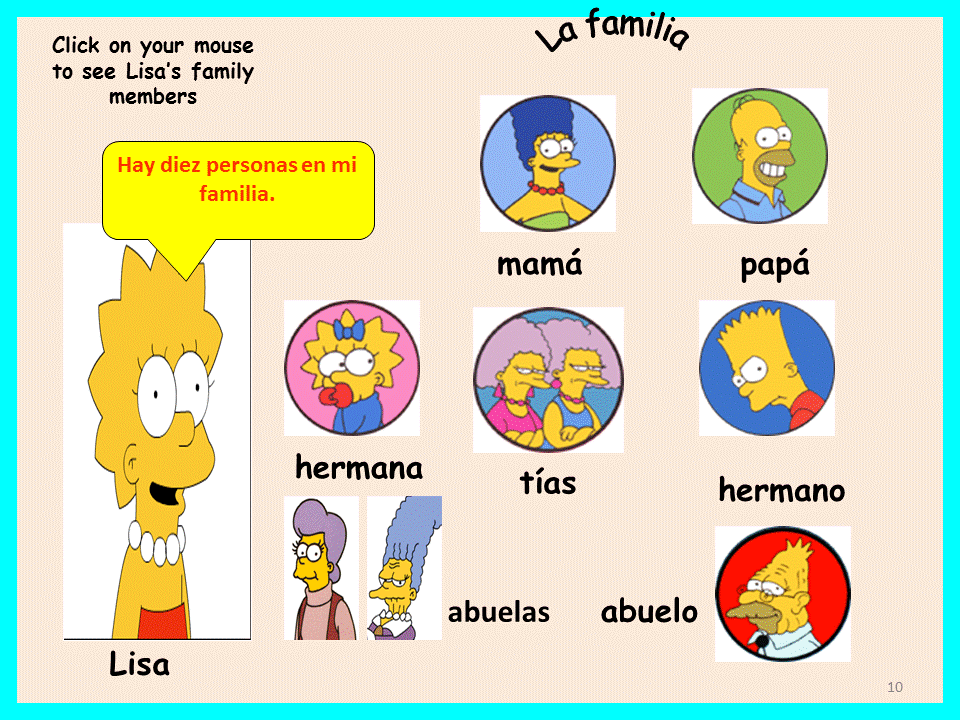 Practise the topic of Me, my family and friends for KS 1 - KS3 Spanish. Develop your language skills to understand and respond to questions.his very attractive interactive 18-slide PPT allows you to introduce, practice and test key vocabulary. It contains: * Memory games * Reading practice * Writing practice *Speaking practice Ideal for Yr 5, Yr 6, Yr 7

Very attractive PPT to teach the house. It includes reading, writing and speaking activities. Your students will love it. KS 3,4

15 life saving worksheets for students to practice vocabulary. These worksheets encourage independent learning and boost different thinking skills. There are two versions: SUAVE and PICANTE. The latter for the most able students. The first part of the worksheet explores vocabulary and the second helps students to apply it in a meaningful and interesting way. The topics are: Food The Environment Animals Clothes The Human Body and Health

Super fun and attractive 28-slide PPT that teaches jobs and the future, conditional, preterit and imperfect tenses. It encourages to think creatively to complete reading, writing, speaking and listening activities. It contains explanation of the future simple tense with activities.

Really useful and well thought-out Unit of Work on healthy eating. Learning Objectives: to use target vocabulary to explain your good eating habits to use adjectives to describe how food tastes to give opinions about food using "back to front verbs" Grammar Focus: negative forms superlative adjectives with the suffix -ísimo pronoun/verb agreement, adjective/noun agreement It contains plenty of reading and exercises, and easy-to-follow grammar. The 9-page booklet comes with a PPT.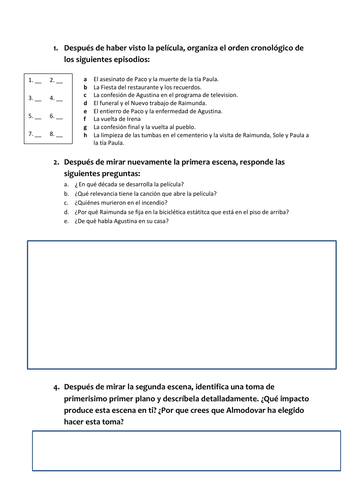 This five-page handout contains really good activities to help students gain insight of the film. It is divided into seven scenes.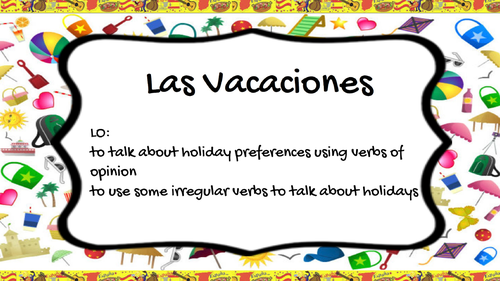 Amazing resource that covers listening, reading, writing and speaking. It makes provision for less able and more advanced students. It covers verb gustar: what I like to do; irregular verbs:ser, tener, ir; as well as regular verbs. Spanish: relating to Spain, it's people or it's language. Holidays: an extended period of leisure.

This is a 29-page resource that helps students prepare for their A Level Spanish Exam. It provides a thorough analysis of the film by Amenábar. it contains different exercises based on information about: Ficha Técnica El Director Reparto Vocabulario Personajes Crítica La Eutanasia La Iglesia El Género La Música El Encuentro Con Julia Rosa Se Entera de Ramón Citas Claves Parámetros de Evaluación El Ensayo Ejemplos de Preguntas Webgrafía

Seven pages full of key vocabulary and activities to help your students write a superb essay.

Fantastic 15-page booklet with everything your students need to know about this topic. It contains Grade 9 phrases and vocabulary and includes grammar revision on the present and preterit tenses, masculine/feminine articles and the subjunctive. There are reading, writing and speaking exercises that will help your student ace this topic.

Really useful resource that helps you integrate the preterite with the topic of holidays with a flare of cultural awareness. It contains: *Step by step lesson plan with a link to the video that will start your lesson. *Handout to go with the PPT * 6 colourful slides that do all the explanation for you. There are fun activities that will enable your students to master the preterite.