Sex Education Forum NCB's Shop
Support to plan, teach and evaluate high-quality, evidence-based RSE
10Uploads
4k+Views
2k+Downloads
Support to plan, teach and evaluate high-quality, evidence-based RSE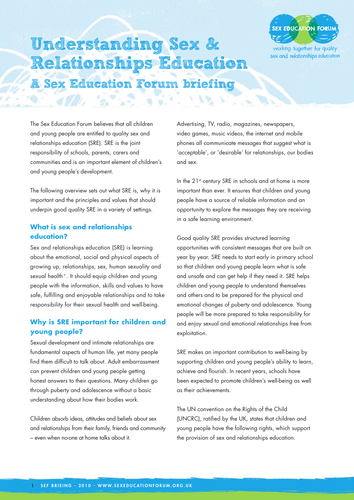 This document sets out what SRE is, why it is important and the principles and values that should underpin good quality SRE in a variety of settings. Further advice on policies for SRE can be found here: http://www.sexeducationforum.org.uk/schools/sre-policy-in-place.aspx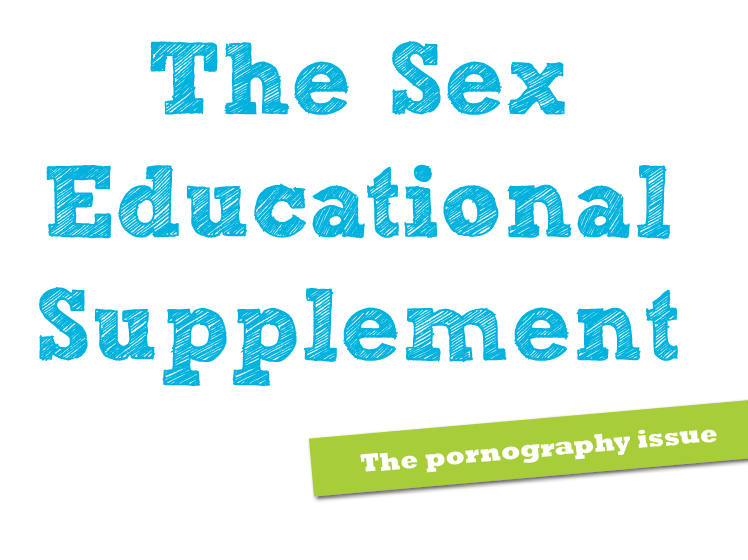 The Pornography Issue (2013) is the Sex Education Forum's first edition of the e-magazine. It aims to help school deliver high quality relationships and sex education to classes to tackle potentially taboo subjects and offer practical advice drawn from consultation with those on the front-line of sex education: teachers and young people. This magazine includes: lesson ideas suggested resources and recommendations from young people about what they want to know advice for schools on how to broach this potentially difficult subject "Teachers have told us they are nervous about mentioning pornography in RSE, yet given the ease with which children are able to access explicit sexual content on the internet, it is vital that teachers can respond to this reality appropriately. Whilst in some cases children find this material by accident, there are instances when they come across pornography whilst looking for answers to sex education questions; it is therefore wholly appropriate that pornography and the issues it reveals are addressed in school RSE. In addition, teaching children and young people to be critical consumers of media and able to discuss issues about the body, gender and sexual behaviour will equip them with "filters in their head" to be more in control of the media available to them."
The Puberty Issue (2016) provides teachers with ways of introducing puberty in an age-appropriate fashion. It includes features on: • The factors that may be contributing to a current increase in early onset puberty in girls. • How the adolescent brain develops during puberty. • Using art to express the emotional aspect of puberty • How a child in every class could start menstruating before leaving primary school, and the practical steps schools can take to support them. The magazine includes findings from a survey of young people which suggests that schools are leaving discussions about puberty too late, with nearly a quarter (24%) of girls start having periods before the subject is covered in RSE classes at school. Almost 15% of young people said they were taught nothing at school about menstruation. The pattern is repeated for boys with 38% experiencing wet dreams before having learnt about them. Over 50% of young people go through school without this aspect of puberty ever being mentioned. The survey of over 2,000 young people aged 11-25 found that nearly a third of young people (30.4%) did not learn all they needed to at school about how their body changes during puberty – this rose to 46% for young people who identify as transgender, non-binary or other genders.
To support you in designing your RSE curriculum, this document helps you consider what to include in RSE and how to structure your programme. We have developed a set of questions to help parents, carers, schools and other educators understand what children and young people want to learn about in relation to growing up, relationships and sex from ages 3-19, organised by age.
This poster-style document sets out 10 steps to providing high quality Relationships and Sex Education as an identifiable part of PSHE education. The poster includes hyperlinked buttons making it easy to navigate resources from both the PSHE Association and Sex Education Forum that will support school leaders in preparing for statutory RSE. The roadmap was co-produced by the PSHE Assocation and Sex Education Forum and is supported by five education unions.
A survey by the Sex Education Forum found that 3 in 10 young people did not learn about consent in school. Young people also said that what they do learn tends to be too theoretical and fails to discuss real-life relationship situations. So how, what and when should we be teaching about consent in school relationships and sex education? This second issue of the Sex Educational Supplement includes: 'take the quiz' to help you brush up on your knowledge about consent, including legal facts an exclusive interview with Dr Meg Barker, author of Rewriting the Rules eight pages of lesson ideas and resources to integrate learning about consent in high quality SRE at all Key Stages. This Sex Educational Supplement is free for members of the Sex Education Forum. If you'd like to explore membership, please visit the Sex Education Forum website.
The Gender Issue (2015) helps schools and teachers to get to grips with sex and gender in the classroom to promote gender equality and make students 'gender-aware'. The issue includes: quiz and infographics to help you navigate data about how gender shapes young people's experiences glossary of useful terms for educators and definitions 'matching' activity for use with pupils views from teachers and an interview with the End Violence Against Women Coalition what to consider when planning single gender sessions in SRE lesson ideas for all Key Stages with links to a wide range of resources The Sex Education Forum encourages all information to be presented in a way that caters to all genders, including transgender and non-binary children, to allow for Relationship and Sex Educaiton to be inclusive. The Forum advises that an age-appropriate programme can also assist in this inclusivity. The Gender Issue provides a range of teaching resources and shows how these can be applied in the classroom with pupils ranging from Key Stage 1 – 4. This Sex Educational Supplement is free for members of the Sex Education Forum. If you'd like to explore membership, please visit the Sex Education Forum website.
The HIV Issue (2014) provides teachers with facts about HIV transmission, prevention, testing and treatment and lesson ideas that ensure myths and prejudice are challenged. The issue includes: explanation of the facts relating to HIV prevention, transmission, testing and treatment eight pages of lesson ideas for Key Stages 1 - 5 top tips for teachers from young people living with HIV and affected by it advice on managing a disclosure of HIV positive status in school a book review of 'AIDS: Don't die of prejudice' This Sex Educational Supplement is free for members of the Sex Education Forum. If you'd like to explore membership, please visit the Sex Education Forum website.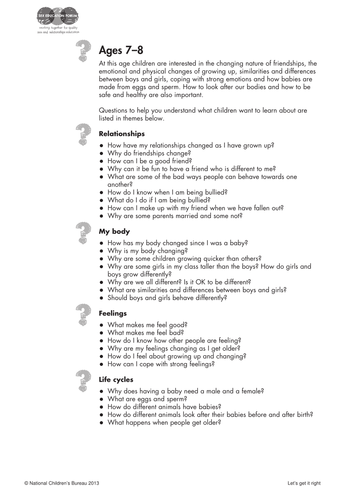 The Sex Education Forum curriculum design tool provides sets of questions to explore with children and young people organised by age-group. The sample available to download is for 7-8 years old. The full range of ages can be viewed from our web-site. The tool helps teachers plan what to include in SRE.
The Sex Education Forum is pleased to support the publication of this new fact sheet on abortion and abortion care produced by the professional medical bodies RCOG and FSRH. It provides teachers with a reliable source of information about abortion. This will help address the gap in teacher knowledge, but more in-depth training and support is needed to ensure teachers of RSE have the tools and confidence to craft high-quality lessons on the subject.