5Uploads
981Views
332Downloads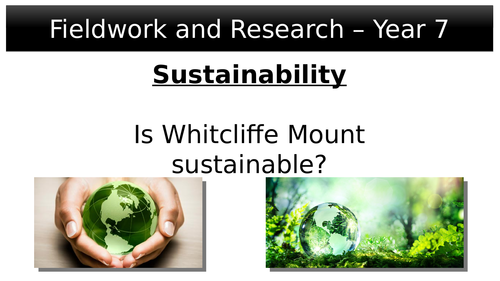 I have created a powerpoint and an accompanying student booklet that provide an opportunity for students of geography at KS3 to participate in 'in-house' fieldwork. This forms a perfect prerequesite to the GCSE AQA Fieldwork requirements and allows students to prepare for the fieldwork style of questions and data collection early. Made for my current school however could be easily adapted by changing headings to the name of your school. As you can see I have adapted from my first school to suit my second school etc. The project focuses on: Government initiatives for the 'sustainable school' Government definitions and doorways of a 'sustainable school' 3+ data collection techniques including bipolar survery, field sketches, photographs and litter/bin counts. Write-up opportunities Final speech/poster composition as an assessment outcome
In this resource you will find a 15 question Christmas themed quiz for use with your classes. You will also find a 'Can Geography save Christmas?' activity whereby students must use an atlas or map to plot Santa's route using a range of clues! It is made to work with the Geog.atlas however it works really well with any atlas! The students LOVE this activity. Save yourself some valuable time and give these activities a go - mine love them!
Three worksheets for the 'Hostile Planet' series hosted by Bear Grylls and available on NatGeo and Disney+ Perfectly pitched for KS3-KS4 Geography/Science. I designed this to be part of the current Ecosystems scheme of learning within Year 8 KS3 Geography. It is also used for the AQA GCSE Geography course. The resource includes Polar, Desert and Tropical Rainforest notes/video sheets and an overall GCSE style exam question at the end to formatively or summatively assess the students' learning within the lesson.
I have a range of 5-a-day style activities I have designed to promote recall and retrieval practice in the 'lesson launch' or 'starter' activity at the beginning of a lesson. They are ideal for this type of 'do it now' exercise as they are self-explanatory and aim to interrupt the forgetting curve. Featured are the following: Paper 1: Section A (Tectonics, Weather and Climate Change) Paper 1: Section B (TRF and Hot Deserts) Paper 1: Section C (Rivers and Coasts)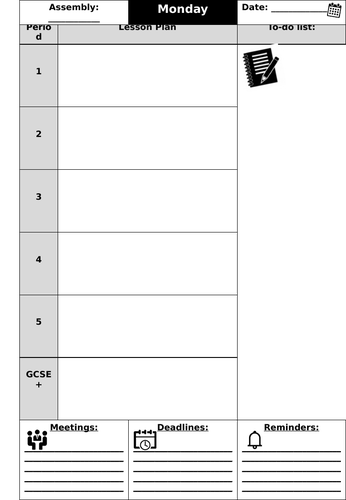 These are Monday-Friday diary pages for the modern school teacher diary. The pages include: Periods 1-5 and an extra lesson that can be removed or adapted to suit differently structured days. To-do list section. Reminders Meetings Deadlines Print on double sided (flip on long edge).