165Uploads
30k+Views
4k+Downloads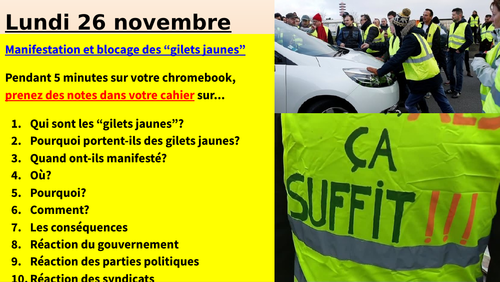 Lesson on the gilets jaunes movement including speaking/writing questions, research work, videos, information. UPDATED on 11/12/2018.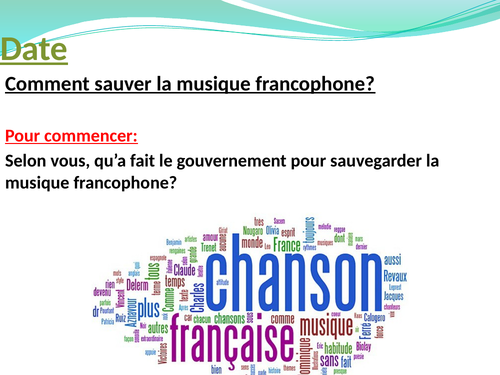 Lesson on Comment sauver la musique française? Videos, speaking, listening and writing tasks. This covers la fête de la musique and famous francophone festivals to promote music.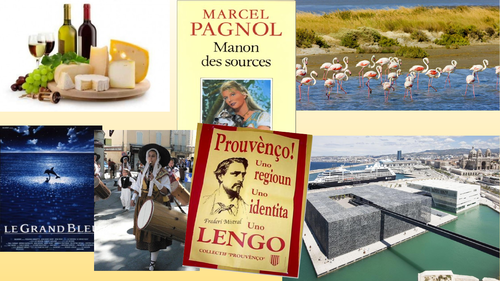 A-level French lesson to introduce the topic of heritage (patrimoine) with video, key words, listening, speaking and writing tasks.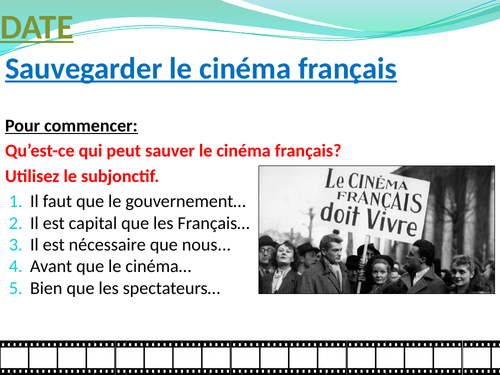 Whole A-level lesson on how France is trying to save French cinema through festivals and incentives such as le printemps du cinéma and la fête du cinéma as well as its tax program. The lesson contains a starter with subjunctive, listening activities (videos - adverts and news report) as well as a speaking activity and a slide to prompt them to present about francophone film festival (to help promote it)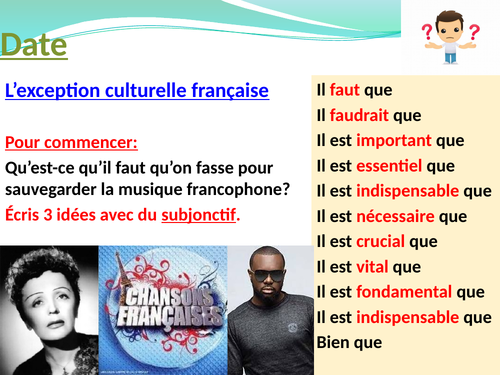 Lesson on l'exception culturelle francaise in music with video, discussion and writing task using subjunctive.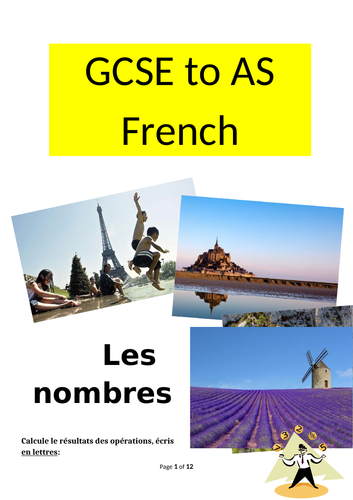 Summer workbook with many different activities to revise during summer break. This helps bridging the gap and reviewing the main grammar components before moving on.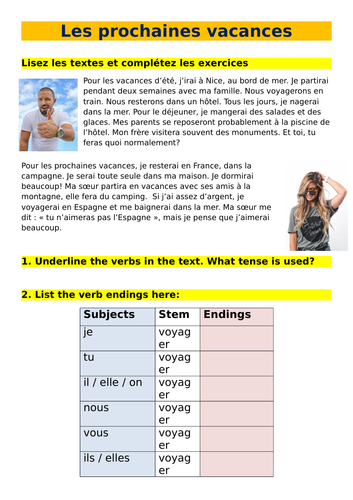 Great readings with many tasks for students to deduce the formation and use of the simple future. From a reading, students will develop their writing and speaking skills through 6 distinct exercises: spotting verbs in a reading, finding out the formation, vocab search, conjugation of irregular verbs, translation and a writing task (that can be used as a speaking task) to reuse the future tense in a personal context.

Quiz with 15 questions to check students' knowledge of key facts of the film. Answers are included. There is also a reflection's section and a creative section for students to push their knowledge.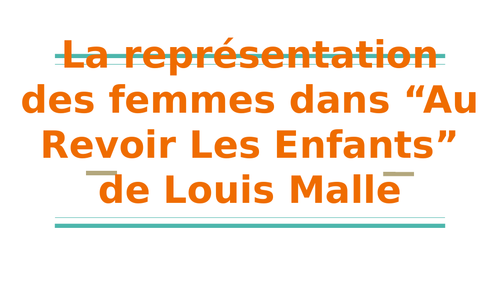 Powerpoint presentation to make people reflect on the "Le rôle et l'importance des femmes dans Au Revoir Les Enfants de Louis Malle" Loads of ideas for students to take and write an essay on the topic.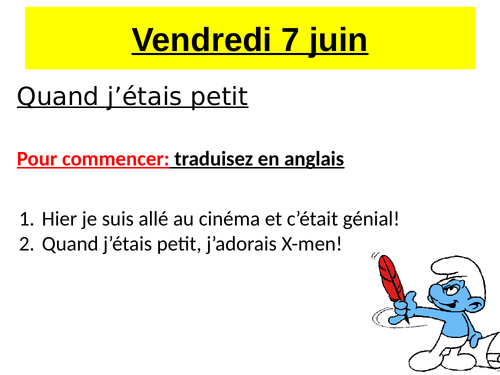 Lesson on module 3 on jobs and careers introducing the imperfect tense from a reading comprehension. It also includes mini-white board challenges and a GCSE style writing task.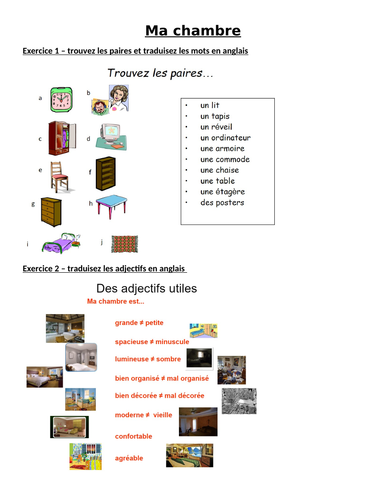 Lessons about where you live including progressive translation sheets to work on specific grammar points (comparison, prepositions, BAGS adjectives, adjectival agreement, tenses)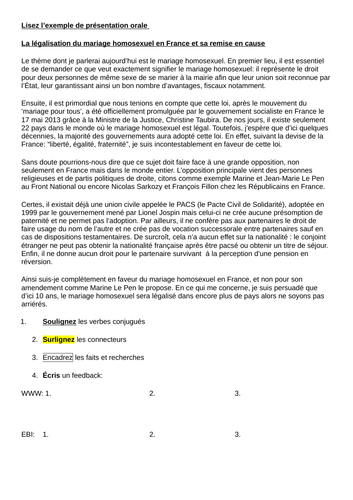 Example of an IRP presentation for the speaking A-level exams. Great to give students before they write their own to guide them and show them how we can use high structures and facts in a concise presentation. Students assess the presentations and can discuss in pair and in class with the teacher.

Lessons that can be done in tutor time, assembly or full lesson on the life stories of Oscar Wilde, Alan Turing and Justin Fashanu. It prompts students to reflect and debate, especially on how legislation can impact one's life.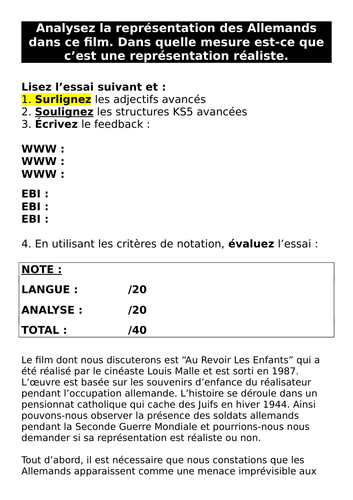 Analysez la représentation des Allemands dans ce film. Dans quelle mesure est-ce que c'est une représentation réaliste. Worksheet to evaluate an essay on the film and have a model.

Powerpoint presentation to introduce students with the main facts they need to know about the French political system. Then it prompts them into presenting about the main political parties with specific guidelines.

Activities on the coronavirus pandemic based on authentic material with the answer key. Available in PDF and Microsoft word formats. It contains the following exercises: listening / reading comprehension on 5 key questions about the virus speaking / writing task reading/vocab task on zoonotic diseases translations on advice to keep safe grammar work - transforming sentences into the subjunctive mood (can be adapted by switching subjunctive with "il est important de…" or other similar structures) GCSE writing task - 130 - 150 words on the situation This can be used for GCSE (topics: health or environment) and the International Baccalaureate (IB)

Presentation to foster students' thinking on the topic of collaboration in the film Au Revoir Les Enfants by Louis Malle. The presentation contains a wealth of ideas and discussions to prompt students' reflexion and have them come up with an essay plan.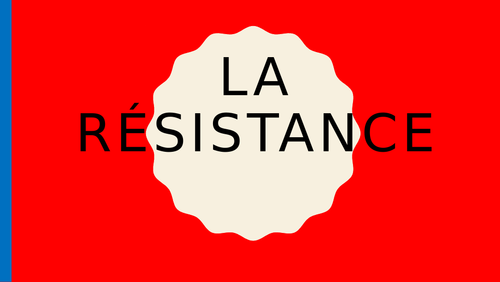 Presentation/lesson/ideas on the topic of Resistance in the film. Lots of ideas, key scenes and quotes about the topic so that students should be able to come up with an essay plan by the end.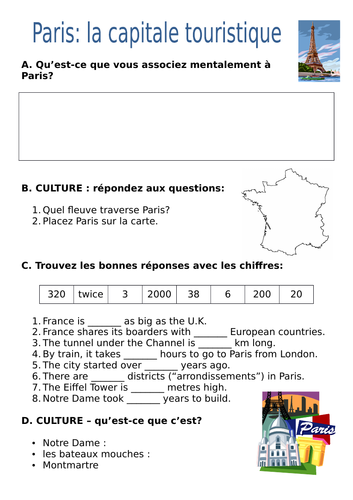 Worksheet on Paris to find information about the city and recognize its main landmarks.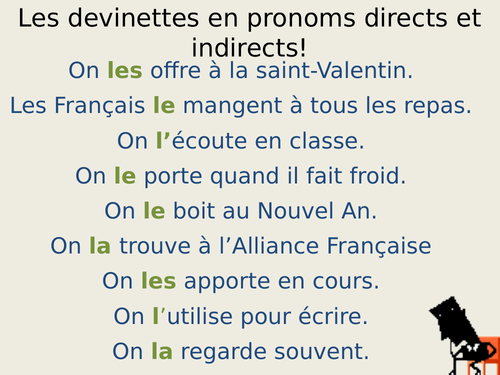 Students have to guess possible nouns that are replaced by direct and indirect pronouns. Great to make them reflect and see their use in context.