130Uploads
9k+Views
2k+Downloads

DISCOUNT: SAVE 30% BY BUYING IN A BUNDLE! The pack contains: a translation (English to French) based on the film (with correction and markscheme) a worksheet to tackle essays' main mistakes a quiz to reiterate the film's key details a snakes and ladder game to revise key facts about the film in a fun way essay writing assessment (with 4 different essay titles in total) one model essay done in exam conditions "piste de corrections" for 2 essay titles feedback sheet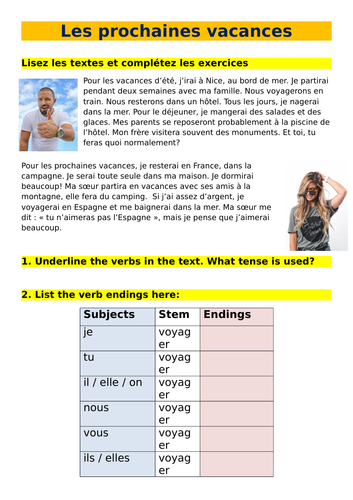 Great readings with many tasks for students to deduce the formation and use of the simple future. From a reading, students will develop their writing and speaking skills through 6 distinct exercises: spotting verbs in a reading, finding out the formation, vocab search, conjugation of irregular verbs, translation and a writing task (that can be used as a speaking task) to reuse the future tense in a personal context.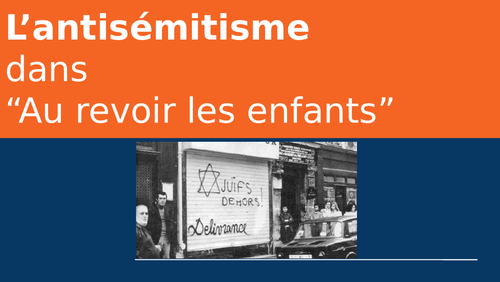 Lesson to make students reflect on how antisemitism is portrayed in the film Au Revoir Les Enfants (Louis Malle) The Powerpoints not only gives them ideas but prompt them to reflect and to eventually come up with an essay plan.

This is a fun activity to revise for the essay Au Revoir Les Enfants by Louis Malle. It contains essential questions. Students have to speak for at least 1 minute on each question with high order structures. Once downloaded, questions can be altered to suit your teaching.

Presentation to foster students' thinking on the topic of collaboration in the film Au Revoir Les Enfants by Louis Malle. The presentation contains a wealth of ideas and discussions to prompt students' reflexion and have them come up with an essay plan.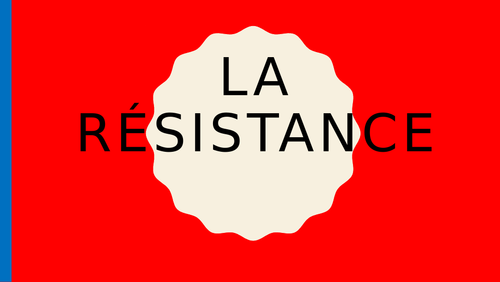 Presentation/lesson/ideas on the topic of Resistance in the film. Lots of ideas, key scenes and quotes about the topic so that students should be able to come up with an essay plan by the end.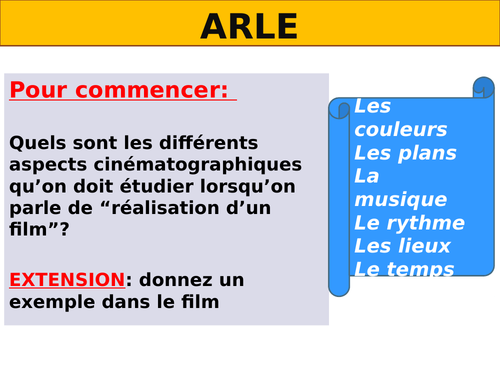 Lesson with questions and ideas for an essay on the cinematographic aspect of the film Au Revoir Les Enfants (colours, sound, shots, etc.) Prompting students to reflect and produce an essay plan at the end. Includes a mindmap to brainstorm ideas prior to or during lesson.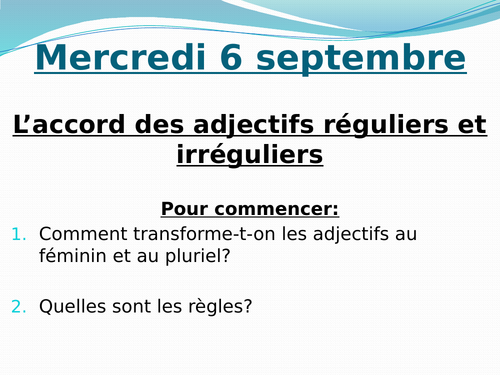 Lesson on the adjectival agreement. Aimed at Year 12 but could be adapted for KS3/4. Adjective manipulations, questions and translations.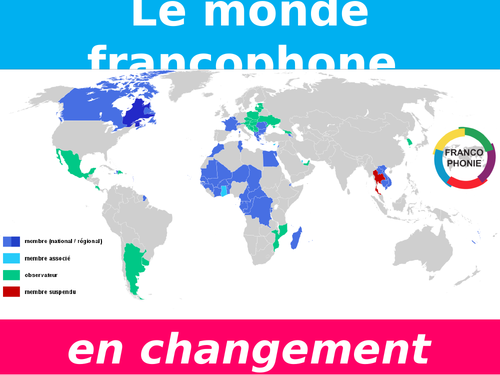 27 slides/posters that recaps the main information on each topic for A-level in French (la famille en voie de changement, le bénévolat, la cybersociété, le patrimoine, la musique et le cinéma francophones, le multiculturalisme, la criminalité, la politique d'immigration, la marginalisation, les jeunes et le vote, les manifestations) It includes key facts and vocab students must know, especially for their oral exam. Can also be used for a recap lessons and displays around the department. Can be amended and adapted.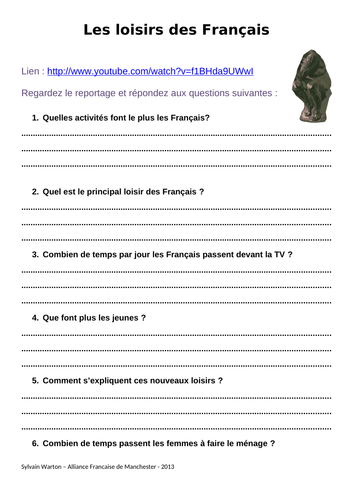 Listening activity based on a video on leisure and French people. Prompts for discussion.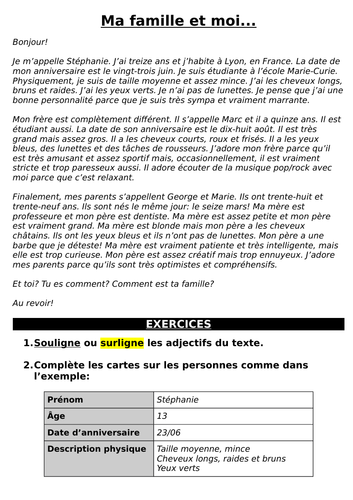 Great worksheet that lasts a lesson. Many activities to develop reading and writing skills: vocab, information, true or false, and writing using the text as a frame. Great to encourage student to use a range of linguistic elements to reach a higher level (connectives, adverbs, adjectives, specific vocabulary, verbs, etc.)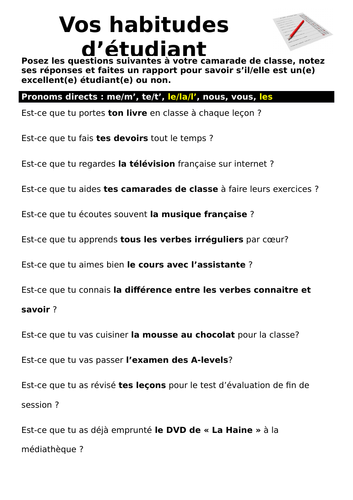 Worksheet to push students' speaking with direct and indirect pronouns (pronoms COD/COI)

Powerpoint presentation to introduce students with the main facts they need to know about the French political system. Then it prompts them into presenting about the main political parties with guidelines.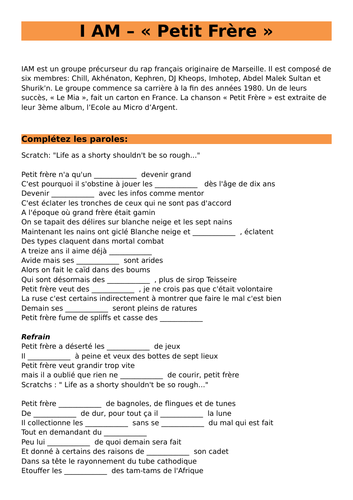 Work on youth crime from the song "Petit Frère" (easily found on youtube) Several exercises: Fill in the gaps True or false Comprehension Discussion questions Summary (exam style)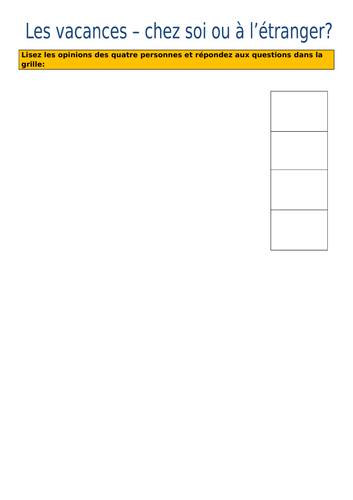 Great reading tasks for students to develop vocab and arguments to say whether they prefer to stay or go abroad on holidays and why. 4 reading tasks and match up, translation, speaking, writing exercises.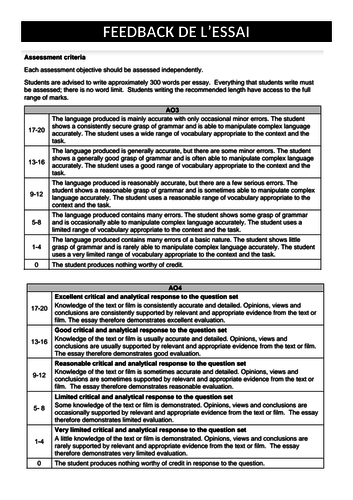 Assessment pack which contains the following 4 documents: Assessment sheet with 2 essay titles to choose, to prompt student to use a range of structures in their essays markscheme / pistes de correction feedback sheet with grading criterias model essay done in exam condition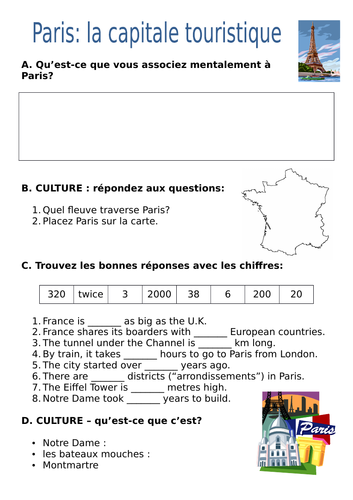 Worksheet on Paris to find information about the city and recognize its main landmarks.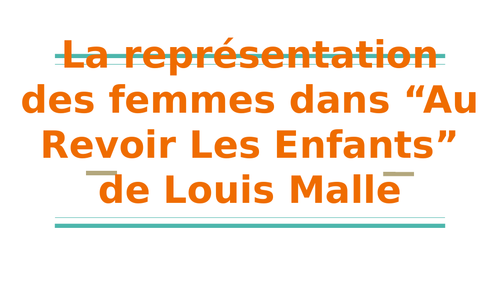 Powerpoint presentation to make people reflect on the "Le rôle et l'importance des femmes dans Au Revoir Les Enfants de Louis Malle" Loads of ideas for students to take and write an essay on the topic.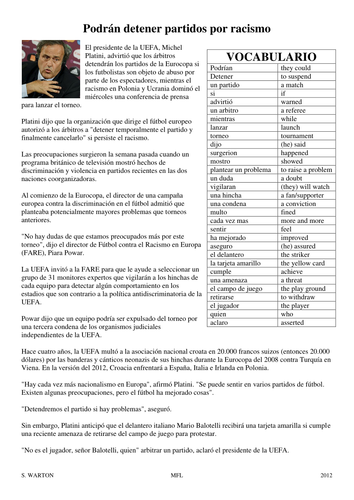 Text on the issue of racism in the Euro 2012. Activities enclosed. Designed to reach level 3 up to level 7.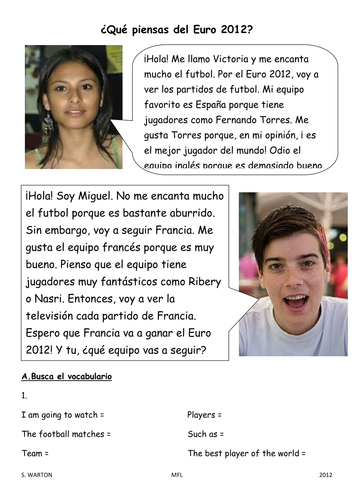 Worksheet with two texts and activities design to build on opinion reaching level 4 to 5. KS3, year 7 or 8.