132Uploads
11k+Views
2k+Downloads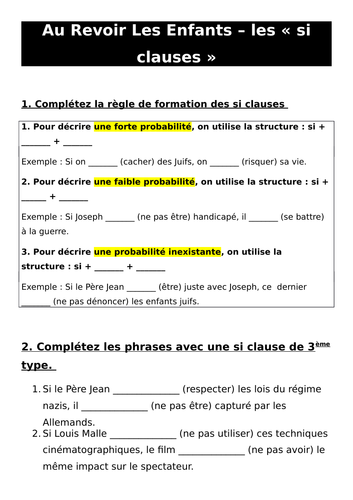 5 exercises to use si clauses in the context of the film Au Revoir Les Enfants by Louis Malle. It contains grammar rule gap fill, verb conjugation gap fill and 2 sets of translations (FR>EN and EN>FR), and a creative exercise. Answers are included.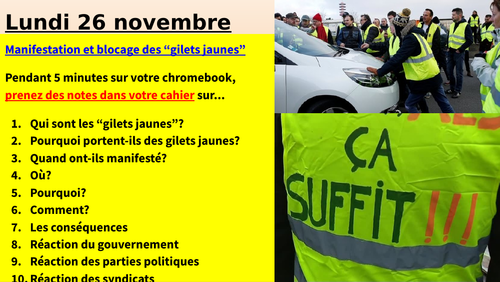 Lesson on the gilets jaunes movement including speaking/writing questions, research work, videos, information. UPDATED on 11/12/2018.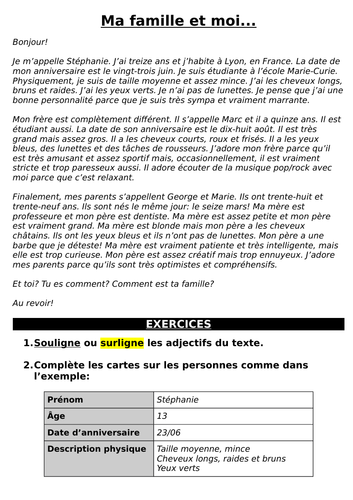 Great worksheet that lasts a lesson. Many activities to develop reading and writing skills: vocab, information, true or false, and writing using the text as a frame. Great to encourage student to use a range of linguistic elements to reach a higher level (connectives, adverbs, adjectives, specific vocabulary, verbs, etc.)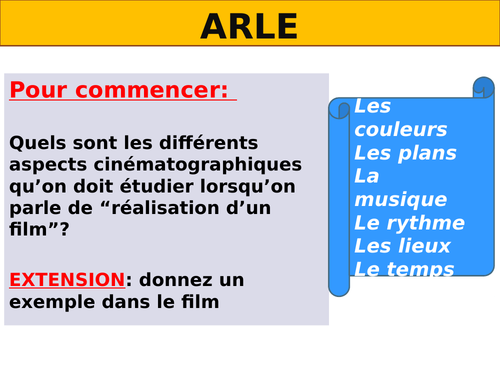 Lesson with questions and ideas for an essay on the cinematographic aspect of the film Au Revoir Les Enfants (colours, sound, shots, etc.) Prompting students to reflect and produce an essay plan at the end. Includes a mindmap to brainstorm ideas prior to or during lesson.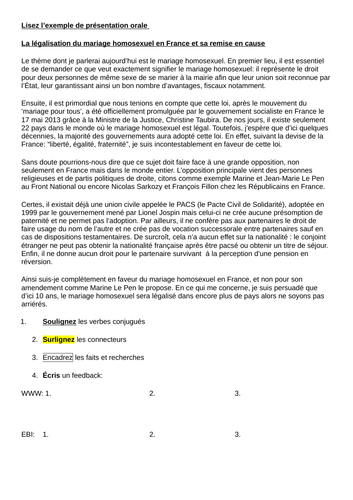 Example of an IRP presentation for the speaking A-level exams. Great to give students before they write their own to guide them and show them how we can use high structures and facts in a concise presentation. Students assess the presentations and can discuss in pair and in class with the teacher.

This is a fun activity to revise for the essay Au Revoir Les Enfants by Louis Malle. It contains essential questions. Students have to speak for at least 1 minute on each question with high order structures. Once downloaded, questions can be altered to suit your teaching.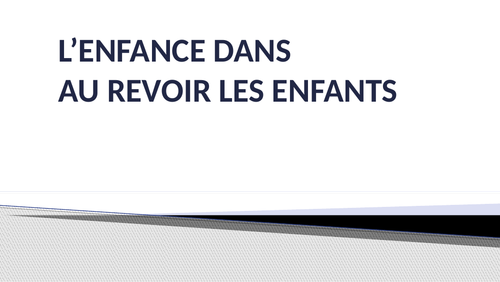 Whole lesson presentation on the topic of childhood in the film Au Revoir Les Enfants by Louis Malle. The presentation contains ideas to prompts students' reflexion on the topic. Lots of ideas and keys scenes and quotes plus a possible essay plan.

Full lesson on comparative (using Studio 2 and the topic of housing, but could be adapted) Range of exercises to push students to use a variety of adjectives to describe houses and other objets or people. Speaking, reading and writing skills. Can be easily used for GCSE lessons on the topic "Where I live".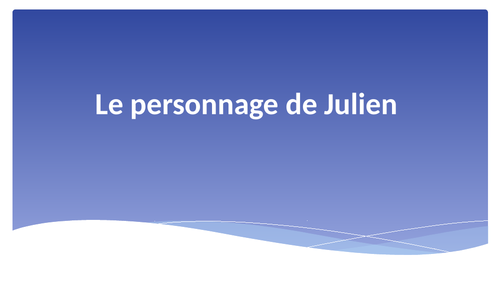 Presentation/lesson on the character of Julien in the film Au Revoir les Enfants of Louis Malle. It contains questions to push discussion and reflection, prompts for ideas and key scenes/quotes to consider to write an essay on this topic. Also, it gives a possible essay plan.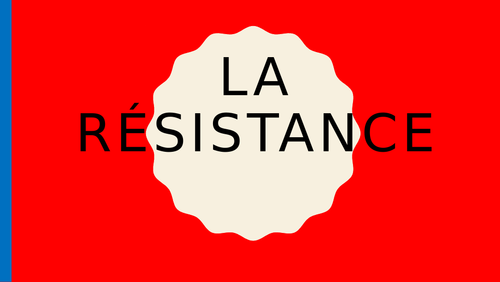 Presentation/lesson/ideas on the topic of Resistance in the film. Lots of ideas, key scenes and quotes about the topic so that students should be able to come up with an essay plan by the end.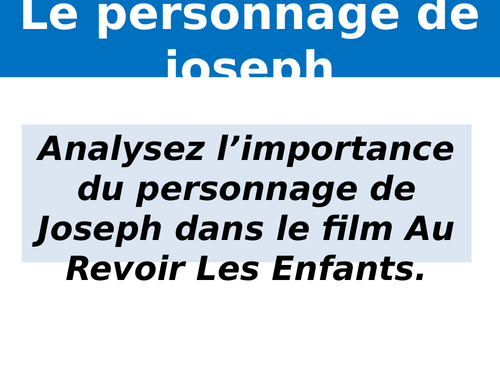 Lesson to make students reflect on how Joseph is portrayed in the film Au Revoir Les Enfants (Louis Malle) The Powerpoints not only gives them ideas but prompt them to reflect and to eventually come up with an essay plan.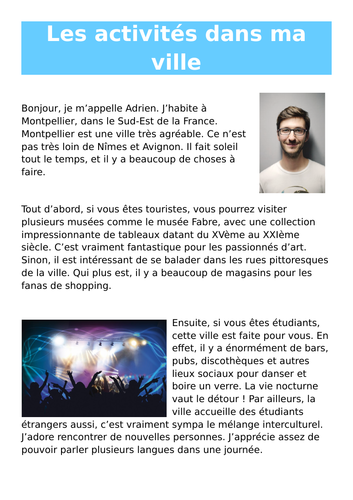 Reading comprehension including 5 activities: questions on the text, word sorting (verbs, adjectives, connectives), vocabulary, translation and speaking/writing questions to answer. Excellent to expand vocabulary and structure speaking/writing production (the text can be used as a writing frame) and for culture (finding out about Montpellier).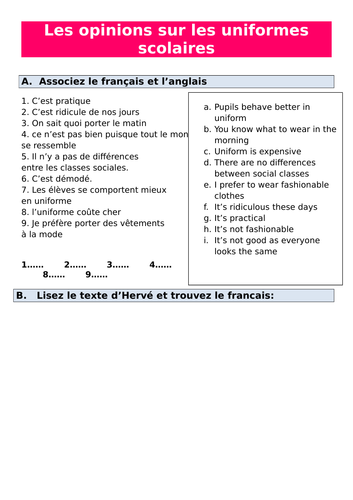 Worksheet with arguments for and against uniform in school and talking about uniform in France. Match up, translation, reading and speaking or writing exercises included.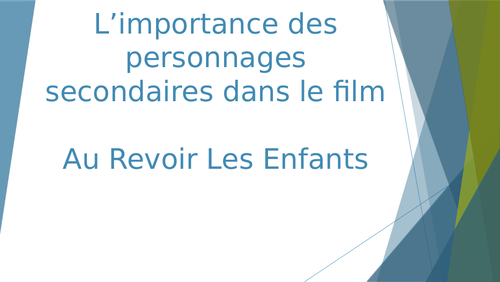 Presentation/lesson with key questions, ideas, scenes, quotes on the topic of secondary characters in Au Revoir Les Enfants of Louis Malle.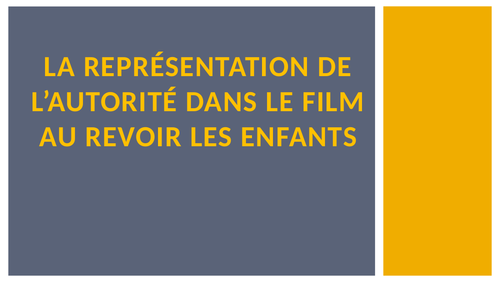 Presentation with ideas and key questions on the topic of "l'autorité" in the film Au Revoir Les Enfants by Louis Malle.

Translation (149 words) from English to French on the topic of Au Revoir Les Enfants by Louis Malle with corrections and markscheme.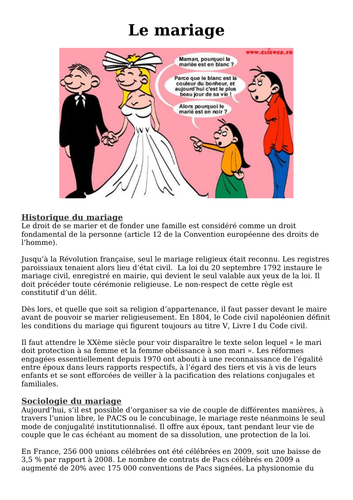 Range of written resources followed by questions to prompt discussion and have students reflect on the context in which gay marriage was legalised in France: Historique du mariage Citations sur le mariage A l'Assemblée, l'UMP repousse le mariage homosexuel Les Français favorables au mariage homosexuel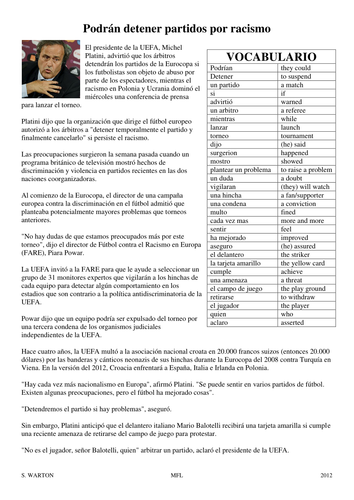 Text on the issue of racism in the Euro 2012. Activities enclosed. Designed to reach level 3 up to level 7.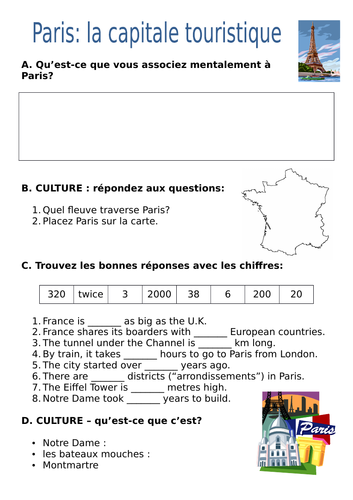 Worksheet on Paris to find information about the city and recognize its main landmarks.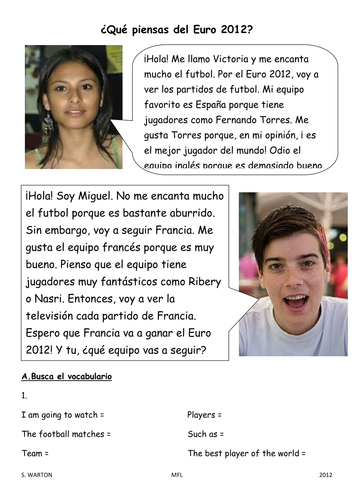 Worksheet with two texts and activities design to build on opinion reaching level 4 to 5. KS3, year 7 or 8.