Sophie Gardner's Shop
Director of Communications Faculty (English and Modern Foreign Languages) Passionate about sharing good practice
8Uploads
1k+Views
333Downloads
Director of Communications Faculty (English and Modern Foreign Languages) Passionate about sharing good practice This is a fully resourced SOW for A Christmas Carol aimed at middle to high ability KS4 students preparing for their AQA Literature Paper 1 exam. This is a full scheme of work for every scene in Macbeth. It is aimed at higher ability KS4 students so the resources contain a lot of sophisticated vocabulary and higher order tasks (Grade 6 upwards). Every lesson has a PowerPoint and the corresponding resources. All resources are created from scratch and have been taught to a top set Year 9 group who have made Outstanding progress. The summative assessment for this SOW is an AQA Literature specimen: How does Shakespeare present Lady Macbeth in Act 1 Sc 5 and in the rest of play? These resources span 1-3 lessons: students will use the acronym VISIT to analyse 'The Bereavement of the Lion Keeper' then they will compare this with Scannell's 'A Case for Murder' using a comparison alley. Writing frames and exemplar responses are included within the PowerPoint. This will help students to prepare for the AQA Lit Paper 2 unseen poetry section.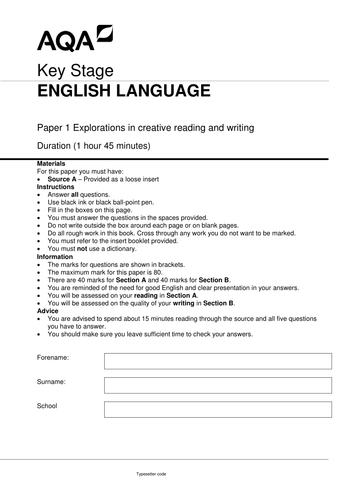 A mock paper practising Language Paper 1 (AQA) skills based on an extract from The Great Gatsby. This is a fully resourced SOW for teaching an An Inspector Calls in preparation for the AQA Lit Paper 2 examination. Students discuss what the women have in common - illicit the fact that they are all inspirational feminists. Students then go on to produce a formal speech about who is the most inspirational woman of all time. Suitable for KS3 and KS4. Practises AQA Language Paper 2 Q5 non fiction writing skills. Promotes cultural literacy. Non-fiction writing lesson: write an article expressing your opinion on fireworks (includes structure strips to support less able and challenge more able). Poetry analysis lesson analysing Reeve's imagery in his poem 'fireworks'. Poem writing lesson using imagery to write an effectie poem about fireworks. This is a complete series of lessons for teaching Of Mice and Men. It begins with a lesson analysing 'To A Mouse' (the poem the title of the novella was taken from), followed by a market place activity exploring the social, historical context of the novella, then a number of analytical lessons focusing on key themes and characterisation. There are non-fiction writing lessons built in and there are two specific reading and writing assessments. This SOW is suitable for any exam board studying this text at GCSE level. There are 26 lessons in completion.