SpectrumSavvy's Shop
A neurotypical embracing neurodiversity through social media, bespoke autism related training and resources.
27Uploads
3k+Views
351Downloads
A neurotypical embracing neurodiversity through social media, bespoke autism related training and resources.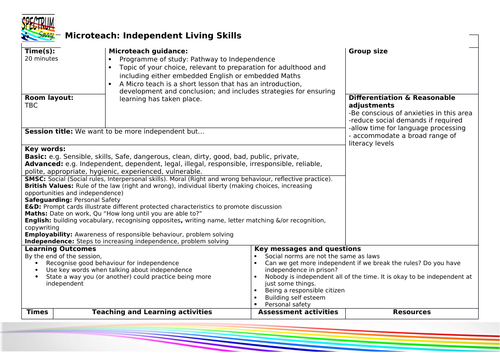 This is a lesson plan for a 20 minute microteach on the subject of socially appropriate behaviour for increasing independence. For example, if we are hygienic we will be given more responsibility on our work placement. If we are cautious what information we give away to strangers we will be able to spend more time at the shops etc without supervision and guidance. There are resources to accompany this lesson plan.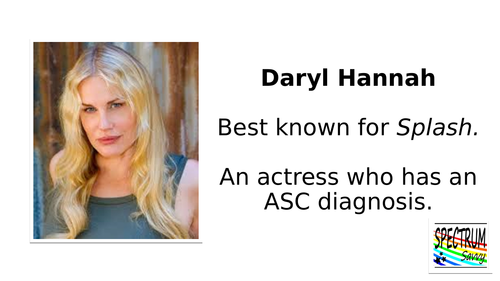 This powerpoint presentation provides a list of famous people who are thought to be autistic. This has been used as printed cards for discussion when helping individuals to understand autism and feel more empowered regarding their diagnosis.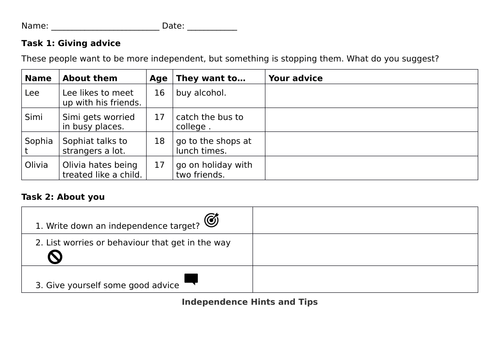 This resource is designed to help learners explore barriers to becoming more independent. The resource consists of case studies and a page of visual prompts to be considered as possible ways to break down barriers to independence. E.g. role playing an activity before doing it for real or using google images to plan a route to an unfamiliar place. Both effective ways to reduce anxiety levels. Learners are required to consider up to four basic cases studies and offer advice from the options provided. Advice can be different forms depending on the level of the learner e.g. Learners can illustrate the advice, using sheet 2 as guidance, they can copy the label of the advice or they can form their own sentence(s) inspired by the options provided. The activity can be used with the key words for independence to embed literacy skills.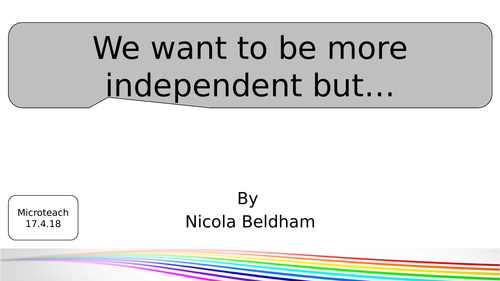 Powerpoint to guide learners through the session. Lesson and worksheets also available. Aimed at E1-E3 learners who are working to become more independent but need a little help with problem solving.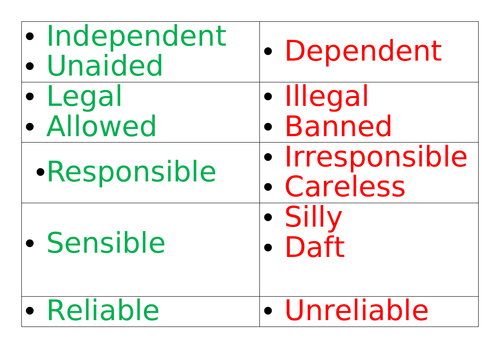 A list of words to describe the necessary behaviour for building independence. Words are accompanied by their opposites. The format is designed to be printed, cut out and laminated for future use. The words can be used to help build sentences with varied vocabulary when discussing independence in class. The can be used to represent two ends of a continuum for learners to self assess against the behaviours.

Here is a powerpoint, with activities that help to illustrate that behaviour that challenges us is actually trying to communicate with us. It may not be doing it in the best way possible but it is trying to say something, perhaps "I can't cope", "Leave me alone" or "stop". The powerpoint is accompanied by the stress bucket worksheet. If you are not aware of the stress bucket, it is explained nicely here. https://youtu.be/1KYC5SsJjx8 The powerpoint is also accompanied by the 'behaviour analysis cards'. Both of which can be used independently. The cards with red arrows indicate possible triggers for challengeing behaviour, The speech bubbles provide suggestions as to what the behaviour may be 'saying' and the cards with green arrows provide suggestions as to what we or the individual can do to manage challenges more successfully.

This document guides staff though a reflective and analytical process when an individual has displayed behaviour perceived to be challenging. It seeks to support staff in exploring the reasons 'challenging behaviour' occurs and to promote reflective practice around education and support. The aim is to assist staff in understanding and meeting an individual's needs so that challenging behaviour reduces. Those completing the process should consider the following key questions throughout the process: • Was the individual seeking to escape a situation they were not 'ready for'? • Were the supposed consequences something they were actually seeking? e.g. Individual is put in 'isolation' but this may be relief to them if they are feeling social overwhelmed. Could this lead to the behaviour being repeated? • Can more be done to teach coping, assertiveness and communication strategies to replace the challenging behaviour? • Do staff consistently demonstrate a good understanding of an individual's needs? • Are opportunities to share good inclusive practice maximised?