Teaching with Tealey
I am an Early Childhood teacher with a passion for keeping learning interactive and fun!
27Uploads
6k+Views
1k+Downloads
I am an Early Childhood teacher with a passion for keeping learning interactive and fun!

This activity includes 10 monster themed 3D shape nets for student to put together and assemble. They range in difficulty and include the following shapes. cube triangular prism cone cylinder rectangular prism rhombic prism tetrahedron pyramid pentagonal pyramid pentagonal prism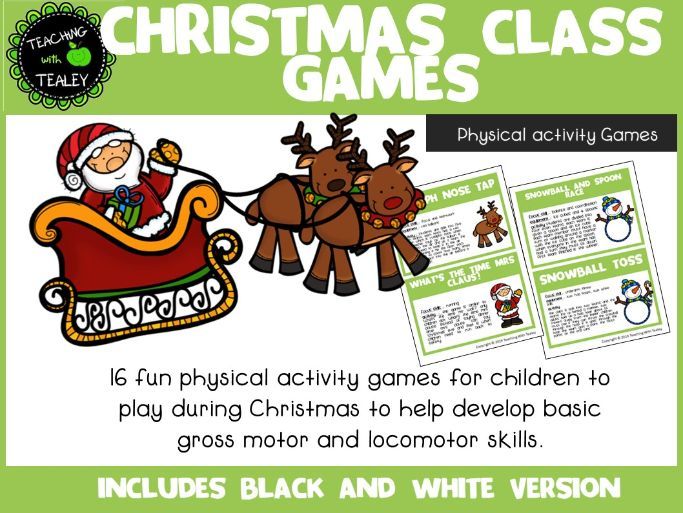 This product contains 16 Christmas themed sports games for students to play during physical education lessons or as fun time filler games for anytime fun. Each activity requires minimal preparation with things you should already have lying around the classroom. Great games to get students active and moving this festive season whilst also helping to develop basic gross motor and loco motor skills in kids.

This game helps young children learn the names and properties of both 2D and 3D shapes. Children wear a shape on their headband and must ask questions about the attributes of their shape until they guess what shape they are wearing. This document includes instructions on how to play the game as either a whole class or in a small group setting. Includes 7 different coloured head bands 10 3D shape cards 14 2D shape cards Question support cards Please follow my store to keep up to date with new products, please provide me with any feedback or suggestions, let me know how it went in your class or send me some photos. Check out my other Numeracy Warm Up Powerpoint below https://www.tes.com/teaching-resource/numeracy-explicit-teaching-warm-up-12102977

This is a collection of 16 circus themed physical movement stations that encourage balance, coordination and basic gross motor skills. Children will learn to walk on a balance beam like a tight rope walker, do forward rolls like a lion, balance a bean bag on their nose like a seal and loads more. Equipment you will need to have is listed below hula hoops bean bags small balls small trampoline plastic steps or stools umbrella rulers with ribbons on the end parachute beams rope ladder or something similar gym mats Have fun !!!

This game helps young learners how to read simple CVC words in a fun and interactive way. Children need to search and collect eggs with CVC words on them. Up to eight players. Includes 8 sets of different coloured eggs with 6 CVC words for them to read each with a different short vowel sound. 8 corresponding coloured baskets included. Baskets can be printed out and glued onto the front of a paper bag or small container to act as a basket. Happy Easter and we hope your little ones enjoy hunting for their CVC words

Includes 16 fun physical education stations to help young children develop the confidence to develop the basic skills needed to skip with a rope. Simply print and laminate the stations cards and select a few stations for children to rotate through. Happy skipping

This game is a fun and interactive way for young students in the early years to learn and understand the story of Noah and his ark. Students need to find pairs of animals and help Noah fill up his ark.

This is a math activity for Pre-K students learning to subitise and create collections of objects to 6. Students must roll the dice and then collect that many monster features to create their very own monster. This pack includes full color, minimal color and black and white versions. It comes with 6 different colored monster mats and the dice. It comes with monster features but you could also use loose parts like googly eyes, pipe cleaners and pop sticks instead! A great little activity for Halloween or for a math center activity to use anytime of the year!

This CVC bingo game is a fun way to get children reading and learning their CVC words. It is an easy-to-prep printable card game for a small group of up to 6 players. Students play to traditional bingo rules to cover the CVC words on their game board with either the calling cards or for a fun alternative use cotton balls as Snow balls to cover CVC words. 6 different game boards are provided, along with 54 caller cards, and two snowman pictures to put on the front of containers that hold the counters and calling cards.

To celebrate the opening of my store please have a look at my Skipping rotations freebie. Includes the first four activities from my skipping rotations resource. A fun way to help young children develop the skills and confidence necessary to skip with a rope. Happy Skipping

I have decided to branch into making explicit teaching powerpoints. Here is a freebie to assess the quality of my work. This is a short slideshow to help young children learn the days of the week as well as what days come before and after particular days of the week! 20 slides Please follow my store to keep up to date with new powerpoints, please provide me with any feedback or suggestions, let me know how it went in your class or send me some photos. Check out my other Numeracy Warm Up Powerpoint below https://www.tes.com/teaching-resource/numeracy-explicit-teaching-warm-up-12102977

This is a unit of work based around learning the first 60 words of Fry's first 100 word list. The Sports Academy is a fun learning program designed for young children to learn their sight words both at school and at home. Included is 20 sports themed activities for students to practice their words, 10 word lists, a sight word mastery folder, an editable letter for parents and a graduation certificate for when children complete the unit of work

A fun and interactive program to help young children learn their sight words. Can be used at home or at school. Includes templates to make a mastery folder, for children and parents to check their sight word progress, 20 creative sight word learning experiences, 10 editable word lists based on Fry's second 100 sight words and a certificate of completion for students when they have completed all 10 lists. Also includes editable assessment sheets for the teacher.

A fun and interactive board game for students in the Early Years. Great to use as a back to school ice breaker game. Students answer questions about themselves as they make their way around the game board. Great for speaking and listening skills, sharing and cooperation. Also great in helping young students count one to one as they move the correct amount of spaces forwards and backwards on the board.

This activity is a fun game for young kids to play this Halloween. It encourages students to use simple positional language such as left, right, forwards and backwards. It can be played as a whole class or in a small group. One student is the master and the rest become the monsters. Using the direction cards the master must read aloud the directions and show the monsters the signs to complete the monster dance. There are four sets of directions so when the monsters have conquered one dance they can move onto the next one. Put some music on and have FUN !

Get you classroom back to school ready with this cute little Tooth Fairy pack. This pack contains everything you need when a child loses their tooth at school. It includes the following: Lost tooth form - just the right size to put into a glad bag with the tooth Lost tooth medals - for the child to wear for the day when they lose their tooth Tooth Fairy stop here poster - for children to take home and stick on their bedroom door. Tooth Fairy Receipt - These could be given to parents to fill out at home Tooth Fairy Certificate - For parents to fill out on behalf of the tooth fairy

This is a five week unit looking at the nativity story. It focuses on the birth of baby Jesus and looks in depth at some important religious symbols such as the star of Bethlehem, the angel Gabriel and the three wise men. It includes five lessons and five follow up Christmas craft activities for children to engage in.

A fun filler drama game for young students to help develop confidence and performance skills as well as helping students to identify feelings and emotions. Simply print. laminate and cut out the cards and then students choose an animal and emotion and must perform them together to the class. This game is so much fun and is so simple to play.

This game is a fun and interactive way to get young students reading their sight words. It is a small group literacy game for up to five players. Simply print out the dots with the words on and stick them to the floor. Each player has a different colored reindeer headband to wear. Each child has 10 different words that they need to jump on and read to get to the finish line. Children simply take turns at rolling the dice and jumping forward that many spaces reading their words as they go! A great Christmas activity and a fun way to get students reading and practicing their sight words.

This game helps young learners learn to read simple CCVC words in a fun play based way. It is a small group game for up to 8 players. Children need to find six eggs each with CCVC words on them and if they read the word correctly they can feed them to their bunny. Includes 48 editable CCVC words. 8 bunnies. Happy easter and have fun learning your CCVC words. Miss Tealey