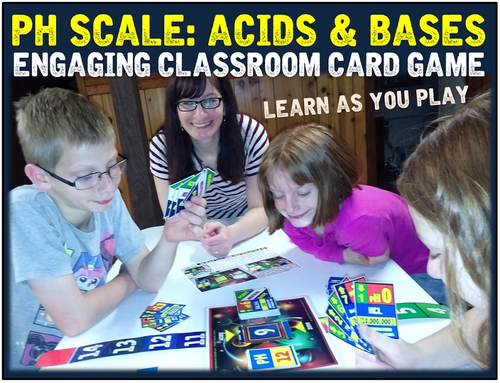 Take the power of Hydrogen to a new level in this one-of-kind pH scale card game. Your students will never forget playing this content-driven game learning about acids, bases, and the pH scale. This game is highly visual and manipulative. Students will use a moveable pH scale called a pH scale ribbon to target a specific buffer ph. The student who wins the most buffers, is the winner. Students will learn as they play this game & never forget. In this package you will receive over 60 pages of engaging materials with detailed instructions on how to assemble the board game and play the game. Included is [1] deck of pH buffer cards, [1] deck of acid indicator cards, [1] deck of base indicator cards, [1] board game, & [1] pH scale ribbon. Students can actually move the pH scale up or down through a view window to adjust the pH level of the solution. You have never seen anything like this before. Learn about: Acids & Bases pH scale Neutralization Reactions Buffers and so much more... Take this content to the next level and showcase student learning through application! What are you waiting for? Students will remember this activity for a life-time and so will you !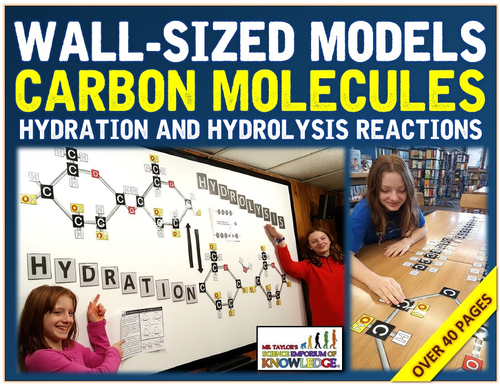 Decorate your classroom with content that matters. This package contains the tools you need to assemble one GIANT [10 x 4 ft.] TRIGYCERIDE molecule. Each page in this amazing package are templates that put together carbon molecules with and without preassembled designs. Also included is individual components, including single and double-bonds (cut outs), wall labels, and bonus functional groups that will allow you to build any carbon molecule you can think of. All you have to do is print, cut, and laminate!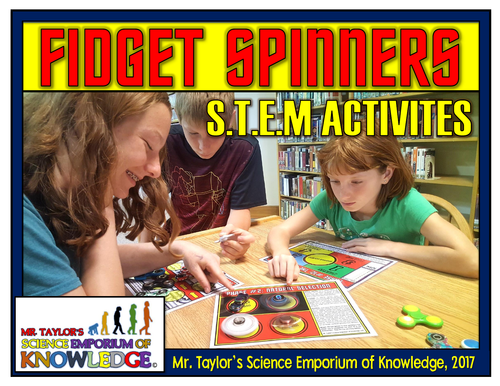 Has the recent Fidget Spinner fad driven you crazy yet? Well, channel that obsession into a fun and educational experience of a lifetime! This package contains 12 different S.T.E.M activities that are customized to use with any type of fidget spinner. Each activity is its own game board that explores Science, Technology, Engineering, and Mathematics with a unique twist. These fun learning platforms keep those fidgets spinning all day long. Whether its students in the classroom or your children at home, these games will sure make the content manipulative and engaging. Embark on an exclusive style of educational artifacts by using what children love the most. For the cost of a single fidget spinner, you will receive over 25 pages of content that will have students playing these games for years. The game board platforms are high quality and visually attractive to those who value their resources. Not only can fidget spinners relieve stress, but they can also be tools to showcase student learning through competition, manipulation, and formative assessments. Each activity explores different S.T.E.M activities and allows students to compete by having fun. Each game board allows students to showcase their best fidget spinners and in most cases, competes, by seeing which one can pass each phase of each type of activity.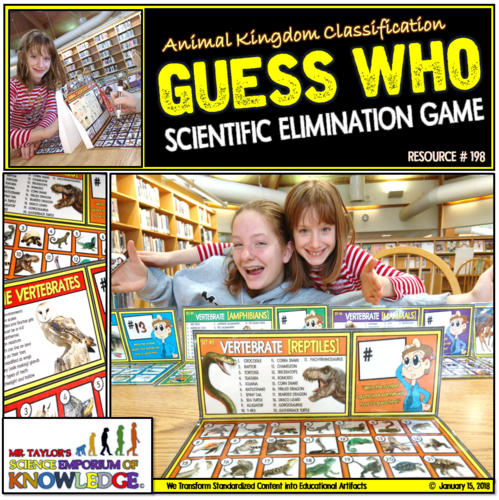 What better way to use your scientific intuition and critical thinking deductive skills than to play "Guess Who" learning about the Animal Kingdom! This game is simple to play and extremely interactive. The first player to guess their opponent's mystery animal wins the game. With over 8 different game board cards students will have an arsenal of opportunities to stay engaged and capture the content learning about the different types of animals (vertebrates and invertebrates). Who will guess right?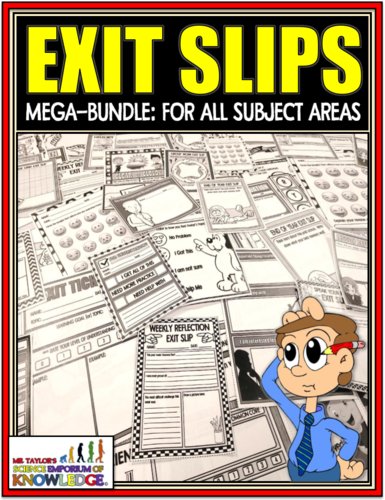 Exit slips are written student responses to questions teachers pose at the end of a class, lesson, or even a school year. These quick, informal assessments enable teachers to quickly assess students' understanding of the material as well as their own teaching style. This amazing bundle comes with over 85 pages of ONE-OF-A-KIND and very engaging exist slips. Each style can be used for any subject area and at any level. I guarantee you will not see exit tickets of this type and quality anywhere else. Each exit slip comes in [3] three different sizes. There so many to pick from it will be hard to choose which one to use. All exit slips come with easy-to-cut templates and are in Greystone to conserve toner and ink cartridges. The following types of Exit Slips that are contained in this bundle includes the following: 3-2-1 Most Important Lesson Evaluation Check for Understanding One Lesson Reflection Exit Tickets Today's Class Clear or Cloudy Emoji Reflection Traffic Light Puzzle Pieces Speak Your Mind Weekly Reflection Time Check Common Core – Science Common Core – Math Common Core – ELA Common Core – History Off the Grid 3 Things I learned Group Work End of Year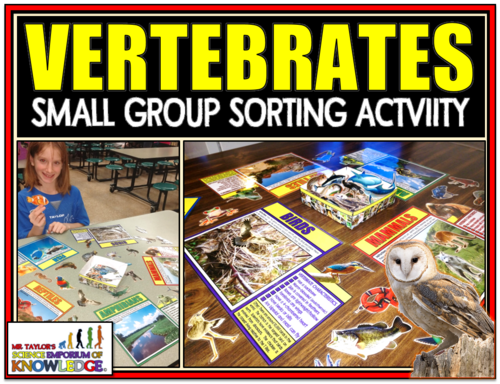 If you have a backbone, this educational resource is for you. This fun-filled small group activity will instantly engage your students as they learn about the 5 different types of vertebrates, their traits, & what environment suites each. This resource package includes over 45 pages of materials which includes: [5] game boards [36] vertebrate cutouts [1] vertebrate stock pot [36] matching cards There are two sets contained in this package: one in black and white, and the other in color. These fun printables include several lovely illustrations of different animals to cut out, ready for the kids to sort by vertebrate characteristics. If you laminate the cut-outs they will last and can be used for lots of different activities. I have chosen particular pictures that will keep your students engaged. Most want to keep them!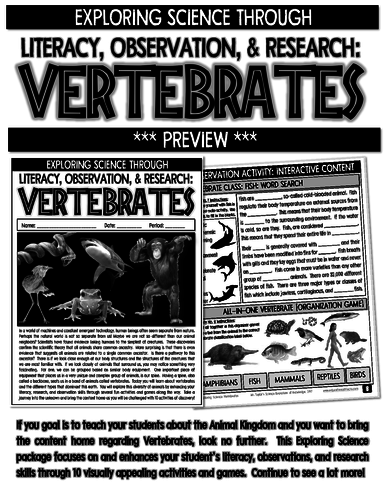 In this engaging and highly visual package, your students will learn all about vertebrates and the different types that dominant this earth. Your students will explore this diversity of animals by enhancing their literacy, research, and observation skills through several fun activities and games along the way. Have your students take a journey into the unknown and bring the content home as they will be challenged with 10 very exciting activities of discovery! Each activity is a separate learning environment to showcase and amplify either Science in Literacy, Observations, and Research. These activity sheets will capture learning about vertebrates in new and unique ways. Students will want to keep their packets rather than throw them away at the end of class. Take this education artifact home today. There is so much for such a low price! As your students enhance their science literacy skills, they will be formatively and summatively assessed through content recall through several different types of graphic organizers. Students will practice their data collection skills through a research activity which gives them an opportunity to use student choice and discovery an animal and appropriately place in its classification group based on researching and observing specific characteristics. The full version will surprise you as these activities are what everyone wants in their classroom. Fun engaging activities await. I hope you enjoyed the preview. Experience in your classroom today!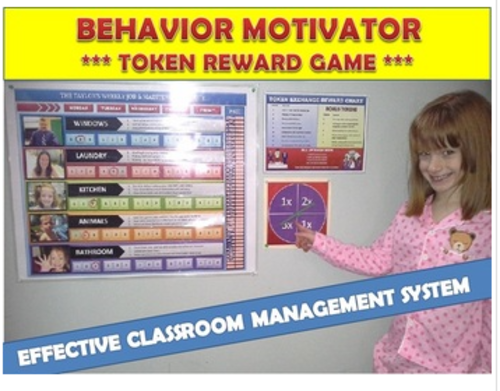 Are you tired of searching for a system that helps your child do basic work around the house? Are you a teacher who needs to add an effective classroom management system that teaches your students accountability? Here it is! The BEHAVIOR MOTIVATOR game will suit all your needs as your child or students will be assigned specific tasks. Upon completion of those tasks they will earn specialized tokens. These tokens have many functions that will encourage them to continue their work and keep them engaged week after week after week. You KNOW your children best! While learning responsibility, the Behavior Motivator is a great reinforcer for positive behavior while earning rewards that YOU choose. The Behavior Motivator is not just any token incentive system. In fact, it drives student choice theory by giving your child or students "options" on how to spend their tokens. The game is cosmetic, fun, and actively engages all parties who participate. They will practice using charts, playing chance games with a spinning wheel, use their tokens as a source of financial practices, and work together as a team to earn larger prizes. Students will also have their own token books where they can save up and fill them up so they can earn better prizes. This token system helps bond your child or students at a new level. It's all here, contained in this package.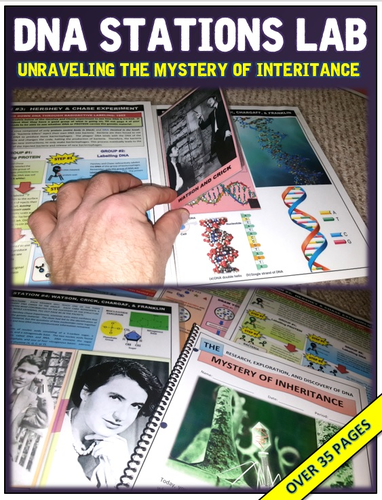 your students multiple intelligences and includes engaging activities that focuses on the real experiments that took place. This can be used as a stationed lab or practical. However, each segment can be used individually. Students really need the know who and how DNA was discovered. This lesson hits this target to a tee. Furthermore, this intense lesson will embark on a series of experiences that can give your students the perspective of what it was like to actually discover DNA. Specifically students will tranvserve the prominent experiments that actually lead the idea that DNA and not protein was responsbile for heredity continuity. Students will be engaged as they not only take the role of many scientists, but indirectly practice the As you transverse the knowledge and experience of these revolutionary scientists, students will travel to (4) different stations using this highly engaging activity. This lesson will allow students to actually track how DNA was discovered. At each station students will be exposed to a wide spectrum of activities that range from the Fredrick Griffth Experiment (interactive mice activity); Oswald Avery Experiment ( KWL activity as a product of an model activity); Hershey and Chase Experiments (students will actually draw a model of the Hershey and Chase experiment a use a given key to reproduce the experiment); and Structure of DNA activity; students will open doors and see the different scientists responsibled for the discovery of DNA and its structure. This lesson even goes as far as describing the contribution that Rosland Franklin contributed and how Watson and Crick used her data without her permission. I have included the entire expanded lesson plan. You will receive all four lab stations, the entire individual student workpacket, and a student assessment sheet.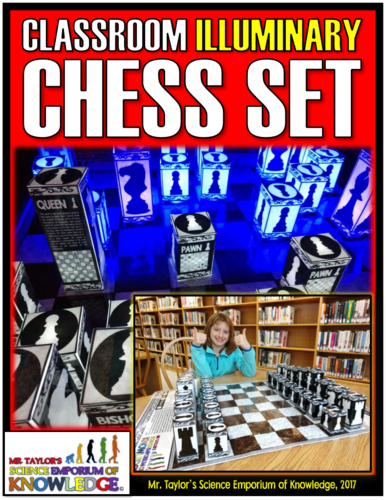 Imagine a game where the challenge and skirmish is governed based on experience and knowledge of the game without using luck as its driving source. Yes, a game played that is not determined by the roll of the dice, swiping up or down, or flipping a card. This game is called chess. Since before the 6th century AD, chess is considered to be one of the oldest games ever invented. Today your students probably think chess is old and boring, right. A game that has best left in the dark old days before PlayStation and Angry Birds? But wait! This chess set is like none other. This chess set is large-scaled, highly visual, and even glows in the dark. Each piece has its own light embedded which illuminates the entire game board in complete darken. This chess set will look great in your classroom! All you need to do is watch how your students flock towards it. In this package you will receive the templates for each chess piece even the board in which they lie. This is a great chess set to learn how to play the game and in style. Looking at each piece in detail, on their backside, you can see a brief description of how it moves as well as an illustration. This is very helpful for new players. With the lights turned off, the instructions can also be read even more so. On the top of each piece shows a side view which makes it very helpful if you want to play looking down at the board. All you have to do is cut, laminate and hot glue a LED light to each piece and you are ready to go. This project is fun especially if you work with your students to build it. Assembling the game board is self-fulfilling and even therapeutic if you like DYI projects. The quality is amazing and you will never find a chess set that is so innovative and unique!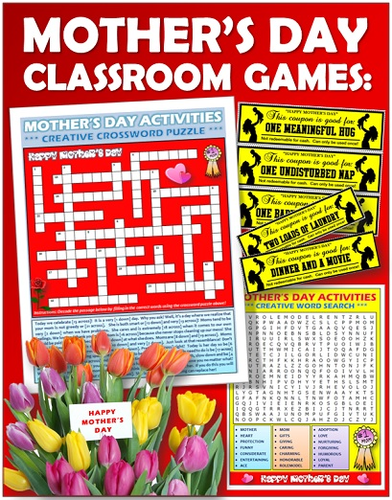 Happy Mother's Day! The activities enclosed in this holiday package are fun and creative. There is also an individual card for mom that she will love. Each activity is engaging and it will give your students something that they can take home. There is over 10 pages of engaging things to do on Mother's Day including Mom coupons that have established templates and templates that are completely customizable.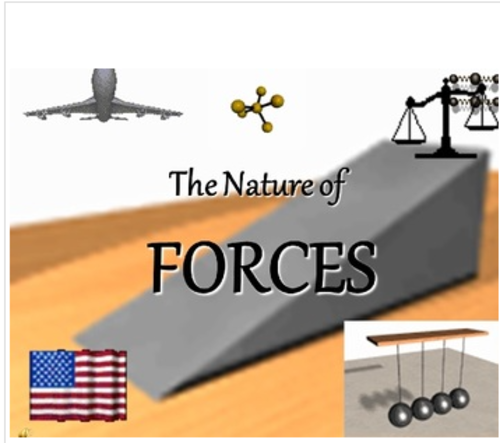 Looking for the ideal PowerPoint to help your secondary students learn about forces, weight, and gravity? Here it is! This is an engaging PowerPoint that both introduces or reinforces an entire unit on Forces, Vectors, Gravity, Weight. There are 21 slides with interactive content. Students will practice problems balancing forces by using vectors to solve problems.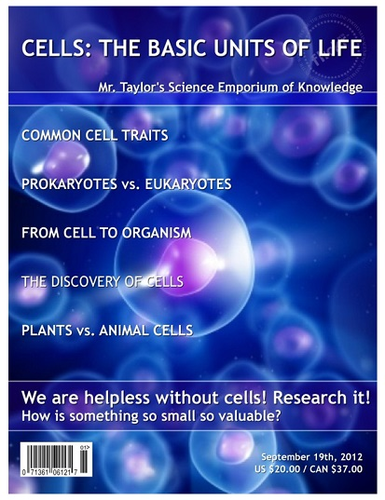 Contained in this note packet is over 37 pages of activity filled guided notes. These notes are visually appealing to students and are designed through ongoing assessments.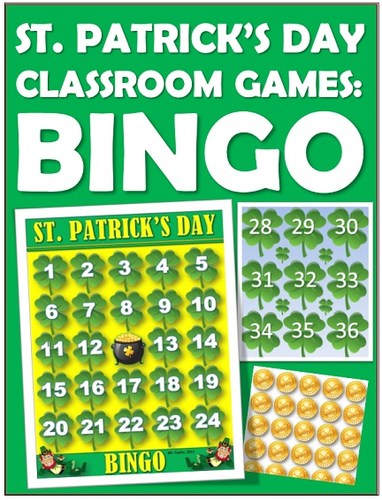 (35 Pages) Happy St. Patrick's Day! This BINGO game is a great way to engage your students. This package contains over 33 pages of cards, token gold coins, calling number posters, etc. Please download the preview above to see what this product can offer. Everything is ready to go. Each BINGO card is 12" x 8" and there is one for each of your students. I have used this game with my students and they love it. What is unique about this product is that is exhibits great visuals and students like using the gold coins as markers. However, it is extremely customizable with multiple options and suggestions targeted to multiple content areas. Depending on what content you teach, this product can be utilized to fit your own needs. I hope you enjoy this product as much as my students do. Thank you for your support.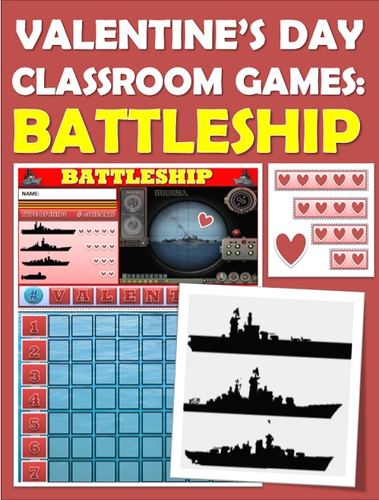 Start a new tradition this Valentine's Day. Lets play "BATTLESHIP!" In this package, you will receive 30 pages of a visually appealing Battleship game. There are multiple ways to play this game which will keep your students engaged throughout the entire activity. Students can play their own individual battleship cards while the teacher calls out the shots. Use candy hearts as your missiles! If you purchase this product you will receive 25 different cards (One for each student). Each card is randomized so that no two cards are alike. Each card for the students have their ships already staged and ready to go. There are 25 different options. This will save you a lot of time. All you have to do is print the cards out. Also, you have the option of printing out cutouts of the ships so students can control where their ships are placed. Students really love this game. Thank you for your interest in my product and please leave a comment so I can make the experience even better. My motivation is your feedback!!!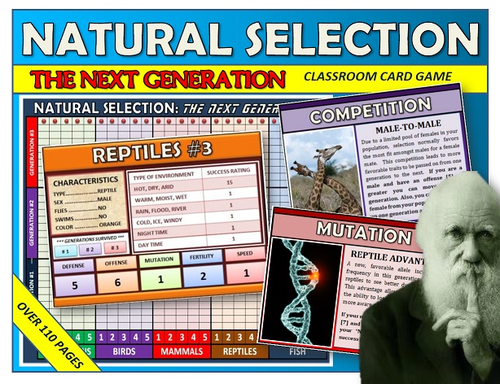 You will receive 115 pages of game materials which include 185 playing cards, a visual engaging game board, and detailed instructions which are customizable. Students can't get enough of this game. They are always asking to play this game daily as I have the game board posted in my classroom. I also play this game at home with friends and my family. It's a great way to distribute knowledge in your content area to both external and internal family members, especially when you are portraying the evolution debate. The goal of the game is to see what population will survive a total of 30 generations. They will see how species change and evolve first-hand. They will also encounter different factors that affect evolutionary relationships and potent forces that cause specific selecting agents to either happily thrive or sadly go extinct. What students love most about this game is that it is competitive and they love watching other populations go extinct while they continue to survive each generation. Student work together as team within their species. Their competition is driven by the success of their organisms and the conditions of the environment. They learn as they play. A very engaging activity indeed!!!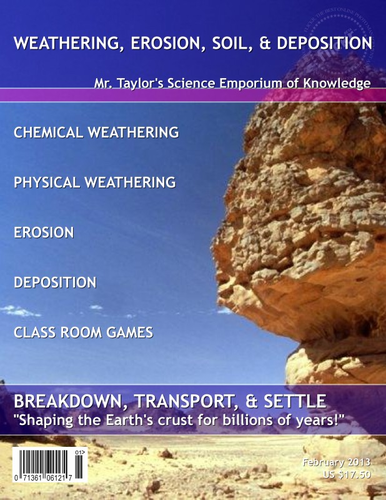 I have put a lot of time trying to make weathering, erosion, deposition, and soil engaging for students. The students love using these handouts to learn this material. This entire package contains ways to increase differentiated instruction for diverse learning styles. These handouts are visual and allow students to put theory into practice through multiple mediums. I have included 3 classroom supplementary activities and a great startup' and closure game that really helps not only reinforce previously learned material, but reviews and engages students. Students also really love the vocabulary foldables. I use these foldables as a startup activity. i hope you enjoy these activities and graphic organizers. Earth science is as fun as you make it for your students. There is 24 pages of interactive activities contained in this package. This preview only shows a sample of what to expect. Answer keys are included where needed.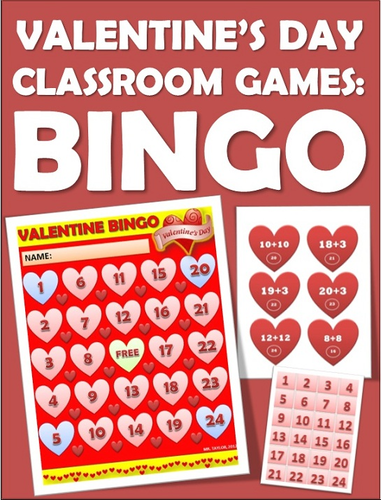 Product Description Thank you for your interest in my product. I have worked hard so that your students can have fun this Valentine's Day. In this package, you will receive over 32 pages of a visually appealing Bingo Game. There are multiple ways to play this game which will keep your students engaged throughout the entire activity. As one option, students will practice their Math skills using their own individual Bingo boards. If you purchase this product you will receive 25 different cards. One for each student. Each card is randomized so that no two cards are alike. This will save you a lot of time. All you have to do is print the cards out. I have also put together a master card sheet and math heart cut outs. OTHER WORKS THAT YOU MAY BE INTERESTED IN: http://www.teacherspayteachers.com/Product/TOKEN-REWARD-GAME-ELEMENTARY-CLASSROOM-MANAGEMENT http://www.teacherspayteachers.com/Product/HEART-CARDIOVASCULAR-SYSTEM-POWERPOINT http://www.teacherspayteachers.com/Product/COMMON-CORE-MATH-WORKSHEETS-2nd-4th-grade http://www.teacherspayteachers.com/Product/DNA-REPLICATION-AND-MESSENGER-RNA-BUILDING-YOUR-OWN-MODEL Please follow me so you can stay updated on the next series of worksheets that are going to be posted. If you purchase this product and follow me, I will give away one item from my store for free. All you have to do is send me an email at andytaylor333@yahoo.com with your name and what file you are interested in. I really hope you enjoy my work and really hope it helps enhance instruction for your students.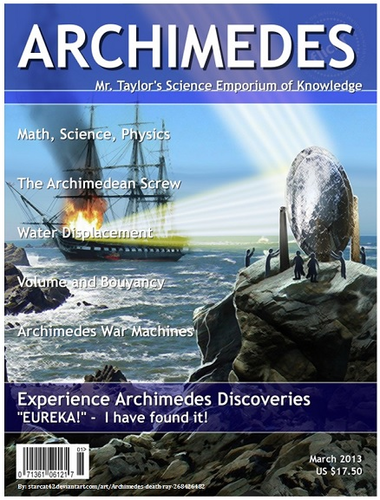 "Happy pi Day!" "EUREKA" – I found it! – Archimedes. Archimedes is perhaps one of the greatest Mathematicians and Scientists of all time. Here is a chance to showcase this scientist through multiple mediums. If you are interested in Math, Science, Physics, and Archimedes, it is all contained in this note packet. This educational vehicle contains over 40 pages of a wide-spectrum of embedded activities, supplementary aides, Smart Board Activities, guided notes, and on each page there are ongoing formative assessments. Each page in this note packet has assessment questions that your students can work on in small groups. Also, both the lesson plans and teacher's guide is included. Everything is contained. This entire note packet is customized to mold to over 30 common core standards. This note packet also focuses on bridging the gap between science and literacy. The content in this note packet contains the life history of Archimedes, his discoveries, principles, and the amazing war machines he invented. Students will actually experience his discoveries as they work to produce and practice using his original ideas. Students will explore through enticing exploratory and discovery activities. Students will be exposed to the following: -How has the life of Archimedes changed the way we do things today? -What are Archimedes primary contributions to math and science? -What are the different types of courses, Archimedes studied as a young child? -Explain how the Archimedean screw works? -How does Archimedes relate to the Leaning Tower of Pisa? -What is the difference between surface area and volume? -How did Archimedes method of exhaustion help him discover pi? -What is the difference between inscribing and circumscribing? -What is the relationship between the sides of a polygon and determining it an area of a circle? -What are different types of areas of a square, triangle, and a rectangle? -What is the difference between volume and buoyancy -How did Archimedes discover water displacement? -What is a scientific theory? -How did Archimedes redefine scientific measurement? -How does a lever work and what is its function? -Explain the difference between the force of effort and the force of resistance? -Explain how Archimedes contributed to the defense of Syracuse? Student Learning Objectives: -Discuss why the significant events that took place during Archimedes life -Explain and discover the new inventions that Archimedes produced -Use guided notes to reinforce reading and decoding skills -Use models and practice working with formulas to put Archimedes theory into practice. -Formatively assess previously learned materials through ongoing assessments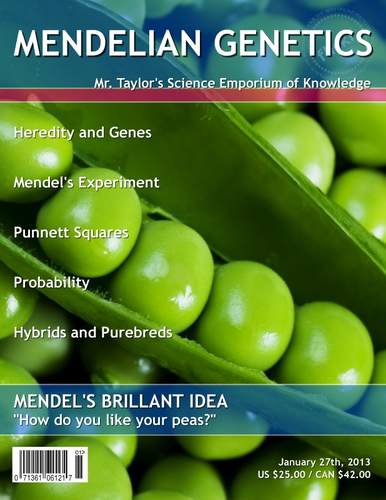 You will receive a unit student note packet covering Mendelian Genetics which includes Gregor Mendel, Punnett Squares and genetic continuity. You will also get a very detailed lesson plan and instructions on how to use this note packet through various mediums. Also, I have included a visually appealing and easy to read Teacher's Guide so that you are ready to go anytime, anywhere. Moreover, the unit lesson plan standards are included with emphasis on the common core. The following essential questions and learning objectives will be answered using this note packet: -Why is Gregor Mendel is considered the "Father of Modern Genetics"? -Explain how Gregor Mendel unravels the mystery of inheritance? -Explain the different types of characteristics in pea plants that Mendel used to study? -Describe and discuss Mendel's experiment that lead to the discovery of genetics? -Describe how pea plants are good source to test heredity? -Explain how pollination leads to fertilization in plants? -Define True breeding and self-pollination? -Define the term genes and alleles? -Describe and use Punnett Squares? -Explain how to write a genotype and recognize an organism's phenotype? -Understand the different between a dominant and recessive trait? -Practice using genotypes to indicate if they are heterozygous or homozygous -Describe the difference between hybrids and purebreds? -Use a Punnett square to figure out a monohybrid cross? -Practice and apply probability concepts of Mendelian genetics through analysis of Punnett squares? -Discuss why don't all humans look exactly alike? -Explain why how Gregor Mendel contributed to the discovery of modern day genetics -Compare the differences between self-pollination vs. cross pollination, genotype vs. phenotype, and dominant vs. recessive -Describe how to use a Punnett square to figure out the probability of specific traits in the offspring of two parent crosses. -Draw a Punnett square and calculate the probability of offspring characteristics -Discuss what determines whether a human baby will be a boy or a girl? -Explain how genes and alleles are related to genotypes and phenotypes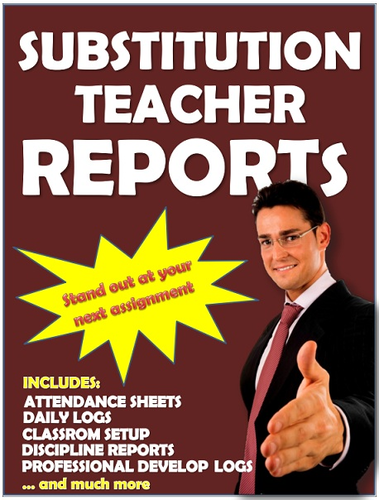 Attention Substitute Teachers and Teachers!!! I have produced a series of visually appealing and professional documents that can help you get an edge over others. Administration loves these and is always asking me to copy them for other teachers! For those of you who know my style of work, I do not just produce simple worksheets. Instead, all my work includes a mix of visuals that adds a unique and exclusive twist. This package contains documents for both subs and teachers. I still use these documents today and I it really helps you stay organized. When I leave these sheets behind for the teacher, I always get a positive reinforcement response. This package of documents includes the following: - DETAILED MASTER SUBSTITUTION REPORT - ATTENDANCE SIGN IN SHEET (Sub to leave for the teacher) - DISCIPLINE REPORT (Sub to leave for the teacher) - CLASSROOM SETUP SHEET (for the sub only) - WEEKLY SCHEDULE NOTES SHEET (Teacher for the sub) - INFORMATION SHEET FOR THE SUB (Teacher for the sub) - DAILY ASSIGNMENT LOGS (for short or long-term subs) - EVENT OBSERVATION AND FIELD EXPERIENCE JOURNAL - CLASSROOM INSTRUCTION AND OBSERVATION LOG - PROFESSIONAL DEVELOPMENT AND EXPERIENCE LOG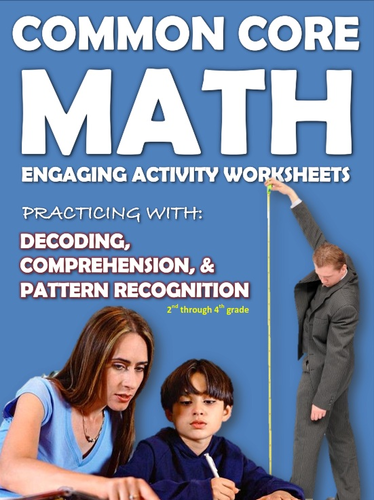 My primary objective is the COMMON CORE and bridging the gap between Math and Literacy. If you purchase this product, you will receive 4 strategic activities that can help your students understand math through multiple college and career readiness skills such as comprehension, decoding, addition, subtraction, and pattern recognition through reading and numerical operations. This is my first series of common core activities that I have produced. I am currently working on the next phase and will continue to produce fun and exciting worksheets that cover multiple state standards and core skills. What I hear most about my worksheets is how much the students love the pictures and graphics. I also include a teacher's guide answer key with all my work. I really do work hard to make learning visually appealing. Please follow me so you can stay updated on the next series of worksheets that are going to be posted. If you purchase this product and follow me, I will give away one item from my store for free. All you have to do is send me an email at andytaylor333@yahoo.com with your name and what file you are interested in. I really hope you enjoy my work and really hope it helps enhance instruction for your students. Thank you for your interest in my product and please leave a comment so I can make the experience even better. My motivation is your feedback!!!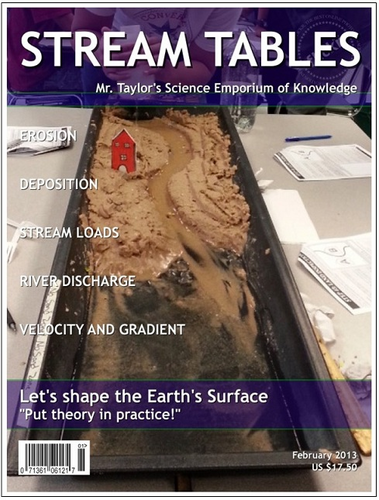 This is a lab activity will give students an opportunity to use stream tables to learn about erosion and deposition. Students will log their observations and determine the relationship between water velocity and stream gradients. Students will also learn about stream loads, discharge, and the different parts of a river. There multiple activities contained in this lab that will keep your students engaged. I hope you enjoy this product and follow me so you can stay updated on new products that I post.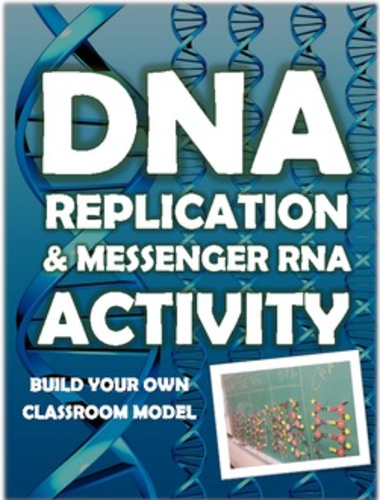 Students will put theory into practice as they build their own class model of a DNA molecule. In this cosmetic project, each student will put together a 6 base pair segment of DNA using the base pair rule. Students will also transcribe a messenger RNA from their original DNA template. This activity caters to the different multiple intelligences and diverse learning styles of students as they collaboratively put together their short 6 base pair segments into one classroom model of a DNA molecule. I have also included a worksheet and answer key for students to identify the differences between DNA and RNA.