Mr. Taylor's Science Emporium of Knowledge
Mr. Taylor's Science Emporium of Knowledge "TRANSFORM STANDARIZED CONTENT INTO EDUCATIONAL ARTIFACTS!"
173Uploads
4k+Views
703Downloads
Mr. Taylor's Science Emporium of Knowledge "TRANSFORM STANDARIZED CONTENT INTO EDUCATIONAL ARTIFACTS!"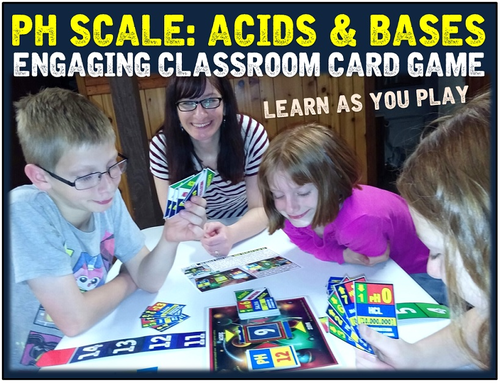 Take the power of Hydrogen to a new level in this one-of-kind pH scale card game. Your students will never forget playing this content-driven game learning about acids, bases, and the pH scale. This game is highly visual and manipulative. Students will use a moveable pH scale called a pH scale ribbon to target a specific buffer ph. The student who wins the most buffers, is the winner. Students will learn as they play this game & never forget. In this package you will receive over 60 pages of engaging materials with detailed instructions on how to assemble the board game and play the game. Included is [1] deck of pH buffer cards, [1] deck of acid indicator cards, [1] deck of base indicator cards, [1] board game, & [1] pH scale ribbon. Students can actually move the pH scale up or down through a view window to adjust the pH level of the solution. You have never seen anything like this before. Learn about: Acids & Bases pH scale Neutralization Reactions Buffers and so much more... Take this content to the next level and showcase student learning through application! What are you waiting for? Students will remember this activity for a life-time and so will you !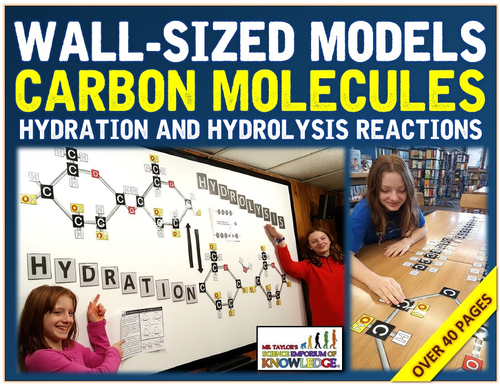 Decorate your classroom with content that matters. This package contains the tools you need to assemble one GIANT [10 x 4 ft.] TRIGYCERIDE molecule. Each page in this amazing package are templates that put together carbon molecules with and without preassembled designs. Also included is individual components, including single and double-bonds (cut outs), wall labels, and bonus functional groups that will allow you to build any carbon molecule you can think of. All you have to do is print, cut, and laminate!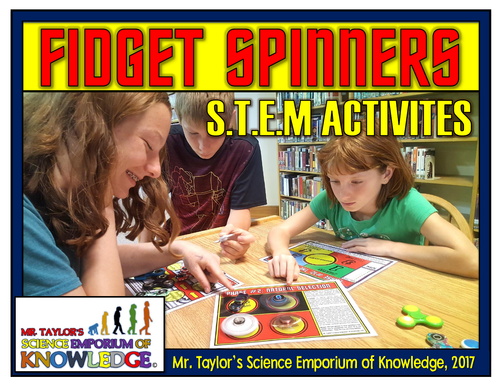 Has the recent Fidget Spinner fad driven you crazy yet? Well, channel that obsession into a fun and educational experience of a lifetime! This package contains 12 different S.T.E.M activities that are customized to use with any type of fidget spinner. Each activity is its own game board that explores Science, Technology, Engineering, and Mathematics with a unique twist. These fun learning platforms keep those fidgets spinning all day long. Whether its students in the classroom or your children at home, these games will sure make the content manipulative and engaging. Embark on an exclusive style of educational artifacts by using what children love the most. For the cost of a single fidget spinner, you will receive over 25 pages of content that will have students playing these games for years. The game board platforms are high quality and visually attractive to those who value their resources. Not only can fidget spinners relieve stress, but they can also be tools to showcase student learning through competition, manipulation, and formative assessments. Each activity explores different S.T.E.M activities and allows students to compete by having fun. Each game board allows students to showcase their best fidget spinners and in most cases, competes, by seeing which one can pass each phase of each type of activity.
Teachers, are you tired of bending over backwards to reorganize your classroom and find out that your plan doesn't work? After all that suffering of relocating your student desks, tables, bookshelves, etc…, they won't fit the way you want and you are back to square one. This education artifact will eliminate all that back-breaking work and help you organize, design, and create a classroom environment that is customized to your innovation and passion. Let me introduce you to "Classroom Architect". This resource will give you the tools you need to design your classroom and all interior areas, position the different types of furniture and flooring, and create multiple room arrangements that can be saved to use in different classes, scenarios, labs, parent teacher conferences, etc… For students, the classroom environment is very important. The size of the classroom and interior areas, the colors of the walls, the type of furniture and flooring, the amount of light, and the room arrangement all influence how students learn. Thoughtful arrangement of the indoor and outdoor environments will support your learning goals for students. This tool provides an opportunity for experimentation with the layout of your classroom without any heavy lifting! This resource allows you to be the architect! If you are struggling to make a design work for your classroom, there are many examples included that will help you get started. Here are few examples of designs that you can use or get started with using the cutouts in this package. Each design has its own theme. Some of which includes differentiated environments, science laboratories, computers rooms, lunch rooms, play areas, reading centers, etc… This tool could be a go-to resource each year when welcoming your best instructional practices!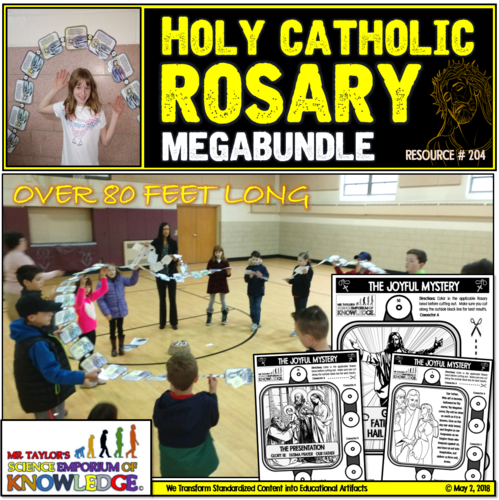 Looking to teach and pray the rosary with your students? Well, now you can with this giant 80 foot rosary package. With over 400 pages, this one-of-a-kind religion education artifact is a Megabundle which includes the following rosaries for you, your family, and your students to color and assemble together: Joyful Mystery Luminous Mystery Glorious Mystery Sorrowful Mystery These rosaries can be used in many unique and creative ways. Students can work in groups to create this masterpiece, color a bead, or pray as a class. Each bead tells a story which includes the prayer and which decade you are in. This engaging classroom model will encourage your students to not only say the rosary, but experience the journey of each prayer. If you are a religion teacher, do not miss out on this innovate product that will encourage students to pray!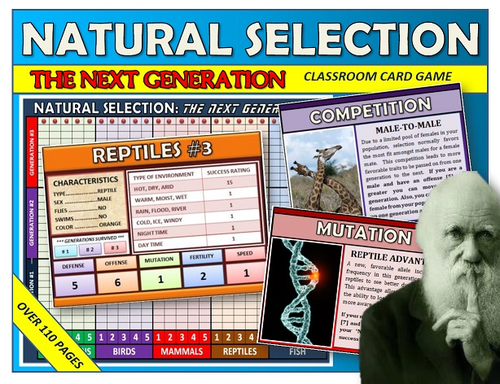 You will receive 115 pages of game materials which include 185 playing cards, a visual engaging game board, and detailed instructions which are customizable. Students can't get enough of this game. They are always asking to play this game daily as I have the game board posted in my classroom. I also play this game at home with friends and my family. It's a great way to distribute knowledge in your content area to both external and internal family members, especially when you are portraying the evolution debate. The goal of the game is to see what population will survive a total of 30 generations. They will see how species change and evolve first-hand. They will also encounter different factors that affect evolutionary relationships and potent forces that cause specific selecting agents to either happily thrive or sadly go extinct. What students love most about this game is that it is competitive and they love watching other populations go extinct while they continue to survive each generation. Student work together as team within their species. Their competition is driven by the success of their organisms and the conditions of the environment. They learn as they play. A very engaging activity indeed!!!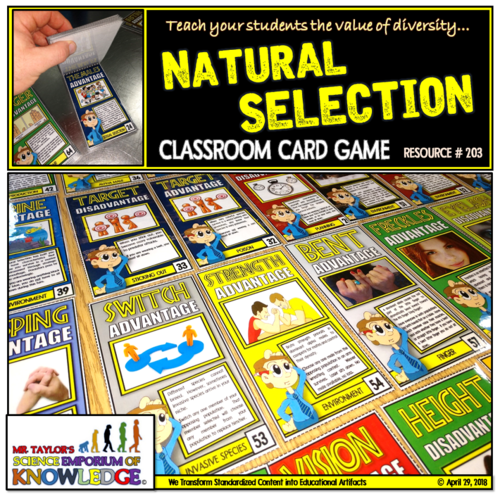 See how Evolution actually works through random mutations and Natural Selection using this engaging deck of cards which determines if your populations survive or goes extinct. The last population standing wins the game. The cards in this deck represents different mutations and events which are similar to mutations and natural events which causes real evolutionary responses. Natural Selection allows for the most fit in the current environment. Your environment is the classroom. Do you have what it takes?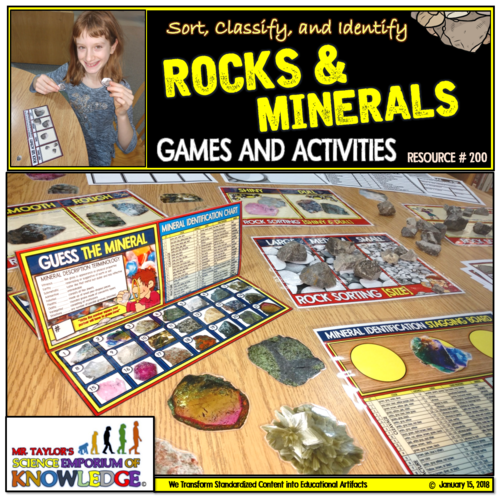 With over 50 pages of games and activities, your students will be able to sort, classify, and identify common rocks and minerals. This package contains everything you need to get started or polish up on introductory level content for both rocks and minerals. The possibilities are endless as they are many types of games and activities that can suit your best teaching practices. Main Features: Guess Who What better way to use your scientific intuition and critical thinking deductive skills than to play "Guess Who" learning about common minerals! This game is simple to play and extremely interactive. The first player to guess their opponent's mystery mineral wins the game. Who will guess right? This is just one of the many features contained in this mega-bundle opportunity. Mineral Classification The creativity and innovation keeps getting stronger. In this activity, you cut out high quality minerals and use a customized designed staging board to identify and classify each. There are a total of 21 minerals to choose from and each are visual and showcase their prominent characteristics. This activity is very popular at a secondary level. This activity can be set up as a station's lab or utilized in small groups for a re-fresher training session. For such a low cost, what are you waiting for? Have rock and mineral teaching tools at your disposable to showcase the content in engaging and creative ways. Bother in color and black and white, there is something for everyone in this package and your students will enjoy the visuals and interactive manipulation while they learn the content.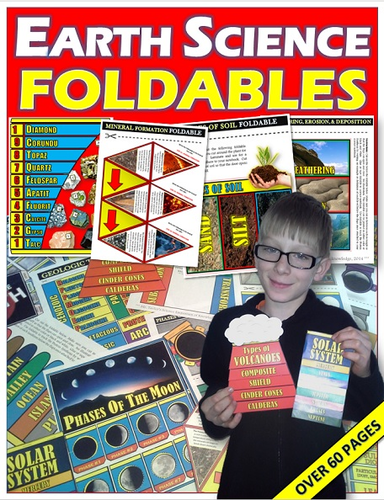 With over 50 pages and 20 different high quality foldables, your students will stay engaged and have fun learning Earth Science from a new dimension. You can print these foldables in both color and black and white. Also, included in this bundle is one copy of every foldable as a blank template, so you can customize them for any content area. Each foldable is manipulative and is fun to cutout, fold, and input information. Most of these foldables can be glued, taped, or stapled to a notebook, or can be used independently. A lot of teachers laminate these foldables and adhere them to bulletin boards in their classroom. These can also be wonderful projects or homework assignment that your students will love. Please enjoy the preview and hope your students love these foldables as much as mine do. Content for this highly engaging product includes: -LAYERS OF THE EARTH -THE SOLAR SYSTEM -WEATHERING -EROSION -DEPOSITION -THE EARTH'S ATMOSPHERIC LAYERS -COMPOSITE VOLCANOES -SHIELD VOLCANOES -CINDER CONES -CALDERAS -RENEWABLE ENERGY -PLATE BOUNDARY -SUBDUCTION -DIVERGENT -COLLISION -TRANSORM -LANDFORMS -NORMAL FAULT -REVERSE FAULT -STRIKE-SLIP FAULT -PHASES OF THE MOON -COMMON AIR POLLUTANTS -TYPES OF CLOUDS -GEOLOGIC TIME SCALE -THE WATER CYCLE -MINERAL FORMATION -THE ROCK CYCLE -MOHS HARDNESS SCALE -TYPES OF SOIL -TYPES OF STRESS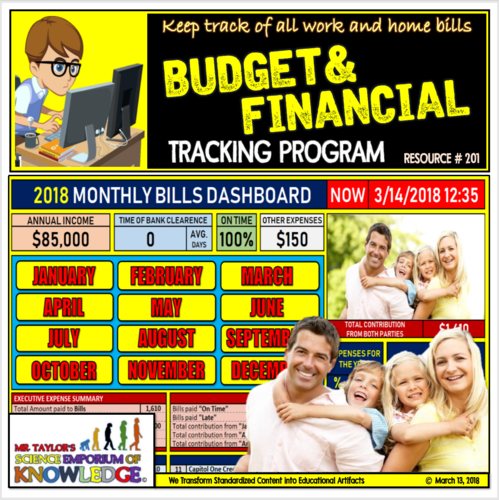 Whether at work or at home, never be late on your bills ever again! Stay up-to-date on all accounts and expenses throughout the year. This program will save you thousands as it keeps track of all expenses through real-time updates. You will be amazed to see how easy this program is to use. All the work is done for you as you only have to input your basic bills. The program takes care of everything else. Guarantee you will find nothing like this anywhere else. I have built in over 750 of working formulas that will unlock the statistics you need to maintain and track every expense you can possibly think of. Let the formulates work for you. Bank online software is nothing compared to the functionality this engaging and highly visual program has to offer. Here is portion of the annual dashboard. As you can see there is easy access buttons that will transition you to the appropriate month of the year. All data is updated on the dashboard which represents combined sum totals of every expense tracked throughout the entire year. If you have multiple parties contributing to the total income, you can track that as well. All options are covered in this program including a running update of the total of all expenses at a snapshot view which is easy to print and save. This program even tracks the amount of time it takes for the bank to clear any expense removed from your bank account. This is a very helpful tool that will keep you, and not the bank, in charge. What separates this program from others? Well everything! I challenge you to find a program as cost effective and as visual as this is to track all your budgeting needs. Above, is a little preview of how you update any lists you want to keep track. All you have to do is type in the type of information you want. These lists are unlimited and it automatically produces a drop-down menu to make selecting them easy as pie. There is so much for so little here for you!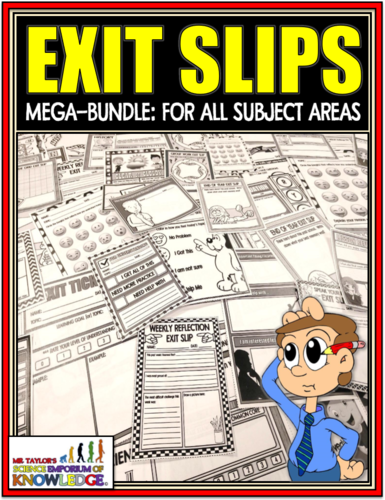 Exit slips are written student responses to questions teachers pose at the end of a class, lesson, or even a school year. These quick, informal assessments enable teachers to quickly assess students' understanding of the material as well as their own teaching style. This amazing bundle comes with over 85 pages of ONE-OF-A-KIND and very engaging exist slips. Each style can be used for any subject area and at any level. I guarantee you will not see exit tickets of this type and quality anywhere else. Each exit slip comes in [3] three different sizes. There so many to pick from it will be hard to choose which one to use. All exit slips come with easy-to-cut templates and are in Greystone to conserve toner and ink cartridges. The following types of Exit Slips that are contained in this bundle includes the following: 3-2-1 Most Important Lesson Evaluation Check for Understanding One Lesson Reflection Exit Tickets Today's Class Clear or Cloudy Emoji Reflection Traffic Light Puzzle Pieces Speak Your Mind Weekly Reflection Time Check Common Core – Science Common Core – Math Common Core – ELA Common Core – History Off the Grid 3 Things I learned Group Work End of Year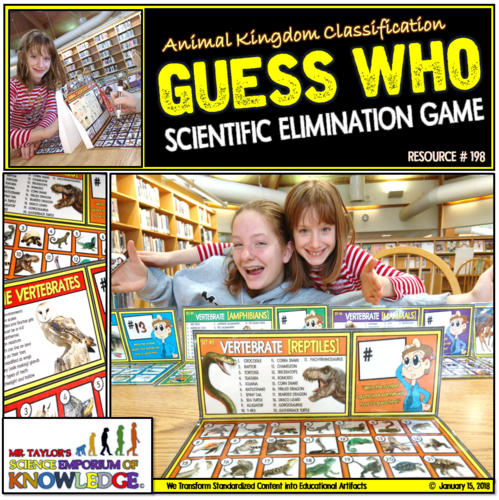 What better way to use your scientific intuition and critical thinking deductive skills than to play "Guess Who" learning about the Animal Kingdom! This game is simple to play and extremely interactive. The first player to guess their opponent's mystery animal wins the game. With over 8 different game board cards students will have an arsenal of opportunities to stay engaged and capture the content learning about the different types of animals (vertebrates and invertebrates). Who will guess right?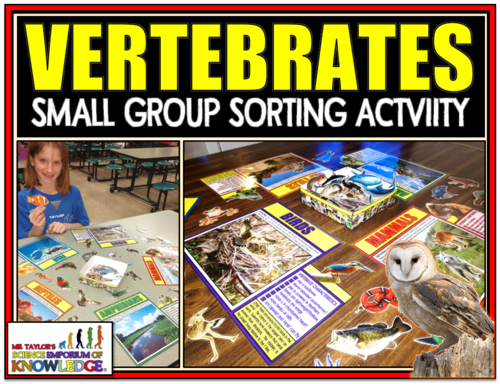 If you have a backbone, this educational resource is for you. This fun-filled small group activity will instantly engage your students as they learn about the 5 different types of vertebrates, their traits, & what environment suites each. This resource package includes over 45 pages of materials which includes: [5] game boards [36] vertebrate cutouts [1] vertebrate stock pot [36] matching cards There are two sets contained in this package: one in black and white, and the other in color. These fun printables include several lovely illustrations of different animals to cut out, ready for the kids to sort by vertebrate characteristics. If you laminate the cut-outs they will last and can be used for lots of different activities. I have chosen particular pictures that will keep your students engaged. Most want to keep them!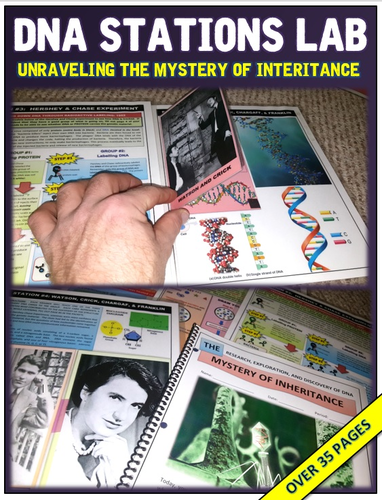 your students multiple intelligences and includes engaging activities that focuses on the real experiments that took place. This can be used as a stationed lab or practical. However, each segment can be used individually. Students really need the know who and how DNA was discovered. This lesson hits this target to a tee. Furthermore, this intense lesson will embark on a series of experiences that can give your students the perspective of what it was like to actually discover DNA. Specifically students will tranvserve the prominent experiments that actually lead the idea that DNA and not protein was responsbile for heredity continuity. Students will be engaged as they not only take the role of many scientists, but indirectly practice the As you transverse the knowledge and experience of these revolutionary scientists, students will travel to (4) different stations using this highly engaging activity. This lesson will allow students to actually track how DNA was discovered. At each station students will be exposed to a wide spectrum of activities that range from the Fredrick Griffth Experiment (interactive mice activity); Oswald Avery Experiment ( KWL activity as a product of an model activity); Hershey and Chase Experiments (students will actually draw a model of the Hershey and Chase experiment a use a given key to reproduce the experiment); and Structure of DNA activity; students will open doors and see the different scientists responsibled for the discovery of DNA and its structure. This lesson even goes as far as describing the contribution that Rosland Franklin contributed and how Watson and Crick used her data without her permission. I have included the entire expanded lesson plan. You will receive all four lab stations, the entire individual student workpacket, and a student assessment sheet.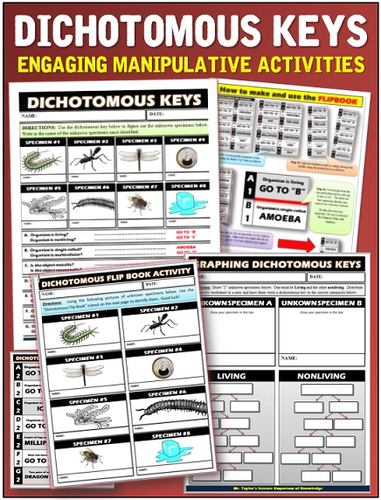 You haven't seen anything like this before when it comes to Dichotomous keys. This educational artifact represents a new exciting way to teach this content that is both tactile and visually engaging. This activity resource allows you to teach how identification of biological organisms can be simplified, explored and discovered through the use of real world subject profile dichotomies. Students will practice identifying both living and nonliving things through the use of different classes of dichotomous keys. Each activity is unique and really drives the standards home. Note: No prep required and can be both in color and black and white.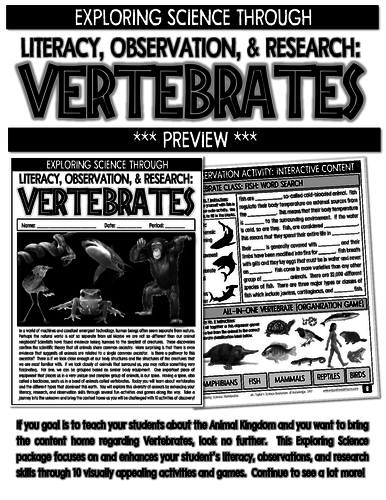 In this engaging and highly visual package, your students will learn all about vertebrates and the different types that dominant this earth. Your students will explore this diversity of animals by enhancing their literacy, research, and observation skills through several fun activities and games along the way. Have your students take a journey into the unknown and bring the content home as they will be challenged with 10 very exciting activities of discovery! Each activity is a separate learning environment to showcase and amplify either Science in Literacy, Observations, and Research. These activity sheets will capture learning about vertebrates in new and unique ways. Students will want to keep their packets rather than throw them away at the end of class. Take this education artifact home today. There is so much for such a low price! As your students enhance their science literacy skills, they will be formatively and summatively assessed through content recall through several different types of graphic organizers. Students will practice their data collection skills through a research activity which gives them an opportunity to use student choice and discovery an animal and appropriately place in its classification group based on researching and observing specific characteristics. The full version will surprise you as these activities are what everyone wants in their classroom. Fun engaging activities await. I hope you enjoyed the preview. Experience in your classroom today!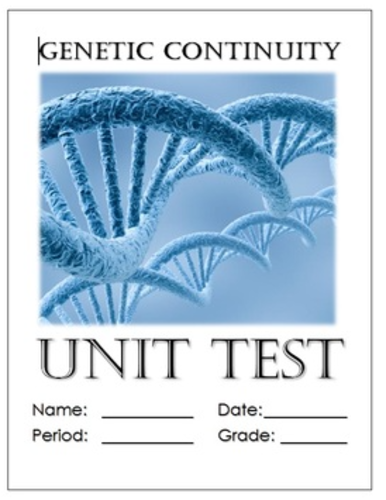 If you are in a hurry to put together a unit exam for Genetics at a 9-12 level, I have saved you the time. This is a Genetics Unit Exam that accomodates to multiple state standards. It is a 36 question exam that represents data-based research. This exam is both valid and reliable and covers the following deep understandings of Genes and Heredity which spans the following areas: Heredity Genes Traits DNA (structure and function) DNA (replication) DNA vs. RNA Protein Synthesis Using the Genetic Code Whats unique about this exam is its cosmetics and structural framework. The exam is designed to take full advantage of visual learners through differentiation. The exam aligns to the multiple intelligences which includes test questions that cover: Multiple Choice Charts and Diagrams True and False Word Bank Using the Genetic code to transcribe and translate base sequences Embedded within the exam is a survey tool that can measure your student's understanding of the content without relying simply on a summative assessment. On the right side of the questions you will see circles that are labeled, E, M, H. E-easy, M-medium, and H-hard. After students answer the questions they will cross out the level of difficulty they felt the quesiton is. This data will help bridge the gap between a reliable and valid assessment. Also, there is qualitiative research regarding anxiety and test taking. Inside the cover you will see a box for students to write down what they are feeling just as the test is about to be handed out. Research has shown that if students do this the class mean will increase 5%.
Have your students participate in a real-world GUN CONTROL classroom debate!!! This reoccurring argument has significantly polarized Americans over the past several decades and now your students have a chance to make a real difference at school and in their community. You and your students have a chance to ignore the fake media and combat their agenda with fact finding and effective legitimate research. This activity will actually set your class (or multiple classes) to have a formal classroom debate. Students will create protesting signs/banners, petitions, and voice their opinion to gain supporters. They will elect a debate leader and have a chance to bring real-world application into the classroom. Students will stay with their beliefs or modify them based on the hard research they work for as they learn about the argument on both sides. The actual classroom debate is organized which includes debate leaders from three parties and a neutral mediator. Its all here. What are you waiting for! All students need this experience! Resource Packet Contains the following: Understanding important concepts and definitions related to gun ownership rights Interpreting the Second Amendment of the Constitution of the United States Difference between Pro-gun activists, Gun control supporters, and Independents How beliefs and opinions change through research Ignoring fake media Fact finding Creating a Classroom Protest Banners or signs Creating a Public School Petition Having a formal classroom debate Team work Leadership Promoting agenda Debate reflection and debriefing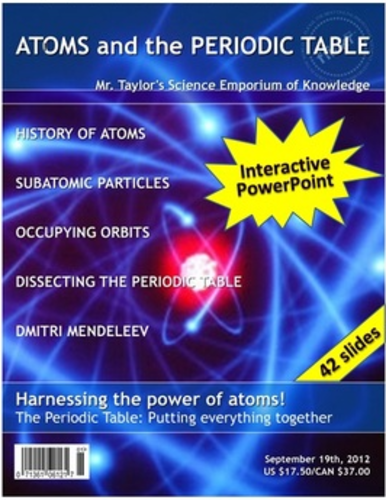 his PowerPoint is visually engaging for your students. It contains over 41 slides that is enticing and really does keep your students focused throughout each lesson. I focus on the educational theory of engaging student's utilizing the best instructional practices for the diverse learning style of the different schools of thought. This PowerPoint makes learning fun with a constructivist approach. Each slide is interactive. It contains embedded videos while the content is displayed. It also contains audio clues for students to stay focused as they take notes during each slide.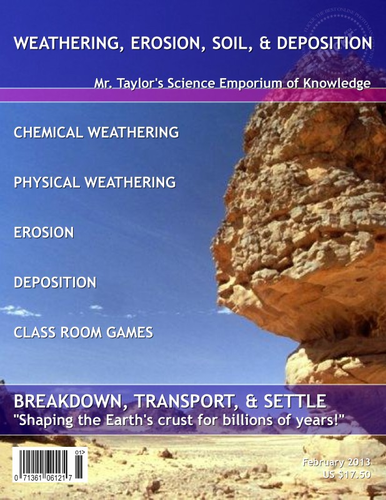 I have put a lot of time trying to make weathering, erosion, deposition, and soil engaging for students. The students love using these handouts to learn this material. This entire package contains ways to increase differentiated instruction for diverse learning styles. These handouts are visual and allow students to put theory into practice through multiple mediums. I have included 3 classroom supplementary activities and a great startup' and closure game that really helps not only reinforce previously learned material, but reviews and engages students. Students also really love the vocabulary foldables. I use these foldables as a startup activity. i hope you enjoy these activities and graphic organizers. Earth science is as fun as you make it for your students. There is 24 pages of interactive activities contained in this package. This preview only shows a sample of what to expect. Answer keys are included where needed.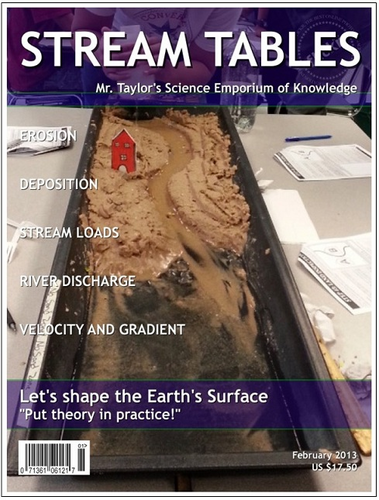 This is a lab activity will give students an opportunity to use stream tables to learn about erosion and deposition. Students will log their observations and determine the relationship between water velocity and stream gradients. Students will also learn about stream loads, discharge, and the different parts of a river. There multiple activities contained in this lab that will keep your students engaged. I hope you enjoy this product and follow me so you can stay updated on new products that I post.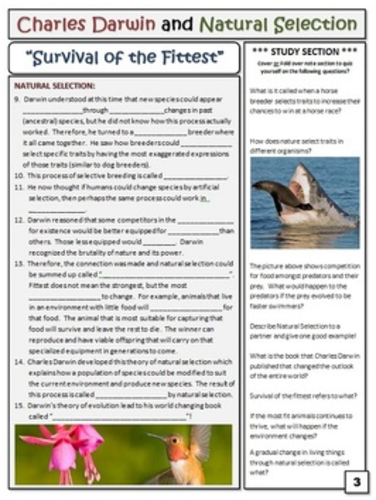 his is an update of my previous lesson. Everything is included plus a lot more. Please check the preview to see the new additions I have added. Thank you for making this the top selling Charles Darwin product. Updated to include 28 pages of activities and interactive lesson supplementary aides. Summary of what to expect: This is a four day engaging constructivist lesson that focuses on the life of Charles Darwin and his innovative and successful idea of natural selection. Natural Selection can be easy to understand with students at a secondary level, but it is difficult to master. This lesson plan not only introduces the topic of natural selection, but allows students to actually discover it on their own the same way Charles Darwin perceived it. In the first two days, students will take a voyage on the HMS Beagle to the Galapagos Island where they will encounter different species of finches. They will log in their journals what they observe on this island. In short, they will draw, tag, bag, and send the different specimens of finches off to England for review just as Darwin did himself. The idea is to teach students that species change and do NOT stay the same as generations pass. In the second two days, students will learn on their own how natural selection works through a interactive competition activity. This is a classwide event which can be crafted differently based on the diversity of each class. Through this competition, students will learn how the most suitable characteristics (beak of the finch) will survive in the current environment that allows those characteristics to prevail. Students will compete in different environments which consists of dry land, flash flooding, and at night. I also encourage you to utilize my unique style of notes as it is designed to integrate authentic and ongoing assessment throughout the content phase. I hope you enjoy this lesson as it took me approximately 80 hours to create. Other science teachers have used this lesson to introduce evolution in their classrooms and has been used as a template to help science teachers create lessons that are differentiated to meet the needs of diverse student learning styles at a science teacher conference day. Students will really get the concept if you go through this activity with them.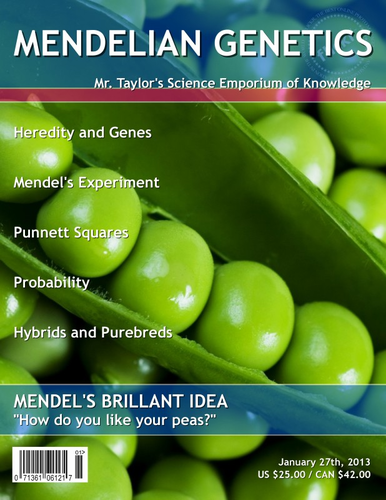 You will receive a unit student note packet covering Mendelian Genetics which includes Gregor Mendel, Punnett Squares and genetic continuity. You will also get a very detailed lesson plan and instructions on how to use this note packet through various mediums. Also, I have included a visually appealing and easy to read Teacher's Guide so that you are ready to go anytime, anywhere. Moreover, the unit lesson plan standards are included with emphasis on the common core. The following essential questions and learning objectives will be answered using this note packet: -Why is Gregor Mendel is considered the "Father of Modern Genetics"? -Explain how Gregor Mendel unravels the mystery of inheritance? -Explain the different types of characteristics in pea plants that Mendel used to study? -Describe and discuss Mendel's experiment that lead to the discovery of genetics? -Describe how pea plants are good source to test heredity? -Explain how pollination leads to fertilization in plants? -Define True breeding and self-pollination? -Define the term genes and alleles? -Describe and use Punnett Squares? -Explain how to write a genotype and recognize an organism's phenotype? -Understand the different between a dominant and recessive trait? -Practice using genotypes to indicate if they are heterozygous or homozygous -Describe the difference between hybrids and purebreds? -Use a Punnett square to figure out a monohybrid cross? -Practice and apply probability concepts of Mendelian genetics through analysis of Punnett squares? -Discuss why don't all humans look exactly alike? -Explain why how Gregor Mendel contributed to the discovery of modern day genetics -Compare the differences between self-pollination vs. cross pollination, genotype vs. phenotype, and dominant vs. recessive -Describe how to use a Punnett square to figure out the probability of specific traits in the offspring of two parent crosses. -Draw a Punnett square and calculate the probability of offspring characteristics -Discuss what determines whether a human baby will be a boy or a girl? -Explain how genes and alleles are related to genotypes and phenotypes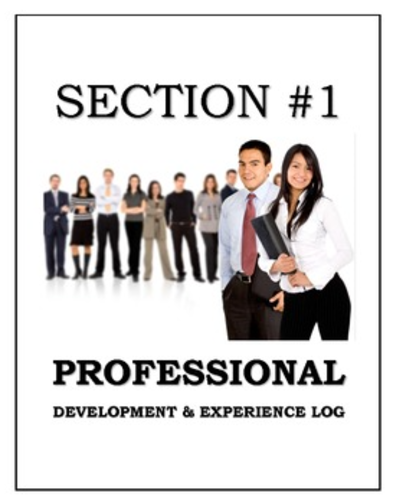 As you know, professional experience and organization is a result of your hard work. Most of that hard work goes unnoticed. A lot of teachers I know forget most of their side- experiences because they go above and beyond and never have any type of accountability to showcase that work. I have developed a tool for you that will assist in both your professional experience and organization. I have put together a set of three different professional development portfolio logs that will keep all that hard work and your volunteering organized and ready for review at a moment's notice. These logs are a great way to organize your personal and professional experience. For every hour you instruct in the classroom, observe, attend conferences, and/or take advanced education classes, you need to log it down so that you can maintain and validate your personal, professional, and field experiences. These logs can be put together as a quick-reference, cosmetic portfolio binder that you can keep in your classroom or at home. The event sheets contained within these files can be taken with you to any event that will help build to your professional portfolio or resume. These logs provide the organization you need to fulfill any type of professional development event. I have provided several copies of these logs to multiple disciplines and professions already. Teachers, tend to enjoy these logs as they are custom for them. However, these logs can be used in multiple ways through diverse mediums across various professions.