Mr. Taylor's Science Emporium of Knowledge
Mr. Taylor's Science Emporium of Knowledge "TRANSFORM STANDARIZED CONTENT INTO EDUCATIONAL ARTIFACTS!"
183Uploads
6k+Views
1k+Downloads
Mr. Taylor's Science Emporium of Knowledge "TRANSFORM STANDARIZED CONTENT INTO EDUCATIONAL ARTIFACTS!"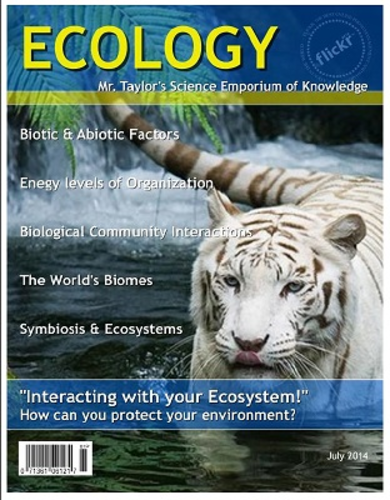 Download this extremely visual, enticing and engaging guided note packet which covers ECOLOGY. With over 55 pages of content, your curriculum is sure to be covered. SUMMARY OF CONTENTS: - SCIENTIST PROFESSIONS - ERNST HAECKEL - BIOTIC & ABIOTIC FACTORS - LEVELS OF ORGANIZATION - ECOSYSTEM INTERACTIONS - COMMUNITY INTERACTIONS - PREDATOR VS. PREY - SYMBIOTIC RELATIONSHIPS - ENERGY IN AN ECOSYSTEM - TYPES OF HETEROROPHS - MODELING ENERGY FLOW - FOOD WEBS & FOOD CHAINS - ECOLOGICAL PYRAMIDS - COMMUNITY ECOLOGY - LIMITING FACTORS - ECOLOGICAL SUCCESSION - THE WORLD'S BIOMES - NICHE VS. HABITAT - BIOMASS - ENVIRONMENTAL FACTORS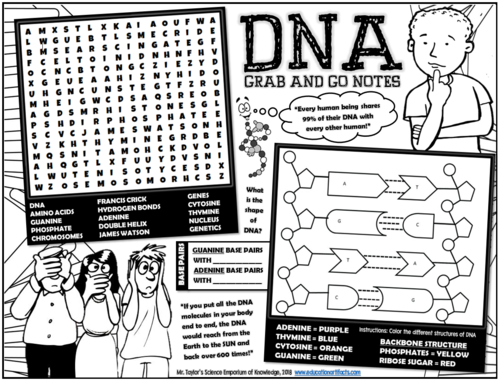 Grab-and-Go this fun worksheet to introduce, reinforce, and review basic concepts of DNA. This worksheet is visual and will either help drive a concept home or open their eyes to a new concept. This is great for homework, supplementary busy worksheet for a substitute teacher, or can be used as part of a station's lab. These notes are not used to cover the entire content area of the unit or concept. They are designed to reinforce targeted lessons that students may have difficulty working through.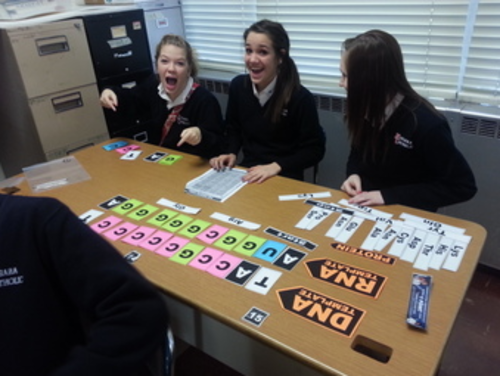 If you are looking to introduce or reinforce a unit on DNA, GENETICS, PROTEIN SYNTHESIS, or MUTATIONS, this engaging manipulative will seal the deal. Your students will be engaged throughout the entire activity. Also, this card game is utilzized satisfying multiple state objectives and is an ongoing formative assessment tool that really works. You can always refer back to this game as you introduce or reinforce information from this discipline. The game includes directions that will get you planned and ready to go immediately. All you have to do is cut out the cards! I spent 2 months putting this activity together and hope that it will enhance your instruction and engage your students.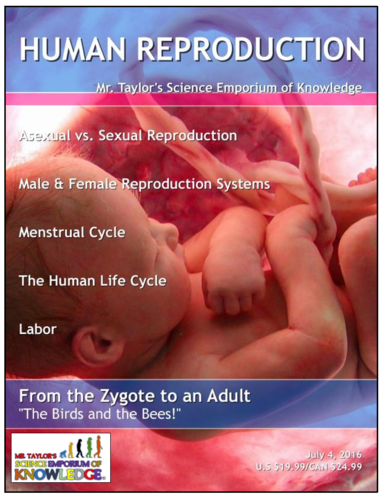 Welcome to a highly visual guided note packet regarding Human Reproduction. Reduce time planning as this note packet takes you across two distinct units of content; Human Reproduction and Life Cycle of Humans. In this engaging package, you will be surrounded with 53 pages of instructional content, which include engaging strategies and group activities that help students learn and experience all aspects of Human Reproduction. Students will learn about the journey of a zygote all the way to the delivery and life cycle of a baby. In addition, this package prepares students for life skills by learning about the birth of a baby and managing its growth and development to adulthood. The guided notes contained in this package are designed to instantly formatively assess the content. Each page is designed with content on one side and the assessment on the other. Assessment is amplified through small group activities, review, and fun graphic organizers. One thing to notice is that the authentic assessment activities is in line with the content on the other halve of page. Each page can be folded in half and can be used to ask and answer questions in the form of an interactive foldable. Content in this package includes: Sexual vs. Asexual Reproduction Male Reproduction System The Path of Sperm; Sperm Production Female Reproduction System The Path of the Egg The Menstrual Cycle The Human Life Cycle Development before Birth Protection and Nourishment Amniotic sac Placenta Umbilical Cord Birth – Delivery, Afterbirth, & Multiple Growth and Development Infancy Childhood Adolescence Adulthood Print both in COLOR or BLACK AND WHITE. Each will bring high quality visuals your students.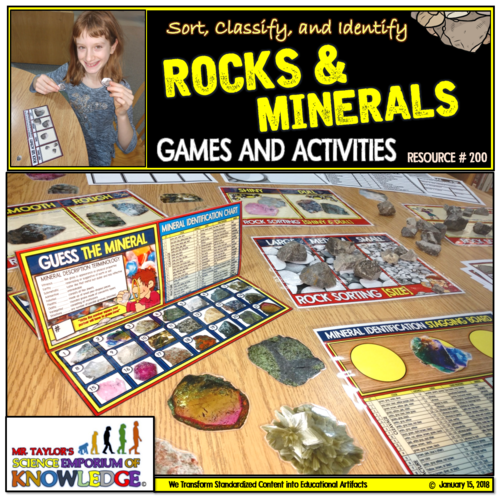 With over 50 pages of games and activities, your students will be able to sort, classify, and identify common rocks and minerals. This package contains everything you need to get started or polish up on introductory level content for both rocks and minerals. The possibilities are endless as they are many types of games and activities that can suit your best teaching practices. Main Features: Guess Who What better way to use your scientific intuition and critical thinking deductive skills than to play "Guess Who" learning about common minerals! This game is simple to play and extremely interactive. The first player to guess their opponent's mystery mineral wins the game. Who will guess right? This is just one of the many features contained in this mega-bundle opportunity. Mineral Classification The creativity and innovation keeps getting stronger. In this activity, you cut out high quality minerals and use a customized designed staging board to identify and classify each. There are a total of 21 minerals to choose from and each are visual and showcase their prominent characteristics. This activity is very popular at a secondary level. This activity can be set up as a station's lab or utilized in small groups for a re-fresher training session. For such a low cost, what are you waiting for? Have rock and mineral teaching tools at your disposable to showcase the content in engaging and creative ways. Bother in color and black and white, there is something for everyone in this package and your students will enjoy the visuals and interactive manipulation while they learn the content.

Have your students participate in a real-world GUN CONTROL classroom debate!!! This reoccurring argument has significantly polarized Americans over the past several decades and now your students have a chance to make a real difference at school and in their community. You and your students have a chance to ignore the fake media and combat their agenda with fact finding and effective legitimate research. This activity will actually set your class (or multiple classes) to have a formal classroom debate. Students will create protesting signs/banners, petitions, and voice their opinion to gain supporters. They will elect a debate leader and have a chance to bring real-world application into the classroom. Students will stay with their beliefs or modify them based on the hard research they work for as they learn about the argument on both sides. The actual classroom debate is organized which includes debate leaders from three parties and a neutral mediator. Its all here. What are you waiting for! All students need this experience! Resource Packet Contains the following: Understanding important concepts and definitions related to gun ownership rights Interpreting the Second Amendment of the Constitution of the United States Difference between Pro-gun activists, Gun control supporters, and Independents How beliefs and opinions change through research Ignoring fake media Fact finding Creating a Classroom Protest Banners or signs Creating a Public School Petition Having a formal classroom debate Team work Leadership Promoting agenda Debate reflection and debriefing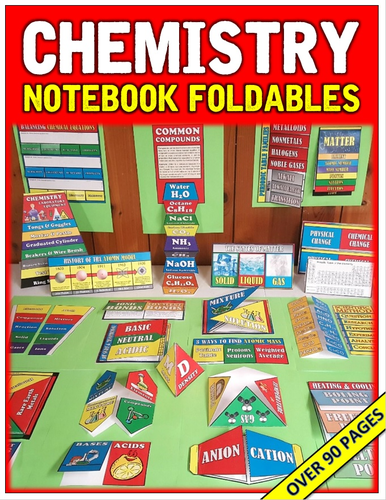 Your students will stay engaged with these engaging foldables and have fun learning Chemistry from a new dimension. You can print these foldables in both color and black and white. Also, included in this bundle is one copy of every foldable as a blank template, so you can customize them for any content area. Each foldable is manipulative and is fun to cutout, fold, and input information. Most of these foldables can be glued, taped, or stapled to a notebook, or can be used independently. These foldables consist of 3D graphic organizers and manipulative-tactile educational artifacts that both expands and reinforces the following Chemistry content: SCIENTIFIC METHOD PERIODIC TABLE FAMILIES METALOIDS NONMETALS HALOGENS NOBLE GASES ALKALI METALS ALKALI EARTH METALS TRANSITION METALS ATOMS & MATTER ATOMIC NUMBER ELEMENT PROTON NEUTRON ELECTRON SOLID, LIQUID, & GAS PHYSICAL & CHEMICAL CHANGE PHYSICAL & CHEMICAL PROPERTIES ACIDS & BASES PH SCALE IONIC VS. COVALENT BONDS MELTING, BOILING, & FREEZING MIXTURE VS. SOLUTION ANIONS VS. CATIONS GAS, PRESSURE, TEMPERATURE, & VOLUME 3 WAYS TO FIND ATOMIC MASS HISTORY OF THE ATOMIC ATOM JOHN DALTON JJ.THOMSON E. RUTHERFORD NIELS BOHR CLOUD MODEL HETEROGENEOUS VS. HOMOGENEOUS MIXTURE BALANCING CHEMICAL EQUATIONS SUBSCRIPTS, COEFFICENT, REACTANT, & PRODUCTS DENSITY PHASE CHANGES CONDENSATION, VAPORATION, FREEZING, MELTING COMMON COMPOUNDS PERIODIC TABLE NAME THE COMPOUND CHEMISTRY LAB EQUIPMENT GENERAL CHEMISTRY TERMINOLOGY ELEMENTS Spice up your classroom by posting these amazing reference foldables on your posterboards or/and have students your students take them home and showcase evidence of their own learning.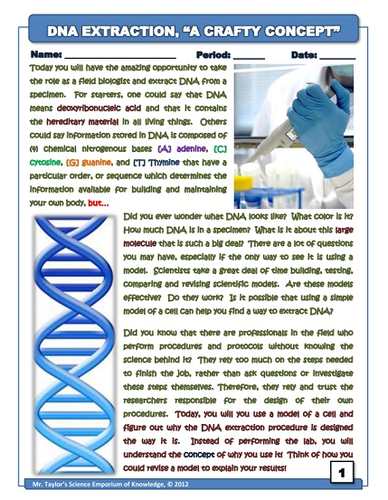 This is a highly engaging DNA extraction lab. You will extract DNA from green peas in a unique, fun and enticing way. Students will understand the concept of why it is important to extract DNA and not just perform the task.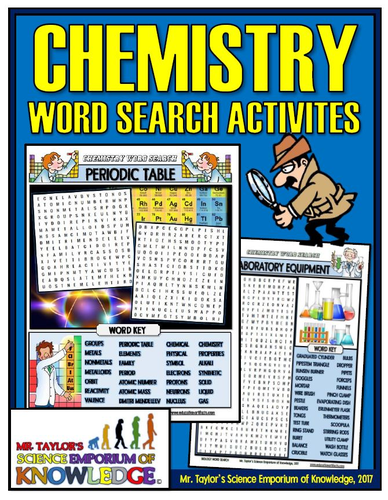 Appeal to all content audiences with this one-of-a-kind visually engaging word search activity packet. These word search puzzles are strictly related to the content and are perfect for content ice breakers or end of unit review. Each activity in this package falls within a specific unit all related to CHEMISTRY. You have seen many types of word search activities but nothing like this. Each activity shows the content from a new angle. These puzzles are engaging, fun and challenging for your students. Join the fun today! Note: All word search activities are both in color and black and white! In this package you will over 38 pages of different word search puzzles that includes the following content: Scientific Method Periodic Table States of Matter Acids and Bases Matter Phase Changes Physical vs. Chemical Changes Ionic & Covalent Bonds Mixture vs. Solution Anion Cation History of the Atom Common Compounds Laboratory Equipment Common Elements Basic Chemistry Organic Chemistry Take content ice breakers to a new level of quality and design. Your students will stay engaged!!!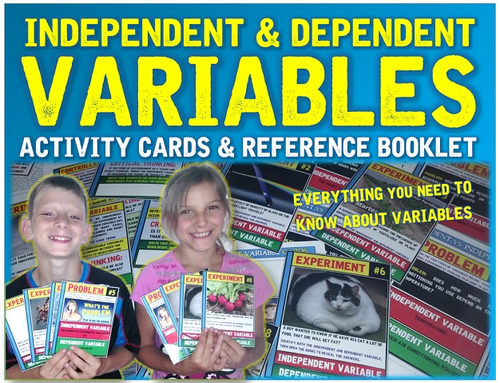 "ARE YOU HAVING TROUBLE TEACHING ABOUT SCIENTIFIC VARIABLES?" Look no further. This product has everything you need and a lot more. Variables seem to stay with us as we move into different levels of academics. From Elementary school to College, distinguishing between Independent and Dependent variables always seem to be problematic. This 40 page package will set everything straight. This product includes visually engaging reference cards that dissect each type of variable through interactive activities. With over 20 different experiments, students will have enough repetition to practice and discover the difference between independent and dependent variables in a fun and engaging way. Teachers have used these cards in two dynamic presentation styles. Each card can be used individually. As such, individual cards can be adhered to bulletin boards for quick review. In addition, these cards can be used as activities in small groups or even in an around-the-world station lab. Another style of presentation includes binding all the cards into a classroom reference booklet. The product contains covers so that this booklet can be put together. Teachers like having this booklet and display them in their classroom as this concept is brought up throughout the school year in any science classroom. College professors have used this book to stay focused on the fundamental approach identifying these types of variable. In this package, you get 3 sets of cards. One set includes visually engaging content related to dissecting the different types of variables including Controlled, Independent, Dependent, and Erroneous. Students will apply what they learn through interactive assessments on each card. The second set of cards includes Experimental Problem sets. On each card, the variables are selected for you. Students will have identify the experimental problem only using the variables. This gives good practice identifying which variable depends on another. The third set of cards are the Experiment Set. Students will be exposed to a total of 10 different experiments in which they have to identify the correct variable. Also included in this package is Independent and Dependent hand sign cards. Teacher will give students examples of experiments and students will work together in small teams and raise their Independent/Dependent cards to identify the correct variables. In summary, students love this product and I know you will too for many reasons. Mostly, each card is interactive, visually engaging, and students want to take them home with them; as opposed to tossing them in the trash on the way out the door. If you are familiar with my products, you will continue to see or see firsthand; how these cards will become a permanent educational artifact in your classroom.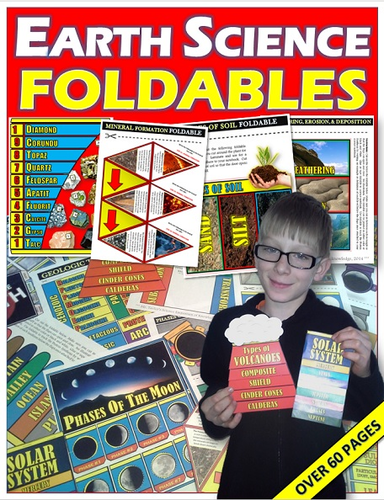 With over 50 pages and 20 different high quality foldables, your students will stay engaged and have fun learning Earth Science from a new dimension. You can print these foldables in both color and black and white. Also, included in this bundle is one copy of every foldable as a blank template, so you can customize them for any content area. Each foldable is manipulative and is fun to cutout, fold, and input information. Most of these foldables can be glued, taped, or stapled to a notebook, or can be used independently. A lot of teachers laminate these foldables and adhere them to bulletin boards in their classroom. These can also be wonderful projects or homework assignment that your students will love. Please enjoy the preview and hope your students love these foldables as much as mine do. Content for this highly engaging product includes: -LAYERS OF THE EARTH -THE SOLAR SYSTEM -WEATHERING -EROSION -DEPOSITION -THE EARTH'S ATMOSPHERIC LAYERS -COMPOSITE VOLCANOES -SHIELD VOLCANOES -CINDER CONES -CALDERAS -RENEWABLE ENERGY -PLATE BOUNDARY -SUBDUCTION -DIVERGENT -COLLISION -TRANSORM -LANDFORMS -NORMAL FAULT -REVERSE FAULT -STRIKE-SLIP FAULT -PHASES OF THE MOON -COMMON AIR POLLUTANTS -TYPES OF CLOUDS -GEOLOGIC TIME SCALE -THE WATER CYCLE -MINERAL FORMATION -THE ROCK CYCLE -MOHS HARDNESS SCALE -TYPES OF SOIL -TYPES OF STRESS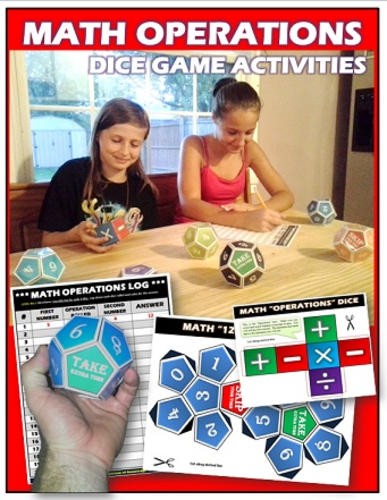 If you want to engage your students and reinforce the basic math operations, this product will get the job done!!!! Students WILL BE EXCITED and WANT to play this game. The goal of the game is to fill-up the activity work sheet by taking turns rolling a different number dice and an "operations" dice at the same time. They will perform the operation and log down their results on the activity logs. There are 3 different levels which require a total of 7 dice. All this is included and really engages your students.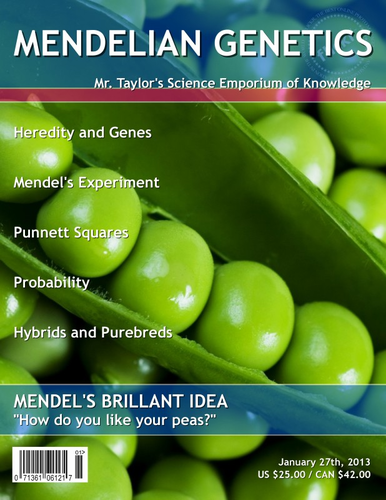 You will receive a unit student note packet covering Mendelian Genetics which includes Gregor Mendel, Punnett Squares and genetic continuity. You will also get a very detailed lesson plan and instructions on how to use this note packet through various mediums. Also, I have included a visually appealing and easy to read Teacher's Guide so that you are ready to go anytime, anywhere. Moreover, the unit lesson plan standards are included with emphasis on the common core. The following essential questions and learning objectives will be answered using this note packet: -Why is Gregor Mendel is considered the "Father of Modern Genetics"? -Explain how Gregor Mendel unravels the mystery of inheritance? -Explain the different types of characteristics in pea plants that Mendel used to study? -Describe and discuss Mendel's experiment that lead to the discovery of genetics? -Describe how pea plants are good source to test heredity? -Explain how pollination leads to fertilization in plants? -Define True breeding and self-pollination? -Define the term genes and alleles? -Describe and use Punnett Squares? -Explain how to write a genotype and recognize an organism's phenotype? -Understand the different between a dominant and recessive trait? -Practice using genotypes to indicate if they are heterozygous or homozygous -Describe the difference between hybrids and purebreds? -Use a Punnett square to figure out a monohybrid cross? -Practice and apply probability concepts of Mendelian genetics through analysis of Punnett squares? -Discuss why don't all humans look exactly alike? -Explain why how Gregor Mendel contributed to the discovery of modern day genetics -Compare the differences between self-pollination vs. cross pollination, genotype vs. phenotype, and dominant vs. recessive -Describe how to use a Punnett square to figure out the probability of specific traits in the offspring of two parent crosses. -Draw a Punnett square and calculate the probability of offspring characteristics -Discuss what determines whether a human baby will be a boy or a girl? -Explain how genes and alleles are related to genotypes and phenotypes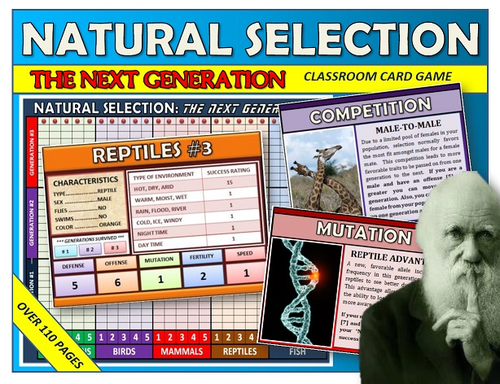 You will receive 115 pages of game materials which include 185 playing cards, a visual engaging game board, and detailed instructions which are customizable. Students can't get enough of this game. They are always asking to play this game daily as I have the game board posted in my classroom. I also play this game at home with friends and my family. It's a great way to distribute knowledge in your content area to both external and internal family members, especially when you are portraying the evolution debate. The goal of the game is to see what population will survive a total of 30 generations. They will see how species change and evolve first-hand. They will also encounter different factors that affect evolutionary relationships and potent forces that cause specific selecting agents to either happily thrive or sadly go extinct. What students love most about this game is that it is competitive and they love watching other populations go extinct while they continue to survive each generation. Student work together as team within their species. Their competition is driven by the success of their organisms and the conditions of the environment. They learn as they play. A very engaging activity indeed!!!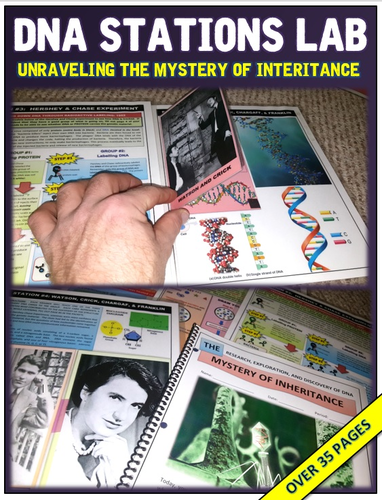 your students multiple intelligences and includes engaging activities that focuses on the real experiments that took place. This can be used as a stationed lab or practical. However, each segment can be used individually. Students really need the know who and how DNA was discovered. This lesson hits this target to a tee. Furthermore, this intense lesson will embark on a series of experiences that can give your students the perspective of what it was like to actually discover DNA. Specifically students will tranvserve the prominent experiments that actually lead the idea that DNA and not protein was responsbile for heredity continuity. Students will be engaged as they not only take the role of many scientists, but indirectly practice the As you transverse the knowledge and experience of these revolutionary scientists, students will travel to (4) different stations using this highly engaging activity. This lesson will allow students to actually track how DNA was discovered. At each station students will be exposed to a wide spectrum of activities that range from the Fredrick Griffth Experiment (interactive mice activity); Oswald Avery Experiment ( KWL activity as a product of an model activity); Hershey and Chase Experiments (students will actually draw a model of the Hershey and Chase experiment a use a given key to reproduce the experiment); and Structure of DNA activity; students will open doors and see the different scientists responsibled for the discovery of DNA and its structure. This lesson even goes as far as describing the contribution that Rosland Franklin contributed and how Watson and Crick used her data without her permission. I have included the entire expanded lesson plan. You will receive all four lab stations, the entire individual student workpacket, and a student assessment sheet.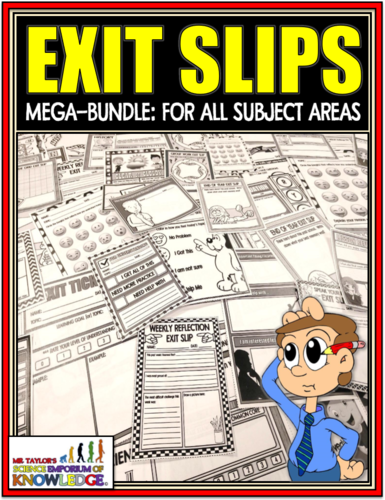 Exit slips are written student responses to questions teachers pose at the end of a class, lesson, or even a school year. These quick, informal assessments enable teachers to quickly assess students' understanding of the material as well as their own teaching style. This amazing bundle comes with over 85 pages of ONE-OF-A-KIND and very engaging exist slips. Each style can be used for any subject area and at any level. I guarantee you will not see exit tickets of this type and quality anywhere else. Each exit slip comes in [3] three different sizes. There so many to pick from it will be hard to choose which one to use. All exit slips come with easy-to-cut templates and are in Greystone to conserve toner and ink cartridges. The following types of Exit Slips that are contained in this bundle includes the following: 3-2-1 Most Important Lesson Evaluation Check for Understanding One Lesson Reflection Exit Tickets Today's Class Clear or Cloudy Emoji Reflection Traffic Light Puzzle Pieces Speak Your Mind Weekly Reflection Time Check Common Core – Science Common Core – Math Common Core – ELA Common Core – History Off the Grid 3 Things I learned Group Work End of Year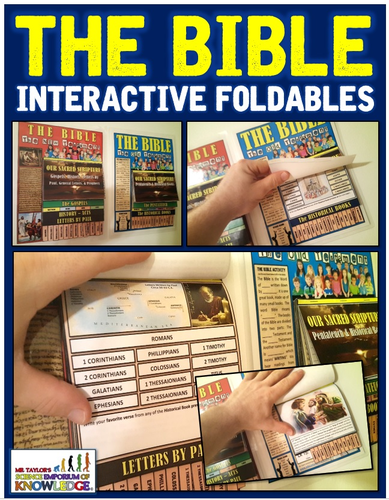 Bring the value of the bible back into YOUR SCHOOL, FAMILY & COMMUNITY! How do you create an opportunity to become a powerful voice of hope at your school, at home, and in your community? It's often young people can act as a hub to lead the way for the rest of the community by providing an example of faith. To do this, one must have the courage and share God's truth and love within an unbelieving culture. The Bible: Interactive foldable is a creative tool that can aid in transmitting the value of the Bible, as an example of faith, to the unbelieving or unaware culture. EXPLORE ITS UNIQUENESS AND QUALITY This educational resource is loaded with short teaser trailer snapshots of all books and letters established in both the Old and New testament. There is over 60 pages of material that can help anyone establish a faithful connection. Each page represents short summarized themes of each story in the bible. This gives the unbeliever or early learner an opportunity to get excited about the content and understand what is involved. For a new learner it is very challenging to understand what the bible is acknowledging. This resource, waters-down the content and transitions gets the readers excited about the short segments that relates to their own lives. This tool will help promote and establish the Christian faith. THIS RESOURCE IS TACTILE AND MANIPULATIVE This resource is multi-layered and in 3D. The entire bible has been transformed into a tactile learning tool. You will want to bring this home and showcase it to your family. Assembling the resource is easy! All you have to do is cut and arrange each card based on the different layers. There is also embedded activities which will help students decipher personal interests that will help them make a connection and bring back faith! In addition, if you are low on ink, print in black and white. They both will serve as high quality visuals. What are you waiting for, download this resource today!!! You can't compete with such a low price and high quality. Students will remember this project for a lifetime and lets all bring faith back to school, home, and the community!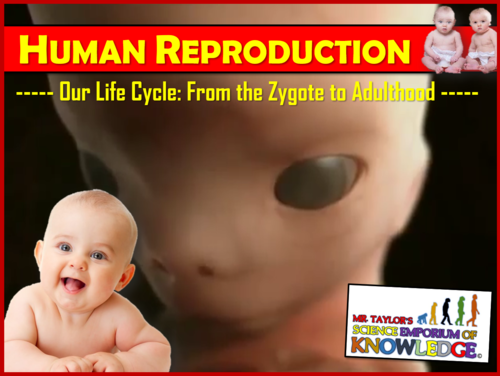 Welcome to a very unique and powerful animated PowerPoint regarding two distinctive units on Human Reproduction and Growth and development. In this one-of-a-kind educational artifact, you will be surrounded by instructional content that will help students look deeper into the creation and growth of humans. Students will recognize the beauty of our own life cycle and sexual reproduction. This PowerPoint will capture you're best instructional practices and teach to the heavily anxious curiosity of your class regarding sex and sexual reproduction. Expose your students to one of life's great drama: the development of an offspring in the image of its parents. See the growth of the fetus in the womb of the mother. It's all here. This animated PowerPoint is one –of-a-kind and will be remembered for years to come. Each Slide brings this content to life through high quality, 3d animated slides. There are also embedded videos which brings real-world application home for teaching college and readiness skills for your students. Content in this package includes: Sexual vs. Asexual Reproduction Male Reproduction System The Path of Sperm; Sperm Production Female Reproduction System The Path of the Egg The Menstrual Cycle The Human Life Cycle Development before Birth Protection and Nourishment Amniotic sac Placenta Umbilical Cord Birth – Delivery, Afterbirth, & Multiple Growth and Development Infancy Childhood Adolescence Adulthood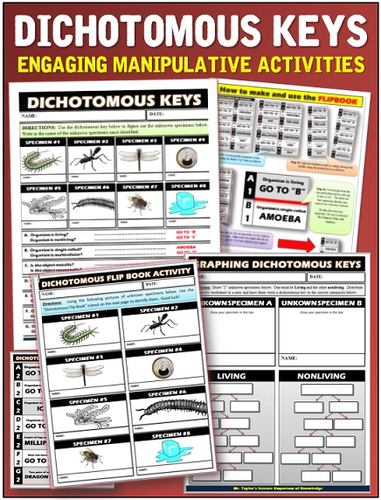 You haven't seen anything like this before when it comes to Dichotomous keys. This educational artifact represents a new exciting way to teach this content that is both tactile and visually engaging. This activity resource allows you to teach how identification of biological organisms can be simplified, explored and discovered through the use of real world subject profile dichotomies. Students will practice identifying both living and nonliving things through the use of different classes of dichotomous keys. Each activity is unique and really drives the standards home. Note: No prep required and can be both in color and black and white.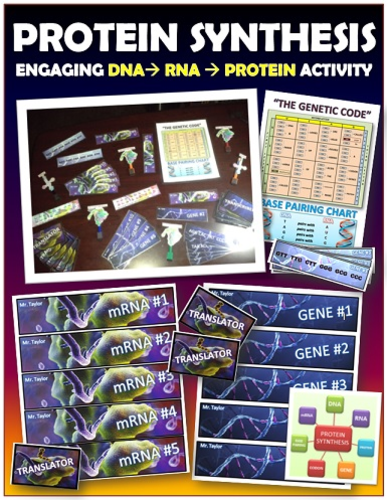 Protein Synthesis has never been taught with so much fun until today. Students actually take the role as a translator and transcriber working their way together to decode a secret message. Using the Genetic Code and synthesizing a functional protein is the goal. However, in this activity the final protein product is a secret message. If that message makes sense, the protein is functional. If it doesn't, a mutation has been discovered. This activity comes full with a complete lesson plan and over 20 pages of cutouts. This activity is both engaging and enticing and the students love working in teams to see if they can bust the code.