Mr. Taylor's Science Emporium of Knowledge
Mr. Taylor's Science Emporium of Knowledge "TRANSFORM STANDARIZED CONTENT INTO EDUCATIONAL ARTIFACTS!"
186Uploads
11k+Views
2k+Downloads
Mr. Taylor's Science Emporium of Knowledge "TRANSFORM STANDARIZED CONTENT INTO EDUCATIONAL ARTIFACTS!"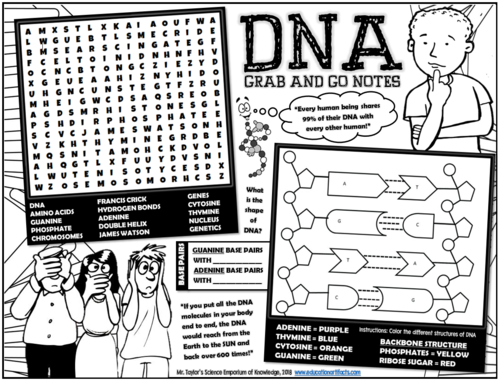 Grab-and-Go this fun worksheet to introduce, reinforce, and review basic concepts of DNA. This worksheet is visual and will either help drive a concept home or open their eyes to a new concept. This is great for homework, supplementary busy worksheet for a substitute teacher, or can be used as part of a station's lab. These notes are not used to cover the entire content area of the unit or concept. They are designed to reinforce targeted lessons that students may have difficulty working through.

This lab activity will allow your students to undertake the most dangerous dive in history by venturing into the Abyss and submerge to the bottom of the Mariana Trench. During this dive your students will utilize their scientific observation skills to discover the secrets of the Abyss by witnessing unique geological events and biological activities such as alien life that only exists at these terrifying depths. Students will document their journey so that others can visualize and learn about what exists within this treacherous alien world. This activity is all about using science through observation. The objective is to train your students to improve on literacy, research and observation skills all while exploring the unknown. Learning about the Mariana Trench is a great example to use these skills and this activity packet is a very unique way to experience the journey first hand that requires commitment & extreme dedication . REAL-WORLD APPLICATION: LAB ACTIVITY SHEETS In this activity students will actually simulate getting inside a state of the art submersible (operate instruments) and plunge deep in the Mariana Trench. On their way down, they will explore the very cold and dark mysterious waters for the first time in human history. These activities put the students in the researcher's shoes & gives them appreciation for the brave scientists who already accomplished this task. INTERACTIVE & ENGAGING With 30 pages of engaging content, included in this packet are interactive folding viewing port windows which are installed on the student's submersibles. When they reach a certain depth, they will be allowed to open these windows and explore any alien life that exists on their way to the bottom of the Mariana Trench. This is where their observation skills will kick in. There are 10 "Unknown" species to explore and all our "real" pictures taken during the latest dive in 2012 by James Cameron. Students will love this! SCIENCE AND LITERACY This lab activity will allow your students to enhance their literacy skills as they read and assess the content which is engaging and awe-inspiring. They will also reflect on their experience with strategic comprehension and reflection questions. It's all here in one unique and amazing packet. Yes, there is a lot more. HISTORICAL PERSPECTIVE Also included is a fun graphic organizer which will allow your students to create their own historical timeline of their exploratory discoveries. There is so much to learn and so much history to restore in this engaging activity. ALL-IN-ONE-PACKAGE It's all here! Everything from Science, Observation, Research and Literacy Skills to history and personal reflections. There is also a detailed Teacher prep guide and answer key. All this experience for such a low price. What are you waiting for!!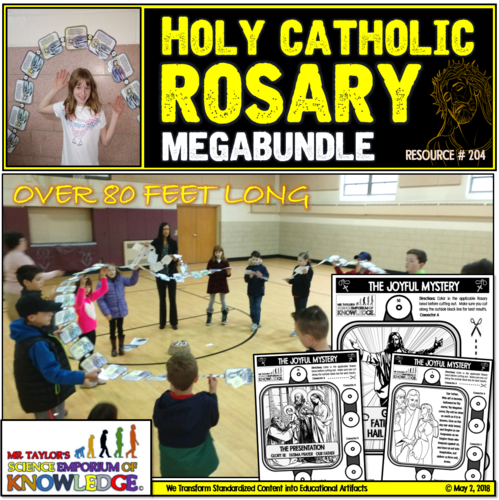 Looking to teach and pray the rosary with your students? Well, now you can with this giant 80 foot rosary package. With over 400 pages, this one-of-a-kind religion education artifact is a Megabundle which includes the following rosaries for you, your family, and your students to color and assemble together: Joyful Mystery Luminous Mystery Glorious Mystery Sorrowful Mystery These rosaries can be used in many unique and creative ways. Students can work in groups to create this masterpiece, color a bead, or pray as a class. Each bead tells a story which includes the prayer and which decade you are in. This engaging classroom model will encourage your students to not only say the rosary, but experience the journey of each prayer. If you are a religion teacher, do not miss out on this innovate product that will encourage students to pray!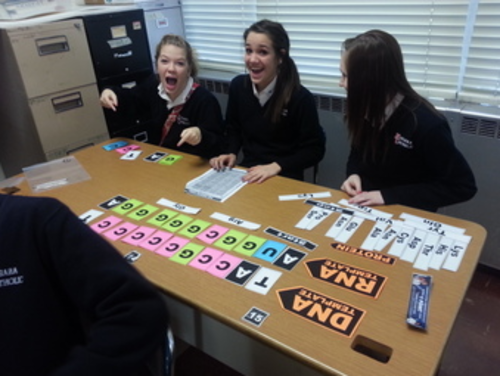 If you are looking to introduce or reinforce a unit on DNA, GENETICS, PROTEIN SYNTHESIS, or MUTATIONS, this engaging manipulative will seal the deal. Your students will be engaged throughout the entire activity. Also, this card game is utilzized satisfying multiple state objectives and is an ongoing formative assessment tool that really works. You can always refer back to this game as you introduce or reinforce information from this discipline. The game includes directions that will get you planned and ready to go immediately. All you have to do is cut out the cards! I spent 2 months putting this activity together and hope that it will enhance your instruction and engage your students.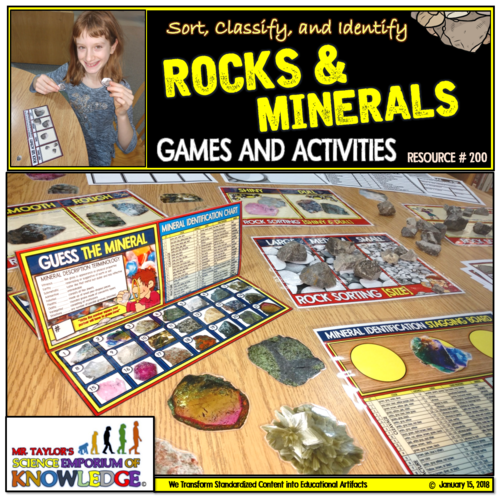 With over 50 pages of games and activities, your students will be able to sort, classify, and identify common rocks and minerals. This package contains everything you need to get started or polish up on introductory level content for both rocks and minerals. The possibilities are endless as they are many types of games and activities that can suit your best teaching practices. Main Features: Guess Who What better way to use your scientific intuition and critical thinking deductive skills than to play "Guess Who" learning about common minerals! This game is simple to play and extremely interactive. The first player to guess their opponent's mystery mineral wins the game. Who will guess right? This is just one of the many features contained in this mega-bundle opportunity. Mineral Classification The creativity and innovation keeps getting stronger. In this activity, you cut out high quality minerals and use a customized designed staging board to identify and classify each. There are a total of 21 minerals to choose from and each are visual and showcase their prominent characteristics. This activity is very popular at a secondary level. This activity can be set up as a station's lab or utilized in small groups for a re-fresher training session. For such a low cost, what are you waiting for? Have rock and mineral teaching tools at your disposable to showcase the content in engaging and creative ways. Bother in color and black and white, there is something for everyone in this package and your students will enjoy the visuals and interactive manipulation while they learn the content.

Welcome to the most complete comprehensive guide to understanding all you need to know about the current Coronavirus outbreak. Teachers, parents, and homeschoolers, this guided note packet is for you. Each page is content driven and focuses on the subject matter that means the most. With over 40 pages, you will be sure to cover all areas including what a virus is, the different types, and the ORIGINS, HISTORY, AND POLITICS of the CORONAVIRUS. Each page in this package is setup with assessments and activities on one side of the page while the content is on the other side. Students can use these note packets as instant formative assessment tools to learn new content. The quality of each page speaks for itself. Use one sheet or put together as an individual student packet. Everything is included with this package. You get both color and black and white copies. Also included is a very easy to use Teacher guide. A Power Point is available for this resource. Using them together will amplify the teaching experience. These packets are very easy to use in a homeschooling setting as well. The parent will read and give their children the answers to write down. Such as the teacher will read aloud to the students and add appropriate words needed to make sense out of the content. The Power Point (sold separately) works hand-in –and to engage the content even more so. This style of note taking is very engaging to students. They don't have to worry about writing a lot. Only add relevant information that will help them remember the content.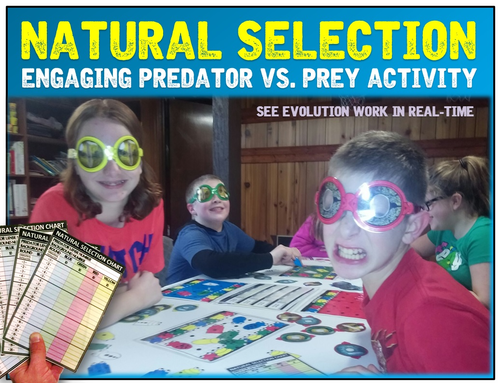 Your students will embark on a journey discovering evolution through natural selection. This activity allows for student learning, showcasing predator vs. prey interactions that causes an actual evolutionary response. Take the role as both the predator and prey to see populations change resulting in evolutionary responses. Your students will remember this educational artifact for a life time. As a predator, you wear viewing glasses to spot particular prey in changing environments. This resource is like no other! The goal of the game is to collect data on surviving prey populations & to identify an evolutionary response through natural selection! Students will be amazed how playing this game can really help bring home a relatively difficult concept. Cut, laminate, and play! Take this resource and transform it into an educational artifact. Note: This Resource comes both in Color and Black and White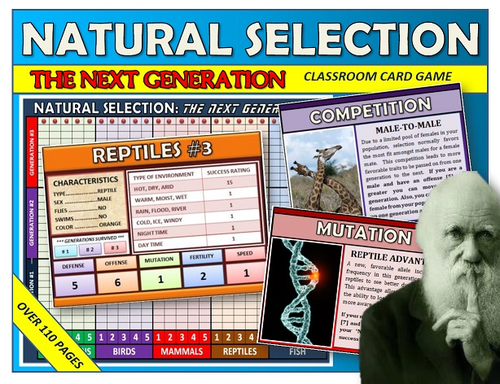 You will receive 115 pages of game materials which include 185 playing cards, a visual engaging game board, and detailed instructions which are customizable. Students can't get enough of this game. They are always asking to play this game daily as I have the game board posted in my classroom. I also play this game at home with friends and my family. It's a great way to distribute knowledge in your content area to both external and internal family members, especially when you are portraying the evolution debate. The goal of the game is to see what population will survive a total of 30 generations. They will see how species change and evolve first-hand. They will also encounter different factors that affect evolutionary relationships and potent forces that cause specific selecting agents to either happily thrive or sadly go extinct. What students love most about this game is that it is competitive and they love watching other populations go extinct while they continue to survive each generation. Student work together as team within their species. Their competition is driven by the success of their organisms and the conditions of the environment. They learn as they play. A very engaging activity indeed!!!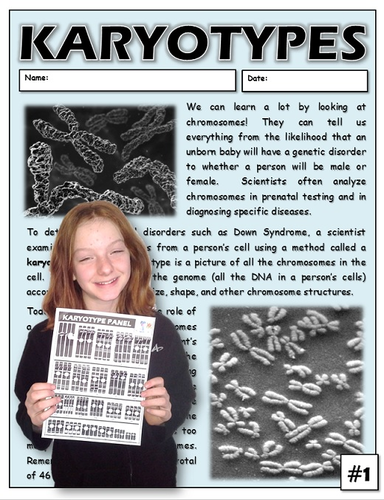 This lab completely entertains everything there is to know about karyotypes. Students will cut out their own chromosomes and match them according to their length, position of centromeres, and G bandings. This is a complete lab package which contains all the materials you need so that students can perform up to 5 different karyotype panels each. They will try to discover if their patients have a genetic disorder based on the outcome of their completed karyotypes.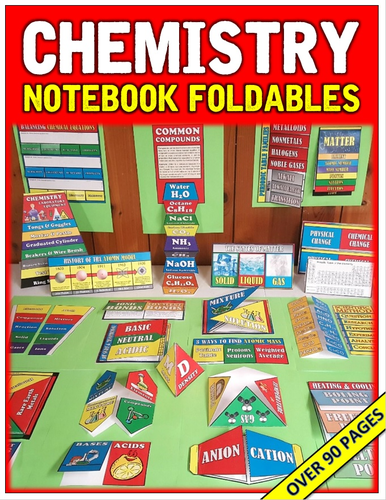 Your students will stay engaged with these engaging foldables and have fun learning Chemistry from a new dimension. You can print these foldables in both color and black and white. Also, included in this bundle is one copy of every foldable as a blank template, so you can customize them for any content area. Each foldable is manipulative and is fun to cutout, fold, and input information. Most of these foldables can be glued, taped, or stapled to a notebook, or can be used independently. These foldables consist of 3D graphic organizers and manipulative-tactile educational artifacts that both expands and reinforces the following Chemistry content: SCIENTIFIC METHOD PERIODIC TABLE FAMILIES METALOIDS NONMETALS HALOGENS NOBLE GASES ALKALI METALS ALKALI EARTH METALS TRANSITION METALS ATOMS & MATTER ATOMIC NUMBER ELEMENT PROTON NEUTRON ELECTRON SOLID, LIQUID, & GAS PHYSICAL & CHEMICAL CHANGE PHYSICAL & CHEMICAL PROPERTIES ACIDS & BASES PH SCALE IONIC VS. COVALENT BONDS MELTING, BOILING, & FREEZING MIXTURE VS. SOLUTION ANIONS VS. CATIONS GAS, PRESSURE, TEMPERATURE, & VOLUME 3 WAYS TO FIND ATOMIC MASS HISTORY OF THE ATOMIC ATOM JOHN DALTON JJ.THOMSON E. RUTHERFORD NIELS BOHR CLOUD MODEL HETEROGENEOUS VS. HOMOGENEOUS MIXTURE BALANCING CHEMICAL EQUATIONS SUBSCRIPTS, COEFFICENT, REACTANT, & PRODUCTS DENSITY PHASE CHANGES CONDENSATION, VAPORATION, FREEZING, MELTING COMMON COMPOUNDS PERIODIC TABLE NAME THE COMPOUND CHEMISTRY LAB EQUIPMENT GENERAL CHEMISTRY TERMINOLOGY ELEMENTS Spice up your classroom by posting these amazing reference foldables on your posterboards or/and have students your students take them home and showcase evidence of their own learning.

Have your students participate in a real-world GUN CONTROL classroom debate!!! This reoccurring argument has significantly polarized Americans over the past several decades and now your students have a chance to make a real difference at school and in their community. You and your students have a chance to ignore the fake media and combat their agenda with fact finding and effective legitimate research. This activity will actually set your class (or multiple classes) to have a formal classroom debate. Students will create protesting signs/banners, petitions, and voice their opinion to gain supporters. They will elect a debate leader and have a chance to bring real-world application into the classroom. Students will stay with their beliefs or modify them based on the hard research they work for as they learn about the argument on both sides. The actual classroom debate is organized which includes debate leaders from three parties and a neutral mediator. Its all here. What are you waiting for! All students need this experience! Resource Packet Contains the following: Understanding important concepts and definitions related to gun ownership rights Interpreting the Second Amendment of the Constitution of the United States Difference between Pro-gun activists, Gun control supporters, and Independents How beliefs and opinions change through research Ignoring fake media Fact finding Creating a Classroom Protest Banners or signs Creating a Public School Petition Having a formal classroom debate Team work Leadership Promoting agenda Debate reflection and debriefing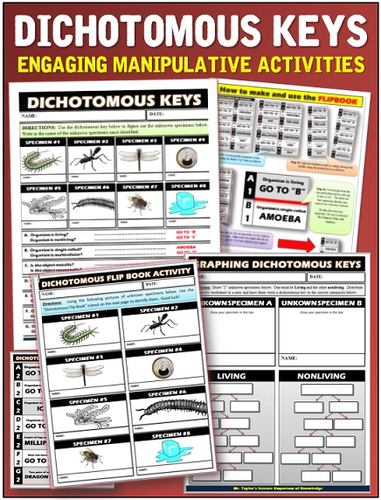 You haven't seen anything like this before when it comes to Dichotomous keys. This educational artifact represents a new exciting way to teach this content that is both tactile and visually engaging. This activity resource allows you to teach how identification of biological organisms can be simplified, explored and discovered through the use of real world subject profile dichotomies. Students will practice identifying both living and nonliving things through the use of different classes of dichotomous keys. Each activity is unique and really drives the standards home. Note: No prep required and can be both in color and black and white.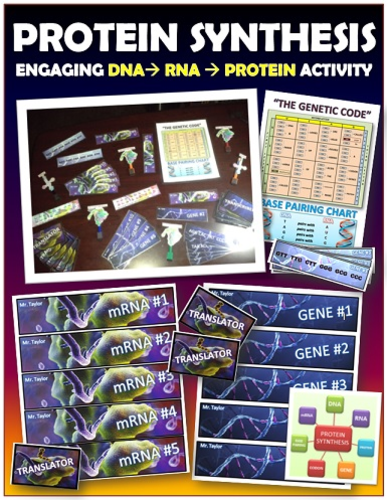 Protein Synthesis has never been taught with so much fun until today. Students actually take the role as a translator and transcriber working their way together to decode a secret message. Using the Genetic Code and synthesizing a functional protein is the goal. However, in this activity the final protein product is a secret message. If that message makes sense, the protein is functional. If it doesn't, a mutation has been discovered. This activity comes full with a complete lesson plan and over 20 pages of cutouts. This activity is both engaging and enticing and the students love working in teams to see if they can bust the code.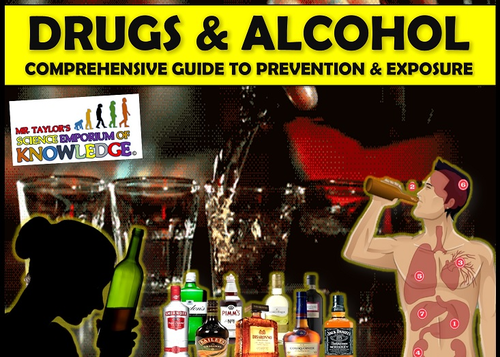 Thank you for previewing the most comprehensive guided PowerPoint regarding Drugs and Alcohol. In this engaging AND animated PowerPoint, you will be surrounded by instructional content, which include engaging strategies that help students recognize the effects of drug and alcohol abuse while making prevention a reality. Students will learn about how drugs can affect their body and behaviors. They will also learn about recovery and counseling techniques to share with their peers. In addition, this PowerPoint prepares students for college and career readiness skills by sharing manufacturing secrets of working within the pharmaceutical industry. Content in this package includes: Drugs & Alcohol Facts of consequences How alcohol affects the body Short & Long Term Effects Alcoholism Alcohol counseling Effects of abused drugs Tolerance Addiction Birth defects Depressants Stimulants Inhalants/hallucinogens Steroids Real World Industry Application Aseptic Technique Standard Operating Procedures Pharmaceutical Industry practice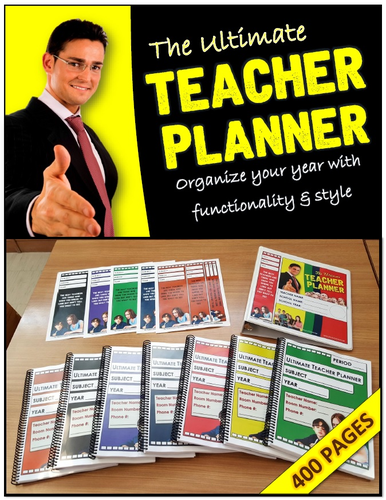 nspired Organization just for you! Bring style, organization, and functionality back into the classroom with this one-of-a-kind Ultimate Teacher Planner. This package contains over 400 pages of infinite possibilities to create the planner that is molded to your administrative needs. Unlike other planners that take away premium organizational space with unnecessary hampering graphics and random childish borders, each page is carefully crafted to provide you personalized information that shelters the history of your career with the turn of each page. This resource is not without style as each page is highly visual, designed with high quality engineering grids and columns that are truly functional. There are separate files for a total of 7 books with distinctive colors that represent each period you teach. You can use a book for each period or put together one master teacher planner for all your students. Files can be printed in both color and black and white. You can spiral bind all page inserts or add to a planner binder. Binder covers, tabs and spine sheets (1", 2", and 3") are also included in this package. You can print out as many pages as you like and customize this planner in any way you like. If you purchase this planner, you can customize by request anytime for free. Take advantage now!!!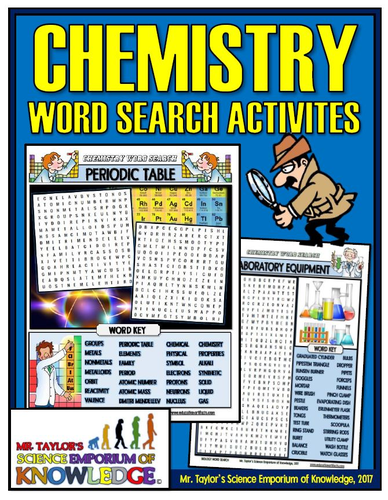 Appeal to all content audiences with this one-of-a-kind visually engaging word search activity packet. These word search puzzles are strictly related to the content and are perfect for content ice breakers or end of unit review. Each activity in this package falls within a specific unit all related to CHEMISTRY. You have seen many types of word search activities but nothing like this. Each activity shows the content from a new angle. These puzzles are engaging, fun and challenging for your students. Join the fun today! Note: All word search activities are both in color and black and white! In this package you will over 38 pages of different word search puzzles that includes the following content: Scientific Method Periodic Table States of Matter Acids and Bases Matter Phase Changes Physical vs. Chemical Changes Ionic & Covalent Bonds Mixture vs. Solution Anion Cation History of the Atom Common Compounds Laboratory Equipment Common Elements Basic Chemistry Organic Chemistry Take content ice breakers to a new level of quality and design. Your students will stay engaged!!!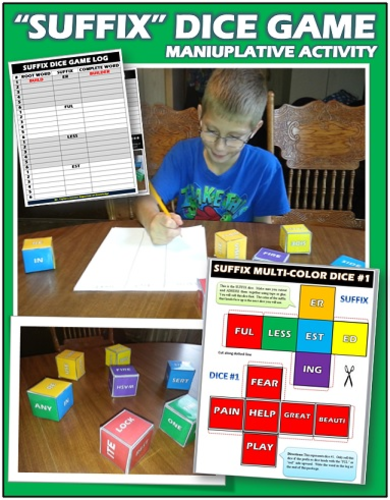 Learning about SUFFIXES could not get anymore fun! Students WILL BE EXCITED to play this dice game. The goal of the game is to fill-up the activity work sheet by taking turns and rolling a multi-colored "SUFFIX" dice. Depending on the color that is rolled, the students will then select the appropriate color dice and role to find the root or stem word. They will put together the new word and log their results in their log activity worksheet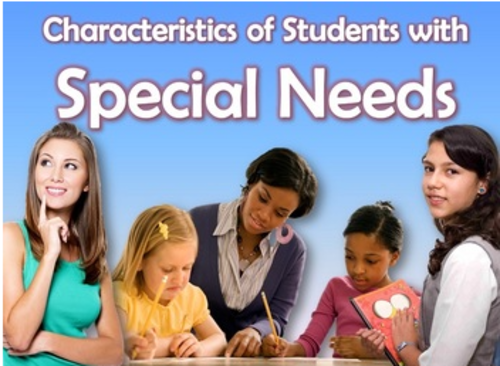 For you teachers, parents, and administrators who work hard to identify, manage, and teach characteristics of special needs this is the PowerPoint you will definitely want. This PowerPoint is similar to a knowledge organizer which is extremely visual and engaging. It will allow you to transmit your own personal and professional experience and the appropriate knowledge so that you're teaching recipients can ascertain the value of your discipline. This PowerPoint contains over 100 slides covering all areas of special education. Each slide is visually engaging and interactive which will keep your audience entertained. This PowerPoint can be printed out as a handbook as well. This is a great tool and artifact to keep in your classroom for an immediate reference. This giant PowerPoint encompasses a wide spectrum of information. The following is what is covered in this PowerPoint. -INCLUSIVE EDUCATION -PROFESSIONAL AND HOMESCHOOL COLLABORATION -IDENTIFYING AND PROGRAMMING FOR SPECIAL NEEDS -MANAGING AND DIFFERENTIATING CLASSROOMS -TEACHING STUDENTS WITH DISABILITIES -EMOTIONAL AND BEHAVIORAL DISORDERS -TEACHING STUDENTS WITH INTELLECUTAL DISORDERS -TEACHING STUDENTS WITH ADHD -TEACHING STUDENTS AUTISM SPECTRUM DISORDERS -TEACHING STUDETNS WITH SENSORY IMPARIMENTS -STUDENTS WITH SPEECH/LANGUAGE DISORDERS -TEACHING GIFTED AND TALENTED STUDENTS Please take the time to download the preview so you can see how interactive each slide runs. I spent over 100 hours putting this PowerPoint together so you can enhance your instruction to engage your audience and accomodate students with special needs. I always appreciate comments and welcome you to follow me so I can keep creating products that are suited to your teaching style.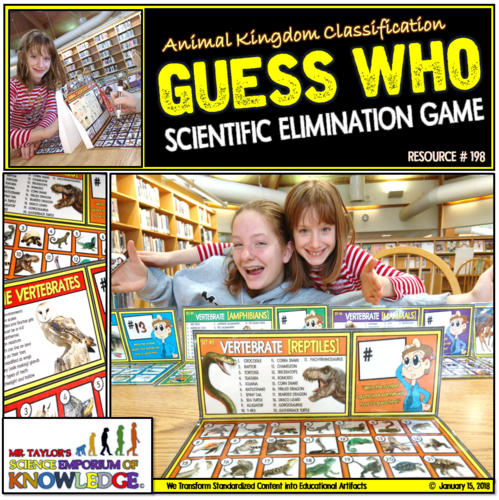 What better way to use your scientific intuition and critical thinking deductive skills than to play "Guess Who" learning about the Animal Kingdom! This game is simple to play and extremely interactive. The first player to guess their opponent's mystery animal wins the game. With over 8 different game board cards students will have an arsenal of opportunities to stay engaged and capture the content learning about the different types of animals (vertebrates and invertebrates). Who will guess right?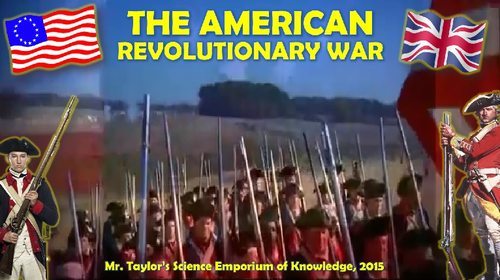 Bring the American Revolution right into your classroom. With over 30 visual and engaging slides, the experience will give your students every angle of the war including how it all began living in the original colonies, to the design of the American flag, and the surrender at Yorktown. It's all contained in this package. Depending on your curriculum, you can customize the PowerPoint or put it all together for an engaging unit describing the war that led to American's independence. Content included in this packet includes: Colonial America – 13 colonies The first American flag "the Betsy Ross flag debate" Preparation for rebellion vocabulary The three geographic areas of the colonies American armies and the militia The continental army The royal army – British redcoats Preparations for war – population, manufacturing, & armies Weapons of the revolutionary war The history and evolution of the American flag Also, this educational artifact has the top ten most influential battles of the Revolutionary war. The battles that are covered include the following: Lexington & Concord Bunker Hill Battle of Quebec Battle of Charleston Battle of Trenton Battle of Saratoga Battle of Rhode Island Battle of Kings Mountain Battle of Cowpens Yorktown Also included are the Heroes of the war section (16 war generals and significant militia that helped turn the ties of the war). Learn about the following Colonial & British Veterans! Paul Revere General William Howe Richard Montgomery Benedict Arnold Henry Clinton Benjamin Lincoln John Adams George Washington John Burgoyne Simon Fraser John Sullivan Patrick Ferguson Nathaniel Greene Charles Cornwallis Daniel Morgan Salem Poor Each person has an extension activity that includes a smart phone or tablet bar code that links to an information website link. Students love these activities. In addition, teachers love the correlation using the note packets with the PowerPoints. They are both engaging and visual.