Tigerlearn
Simple, practical resources to save you time.
133Uploads
42k+Views
5k+Downloads
Simple, practical resources to save you time.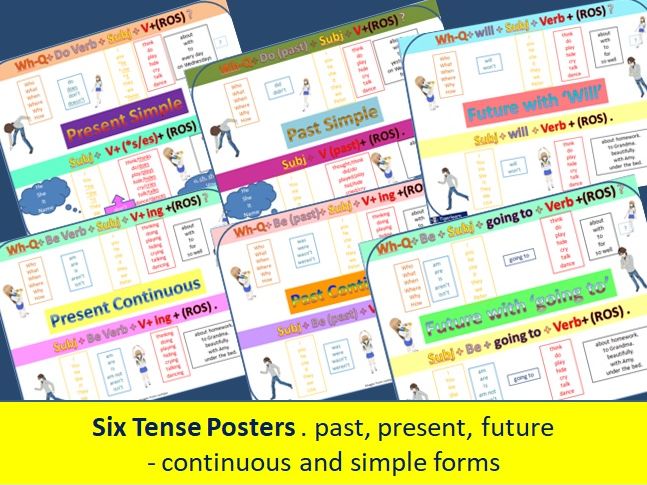 Six posters breaking down how to use 6 tenses in English - Present simple, Present continuous, Past simple, Past continuous, Future with 'will' and Future with 'Going to'. Colourful displays to print out and stick up on the wall or into student notebooks (A3 or A4 for the wall, A4 or A5 for the notebooks). The structures allow students to check their own sentence structures and to get their sentences right while they are learning.

A 17-slide presentation to break down the language surrounding racism, with definitions and examples, as well as slides asking students for their own examples. As this is a very serious topic, I've added a few real life pictures as well as the cliparts to help relate to the real world. This Alien message decoding activity works well as a lead in to the PPT.

Create messages for your students written in alien code and print them out instantly. Alien message decoding can be a fantastic activity to engage students with a topic, or to introduce a task. This tool will allow you to type in any message in any (roman alphabet) language, and print out the message in alien code, along with a key. I love to leave these messages for students to find and watch the children's excitement as they try and decode.

Lesson objective :Begin a poster containing facts about Australia. This is a class designed to lead students to create a fact sheet about Australia, which will then be adapted to be a non-fiction text later. It begins with True/False questions with fun facts. This then changes to Fact/Fiction. Students then do a pair reading activity to find out some more facts. They then set to work on their posters about Australia. In a 45 minute class, they will just have time to begin the posters, so they could finish it for homework or in the next class.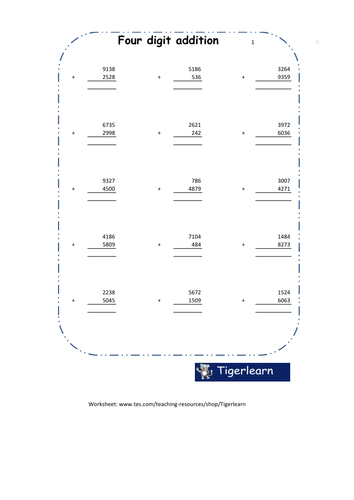 A simple format, 15 question, worksheet for students to practise their addition in columns by adding 4 digit numbers together. Created using the Primary Maths Worksheet Generator - Master edition.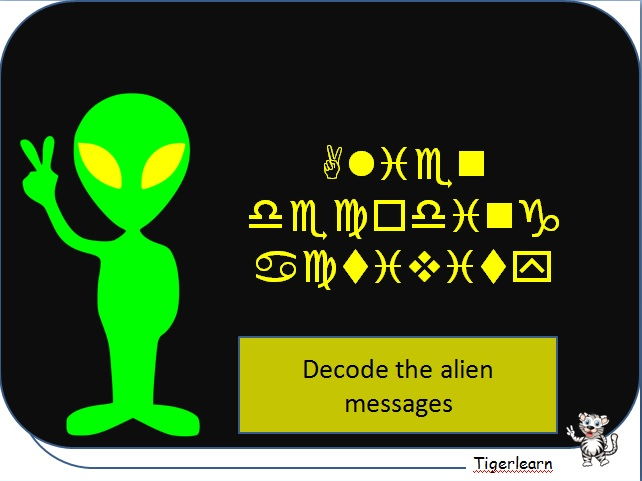 Communicative or individual activity including 3 different sheets of Alien code, the answer key, and a key to help students with the decoding. 3 sets of Alien code with a key. Leave the code or messages in a 'space ship' for students to find and let them find the other part elsewhere or simply explain that you 'found these strange messages at home'. Students either communicate to decode the messages or work individually, depending what you want them to do the activity for. Sheet 1 are motivational 'fortune cookie' style messages. Sheet 2 include a treasure hunt based on 5 clues. Sufficiently generic to work in any school. Sheet 3 is a letter from the aliens requesting help. Students decode the message and then the teacher produces a list of whatever the students need to do in order to help them (for example, complete their maths homework, or find the answer to a difficult question.). The children (grades 2-8) I've done this activity with have loved it!

Error correction for 6 tenses -Present simple -Past simple -Present continuous -Past continuous -Future using 'Will' -Future using 'Going to' Displays Error sentences on PPT, students have the opportunity to point out mistakes and the PPT then highlights errors and displays corrected versions.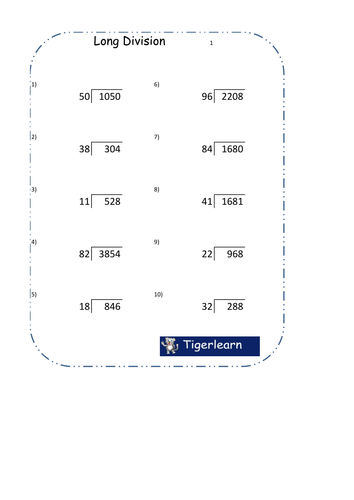 Long division worksheet with 80 questions spread over 10 pages. Answer sheet included.

A very clear, concise step by step presentation for long multiplication and decimal multiplication. PPT painstakingly goes through each step, highlighting the numbers we're focusing on and what to write where. 15 slides, each slide has many 'steps' actioned by click. **New- now comes with a 30-question long multiplication worksheet!** You may also like: The multiplication worksheet generator

Create worksheets, work books and exams at the click of a button with this fantastic worksheet generator tool. Instantly randomise all sums with the click of a button and print out the worksheet you need, complete with answer sheets. Contains worksheet templates to practise a whole host of skills including long and short multiplication and division, column addition and subtraction and a range of mental maths skills. This tool will save you hours of your time, so you can focus on teaching.

When you are assessing student work, whether it's writing, group presentations, speeches or any other aspect of their school performance, there's a good chance that you have some comments which apply to multiple students. Use this tool to save you hours. Simply add in the most common comments that you make (eg ' You worked very hard on this speech, but it was very difficult to hear you.'), add the names of the students and assign which comments you want to appear in the feedback for which students. Then, print. Job done! This tool works up to a maximum of 30 students and now up to 100 of your comments. If you need more student names or more comments, simply save a second version of the tool.

A PPT which breaks down word problems to create simple algebraic equations before solving them. Funny stories make the questions, so I'd suggest you update the PPT with your students' names. After you've done this as a class, you can then use the last slides on the PPT to let students have a try, and give them a 2 question worksheet to try alone.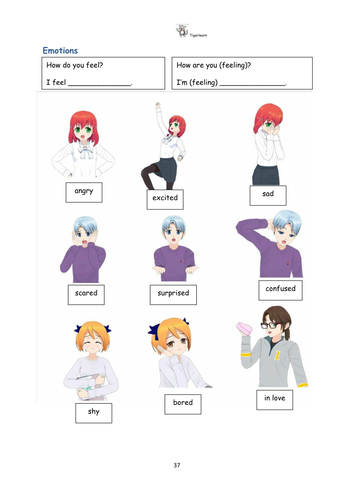 A beautiful Manga style worksheet based on emotions. This is a just one unit of the ESL resource pack from Tigerlearn - for a more comprehensive 60 page product, go for that.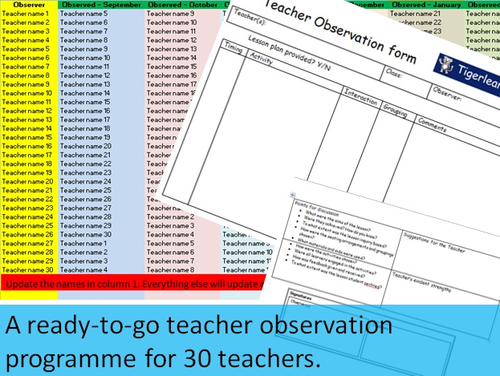 A colleague observation programme that will be a very popular and simple addition to your school professional development programme. Resource includes; A peer observation form for teachers. Just watch the class and fill in the gaps. Give face to face feedback based on the patterns you see or the discussion questions at the bottom. [ designed for language teachers. Editable for other subjects] A simple planner for the programme administrator, choose how many teachers you want to run the programme for, open the relevant spreadsheet (15, 30 or 50 teachers) and input the names into the first column. The spreadsheet updates and you have the teacher observation programme built into your school's PDP for the year. ** Now also includes a staff appraisal report tool **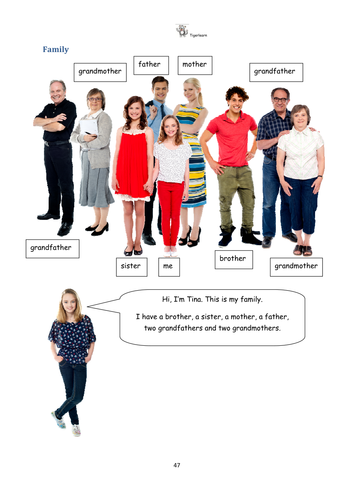 A complete ESL/EAL inquiry based lesson can be built around this worksheet. Includes scaffolded writing activities. Read about one family, write sentences about your own family, then create a family tree based on the descriptions. Use the family tree to understand the sentences given about the family and work out the meaning of new words. This is just one unit from the Tigerlearn EAL resource pack https://www.tes.com/teaching-resource/60-page-esl-eal-activity-pack-for-english-teachers-11364056

Instant worksheet generator. Just open the spreadsheet for a randomly generated 15-question worksheet with an answer page. No cute cliparts, no distractions. Print it off and go. Need another one? No problem! Every time you open the spreadsheet or press F9 to refresh, you'll get a new worksheet. This spreadsheet generates short multiplication questions (eg 25*6).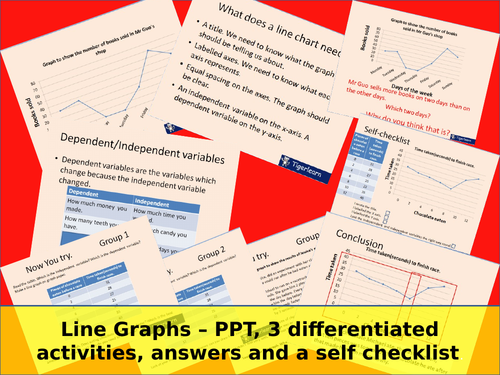 A line graphs class to teach interpreting and creation of line graphs. Resources for the whole line graphs lesson. This is a whole lesson for teaching interpretation and making of line charts/graphs. It begins with an introduction to the key parts of a line graph and examples of independent/dependent variables, gives students a few questions to answer to show understanding and to think about WHY the graph may show what it shows. There is an activity at the end differentiated into 3 groups, with a self checklist for students and an explanation of the answers.

A four page assessment of volume, circumference, perimeter and area. Word problems. Just print and go.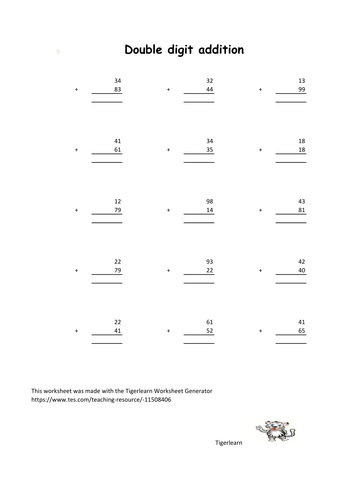 A simple 15 question worksheet for double digit addition. This worksheet was made with the Tigerlearn Worksheet generator.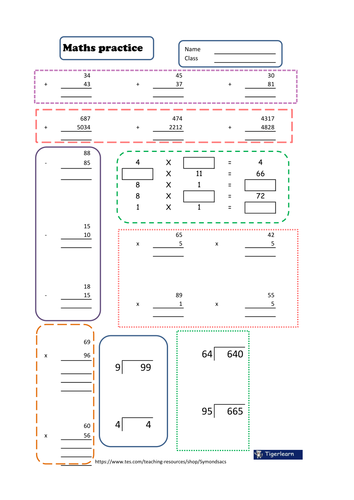 A simple worksheet for primary school children to practise their maths. You may also like the maths worksheet generator - master edition.