Tigerlearn
Simple, practical resources to save you time.
124Uploads
19k+Views
1k+Downloads
Simple, practical resources to save you time.

A 60 page pack of communicative activities for ESL/EAL/EFL teachers. Print off the relevant lesson and go. Loads of activities with communication built in, scaffolded activities, word recognition activities as well as reading and writing activities. Also links to videos. Topics covered: Introductions Countries and Nationalities Numbers Classroom instructions Parts of the body Colours Classroom objects Clothes Shapes and sizes Actions – Present Continuous Daily routines – present simple Emotions Jobs Animals Family Prepositions of place Food and drink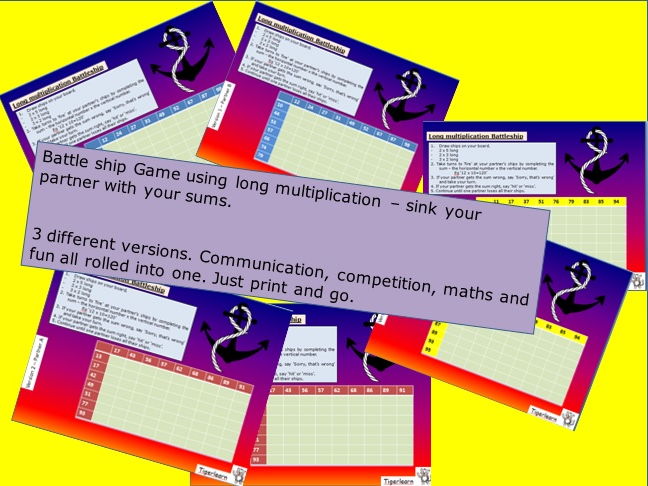 3 different versions of this popular classic with a twist. Communication, competition, maths and fun all rolled into one. Just print and go. Students get a board/grid. Draw the ships onto it and then do sums to fire on their target. If they are wrong, their turn is wasted (they have to debate this with their partner). If correct, they hit or miss. Three versions to allow speedy mathematicians to continue to play while the slower ones just continue with their game.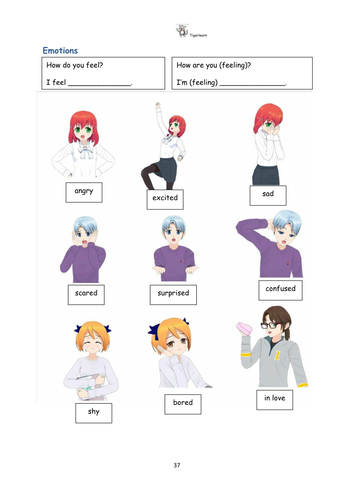 A beautiful Manga style worksheet based on emotions. This is a just one unit of the ESL resource pack from Tigerlearn - for a more comprehensive 60 page product, go for that.

A presentation to introduce the process of pulling apart a fractions word question. Starts with a story involving a child sharing her chocolate and leads through the process of searching for important information and solving the sum, then using the answer for the previous sum to answer the next question with the information in the PPT. There is then a question which allows students to try for themselves, with a simpler feedback section. Finally, there is a worksheet. The worksheet contains the two questions from the PPT as well as three more questions (with multiple sub-questions).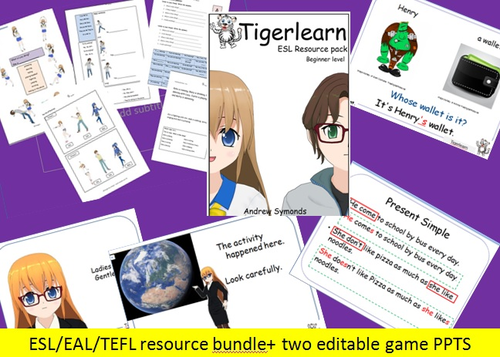 The 60 page Tigerlearn resource pack for beginners, packed full of worksheets/ A pack of controlled practice cards for a whole load of vocabulary A 6 tense error correction PPT A possessives review PPT TWO editable game PPTs including -AGENT LUCY AND THE ALIEN INVASION, gamify your semester simply by adding your own weekly challenges -An editable multichoice PPT, just add your own questions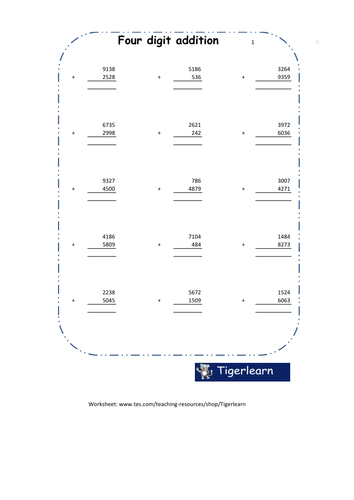 A simple format, 15 question, worksheet for students to practise their addition in columns by adding 4 digit numbers together. Created using the Primary Maths Worksheet Generator - Master edition.

A carefully prepared unit on Rosa Parks and the bus boycott, a great part of a wider civil rights or black history unit. The sequence takes students through the bus boycott story to the writing of a diary from the perspective of Rosa and/or James Blake. Lesson step outline included, story sequencing cards, Images, 3 different levels of text, 2 different scaffolding sheets on perspectives and 2 diary writing pages.

Type up all your lesson plans for the week in under 5 minutes with this genius little tool for lesson plan generation. Comes with a bank of activities which can be adapted, added to and edited to your heart's content, making the tool more personalised and useful to you every time you use it. To make a plan simply put in your lesson objectives and select the activities, then print. It really is that simple. This tool will save you hours of typing time each week, so you can focus on preparing your resources, marking and any other more useful activity than typing up a plan.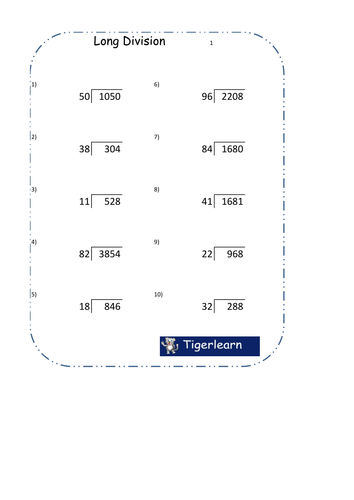 Long division worksheet with 80 questions spread over 10 pages. Answer sheet included.

A simple PPT lesson which will introduce interpreting and handling data, specifically with relation to column charts/ bar graphs. It begins by asking students to guess what a blank graph could represent (interpreting data), before moving on to various graphs with questions designed to introduce the vocabulary related to graphs (axis/axes, mode, range) while also interpreting the data. There is one slide at the end which asks a number of questions to check understanding of the vocabulary and to interpret the graph, and then a final slide which asks students to create their own survey question and think about what the graph could look like.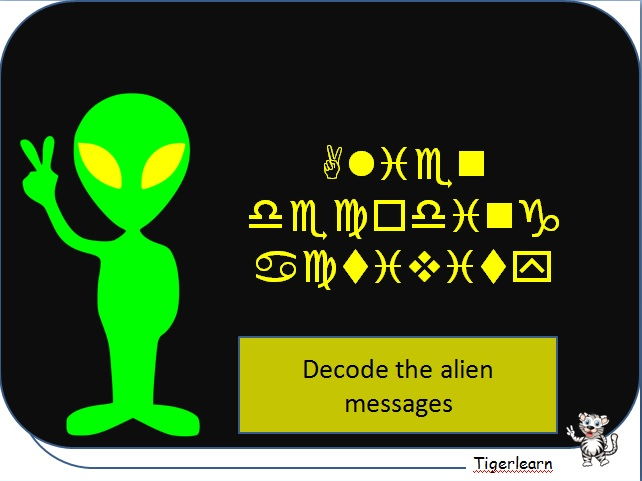 Communicative or individual activity including 3 different sheets of Alien code, the answer key, and a key to help students with the decoding. 3 sets of Alien code with a key. Leave the code or messages in a 'space ship' for students to find and let them find the other part elsewhere or simply explain that you 'found these strange messages at home'. Students either communicate to decode the messages or work individually, depending what you want them to do the activity for. Sheet 1 are motivational 'fortune cookie' style messages. Sheet 2 include a treasure hunt based on 5 clues. Sufficiently generic to work in any school. Sheet 3 is a letter from the aliens requesting help. Students decode the message and then the teacher produces a list of whatever the students need to do in order to help them (for example, complete their maths homework, or find the answer to a difficult question.). The children (grades 2-8) I've done this activity with have loved it!

A very clear, concise step by step presentation for long multiplication and decimal multiplication. PPT painstakingly goes through each step, highlighting the numbers we're focusing on and what to write where. 15 slides, each slide has many 'steps' actioned by click. **New- now comes with a 30-question long multiplication worksheet!** You may also like: The multiplication worksheet generator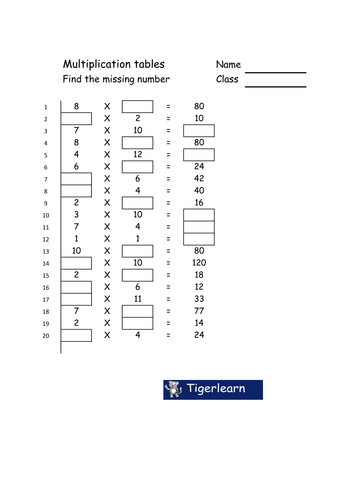 A 100 question no-calculator exam covering 20 questions of each; -Addition (with numbers 1-100) -subtraction (with numbers 1-100) -Multiplication (With times tables 1-12) -Division (with times tables 1-12) - A mixture of all of them (add, subtract, multiply, divide) Complete with answer sheets

Error correction for 6 tenses -Present simple -Past simple -Present continuous -Past continuous -Future using 'Will' -Future using 'Going to' Displays Error sentences on PPT, students have the opportunity to point out mistakes and the PPT then highlights errors and displays corrected versions.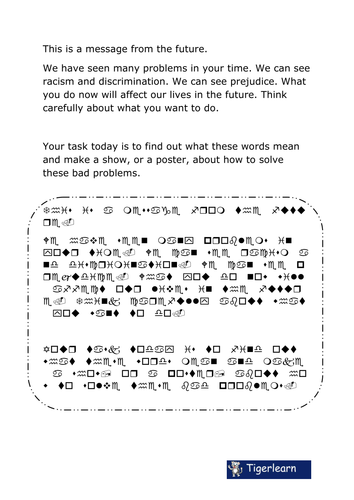 A lovely Alien message decoding activity setting a task for students to do on the topic of racism. They must first decode the message, which tells them that racism, prejudice and discrimination are problems. They then have to find the meaning of these words and do a show or a poster introducing the topic and how these problems can be addressed. This Alien code activity works well with the Racism, discrimination and prejudice introductory PPT

Such a fun way to remind kids to always read the instructions. Step 1. Read all the instructions. Steps 2-9. Lots of challenges involving drawing, clapping, jumping, hugging and shouting. Step 10. Don't do steps 2-9. Hand in your paper to receive a prize. If you are in a country which allows it, it would be worth taking a video of your kids doing this challenge as it is hilarious to watch! [Note: This is a one page resource. As an added bonus, it includes my dice roller tool for free - never worry if you don't have dice again!]

A four page assessment of volume, circumference, perimeter and area. Word problems. Just print and go.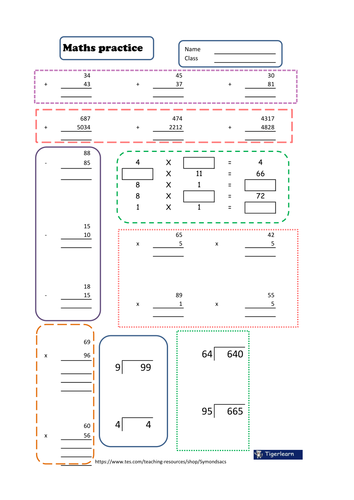 A simple worksheet for primary school children to practise their maths. You may also like the maths worksheet generator - master edition.

A PPT which breaks down word problems to create simple algebraic equations before solving them. Funny stories make the questions, so I'd suggest you update the PPT with your students' names. After you've done this as a class, you can then use the last slides on the PPT to let students have a try, and give them a 2 question worksheet to try alone.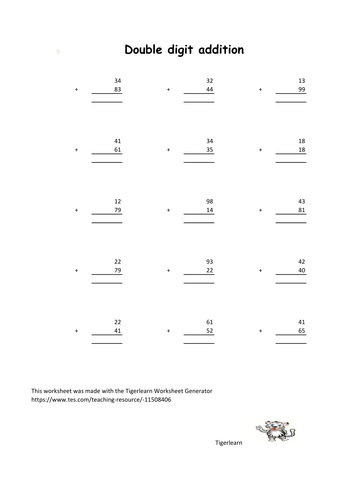 A simple 15 question worksheet for double digit addition. This worksheet was made with the Tigerlearn Worksheet generator.