Tigerlearn
Simple, practical resources to save you time.
141Uploads
48k+Views
7k+Downloads
Simple, practical resources to save you time.

A 60 page pack of communicative activities for ESL/EAL/EFL teachers. Print off the relevant lesson and go. Loads of activities with communication built in, scaffolded activities, word recognition activities as well as reading and writing activities. Also links to videos. Topics covered: Introductions Countries and Nationalities Numbers Classroom instructions Parts of the body Colours Classroom objects Clothes Shapes and sizes Actions – Present Continuous Daily routines – present simple Emotions Jobs Animals Family Prepositions of place Food and drink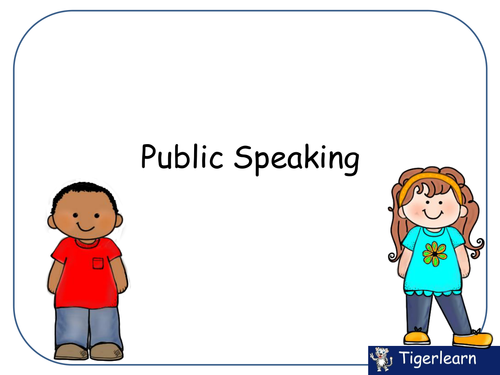 A short course designed to get primary students confident in their public speaking, specifically in reading stories they have written in another class. Pack includes a simple PPT identifying voice, body language, language, content and eye contact as the important features of public speaking. Students use this to fill in the blank rubric (included) in the first class. From then on, students come to the class with a piece to perform and Prepare, perform and do a group reflection based on their notes and rubrics.

Newly Updated - further updates coming soon. This 18 slide presentation breaks down the language surrounding racism with definitions, examples and talking points. Students will learn what the various terms mean, see examples and give their own examples, before seeing examples from the real world, with photographs in the last few slides. This is an excellent resource for opening up conversations about race and racism and get students to really think about the different types of racism and how they potentially are contributors to racism themselves through their choice of language.

Instantly generate one of 10 different types of worksheets and print. An incredibly useful tool allowing you to generate an infinite number of your own worksheets from 10 different types. Just press F9 to randomise and print, along with answer sheets. 11 different styles to choose from 1. Operations - 100 questions in list form - addition, subtraction, multiplication and division. 2. Column addition 3. Column addition - 4 digits 4. Column subtraction 5. Column subtraction - positive answers only 6. Short multiplication 7. Long multiplication 8. Division 9. Short division 10. Long division 11. Times tables This is such an easy tool to use and will save you hours. You'll never need to buy or make a numerical maths worksheet again (probably). Instructions included. Answer sheets generated.

PPTS Worksheets Generators Games Take a look at the great selection of Maths resources in this bundle.

A simple PPT lesson which will introduce interpreting and handling data, specifically with relation to column charts/ bar graphs. It begins by asking students to guess what a blank graph could represent (interpreting data), before moving on to various graphs with questions designed to introduce the vocabulary related to graphs (axis/axes, mode, range) while also interpreting the data. There is one slide at the end which asks a number of questions to check understanding of the vocabulary and to interpret the graph, and then a final slide which asks students to create their own survey question and think about what the graph could look like.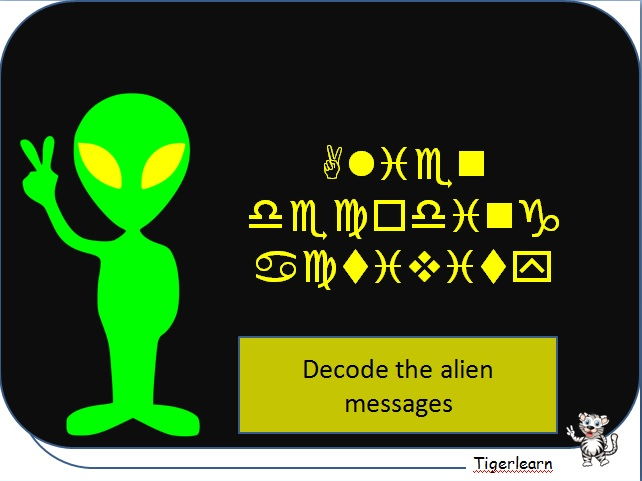 Communicative or individual activity including 3 different sheets of Alien code, the answer key, and a key to help students with the decoding. 3 sets of Alien code with a key. Leave the code or messages in a 'space ship' for students to find and let them find the other part elsewhere or simply explain that you 'found these strange messages at home'. Students either communicate to decode the messages or work individually, depending what you want them to do the activity for. Sheet 1 are motivational 'fortune cookie' style messages. Sheet 2 include a treasure hunt based on 5 clues. Sufficiently generic to work in any school. Sheet 3 is a letter from the aliens requesting help. Students decode the message and then the teacher produces a list of whatever the students need to do in order to help them (for example, complete their maths homework, or find the answer to a difficult question.). The children (grades 2-8) I've done this activity with have loved it!

If you are a head of department, you assess a lot of teachers and you need to save some time providing your feedback. Use this tool to save you hours. Simply add in the most common comments that you make (eg ' This was a very teacher oriented class. I'd like to see some more student-student interaction'), add the names of the teachers and assign which comments you want to appear in the appraisal for which teachers. Then, print. Job done! This tool works up to a maximum of 30 teachers and 30 of your comments. If you need more teachers or more comments, simply save a second version of the tool.

A simple, elegant step by step introduction to subtraction in columns. Starts off with two colums, builds up to two columns where we need to borrow some tens and then continues until three columns where we need to borrow twice. Very clear guide, no room for misunderstanding. 8 slides with many actions built in to each slide to show exactly what needs to be done.

Snakes and ladders board game generator for practising addition of two numbers between 1 and 10, or 1 and 100. Simply print off the relevant board. Want more versions so children can change after they finish? Press F9 to randomise all the sums and print again. Unlimited combinations of questions.

A carefully prepared unit on Rosa Parks and the bus boycott, a great part of a wider civil rights or black history unit. The sequence takes students through the bus boycott story to the writing of a diary from the perspective of Rosa and/or James Blake. Lesson step outline included, story sequencing cards, Images, 3 different levels of text, 2 different scaffolding sheets on perspectives and 2 diary writing pages.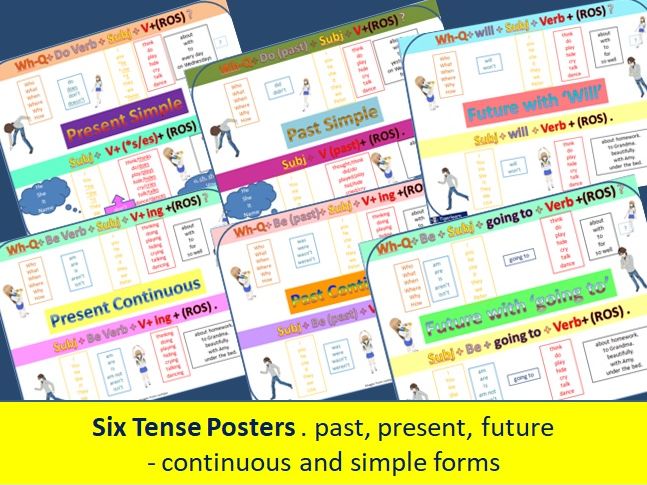 Six posters breaking down how to use 6 tenses in English - Present simple, Present continuous, Past simple, Past continuous, Future with 'will' and Future with 'Going to'. Colourful displays to print out and stick up on the wall or into student notebooks (A3 or A4 for the wall, A4 or A5 for the notebooks). The structures allow students to check their own sentence structures and to get their sentences right while they are learning.

A nice STEM challenge for students. Students follow the instructions on the page. They research parachutes online before making their own.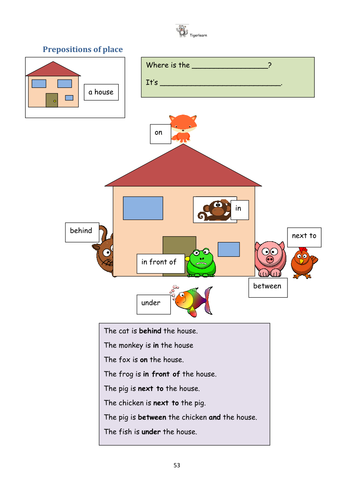 A very cute unit on prepositions of place for EAL/ESL students. Following the activities will work as a complete class. This is just one unit from the 60 page Tigerlearn EAL resource pack. For a more complete resource, get that. https://www.tes.com/teaching-resource/60-page-esl-eal-activity-pack-for-english-teachers-11364056

A four page assessment of volume, circumference, perimeter and area. Word problems. Just print and go.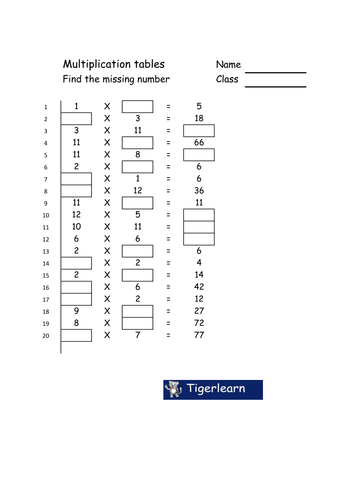 A 100 question no-calculator exam covering 20 questions of each; -Addition (with numbers 1-100) -subtraction (with numbers 1-100) -Multiplication (With times tables 1-12) -Division (with times tables 1-12) - A mixture of all of them (add, subtract, multiply, divide)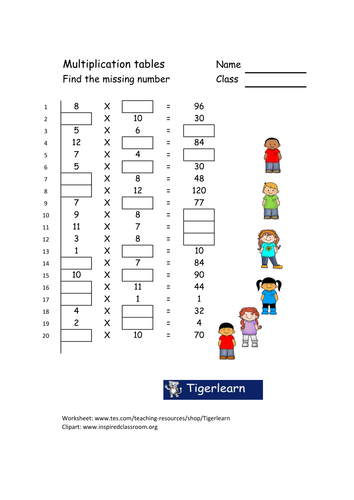 5 pages of primary numeracy questions including addition, subtraction, division and multiplication. Each page has 20 questions and answer sheet. Print off as individual worksheets or as a booklet for children to complete in their own time.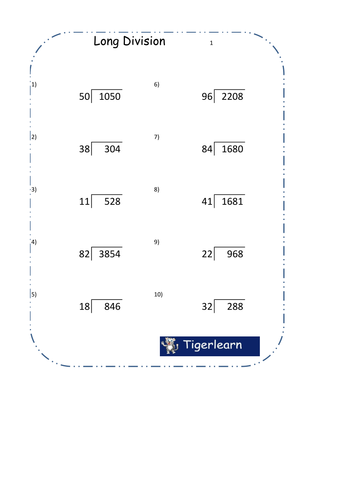 Long division worksheet with 80 questions spread over 10 pages. Answer sheet included.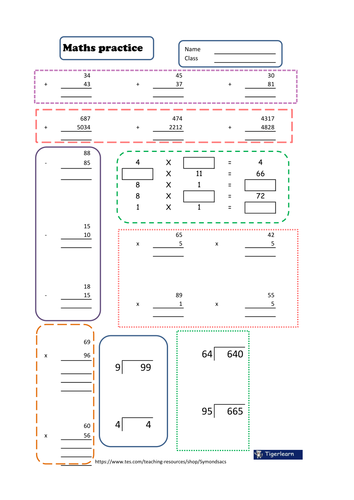 A simple worksheet for primary school children to practise their maths. You may also like the maths worksheet generator - master edition.