Tigerlearn
Simple, practical resources to save you time.
131Uploads
35k+Views
4k+Downloads
Simple, practical resources to save you time.

A 17-slide presentation to break down the language surrounding racism, with definitions and examples, as well as slides asking students for their own examples. As this is a very serious topic, I've added a few real life pictures as well as the cliparts to help relate to the real world. This Alien message decoding activity works well as a lead in to the PPT.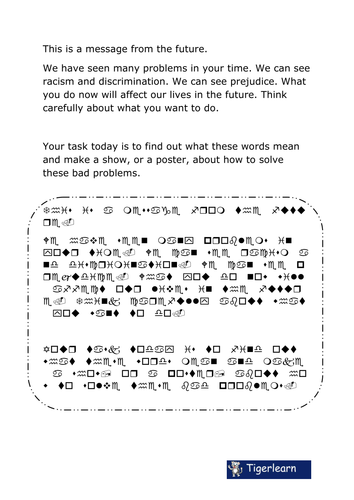 A lovely Alien message decoding activity setting a task for students to do on the topic of racism. They must first decode the message, which tells them that racism, prejudice and discrimination are problems. They then have to find the meaning of these words and do a show or a poster introducing the topic and how these problems can be addressed. This Alien code activity works well with the Racism, discrimination and prejudice introductory PPT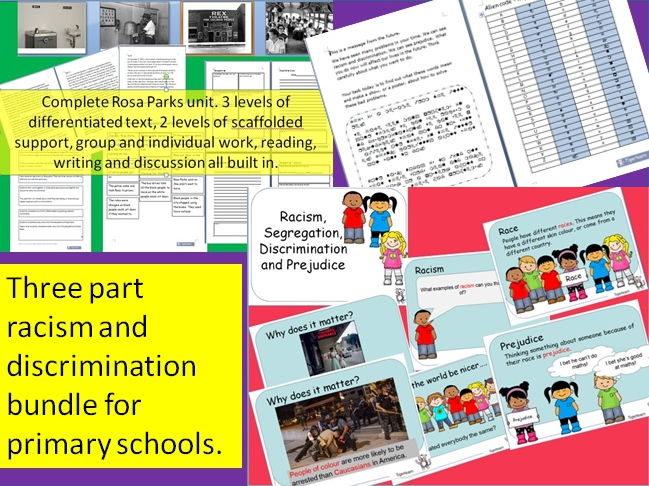 A bundle for the topic of racism, prejudice, segregation and discrimination. -A fantastic, heavily differentiated, Rosa Parks unit to introduce the topic and get students thinking about segregation and the injustice of it. -A cute PPT introducing the language so students understand the different forms of racism, but bringing in the relevance to real life. -An alien message decoding activity. Aliens from the future explain that the students are to do a show about racism and how to handle it.