Foundation Phase 💜
Mostly Foundation Phase resources
89Uploads
13k+Views
1k+Downloads
Mostly Foundation Phase resources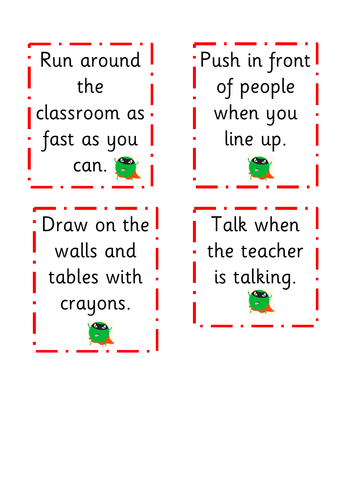 Year 1 - Theme of Superheroes. Read the story Supertato. DT project - design and make a Supertato. We used the TASC wheel to structure the project. Letter from the Evil Pea - I left 'bad messages' from the Evil Pea around the school. Whoever read these messages turned bad. My TAs were mixing up all of the toys, and sitting on the tables. The children were in shock at first! Then, someone decided to make posters that had good messages on them to turn everyone back good. We focused on what 'good' and 'bad' meant.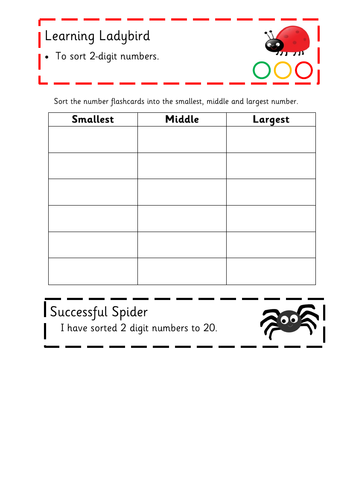 Sorting 2 digit and 3 digit numbers to 50 and 100 - differentiated. Split up teen numbers. Left as a template, as I wrote my own numbers to differentiate. Addition and subtraction worksheet/challenge for maths area - independent task. Differentiated addition and subtraction worded problems. Money - make a spider diagram of all the ways you can make 15p and 50p. My year 1s used numicon shapes. MAT started using multiplication, such as 5 lots of 10p make 50p (5x10=50).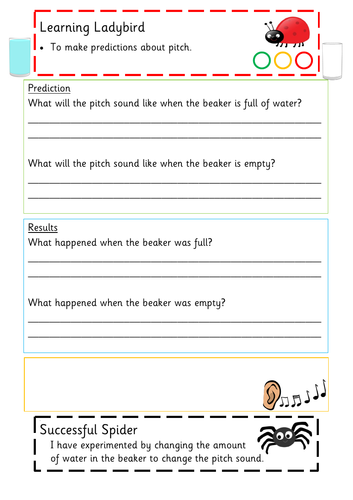 Year 1 Science - Hearing/Ears This was a part of our science topic 'The Senses'. We completed these 3 differentiated worksheets/anticipation grids to activate prior knowledge. Half way through our topic, we completed the 'expanding statements' as children had a better understanding of hearing. We then completed the beaker experiement. Children predicted what the beakers would sound like when struck when they were full and empty. We had been learning about low and high pitch.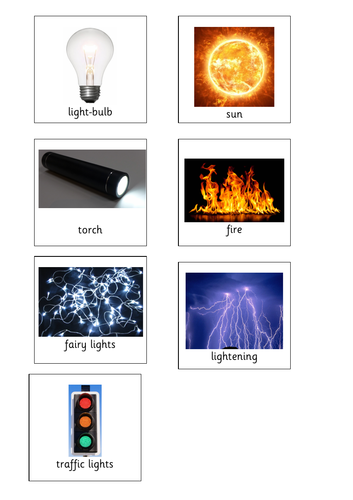 Year 1 Science Topic - Light 3 Differentiated Worksheets - Lower, Middle and Higher Worksheet, plus a word mat. Children needed to discuss sources of light during the introduction. Then, we sorted the pictures of sources of light into two hoops, whether they were natural or man-made. We then completed the worksheets.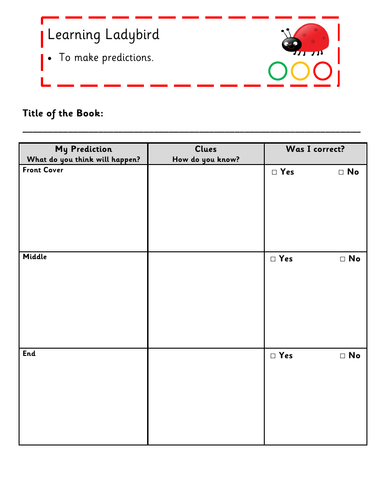 I use these worksheets during my guided reading sessions with Year 1. We make predictions about the front cover, then half way through, and then just before the end. We then reflect on what we predicted. The skimming task is differentiated. The focus is on phase 2 and 3 tricky words. My children highlighted the words in different highlighter pen as it was clearer for them to count the words at the end.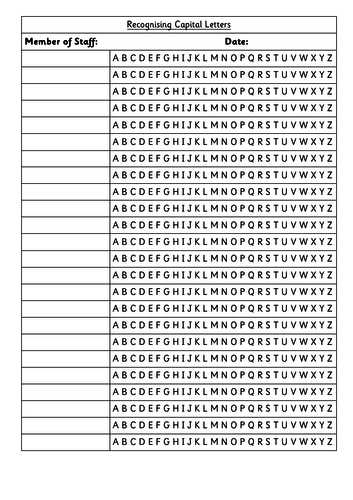 Recognising capital letters - highlight the letters that they recognise. Easy indicator of what letters to work on. Reading zero to twenty. Tick when children are able to read these key words. I do these assessments at the end of each full term. I then make groups of children to focus on similar sounds/numbers. There is also a differentiated follow up maths worksheet for children to practise reading the numbers zero to twenty.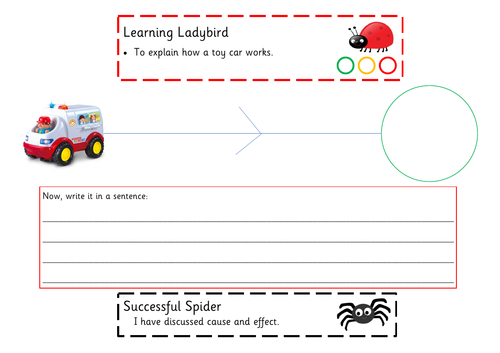 As part of our topic on toys, we planned our explanation writing about how a toy car works. We used the skeleton to help us with our ideas first. We also focused on adjectives to describe old and new.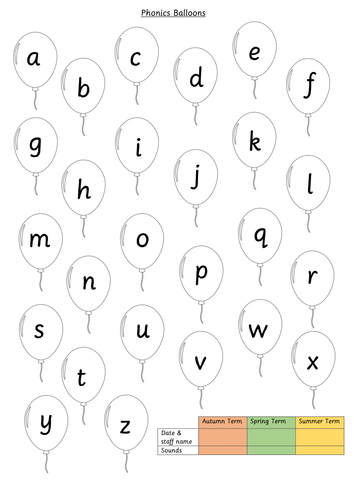 At the start of each term, I will assess children's sounds. Reception Foundation Phase Assessment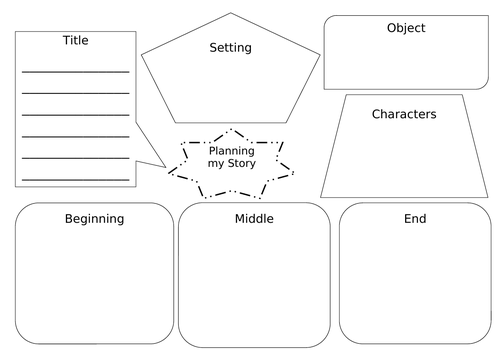 Foundation Phase plan your story title, setting, object, beginning, middle and end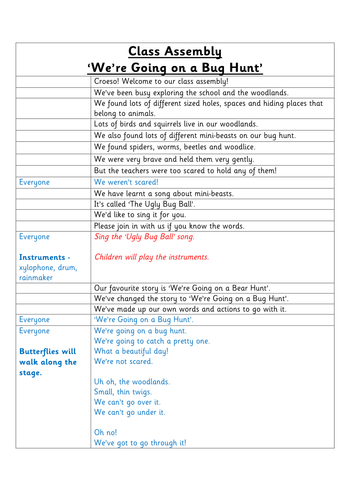 My Reception class enjoyed the story 'We're Going on a Bear Hunt'. We came up with our own story, and changed the words to 'We're Going on a Bug Hunt'. For our class assembly, we learnt Pie Corbett actions to retell the story. We also sang the Ugly Bug Ball song. It took us about 20-25 minutes. The parents and children loved it!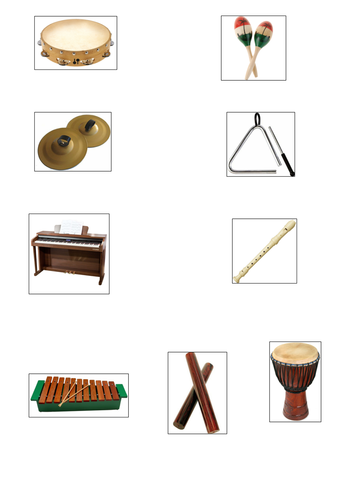 Sorting Loud and Quiet Instruments - Reception Differentiated worksheets lower ability - cut and stick pictures of instruments under the correct heading middle ability - my children wrote over yellow pen top ability - copy from a word mat/attempt to spell words independently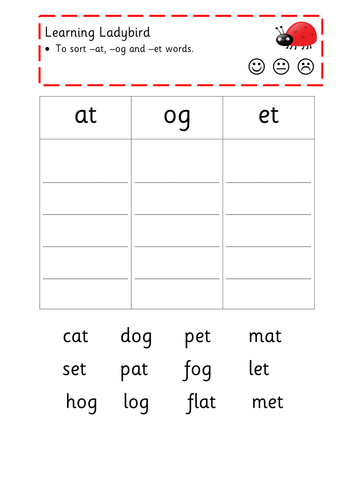 Reception Phonics Early Years Literacy Sort CVC words into a table, -at, -og and -et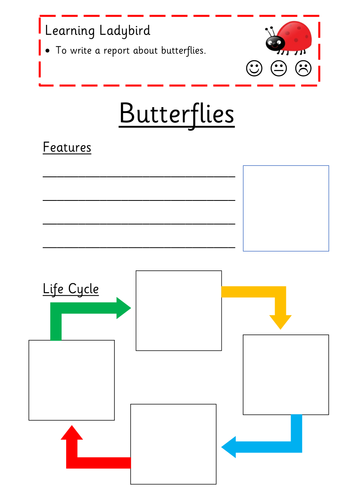 Reception Report Writing We looked at the features of report writing. Then we read a report about chickens/chicks, including the life cycle of a chicken, as we had chicks in Nursery. Our topic was 'mini beasts', we we wrote a report about butterflies. We had caterpillars/butterflies in class. The children had observed the full life cycle of a butterfly. Differentiated worksheets x2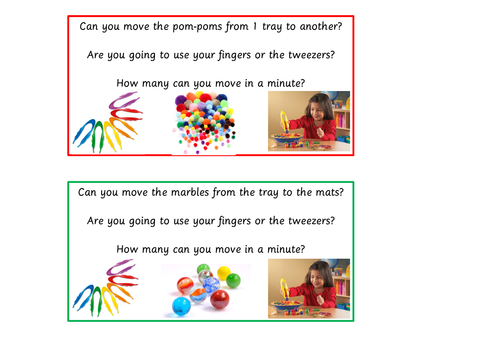 I put different challenges up every week for my Reception class. Funky fingers Fine manipulative skills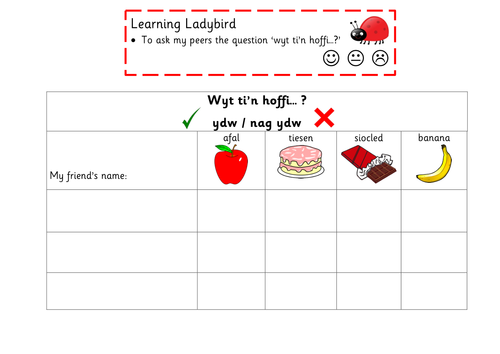 Reception Second Language Welsh Oral activity Ask peers the questions, and tick or cross if they answer with ydw or nag ydw. Includes 3 differentiated worksheets.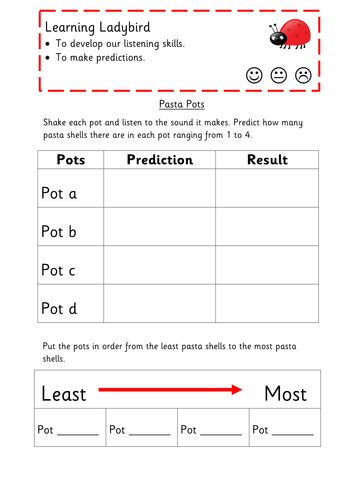 You will need to get 4 pots. Put 1 pasta shell in one, 2 in another, 3 in another and 4 in the last one. Label them a, b, c, d. The children will need to shake the pot and predict how many pasta shells there are in each pot. They will then open the pot to see how many shells are in the pot, to compare their prediction with the result. Reception Early Years Experiment Music Predictions x3 differentiated worksheets
Reception Numeracy Money Coin recognition Identify various coins Differentiated worksheets - recognise 1p coins, recognise 1p and 2p coins, recognise 1p, 2p and 5p coins, recognise 1p, 2p, 5p and 10p coins. Children need to colour the coins in the correct colour.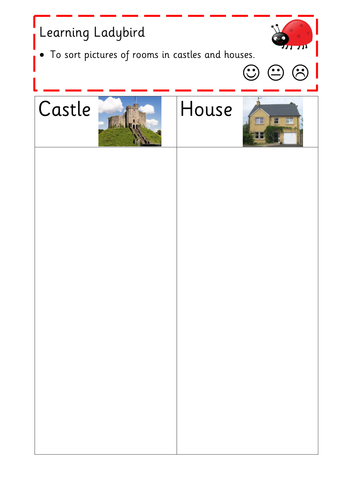 Compare and contrast pictures of rooms in a house and rooms in a castle Rec/Y1 Cut and stick castles Dragon Tales - Cornerstones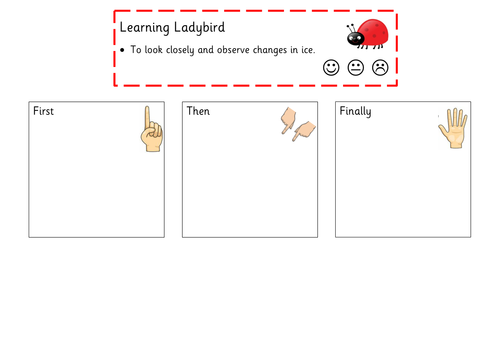 Make observations Differentiated worksheet - lower group - cut and stick pictures - middle group - draw pictures - higher group - draw and explain pictures Science Foundation Phase Melting ice