Foundation Phase 💜
Mostly Foundation Phase resources
122Uploads
40k+Views
3k+Downloads
Mostly Foundation Phase resources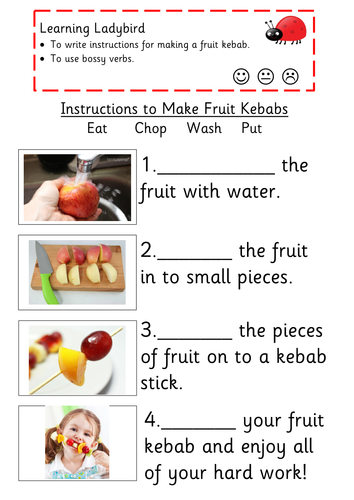 Bossy Verbs - Instruction Writing - How to Make Fruit Kebabs Reception Language, Literacy and Communication Differentiated - fill in gaps, cut and stick pictures in order, write sentences independently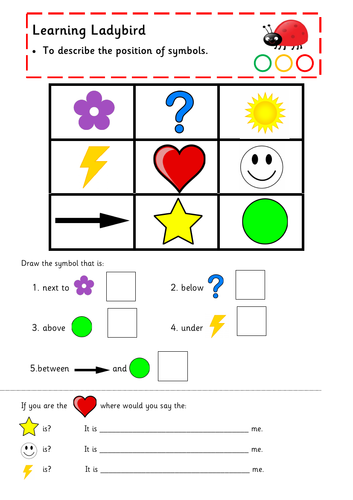 x2 worksheets Positional language year 1 - next to, below, above, between, under etc. Turns - whole, half and quarter turns - cut and stick activity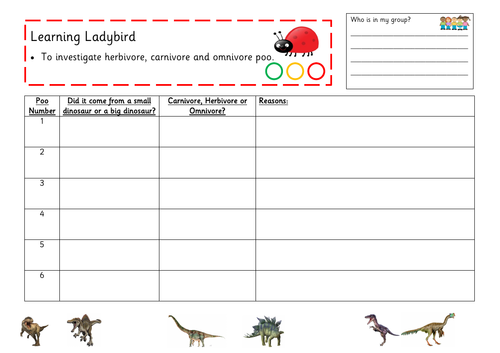 Includes a powerpoint to introduce herbivores, carnivores and omnivores. I then made dinosaur poo using oats and brown paint. To make herbivore poo, I added leaves and twigs. To make carnivore poo, I added pasta shells as bones and fur. To make omnivore, I added leaves twigs, pasta shells and fur. I left 6 foil wrappers around the classroom for children to work in groups to investigate. They used magnifying glasses to investigate further, and they had the worksheet on a clipboard.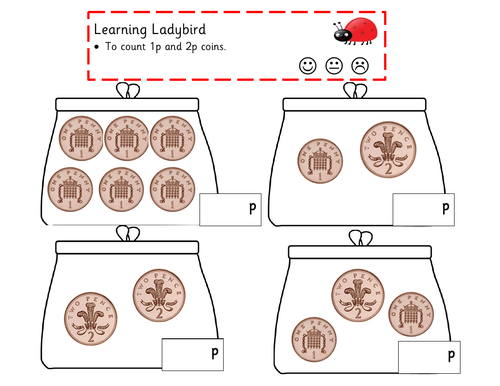 Counting 1p and 2p Coins - Reception Numeracy DIfferentiated worksheets x4 My Reception children counted the coins in the purses and put the answers in the price tag.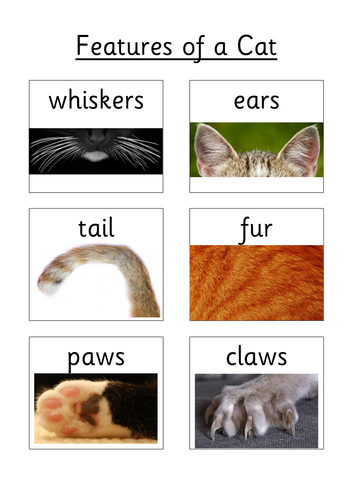 Features of a Cat - Paws, Claws and Whiskers Early Years Topic/Literacy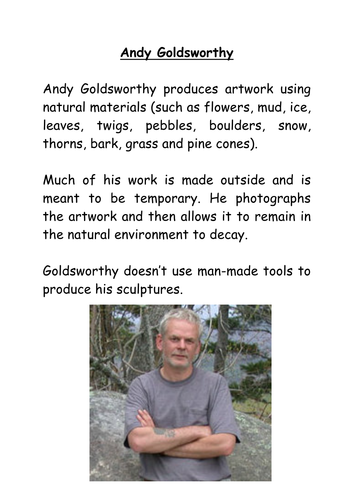 Information about Andy Goldsworthy. Pictures of his work to share with the children as a stimulus.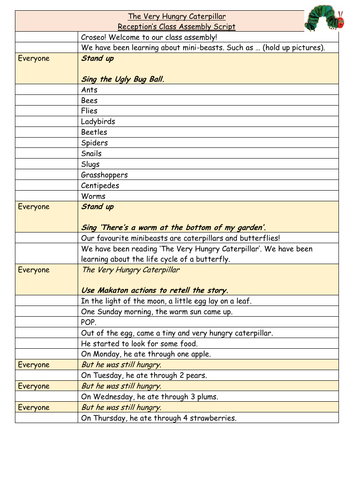 My Reception children spent half a term learning about caterpillars and butterflies. We learned Makaton actions to the Very Hungry Caterpillar. We watched a makaton video on YouTube. My class wanted to use some of the actions for the minibeasts, and then chose their own actions for other parts of the story. We learned Makaton actions for minibeasts - Mr Tumble CBBC video on YouTube. We painted the story of the Very Hungry Caterpillar. We used this script which includes the songs that we used. We found all of the songs on YouTube and learned them during snack time. The class assembly lasted 10-15 minutes.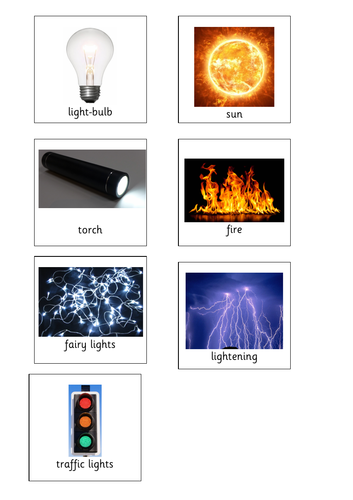 Year 1 Science Topic - Light 3 Differentiated Worksheets - Lower, Middle and Higher Worksheet, plus a word mat. Children needed to discuss sources of light during the introduction. Then, we sorted the pictures of sources of light into two hoops, whether they were natural or man-made. We then completed the worksheets.

Reception Numeracy Money Coin recognition Identify various coins Differentiated worksheets - recognise 1p coins, recognise 1p and 2p coins, recognise 1p, 2p and 5p coins, recognise 1p, 2p, 5p and 10p coins. Children need to colour the coins in the correct colour.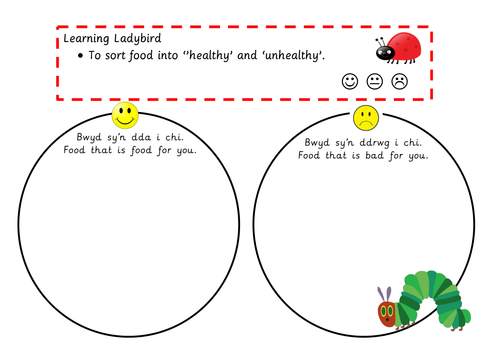 Sorting Food - Bwyd - Welsh children will sort healthy and unhealthy food that the Very Hungry Caterpillar ate children can cut and stick pictures children can draw and label the pictures, using a Welsh dictionary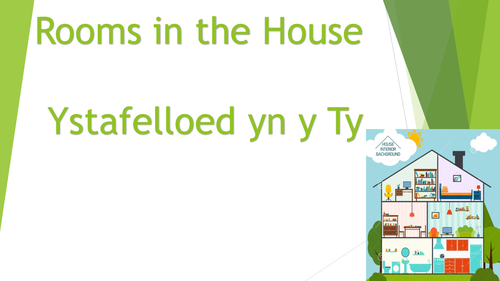 Second Language Welsh Reception and Year 1 - Differentiated Worksheets Ble mae Tedi Twt? Powerpoint containing vocabulary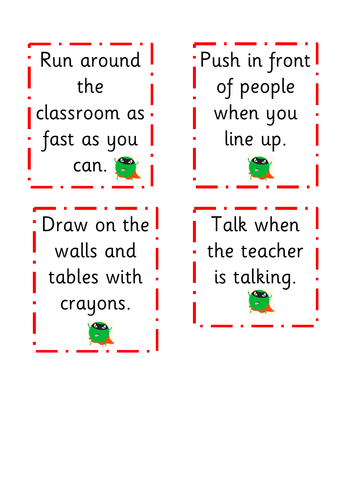 Year 1 - Theme of Superheroes. Read the story Supertato. DT project - design and make a Supertato. We used the TASC wheel to structure the project. Letter from the Evil Pea - I left 'bad messages' from the Evil Pea around the school. Whoever read these messages turned bad. My TAs were mixing up all of the toys, and sitting on the tables. The children were in shock at first! Then, someone decided to make posters that had good messages on them to turn everyone back good. We focused on what 'good' and 'bad' meant.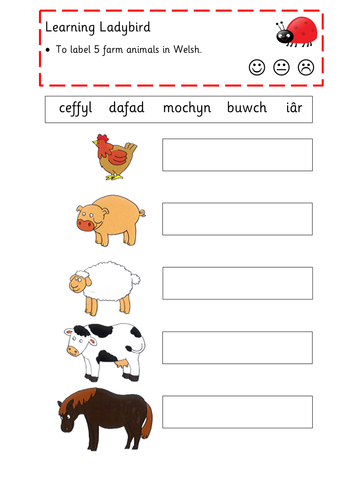 Y Fferm - The Farm- Label the Animals in Welsh Suitable for Early Years 3 differentiated worksheets Label 5 animals, label 3 animals and cut and stick to label 3 animals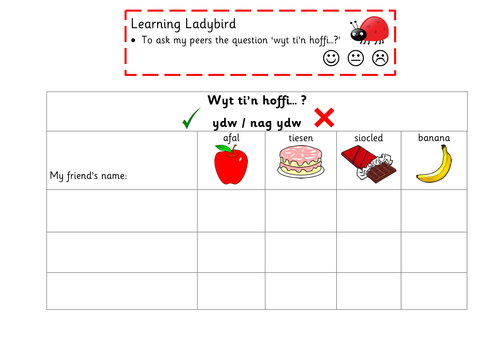 Reception Second Language Welsh Oral activity Ask peers the questions, and tick or cross if they answer with ydw or nag ydw. Includes 3 differentiated worksheets.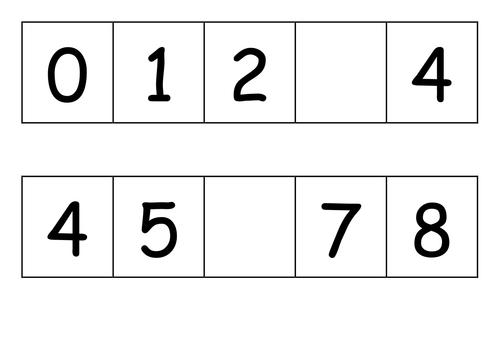 Fill in the missing numbers differentiated 0-5 5-10 10 - 15 15 - 20 I printed these out, laminated them in strips. The children write the missing number with a whiteboard pen, lower ability children place a number magnet in the correct place.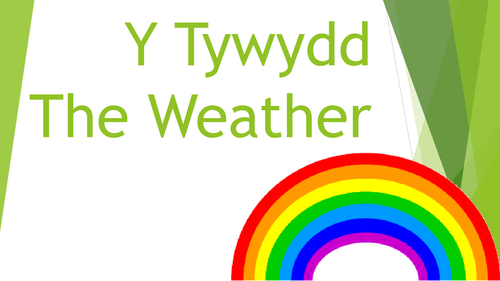 Sut mae'r tywydd heddiw? Powerpoint Slot Drilio Welsh Sentence patterns - questions and answers Reading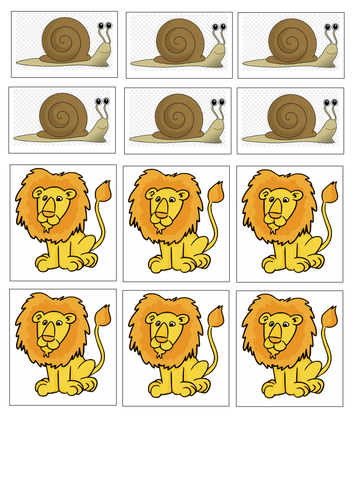 I cut these pictures out and my class worked in groups to create sound stories. They choose which order to put the pictures in. Each picture represented a different musical element. Lion - Loud Mouse - Quiet Cheetah - Fast Snail - Slow Children then took it in turns to close their eyes and guess the musical elements used in the sound stories.