88Uploads
44k+Views
5k+Downloads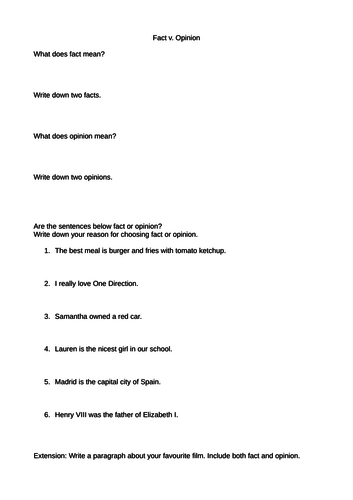 1 x Fact v. Opinion Introduction - students write their own definitions of fact and opinion and complete tasks to identify facts and opinions. 1 x Sentence worksheet - students identify fact and opinion in single sentences. 1 x Paragraph worksheet - students identify the fact and opinion in paragraphs. A good follow on exercise from the sentence worksheet. Created for Functional Skills students but can be used for Primary school or recap for high school students.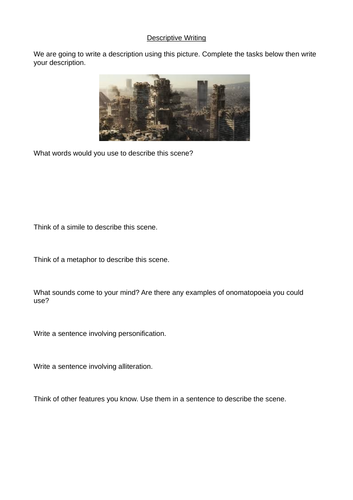 Worksheets that encourage students to think about the protagonists of dystopian stories and begin creating and describing their own. One worksheet encourages students to think about describing using devices.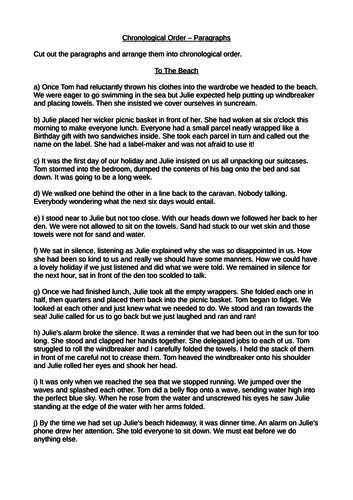 1 x Chronological order worksheet using sentences. 1 x Chronological order worksheet using paragraphs. You get two versions of each worksheet. One as a cut out and rearrange activity and one where students just need to write down the order of the story. Ideal for GCSE / High School students. Great for teaching about the structure of texts. A collection of worksheets to help students generate ideas and write for a dystopian story. Ideal for KS3 and KS4 students. These worksheets were created for Year 10 EAL students who needed help to build vocabulary for the GCSE exams. They would be helpful to any students wishing to expand their vocabulary or to write more concisely. The set includes tasks based on 12 adjectives that can be used instead of phrases using very. Worksheet 1 is a word matching table that works well as a group activity / think, pair, share / carousal activity. Worksheet 2 is a picture match activity. I usually do this as a recap / starter in a later lesson, to see what students remember from the word matching table task. Worksheet 3 is a cloze activity / gap fill activity where students add the words to paragraphs or sentences that show what the word mean.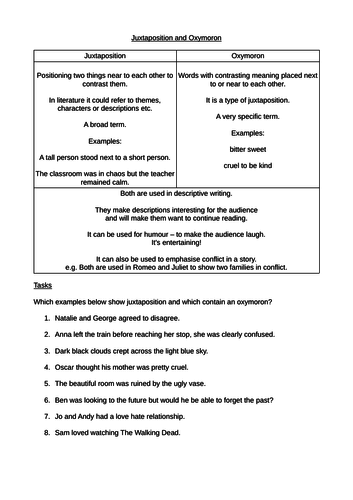 1 x Oxymoron Introduction worksheet - students are encouraged to write the definition of oxymoron and identify examples. Includes answers. 1 x Oxymoron vs. juxtaposition information and worksheet - explaining the difference between the two and identifying both. 1 x Oxymoron and Juxtaposition information and worksheet - info in a table and a task to identify both. Great for GCSE / High school students.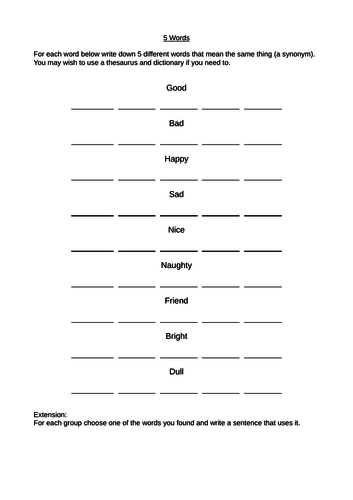 14 x Vocabulary building worksheets - all "5 Words" Task. Students are asked to write five synonyms down for the given word and the extension task asks students to use one of the words from each group in a sentence. Great for a quick warm-up activity or homework. Some have English Literature text themes but can still be used if not studying the texts. These were created to help students who were struggling to use a range of words in their responses to exam questions. 3 x Worksheets to build vocabulary. Students match a phrase including 'very' to a more precise word. The three sheets cover different words so all three can be used during different lessons. Extension tasks included - students add the words to sentences or write their own. There is also a selection of Power Point slides with the tasks on if you'd prefer students follow the task from the board rather than printing handouts. I've found that students find the handouts handy to keep as a glossary they can refer back to. Ideal as a starter task. Created for my GCSE students who struggle with using precise vocabulary but would also work for KS3 or adult learners.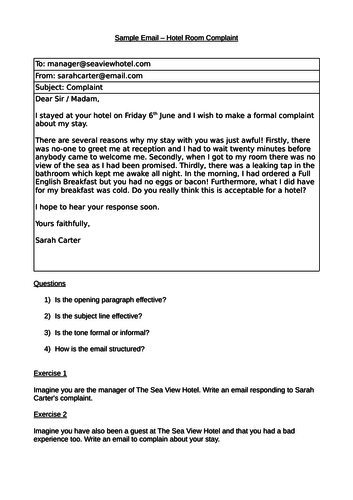 1 x sample email with questions to assist analysis of language. 1 x sample email with questions to assist analysis of language and structure and activities to encourage students to write an email response. 1 x sample email with no questions or activities so that you can set your own tasks or students can independently analyse the language and structure of an email. Ideal for Functional Skills students - Level 1 or Level 2.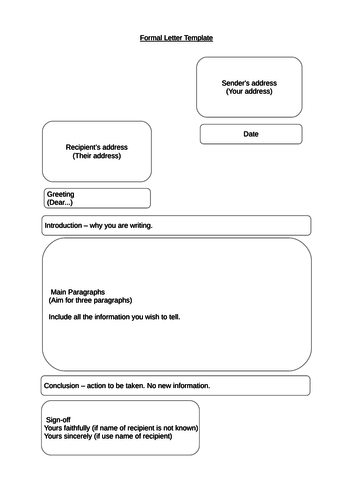 1 x Formal Letter Template. Includes Labels to guide students. Ideal for Primary School, High School (Year 7, 8, 9) or Functional Skills students.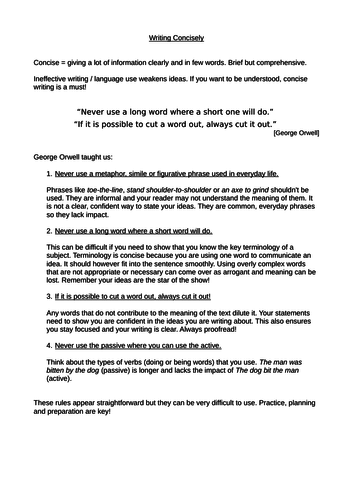 1 x Information sheet explaining concise writing and containing practical tips. 1 x Concise writing worksheet - students are given sentences that they have to rewrite. Great to improve academic writing and practice proofreading. Includes answer sheet. 1 x Writing confidently info sheet / worksheet - gives brief info about writing confidently and includes a task where students evaluate examples of writing. Created for A-Level students but would also be suitable for GCSE students too.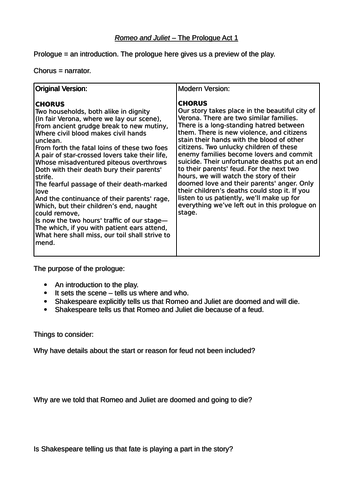 1 x Original version with modern version - to help students understand what is being said in the prologue. 1 x Original version with modern version with definition of prologue and chorus, the purpose of the prologue and questions for students to consider about the prologue - great for encouraging students to start analysing the play. 1 x meaning match task - students match the parts of the original text to modern versions - used to help understanding. Includes answer sheet. Several resources with everything students need to write formal emails. Basic information for all areas of an email and plenty of tasks with examples. Great for encouraging students to proofread and evaluate writing whilst learning what is required for formal emails.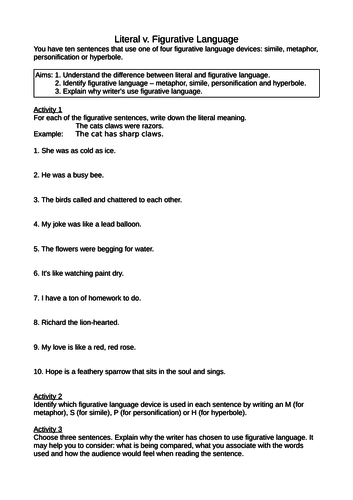 2 x Literal v. Figurative Language Worksheets. Full instructions are included along with aims so that the student knows why they are completing the tasks. Ideal for GCSE / High School students. Great for helping students to develop language analysis.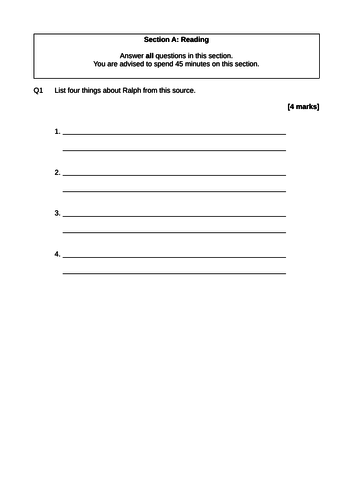 AQA GCSE English Language Paper 1 Mock Exam. Includes: Source (Lord of the Flies), question booklet (both Section A and Section B) and a cover page with space for feedback. Follows the same structure and wording of the AQA exam. Great for practising timings and preparing for exams. 20 Word / Logic Puzzles. There is a mixture of difficulty levels and it is easy to differentiate - one or more of the group titles can be given to make the puzzles easier. The puzzles cover many topics and trivia so they are suitable for any subject. I have also used them in form. Great for group work or for independent work. I have some cut out and in envelopes ready for students who complete work quickly. Students can note their answers down on paper or on blank answer grids (included). Some students like the words to be cut out so they can move the words around into different groups. Set includes: 20 puzzles, answer sheet, instructions for students, tips for teachers and a page of blank answer grids (best done in pencil if writing on).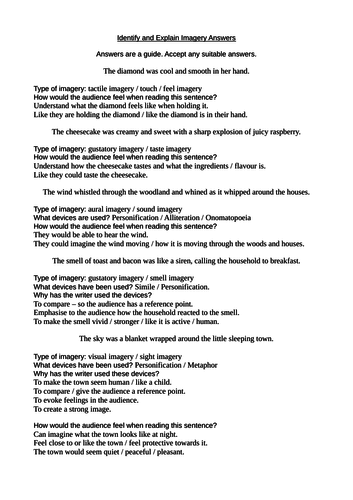 1 x Imagery basics information sheet. 1 x Imagery introduction worksheet - gives students a good understanding of how writers use imagery. 1 x Identify and Explain Imagery worksheet - students identify the type of imagery used and devices that are used to create iamgery. (With answer sheet). Great for helping students: identify and explain imagery use in texts. write detailed, engaging descriptions and imagery in their own writing. Created for GCSE / High school students.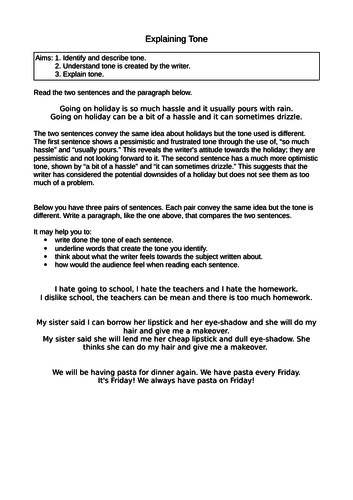 2 x Worksheets about Tone. Created to help students understand and identify tone. Includes aims so students know why they are being asked to complete tasks. Ideal for GCSE / High School students.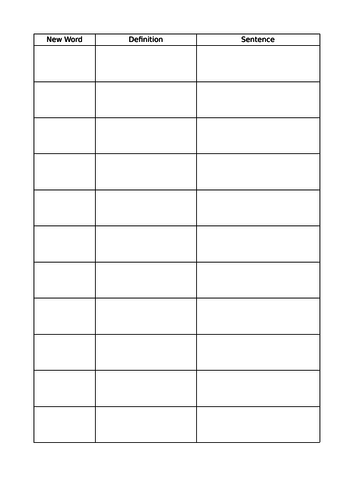 1 x New Word Glossary Table. Created to help students to expand their vocabulary. Students are encouraged to write down words that are new to them, find the definition and use the word in a sentence.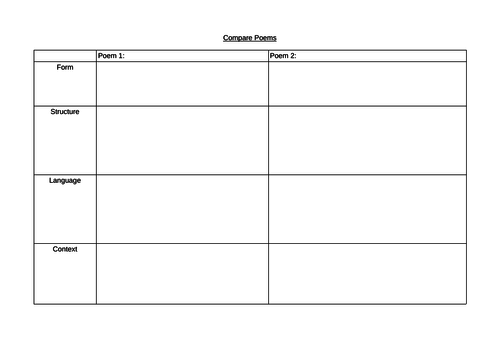 1 x Grid to compare poetry. Ideal for comparing poems by language, structure, form and context. Created for GCSE / high school students.