170Uploads
1768k+Views
633k+Downloads
Worksheet to revise Unit 4 in Listos 2. Activities about last year's Holidays, using the Past Tense.
Basic family tree Worksheet with exercises. It's good practice for Family, Vocabulary and Revision of Numbers (family members' age).
Exercises + spidergram to revise the preterite tense. They can use the spidergram to build many sentences in the preterite tense by only knowing a few verbs in the preterite tense. It is mainly aimed at low ability students.
A step-by-step Guide to describe your daily Routine in Spanish. It can be used for Writing and/or Speaking activities, Exams Skills and Revision.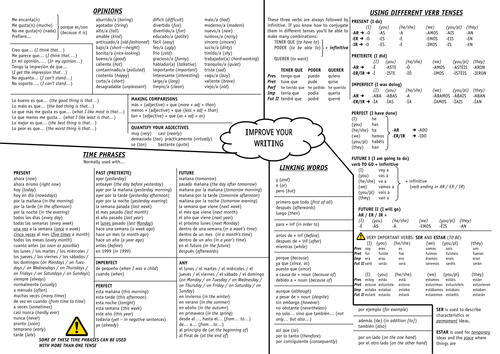 Sheet containing different ways to express opinions, time phrases, linking words and verb tenses.
Reading Comprehension and Writing activity (Questions) about popular Spanish Festivals: La Tomatina, San Fermin and La Feria de Sevilla.
Spanish worksheet about where you live - Describing your House (size, floors, rooms…) - Do you like your house? - Rooms in the house.
Spanish Article and comprehension exercises about single-parent families.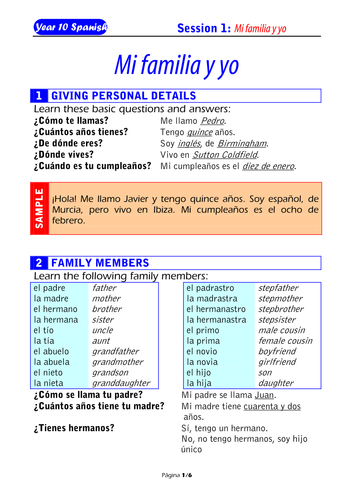 GCSE Revision Aid for topics of Family, House, Hobbies, routines and Pets. Writing and Speaking activities using plenty Adjectives, character and physical Descriptions, Grammar and 'ir +Infinite' Tense.
Spanish exercises about hobbies using past, present anf future tense, followed by a reading activity.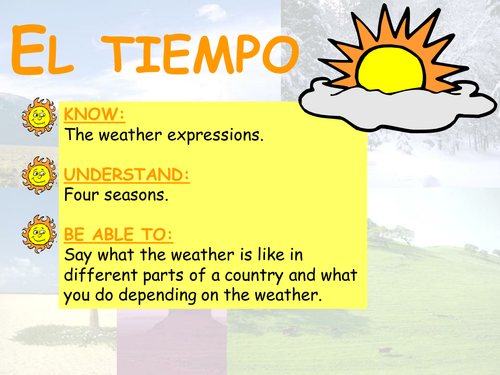 PowerPoint presentation to introduce the weather expressions and seasons in Spanish. It includes an activity where students have to describe what they do depending on the Weather.
Spanish AS Level Speaking Question Samples (Unit 3 AQA) about Family, Leisure activities, Society and other topics.
A Worksheet in Spanish where students have to match up verbs and activities they do to help around the house. It can be used as a starter.
Worksheet to practise a number of Verbs in the Preterite tense and a fill-in-the-gaps exercise about what someone did last Saturday.
Reading activity about school. It can be used as an example of coursework.
Powerpoint presentation about Holidays with Questions in the Preterite Tense that students have to answer. This PP leads to a Writing and Listening activity.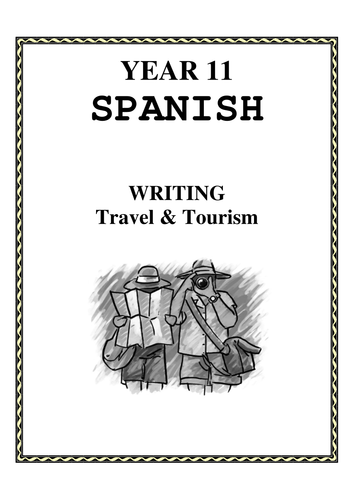 Booklet that covers different holiday-related texts in preparation for the writing controlled assessments. It focuses on the use of verb tenses, expressing opinions and format of letters in Spanish.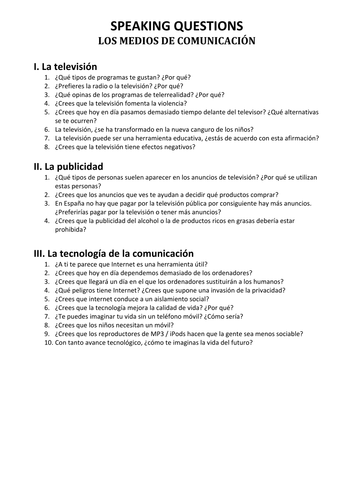 I made up some questions for each AQA topics to use as speaking questions for unit 2 of the new Spanish AS.