Macbeth resources to save time and energy as a NQT or teacher trainer or supply teacher. Useful for cover lessons. Useful resources in word to adapt for your own use and photocopying budget . Clear information with a solid understanding of the text.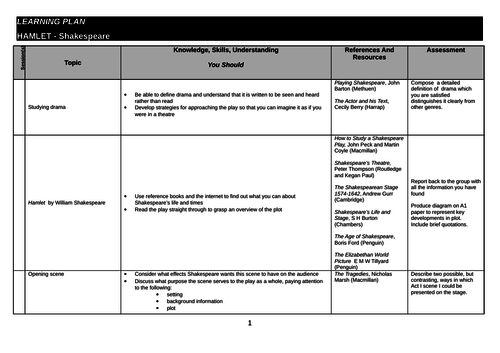 An overview of a learning plan for Hamlet - references, resources and assessments also included.
Useful information on careers post 16 in the UK. Lots all in one place. Apprenticeships particularly covered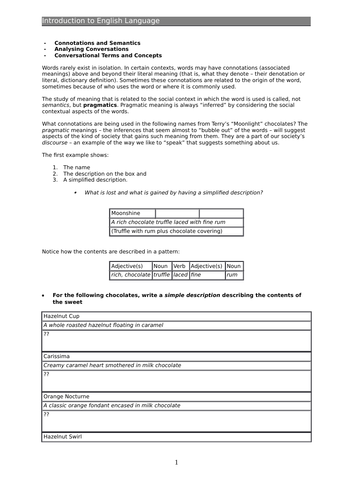 Activities to guide an initial introduction to the language of conversations, their structure and the role of participants in the conversation. Also an exercise in connotations of words. Definitions of concepts and AO2 terminology included. Usefully a good lesson of materials.
A word document with quotations about Hamlet - the play, characters, and its place in society - useful for AO3.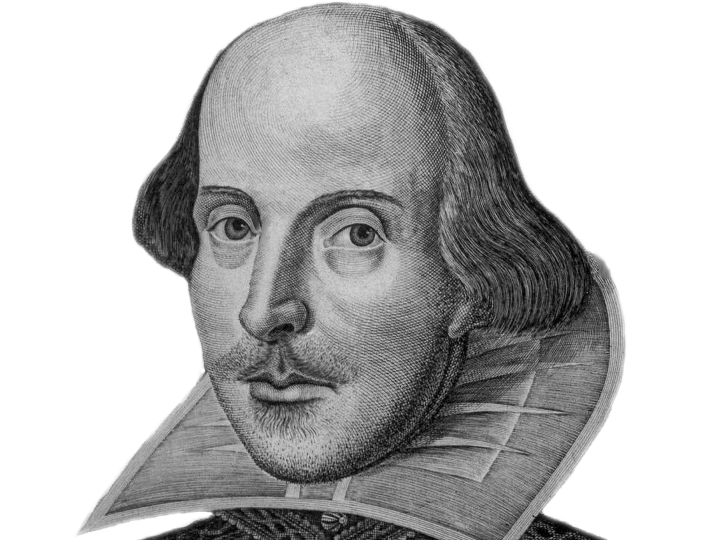 Useful for students, teachers and parents of those studying GCSEs, AS and A levels. Questions, activities, notes and useful tips for exams. Saves time. Focused on the text. Great value for money. Adaptable.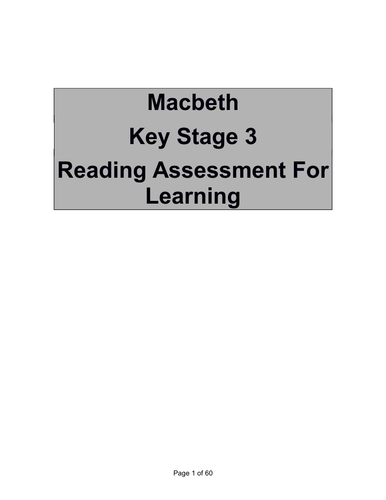 Resources to help with assessment for learning -reading - Key Stage 3 - Macbeth as the text.
A collection of careers information , including Apprenticeships - what are they, how do they work, what do Apprenticeships and careers in certain occupation look like, how to get started. Plenty of materials to keep students occupied and fill in gaps in teachers' knowledge. Remember Apprenticeships have changed and are now - Apprenticeship Standards.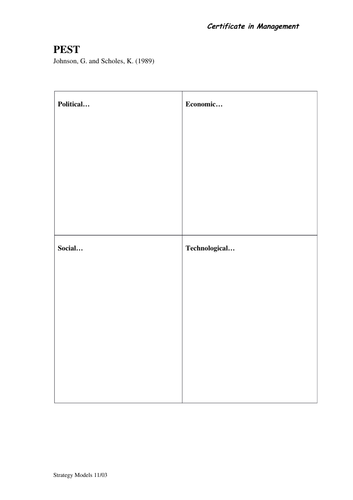 Management Strategies, explained in their simplest forms. Space for notes on each. Useful documents, GCSE to A levels +
A range of Apprenticeships - 'standards' or 'frameworks' . The booklet explains some of the Apprenticeships and what you would study. An apprenticeship is a job, which includes training. This booklet outlines the training. Useful in careers lessons or with BTEC students or with anyone who is thinking of an apprenticeship instead of college or university.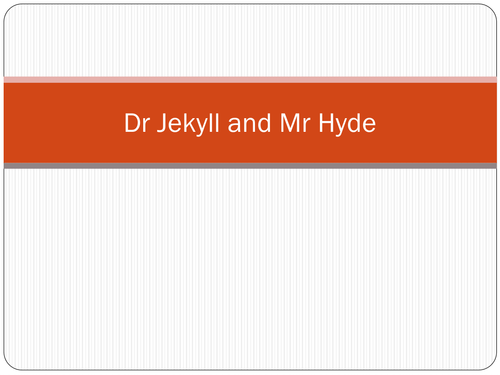 Suitable for GCSE study - power point that will allow an overview of the text's characters, provides passages to study for their use of language/form and relationship to the Victorian period and genre. Saves time in preparation, and concentrates on the key ideas. 30+ slides.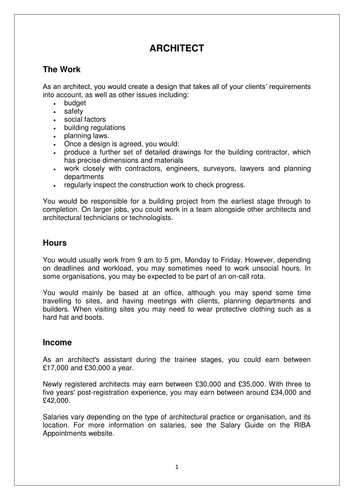 Information on the entry requirements, typical pay, skills and knowledge needed for these professions in construction.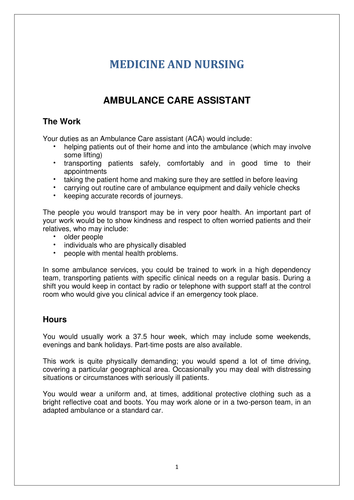 Careers information useful to years 10, 11, 12 and 13. Same format information in a word document covering salaries, knowledge, skills and entry requirements. Job roles covered include: ambulance and care assistant, ambulance paramedic, ambulance technician, care assistant, children's nurse, clinical support worker, community nursery nurse, dental hygienist, dental nurse, dentist, health care assistant, hospital porter, maternity support worker, midwife, occupational therapy support worker, pharmacist, pharmacy technician, radiographer, school nurse. About 60 pages worth of handouts.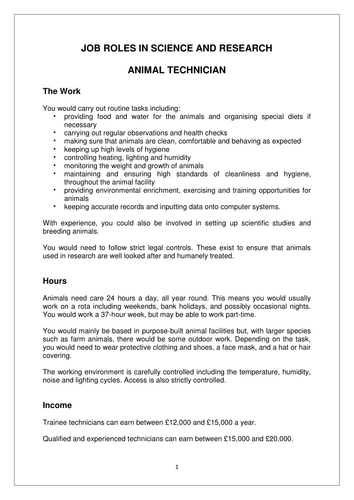 Useful for careers information for Years 10,11, 12 and 13. Job roles, salary and entry requirements in the following areas: veterinary surgeon, lab technician, forensic scientist, fingerprint officer, electronics engineer and animal technician. Same format for each, word document to manipulate as you need. 20 pages.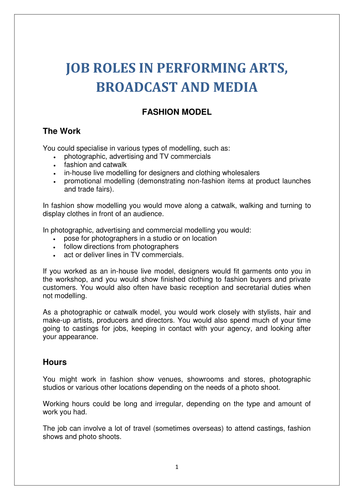 Useful for careers lessons for years 10,11, 12 and 13. Job roles, salaries and qualifications required in the performing arts, media and broadcasting industry, covers topics in: fashion model, lighting technician, make-up artist, photographer, photographic technician, prop maker, stagehand, sound studio engineer, wardrobe assistant, web content manager, web designer, web developer, web editor. The format for information is the same and the word document allows you to manipulate the information as required. It is 40 pages long.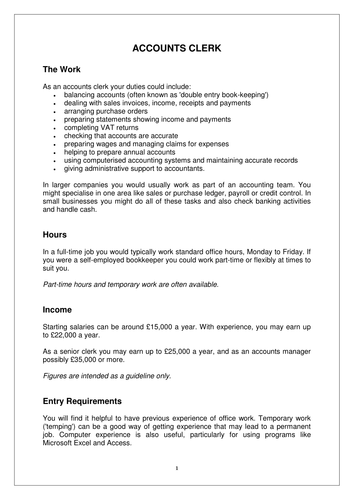 A few examples of job roles in business admin... including, pay, types of activities, experience required, opportunities available.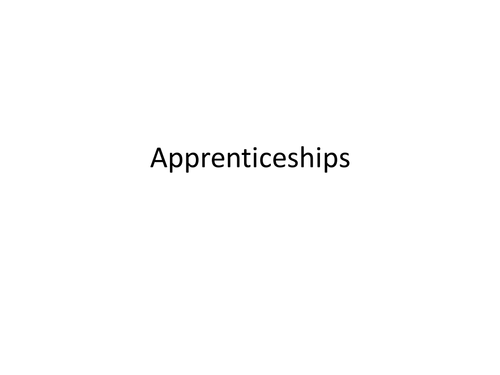 A general overview of Apprenticeships, what they are and how to apply. A useful powerpoint for careers lessons and choices post 16.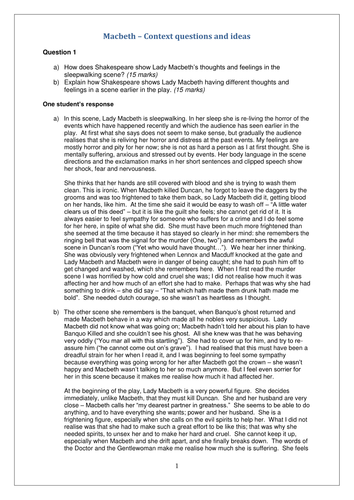 Two context questions with some ideas for answers, based on Act 2, scene 2, and the sleepwalking scene.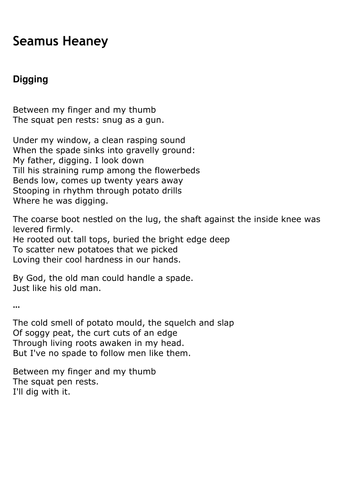 A set of revision notes and activities for Seamus Heaney's 'Digging' - Key Stage 4 materials. A good lesson's worth.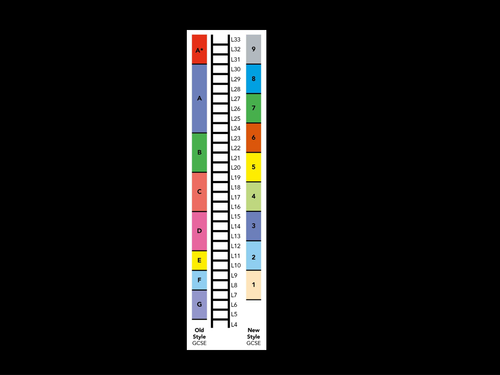 Slides showing the new points at GCSE and A-Levels and BTECS from 2017. Letters at GCSE and now their corresponding number scale 9 -1, in the UK, from 2017.