ABC of Education and Training
Resources for English A level and GCSE learners, parents and teachers.
165Uploads
16k+Views
747Downloads
Resources for English A level and GCSE learners, parents and teachers.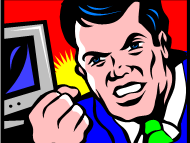 Straight presentation on writing for GCSE. Sensible advice to students. Powerpoints, word documents, activities and notes - excellent value for money. Suitable for Edexcel or OCR A Level or AS Level. Also suitable for AQA. There are enough resources here to be valuable to timesavers.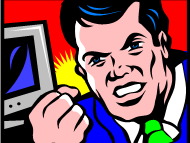 An approach to A Level Investigations / Projects. Possible ideas. Proformas for completion as guidance. What to include. How to prepare for an A level language investigation. Lots of materials - 42 pages. A resource to help you succeed. Synonym powerpoint, useful for a quick exercise in stretching vocabulary. Year 3 or 4. Powerpoint based on the theme of love in Othello, pulling together a series of observations, questions to debate and points to note on the topic. Useful for prompting discussions, teacher led. Notes for A level or AS level English study of Hamlet. Critical interpretations of the play, characters, and its place in society - useful for AO3. Useful for NQTs and teachers new to the text.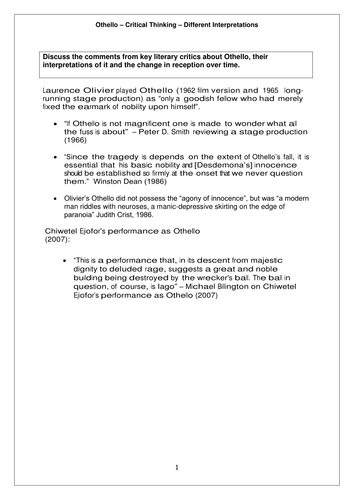 Quotations, tasks, essays and points to note in answers. Useful for looking at different interpretations of Othello by literary critics over time. Suitable for A level students, some essay points, and useful for teacher preparation. Suitable as revision material for students. Good for class discussions. Career Options Post 16. Outlines the skills, knowledge, qualifications and likely pay of some of the key job roles which interest young people.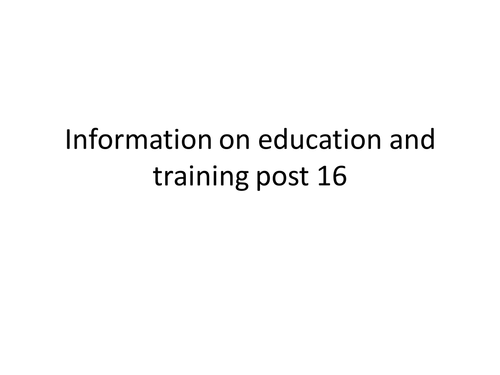 A powerpoint covering the basic choices in education and training post 16. Useful as a first lesson to introduce 'choice'. Could be used in assemblies, with parents or years 9-11. It assumes that A level progression from GCSEs is well understood and goes into more detail on apprenticeships and lesser known routes.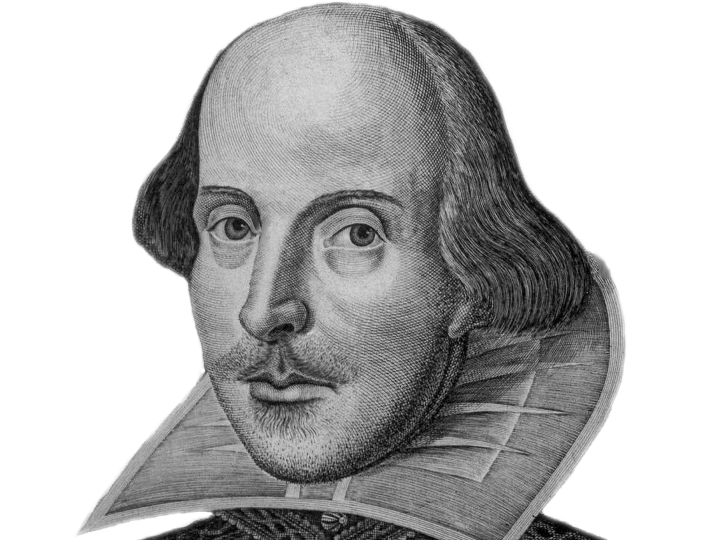 Useful for students, teachers and parents of those studying Hamlet for GCSEs, AS and A level English Literature. Questions, activities, notes and useful tips for exams. Saves time. Focused on the text. Great value for money! NQT teachers and those new to the text would benefit from the notes. Revision. AQA A level. Excellent time saver.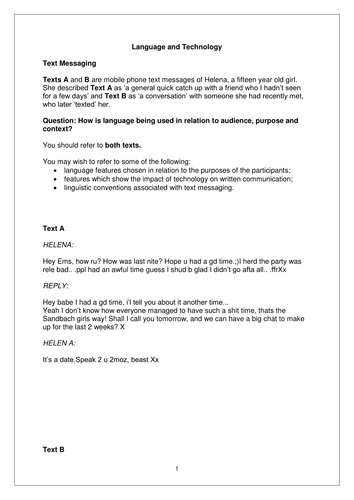 An exercise in comparing two text messages to see how the language changes according to the audience, purpose and context. Suggested areas to look at to help. No fancy graphics, just straight forward text exercise. Useful as a cover lesson. Targets year 11, 12 and 13 A level English students.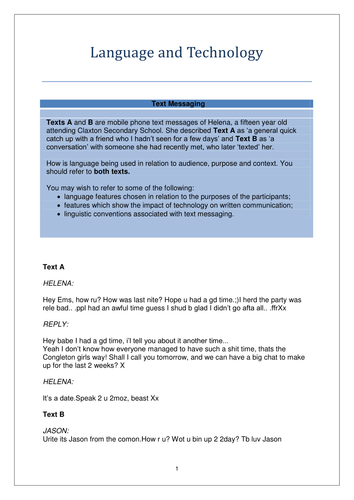 Quick cover lesson on language and technology - text messaging. The worksheet has two texts for the students to discuss with possible points to consider in an answer. Useful of English Language AS or A level. Easy starter lesson or supply teacher lesson as points to cover in an answer are provided.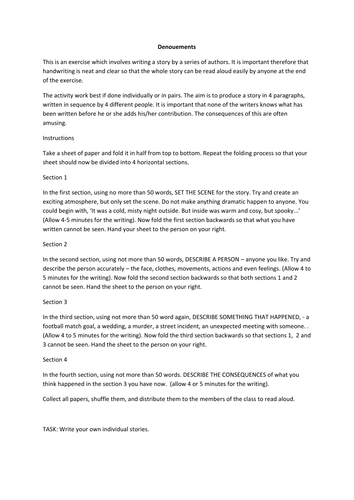 Great fun to do in class, short story writing exercise. All ages could do this task,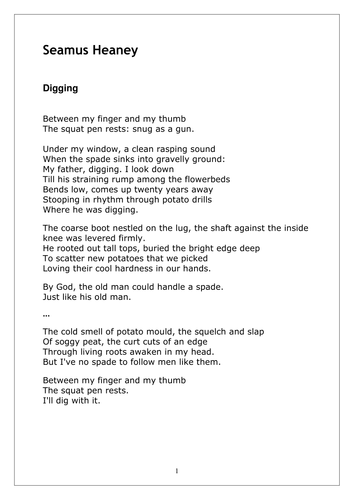 Notes and worksheet questions on Seamus Heaney's poem, 'Digging'. 7 pages. Suitable for 11-16 year olds.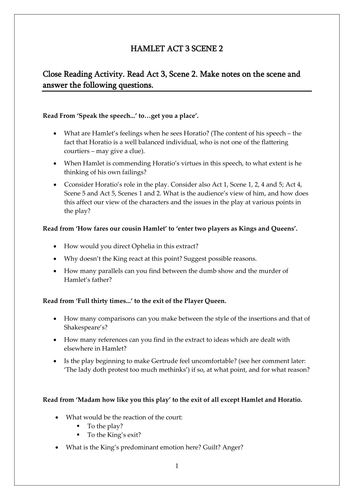 A useful lesson word document, designed to encourage close reading of the play. Lots of questions, line by line, to help students focus on the text. The document would be a useful cover lesson, or help with preparation if you are short of time. It's not fancy but it is focused and will lead to useful revision notes for students. GCSE / A level standard.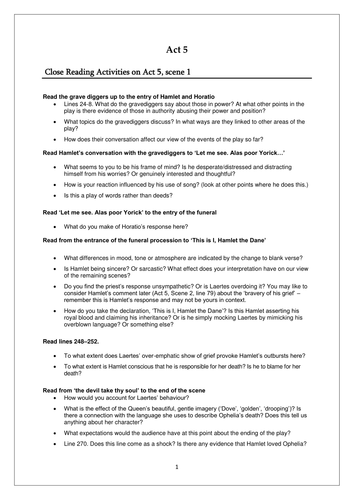 Resources to help with the reading and making notes on Act 5. The resources are suitable for A level and GCSE leaners. Would provide a useful cover lesson without preparation. Will help with close reading of the text and will result in a good set of notes for students to revise from. Useful for understanding the meaning of the text and making links within and with other texts.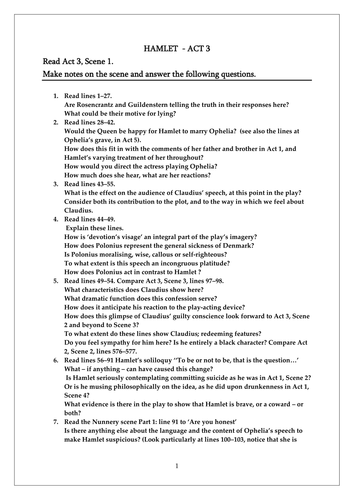 Guided questions and activities on Act 3 Scene 1 of Hamlet. Ideal to guide students through close reading of the text and to enable thorough revision notes. There is nothing fancy about the word document - just academic questions, designed to keep students busy and focused. Good for a cover lesson and enough differentiation in the activities to appeal to most learner types. Suitable for GCSE students. Enough work for a couple of lessons at least.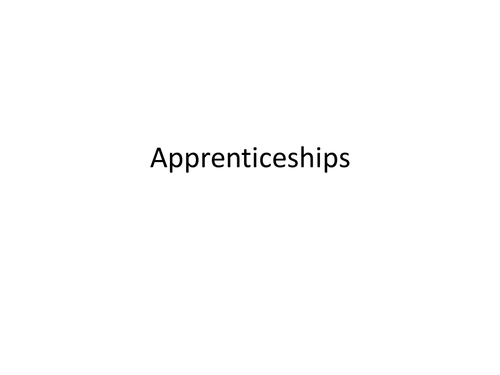 A general overview of Apprenticeships, what they are and how to apply. A useful powerpoint for careers lessons and choices post 16.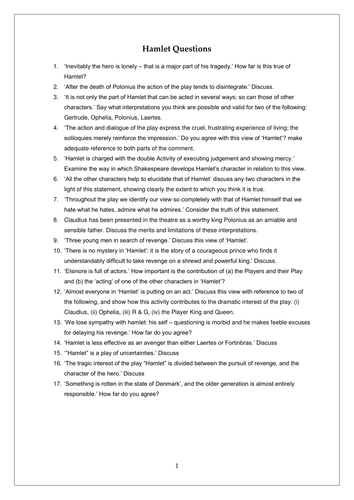 A page of essay questions on Hamlet. Useful for students to think about and prepare essay plans on. Good for teachers to be aware of and use for debates in class. Could lead to all sorts of group discussions and class debates. Suitable for GCSE and A level students.