ABC of Education and Training
Resources for A level and GCSE learners, parents and teachers.
176Uploads
31k+Views
2k+Downloads
Resources for A level and GCSE learners, parents and teachers.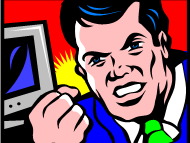 An approach to A Level Investigations / Projects. Possible ideas. Proformas for completion as guidance. What to include. How to prepare for an A level language investigation. Lots of materials - 42 pages. A resource to help you succeed. Powerpoints, word documents, activities and notes - excellent value for money. Suitable for Edexcel or OCR A Level or AS Level. Also suitable for AQA. There are enough resources here to be valuable to timesavers.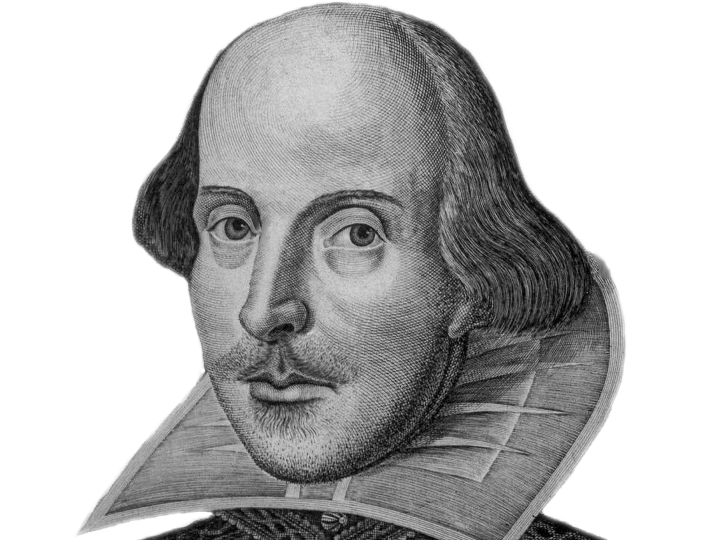 Useful for students, teachers and parents of those studying Hamlet for GCSEs, AS and A level English Literature. Questions, activities, notes and useful tips for exams. Saves time. Focused on the text. Great value for money! NQT teachers and those new to the text would benefit from the notes. Revision. AQA A level. Excellent time saver. Powerpoint based on the theme of love in Othello, pulling together a series of observations, questions to debate and points to note on the topic. Useful for prompting discussions, teacher led. A collection of activities on Wuthering Heights - useful for any specification at A level. Gothic Novel, Romance, Themes, Summary of Plot, worth it to save preparation time.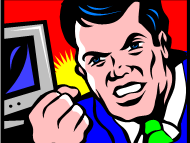 Straight presentation on writing for GCSE. Sensible advice to students.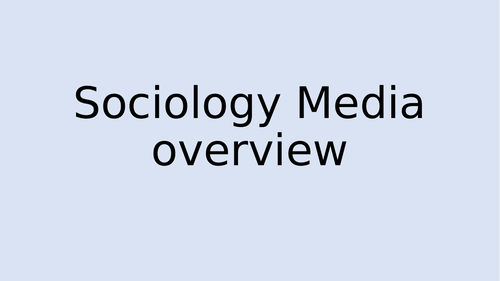 A Revision lesson Powerpoint and worksheet which identifies all of the key parts of each topic in the Media module. This should be use as a starter lesson to a revision series at the end of the course. This is likely to be completed in around 45 minutes. A Powerpoint and worksheet is available for each subtopic in this area. A 1hr Revision Lesson on the Media Sociology module - This focuses on the Globlisation topic. It is perfectly designed to be a recap completed at the end of the module of before exams. In this download is a Powerpoint and accompanying worksheet designed to help students key information needed to be retained. A set of resources for A level English Language teaching. Hours of preparation time to be saved. Revision notes. All in word for adapting. Bargain! Gender, Acquisition, Society, Power, Technology, Change, Investigation. A lesson's worth of material for Seamus Heaney's Digging - focusing on the Language and Themes. Answers in the powerpoint should help prompt discussion and understanding. Saves preparation!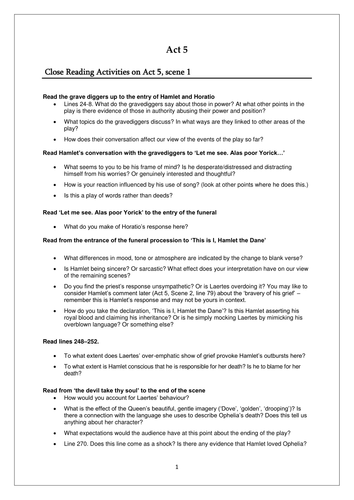 5 pages of close reading activities on Hamlet. Suitable for GCSE and A level. Good for cover lessons. Enough material to allow for differentiation. Would result in a good set of student notes. Useful for understanding meaning of texts and making links within the text. A collection of careers information. Apprenticeships - what are they, how do they work, what do Apprenticeships and careers in certain occupation look like, how to get started. Plenty of materials to keep students occupied and fill in gaps in teachers' knowledge. Remember Apprenticeships have changed and are now - Apprenticeship Standards.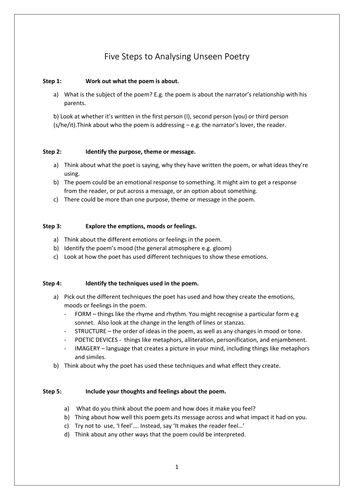 One side of A4 which gives a 5 step guide to analysing a poem. It would be useful for revision or a checklist in class. Suitable for GCSE or Key Stage 4 learners.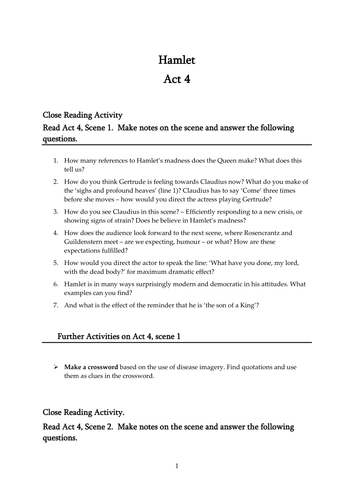 Scene by scene questions and activities. Suitable for GCSE and A level. Word document, nothing fancy, guided reading to enable detailed notes by students. Would provide materials for cover lessons and enough open ended ideas to allow for differentiation. Whether you want guided reading, lessons at a moments notice, revision notes as a student, or simply to understand the text as first time teacher - with prepared powerpoints. There is something in here for you. All relevant - a minimum of graphic 'fluffing' to prevent speedy downloads and fewer technical glitches. Focuses on the doing/learning and content of the play. Powerpoint with quotations for discussion. Critical points of view comparisons. Essay plan. A level. Saves preparation and research for NQT.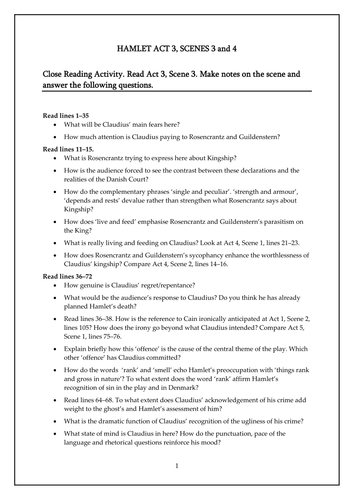 Close reading questions and activities on Act 3, scenes 3 and 4, plus additional activities on Act 3. A word document which will focus students on the text. Suitable for GCSE and A level, will enable a set of detailed notes. Raises links with other texts. Concise and to the point, the word document would help teacher preparation as well as serve as a useful cover lesson (s). Nothing fancy - an explanation of the poem; key parts highlighted. List of words from Latin and Old Norse - this is a starter from a student's perspective to discuss.