ABC of Education and Training
Resources for A level and GCSE learners, parents and teachers.
188Uploads
40k+Views
4k+Downloads
Resources for A level and GCSE learners, parents and teachers. Context questions, with prompts and answers for the students to consider. Enough to keep the students occupies on meaningful work related to the exam. Act I, Scene iii, ACT III, SCENE 1 LINES 28-55,Act V, Scene ii, lines 384-9 and more.​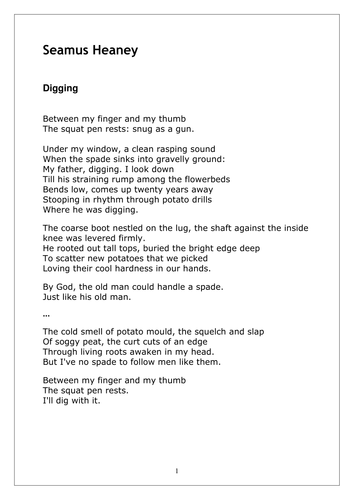 Notes and worksheet questions on Seamus Heaney's poem, 'Digging'. 7 pages. Suitable for 11-16 year olds. A collection of activities on Wuthering Heights - useful for any specification at A level. Gothic Novel, Romance, Themes, Summary of Plot, worth it to save preparation time. Powerpoint which covers major themes, characters, close reading of text, language choice and ideas for lessons. There will be something of use in here for cover lessons and A level teaching.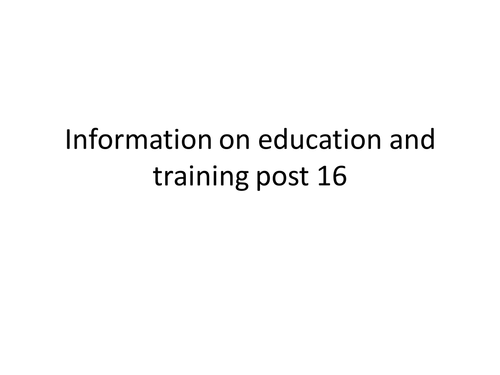 A powerpoint covering the basic choices in education and training post 16. Useful as a first lesson to introduce 'choice'. Could be used in assemblies, with parents or years 9-11. It assumes that A level progression from GCSEs is well understood and goes into more detail on apprenticeships and lesser known routes.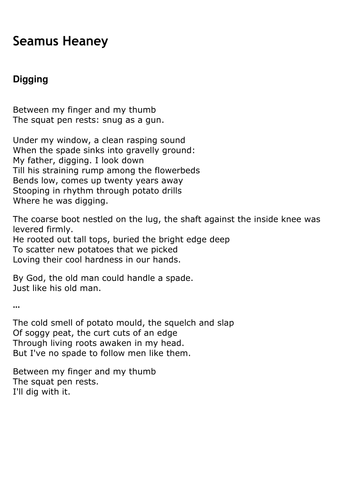 A set of revision notes and activities for Seamus Heaney's 'Digging' - Key Stage 4 materials. A good lesson's worth. Powerpoint based on the theme of love in Othello, pulling together a series of observations, questions to debate and points to note on the topic. Useful for prompting discussions, teacher led. 2 Powerpoints covering Romeo and Juliet essay plans, plus background on attitudes to love. A set of resources for A level English Language teaching. Hours of preparation time to be saved. Revision notes. All in word for adapting. Bargain! Gender, Acquisition, Society, Power, Technology, Change, Investigation. A Series of Powerpoints and worksheets which cover the entire AQA A Level Sociology Media module. These should be used as a recap at the end of a module or for revision lessons before exams. Topics included are: Overview New Media Ownership & Control Globalisation Media Representations Relationship between audiences media content Selection and presentation of the news.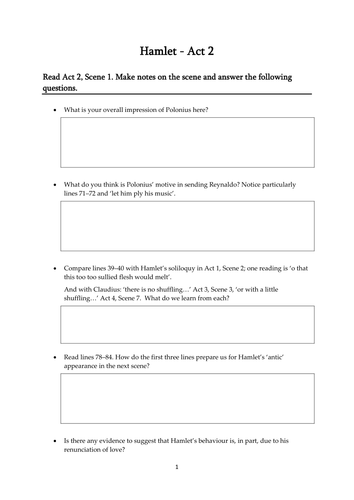 Seven pages of a word document with close reading questions and wider reading activities. Useful to guide students through the text. Appropriate for GCSE and AS/A level. Would easily fill a couple of lessons and enable students to have a good set of notes. Concise for printing purposes - no graphics. Interpretations of Hamlet, Act 5, with critics comments, questions and activities. Simple powerpoint, lots of activities. Useful for Edexcel or OCR A level or AS English. A powerpoint with short exercises on language and power / accents/ and gender. Adaptable. Useful for cover lessons. A level or whole school. Some theory integrated. Plain background, but on point.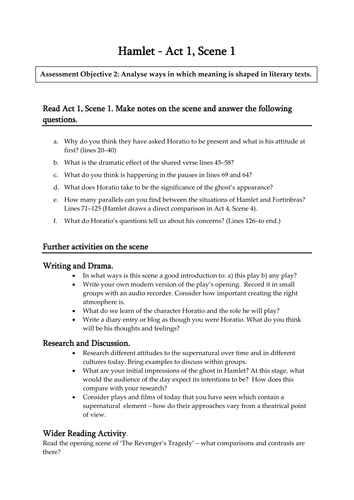 This single page will guide the students through close reading of the text of Act 1 Scene 1 of Hamlet by William Shakespeare. It asks specific questions to focus the students learning, as well as differentiated extension tasks of a variety of types of activities - writing, research, drama and wider reading. Aimed at GCSE or possibly AS or A level students. A close reading of the texts is essential for analysing and understanding ways in which meaning is shaped in literary texts. This is a simple word document, no fancy graphics, but ideal for getting to the heart of the issues. An example of a performance appraisal - based on objectives, learning styles and support. Fantastic collection of resources for GCSE AQA English Literature teaching of The Tempest by William Shakespeare at a very reasonable price. Will save hours of preparation and be invaluable for lessons at a moment's notice. Useful for NQTs or Teacher Trainees to build their lessons around. Supply and cover teachers could use them too. Enough materials to serve as revision notes. Adaptable formats. It's a popular text and worth getting these resources now. Resources linked to Assessment Objectives, some close reading tasks, some interpretations of Othello over time, some links to love through the ages. Over 60 pages of useful resources, be they for revision or teaching, to help guide students and NQTs through the text. AS and A level focus. Saves a lot of preparation. Suitable for AQA Simple powerpoint - definitions within Project Management. Roles and responsibilities, tools, evaluations. Nothing fancy - an explanation of the poem; key parts highlighted.