ABC of Education and Training
Resources for A level and GCSE learners, parents and teachers.
184Uploads
47k+Views
5k+Downloads
Resources for A level and GCSE learners, parents and teachers. A lesson's worth of materials on Language and Gender - Year 10 upwards. Good introduction for AS level study or even A Level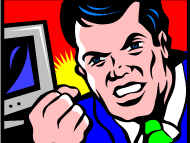 Notes on Positivism and Interpretivism on a powerpoint. Show and talk. Useful of revision. A level Sociology.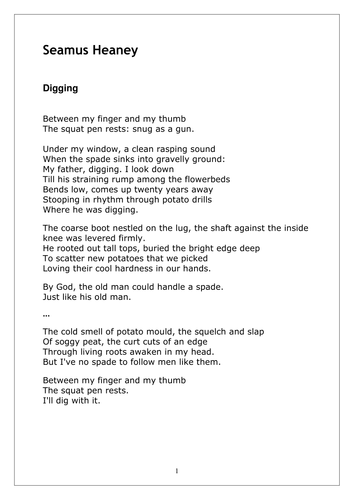 Notes and worksheet questions on Seamus Heaney's poem, 'Digging'. 7 pages. Suitable for 11-16 year olds.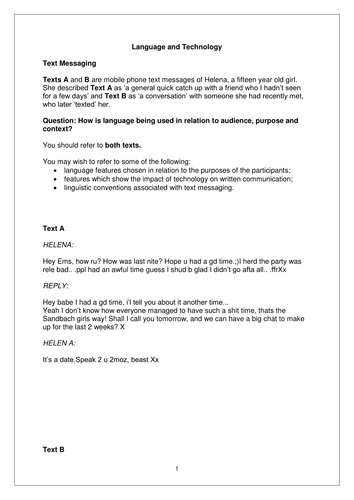 An exercise in comparing two text messages to see how the language changes according to the audience, purpose and context. Suggested areas to look at to help. No fancy graphics, just straight forward text exercise. Useful as a cover lesson. Targets year 11, 12 and 13 A level English students.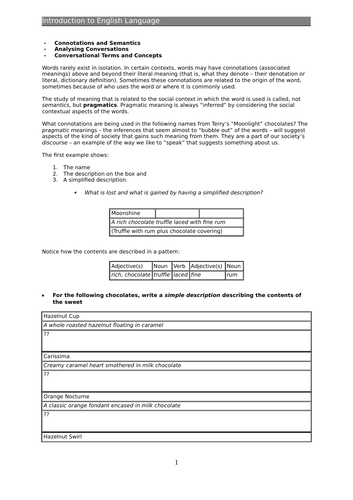 Activities to guide an initial introduction to the language of conversations, their structure and the role of participants in the conversation. Also an exercise in connotations of words. Definitions of concepts and AO2 terminology included. Usefully a good lesson of materials. A set of resources for A level English Language teaching. Hours of preparation time to be saved. Revision notes. All in word for adapting. Bargain! Gender, Acquisition, Society, Power, Technology, Change, Investigation. Language and Technology powerpoint - useful starter exercises for language A level students. Powerpoints, word documents, activities and notes - excellent value for money. Suitable for Edexcel or OCR A Level or AS Level. Also suitable for AQA. There are enough resources here to be valuable to timesavers. A lesson's worth of material for Seamus Heaney's Digging - focusing on the Language and Themes. Answers in the powerpoint should help prompt discussion and understanding. Saves preparation!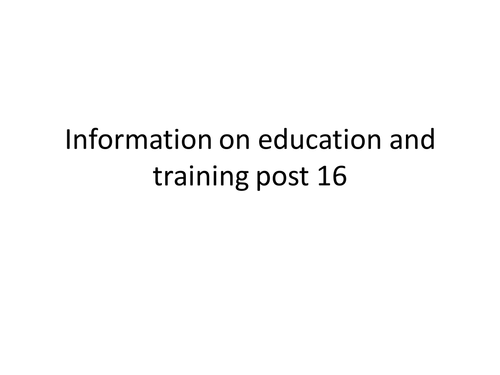 A powerpoint covering the basic choices in education and training post 16. Useful as a first lesson to introduce 'choice'. Could be used in assemblies, with parents or years 9-11. It assumes that A level progression from GCSEs is well understood and goes into more detail on apprenticeships and lesser known routes.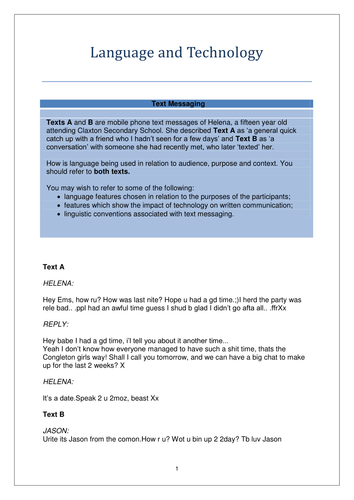 Quick cover lesson on language and technology - text messaging. The worksheet has two texts for the students to discuss with possible points to consider in an answer. Useful of English Language AS or A level. Easy starter lesson or supply teacher lesson as points to cover in an answer are provided. Powerpoint on Leadership and Management. Knowledge collated in one place. Leadership Theories - Lewin, Adair, Kotter, Kubler Ross, Posner - and others Project Management - Prince2, Agile Communication - transactional, interactional Conflict management Team working Decision Making- De Bono et al Good overview slides. Suitable for all abilities. Resources linked to Assessment Objectives, some close reading tasks, some interpretations of Othello over time, some links to love through the ages. Over 60 pages of useful resources, be they for revision or teaching, to help guide students and NQTs through the text. AS and A level focus. Saves a lot of preparation. Suitable for AQA A collection of activities on Wuthering Heights - useful for any specification at A level. Gothic Novel, Romance, Themes, Summary of Plot, worth it to save preparation time. Powerpoint on religion in Lord of the Flies. GCSE. AQA. Useful for those who want to make links between the bible and Lord of the Flies. A Summary Lesson & Worksheet for the New media module for AQA Sociology designed to condense the entire module to be completed in only 1 hr. Good for Exam Revision & topic recaps.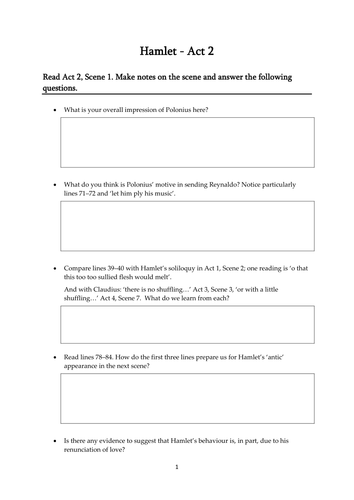 Seven pages of a word document with close reading questions and wider reading activities. Useful to guide students through the text. Appropriate for GCSE and AS/A level. Would easily fill a couple of lessons and enable students to have a good set of notes. Concise for printing purposes - no graphics.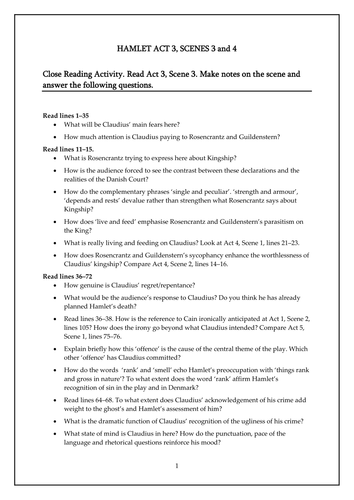 Close reading questions and activities on Act 3, scenes 3 and 4, plus additional activities on Act 3. A word document which will focus students on the text. Suitable for GCSE and A level, will enable a set of detailed notes. Raises links with other texts. Concise and to the point, the word document would help teacher preparation as well as serve as a useful cover lesson (s). Simple powerpoint with knowledge of the key components of project management definitions. This includes, responsibilities of the sponsor, project manager, Boards, suppliers, governance. Also included is tools such as Cost Benefit Analysis, Gantt charts, RAG reports and SWOT. Some references to models and evaluations. Descriptions / theory all in one place. List of words from Latin and Old Norse - this is a starter from a student's perspective to discuss.