ABC of Education and Training
Resources for English A level and GCSE learners, parents and teachers.
169Uploads
18k+Views
858Downloads
Resources for English A level and GCSE learners, parents and teachers.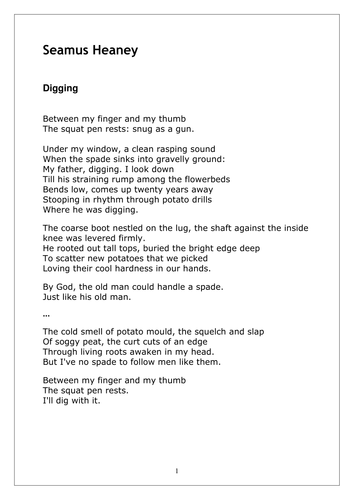 Notes and worksheet questions on Seamus Heaney's poem, 'Digging'. 7 pages. Suitable for 11-16 year olds.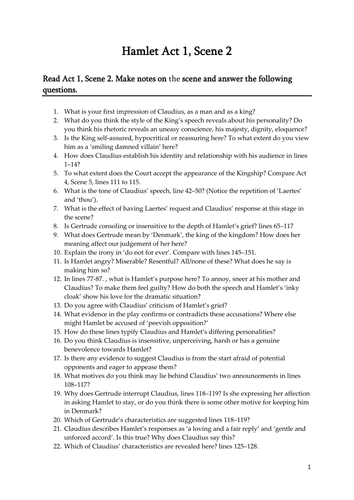 Three pages of close reading of the text questions - line by line - to assist students to understand the content. literary links within the text, imagery, characterisation and meaning. The questions will facilitate a good set of revision notes. Activities include research and presentation, paired and group work, and writing tasks. The materials are suitable for GCSE, AS and A level students. Teachers and parents new to the text may appreciate the line by line approach to studying the text to aid understanding. There is nothing attractive about the word document, this purely for academic content and activities.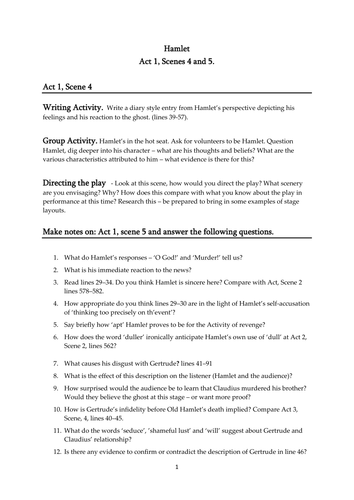 Two pages of questions and activities related to Act 1 scenes 4 and 5. These will keep students occupied for a whole lesson or more. Close reading and links within the text are required. Activities are varied and would enable differentiated learning.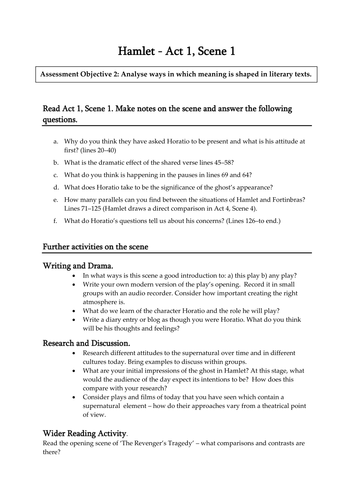 This single page will guide the students through close reading of the text of Act 1 Scene 1 of Hamlet by William Shakespeare. It asks specific questions to focus the students learning, as well as differentiated extension tasks of a variety of types of activities - writing, research, drama and wider reading. Aimed at GCSE or possibly AS or A level students. A close reading of the texts is essential for analysing and understanding ways in which meaning is shaped in literary texts. This is a simple word document, no fancy graphics, but ideal for getting to the heart of the issues. Powerpoints, word documents, activities and notes - excellent value for money. Suitable for Edexcel or OCR A Level or AS Level. Also suitable for AQA. There are enough resources here to be valuable to timesavers.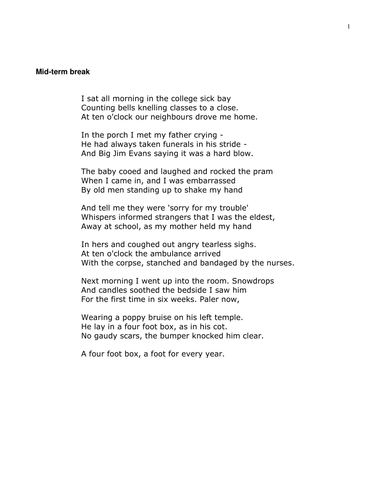 A set of notes on Mid Term Break by Seamus Heaney - Key Stage 4 materials Useful for GCSE revision prompts and discussions. Essay questions and ideas of how to tackle them. Simple but will work for most classes - differentiation possible. AQA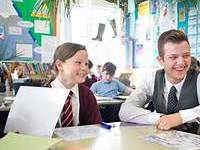 Suitable for Year 3 - an explanation of idioms. An exercise on powerpoint with customisation. Notes and activities covering Language Change for A level. Useful materials, research summaries and activities all in these 65 pages. Well worth the preparation time, useful revision tool. All in word for editing. Pages of notes and activities for A Level on the topic of speech and writing. In word so can be adapted. Useful if not studied this area before.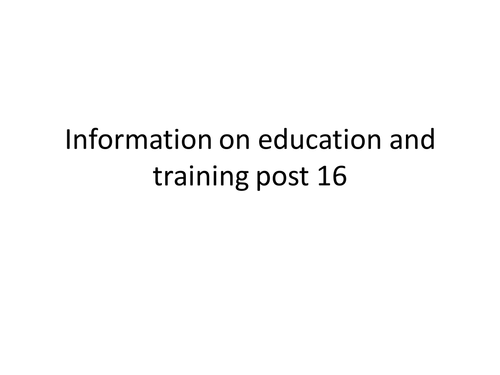 A powerpoint covering the basic choices in education and training post 16. Useful as a first lesson to introduce 'choice'. Could be used in assemblies, with parents or years 9-11. It assumes that A level progression from GCSEs is well understood and goes into more detail on apprenticeships and lesser known routes. Career Options Post 16. Outlines the skills, knowledge, qualifications and likely pay of some of the key job roles which interest young people.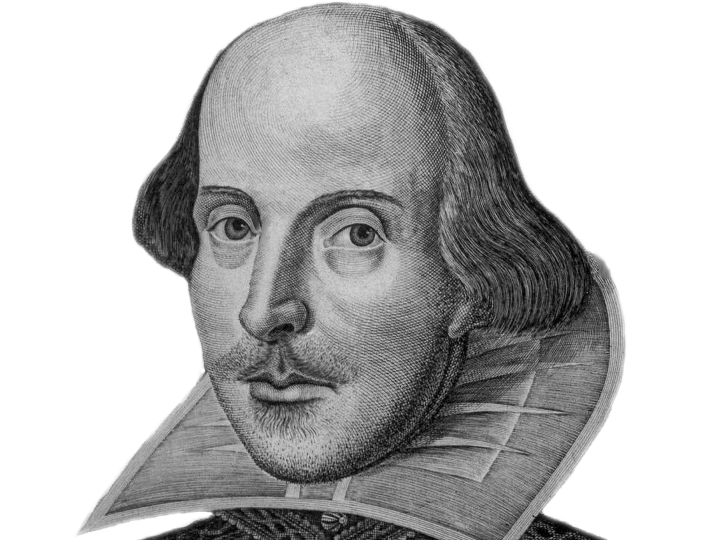 Useful for students, teachers and parents of those studying Hamlet for GCSEs, AS and A level English Literature. Questions, activities, notes and useful tips for exams. Saves time. Focused on the text. Great value for money! NQT teachers and those new to the text would benefit from the notes. Revision. AQA A level. Excellent time saver.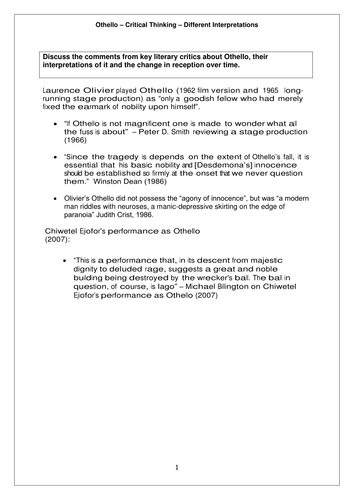 Quotations, tasks, essays and points to note in answers. Useful for looking at different interpretations of Othello by literary critics over time. Suitable for A level students, some essay points, and useful for teacher preparation. Suitable as revision material for students. Good for class discussions.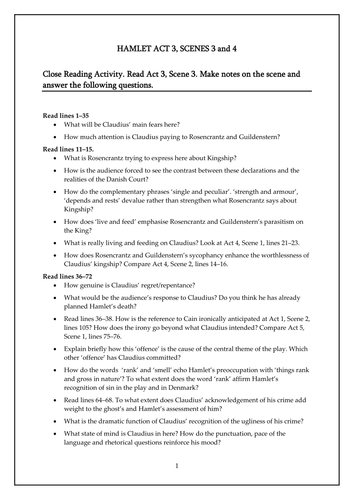 Close reading questions and activities on Act 3, scenes 3 and 4, plus additional activities on Act 3. A word document which will focus students on the text. Suitable for GCSE and A level, will enable a set of detailed notes. Raises links with other texts. Concise and to the point, the word document would help teacher preparation as well as serve as a useful cover lesson (s). Notes for A level or AS level English study of Hamlet. Critical interpretations of the play, characters, and its place in society - useful for AO3. Useful for NQTs and teachers new to the text.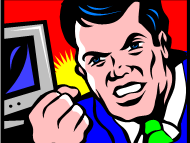 Straight presentation on writing for GCSE. Sensible advice to students. Extracts from texts chosen for their illustrative points of verbs and nouns. Notes in the viewing panel for notes. Powerpoint - very simple. Can be edited. A level material. AQA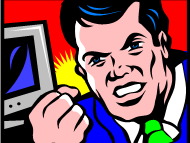 An approach to A Level Investigations / Projects. Possible ideas. Proformas for completion as guidance. What to include. How to prepare for an A level language investigation. Lots of materials - 42 pages. A resource to help you succeed.