Activities on Act 1 scenes 1-5 of Macbeth. GCSE. AQA. Useful for cover lessons.
Useful for GCSE revision prompts and discussions. Essay questions and ideas of how to tackle them. Simple but will work for most classes - differentiation possible. AQA
Suitable for GCSE - activities and discussions - with some prompts to help with the tasks. AQA
Macbeth Act 3, focused questions on the text. GCSE AQA.
Powerpoints on Macbeth, close reading activities. GCSE AQA
Simple powerpoint - GCSE - on the Gothic Novel. A task at the end. Link to Frankenstein. AQA or OCR
Powerpoint on religion in Lord of the Flies. GCSE. AQA. Useful for those who want to make links between the bible and Lord of the Flies.
Questions on each scene of Act 2, focused on the text. GCSE AQA. Powerpoint.
A powerpoint with an overview and discussion questions - for revision after the text has been read. Useful for GCSE lessons to remind students of key ideas and encourage debate. AQA.
A lesson's worth of materials on Language and Gender - Year 10 upwards. Good introduction for AS level study or even A Level
A powerpoint with short exercises on language and power / accents/ and gender. Adaptable. Useful for cover lessons. A level or whole school. Some theory integrated. Plain background, but on point.
Slides with critics views on Hamlet for discussion + discussion on - "There is something rotten in the state of Denmark". A level - AQA . 9 slides.
A powerpoint - very simple and adaptable - with questions and critics interpretations on Act 1. Useful for cover lesson and study at A level, GCSE level.
27 pages which take you through the play, offering critics interpretations of how to read the scenes, as well as questioning your own reading. Useful for teachers newly qualified and new to the text. Ensures a good set of revision notes.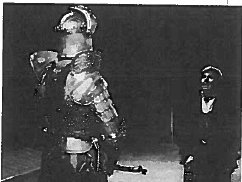 Activities to support interpretation of the characters in Hamlet for A level. Suitable for AQA. Useful quotations from critics to discuss and reference to the text. Simple, but focused on the text.
Notes on each Act and Scene of Hamlet - 160 pages. Very useful for NQT and those studying for PGCEs and new to the text. In word, so can be adopted for handouts if needed. Focussed on the text. A level of GCSE English Literature. Time-saving and useful.
Powerpoint which will provide guided activities to students for Act 2. It will refer to critics interpretations. The powerpoint is basic and can be adapted. Useful preparation for newly qualified teachers, cover lessons.
2 Powerpoints covering Romeo and Juliet essay plans, plus background on attitudes to love.
Interpretations of Hamlet, Act 5, with critics comments, questions and activities. Simple powerpoint, lots of activities. Useful for Edexcel or OCR A level or AS English.