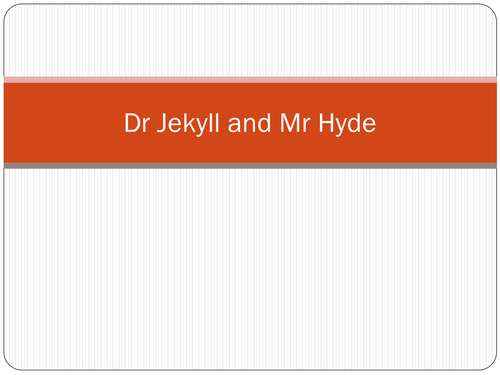 Suitable for GCSE study - power point that will allow an overview of the text's characters, provides passages to study for their use of language/form and relationship to the Victorian period and genre. Saves time in preparation, and concentrates on the key ideas. 30+ slides.
Bundle
Career Options Post 16. Outlines the skills, knowledge, qualifications and likely pay of some of the key job roles which interest young people.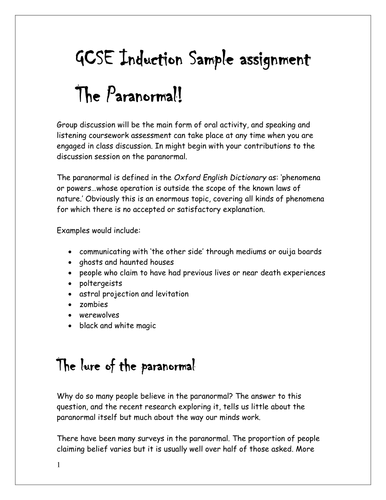 Suitable for years 10 and 11, to encourage speaking and listening and group discussions. would lead to differentiated outcomes. A good starter for GCSE level learning.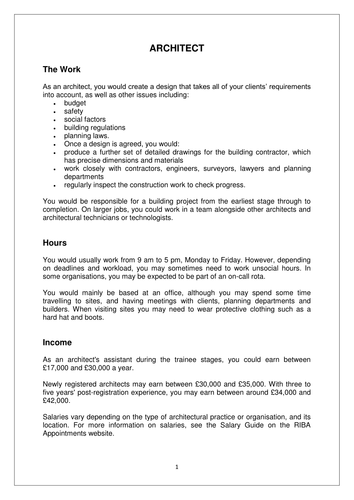 Information on the entry requirements, typical pay, skills and knowledge needed for these professions in construction.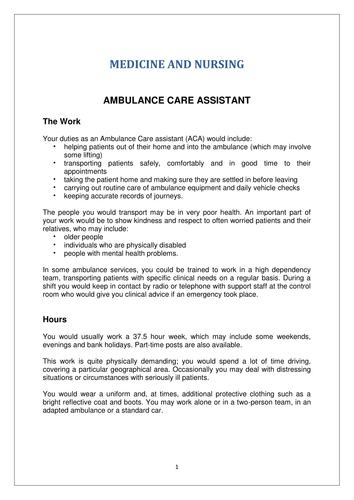 Careers information useful to years 10, 11, 12 and 13. Same format information in a word document covering salaries, knowledge, skills and entry requirements. Job roles covered include: ambulance and care assistant, ambulance paramedic, ambulance technician, care assistant, children's nurse, clinical support worker, community nursery nurse, dental hygienist, dental nurse, dentist, health care assistant, hospital porter, maternity support worker, midwife, occupational therapy support worker, pharmacist, pharmacy technician, radiographer, school nurse. About 60 pages worth of handouts.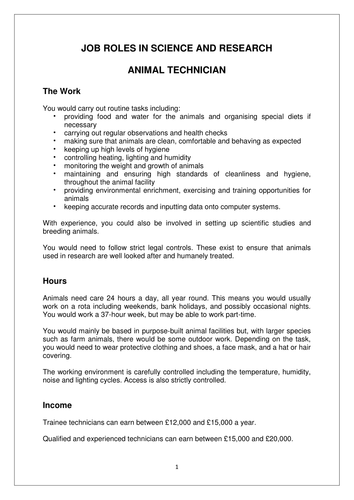 Useful for careers information for Years 10,11, 12 and 13. Job roles, salary and entry requirements in the following areas: veterinary surgeon, lab technician, forensic scientist, fingerprint officer, electronics engineer and animal technician. Same format for each, word document to manipulate as you need. 20 pages.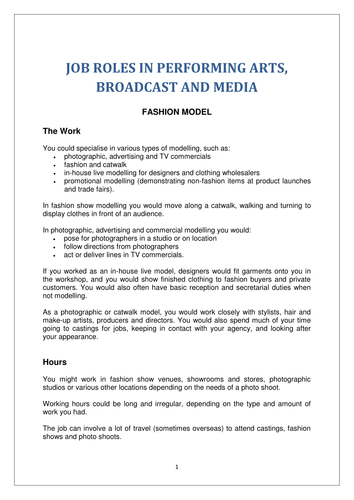 Useful for careers lessons for years 10,11, 12 and 13. Job roles, salaries and qualifications required in the performing arts, media and broadcasting industry, covers topics in: fashion model, lighting technician, make-up artist, photographer, photographic technician, prop maker, stagehand, sound studio engineer, wardrobe assistant, web content manager, web designer, web developer, web editor. The format for information is the same and the word document allows you to manipulate the information as required. It is 40 pages long.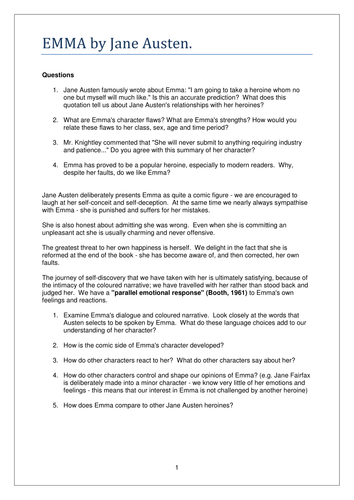 Basic revision questions, with a few notes to help the student along the way. Suitable for GCSE students.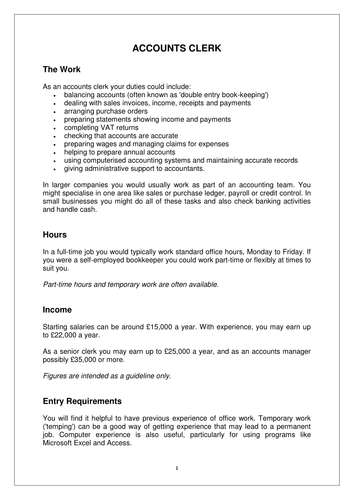 A few examples of job roles in business admin... including, pay, types of activities, experience required, opportunities available.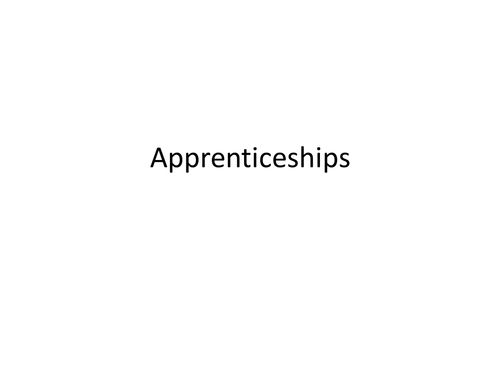 A general overview of Apprenticeships, what they are and how to apply. A useful powerpoint for careers lessons and choices post 16.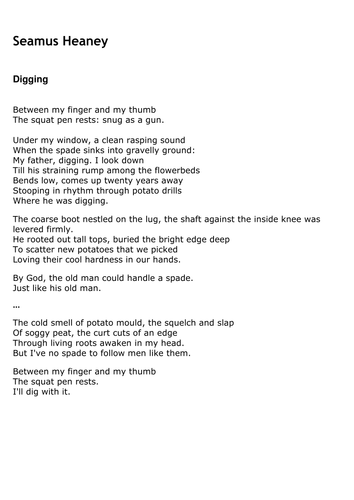 A set of revision notes and activities for Seamus Heaney's 'Digging' - Key Stage 4 materials. A good lesson's worth.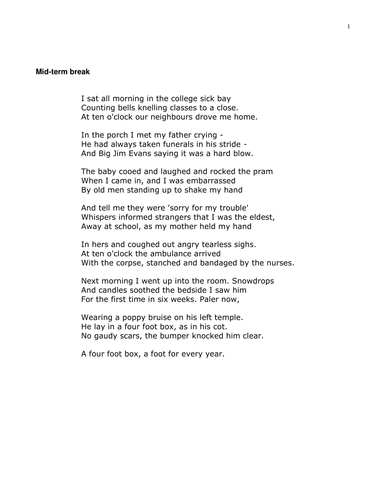 A set of notes on Mid Term Break by Seamus Heaney - Key Stage 4 materials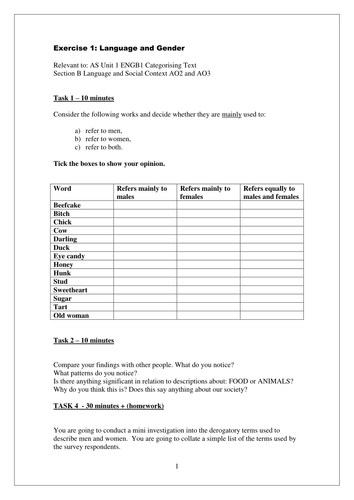 Exercises for investigating language and gender. Useful starter tool for AS study, but equally fun for GCSE social studies.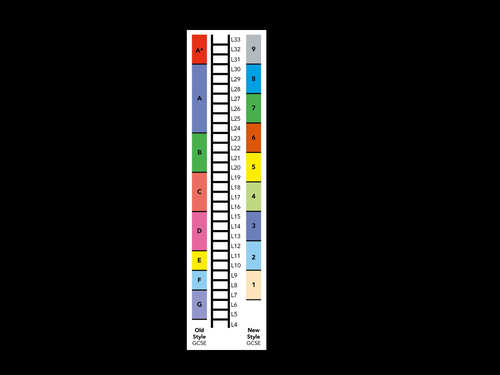 Slides showing the new points at GCSE and A-Levels and BTECS from 2017. Letters at GCSE and now their corresponding number scale 9 -1, in the UK, from 2017.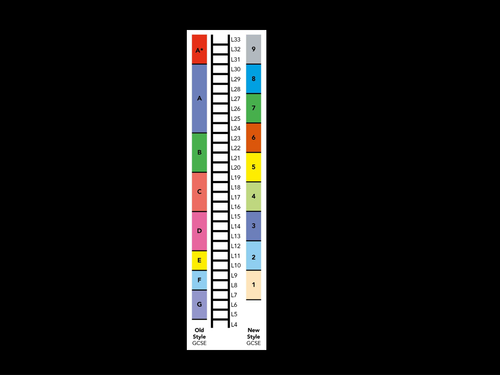 A slide illustrating the corresponding GCSE grade in the old style to the new GCSE numbers in the new style from 2017 in the UK.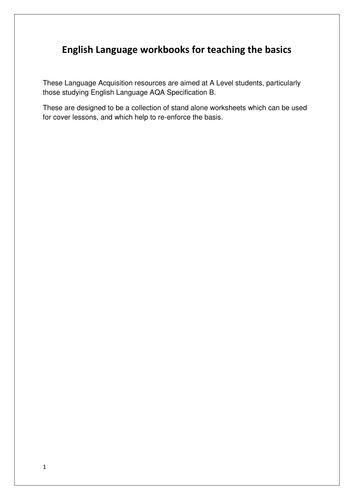 Basics exercises to cover A level Language introduction to 'learning to write' and 'language and technology'. Quick cover lesson.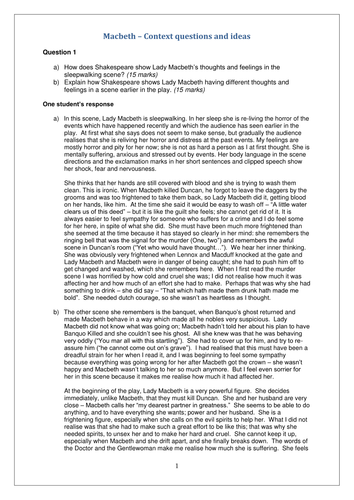 Two context questions with some ideas for answers, based on Act 2, scene 2, and the sleepwalking scene.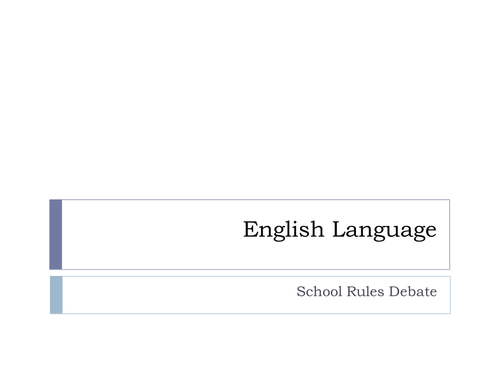 Basic powerpoint to spark debate about school rules - open to customize as required. Suitable for year 7 - 13. Good for stimulating discussion - topical and full of differentiation possibilities.
A set of questions and things to notice for A level students and teachers. This resource will guide you through the first act, making sure you notice the key points of the play. It would be useful homework material, extended reading or simply questions to ask as you read through the play together. The responses will ensure detailed notes. Broken down into line references for ease. A useful resource for first time teachers NQTs and teaching practice.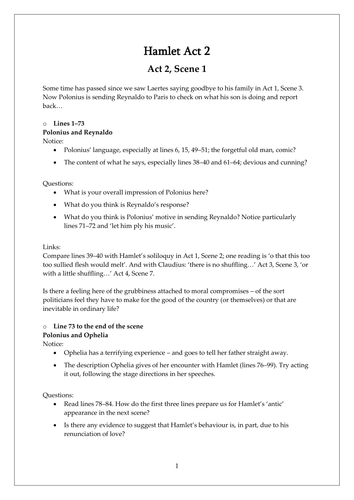 Act 2, questions and things to notice for A level. Easy to edit questions and things to notice - useful for those reading the text for the first time. Students and teachers - especially NQTs and those on teaching practice - would find this useful.