Gill Sans's Shop
Passionate about Art, design & education, I am a self confessed typophile & lover of all things font-ish.
13Uploads
4k+Views
152Downloads
Passionate about Art, design & education, I am a self confessed typophile & lover of all things font-ish.
Having found I accumulated lots of different sheets on analysis , I decided to produce this ONE , 2 paged document which is comprehensive and comprises all the context and formal element prompts. It can be used in class or independently & students will be able to access it at different levels depending on ability. It can be printed off at A4 or A3 , double sided or not & I laminate these for classroom copies. The image shows the Formal Elements side - detailing prompts for Composition, colour, line, shape, image, typography, emotional impact whilst the "Context" side gives prompts for the wider questions around a piece (time, artist, location, social , historical etc) along with explanations of different graphic formats.
Students often find researching a piece of work difficult & find Context hard to access. Aimed at Level ]3 art students, this powerpoint will introduce why context is crucial, using Banksy's work , with a practical task to follow on with. The slides are detailed with the notes alongside open a PDF. The PPT is amendable & has active links for the students to use. All timings are present in the Powerpoint so it is ready to click & play.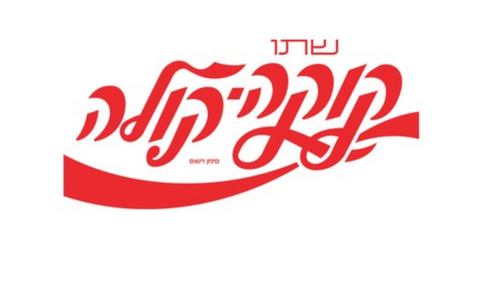 This can be used with younger students (KS3) or right up to KS5 students as a quick intro to visual thinking and graphic design . The session here can be run in a one hour slot or can be extended to a week or longer. Resources needed will be minimal but a photocopier / printer would be needed ahead of the session. The pack looks includes an editable** powerpoint** with an animation, class discussion resources, a quick warm up exercise & the longer exercise. This is really useful for taster days plus opening lessons in new terms. Includes: **Typography , visual thinking, facial expressions, manual dexterity, composition, design and practical work.
This is a PDF tutorial to help guide through creating a repeat pattern using Photoshop - useful for Graphics / textiles or Fashion students . Adobe CS6 used.
I devised this for my Year 12 & 13 Graphic A'level students so that it was easy blocks to access. They can use the blocks to make notes / write bullet points or extended prose. Once they have understood & gained confidence they may just need to revisit this from time to time.
This task will help level 3 (or Level 2) students to develop **colour skills ** and to understand their range & emotional power within design. The task uses photography (using phones ) & photoshop but could also utilise magazines or found traditional media if technology isn't available. The next part of the task challenges the students to name the colours and to develop awareness of the Pantone system along with an additional colour logo task.
A breakdown of the questions needed for students to breakdown Context of a piece - dipslayed in blocks , this can help students to research in "chunks" and is useful for learners who prefer a methodical way of working.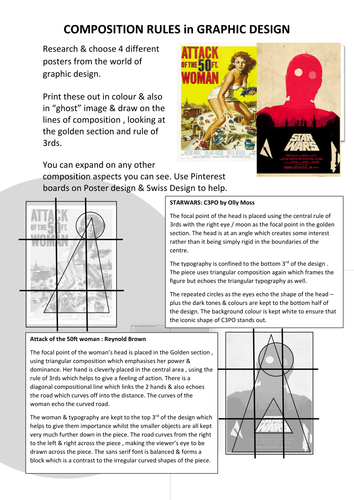 A resource that gives examples of composition analysis for Posters - looking particularly at golden section, rule of 3rds & triangular composition. This will require that the students have been introduced to the concept of the key ideas such as golden section /rule of 3rds & basic composition in a prior session. This fits in with Assessment Objective 1 of GCE /GCSE Art & Design (Graphic Design) (Analytical skill and critical and contextual understanding in comparing and contrasting the work of relevant artists, craftspeople and designers AS 'level AO1 ) ("Provide evidence of analytical skills and critical and contextual understanding by appraising, comparing and contrasting the work of relevant artists, craftspeople and designers and other historical and contextual sources, using this evidence to inform their own work GCSE AO1)
This revision sheet can be used with an activity (give each student an Oreo - ask them to describe its smell, look, texture etc (Observation). Ask them to explain their description & find out more (Reason) . Find out why it has a certain look/ what the symbols mean (Explanation) . What do they think could be improved or changed ? (Opinion). This always works well as they get to eat OREOS ! Once they have used this for the Oreo, they can translate to their own artwork / others.
I use this to encourage students who dislike annotation & writing in prose in Art & design. The idea / activity is one where they describe an artist in 100 words ONLY (no more, no less!). Often this takes a few drafts but it helps them craft sentence structure, syntax & fluid writing. It works well with boys too as they rise to the competition of who can fit in more adjectives. They can use the example shown to read & make notes in the box first.
A poster - ideal to laminate- to explain the Assessment Objectives to students with key areas highlighted .
An aide memoire for students who need quick prompts for analysing work - especially Graphic Design - this can be printed A4 but best at A3 - I laminate the classroom copies. The areas are colour coded (ie Typography, Mood, Colour , composition ) to help guide the students visually. Hope this helps. I've found it really useful especially once the students have a grounding in analysis.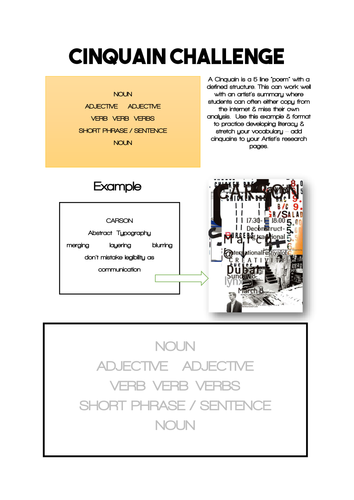 Designed to help students develop tighter sentence structure, vocabulary & analytical skills for the GCSE / AS/ A'level & BTEC Art courses - in particular , Graphic Design. This worksheet explains the challenge of writing a Cinquain (5 line) poem of artist's analysis. By giving an example & structure, this can help students at all levels with AO3 Reflective recording & AO1 Contextual Understanding. This helps to also avoid students writing / copying irrelevant biographical details .