6Uploads
10k+Views
767Downloads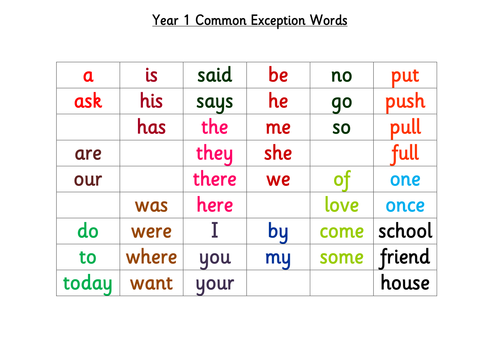 Word mat with all the common exception words for year 1 and year 2. Colour coded for easy access by the children. Can be used on tables or enlarged for display in the classroom.
Very effective tool for learning the digraphs and trigraphs the children need to know for the Phonics Screening Check. These Sound Cards cover the Letters and Sounds Phase 3 and Phase 5 digraphs and trigraphs and can be used with any Phonics programme you are using in school. Sound Cards are provided on a downloadable PDF which can be printed double-sided onto card and then cut out into individual Sound Cards. They can be laminated for extra durability and reused year after year. • Each child can have their own set to keep at school and/or take home. As the children learn a new digraph/trigraph in class you can give them the relevant Sound Card to add to their collection. Or you can give them all out as a revision tool for the Phonics Screening Check. Parents can go through the cards with the children at home. • Individual sound cards can be used more flexibly and more effectively than simply having a sheet of illustrated sounds. • Children's retention of the sounds by using these cards is better than rote learning with the sounds in a fixed order all on one page. The PDFs can be used as Sound Mats in class in addition to, or as an alternative to, individual Sound Cards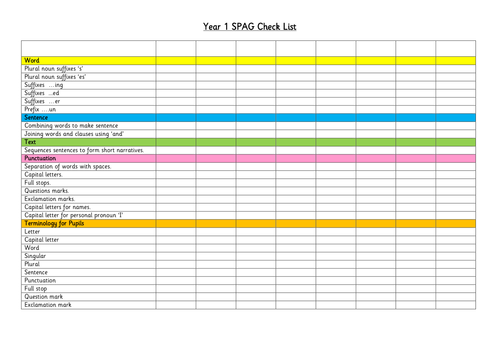 SPAG objectives for Years 1 and 2 broken down in small steps in a checklist/table. Can be used in a variety of ways e.g. to check coverage or track the progress of a class or individual pupils.
A series of 5 Relationships lesson plans based on the PHSE Association's Education Programme of Study* based on an illustrated children's book 'Zig Zag and the Giant Adventure'. The book is an adventure story but also quietly and sensitively deals with issues children may face in a family break-up or arguments with their friends. In the book her parents' 'shouty' voices downstairs leads 6 year old Emily on an adventure with Zig Zag, the Stripy Spotosaurus and her 'Toy Family'. They encounter a sad princess and two giants arguing outside a castle. You will need to download the PDF of the book 'Zig Zag and the Giant Adventure' from the TES website which can be found here https://www.tes.com/teaching-resource/zig-zag-and-the-giant-adventure-12526173 *The use of the PHSE Association Programme of Study is recommended by the DfE in its policy statement: Relationships Education, Relationships and Sex Education and Personal, Social, Health and Economic Education March 2017.
A children's book for ages 4-7 years old. Zig Zag the Stripy Spotosaurus is Emily's favourite birthday present, but the real surprise starts when Zig Zag takes emily and her Toy Family on an exciting adventure where they encounter a sad princess and two grumpy giants. The first in a series of stories about a dinosaur, Zig Zag the Stripy Spotosaurus, and a six year old girl, Emily, who is experiencing the separation of her parents. Reading these books may help children in the same situation understand and talk about their feelings. A free PHSE lesson plan accompanies this book and can be found on the TES resources website by following this link https://www.tes.com/teaching-resource/resource-11796312 Important - to view this book correctly on screen: At the top of the PDF page go to: View Page Display Tick 'Two Page View' Also tick ''Show Cover Page in Two Page View'
A children's book for ages 4-7 years old. Zig Zag the Stripy Spotosaurus, Emily and her Toy Family go to a magic wood and play in autumn leaves that make beautiful sounds as they rise and fall. But the real adventure starts when they meet an owl, a fox, a badger and a bear in the middle of the wood… The second in a series of stories about a dinosaur, Zig Zag the Stripy Spotosaurus, and a six year old girl, Emily, who is experiencing the separation of her parents. Reading these books may help children in the same situation understand and talk about their feelings. First in the series 'Zig Zag and the Giant Adventure' is available to download here. https://www.tes.com/teaching-resource/zig-zag-and-the-giant-adventure-12526173 Important - to view this book correctly on screen: At the top of the PDF page go to: View Page Display Tick 'Two Page View' Also tick ''Show Cover Page in Two Page View'