85Uploads
315k+Views
308k+Downloads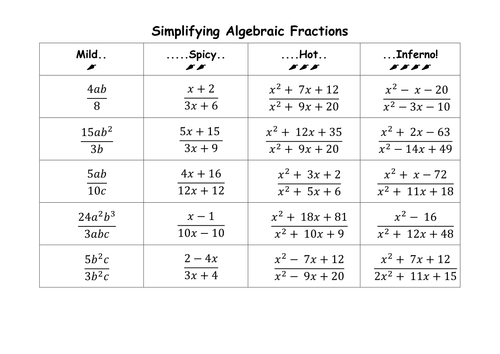 A straightforward lesson and differentiated or staged worksheet for simplifying algebraic fractions. We start with simple multiplication / division and then through expressions which require factorising. Perfect for Middle ability Y11's, a brighter group might want some further examples of non-monic quadratics as an extension activity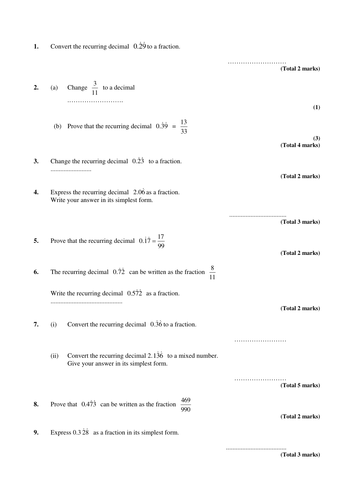 A big value bundle which would form the basis of a 2 or 3 lesson block on this topic. First lesson - why do some decimals terminate and some decimals recur? - getting students to find for themselves through division and investigation that this relates to the prime factors of the denominator. Second / Third lesson - plenty of work / practice including a well graded Mild / Hot / Spicy / Inferno sheet for this tricky topic.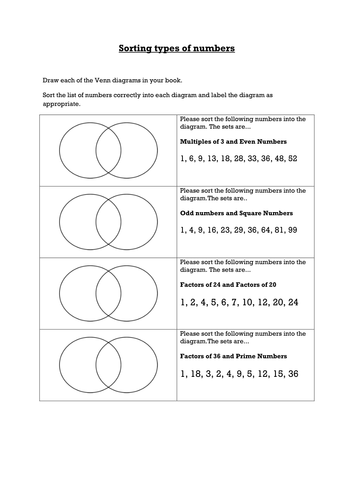 A lesson to remind students how to classify types of number ideal for Ks3 or Ks4 Foundation GCSE. See my Free "Bingo" resource for an ideal starter or plenary depending on the group. The worksheets allows students to do a bit of fun shading, and likewise also introduces Venn Diagrams which have been added into the GCSE curriculum.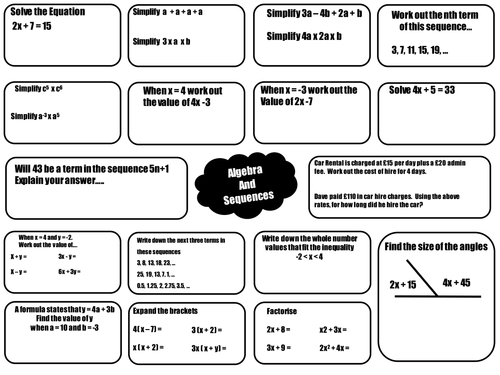 Three examples of a sheet that I enlarge to A3 to give students general purpose revision on these topics. Most suitable for a lower ability GCSE or any KS3 maths class. The templates can be changed for any topic once youve used them.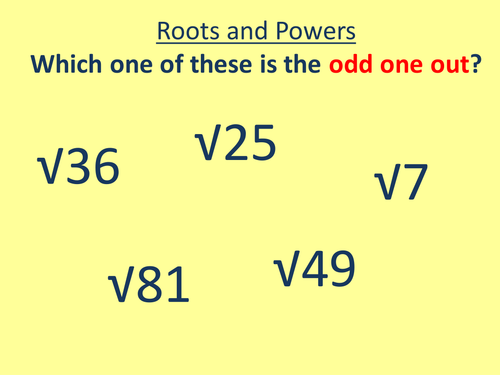 Useful sheet to get students estimating the roots of integers other than perfect squares, through students knowledge of square numbers.Ask students to work in pairs or small groups. Also works well as a lead in to surds at ks4 *Update* the post it idea below works fantastically well, students can then rank the answers in terms of their closeness to the answer to further reinforce working with decimals.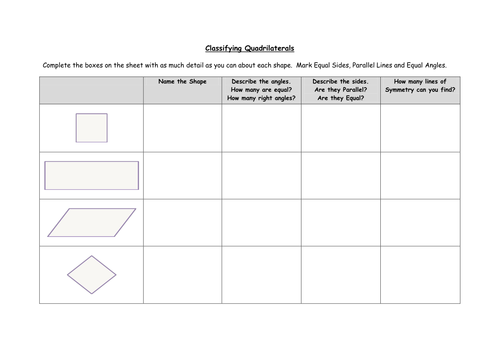 A set of activity sheets and presentation/lesson to cover the properties of quadrilaterals. Explains line / rotational symmetry, and how/why we mark equal angles, equal and parallel sides. The wrap up works as a "mystery" and checks learning of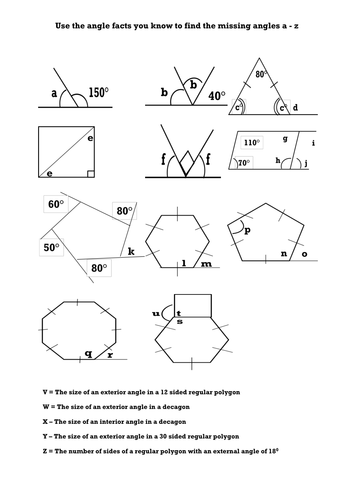 A two lesson set of notebook files covering finding the exterior and interior angles of regular polygons

Suitable for KS4 or able KS3 student this is an introduction to probability, with a discussionon the probability scale, through the basics of Tree usage, right upto using a tree for "without replacement" questions. There are opportunities for discussion and extension within the worksheet materials

Suitable for a lesson activity or homework for a Foundation GCSE or KS3 teaching group. Students find the values, convert to letters and an easy progress check can be made by asking the students what it spells!

An investigative lesson where students can "discover" Pythagoras' theorem. Note - you will need to give each group of students a large number of accurately cut squares eg 6 x 6, 9 x 9 which I have not supplied. With prompting students should be able to establish and generalise not only that when the three squares form a right angled triangle, then when they dont form a right angle what this means with regards to the opposite angle!

A complete Revision lesson for putting all those angle facts together, I use this prior to teaching angles in parallel lines. Starter designed to recall previous knowledge, lots of extension opportunities and then a riddle activity for a plenary to reinforce those facts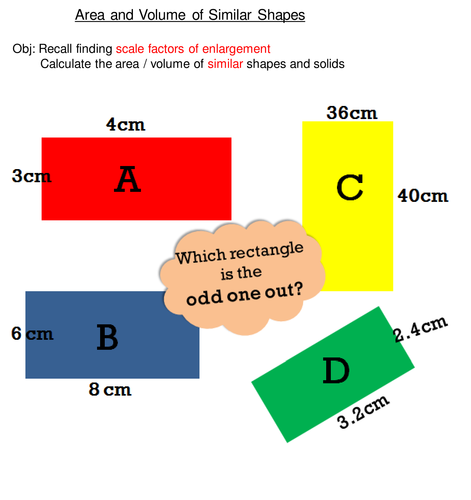 A complete lesson worksheet and starter activity for students to discover the link between length scale factor and the area/volume of similar shapes and/or solids. Could be split into Area for one lesson and then volume for the second.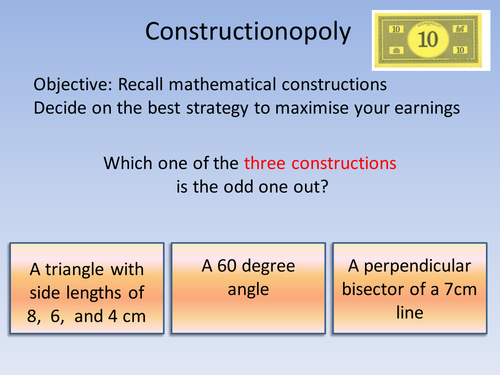 This is an excellent trading game activity to be run after teaching students geometric constructions (check out my FREE carousel lesson) Read the lesson plan carefully for the extra equipment needed. For the money I simply used monopoly money templates but I cannot upload those here for copyright reasons

Upto two lessons worth of work on simplifying expressions involving Indices. By the end of these lessons students should be able to simplify multiple terms.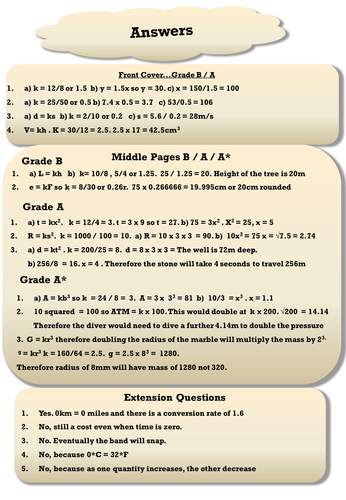 A complete lesson on direct proportion including a starter and some GCSE style questions.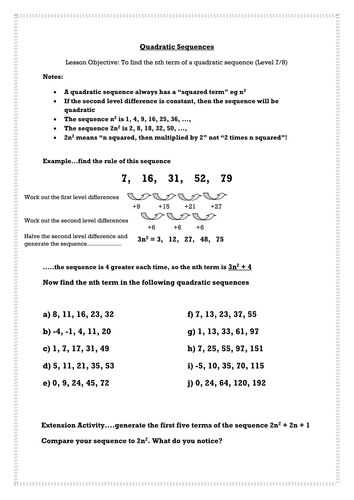 A lesson to introduce Quadratic sequences as part of the new 9-1 GCSE Content. I approach this topic by getting the students to generate n squared, 2n squared etc and find the second level difference for themselves rather than demonstrating this from the outset.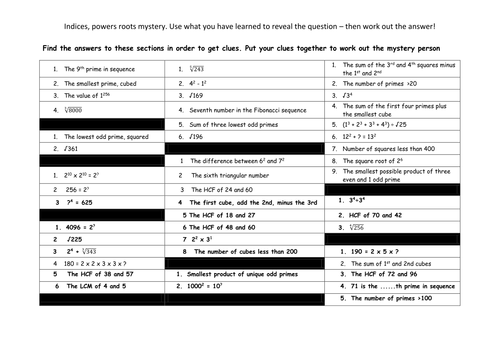 An exercise designed to recap or revise all areas of number work that involves HCF, LCM, Powers, Roots etc suitable for GCSE or KS3 students. I use this as an end of unit assessment and either make A3 sheets to share or individually as a homework. The answers will spell a question that then needs to be answered and can be modelled at the end of the lesson as a plenary. A simple extension task is to ask students to test each other and make their own codes - I have also set this for homework in the past.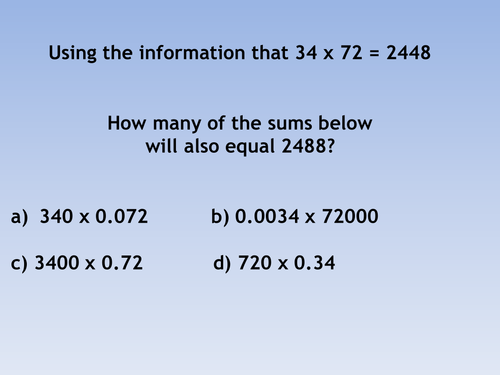 A lesson focussed on answering these common questions, with some reverse rate questions thrown in to keep things interesting!

An activity designed for students working in teams. Initial starter on Whiteboard, then students must enter the correct codes into the excel spreadsheet (correct answers turn cells green) in order to be the best performing team. I only let the students input their answers into the spreadsheet three times during the lesson and only make one correction.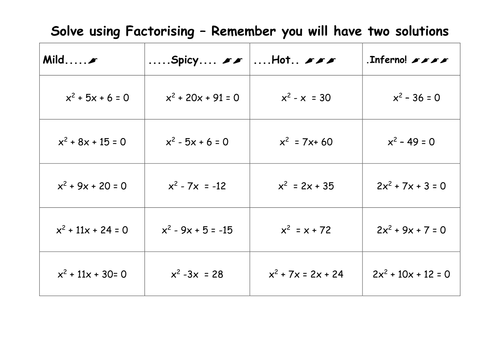 A straightforward lesson on this essential skill with a differentiated worksheet, with a few non-monic equations, and some equations that need to be rearranged into the correct form first.