Charlypeters's Shop
KS3 and KS4 English resources including some SEN-specific lessons.
11Uploads
2k+Views
406Downloads
KS3 and KS4 English resources including some SEN-specific lessons.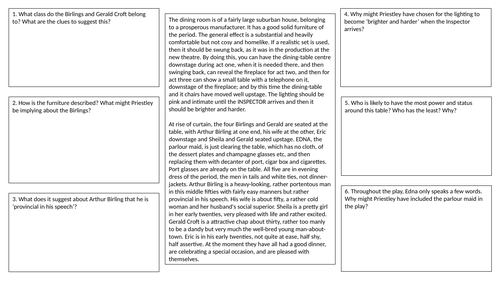 Worksheet containing analysis questions about the opening stage directions in An Inspector Calls. 3 lessons, each with a different focus: Lesson 1 - Marsha P Johnson and Diane Abbott. KS4 focus (links to Lang Paper 2) about Black people who have impacted on political history and portrayal of Black leaders in the media. Lesson 2 - Maya Angelou. Can be adapted for all year groups (KS4 could use to practise unseen poetry) about poetry and literature as an aid to overcoming adversity. Lesson 3 - Akala. Can be adapted for all year groups (KS4 can use as a stimulus for Lang Paper 1) about Akala's forthcoming YA book The Dark Lady and its roots in Shakespeare's Dark Lady sonnets. Includes looking at Sonnet 127 and a creative writing task using the sonnet as inspiration. All printed resources included. All proceeds being donated to https://theblackcurriculum.com/ Designed for a year 8 middle ability class to build up their analysis skills towards writing a PEAL paragraph. This version was for the HA pupils in the class - can be differentiated by giving more support with the final PEAL in the form of sentence starters. Learning objective - to consider Mrs. Kay's point of view about the future of the Progress Class children.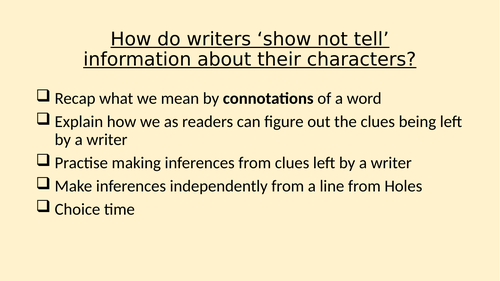 Originally designed for a Year 11 class at an SEN school but can be adapted to fit other contexts - in particular a lower ability Year 7/8 class or KS2 class. Guided practice at understanding how connotations work and figuring out how to read between the lines of what a writer has said. Designed for secondary school English pupils. Each lesson has a focus on a different LGBT+ writer - William Shakespeare, E.M. Forster, Dawn Langley Simmons and Lorraine Hansberry. Most lessons have been designed to be easily altered for ability levels with a creative writing focus and a variety of different tasks and perspectives. The lesson on Dawn Langley Simmons includes a Language Paper 2 style practice paper for KS4 pupils. Can be delivered as stand-alone lessons or as part of a short SOW. Lessons have been designed to require minimal printing and all resources are included. Aimed towards GCSE level. This PP contains 5 lessons of work and includes: attitude towards women supernatural history of the story James I an introduction to Act I Scene I Comprehensive information with an additional introduction to note-taking skills to encourage recall. Each lesson includes a 'do now' settling task to build on existing schema. Begins with an introduction to the GCSE mark scheme to help pupils understand why context is important.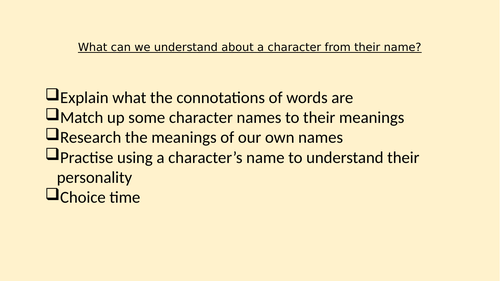 An introduction to the idea that character names are sometimes chosen deliberately for their connotations. Includes a match up activity and popular/familiar characters. Originally designed for a Y11 class at a special school but can be easily adapted and would be well suited to low ability classes in mainstream.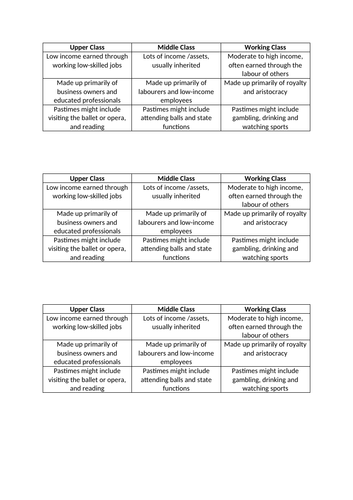 Series of lessons (3-4) introducing the context of An Inspector Calls, with a focus on class and gender.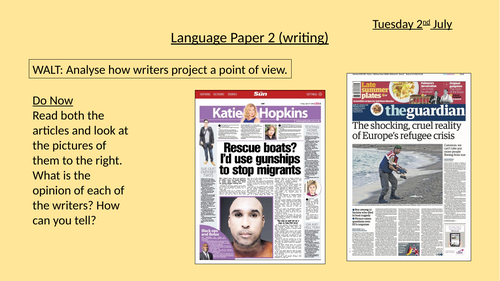 Introduction to Language Paper 1 including past questions and a useful planning method (De Bono's hats) DAFOREST techniques worksheet is not mine but widely available online (I got this version from TES). Begin with Discursive Writing presentation followed by Hats in Practice. Resources included.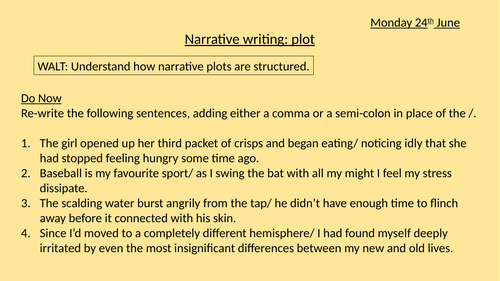 These lessons break down writing a narrative into more manageable chunks (openings, plot, character, endings) to support pupils through writing their own narrative in preparation for Language Paper 2. Includes an introduction to types of questions, examples of interesting opening lines, and supporting references to texts they will likely know from the Literature papers (Macbeth and An Inspector Calls) Resources also included.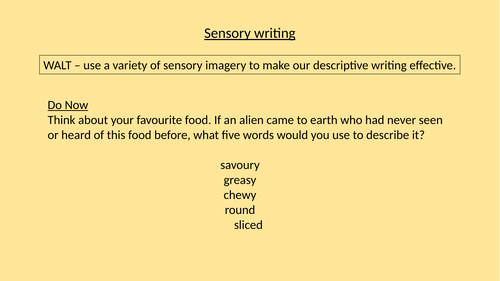 A series of lessons working towards planning a piece of descriptive writing. This was originally written for a set 2 class but easily adapted. Focuses on 3 skills - sensory description, creating an atmosphere and planning, beginning with an introduction to Language Paper 2 Writing. Where necessary, the slides have guidance notes for teachers - I have included references to a range of wider reading texts.