Christiesarah's Shop
Secondary Teacher in Australia teaching English, Humanities and Psychology.
22Uploads
23k+Views
6k+Downloads
Secondary Teacher in Australia teaching English, Humanities and Psychology. Anh Do nearly didn't make it to Australia. His entire family came close to losing their lives on the sea as they escaped from war-torn Vietnam in an overcrowded boat. This book tells the incredible, uplifting and inspiring life story of one of our favourite personalities. The Happiest Refugee tells of his journey. This unit of work includes: - pre-reading activities - chapter questions for comprehension Eastwood's 'Gran Torino' unit of work includes: comprehension questions key quotes essay planner that is scaffolded with an essay prompt for all abilities essay rubric 'Outsiders' unit of work includes: comprehension questions spelling groups using words from the text 2 part project with rubrics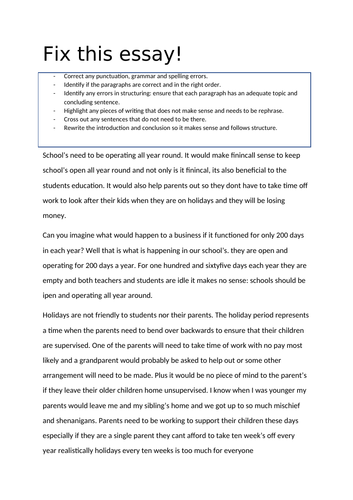 An essay that students need to find the mistakes and fix (a list of tasks is included) and then they need to write a response. This is used in year 11 English but could be used for years 7-12 and is on the topic of having school all year round.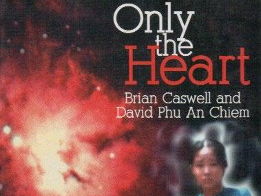 Only the Heart by Brian Caswell and David Phu An Chiem is about the Vietnam war, and the problems and hardships the Vietnamese people faced while trying to escape their war stricken country. During the book, Toan and his family escape Vietnam, on a boat. They become part of the first wave of boat people to Australia. This unit of work includes: - pre-reading activities including map work - Chapter questions for comprehension - 2 media articles with questions that relate back to the text for extension - Essay questions for assessment This 180 slide powerpoint covers the following topics and includes dozens of activities and questions with links also attached on the slides: -Development and an investigation into developed and undeveloped country comparison -Poverty with activities -Photo analysis activity -Shasha's story with activities -Causes of poverty with activities -United Nations Millennium Development goals with research task -Human Rights -Child labour -Research task based on the Convention on the Rights of the Child -Violations of human rights -Death penalty -Genocide / Ethnic cleansing with research task -Australian Equality -Indigenous Australians -Cultural diversity in Australia. Also attached is the photographs needed for the photo analysis And a photo analysis worksheet as practice.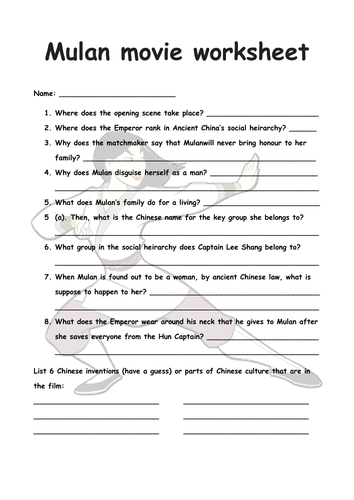 Disney movie Mulan worksheet for understanding of Ancient China in particular social structures The book follows two rival groups, the Greasers and the Socs, who are divided by their socioeconomic status. The story is told in first-person narrative by protagonist Ponyboy Curtis. This unit of work includes: - Spelling words for each chapter divided into 4 differentiated spelling groups - Chapter questions for comprehension - Outsiders biopoem lesson activity - Project that includes both a creative task and essay prompts for assessement - Rubrics are included Based closely on real life, this is the exciting and inspiring story of Parvana, a young girl growing up in Afghanistan, as she struggles to make a life for herself and her family under the harsh rule of the Taliban. This unit of work includes: - Pre-reading activities and tasks - Chapter questions for analysis - Afghanistan photographs for analysis - Essay questions for assessment Bruno is a 9-year-old boy growing up during World War II in Berlin. He lives with his parents, his 12-year-old sister Gretel and maids, one of whom is called Maria. After a visit by Adolf Hitler, Bruno's father is promoted to Commandant, and the family has to move to 'Out-With' because of the orders of "The Fury". For this unit of work for Boy in the Striped Pyjamas by John Boyne includes the following: - Unit of work outline - In-depth holocaust investigation - Powerpoint analysing blurb/front covers - Worksheet activity for covers - Pre-reading definitions - Chapter questions for comprehension - Character analysis worksheet - Newspaper article that has questions that link back to the text - Crossword for BITSP - Essay questions for assessment Fly Away Peter is an Australian novel by David Malouf set before and during the First World War. The first part of the novel is set on the Queensland Gold Coast, and the second part on the Western Front. This unit of work includes the following: - pre-reading task: World War I investigation - Chapter questions for comprehension - Extension questions and tasks - Essay questions for assessment The film Slumdog Millionaire unit of work includes the following: -India investigation for pre-reading -Character analysis regarding the theme 'power' booklet -Activity booklet -Essay questions for assessment Barrymore's film 'Whip It' Unit of work, it includes: comprehension questions moderated questions moderated visual task character profile task wordsearch scaffolded essay writing task on personality traits with examples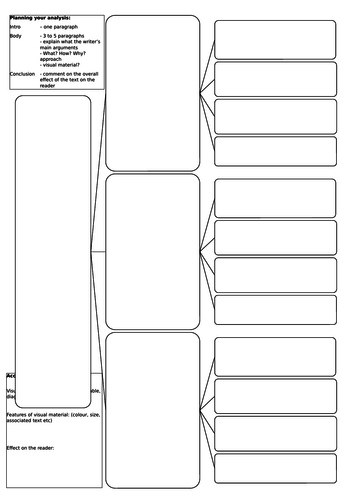 This A3 planner is designed for VCE English students. The planner helps students plan out their language analysis in a clear and understandable manner.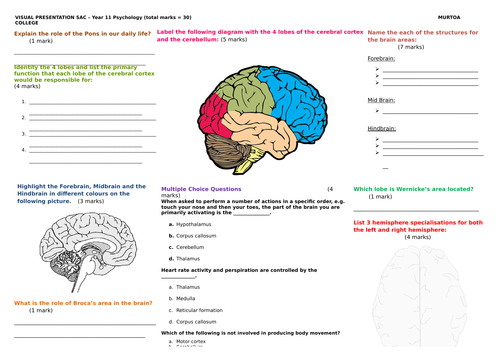 A visual presentation test / SAC / assessment on student's knowledge of brain areas, lobes and their functions.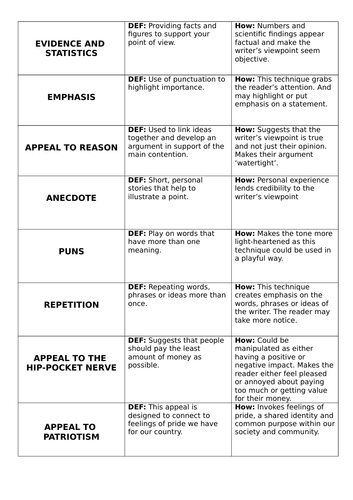 Attached is persuasive devices with their definitions and how it persuades. Students need to cut these out, mix them up and then match it to the correcting persuasive device. Paste onto poster, then ask students to find examples of these persuasive devices in the newspaper. 4 worksheets on the brain and the lobes and areas in the brain. Good comprehension and summary activities.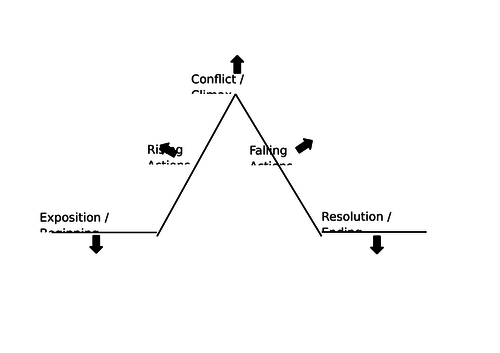 Narrative writing planner that focuses on story structure and character development This worksheet focuses on Antarctica and Antarctic animals in the movie 'Happy Feet'. Specifically, it focuses on Antarctic landforms, weather, human contact with Antarctica and the animals.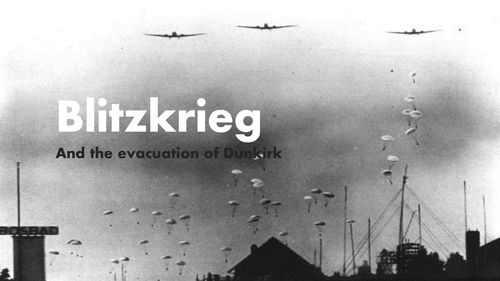 Attached is a powerpoint with dot points about Blitzkrieg and information about the evacuation of Dunkirk. Also included is a map of Europe during World War II whereby students fill in the countries that Germany took over using blitzkrieg.