Bundle
Study notes for component 1 1.1 System Architecture 1.2 Memory 1.3 Storage 1.4 Wired and wireless networks 1.5 Network topologies, protocols and layers 1.6 System Security 1.7 Systems software 1.8 Ethical, legal, cultural and environmental concerns
Bundle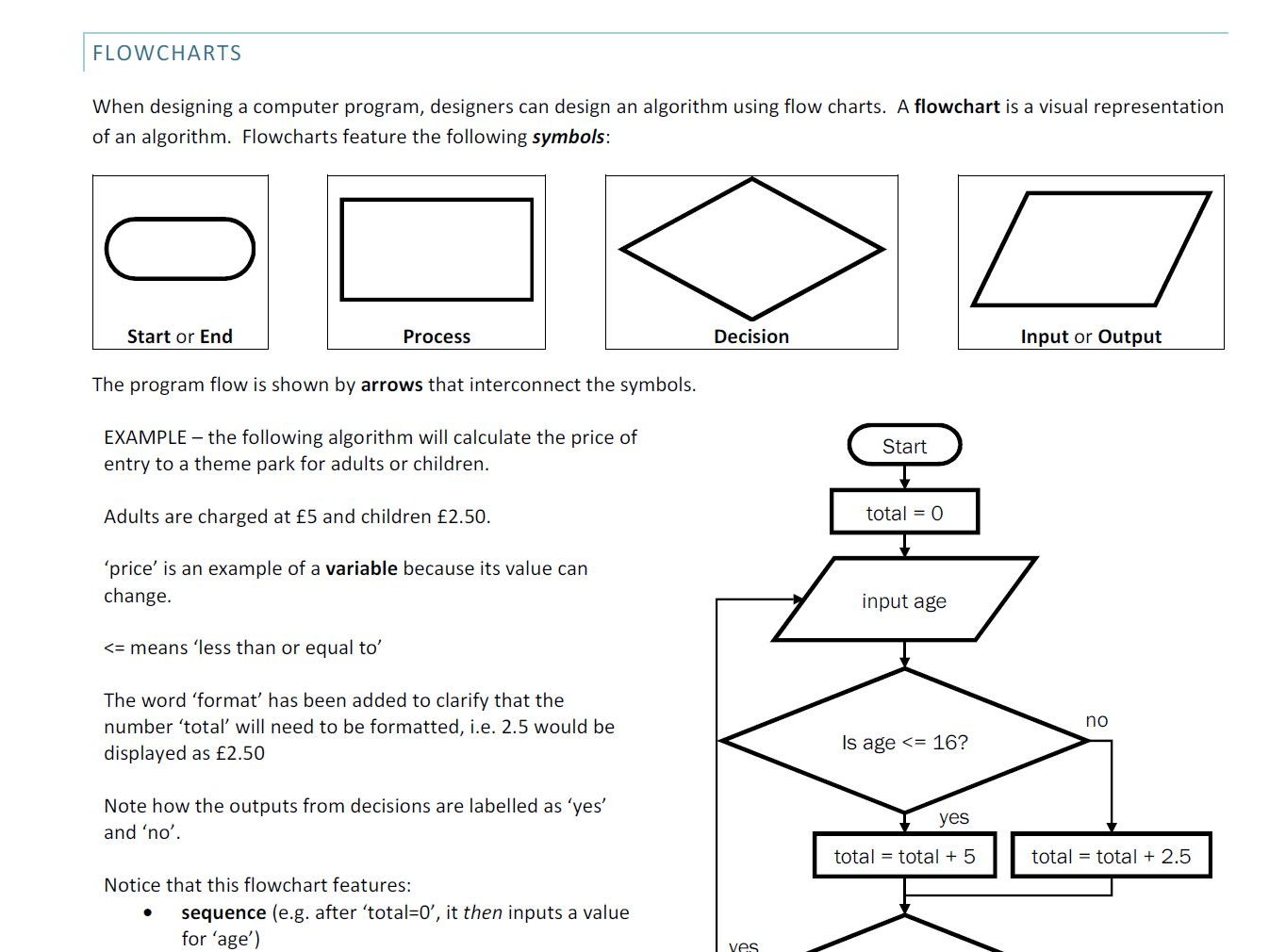 2.1 Algorithms 2.2 Programming technique 2.3 Producing robust programs 2.4 Computational Logic 2.5 Translators and facilities of languages 2.6 Data representation
Bundle
Study resources for OCR Computer Science - the complete set! Over 150 pages, tailored to this GCSE course: 1.1 System Architecture 1.2 Memory 1.3 Storage 1.4 Wired and wireless networks 1.5 Network topologies, protocols and layers 1.6 System Security 1.7 Systems software 1.8 Ethical, legal, cultural and environmental concerns 2.1 Algorithms 2.2 Programming technique 2.3 Producing robust programs 2.4 Computational Logic 2.5 Translators and facilities of languages 2.6 Data representation +Handy revision section
The idea is that students complete them on the computer, then upload to their eportfolio/VLE. The worksheets can be modified to suit your requirements.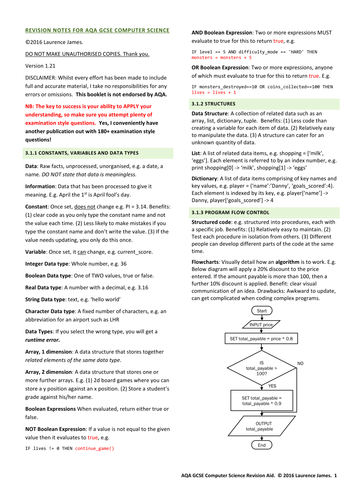 8 pages literally crammed full of theory covering the syllabus in amazing detail - perfect preparation for the exam. It is written closely to the specification to assist optimal learning. Students will quickly reinforce their learning and have complete confidence. You will be pushed to find anything as concise. Save a fortune on photocopying and revision guides... it's all here. Please note that this document DOES NOT fully apply to the new syllabus for first teaching from September 2016.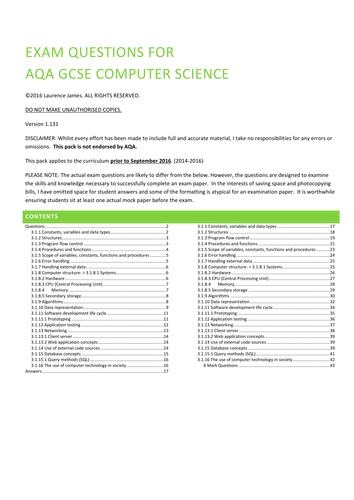 Thoroughly prepare your students for the Summer 2016 AQA GCSE Computer Science Exam. This download includes over 180 carefully thought out exam style questions (matches to the specification), along with separate answers. The perfect resource to use with your students to give them the confidence they need to secure success. Great for revision, assessment and teaching...and for getting top examination results! Covering the curriculum as follows: 3.1.1 Constants, variables and data types 3.1.2 Structure 3.1.3 Program flow control 3.1.4 Procedures and functions 3.1.5 Scope of variables, constants, functions and procedures 3.1.6 Error handling 3.1.7 Handling external data 3.1.8 Computer structure: > 3.1.8.1 Systems 3.1.8.2 Hardware 3.1.8.3 CPU (Central Processing Unit) 3.1.8.4 Memory 3.1.8.5 Secondary storage 3.1.9 Algorithms 3.1.10 Data representation 3.1.11 Software development life cycle 3.1.11.1 Prototyping 3.1.12 Application testing 3.1.13 Networking 3.1.13.1 Client server 3.1.13.2 Web application concepts 3.1.14 Use of external code sources 3.1.15 Database concepts 3.1.15.1 Query methods (SQL) 3.1.16 The use of computer technology in society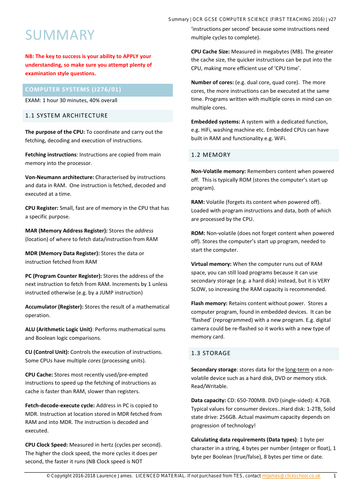 This is a concise summary of all of the concepts for the entire course. These make for good revision booklets. You can save money by buying this as part of my GCSE OCR Computer Science bundle package.
What better way to learn about how bitmap graphics are created than to create a bitmap image! This editable Word document and can either be completed electronically, or printed and completed without need for a computer. (i.e. for homework). Outcomes:  Drawing of an image and written binary representation  Calculation of total pixels in an image  Decoding of RGB values Vocabulary: c Bit c Bitmap c Binary c Colour-depth c Pixel c Pixelated c Pixel density c Resolution c RGB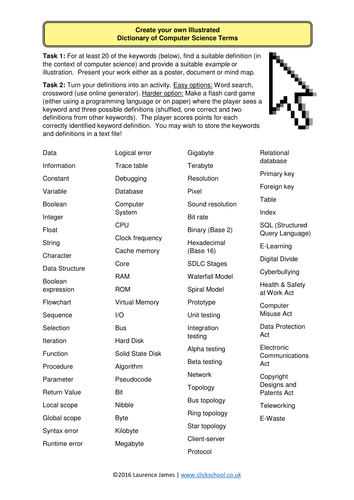 A simple outline for an end of term activity - aimed at KS4. 1. Locate definitions for given keywords 2. Illustrate definitions with image/example 3. Turn it into a game (e.g. word search, crossword or programme a flash card quiz)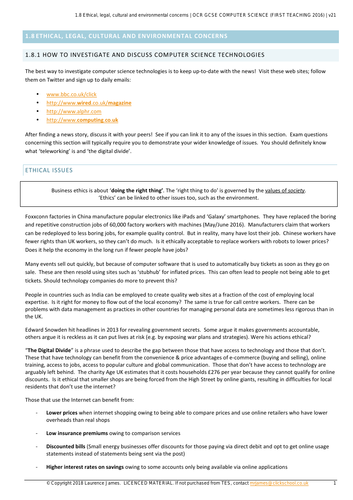 Get better value by buying this as part of my GCSE OCR Computer Science bundle.  How to investigate and discuss Computer Science technologies while considering: ethical issues, legal issues, cultural issues, environmental issues, privacy issues.  How key stakeholders are affected by technologies  Environmental impact of Computer Science  Cultural implications of Computer Science  Open source vs proprietary software  Legislation relevant to Computer Science: The Data Protection Act 1998 Computer Misuse Act 1990 Copyright Designs and Patents Act 1988 Creative Commons Licensing Freedom of Information Act 2000.
12 page document 36 questions and answers, covering 2.2 Programming Technique. Students should answer questions on separate paper (saves photocopying) A range of questions for all abilities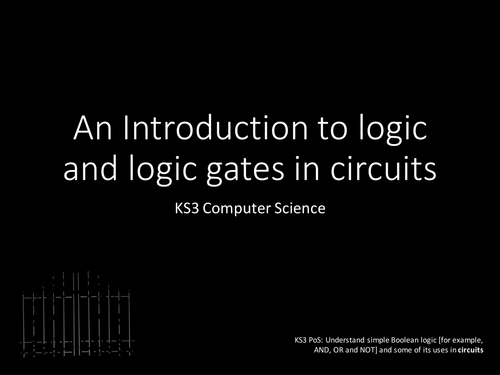 An introduction to logic gates KS3 PoS: Understand simple Boolean logic [for example, AND, OR and NOT] and some of its uses in circuits Know Electronic circuits are made up of logic gates Logic gates in modern circuits are made from transistors The names and symbols used to represent three basic logic gates (AND, OR, NOT) An example of a use for logic gates Understand Different combinations of inputs can alter the single output of a logic gate circuit Be Able To Given a scenario involving AND, OR and NOT, Apply understanding of logic gates to produce a logic gate circuit Apply understanding of logic gates to produce a truth table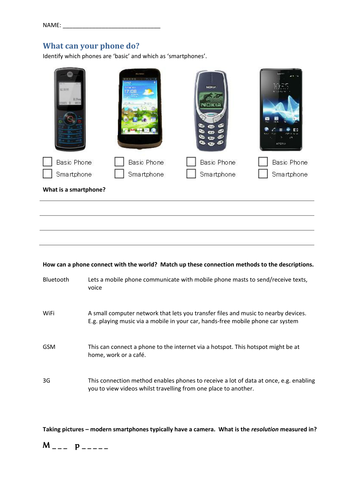 I created these some time ago when I worked in another school. Covers TB1: What can mobiles do, problems associated with mobile use, GPS, Kinds of Computer, Features of a computer, Socialising over the web , The Internet for Work, Internet Dangers, Digital Divide, TB2: Online shopping, trusting a web site (or not), privacy, online customer rights, setting up an account online, what makes a strong password, CAPTCHAs, paying online, online banking, fraud, personal data, creating a safe working environment, collaborative working, storing and backing up, working any time, anywhere.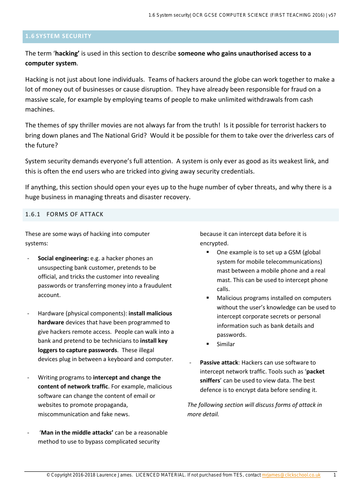 Get better value by buying this as part of my GCSE OCR Computer Science bundle.  Forms of attack  Threats posed to networks: malware, phishing, people/social engineering, brute-force attacks, denial of service attacks, data interception and theft, the concept of SQL injection, poor network policy  Identifying and preventing vulnerabilities: penetration testing, network forensics, network policies, anti-malware software, firewalls, user access levels, passwords, encryption.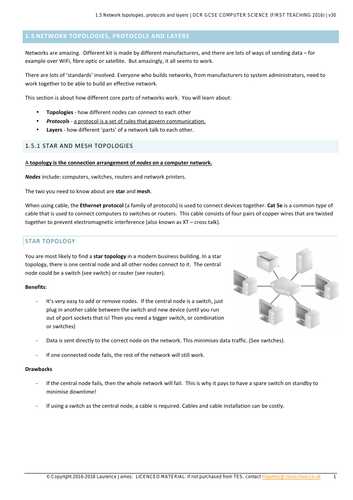 Get better value by buying this as part of my GCSE OCR Computer Science bundle.  Star and mesh topologies  WiFi: frequency and channels, encryption  Ethernet  The uses of IP addressing, MAC addressing and protocols including: TCP/IP HTTP, HTTPS, FTP, POP, IMAP, SMTP  The concept of layers  Packet switching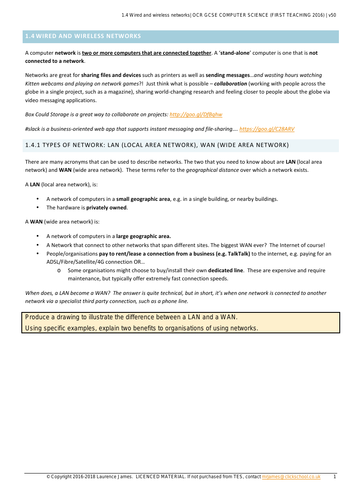 Get better value by buying this as part of my GCSE OCR Computer Science bundle.  Types of network: LAN (local area network), WAN (wide area network)  Factors that affect the performance of networks  The different role of computers in client-server and a peer-to-peer network  The hardware needed to connect stand-alone computers into a Local Area Network: Wireless access points, routers/switches, NIC (Network Interface Controller/Card), Transmission media  The internet as a worldwide collection of computer network DNS (Domain Name Server), hosting, the cloud  The concept of virtual networks.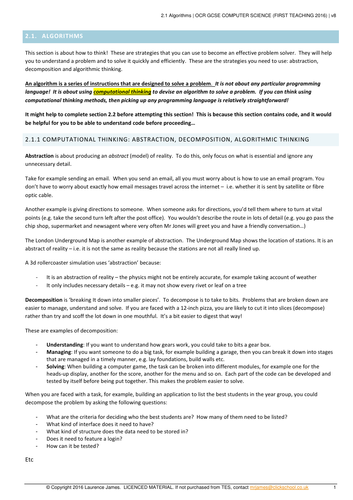 Get better value by buying this as part of my GCSE OCR Computer Science bundle.  Computational thinking: abstraction, decomposition, algorithmic thinking  Standard searching algorithms (binary search, linear search)  Standard sorting algorithms (bubble, merge, insertion)  Produce algorithms using: pseudocode, flowcharts  Interpret, correct or complete algorithms
Get better value by buying this as part of my GCSE OCR Computer Science bundle.  Defensive design considerations: input sanitisation/validation, planning for contingencies, anticipating misuse, authentication, maintainability, comments, indentation  The purpose of testing  Types of testing: iterative, final/terminal  How to identify syntax and logic errors  Selecting and using suitable test data.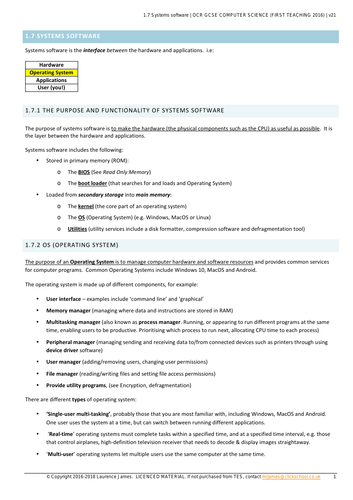 Get better value by buying this as part of my GCSE OCR Computer Science bundle.  The purpose and functionality of systems software  Operating systems: user interface, memory, management/multitasking, peripheral management and drivers, user management, file management, utility system software: (encryption, defragmentation, data compression, the role and method of backup – full & incremental)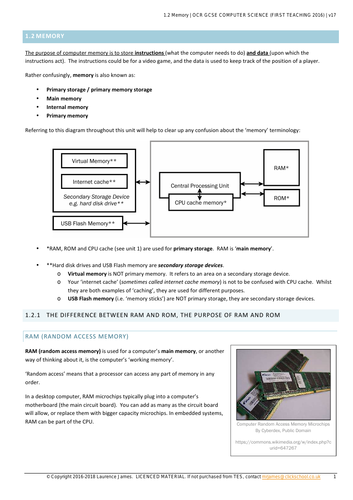 Get better value by buying this as part of my GCSE OCR Computer Science bundle.  The difference between RAM and ROM  The purpose of ROM in a computer system  The purpose of RAM in a computer system  The need for virtual memory  Flash memory