If you need to keep track of how many hours a student has had on a project, then you need this spreadsheet! Start by entering the number of hours allowed. Add your students. Now simply enter the date and number of hours had. TIP: To enter data super quick, make use of the fill handle. Google it if you don't know what this is!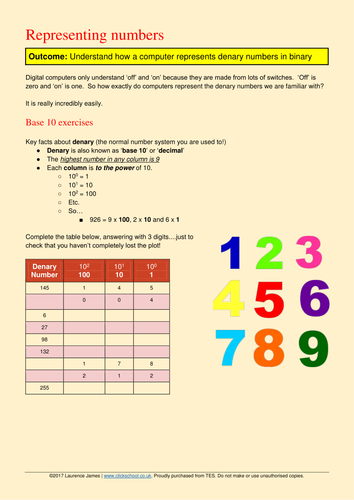 Part of KS3 Computational Thinking Series - worksheet explanations, tasks and activities - How numbers are represented - Binary to decimal - Decimal to binary - Binary addition - Text representation (ASCII, its limitation and Unicode), including ASCII name tag and Chinese name - Picture representation, including making artwork and converting it to binary - Sound representation, including comparing sound files These work in conjunction with my web-based self-marking multiple choice tests to check understanding, and also to my interactive binary activities.
Electronic worksheets designed for use by students. Tasks for varying abilities including programming algorithms in Python for the most able. Includes links to interactive self-marking quiz. These files are available as part of a bundle, covering computational thinking skills for KS3.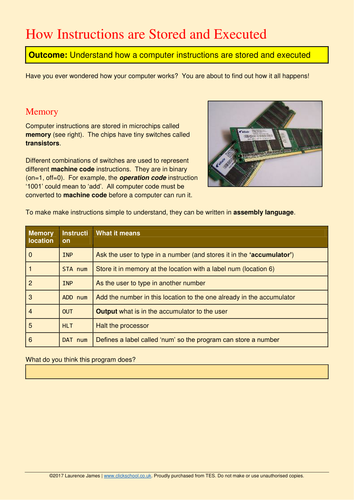 The two main worksheets get students thinking about how a simple computer processor works. The instruction set worksheet is particularly nice as it gets students to use and compare instruction sets by "programming a robot frog", beginning to realise the difference between instruction set sizes.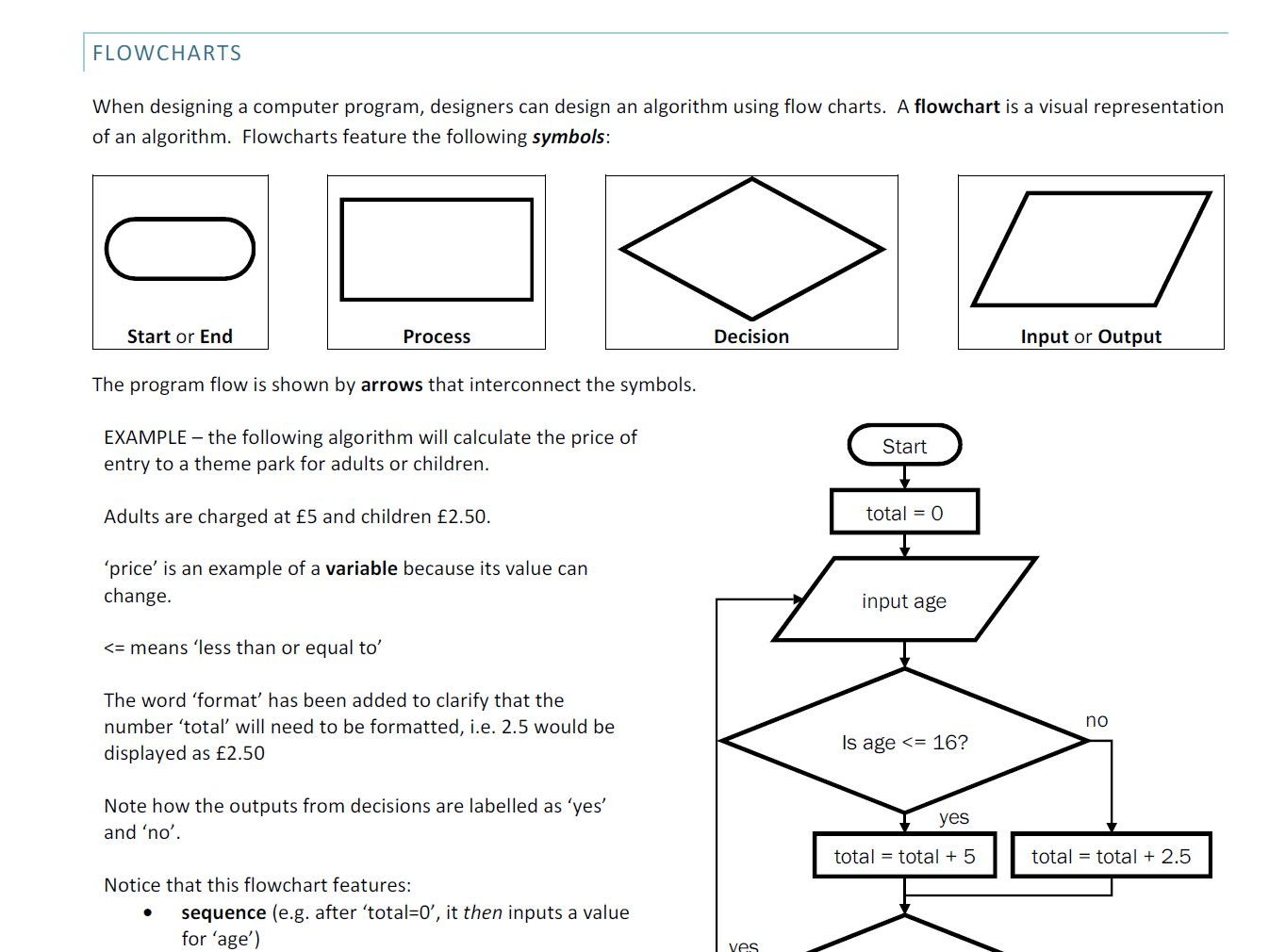 2.1 Algorithms 2.2 Programming technique 2.3 Producing robust programs 2.4 Computational Logic 2.5 Translators and facilities of languages 2.6 Data representation
Study resources for OCR Computer Science - the complete set! Over 150 pages, tailored to this GCSE course: 1.1 System Architecture 1.2 Memory 1.3 Storage 1.4 Wired and wireless networks 1.5 Network topologies, protocols and layers 1.6 System Security 1.7 Systems software 1.8 Ethical, legal, cultural and environmental concerns 2.1 Algorithms 2.2 Programming technique 2.3 Producing robust programs 2.4 Computational Logic 2.5 Translators and facilities of languages 2.6 Data representation +Handy revision section
Study notes for component 1 1.1 System Architecture 1.2 Memory 1.3 Storage 1.4 Wired and wireless networks 1.5 Network topologies, protocols and layers 1.6 System Security 1.7 Systems software 1.8 Ethical, legal, cultural and environmental concerns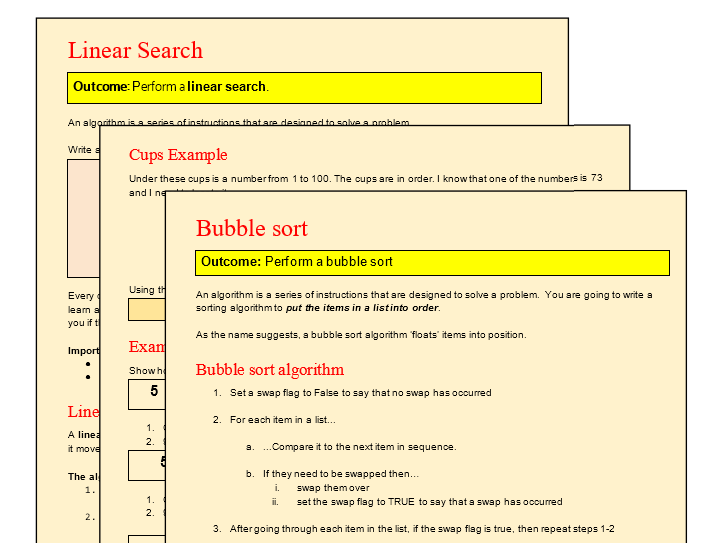 KS3 CT Computational Thinking 14 key worksheets designed to be completed electronically to teach some of the trickier aspects of the KS3 National Curriculum, including: 1. Linear search 2. Binary search 3. Bubble sort 4. Simple logic gates 5. Logic gate circuits 6. Representing numbers 7. Binary to decimal 8. Decimal to binary 9. -TBC 10. Binary addition 11. Text representation 12. Picture representation 13. Sound representation 14. Instructions 15. Instruction sets 16. (brief introduction to algorithmic thinking) Lots of editable explanations, tasks and activities for varying abilities.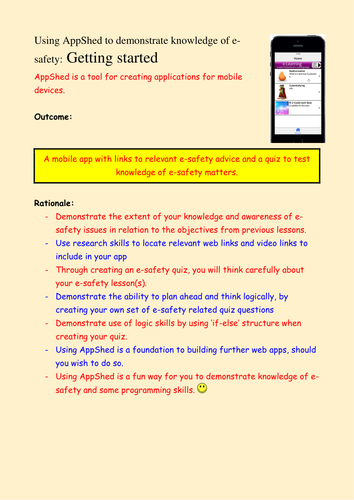 Two parts: A). E-safety research task encourages students to work in small groups to answer key questions about e-safety issues (radicalisation, cyberbullying, sexting, grooming, privacy, fake-news). 2. FIVE worksheets detailing how AppShed (free) can be used to create a mobile phone app to demonstrate understanding of e-safety issues, including how to create a multiple choice quiz. (No previous experience required!) Outcomes: 1. Be able to talk knowledgeably about a range of e-safety issues 2. Know the importance of inclusion 3. Be able to take steps to keep themselves online 4. Be able to know how to report issues.
The idea is that students complete them on the computer, then upload to their eportfolio/VLE. The worksheets can be modified to suit your requirements.
What better way to learn about how bitmap graphics are created than to create a bitmap image! This editable Word document and can either be completed electronically, or printed and completed without need for a computer. (i.e. for homework). Outcomes:  Drawing of an image and written binary representation  Calculation of total pixels in an image  Decoding of RGB values Vocabulary: c Bit c Bitmap c Binary c Colour-depth c Pixel c Pixelated c Pixel density c Resolution c RGB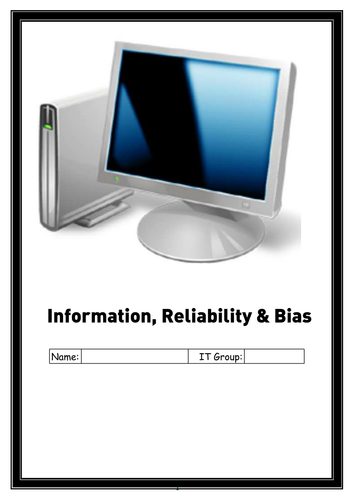 Information Reliability and Bias Worksheets Several to choose from... or use the lot.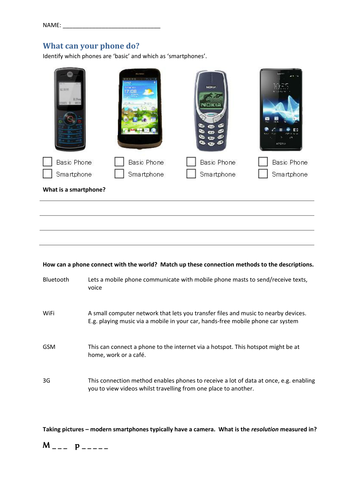 I created these some time ago when I worked in another school. Covers TB1: What can mobiles do, problems associated with mobile use, GPS, Kinds of Computer, Features of a computer, Socialising over the web , The Internet for Work, Internet Dangers, Digital Divide, TB2: Online shopping, trusting a web site (or not), privacy, online customer rights, setting up an account online, what makes a strong password, CAPTCHAs, paying online, online banking, fraud, personal data, creating a safe working environment, collaborative working, storing and backing up, working any time, anywhere.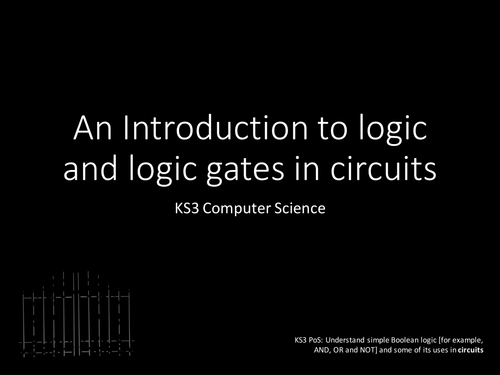 An introduction to logic gates KS3 PoS: Understand simple Boolean logic [for example, AND, OR and NOT] and some of its uses in circuits Know Electronic circuits are made up of logic gates Logic gates in modern circuits are made from transistors The names and symbols used to represent three basic logic gates (AND, OR, NOT) An example of a use for logic gates Understand Different combinations of inputs can alter the single output of a logic gate circuit Be Able To Given a scenario involving AND, OR and NOT, Apply understanding of logic gates to produce a logic gate circuit Apply understanding of logic gates to produce a truth table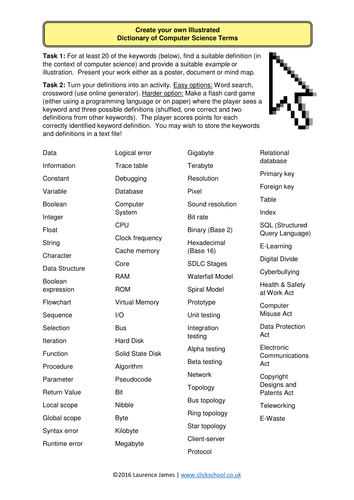 A simple outline for an end of term activity - aimed at KS4. 1. Locate definitions for given keywords 2. Illustrate definitions with image/example 3. Turn it into a game (e.g. word search, crossword or programme a flash card quiz)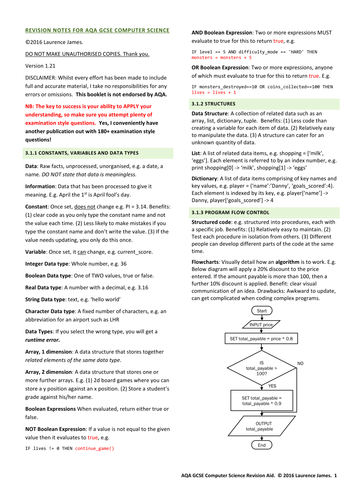 8 pages literally crammed full of theory covering the syllabus in amazing detail - perfect preparation for the exam. It is written closely to the specification to assist optimal learning. Students will quickly reinforce their learning and have complete confidence. You will be pushed to find anything as concise. Save a fortune on photocopying and revision guides... it's all here. Please note that this document DOES NOT fully apply to the new syllabus for first teaching from September 2016.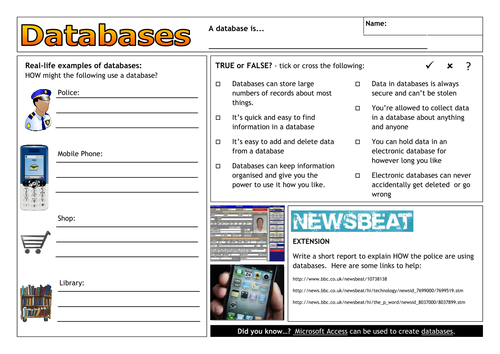 who uses a database true/false quiz how the police use databases define database terminology design a simple table create a simple table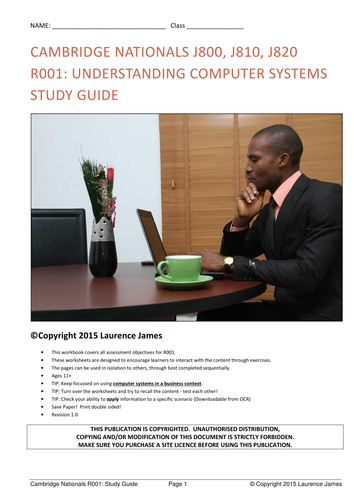 Cambridge Nationals in ICT R001 (J800, J810, J820): One site licence to create photocopies of a complete set of worksheets covering all assessment objectives: AO1: Understand how ICT can be used to meet business needs AO2: Working with information & data to meet specific business needs AO3: How ICT is used to support business working practices AO4: How legal, ethical, safety and security issues affect how computers should be used This concise publication has been created to encourage learners to interact with the contact based on various questions, matching and dragging é dropping activities. It also includes links to engaging videos Many pages are relevant to other courses of study, and can therefore be reused in the future. This publication includes an extremely helpful section about exam technique and some 'top tips' to help students pick up valuable marks.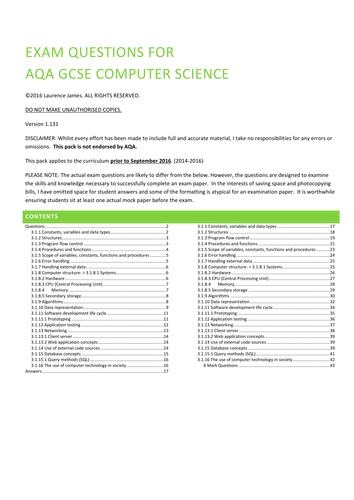 Thoroughly prepare your students for the Summer 2016 AQA GCSE Computer Science Exam. This download includes over 180 carefully thought out exam style questions (matches to the specification), along with separate answers. The perfect resource to use with your students to give them the confidence they need to secure success. Great for revision, assessment and teaching...and for getting top examination results! Covering the curriculum as follows: 3.1.1 Constants, variables and data types 3.1.2 Structure 3.1.3 Program flow control 3.1.4 Procedures and functions 3.1.5 Scope of variables, constants, functions and procedures 3.1.6 Error handling 3.1.7 Handling external data 3.1.8 Computer structure: > 3.1.8.1 Systems 3.1.8.2 Hardware 3.1.8.3 CPU (Central Processing Unit) 3.1.8.4 Memory 3.1.8.5 Secondary storage 3.1.9 Algorithms 3.1.10 Data representation 3.1.11 Software development life cycle 3.1.11.1 Prototyping 3.1.12 Application testing 3.1.13 Networking 3.1.13.1 Client server 3.1.13.2 Web application concepts 3.1.14 Use of external code sources 3.1.15 Database concepts 3.1.15.1 Query methods (SQL) 3.1.16 The use of computer technology in society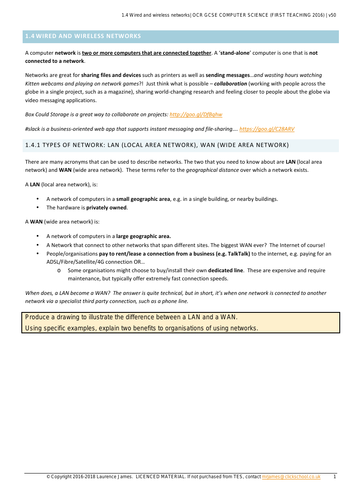 Get better value by buying this as part of my GCSE OCR Computer Science bundle.  Types of network: LAN (local area network), WAN (wide area network)  Factors that affect the performance of networks  The different role of computers in client-server and a peer-to-peer network  The hardware needed to connect stand-alone computers into a Local Area Network: Wireless access points, routers/switches, NIC (Network Interface Controller/Card), Transmission media  The internet as a worldwide collection of computer network DNS (Domain Name Server), hosting, the cloud  The concept of virtual networks.