Clickschool
Resources mostly for KS3 and GCSE Computer Science and ICT
69Uploads
317k+Views
137k+Downloads
Resources mostly for KS3 and GCSE Computer Science and ICT

What better way to learn about how bitmap graphics are created than to create a bitmap image! This editable Word document and can either be completed electronically, or printed and completed without need for a computer. (i.e. for homework). Outcomes:  Drawing of an image and written binary representation  Calculation of total pixels in an image  Decoding of RGB values Vocabulary: c Bit c Bitmap c Binary c Colour-depth c Pixel c Pixelated c Pixel density c Resolution c RGB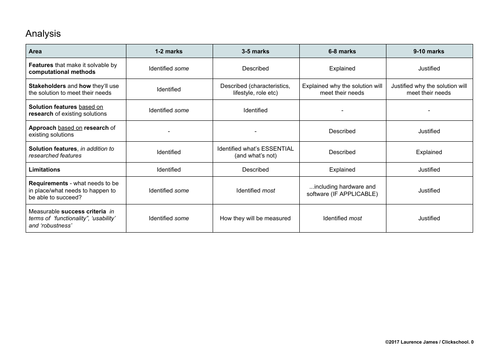 I've taken the H446 mark scheme to pieces, and then put it back together in a much more manageable way, taking account of extensive experience of marking projects. This document is designed to help you to be able to: - Quickly and accurately mark and assess A-Level projects - Guide your students to getting maximum marks, and focus on what it is that gets marks. This document includes a clear mark scheme and a guide about what to include for each part of the project. NB: This is for GUIDANCE ONLY and high marks are not guaranteed. This resource is NOT endorsed by OCR.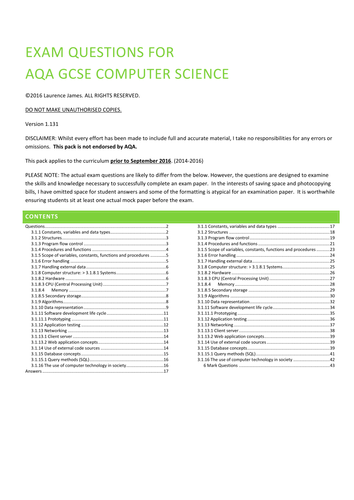 Thoroughly prepare your students for the Summer 2016 AQA GCSE Computer Science Exam. This download includes over 180 carefully thought out exam style questions (matches to the specification), along with separate answers. The perfect resource to use with your students to give them the confidence they need to secure success. Great for revision, assessment and teaching…and for getting top examination results! Covering the curriculum as follows: 3.1.1 Constants, variables and data types 3.1.2 Structure 3.1.3 Program flow control 3.1.4 Procedures and functions 3.1.5 Scope of variables, constants, functions and procedures 3.1.6 Error handling 3.1.7 Handling external data 3.1.8 Computer structure: > 3.1.8.1 Systems 3.1.8.2 Hardware 3.1.8.3 CPU (Central Processing Unit) 3.1.8.4 Memory 3.1.8.5 Secondary storage 3.1.9 Algorithms 3.1.10 Data representation 3.1.11 Software development life cycle 3.1.11.1 Prototyping 3.1.12 Application testing 3.1.13 Networking 3.1.13.1 Client server 3.1.13.2 Web application concepts 3.1.14 Use of external code sources 3.1.15 Database concepts 3.1.15.1 Query methods (SQL) 3.1.16 The use of computer technology in society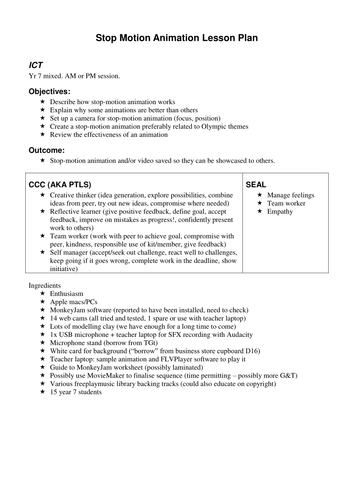 PowerPoint which could be used to develop lessons in stop motion animation - covers four phases: research, preparation, production, publication. Gets students thinking about what makes a good stop motion animation. Includes links to interesting videos featuring those that work in the industry. Monkey Jam is free stop motion animation software. Included is a one-page guide to using the program. Web cam required! A lesson plan for a half-day session for adaptation. Storyboard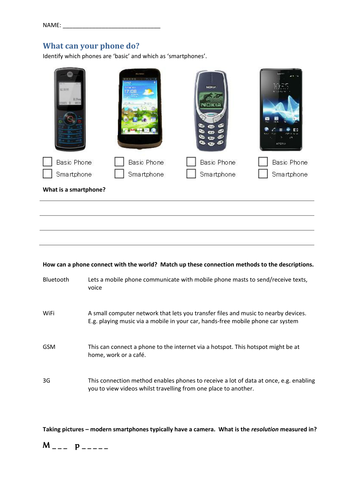 I created these some time ago when I worked in another school. Covers TB1: What can mobiles do, problems associated with mobile use, GPS, Kinds of Computer, Features of a computer, Socialising over the web , The Internet for Work, Internet Dangers, Digital Divide, TB2: Online shopping, trusting a web site (or not), privacy, online customer rights, setting up an account online, what makes a strong password, CAPTCHAs, paying online, online banking, fraud, personal data, creating a safe working environment, collaborative working, storing and backing up, working any time, anywhere.

The idea is that students complete them on the computer, then upload to their eportfolio/VLE. The worksheets can be modified to suit your requirements.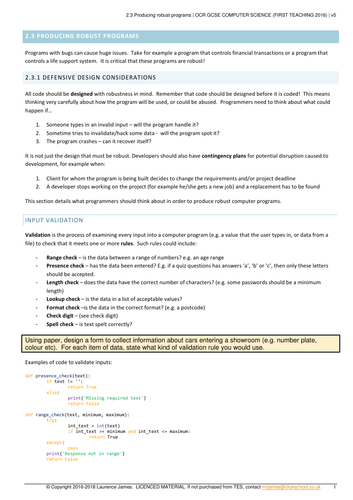 Get better value by buying this as part of my GCSE OCR Computer Science bundle.  Defensive design considerations: input sanitisation/validation, planning for contingencies, anticipating misuse, authentication, maintainability, comments, indentation  The purpose of testing  Types of testing: iterative, final/terminal  How to identify syntax and logic errors  Selecting and using suitable test data.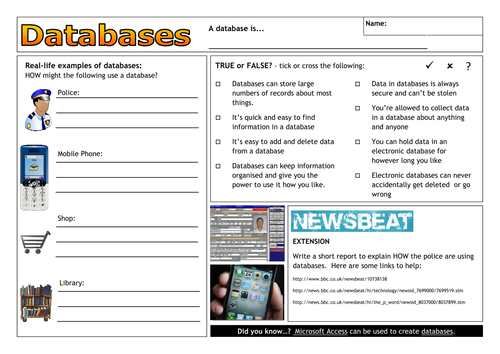 who uses a database true/false quiz how the police use databases define database terminology design a simple table create a simple table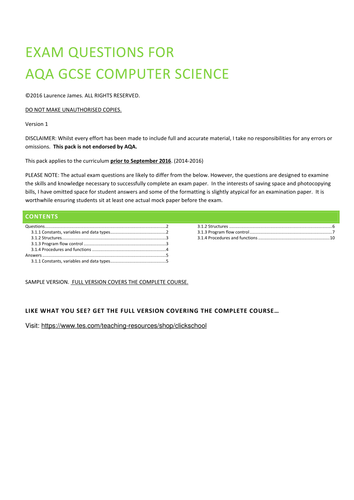 Exam questions & answers covering the course from 3.1.1 to 3.1.4 Perfect for revision, assessment or teaching. Full version has 172 questions and answers, covering the complete curriculum. LIKE WHAT YOU SEE? GET THE FULL VERSION COVERING THE COMPLETE COURSE… Visit: https://www.tes.com/teaching-resources/shop/clickschool

Teaching basic Photoshop skills and encouraging exploration and use of copyright free assets. Students can follow this at their own pace. One worksheet to get students thinking about uses for Photoshop and key terms. Another worksheet with Photoshop instructions.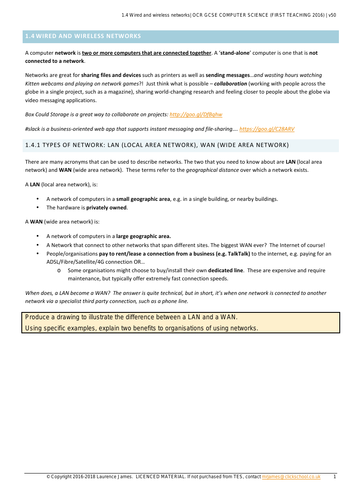 Get better value by buying this as part of my GCSE OCR Computer Science bundle.  Types of network: LAN (local area network), WAN (wide area network)  Factors that affect the performance of networks  The different role of computers in client-server and a peer-to-peer network  The hardware needed to connect stand-alone computers into a Local Area Network: Wireless access points, routers/switches, NIC (Network Interface Controller/Card), Transmission media  The internet as a worldwide collection of computer network DNS (Domain Name Server), hosting, the cloud  The concept of virtual networks.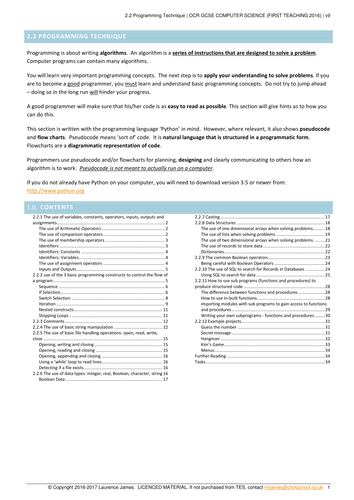 Get better value by buying this as part of my GCSE OCR Computer Science bundle. Suitable for teaching Python from the ground up - either for OCR GCSE as intended, or for any course of study requiring a good foundation in Python, Pseudocode and Flowcharts.  The use of variables, constants, operators, inputs, outputs and assignments  The use of the three basic programming constructs used to control the flow of a program: sequence, selection, iteration (count and condition controlled loops)  The use of basic string manipulation  The use of basic file handling operations: open, read, write, close  The use of records to store data  The use of SQL to search for data  The use of arrays (or equivalent) when solving problems, including both one and two dimensional arrays  How to use sub programs (functions and procedures) to produce structured code  The use of data types: integer, real, Boolean, character, string. Casting.  The common arithmetic operators  The common Boolean operators.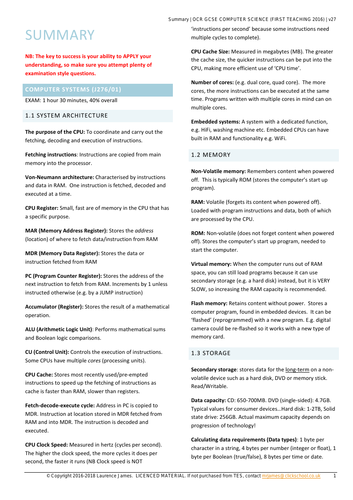 This is a concise summary of all of the concepts for the entire course. These make for good revision booklets. You can save money by buying this as part of my GCSE OCR Computer Science bundle package.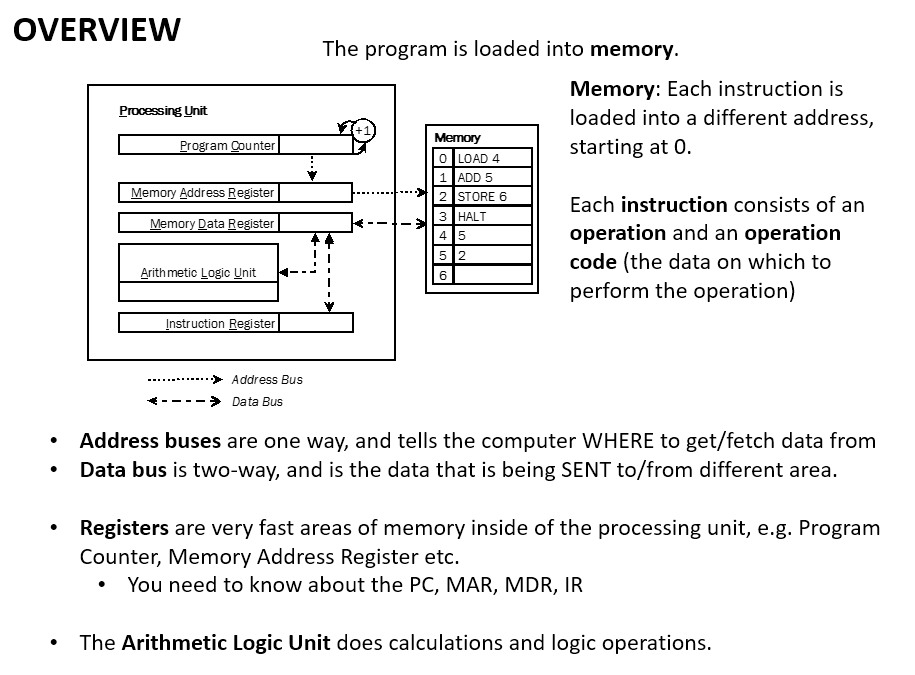 A resource aimed at OCR Computer Science Students. A presentation to explain very clearly how the CPU goes about adding up two different numbers. It shows every step of execution, clearly explaining the purpose of each of the registers that students need to know about. 27 slides in total. NB: It demonstrates the concept and is suitable for up to GCSE Level (9-1).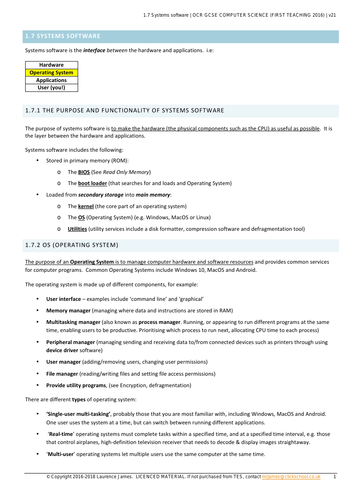 Get better value by buying this as part of my GCSE OCR Computer Science bundle.  The purpose and functionality of systems software  Operating systems: user interface, memory, management/multitasking, peripheral management and drivers, user management, file management, utility system software: (encryption, defragmentation, data compression, the role and method of backup – full & incremental)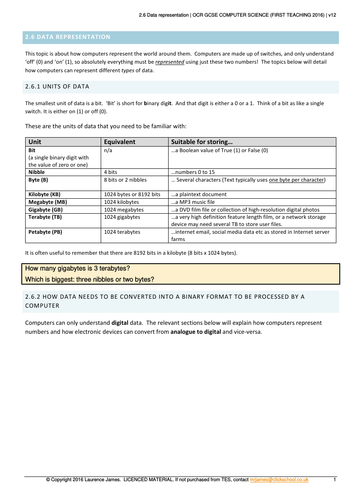 Get better value by buying this as part of my GCSE OCR Computer Science bundle. Units  Bit, nibble, byte, kilobyte, megabyte, gigabyte, terabyte, petabyte  How data needs to be converted into a binary format to be processed by a computer. Numbers  How to convert positive denary whole numbers (0–255) into 8 bit binary numbers and vice versa  How to add two 8 bit binary integers and explain overflow errors which may occur  Binary shifts  How to convert positive denary whole numbers (0–255) into 2 digit hexadecimal numbers and vice-versa  How to convert from binary to hexadecimal equivalents and vice versa  Check digits. Characters  The use of binary codes to represent characters  The term 'character-set'  The relationship between the number of bits per character in a character set and the number of characters which can be represented (for example ASCII, extended ASCII and Unicode). Images  How an image is represented as a series of pixels represented in binary  Metadata included in the file  The effect of colour depth and resolution on the size of an image file. Sound  How sound can be sampled and stored in digital form  How sampling intervals and other factors affect the size of a sound file and the quality of its playback: sample size, bit rate, sampling frequency. Compression  Need for compression  Types of compression: lossy, lossless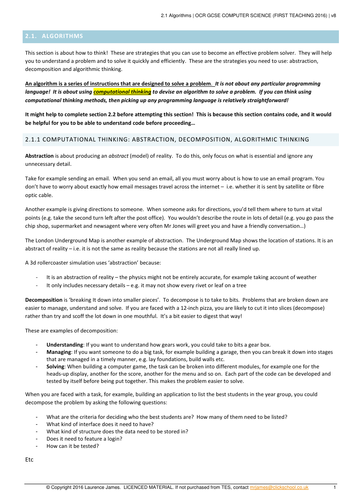 Get better value by buying this as part of my GCSE OCR Computer Science bundle.  Computational thinking: abstraction, decomposition, algorithmic thinking  Standard searching algorithms (binary search, linear search)  Standard sorting algorithms (bubble, merge, insertion)  Produce algorithms using: pseudocode, flowcharts  Interpret, correct or complete algorithms