Clickschool's Shop
Resources for KS3 and GCSE Computer Science and ICT
180Uploads
239k+Views
105k+Downloads
Resources for KS3 and GCSE Computer Science and ICT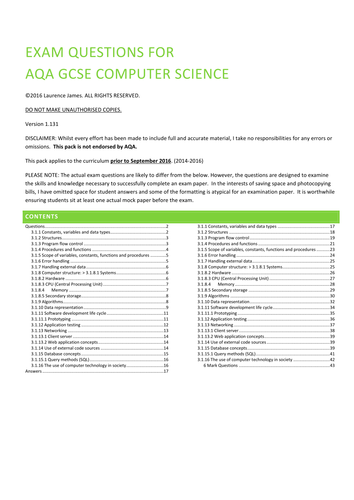 Thoroughly prepare your students for the Summer 2016 AQA GCSE Computer Science Exam. This download includes over 180 carefully thought out exam style questions (matches to the specification), along with separate answers. The perfect resource to use with your students to give them the confidence they need to secure success. Great for revision, assessment and teaching...and for getting top examination results! Covering the curriculum as follows: 3.1.1 Constants, variables and data types 3.1.2 Structure 3.1.3 Program flow control 3.1.4 Procedures and functions 3.1.5 Scope of variables, constants, functions and procedures 3.1.6 Error handling 3.1.7 Handling external data 3.1.8 Computer structure: > 3.1.8.1 Systems 3.1.8.2 Hardware 3.1.8.3 CPU (Central Processing Unit) 3.1.8.4 Memory 3.1.8.5 Secondary storage 3.1.9 Algorithms 3.1.10 Data representation 3.1.11 Software development life cycle 3.1.11.1 Prototyping 3.1.12 Application testing 3.1.13 Networking 3.1.13.1 Client server 3.1.13.2 Web application concepts 3.1.14 Use of external code sources 3.1.15 Database concepts 3.1.15.1 Query methods (SQL) 3.1.16 The use of computer technology in society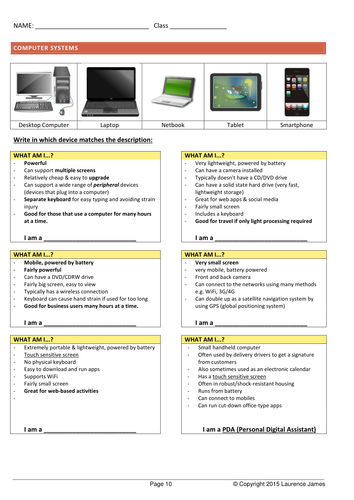 9 high quality worksheets packed with including activities about: - Types of computer systems (desktop, laptop, netbook, tablet, smartphone) - Matching a computer system to different people (e.g. plumber, teacher etc) - Matching up Input, Output, Storage and Connectivity descriptions - Writing examples of input, output, storage and connectivity devices - Actuators - Types of printers (dye sublimation, inkjet, laser, dot matrix) - Storage types (optical, magnetic, solid state, cloud) - including comparisons and definitions - Exam style questions Links to web videos Suitable for KS3 and KS4 This is an extract from my Cambridge Nationals workbook. Designed to aid efficient learning and save photocopying by making efficient use of page space.

Study resources for OCR Computer Science - the complete set! Over 150 pages, tailored to this GCSE course: 1.1 System Architecture 1.2 Memory 1.3 Storage 1.4 Wired and wireless networks 1.5 Network topologies, protocols and layers 1.6 System Security 1.7 Systems software 1.8 Ethical, legal, cultural and environmental concerns 2.1 Algorithms 2.2 Programming technique 2.3 Producing robust programs 2.4 Computational Logic 2.5 Translators and facilities of languages 2.6 Data representation +Handy revision section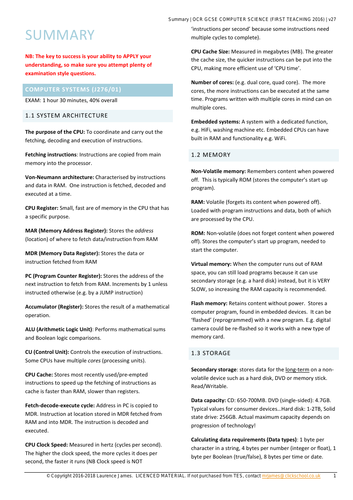 This is a concise summary of all of the concepts for the entire course. These make for good revision booklets. You can save money by buying this as part of my GCSE OCR Computer Science bundle package.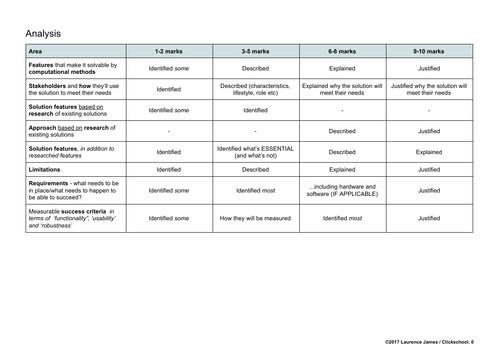 I've taken the H446 mark scheme to pieces, and then put it back together in a much more manageable way, taking account of extensive experience of marking projects. With this document, you will be able to: - Quickly and accurately mark and assess A-Level projects - Guide your students to getting maximum marks, and focus on what it is that gets marks. What more could you want?! This document includes a clear mark scheme and a guide about what to include for each part of the project. NB: This is for GUIDANCE ONLY and high marks are not guaranteed! This resource is NOT endorsed by OCR.

What better way to learn about how bitmap graphics are created than to create a bitmap image! This editable Word document and can either be completed electronically, or printed and completed without need for a computer. (i.e. for homework). Outcomes:  Drawing of an image and written binary representation  Calculation of total pixels in an image  Decoding of RGB values Vocabulary: c Bit c Bitmap c Binary c Colour-depth c Pixel c Pixelated c Pixel density c Resolution c RGB

An introduction to using Flash CS6. Mainly practical guides covering: 1. Frame-by-frame animation with blank key frames/onion skinning 2. Frame-by-frame animation with key frames 3. Creating and working with layers 4. Creating motion tweens 5. Creating shape tweens 6. Use of layers and motion tweens to create a dancing penguin!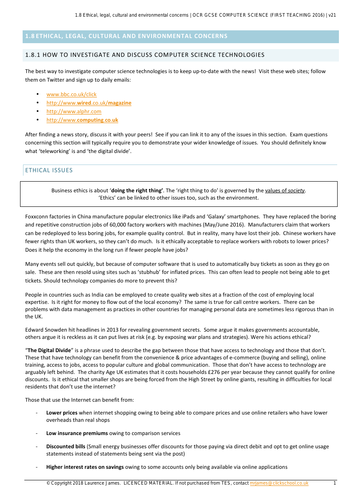 Get better value by buying this as part of my GCSE OCR Computer Science bundle.  How to investigate and discuss Computer Science technologies while considering: ethical issues, legal issues, cultural issues, environmental issues, privacy issues.  How key stakeholders are affected by technologies  Environmental impact of Computer Science  Cultural implications of Computer Science  Open source vs proprietary software  Legislation relevant to Computer Science: The Data Protection Act 1998 Computer Misuse Act 1990 Copyright Designs and Patents Act 1988 Creative Commons Licensing Freedom of Information Act 2000.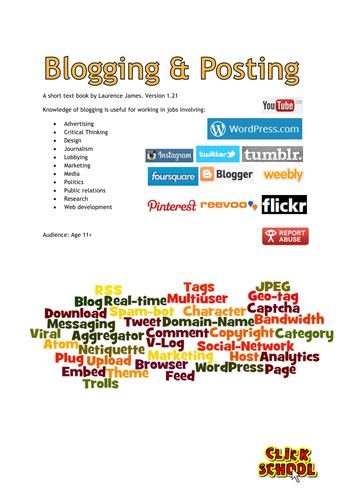 Inspire yourself or your students: gets you thinking about the impact of blogs - from making money, to freedom of speech etc. Content: Blogging terminology BASICS: Understand what a blog is Name different forms of blogs Explain the purpose of blogs Identify features of a blog Name blogging "platforms" Abide by e-safety rules when creating a blog INTERMEDIATE: Explain why people use blogs and how an organisation can benefit from blogging Explain the purpose of blogs Explain what makes a good blog, taking account social and legal implications Explore money-making opportunities for bloggers Understand how blogs are used for business and pleasure EXPERT: Explain what a spam bot does, and measures for combating them Critically evaluate the effectiveness of a good and not so good blog - suggesting and justifying possible improvements Use blogging as a tool to benefit YOU (reflective learner, share & develop ideas) Manage your very own blog responsibly 19 pages.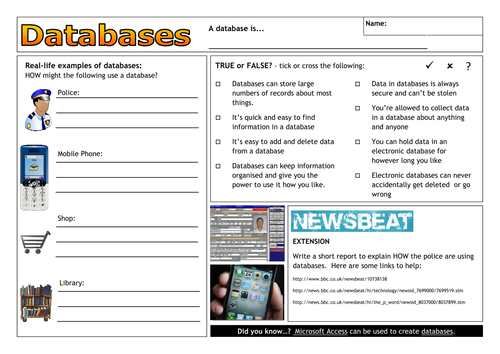 who uses a database true/false quiz how the police use databases define database terminology design a simple table create a simple table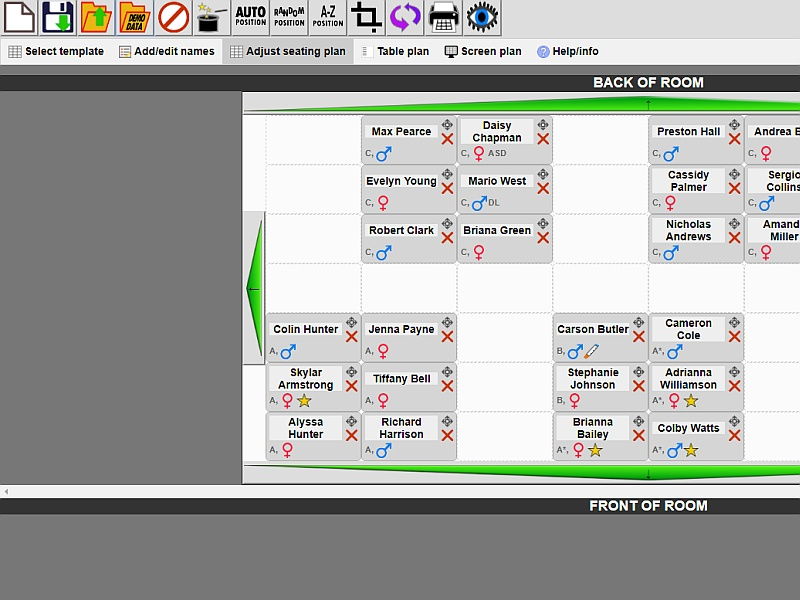 https://www.clickschool.co.uk/seatplan **LATEST**: Online seating plan generator - paste lists from SIMS or similar, group/distribute students, show/hide sensitive data, upload/download plans etc. NB No student data is transferred to the internet, it is all local within your web browser. Excel spreadsheet basic version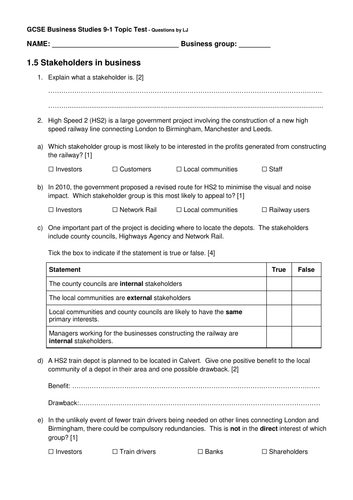 Editable 23 mark paper (and answers) to test student knowledge of stakeholders. Questions are based around High Speed 2, British Telecom and ASOS.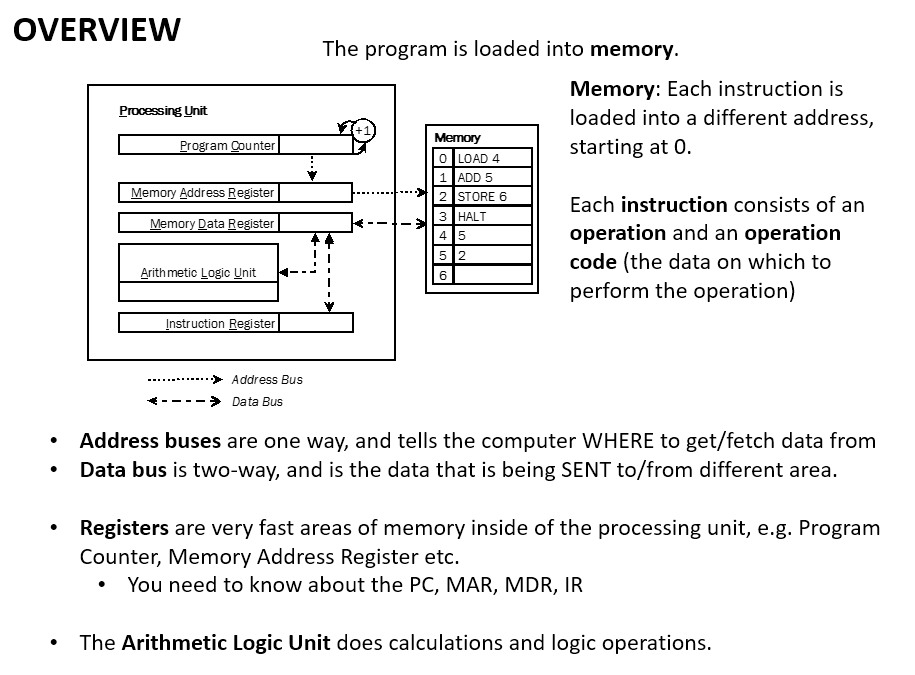 A resource aimed at OCR Computer Science Students. A presentation to explain very clearly how the CPU goes about adding up two different numbers. It shows every step of execution, clearly explaining the purpose of each of the registers that students need to know about. 27 slides in total. NB: It demonstrates the concept and is suitable for up to GCSE Level (9-1).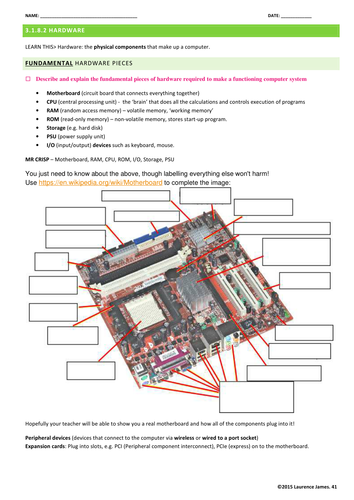 Suitable for KS3/4 Extracted pages from my AQA GCSE Computer Science Workbook Label parts of a motherboard and match up descriptions of components that plug into the motherboard

Electronic worksheets designed for use by students. Tasks for varying abilities including programming algorithms in Python for the most able. The worksheets detail how the algorithms work (linear search, binary search, bubble sort) and how to code them using Python, followed by questions. Includes links to interactive self-marking quiz. These files are available as part of a bundle, covering computational thinking skills for KS3.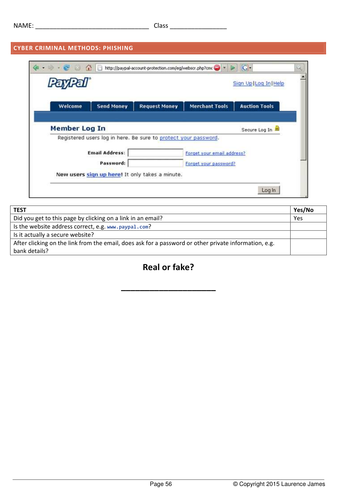 Worksheets: Phishing Health & Safety Act (Cloze) Data Protection Act (information) Copyright (matching activity) Computer Misuse (information) Business Ethics (comprehension) Cyberbulling (information) Workplace surveillance (methods, e.g. GPS, web monitoring, CCTV, RFID) (Comprehension, discussion) Cookies & Disabling Cookies (matching activity) Key logging Mobile phone triangulation Loyalty Schemes Cyber Wars (matching threats to description) Disciplinary procedures Countermeasures (- to cyber threats - matching activity) This is an extract from my Cambridge Nationals workbook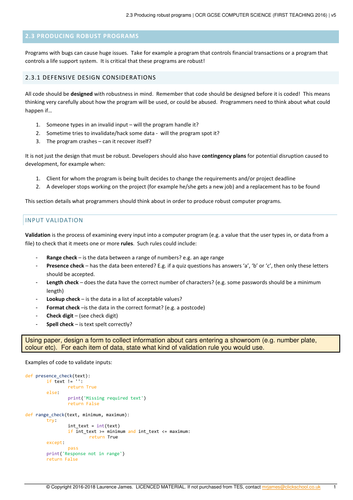 Get better value by buying this as part of my GCSE OCR Computer Science bundle.  Defensive design considerations: input sanitisation/validation, planning for contingencies, anticipating misuse, authentication, maintainability, comments, indentation  The purpose of testing  Types of testing: iterative, final/terminal  How to identify syntax and logic errors  Selecting and using suitable test data.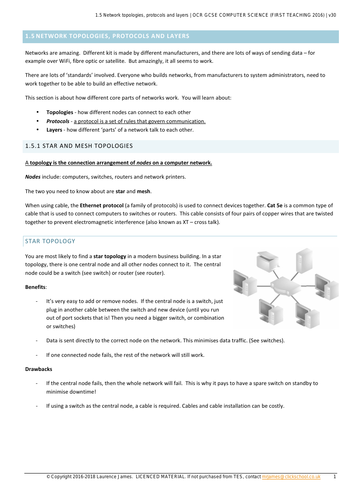 Get better value by buying this as part of my GCSE OCR Computer Science bundle.  Star and mesh topologies  WiFi: frequency and channels, encryption  Ethernet  The uses of IP addressing, MAC addressing and protocols including: TCP/IP HTTP, HTTPS, FTP, POP, IMAP, SMTP  The concept of layers  Packet switching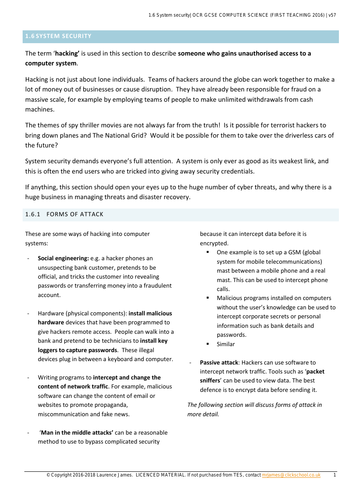 Get better value by buying this as part of my GCSE OCR Computer Science bundle.  Forms of attack  Threats posed to networks: malware, phishing, people/social engineering, brute-force attacks, denial of service attacks, data interception and theft, the concept of SQL injection, poor network policy  Identifying and preventing vulnerabilities: penetration testing, network forensics, network policies, anti-malware software, firewalls, user access levels, passwords, encryption.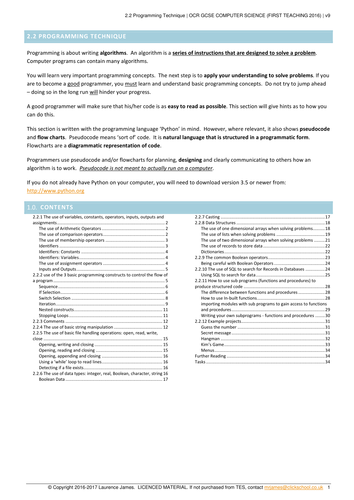 Get better value by buying this as part of my GCSE OCR Computer Science bundle. Suitable for teaching Python from the ground up - either for OCR GCSE as intended, or for any course of study requiring a good foundation in Python, Pseudocode and Flowcharts.  The use of variables, constants, operators, inputs, outputs and assignments  The use of the three basic programming constructs used to control the flow of a program: sequence, selection, iteration (count and condition controlled loops)  The use of basic string manipulation  The use of basic file handling operations: open, read, write, close  The use of records to store data  The use of SQL to search for data  The use of arrays (or equivalent) when solving problems, including both one and two dimensional arrays  How to use sub programs (functions and procedures) to produce structured code  The use of data types: integer, real, Boolean, character, string. Casting.  The common arithmetic operators  The common Boolean operators.