Clickschool
OCR GCSE 9-1 J277 Complete Package. BEST VALUE FOR MONEY (FREE!). Check out the web site.
38Uploads
343k+Views
156k+Downloads
OCR GCSE 9-1 J277 Complete Package. BEST VALUE FOR MONEY (FREE!). Check out the web site.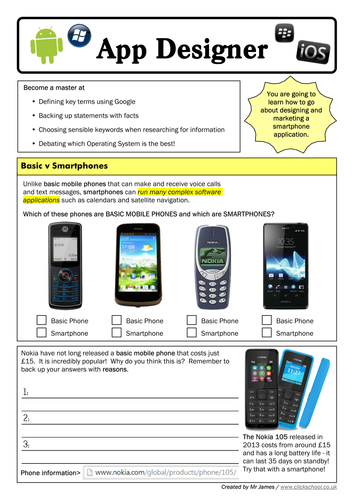 NEW AND IMPROVED!! UPDATED (version 3) 7 initial worksheets for students to make decisions about designing mobile apps. Focus on: operating system, understanding hardware features, research skills.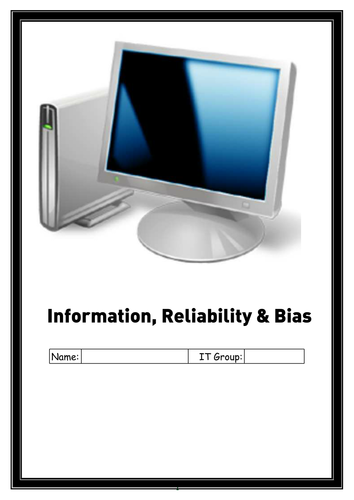 Information Reliability and Bias Worksheets Several to choose from... or use the lot.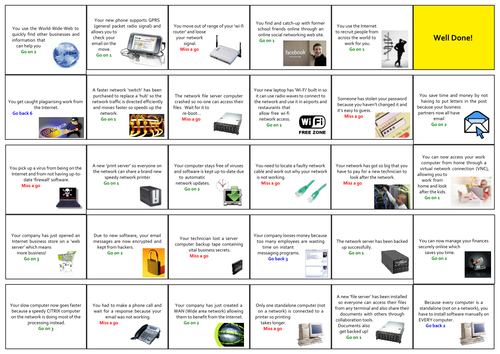 Network game to get students to consider benefits and possible drawbacks of networks (counters and dice not included!)

The idea is that students complete them on the computer, then upload to their eportfolio/VLE. The worksheets can be modified to suit your requirements.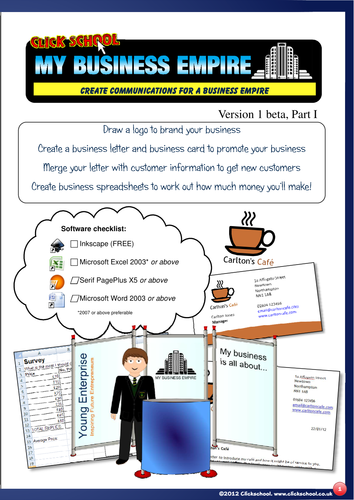 Develop enterprise skills in IT. Teaching students about the below concepts **always** works better when students have ownership over their own business idea. Trust me! A set of worksheets covering: Lovely Logos Lush Letters Beneficial Business Cards Mega Mail Merge Snazzy Spreadsheets Uses: Inkscape (Free) Excel Word Serif PagePlus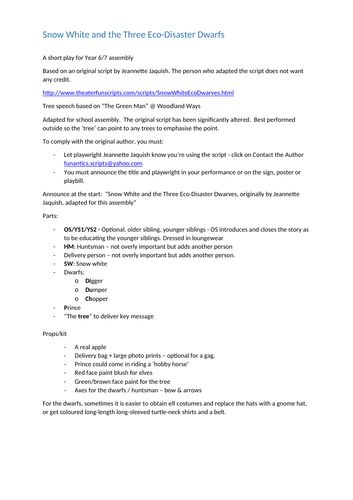 Snow White walks into a forest to discover that it has been ruined by a bunch of naughty dwarfs… Panto feel with a serious message.

An assembly drama/ideas for songs suitable for a class to perform, maybe Years 5 - 7. The assembly's message is that you don't have to be a superhero to be a hero. I've a couple of other assembly skits available. For copyright reasons, I cannot include the music, only the script and suggested music.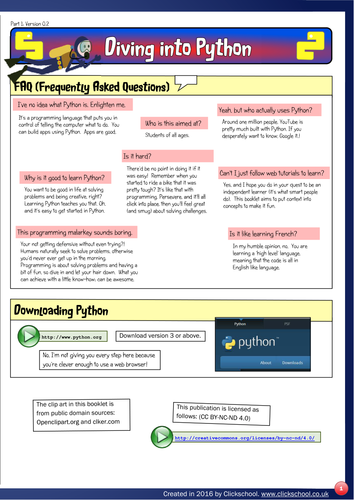 A compact booklet (designed to be printed as small as folded A4 into A5). Designed for 11-15 year olds to get them into programming Python. Some fun/interesting examples... Content: Downloading Python The IDLE Print Saving & Running Sequence Selection (I've been expecting you Mr Bond) Keyboard essentials (short cuts) Secret Message (IF selection,) Boolean Operators Truth Table Forever loop: Iteration For Loop (blast off!) Who is this guy? (nested IF) Introduction to Flowcharts Random number guessing game Ninja Python Turtle (for loop iteration) Shhh, Caesar Cipher Function Kim's Game (Variation) using a custom function and loading an external text file. Enjoy :-)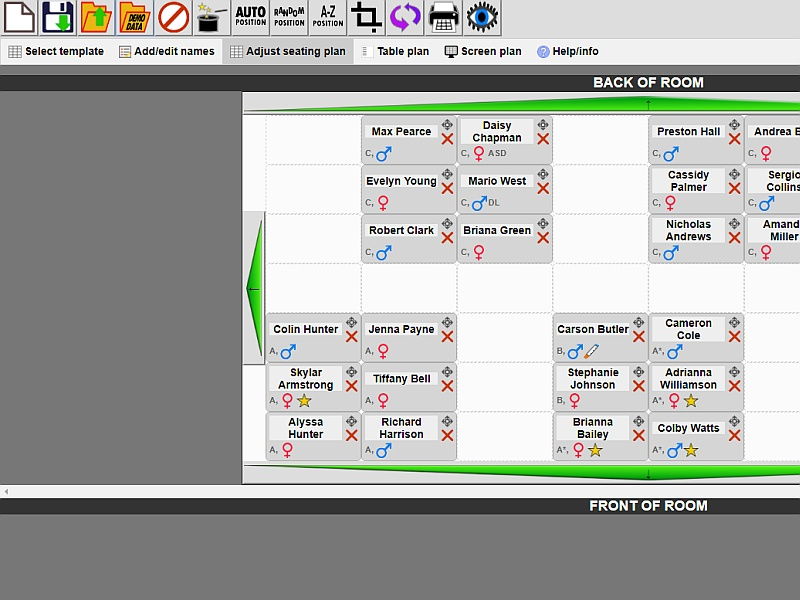 https://www.clickschool.co.uk/seatplan **LATEST**: Online seating plan generator - paste lists from SIMS or similar, group/distribute students, show/hide sensitive data, upload/download plans etc. NB No student data is transferred to the internet, it is all local within your web browser. Excel spreadsheet basic version

A clear diagram to help explain how a network can be put together. A good discussion point for nodes, hubs, switches, routers, WAPs, NICs, Cat5e, fibre optics.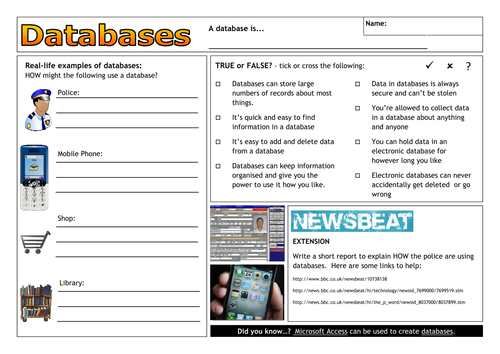 who uses a database true/false quiz how the police use databases define database terminology design a simple table create a simple table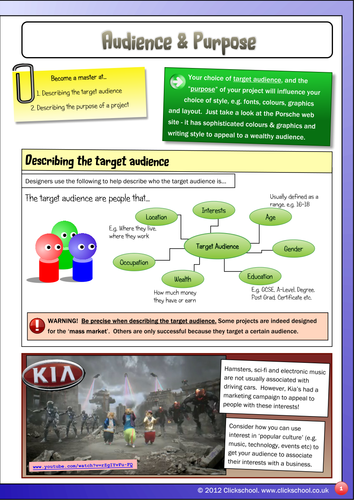 Describing the target audience and purpose of a project or intended project. 2 page worksheet explaining how one can define a target audience - with help from adverts from Kia and VW. There is a spider diagram to help students to explain the purpose of a project too.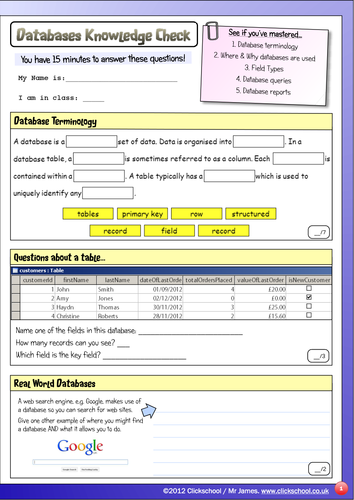 A test on databases - useful for end-of-unit. Database definitions Records, fields, key field, real-world example, data types, ascending/descending order, database query criteria, designing reports, verification & validation, security measures.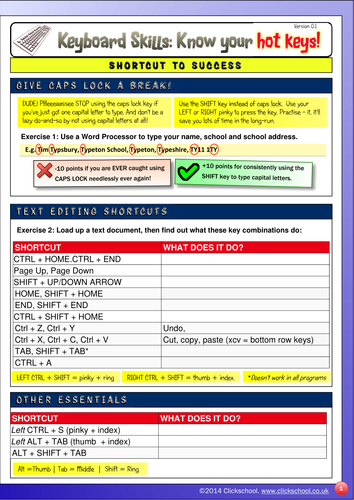 Getting students to learn how to use short cuts will improve their productivity.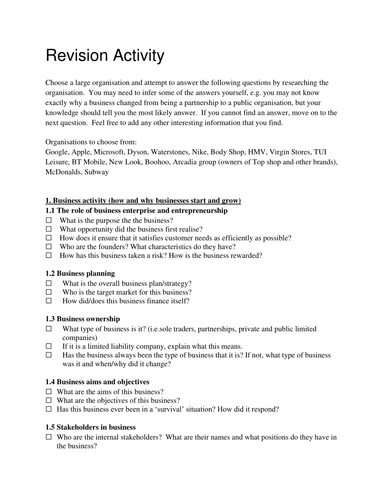 "Choose a large organisation and attempt to answer the following questions by researching the organisation. You may need to infer some of the answers yourself, e.g. you may not know exactly why a business changed from being a partnership to a public organisation, but your knowledge should tell you the most likely answer. If you cannot find an answer, move on to the next question. Feel free to add any other interesting information that you find. Organisations to choose from: Google, Apple, Microsoft, Dyson, Waterstones, Nike, Body Shop, HMV, Virgin Stores, TUI Leisure, BT Mobile, New Look, Boohoo, Arcadia group (owners of Top shop and other brands), McDonalds, Subway"