Clickschool's Shop
Resources for KS3 and GCSE Computer Science and ICT
168Uploads
230k+Views
107k+Downloads
Resources for KS3 and GCSE Computer Science and ICT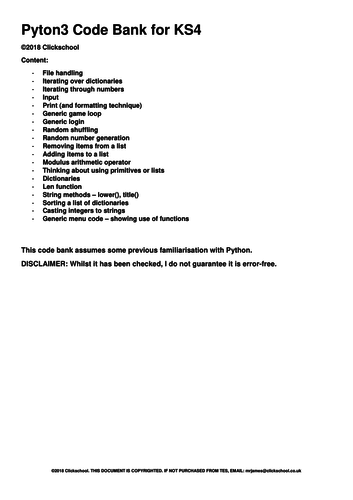 This 5* rated resource does NOT contain complete solutions for OCR NEA 2018 - 2020. But what it does contain are clearly presented code snippets, designed to help reinforce application of programming knowledge, helping students to understand code and create their own solutions without giving up hope, in a relatively short space of time. I've been programming, and teaching for a long time, and understand that some students can struggle to code. This one-stop shop aims to give students the confidence to work out their own solutions from this one easily-accessible reference guide. This resource shows how to complete tasks such as file handling; in the most straightforward way possible. File handling needn't be complicated. I've seen some trying to use SQL, CSV or JSON formatted data. This often leads to needless confusion amongst those just starting their programming journey. None of this is necessary. This resource shows you how to use simple code to manage files…and much much more. This resource helps students to have those 'eureka' moments as they piece together ideas and get to grips with programming (it can also help staff!) It is clearly presented and contains enough ideas to help students to feel good about being able to code their own solution. …Python3 code bank for KS4 Quick reference guide with adaptable code snippets… Covers… File handling Iterating over dictionaries Iterating through numbers Input Print (and formatting technique) Generic game loop Generic login Random shuffling Random number generation Removing items from a list Adding items to a list Modulus arithmetic operator Thinking about using primitives or lists Dictionaries Len function String methods: lower(), title() Sorting a list of dictionaries Casting integers to strings Generic menu code: showing use of functions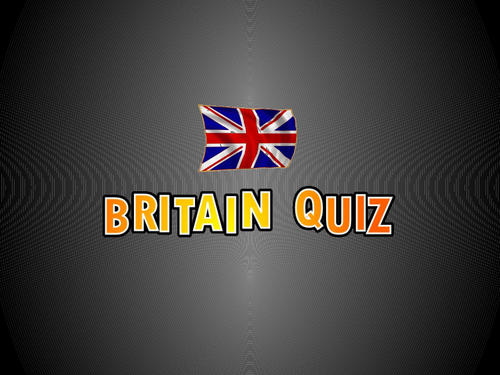 Made a long time ago, but I think they still look funky - especially the slide templates in the news quiz. Evidently the questions are now somewhat out of date!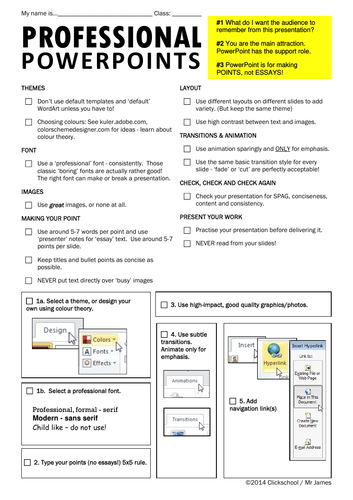 I made this some time ago, but it still has valid points about creating presentations. If your students (or staff) are still treating PowerPoint slides like a place to write essays, then this might help ;-) Covers the following: = Great colours schemes & professional fonts = Make your point…concisely = Use high impact images = Use subtle transitions & animations = Add navigation…if necessary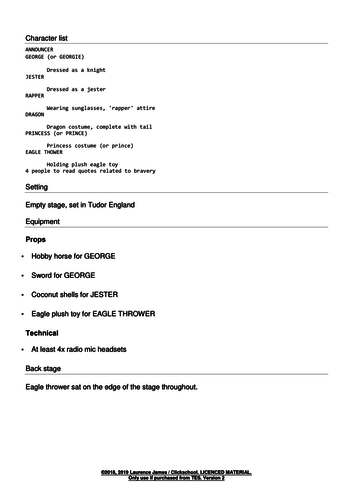 This is a funny script taking around 10 minutes to perform. It is essentially about a knight plucking up the bravery to ask out the prince/princessss. There's a couple of slightly different versions to choose from and play about with. It is designed to be performed by 4 main characters and some one line parts for others. Other roles include looking after props and sound/music and performing a rap. Other students may wish to devise a dance set to a song about bravery, thus using as many people as your group allows. Costumes can be sourced from places such as ebay or scrounged from friends/family! Ask around, you'll be surprised what people have. All sound effects provided in this resource are, to the best of my knowledge, royalty free. You are welcome to use the 'rap' loop, which I made. I advise also sourcing: Tudor music, Hall of Fame (by The Script) and/or "Brave" by Sara Bareillies. Evidently not included because of copyright.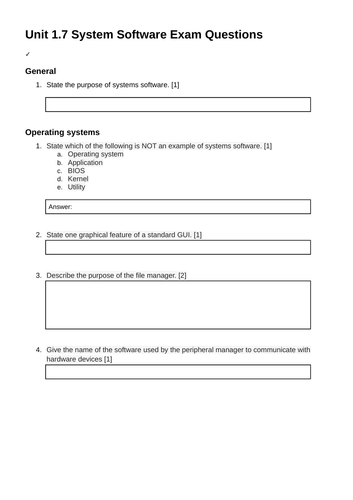 16 GCSE Examination style questions for OCR GCSE Computer Science unit 1.7 Question sheet Answer sheet 24 marks available.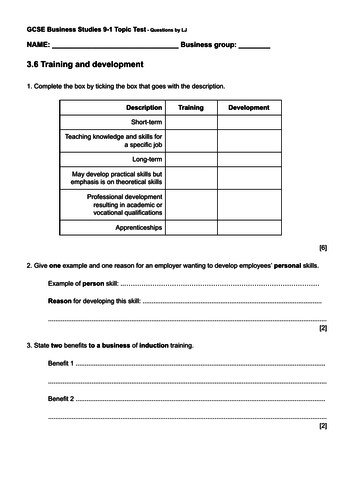 OCR Business Studies 3.6 Training and Development Topic Test and Answers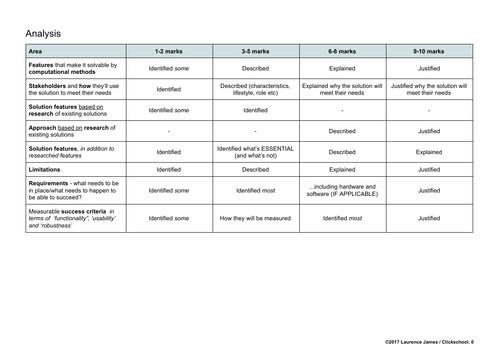 I've taken the H446 mark scheme to pieces, and then put it back together in a much more manageable way, taking account of extensive experience of marking projects. With this document, you will be able to: - Quickly and accurately mark and assess A-Level projects - Guide your students to getting maximum marks, and focus on what it is that gets marks. What more could you want?! This document includes a clear mark scheme and a guide about what to include for each part of the project. NB: This is for GUIDANCE ONLY and high marks are not guaranteed! This resource is NOT endorsed by OCR.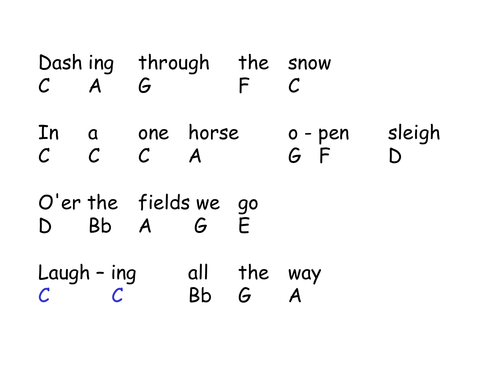 I first did this in 1997 (when I used to have a life!!), but it's still good fun to do today! Target age - Year 6 or 7, but I've also done this with older students too. Give students chime bars, jingle bells and a triangle to play along with the notes in the presentation...the test can sing along! Good fun. The backing track is just that - piano chords and bass. The tune is played and/or sang by students. I've also included a bonus track with ideas for how chime bars could be used with other traditional Christmas songs... Just one verse and chorus, but you can use 3 different playback speeds as they get better and better. The backing track is piano and bass only.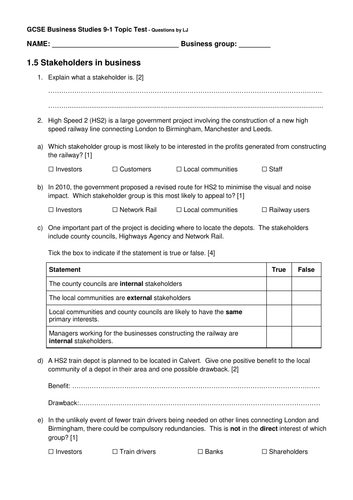 Editable 23 mark paper (and answers) to test student knowledge of stakeholders. Questions are based around High Speed 2, British Telecom and ASOS.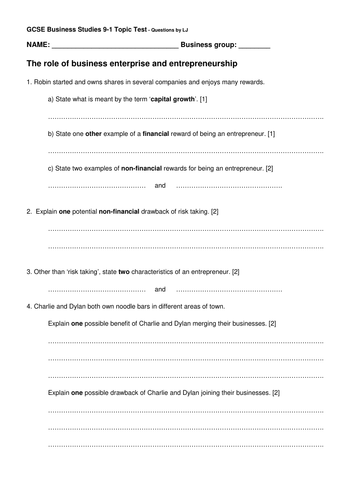 6 questions, 20 marks. A range of 'state', 'explain' and 'evaluate' questions.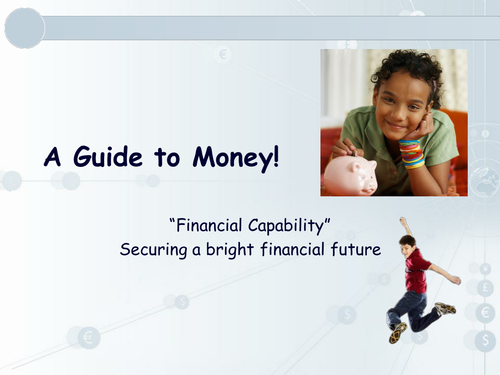 I put these together a long time ago, but are still relevant today - lots of financial matters to get thinking about.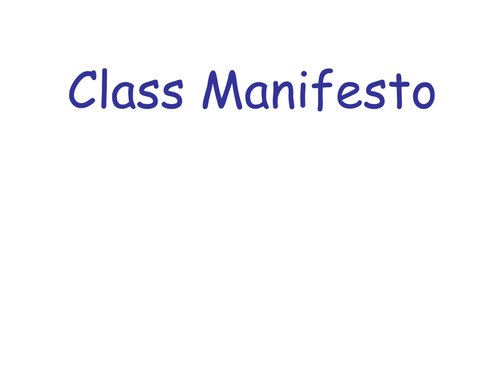 A presentation template with ideas about key values you might agree upon with a new class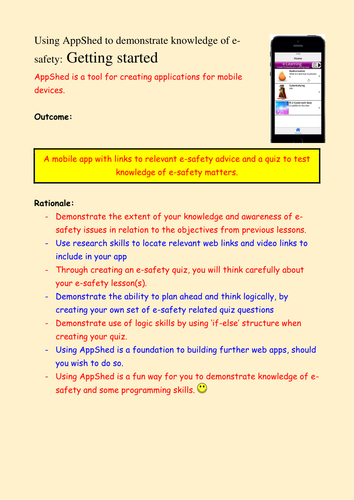 Two parts: A). E-safety research task encourages students to work in small groups to answer key questions about e-safety issues (radicalisation, cyberbullying, sexting, grooming, privacy, fake-news). 2. FIVE worksheets detailing how AppShed (free) can be used to create a mobile phone app to demonstrate understanding of e-safety issues, including how to create a multiple choice quiz. (No previous experience required!) Outcomes: 1. Be able to talk knowledgeably about a range of e-safety issues 2. Know the importance of inclusion 3. Be able to take steps to keep themselves online 4. Be able to know how to report issues.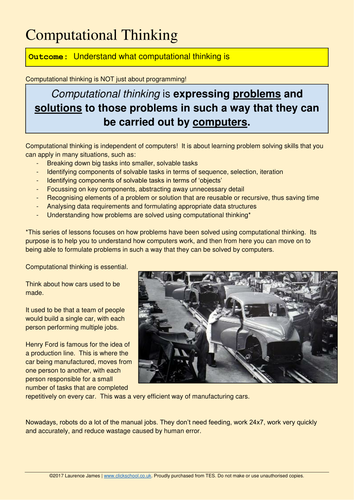 KS3 CT Computational thinking - A brief introduction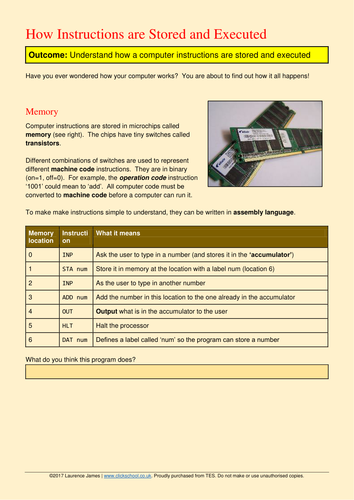 The two main worksheets get students thinking about how a simple computer processor works. The instruction set worksheet is particularly nice as it gets students to use and compare instruction sets by "programming a robot frog", beginning to realise the difference between instruction set sizes.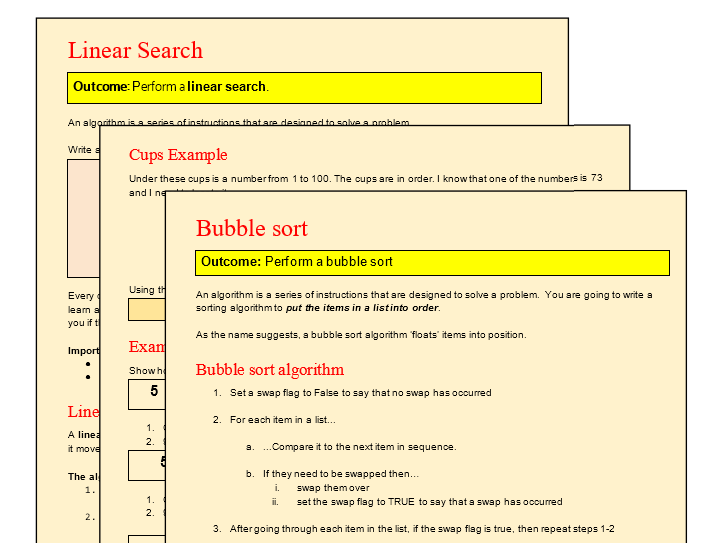 KS3 CT Computational Thinking 14 key worksheets designed to be completed electronically to teach some of the trickier aspects of the KS3 National Curriculum, including: 1. Linear search 2. Binary search 3. Bubble sort 4. Simple logic gates 5. Logic gate circuits 6. Representing numbers 7. Binary to decimal 8. Decimal to binary 9. -TBC 10. Binary addition 11. Text representation 12. Picture representation 13. Sound representation 14. Instructions 15. Instruction sets 16. (brief introduction to algorithmic thinking) Lots of editable explanations, tasks and activities for varying abilities.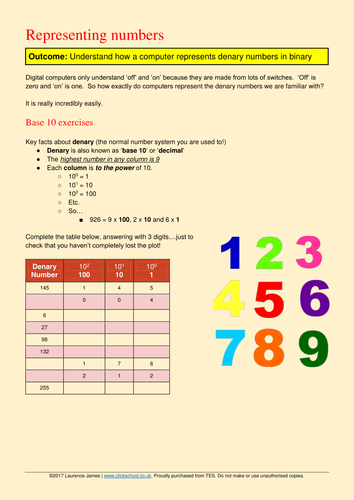 Part of KS3 Computational Thinking Series - worksheet explanations, tasks and activities - How numbers are represented - Binary to decimal - Decimal to binary - Binary addition - Text representation (ASCII, its limitation and Unicode), including ASCII name tag and Chinese name - Picture representation, including making artwork and converting it to binary - Sound representation, including comparing sound files These work in conjunction with my web-based self-marking multiple choice tests to check understanding, and also to my interactive binary activities.

Electronic worksheets designed for use by students. Tasks for varying abilities including programming algorithms in Python for the most able. The worksheets detail how the algorithms work (linear search, binary search, bubble sort) and how to code them using Python, followed by questions. Includes links to interactive self-marking quiz. These files are available as part of a bundle, covering computational thinking skills for KS3.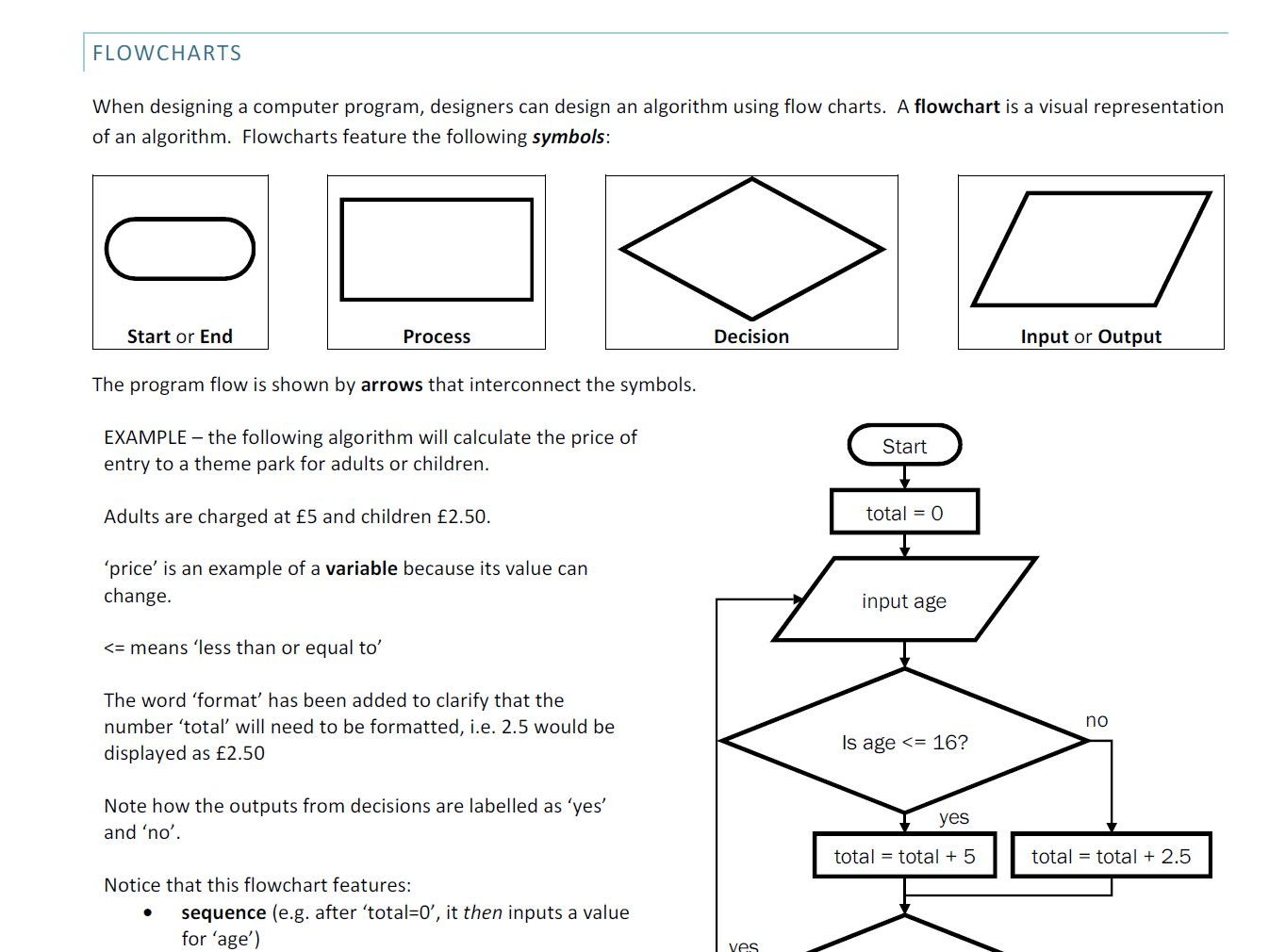 2.1 Algorithms 2.2 Programming technique 2.3 Producing robust programs 2.4 Computational Logic 2.5 Translators and facilities of languages 2.6 Data representation

Study notes for component 1 1.1 System Architecture 1.2 Memory 1.3 Storage 1.4 Wired and wireless networks 1.5 Network topologies, protocols and layers 1.6 System Security 1.7 Systems software 1.8 Ethical, legal, cultural and environmental concerns