Clickschool
Resources mostly for KS3 and GCSE Computer Science and ICT
94Uploads
315k+Views
136k+Downloads
Resources mostly for KS3 and GCSE Computer Science and ICT

What better way to end the term than doing some programming!! Language: HTML/Javascript. Students can use repl.it for the coding. Students work through a task showing how a programmer wrote a function to draw a Christmas tree. They then modify the given code to create lots of electronic Christmas trees. And as a bonus, there is also code to draw flashing lights on the screen too. It was wrote very quickly but feel free to use/modify…or have a go yourself (I know you want to). Enjoy :-) And check out my other resources.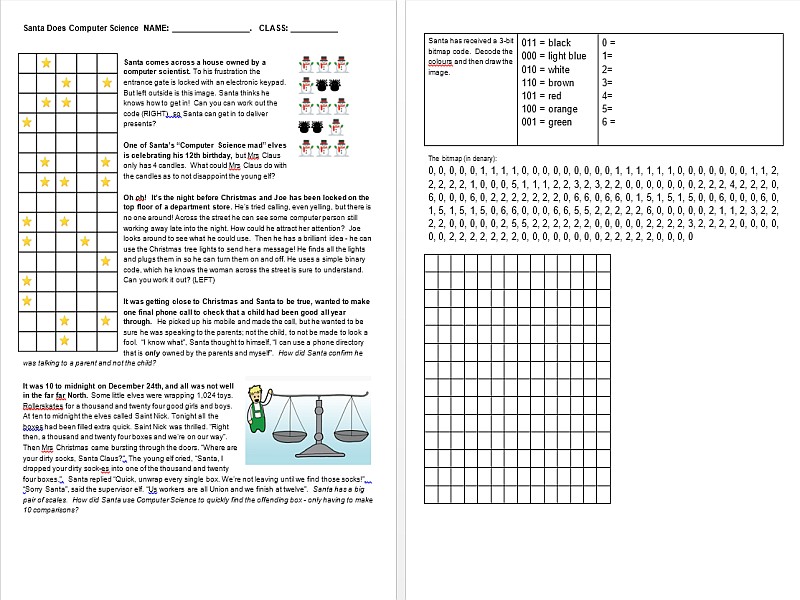 Santa-themed tasks: Binary, divide-and conquer and an encryption task. A number of the challenges have been borrowed. No computer required! Could be used as a competition. Some students might need hints.

Somewhat old but may be of use… Using Flash to make a 'catch the fruit' type game.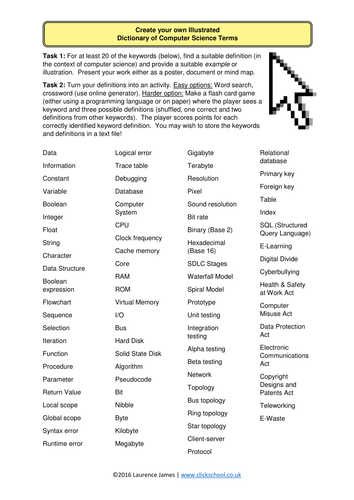 An idea for a computer science lesson Ignore the copyright notice in the file - it no-longer applies. CC-BY-SA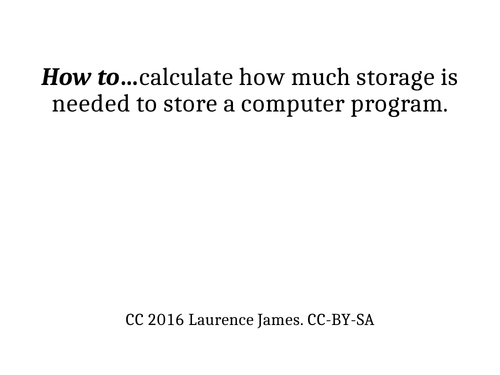 Instruction sets: Calculating storage requirements presentation Explains bits, bytes, kb etc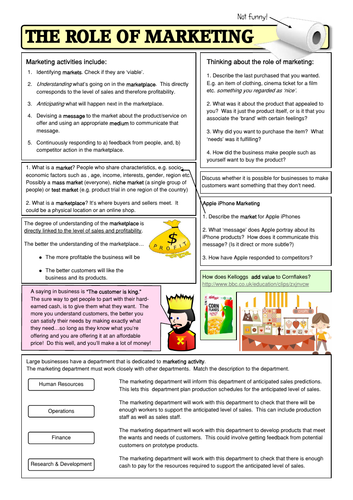 OCR GCSE Business Studies 9-1 The role of marketing, The purpose of market research 2x worksheet

Materials for 6 lessons frame-by-frame animation layers motion tweens shape tweens layes & tweens - dancing penguin Ignore the copyright in the file - you have my permission to use these as you please subject to creative commons CC-BY-SA (other than the music clip)

Relevant computer science and IT content… Originally written for Cambridge Nationals R001, this document has 50+ worksheets Table of contents as follows: Computer Systems 10 Which features of the system make it suitable… 11 Input, output, storage and connectivity devices 12 Output Devices: Actuators 13 Input Devices: NAME THEM! 13 Outputs: Plotters 14 Outputs: Lasers v Inkjets v dot matrix and Dye Sublimation Printers 14 Storage 15 Solid State Drive (SSD) v Hard Disk Drive (HDD) 16 USB Memory Stick Questions 16 Storage - Local, Removable and Remote 17 Cloud Storage 18 Accessibility 19 Operating System Software 20 Mobile/Tablet 20 Desktop 20 Server Operating Systems 20 Open Source Operating Systems 21 Utility Software 21 Customisation 22 SOFTWARE Updates 22 Application Software 23 Apps for portable devices 24 Diary Management Software (DMS) 25 Another feature of diary management software 25 Review Tools 26 File Sharing & Collaboration 27 File Formats 28 Proprietary File Formats 28 Open File Formats 29 File Format Issues 30 Specific File compression Formats 30 File Compression 31 Securing Files 32 File Permissions 33 Password Protection 33 Encryption 34 GPS 35 Network Connectivity 35 Bandwidth 35 WiFi and Wired network Setup 36 Connecting to a WiFi Network 37 Firewall Settings 38 Network Connection Speeds 39 Connecting Computers 39 Remote Working 40 Connecting Peripheral Devices 41 Types of connection 41 Data Transfer Methods 42 Peer-to-peer file sharing 42 Data Capture 43 Data & Information 43 Data Capture: Online forms v Paper Forms 43 Paper Forms 43 Online Data Capture 44 Data Collection Mistakes 44 Verification and Validation Methods 45 Coding Data 46 Identifying 'items' of information 46 Automated Capture Methods 47 Analogue & Digital Data 47 Automated Capture Method Questions 48 Minimising Data Loss 49 Archives 50 Business Communication 51 Email Features 52 More Email Features 53 SPAM/Unwanted Email 54 Email Etiquette 55 Distribution Lists 55 Questions 55 Cyber Criminal Methods: Phishing 56 Health & Safety act - Display Screen Regulations (H&S - DSR) 57 Data Protection Act (DPA) 58 © Copyright Act - note the spelling of COPYRIGHT 59 Computer Misuse 61 Business Ethics: Personal & Private Information 62 Cyberbullying 62 Workplace Surveillance 63 Monitoring Activity on a website: Cookies 64 Keylogging 66 Tracking With Mobile Phone Triangulation 66 Data Analysis: Loyalty Schemes 66 Cyber War 67 Disciplinary Procedures 68 The Arsenal of CounterMeasures 69 Exam Technique 70 "Identify" or "State" or "What type of…" or "Name" 70 "Give…reasons" 70 "Explain" 71 "Describe" 71 "Discuss" 71 Discussing Advantages and Disadvantages or why one is better than the other… 72 Using Intuition to answer a question 73 Classic mistakes to avoid… 73 How to pass 73 Answers 74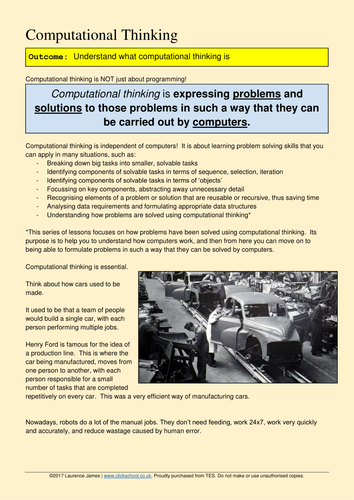 KS3 computational thinking series searching sorting binary logic gates represenation students work through and complete copies of the documents. lessons covering linear search binary search bubble sort logic gates representing numbers binary to decimal decimal to binary binary addition text representation picture representation sound representation representing instructions instruction sets algorithmic thinking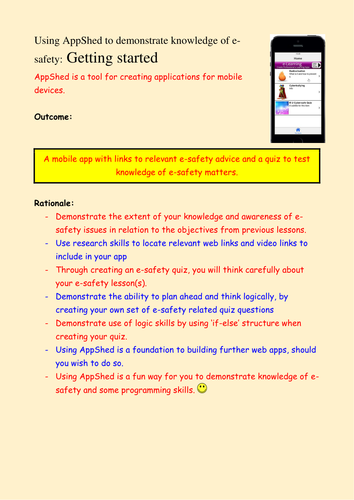 KS3 Year 7/8 E-Safety - demonstrating knowledge by creating a mobile phone app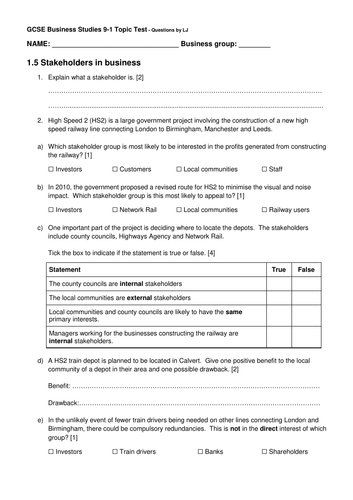 GCSE 9-1 OCR The role of business enterprise and entrepreneurship end of topic test J204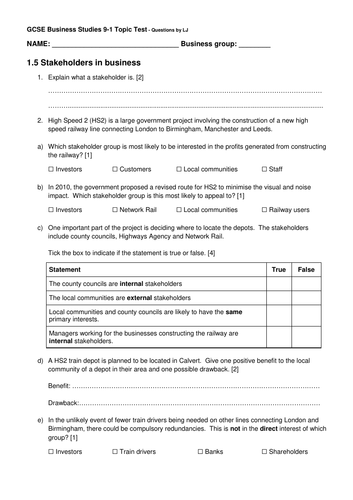 GCSE 9-1 OCR Business Studies Topic Test 1.5 Stakeholders in business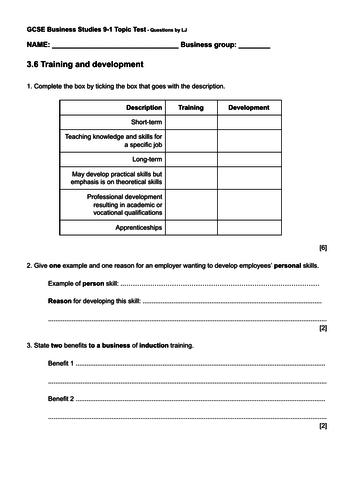 OCR GCSE Business Studies 3.6 Training and Development Topic Test and Answers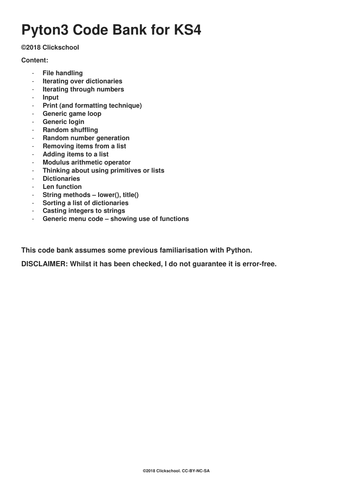 This 5* rated resource does NOT contain complete solutions for the NEA. But what it does contain are clearly presented code snippets, designed to help reinforce application of programming knowledge, helping students to understand code and create their own solutions without giving up hope, in a relatively short space of time. I've been programming, and teaching for a long time, and understand that some students can struggle to code. This one-stop shop aims to give students the confidence to work out their own solutions from this one easily-accessible reference guide. This resource shows how to complete tasks such as file handling; in the most straightforward way possible. File handling needn't be complicated. I've seen some trying to use SQL, CSV or JSON formatted data. This often leads to needless confusion amongst those just starting their programming journey. None of this is necessary. This resource shows you how to use simple code to manage files…and much much more. This resource helps students to have those 'eureka' moments as they piece together ideas and get to grips with programming (it can also help staff!) It is clearly presented and contains enough ideas to help students to feel good about being able to code their own solution. …Python3 code bank for KS4 Quick reference guide with adaptable code snippets… Covers… File handling Iterating over dictionaries Iterating through numbers Input Print (and formatting technique) Generic game loop Generic login Random shuffling Random number generation Removing items from a list Adding items to a list Modulus arithmetic operator Thinking about using primitives or lists Dictionaries Len function String methods: lower(), title() Sorting a list of dictionaries Casting integers to strings Generic menu code: showing use of functions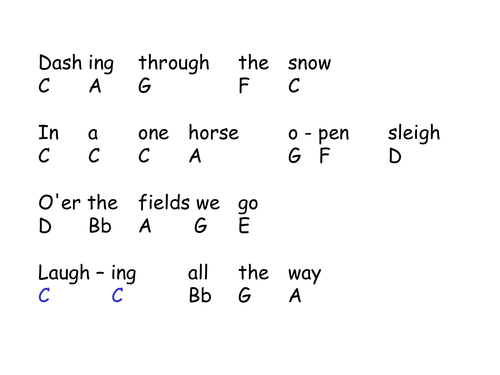 I first did this in 1997 (when I used to have a life!), but it's still good fun to do today! Target age - Year 6 or 7, but I've also done this with older students too. Give students chime bars, jingle bells and a triangle to play along with the notes in the presentation…the test can sing along! Good fun. The backing track is just that - piano chords and bass. The tune is played and/or sung by students. I've also included a bonus track with ideas for how chime bars could be used with other traditional Christmas songs… Just one verse and chorus, but you can use 3 different playback speeds as they get better and better. The backing track is piano and bass only.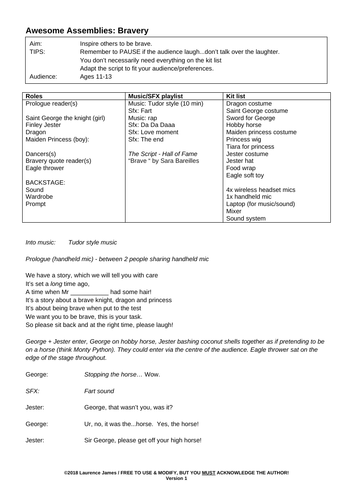 Panto style short play for assembly - in essence it's about George/Georgie plucking up the courage to ask his/her boy/girlfriend out! Lots of shenanigans and jolly good fun. I've included public domain sound effects, but evidently I haven't included the suggested music because of copyright.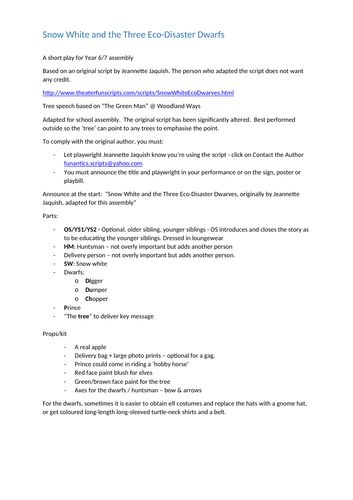 Snow White walks into a forest to discover that it has been ruined by a bunch of naughty dwarfs… Panto feel with a serious message.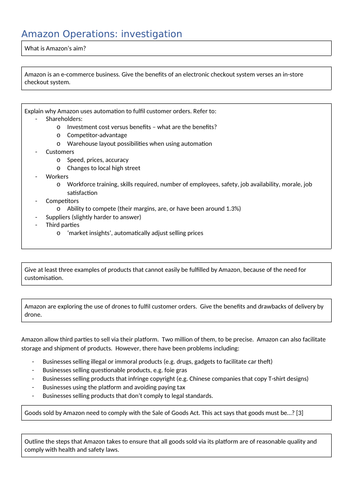 A series of prompt questions about Amazon's investigations I put this together a couple of years ago - might be good for GCSE Business students No credit needed for this.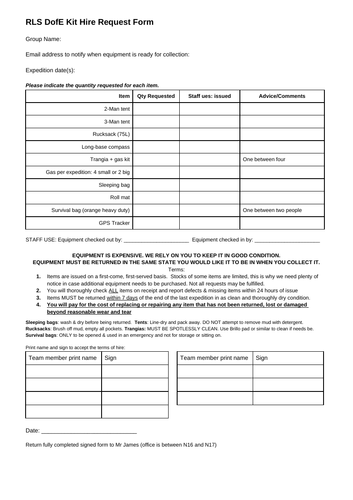 A quick form useful if hiring out equipment/kit for Duke of Edinburgh