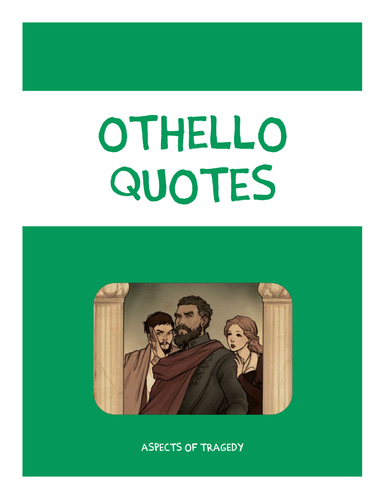 A booklet to help and support students in learning Othello quotes for their closed book exam. The booklet contains several quotes from Shakespeare's play. The quote has space underneath for students to write why the quote is significant, and a tickbox to help students decide which quotes they wish to learn. There are also tips and advice on how to memorise quotes for each learning styles: there are methods of visual, auditory, sensory and kinaesthetic learners. A great revision tool for after studying Othello and preparing for the AQA Tragedy exam. It helps students who may struggle to extract quotes from the poems. Encourages students to engage with the language and themes of the poems, and has rooms for students to stretch and challenge themselves. It can be printed in A4 or A5 size :)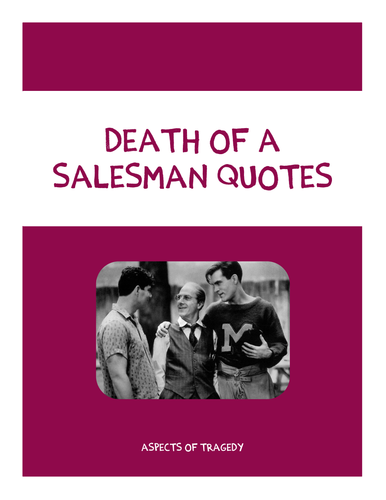 A booklet to help and support students in learning Death of a Salesman quotes for their closed book exam. The quotes are all focused towards supporting students for the tragedy exam. The booklet contains several quotes from Arthur Millar's play. The quote has space underneath for students to write why the quote is significant, and a tickbox to help students decide which quotes they wish to learn. There are also tips and advice on how to memorise quotes for each learning styles: there are methods of visual, auditory, sensory and kinaesthetic learners. A great revision tool for after studying DoaS and preparing for the AQA Tragedy exam. It helps students who may struggle to extract quotes from the poems. Encourages students to engage with the language and themes of the poems, and has rooms for students to stretch and challenge themselves. It can be printed in A4 or A5 size :)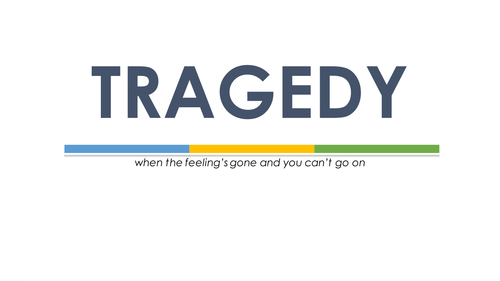 Recommended: Print the Student ppt with two slides per page (as this allows enough room for students to fill in the gaps). A thorough and detailed powerpoint that explains the tragic theory and terminology of Aristotle, as well as non-Greek ideas about tragedy (including Machiavelli). The powerpoint links to two YouTube videos, linking to Educating Rita, and an accessible exercise that encourages students to explore the structure of tragic narratives. The powerpoint keeps students engaged, as the 'student copy' has blanks, which require students to read attentively. There are questions within the powerpoint to allow students to stretch and challenge themselves. This powerpoint works well near the start of the year, or as a revision task. I personally use it after studying Act 1 of Othello, as students will be able to apply the theories and ideas to the text. This resource is a solid task, which will take up a whole lesson (1hr to 1hr 30), and will support students through any text. Created with the AQA Aspects of Tragedy in mind. Can be applied to other examining bodies.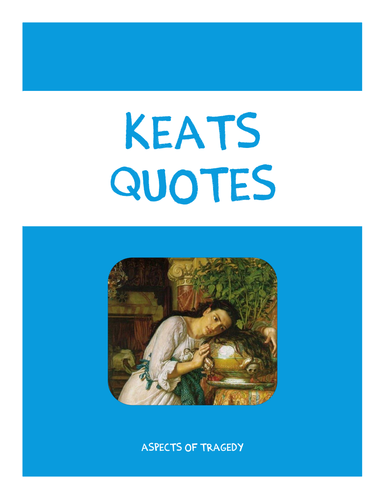 A booklet to help and support students in learning Keats quotes for their closed book exam. The booklet contains several quotes from the four poems: La Belle Dame Sans Merci, The Eve of St Agnes, Isabella, and Lamia. The quote has space underneath for students to write why the quote is significant, and a tickbox to help students decide which quotes they wish to learn. There are also tips and advice on how to memorise quotes for each learning styles: there are methods of visual, auditory, sensory and kinaesthetic learners. A great revision tool for after studying Keats and preparing for the AQA Tragedy exam. It helps students who may struggle to extract quotes from the poems. Encourages students to engage with the language and themes of the poems, and has rooms for students to stretch and challenge themselves. It can be printed in A4 or A5 size :)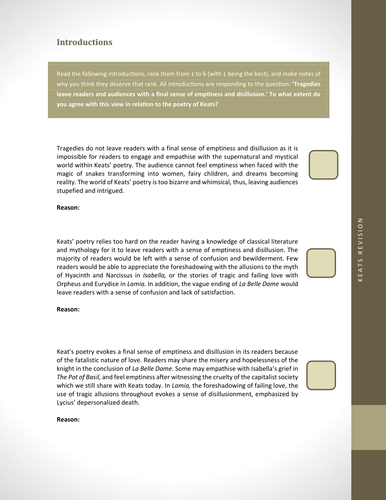 Six example introductions of varying quality for the students to compare and evaluate. Some introductions do not answer the question, many answer and engage with the question, with varying skill. Similarly, it offers nine topic sentences of varying quality. These are aimed at AQA Tragedy, featuring Keats and the specimen question on 'disillusion and emptiness'. Invites students to reflect, stretch and challenge and evaluate the sentences/introductions.
A tutorial on how to make a creative and beautiful bunting that can be used in classrooms or at home. It can be applied to ANY Shakespeare play and is most effective after studying the play. It encourages students to recap, reflect and paraphrase events of the play. Students can make versions with quotes, or ones that engage with themes or characterisation. Students will have fun, creating a useful revision resource and will be able to stretch and challenge themselves! I did this with my A2 and AS groups, and they /loved it/. (Forgive the list of every Shakespeare play, hitting them in for the tags). A Midsummer Night's Dream, All's Well That Ends Well, Antony and Cleopatra, As You Like It, Coriolanus, Cymbeline, Hamlet, Henry IV, Part I, Henry IV, Part II, Henry V, Henry VI, Part I, Henry VI, Part II, Henry VI, Part III, Henry VIII, Julius Caesar, King John, King Lear, Love's Labour's Lost, Macbeth, Measure for Measure, Much Ado About Nothing, Othello, Pericles, Prince of Tyre, Richard II, Richard III, Romeo and Juliet, The Comedy of Errors, The Merchant of Venice, The Merry Wives of Windsor, The Taming of the Shrew, The Tempest, The Winter's Tale, Timon of Athens, Titus Andronicus, Troilus and Cressida, Twelfth Night, Two Gentlemen of Verona.
A thorough worksheet/booklet that guides the students through the stanzas of each poem, helping them break down the events of each poem, and the wider significance. The worksheets have a breakdown of the classic and mythological references. The worksheets can be used as an in lesson resource, homework, or a revision resource, as they cover all the anthology poems in detail. The worksheets are structured to stretch and challenge all students of all grades, and encourage students to make comparisons between the poems and the addition tragedy text they have studied (ie. the text that isn't Othello or King Lear). The worksheets end with four A3 sized tables to help compile all their learning for an easy revision tool. Format: Pages 1-38 are A4, 39-42 are A3. Please open in Adobe Reader, not Word, as the formatting goes wonky.
Struggling with pinning down a huge novel like When Will There Be Good News? This task helps you to track character's actions and decisions through the novel, applying crime writing tropes such as victim/criminal to the characters. Students are differentiated, stretched and challenged to create timelines tracking each character throughout the days that the novel takes place. There is an example on the sheet of Andrew Decker's progression from the murder of the Mason family to his suicide. The sheet is colour-coordinated to help make the activity appealing and fun. Students can make posters or large displays with these timelines.
The document is a helpful guide to stretch and challenge students, with a fail-safe acronym to help weaker students guarantee a C grade in the exam. The four-letter acronym reminds students to engage with the structure, form, setting, stage directions, language, context, characterisation and tragedy of Othello. Tried and tested against AQA's Othello AS and A2 extract question with all students in class getting a grade C or higher!
Blank character profile sheets to encourage students to explore the characterisation in the novel. The profile sheets are constructed to mimic police profiling sheets, to help submerge students in the crime writing genre. These profiles can be separated to use in certain parts of the novel, or can be used as a reflection or revision guide. Differentiates, stretches and challenges students. Easily turned into a forty-five minute, or extensive homework task. Contains eight pages, asking students to extract information about: Reggie, Jackson, Louise, Ms McDonald, Joanna, Neil, Andrew Decker, Billy, and Mr Needler.
A sheet guiding students to close read and analyse key scenes in When Will There Be Good News? It works well as a group activity, can be used as a guide for making presentations, posters, or even writing essays. It helps differentiate and stretch and challenge learners into close reading, engage with the text and apply it to crime writing. Works great as a revision lesson or a lesson towards the end of teaching the novel.
An extract assessment, containing part of Act 2, Scene 3, with the AQA AS question above. Students are to read and analyse the extract before attempting to pick out points and construct and paragraph or essay answering the question. (The choice is yours!) After writing their own paragraph, students can read through three exemplar paragraphs. The three paragraphs are well written and answer the question in different ways, but all focus on the same quotes. It is an exercise to help them identify the AQA Assessment Objectives. It contains questions to help them extract useful information. This task does require students to have a brief understanding of the Assessment Objectives. I recommend printing this resource on A3 paper.
Over thirty sides of Journey's End resources! The booklet guides students through the entire play, asking questions that cover the events, the literary devices and characterisation. The questions are differentiated, allowing students to stretch and challenge themselves based on their answers. It is interactive, with some questions asking for letters to be written, artwork, personal interpretations and reflections. The booklet concludes with essay questions, essay writing tips and techniques on how to write a strong answer! A great resource which the students enjoy and engage with.
An explanation of intertextuality in When Will There Be Good News? which allows students to explore and extract Atkinson's use of the literary device. Students are encouraged to make a table to collate as much intertextuality as they can find. Can work well as a solo or group task, a research task or a homework task for the novel.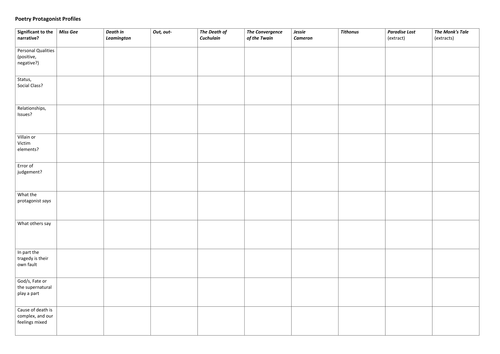 A grid for students to fill in which explores the presentation of protagonists in the AQA Tragedy Anthology. A nice revision or reflective task.
A simplistic worksheet, asking students to explore The Death of Cuchulain, and reflect on the contextual and language features. Easily an in class task or a homework. Invites students to reflect on Critical Anthology readings for stretch and challenge activities. For AQA A Level syllabus - Tragedy Anthology
A simplistic worksheet, asking students to explore Jessie Cameron, and reflect on the contextual and language features. Easily an in class task or a homework. Invites students to reflect on Critical Anthology readings for stretch and challenge activities. For AQA A Level syllabus - Tragedy Anthology