10Uploads
1k+Views
72Downloads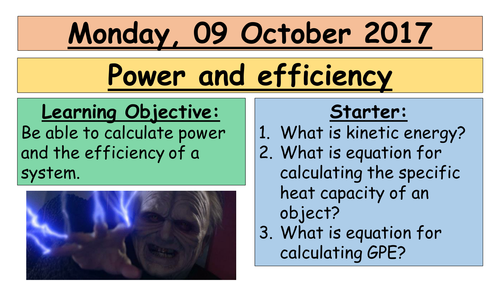 The lesson covers power and efficiency and has differentiated questions within the powerpoint. The higher level questions are on a hidden slide that can be printed out. The efficiency worksheet has a variety of questions for all levels.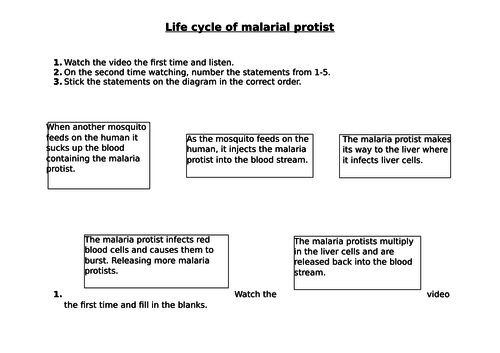 This lesson has been planned for a low-middle attaining GCSE group, can be easily differentiated up for high attaining groups. The Malaria life cycle activity is differentiated for all levels - but can be edited depending on your group. The preview pictures distort what the resources look like.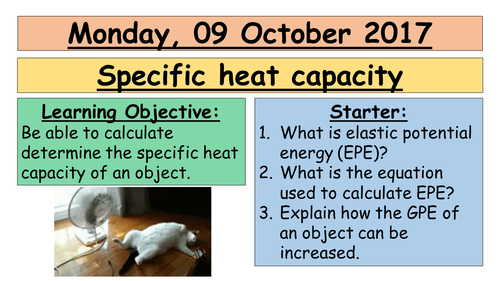 Lessons covering specific heat capacity, there is a video and questions covering the success criteria.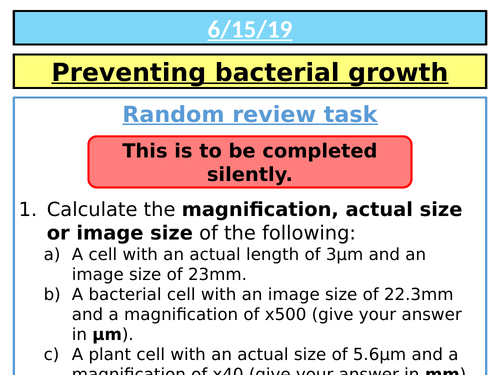 The lesson is in line with B5.4 (Kerboodle scheme of work). This is an opportunity for pupils to look at their bacteria slides ; describe and explain the differences between antiseptics, disinfectants and antibiotics; calculate the number of bacteria in a colony; analyze and compare zones of inhibition on a bacteria plate.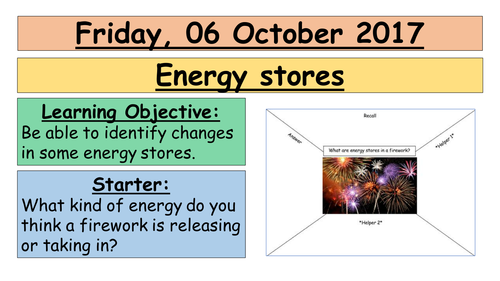 The lesson is all provided on the powerpoint slides. A sheet for less able pupils can be made easily for pupils to add in information.
The powerpoint matches with the worksheet. There are kinetic energy questions on a hidden powerpoint slide that can be printed off. Do not spend very long on them as there are also GPE questions to cover as well.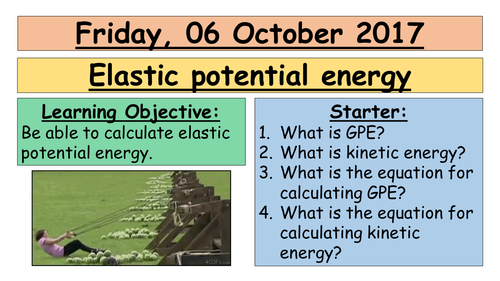 The powerpoint links with the worksheet attached. The worksheet is differentiated appropriately, just select the sheet based on your pupils' levels.
Lesson aimed at a middle attaining year 9 group, but can be differentiated up and down. There is a slide for pupils to fill in the information while the listen and watch the anology of resistance through a video (linked for copyrighting issues) and slideshow.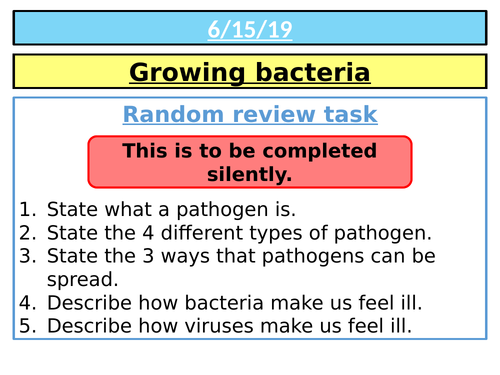 The lesson is in line with B5.4 (Kerboodle scheme of work). This lesson outlines the needs that bacteria have with regards to growing effectively; RPA 2: investigate the effect of antiseptics or antibiotics on bacterial growth using agar plates and measuring zones of inhibition; calculating zones of inhibition.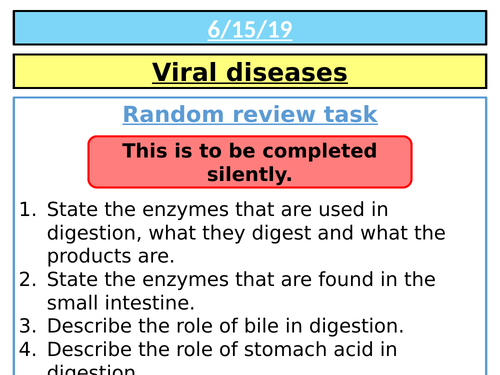 The lesson is in line with B5.6 (Kerboodle scheme of work). This lesson covers how viruses infect and cause damage to organisms; information regarding measles, HIV and tobacco mosaic virus(information sheet attached. Depending on group ability there is a whiteboard quiz, level 1-4 question sheet, level 5-9 question sheet.