479Uploads
1037k+Views
478k+Downloads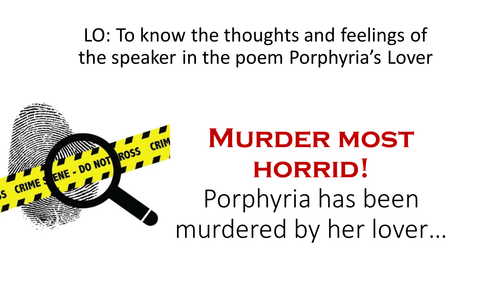 Lesson to know the thoughts and feelings of the speaker in Porphyria's Lover. Student led activities to promote critical thinking before the reading of the poem. Teachers should then go on to understanding the thoughts and feelings, with the final slide to give further insight into the context and ideas behind the poem. This poem is from the Relationships cluster of the new GCSE Anthology 2015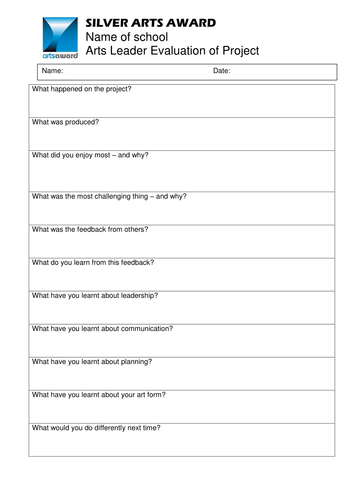 A template used by my pupils to help them to begin reflecting on their project related to gaining the Silver Arts qualification.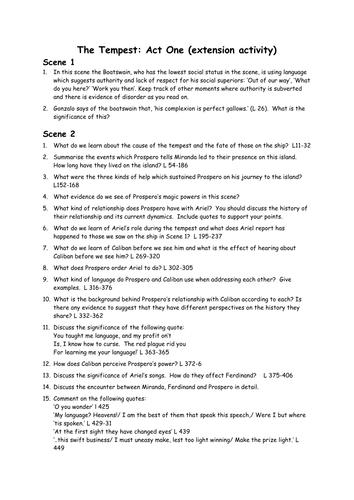 A list of possible questions for pupils to discuss or answer relating to Act 1 Scene 2.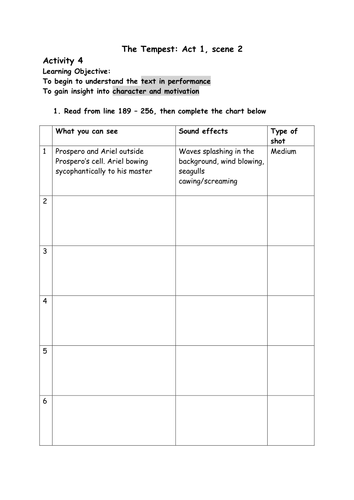 A worksheet that helps pupils think about the music and film effects that could be use to create their own production .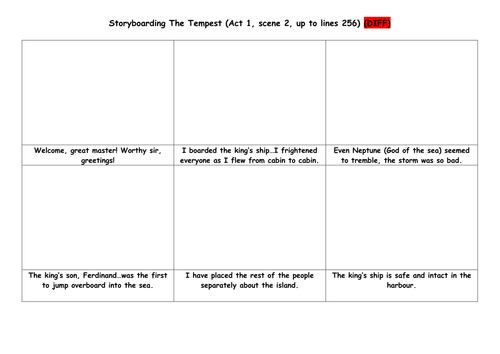 Has a more simple version for weaker pupils. Pupils use the quotes to draw a picture of that part of the scene.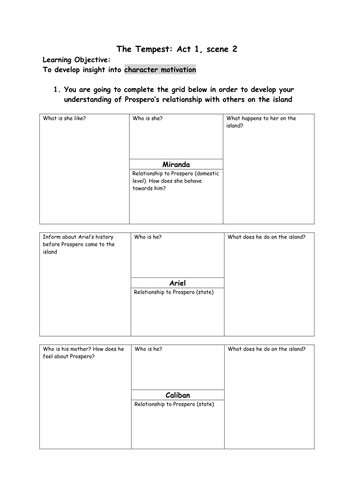 A work sheet based on Act 1 Scene 2- it gets pupils thinking about Prospero's reactions towards others and his actions.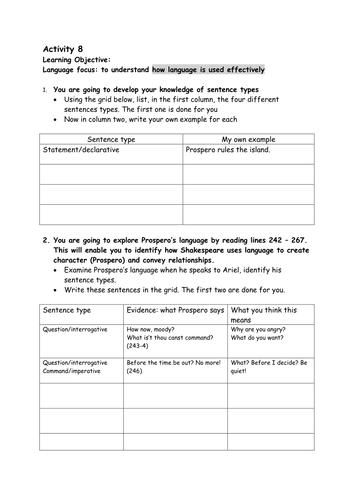 Pupils use the worksheet to identify whether characters use declarative, interrogative, etc. sentences.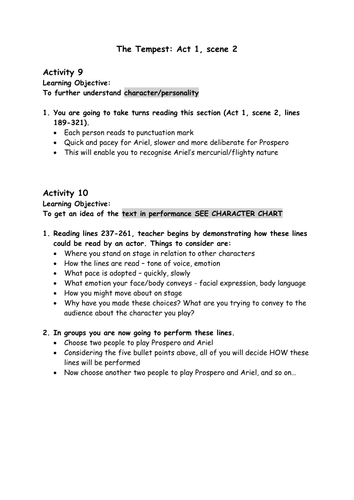 A worksheet that helps pupils to think about the different ways in which we can interpret the actions of the characters.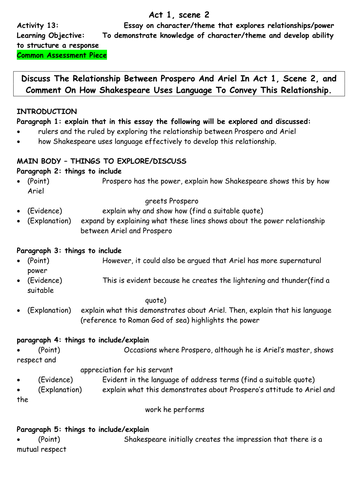 A detailed writing frame to help pupils produce an essay answering the question- describe the relationship between Ariel and Prospero- referring to Shakespeare's language.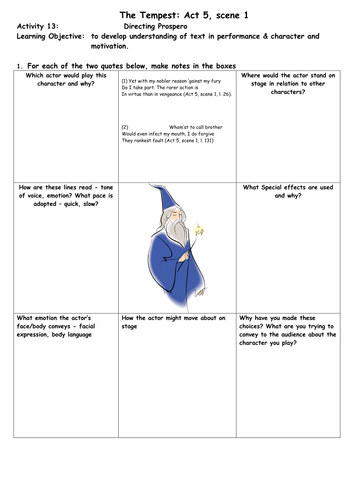 A simple printable worksheet resource on The Tempest to help pupils explore the language of Shakespeare and think about Prospero's actions.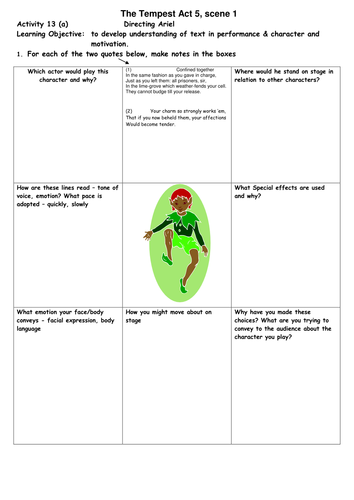 Printable worksheet: simple grid layout with support. Pupils to gather their ideas based on the language in Act 5 Scene 1.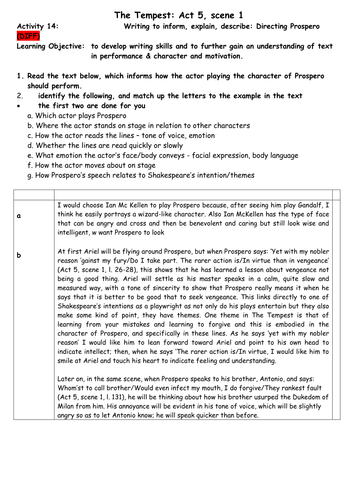 These are differentiated and extremely detailed writing frame worksheets to help pupils of any level write a detailed essay based on Prospero in Act 5 Scene 1.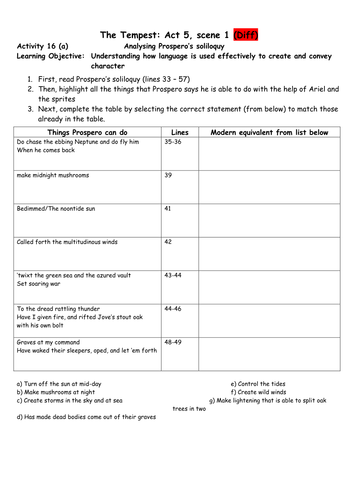 Worksheet based on Prospero's soliloquy from Act 5 Scene 1 of The Tempest by Shakespeare. Pupils complete a series of activities to understand his langauage and actions. Two different versions.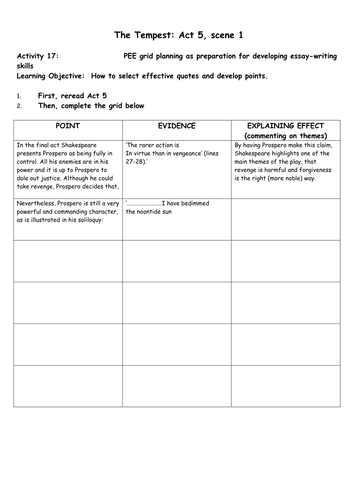 A worksheet handout table with parts filled in to model how to create Point Evidence Explanation (PEE) paragraphs based on The Tempest by William Shakespeare.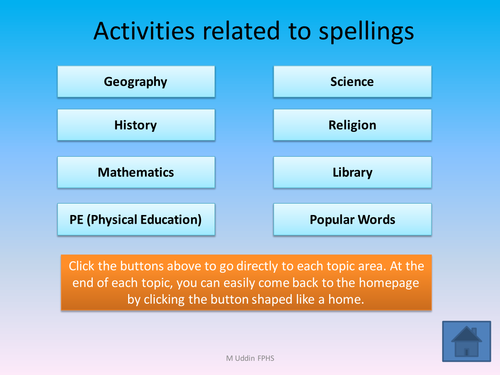 The spelling booklet has now evolved. If you have used my previous resource, your pupils should now have some skills in memorising spellings. They can be used during form time/registration, to fit in across the curriculum This resource contains: word lists ready to be photocopied, some hints to memorise tricky spellings, plenary activities, interactive games for each word list, cloze exercises to show PROGRESS for Ofsted *Please note when you open the powerpoint there will be music/noise for a few seconds- it's the macros.Macros must be enabled to use the games.*

Pupils complete the booklet on their own, under exam conditions. This results in pupils studying a range of conflict/war poems and an essay on the poem Futlity. This task can also be combined with the futile nature of conflict in Romeo and Juliet- AQA Literature Controlled Assessment.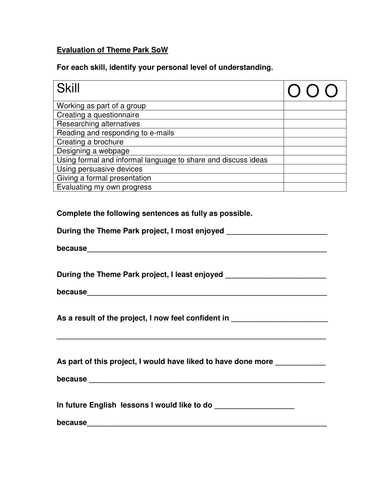 Initially used with the Functional Skills project, pupils can also use this for my theme park scheme uploaded onto the TES. Useful for teachers and planning.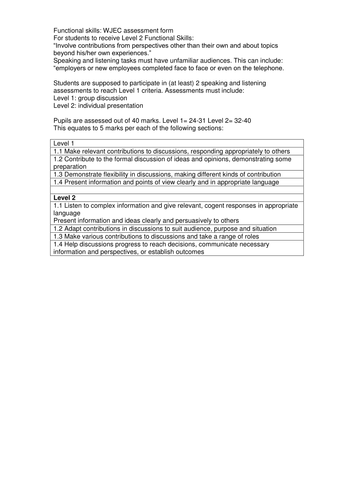 requirements for pupils and what teachers need to do to gain level 1 and level in Functional Skills.

Of learning and of the topic. Pupils have to say what things they have completed and what they have enjoyed. Can be adapted for any topic.