Don Mac's Shop
English reading and writing resources at primary level
86Uploads
49k+Views
5k+Downloads
English reading and writing resources at primary level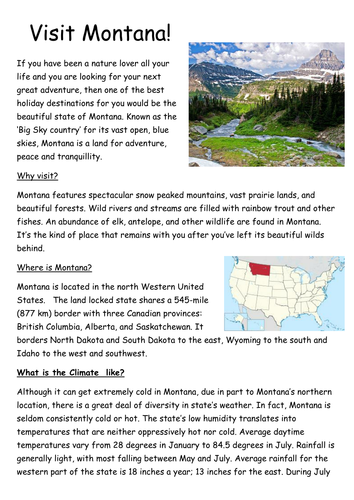 2 Resources to support a personal study on a US state, supporting the NEW Geography KS2 Curriculum. 1. An example Travel Guide Text based on the USA State of Montana. Aimed at higher end of expected level. 2. A planning format for students to plan each paragraph of own chosen US State (North America/South America) Students can research chosen state during lessons or for homework using planning frame. Meets many of the NEW English reading and writing KPIs - parenthesis, managing clause structures and manipulating for effect.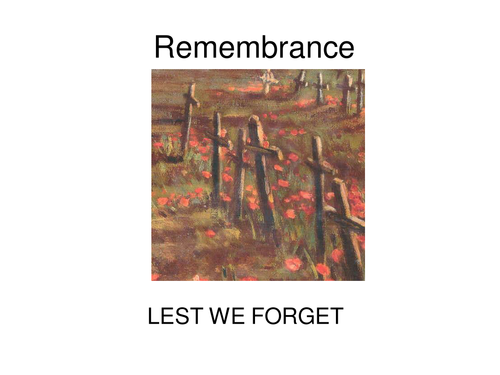 A powerpoint to share with a KS2 or KS3 class on Remembrance day/week. Contains key discussion points and war poetry to share and discuss. This promotes high quality Speaking and Listening. Used this in Year 6 and the poetry that was produced was of a very high standard.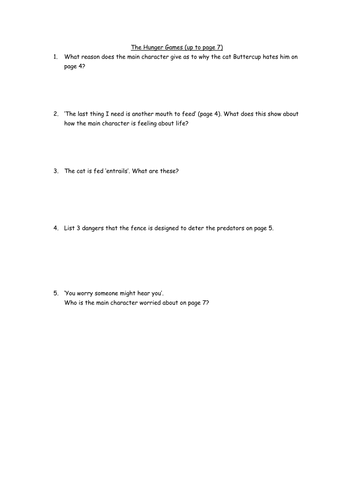 6 x Reading Comprehension sheets based on the Hunger Games (book 1) Aimed at Level 5 Covers all AFs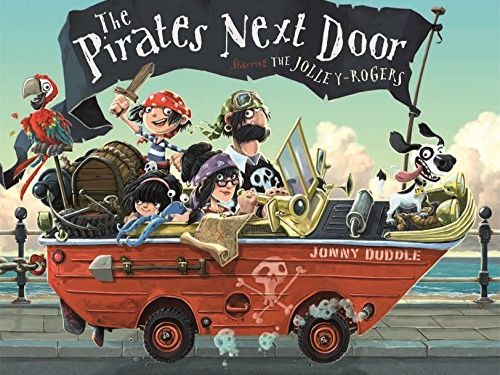 A Short KS1 Writing unit based on the popular children's picture book: The Pirates Next Door. The unit inspires quality, structured writing that meets the new KS1 writing KPis at Expected and Greater Depth Level The unit covers: Reading phase: inferring a character's thoughts and actions Writing with a clear purpose and viewpoint Organising related ideas into sections and paragraphs short openings and endings past tense regular and irregular verbs using capital letters for proper nouns I started this unit with drama - getting into the role of the villagers and focusing on their viewpoint. How were they feeling when the Pirates arrived in town? Why were most villagers angry? What did they think? say? Then they completed the reading inference speech bubbles for 2 different character viewpoints. (see example) Then I held a council meeting for the residents of 'Dull-On-Sea' and the children were given a format to record the 'notes of the meeting' From the notes- they used a structured letter template to create a letter to the council complaining about the Pirates' arrival. This was highly successful and created fantastic letters with clear viewpoints. The pack includes: 1x character though bubble recording sheet 1x example speech bubbles inferring a character viewpoint 1x template for council notes recording sheet 1x letter to council template/structured support sheet 1x word mat containing regular past tense verbs and character names from the book to support spelling. Powepoint for guided group work- exploring which phrases are preferable for persuassive writing. utube videolink for the audio book (free link via utube)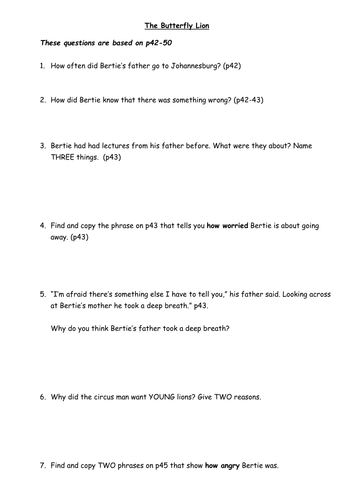 6x In depth Guided Reading Comprehensions for guided group questioning or independent completion. Each comprehension is based on different sections across the text and covers different reading skills. Mainly AF2 Level 3 Reading Skills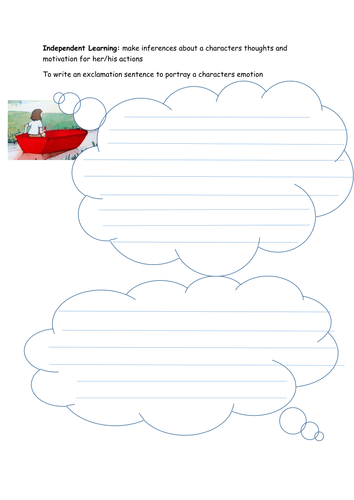 Resources to support Quality Narrative Writing based around the Picture Book and short video clip of 'Journey' By Aaron Becker All resources designed to support the NEW reading and writing standards for the end of KS1. Includes: *inferring a character's thoughts and feelings *expanded noun phrases *regular and irregular past tense verbs *selecting appropriate vocabulary to describe setting and characters *organising writing into sections/paragraphs *exclamation sentence writing *suffix -ment endings Pack includes: Speaking and listening phase: Character speech bubbles to describe character thoughts example speech bubble of character thoughts to use as a model text A3 Graphic Organiser planner to plan a narrative story of a section of the book (entering a castle) EXAMPLE NARRATIVE OPENING WITH KEY FEATURES to use as a model Word bank of regular and irregular verbs to support writing suffix: ment word list to support greater depth writers.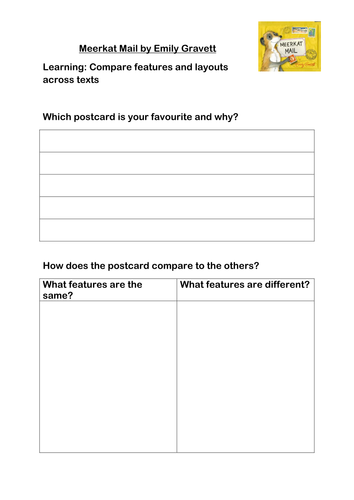 A Reading activity based on Meerkat Mail by Emily Gravett Reading Activity aimed at Expected Standard NEW curriculum end of Key Stage One Task covers retrieval, inference, comparison and personal response. Quality Questioning task covering 3 key reading skills based on new curriculum for English.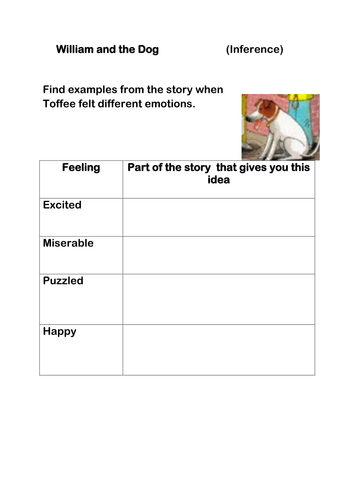 A Reading activity based on theOxford Reading tree Gold Level Book: William and the dog Inference task aimed at Expected Standard NEW curriculum end of Key Stage One Quality task covering key reading skills based on new curriculum for English. Tracking a characters feelings throughout the text using inference and providing evidence.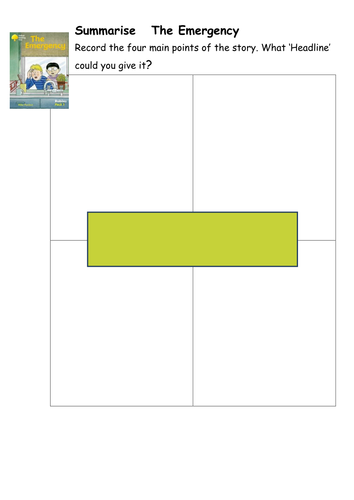 A Reading activity based on theOxford Reading tree Gold Level Book: The Emergency Summary task aimed at Expected Standard NEW curriculum end of Key Stage One Quality task covering key reading skills based on new curriculum for English. Summarising the main events of the Story template and providing a headline for the events!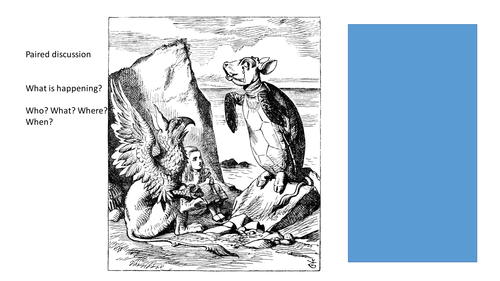 A Whole Class Powerpoint introducing the classic Poem 'The Mock Turtle' by Lewis Carroll that features in Alice in Wonderland novel. The lesson (presented in Powerpoint ) focuses of the students reading aloud the poem and discussing/learning the effects of modal verbs in fiction writing. (Requirement elements for NEW end of KS2 Writing Assessments) Students are able to interrogate the text, understand and comment on how modal verbs are used for effect in quality writing. Key Questions on each slide are provided. This can lead onto the children choosing 2 different animals and writing their own version- adopting the same structure or writing a sequel to the poem applying Modal verbs.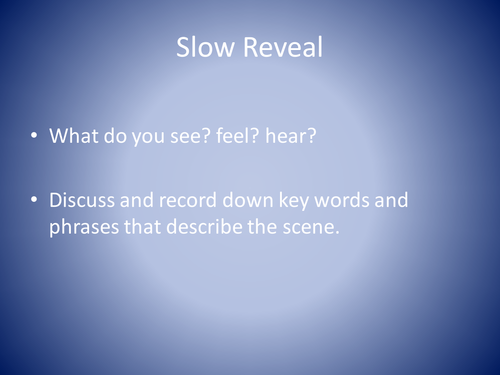 An introductary Powerpoint lesson to introduce The Sinking of the Titanic. Powerpoint includes: -Slow reveal artists impression of the disaster for children to enquire and discuss - promoting high quality Speaking and Listening - Information about the image - poem about the disaster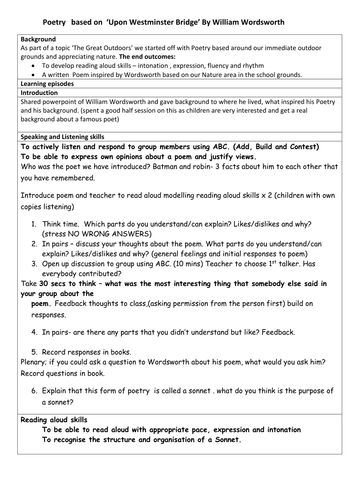 Background As part of a topic 'The Great Outdoors' we started off with Poetry based around our immediate outdoor grounds and appreciating nature. The end outcomes: • To develop reading aloud skills: intonation , expression, fluency and rhythm A written Poem inspired by Wordsworth based on our Nature area in the school grounds.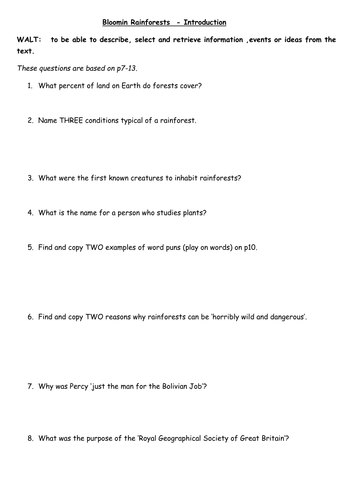 In depth Reading comprehension question sheets for guided or independent reading assessment. Aimed at upper ks2 - covering the NEW reading KPIs and based on the NEW SATs format. 6 sheets focusing on 6 areas of the book study. Questions related to Guided Reading Book: Bloomin Rainforests in 'Horrible Geography' series Range of genres covered in the book.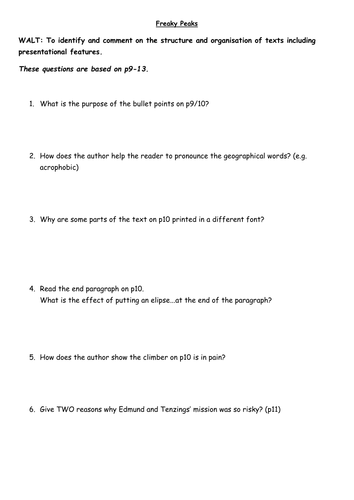 In depth Reading comprehension question sheets for guided or independent reading assessment. Aimed at year 5/6 level 4 6 sheets focusing on 6 areas of the book study. Questions related to Guided Reading Book: 'Freaky Peaks' in the 'Horrible Geography' series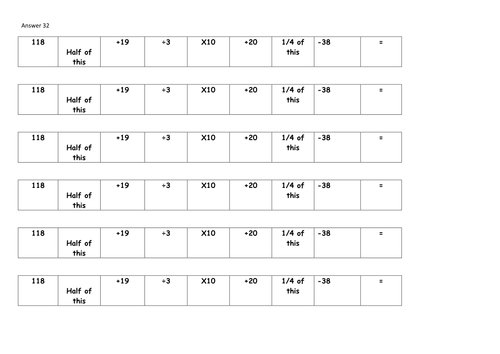 9x Mental maths challenges designed to test range of operations aimed at level 4. Years 5/6 In the style of newspaper maths challenges completing in given time. Children in year 6 love these challenges. Currenty use them as a morning activity to provide a morning maths challenge. answers provided to each challenge. Progressive in challenge. Involves addition and subtraction of whole numbers and decimals, multiplication, division, fractions of whole numbers.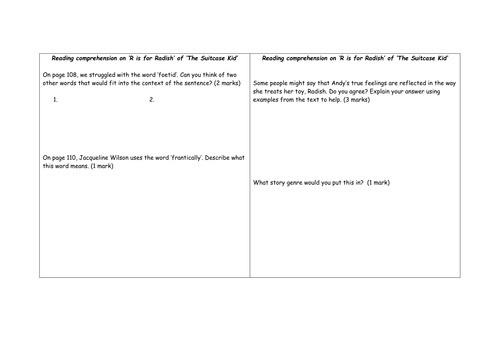 Six reading comprehensions based on The Suitcase Kid Tests a range of the NEW reading kpi statements at UPPER KS2

An opening session recording sheet to support children's research of the key term 'Ancient Civilisations' this could be used to support a PowerPoint presentation or a video. Once children have recorded the key concepts they can record questions for new learning and key learning headlines that they have discovered during the research session.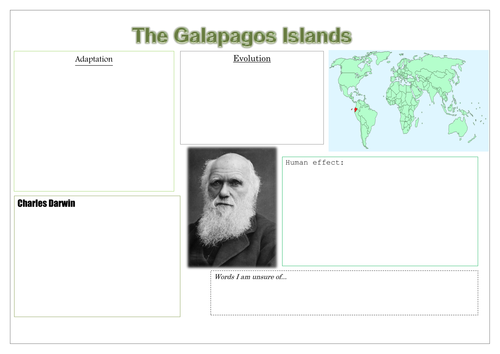 An A3 Pupil research sheet for the concept of Evolution and Adaptation to meet the requirements of the NEW Science curriculum KS2. Used with the BBC video accessed free on iPlayer 'The Galapagos Islands' by David Attenborough. However- can be used with other research materials as has the key concepts on.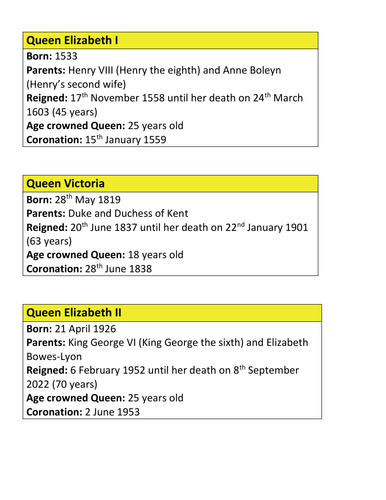 Engaging Activity and recording sheets to learn about and compare the lives of 3 British Monarchs: Queen Elizabeth I, Queen Elizabeth II and Queen Victoria. Resources include: *A3 recording format with structured questions and space for responses *Key information facts for each Queen to use for Hot Seating Covers the NEW National curriculum strand for Primary History: *studying the lives of significant individuals in the past who have contributed to national and international achievements. * comparing aspects of life in different periods for example, Elizabeth II and Queen Victoria. Activity: children work in teams of 3- each take on the role of either: Queen Victoria, Elizabeth I or Elizabeth II. Using the relevant key facts card- ask each other 5 key questions (on recording format) and record responses from each other (structured hot seating) Research key events of the time for each monach and record on format.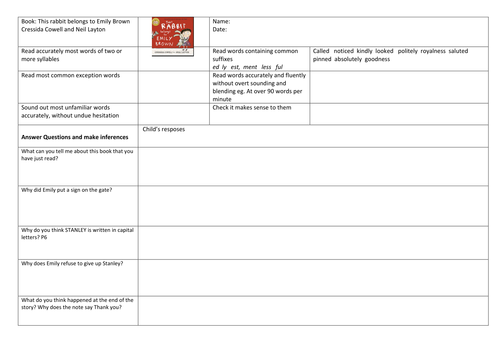 KS1 Reading Assessment form to assess Expected Level Reading at end of KS1 based on NEW KS1 Reading KPIs / National Curriculum A 1:1 assessment format for teachers that contains ALL end of KS1 (Year 2) Reading KPIs to meet the Expected Standard Based on popular picture book: This Rabbit Belongs to Emily Brown Assessement: Child reads the book 1:1 with teacher (Should be familiar with book and had it read before hand) Assessment sheet designed as tick sheet against national standards for expected level and space to record children's responses to inference questions. This form has been created using the exemplification materials from the STA for reading (online) as a guide and model.