57Uploads
50k+Views
125k+Downloads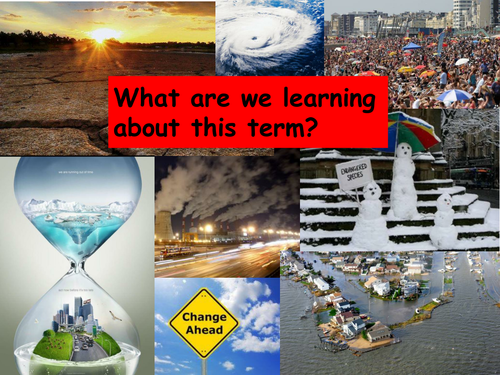 A set of 14 fully differentiated lessons covering the topic of Climate Change: L1: Intro to Weather & Climate - including climate graphs L2: Climate Change & the Distant Past - types of evidence L3: Climate Change in the Recent Past - types of evidence L4/5 - Natural Causes of Climate Change L6: The Little Ice Age & the Vikings L7: The Little Ice Age & Europe - frost fairs L8: The Little Ice Age & Ecosystems - the impact on the dinosaurs L9/10: Air Masses & the UK Climate - includes ocean currents and the North Atlantic Drift L11: The Greenhouse Effect L12: The Enhanced Greenhouse Effect L13: The UK's Future Climate L14: The Impact of Global Warming on Egypt A variety of activities have been included within these lessons to maximise engagement and cater for differing learning styles. Examples of activities include - card sorts, jigsaw teaching, storyboards, cartoon strips and talk4writing. Every lesson has been fully differentiated - usually to at least 3 levels and all resources have been included. Used with a mixed-ability Year 9 class, but can easily be adapted to fit other ages and abilities. Please rate my resources! Thank you and I hope your students enjoy these lessons as much as mine did :)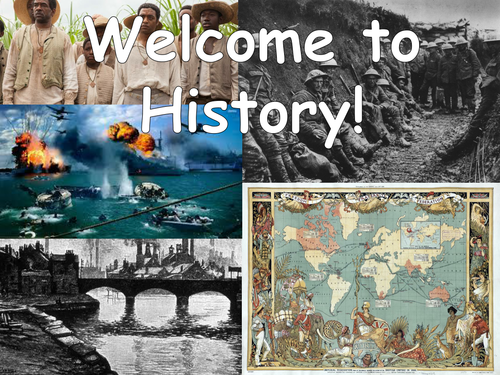 A full set of 13 lessons covering the topic of the Tudors and Life in Britain in the 1500s: L1: Introductory lesson L2: Life in the 1500s L3: The Tudors & Henry VIII L4/5: Henry VIII's Wives L6: Why did Henry break with Rome? L7: Dissolution of the Monasteries L8: Changes to the Church L9: How 'bloody' was Bloody Mary? - includes a mid-topic assessment L10: Ye Olde Elizabethan Dating Agency! L11-12 - Portraits of Elizabeth I - strong focus on source analysis L13: Elizabeth vs. Mary Queen of Scots A variety of activities have been included within these lessons to maximise engagement and cater for differing learning styles. Examples of activities include - Facebook profiles, road maps, songs and plenty of opportunities to work on source analysis and skills vital for GCSE. Challenge activities (in pink bubbles) have also been included in each lesson. Used with a higher-ability Year 8 class, but can easily be adapted to fit other ages and abilities. Some parts, i.e. information, have been taken from other resources, but most activities are my own. Please rate my resources! Thank you and I hope your students enjoy these lessons as much as mine did :)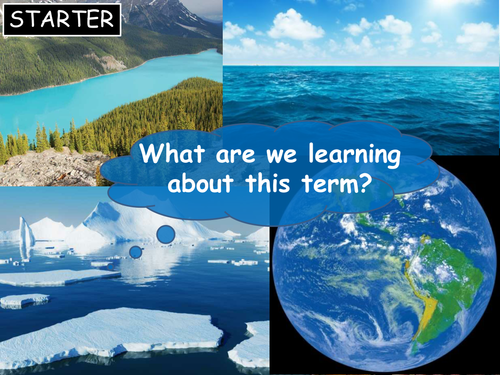 A set of 9 fully differentiated lessons covering the topic of Water: L1: Intro - The Blue Planet L2/3: The Hydrological Cycle - creating a foldable (ALSO AVAILABLE TO BUY SEPARATELY) L4: Climate Change & Water Supplies L5: Living with Chronic Water Shortages - The Sahel L6: Threats to Water Quality L7: Disruption of Water Services (human interference) - THE WATER GAME! (ALSO AVAILABLE TO BUY SEPARATELY) L8: Large-Scale Solutions to the Water Crisis - the Three Gorges Dam and Hoover Dam L9: Small-Scale Management Strategies - pumpkin tanks A variety of activities have been included within these lessons to maximise engagement and cater for differing learning styles. Examples of activities include - card sorts, jigsaw teaching, creating a foldable and THE WATER GAME! Every lesson has been fully differentiated - usually to at least 3 levels and all resources have been included. Used with a mixed-ability Year 9 class, but can easily be adapted to fit other ages and abilities. Please rate my resources! Thank you and I hope your students enjoy these lessons as much as mine did :)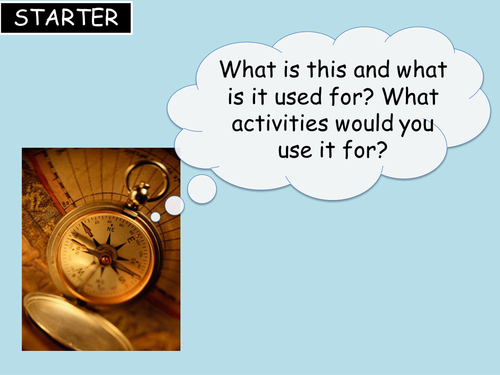 These 5 lessons explore map skills through the use of Harry Potter and Hogwarts, and include: Direction and the 16-point compass 4 and 6 figure grid references Map symbols Scale Relief and contour lines Challenge activities have been included throughout (pink bubbles on slides) and Harry Potter seems to get them engaged every time! Used for high-ability Year 7, but could easily be adapted for other year groups and abilities. The order of lessons can be shifted around to suit. Please rate my resources, and hope you enjoy!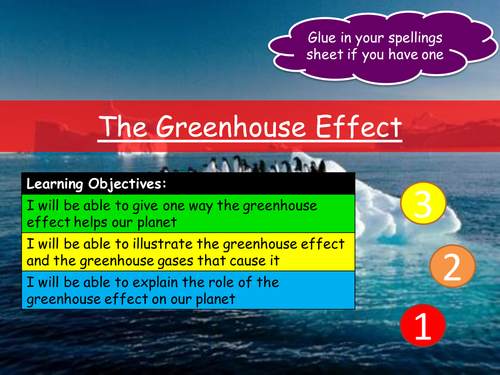 Two lessons cover the greenhouse effect, greenhouse gases and the enhanced greenhouse effect. Also includes the impacts of global warming, leading onto the next lesson (case studies). L11: The Greenhouse Effect L12: The Enhanced Greenhouse Effect PLEASE NOTE: this is part 5 of a set of 14 lessons. The full set can be purchased at a discounted bundle rate here: https://www.tes.com/teaching-resource/our-changing-climate-set-of-14-lessons-11311826 A variety of activities have been included within these lessons to maximise engagement and cater for differing learning styles. Used with a mixed-ability Year 9 class, but can easily be adapted to fit other ages and abilities. Every lesson has been fully differentiated, with challenge activities (in pink bubbles) included at various points. Please rate my resources! Thank you and I hope your students enjoy these lessons as much as mine did :)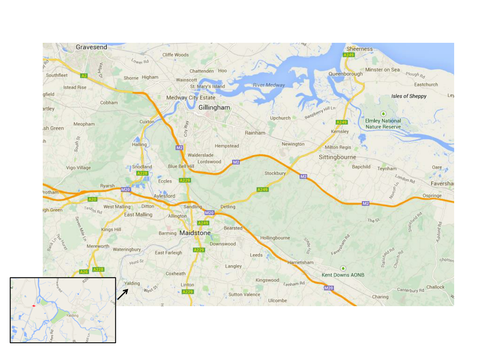 A decision-making exercise created for year 7, but could easily be used with other age groups too. Students work in groups, taking on the role of flood management response teams to make quick and effective decisions. All incoming messages are based on real-life news reports and tweets made during the 2013/14 Christmas floods in Kent.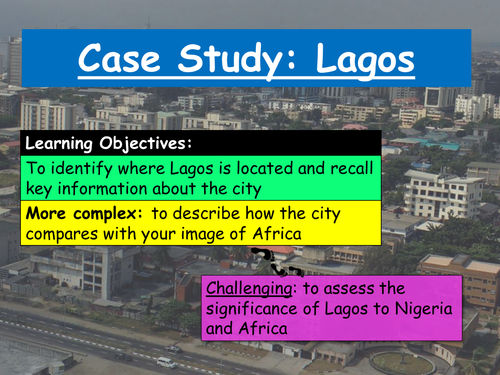 *NEW AQA GCSE GEOGRAPHY A SPEC* These resources cover an in-depth focus on the urban case study of Lagos. I intend to use these resources to cover at least 10 lessons, with the students' aim to create a detailed A3+ academic poster by the end. The PowerPoint includes all main activities and instructions, working through the research one stage at a time - covering: - Background information/key facts about Lagos - Challenges faced in Lagos - Opportunities presented by urbanisation in Lagos - How urban planning can be used to overcome particular challenges presented by urbanisation, e.g. Eko Atlantic and the Makoko Floating School Used for high-ability Year 10, but can be easily adapted to any level. The controversial issues were particularly engaging for students. Please rate my resources! Thank you :)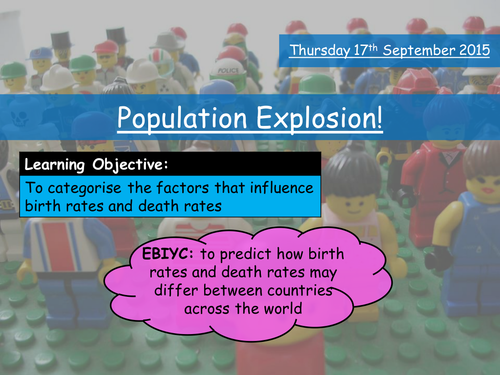 This lesson explores world population growth and the idea of a population explosion. It also covers the factors that affect a country's birth rate and death rate. This lesson includes a range of activities for different learning styles, including a continuum line, card sort, diamond 9 and drawing emojis to represent the different factors! Used for high-ability Year 8, but am also going to be using these activities with Year 10 so could easily be adapted for other year groups and abilities. Please rate my resources! Thank you :)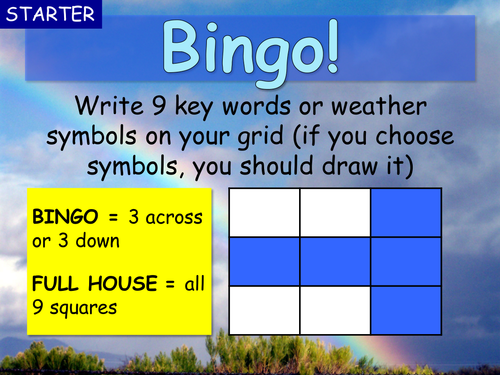 A lesson for KS3 recapping the difference between weather and climate before moving onto climate graphs and using these to dress Joey Essex for particular climate zones across the world! This activity has been very popular and encouraged students to directly read from climate graphs. Please rate my resources! Thank you :)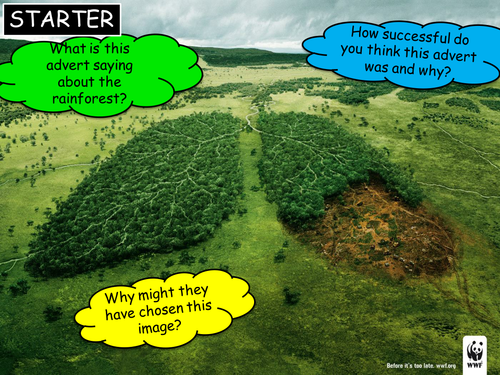 Two fully differentiated lessons covering how tropical rainforests are used and their main threats. PLEASE NOTE: this is part of a set of 11-12 lessons. The full set can be purchased at a discounted bundle rate here: https://www.tes.com/teaching-resource/ecosystems-set-of-11-12-lessons-11306358 Used with a mixed-ability Year 9 class, but can easily be adapted to fit other ages and abilities. Every lesson has been fully differentiated - usually to at least 3 levels and all resources have been included. Challenge activities (in pink bubbles) have also been included in each lesson, as well as an assessment sheet. Please rate my resources! Thank you and I hope your students enjoy these lessons as much as mine did :)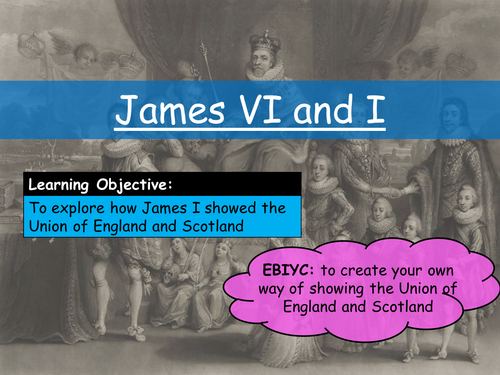 Two lessons covering the topic of the Gunpowder Plot: L1: James I - explores who James I was and his role in Britain, then leads onto students designing their own flag. L2: The Gunpowder Plot investigation - students become detectives for the lesson to get to the bottom of the Gunpowder Plot mystery; strong focus on source work. L3: Assessment Challenge activities (in pink bubbles) have also been included in each lesson. Used with a higher-ability Year 8 class, but can easily be adapted to fit other ages and abilities. Some parts, i.e. information, have been taken from other resources, but most activities are my own. Please rate my resources! Thank you and I hope your students enjoy these lessons as much as mine did :)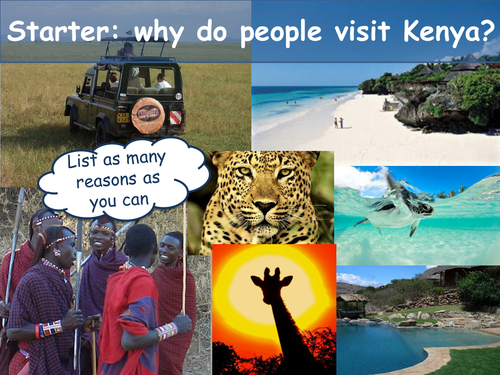 Introductory lesson to tourism in Kenya before moving onto ecotourism. A range of activities within this lesson, including a group decision-making exercise/role play. Students really got into this exercise and it helped them to formulate their own ideas around the advantages and disadvantages of mass tourism. Used with high-ability Year 8, but could easily be adapted for other year groups :) Please rate my resources! Thank you :)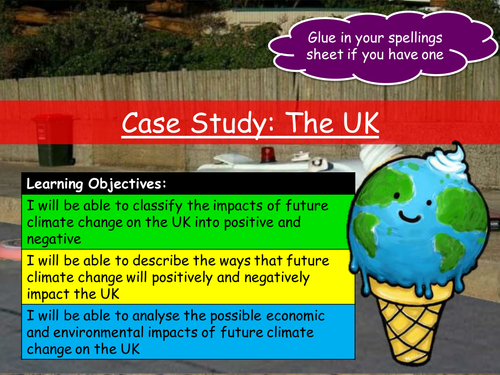 Two lessons covering contrasting case studies on the impacts of global warming: L13: The UK's Future Climate L14: The Impact of Global Warming on Egypt PLEASE NOTE: this is part 6 of a set of 14 lessons. The full set can be purchased at a discounted bundle rate here: https://www.tes.com/teaching-resource/our-changing-climate-set-of-14-lessons-11311826 A variety of activities have been included within these lessons to maximise engagement and cater for differing learning styles. Used with a Year 9 class, but can easily be adapted to fit other ages and abilities. Every lesson has been fully differentiated, with challenge activities (in pink bubbles) included at various points. Please rate my resources! Thank you and I hope your students enjoy these lessons as much as mine did :)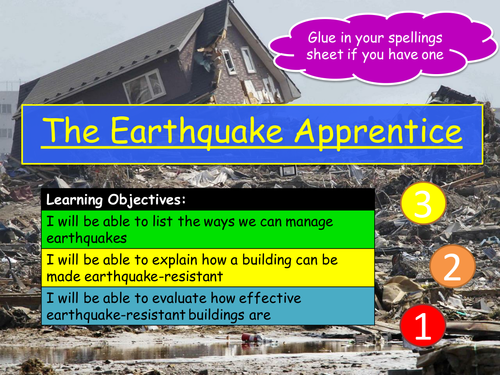 These two lessons cover the topic of the 3 P's in Disaster Management, with particular focus on earthquake-proof/resistant buildings. PLEASE NOTE: these lessons are part 4 of a set of 15 lessons. The full set can be purchased at a discounted bundle rate here: https://www.tes.com/teaching-resource/natural-hazards-and-disasters-set-of-15-lessons-11311890 A variety of activities have been included within these lessons to maximise engagement and cater for differing learning styles. Used with a Year 9 class, but can easily be adapted to fit other ages and abilities. Challenge activities (in pink bubbles) have also been included in each lesson, as well as homework. Please rate my resources! Thank you and I hope your students enjoy these lessons as much as mine did :)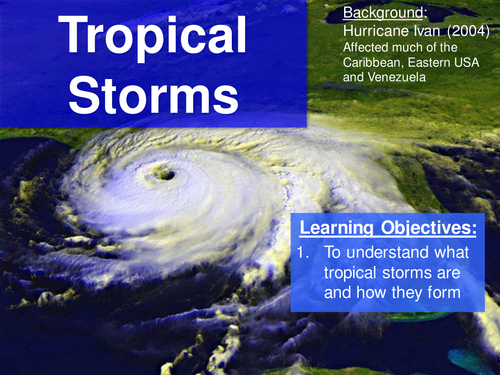 3 lessons and homework (or an additional lesson) comparing tropical storms in an MEDC and LEDC (Hurricane Katrina and Cyclone Nargis). L1: introduces tropical storms, covering both their formation and main characteristics. This lesson includes a range of activities for different learning styles, including a 3D pop-up tropical storm. L2: introduces the case studies and sets students up for their individual research. Students can either complete the research for HW or continue into another lesson. L3: explores the responses to both storms and looking at the more controversial side of these examples, e.g. the Ninth Ward in New Orleans and Burma's refusal for help following Nargis. Used for high-ability Year 9, but can be easily adapted to any level. The controversial issues were particularly engaging for students. Please rate my resources! Thank you :)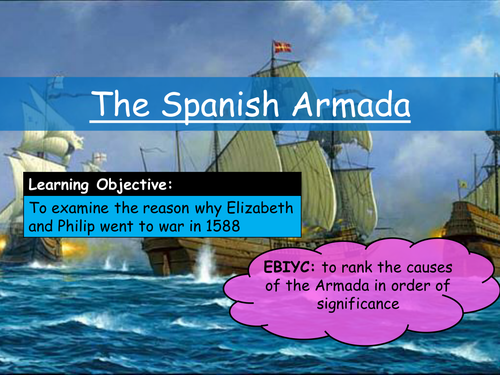 Two lessons covering the topic of the Spanish Armada: L1: Causes of the Spanish Armada - introduces the Spanish Armada and students must consider the most important causes L2: Why was the Spanish Armada defeated? - includes ranking causes in order of significance on a thermometer. Challenge activities (in pink bubbles) have also been included in each lesson. Used with a higher-ability Year 8 class, but can easily be adapted to fit other ages and abilities. Some parts, i.e. information, have been taken from other resources, but most activities are my own. Please rate my resources! Thank you and I hope your students enjoy these lessons as much as mine did :)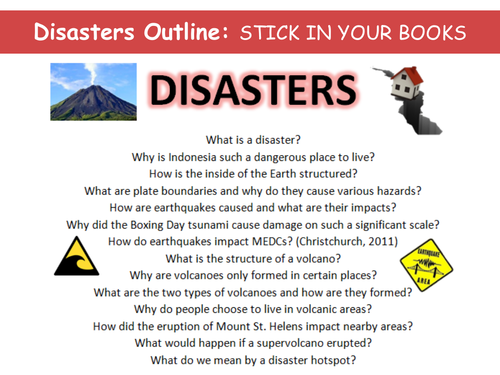 These lessons cover the topic of Natural Hazards & Disasters: L1: Intro - What is a Disaster? - natural vs. man-made L2: Why is Indonesia such a dangerous place to live? - introducing the Boxing Day tsunami L3: Where in the World? - distribution of volcanoes/earthquakes PLEASE NOTE: this is part 1 of a set of 15 lessons. The full set can be purchased at a discounted bundle rate here: https://www.tes.com/teaching-resource/natural-hazards-and-disasters-set-of-15-lessons-11311890 A variety of activities have been included within these lessons to maximise engagement and cater for differing learning styles. Used with a Year 9 class, but can easily be adapted to fit other ages and abilities. Challenge activities (in pink bubbles) have also been included in each lesson, as well as homework. Please rate my resources! Thank you and I hope your students enjoy these lessons as much as mine did :)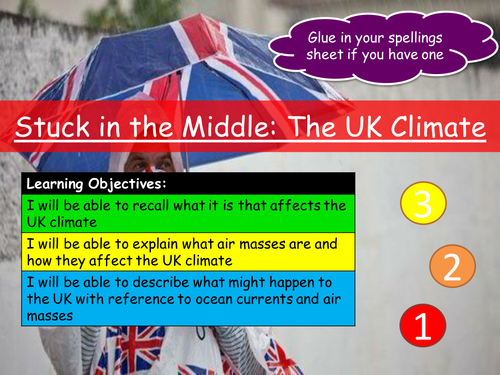 Two lessons covering air masses and the UK climate - including ocean currents and the North Atlantic Drift PLEASE NOTE: this is part 4 of a set of 14 lessons. The full set can be purchased at a discounted bundle rate here: https://www.tes.com/teaching-resource/our-changing-climate-set-of-14-lessons-11311826 A variety of activities have been included within these lessons to maximise engagement and cater for differing learning styles. Used with a Year 9 class, but can easily be adapted to fit other ages and abilities. Every lesson has been fully differentiated, with challenge activities (in pink bubbles) included at various points. Please rate my resources! Thank you and I hope your students enjoy these lessons as much as mine did :)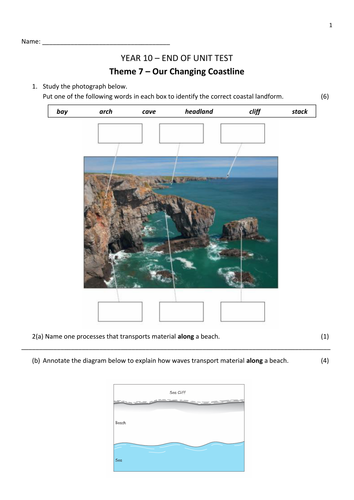 An End of Unit assessment for Coasts. A variety of questions included from short 1 mark answers to extended 12 markers, photo analysis, annotation and use of labelled diagrams. Used with a GCSE Year 10 class. PLEASE NOTE: this End of Unit Assessment is part of a set of 14 lessons. The full set can be purchased at a discounted bundle rate here: https://www.tes.com/teaching-resource/coasts-set-of-13-14-lessons-11282789 Please rate my resources! Thank you and I hope your students enjoy these lessons as much as mine did :)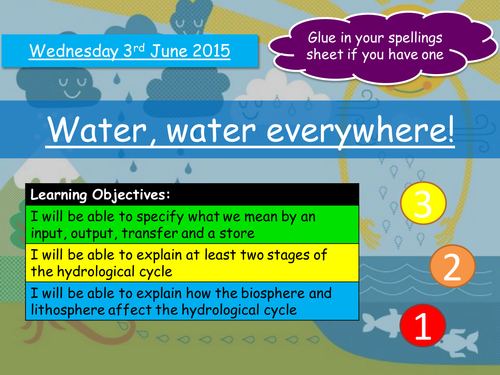 Two lessons focusing on the hydrological cycle and the role of the biosphere and lithosphere. These lessons are fully differentiated and incorporate a variety of learning styles, including making a foldable water cycle. Used for mixed-ability Year 9 (Edexcel B GCSE specification) but could easily be adapted for Key Stage 3. Please rate my resources. Thank you :)