8Uploads
4k+Views
2k+Downloads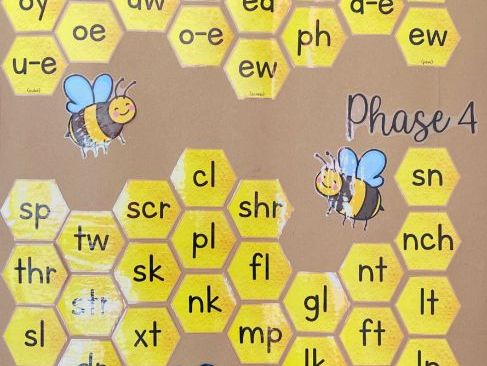 I created this display for my Year 2 classroom due to my students not having sat their Phonics Screening Test in Year 1! My display covers Phases 3,4 & 5 in a fun and colourful way! These could be used as either part of a display as shown or as a manipulative resource. The bees are not included in the downloadable pack as I did not create them (they are from Twinkl). I hope you love this resource as much as I do! Please tag me in your pictures or DM me a picture (I'd love to see how yours looks!) @little.miss.price
These Brain Breaks are perfect for use in your classroom, no matter the age of your students! I decided to create mine with the addition of the illustrator Quentin Blake to add a pop of colour and excitement and I am SO happy with how they turned out! I hope that you love them as much as I do! If you do choose to download them, I would love it if you left me a review on here and tagged me in any of your pictures in instagram @little.miss.price H A P P Y D O W N L O A D I N G ! X O X O X O
I have created these 2,5 and 10 Times Table Bingo cards to support the development of Mastery within this area of Mathematics for my Year 2 pupils. Each TT Bingo card has 6 numbers across 2 rows and 3 columns, using numbers up to 12 times each number. These are available as a PDF to maintain the font (letters for learners) I have charged these at a small price due to the fact that they took quite a while to make and I have to fund my classroom purchasing somehow (TES take a high royalty from what you pay). Hope you love these as much as I do! Miss Price x
I made these 2, 5 and 10 Times Table 100 Squares to help my Y2 children become familiar with the number patterns in a visual context and they have gone down a treat! My HA children love that they can have them discreetly on their tables and my LA children enjoy the fact that they can use them to support their counting forwards and backwards as well as easily identifying the numbers from that particular Times Table!
I created this checklist to help me navigate through setting the expectations and routines in my classroom at the start of my NQT year in September! I've uploaded two versions of the checklist- one is exactly how it appears in the picture (White not blue) and the other is an editable word document (I downloaded the font so it will not be available on the editable version! I hope this is really useful, please tag me in any of your pictures @little.miss.price I would love to see how you use it!
This is a printable pack of 'synonym circles' that can be used in your classroom as either a tactile resource or as part of a display! I have designed 48 (12 lots of 4) different synonym cards using common words and three other possible synonyms. At the end of the document, I have attached 2 pages of blank dotted circles for you to either extend the synonym groups provided or to create your own groups. Unfortunately, in order for the font to remain the same, I have had to provide the resource as a PDF, However, you could screenshot the final two pages if you wanted to redesign them! I hope you love these and that they come in really handy in your classroom. Miss Price x
These are a set of colourful Times Table Cards starting with the one TT up to the twelve TT! These are the perfect shape to be attached together with a ring to have on the tables for your students or to have as part of a mathematics resource pack!
I made these adorable slips to pop into little bags for when my kiddos lose their teeth at school and need somewhere safe to put them! They have worked an absolute treat and my students simply adore them! I write their name and the date that their tooth fell out on the back so that we know whose teeth are whose!