Looking at consumer rights and the new Consumer Rights Act 2015 this lesson plan includes a number f activities for students to complete from quick introductory quizzes to scenario worksheets (all provided here with answers)
This lesson plan with resources includes a starter "Jeopardy" style quiz, PowerPoint and scenario question for students to apply their knowledge. It has been used with both A Level and BTEC learners.
This lesson has been used with both BTEC and A Level learners and includes a lesson plan, PowerPoint with student research activities included and a scenario based question for students to put into practice what they have learnt.
This is a comprehensive worksheet which covers the literal, mischief and golden rules and the purposive approach with interactive activities for students to complete the embed learning. This has been used with BTEC and A Level Law students.
This lesson plan and resources reviewing the offence of theft includes student-led activities and also two different case studies (with model answers provided) for students to answer.
The worksheet covers ejusdem generis, noscitur a sociis and expressio unius est exclusion alterius rules where students have to go and find examples of how these are used in certain cases. This resource has been use with both A Level and BTEC law students.
This comprehensive fill the gap sheet covers all the stages of making a law (first reading, second reading, committee stage, report stage and third reading) in both the House of Commons and House of Lords as well as Royal Assent. It has been used with both BTEC and A Level students
This worksheet, which I have used with both A Level and BTEC learners goes through the different rules of language and prompts learners to look at cases where these have been applied.
This sheet, outlining the different remedies available in contract disputes has been used with both BTEC and A Level Law learners, acting as a great side-memoir and revision aid.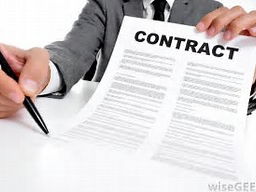 These Power Points have been used with both FE and HE students, looking at issues such as what makes a binding contract and the different terms such as warranties, conditions and innominate terms. There are also activities included in the Power Points for students to go and research case law.
These detailed PowerPoints, looking at the different forms of ADR and the advantages and disadvantages have been used with A Level and BTEC classes to great success.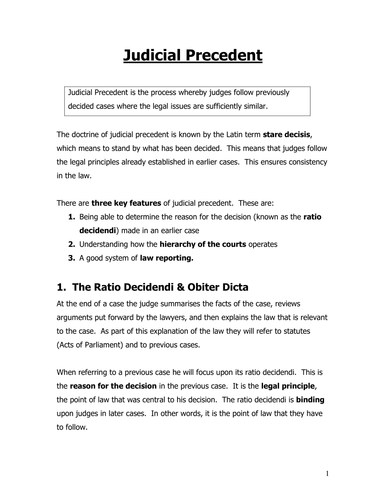 This is a worksheet including multiple activities to engage learners looks at judicial precedent (stare decisis, obiter dicta and ratio decidendi), ways to avoid it (overruling, distinguishing and reversing), advantages and disadvantages, court reporting and the hierarchy of the courts
This worksheet with multiple activities to really engage learners includes how magistrates are appointed, the key qualities and the role of lay magistrates.
This is a quick aide-memoir for students showing them how they should be using Harvard referencing in bibliographies for newspaper articles, books, legislation and case law.
This is a full lesson plan looking at reasonable grounds for stop and search, lawful arrest, detention and questioning and entering and seizing property and the evaluation of these police powers. It contains a PowerPoint, student worksheet with teacher answers, various scenarios to consider and embeds IT and also differentiation techniques for stretch and challenge.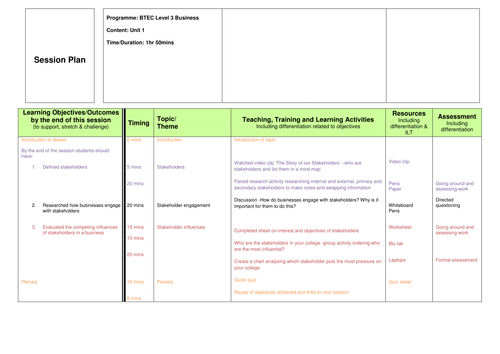 These resources include a full lesson plan which incorporates IT and directed questioning for differentiation. There are worksheets (with answers) and a quiz to check learning.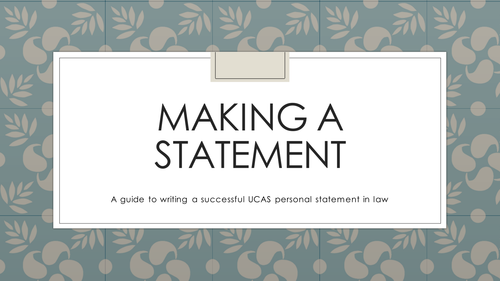 This PowerPoint presentation gives a guide to writing a successful personal statement in law, looking at what admissions tutors are looking for, giving examples of what should and shouldn't be included and a paragraph by paragraph guide to writing the first draft!
This workbook is the perfect accompaniment to this retail unit, split into learning objectives, with lots of student activities.
This is a full lesson plan (which could be split into a couple of lessons) with more than 2hrs worth of a lesson planned and includes activities such as discussions, peer reviews, case study, worksheets and more! All resources are included for you to just grab and go teach a fantastic lesson! Extension activities, differentiation, VLE and embedding Maths and English are all covered in this lesson plan.
This is a 70min lesson plan and handout to cover the legal aspects that will affect the start-up of the business. It has lots of activities and it very student-centred so by the end of this session students should feel competent to be bale to complete the legal aspects that will affect their business.
This is a really useful teaching aid, a theft question and model answer.