KatePerry
Head of department. Teacher since 2013
205Uploads
33k+Views
21k+Downloads
Head of department. Teacher since 2013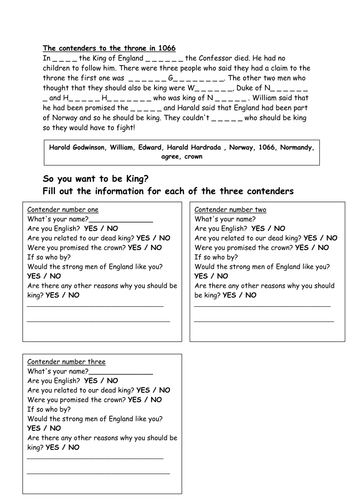 A very detailed scheme of work exploring the Battle of Hastings and the implications for England after the Battle of Hastings; 1- Who had the strongest claim to the throne in 1066? 1 - What happened at Stamford Bridge 2 - Who had the strongest army? 3- The events of the Battle of Hastings 4- Why did William win the Battle of Hastings? 5- Revision lesson and assessment, along with marking grid 6 - Feedback lesson on the assessment with model answers for students to improve their work Various resources for each lessons all differentiated, each activity includes a challenge and a super challenge. Graded outstanding in an observation. Assessments follow the new GCSE criteria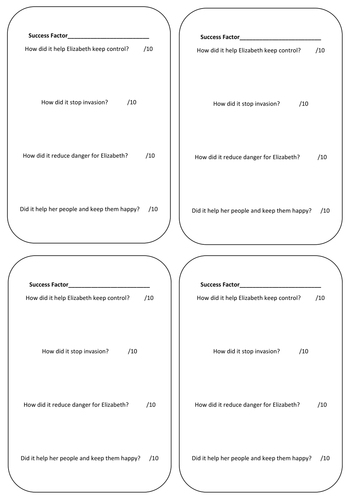 An overview of how successful Elizabeth I was, looking at image, gender, Spanish Armada, marriage and religion. Differentiated activities and worksheets for higher, middle and lower ability students. Top trumps activities for students to play too. Two lessons worth of activities.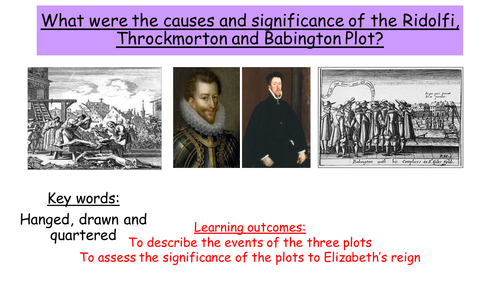 A lesson aimed at the new Edexcel 9-1 Elizabeth course (can be adapted for AQA), that looks at the events, causes and significance of the Ridolfi, Throckmorton and Babington plots. It includes a worksheet that is ideal for moving around the classroom as a carousel for students to acquire their knowledge. Also includes an exam question for students to consolidate their knowledge. Ideal for the new 9-1 Edexcel Elizabeth GCSE course. This bundle covers the whole third specification point. Includes differentiated activities and exam questions throughout.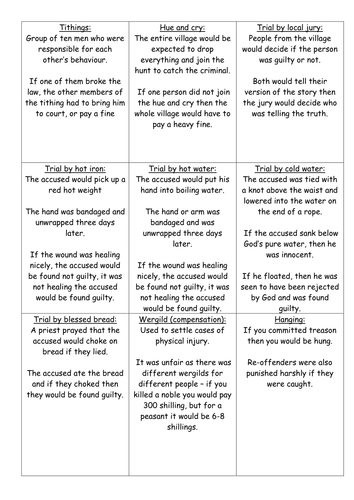 Was Anglo-Saxon justice violent and superstitious? Ideal to be used with KS3 to as part of a programme teaching exam skills, or useful for the new Edexcel GCSE course. This lesson gets students to create a matrix of how far justice was normal or whether it was superstitious. Includes differentiated resources and activities throughout, as well as challenge activities.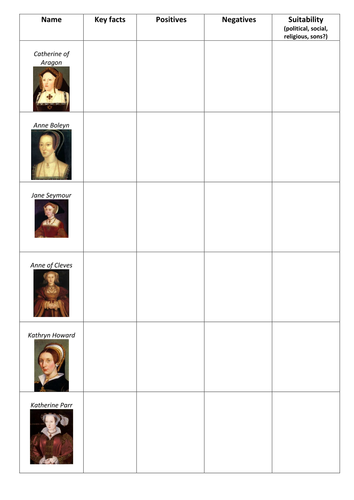 A take me out style lesson where students have to decide the personal qualities of each of Henry's wives, and which one was best suited for Henry. Differentiated worksheets and tables for higher, middle and lower ability. Lesson and resources graded outstanding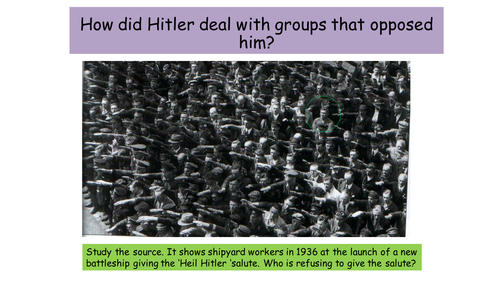 This lesson is ideal for the new Edexcel GCSE History course. It looks at why the Nazis faced opposition, the different types of opposition and how the Nazis got rid of that opposition.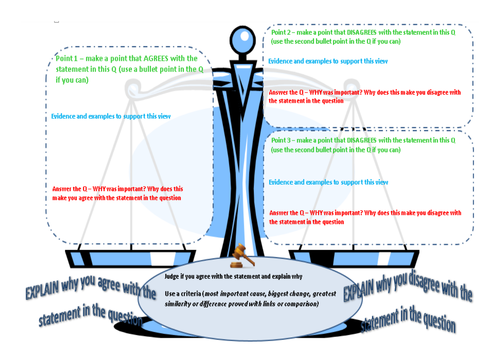 A lesson looking at the different factors why Parliament won the English Civil War. Students categorize the reasons into factors, prioritize the reasons and then answer an assessment style question based on the new GCSE. Differentiated activities for higher, lower and middle ability, and support sheets available for lower ability.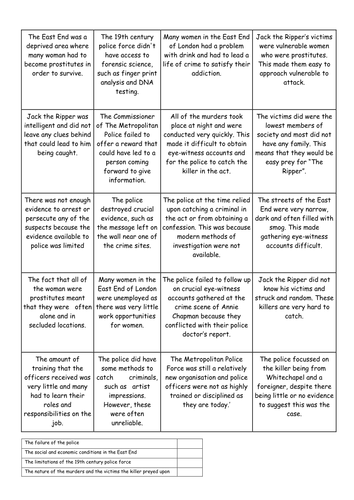 A lesson summarizing why Jack the Ripper was never caught. Asks students to link and prioritize the reasons. Provides differentiated resources throughout, as well as challenge activities for each task.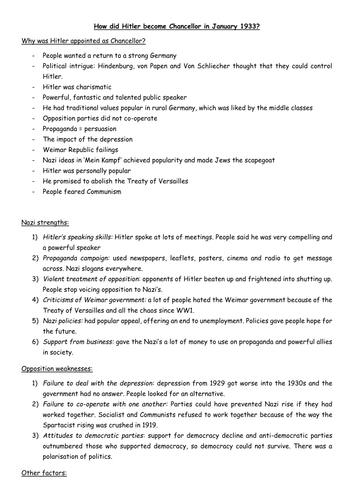 A lesson looking at the steps that were taken to enable Hitler to become Chancellor in 1933. Looks at political intrigue, and other factors such as the economic depression. Includes printed notes and a table.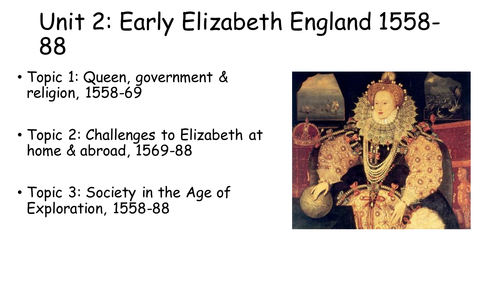 A resource that is ideal for the start of the Edexcel unit 2 course on Early Elizabethan England. Includes a table worksheet and a homework activity.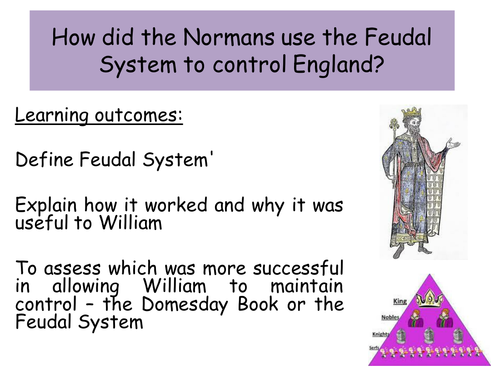 An overview of how the Normans used the Feudal System. Differentiated activities for higher, middle and lower ability students, and different resources for each of the activities. Ends by comparing the Domesday Book and the Feudal System and which one was the most effective in controlling England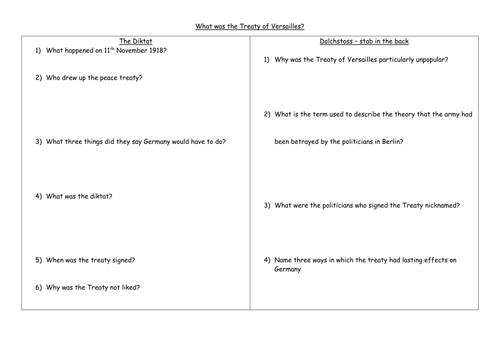 Ideal for the legacy Edexcel course, this lesson looks at the terms of the TOV, and why the Germans hated them so much. Includes differentiated resources and an 8 mark q. An entire scheme of work suited for the 9-1 Edexcel GCSE course focusing on Medicine through Time, including the case study on the British sector of the Western Front. All lessons include homework and exam questions, Any questions please ask - georgiaperry@hotmail.co.uk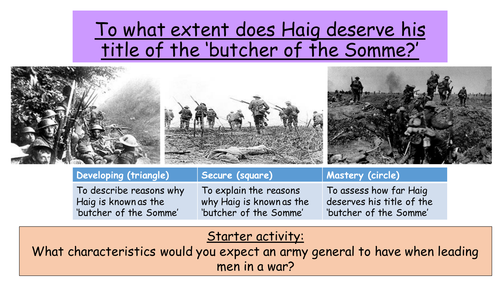 A lesson looking at whether or not General Douglas Haig deserved his title of 'the Butcher of the Somme'. Includes source work and challenge/super challenge activities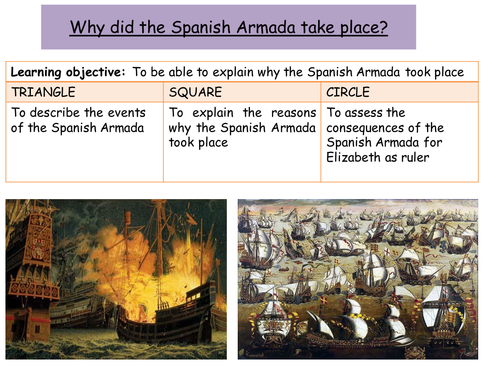 Two lessons looking at the causes of the Spanish Armada, what happened and why it failed. Differentiated activities for higher, middle and lower abilities and accompanying worksheets. No textbooks required.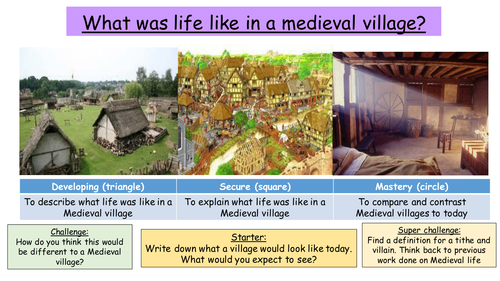 A lesson ideal for KS3 that looks at life in Medieval villages and towns. Two separate lessons including starters, challenges and super challenges on each slide. An ideal set of lessons for an introduction to Medieval life.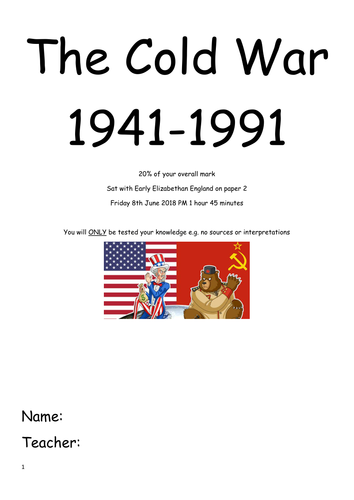 An extensive revision guide crated to support students through the new Edexcel 9-1 History GCSE (Superpower relations). This revision guide offers condensed notes, quick quizzes, exam questions and model answers.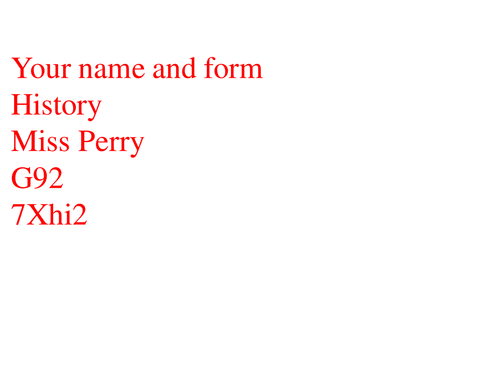 A powerpoint that goes through key skills like chronology, timelines, matching dates to centuries and source analysis skills. Ideal for a year 7 introduction lesson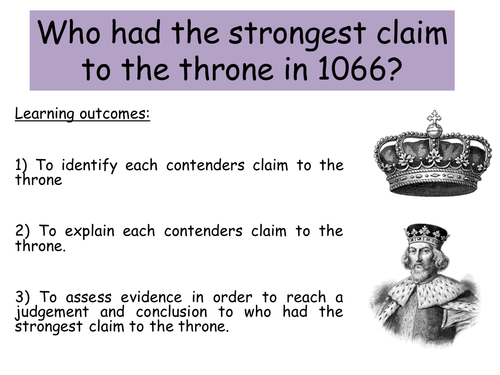 An overview of who should be King in 1066, looking at the contenders. Differentiated activities for different ability students.