KatePerry
Head of department. Teacher since 2013
217Uploads
69k+Views
39k+Downloads
Head of department. Teacher since 2013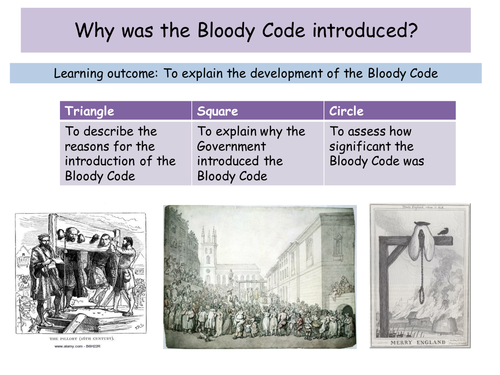 Ideal to be used with KS3 to as part of a programme teaching exam skills, or useful for the new Edexcel GCSE course. This lesson looks at the reasons behind the Bloody Code being introduced. It includes the game quick on the draw, which is ideal for team building, testing literacy skills and extracting key information. Students will then look at the reasons behind the introduction of the Bloody Code, explaining, prioritizing and linking the reasons. Also includes a 12 mark exam question A workbook with everything you need in for Edexcel A-Level Politics course. This was made with remote learning in mind, with quick quizzes for every lesson, guided reading activities and exam questions. Around 20-22 hours worth of lessons included within the workbook.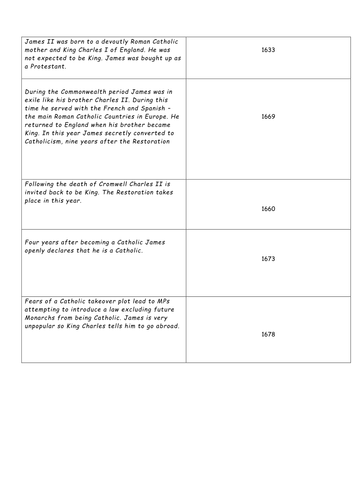 A lesson exploring what the Glorious Revolution was and how it impacted on democracy. Differentiated activities and worksheets for higher, middle and lower ability students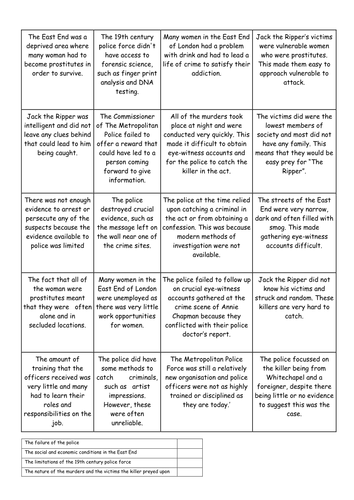 A lesson summarizing why Jack the Ripper was never caught. Asks students to link and prioritize the reasons. Provides differentiated resources throughout, as well as challenge activities for each task.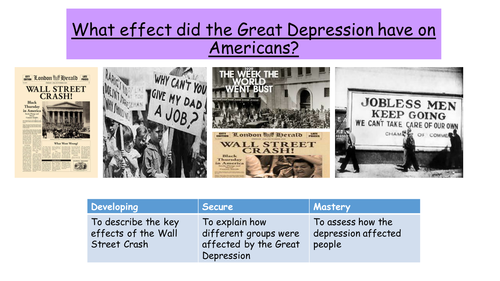 A lesson ideal for KS3, this lesson looks at how the great depression affected different groups in America. Requires SHP The USA between the wars 1919-1941 book (p.74-84) - can scan and send across if needed. Differentiated activities throughout, as well as GCSE style questions to consolidate knowledge.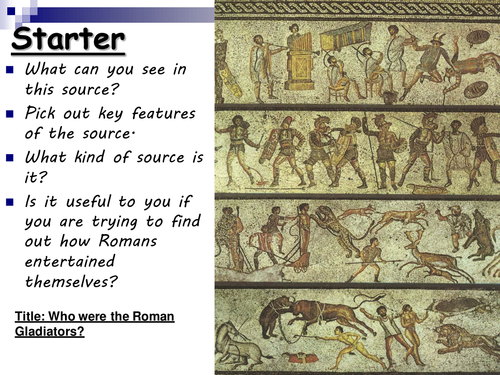 An overview of how gladiators operated in the Roman times, looking at key features of the requirements of a gladiator. Also looks at what life was like for the gladiators.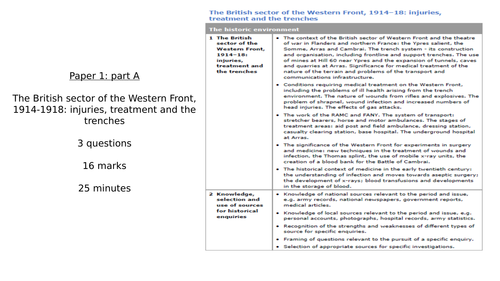 A set of lessons ideal for the case study of the new Edexcel 9-1 Medicine through Time course focusing on 'The British sector of the Western Front, 1914-1918: injuries, treatment and the trenches'. Lessons included are: 1. Intro to the case study and sources used 2. Context of medicine 3. Context of the British sector 4. Conditions requiring treatment 5. FANY and RAMC 6. Significance of the Western Front Includes exam questions and homework If you have any questions please email - georgiaperry@hotmail.co.uk where I will be happy to help :-) Complete lessons of the US Constitution, including an end of unit knowledge test and a revision clock for the unit. Lessons focus on guided reading meaning students can independently complete these activities.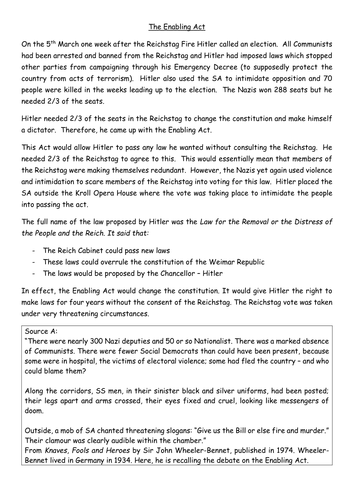 Ideal for the new GCSE History course. A powerpoint and worksheet looking at the Enabling Act. Includes a resource for students to use and annotate.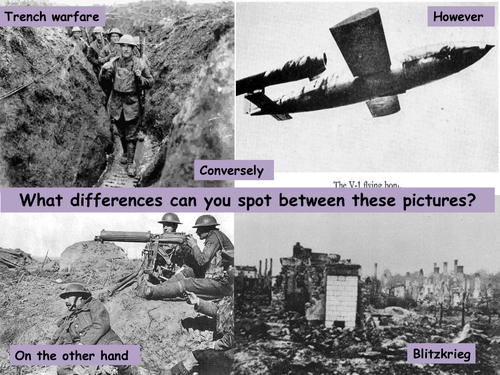 A lesson aimed at KS3 students that looks at the similarities and differences between the weapons used in WW1 and WW2. Includes an information sheet, Venn diagram and a 'how far do you agree' question,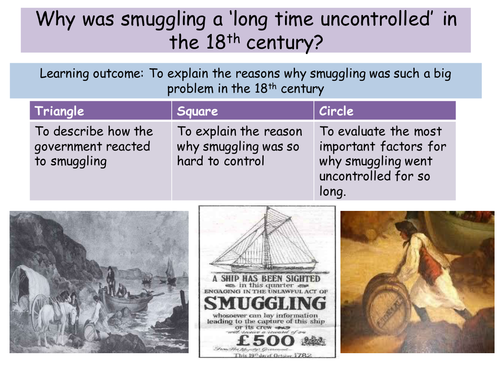 This lesson is ideal for either KS3 who are looking at crime and punishment over time, or ideal for the new Edexcel GCSE course. This lesson looks at the reasons why smuggling was such a big issue in the 18th century. Students will complete a card sort on the different reasons organizing them into different factors, before selecting the most important. Differentiated activities throughout the lesson, with a judgement question used as the plenary.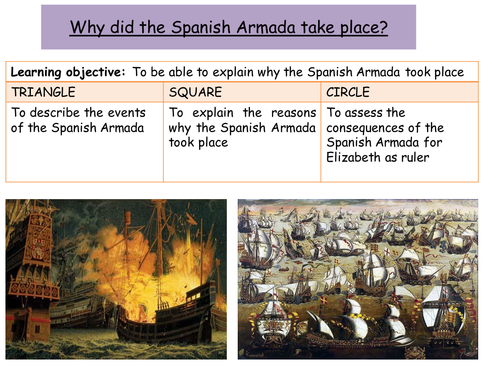 Two lessons looking at the causes of the Spanish Armada, what happened and why it failed. Differentiated activities for higher, middle and lower abilities and accompanying worksheets. No textbooks required.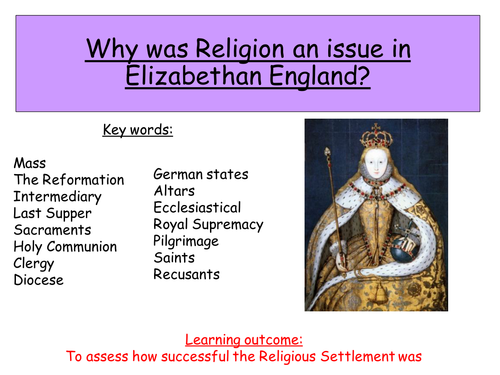 A PowerPoint aimed at the new GCSE Edexcel Elizabeth course looking at key features of the religious settlement, including an exam question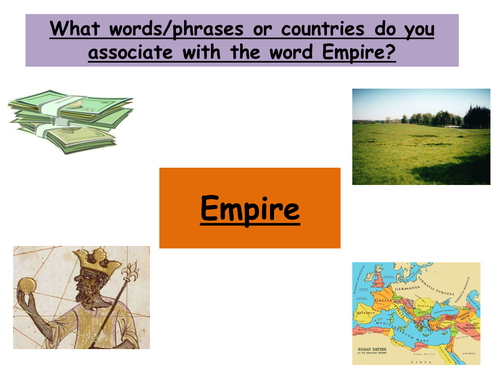 A resource aimed at KS3 students that looks at the impact of the Mali Empire, why it became so powerful and comparing it to other Empires. Differentiated resources for higher, middle and lower ability students. Ideal to study as part of an Empires scheme of work.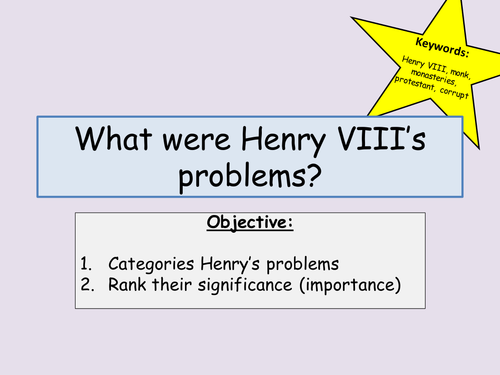 A lesson looking at the problems Henry VIII faced as monarch. Students will look through the different problems and will categorize them. Students will also complete a diamond 9 activity and a speech. Differentiated activities and worksheets.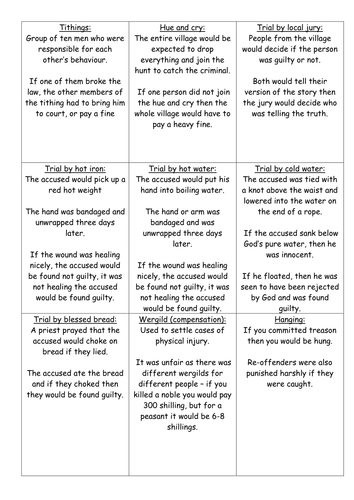 Was Anglo-Saxon justice violent and superstitious? Ideal to be used with KS3 to as part of a programme teaching exam skills, or useful for the new Edexcel GCSE course. This lesson gets students to create a matrix of how far justice was normal or whether it was superstitious. Includes differentiated resources and activities throughout, as well as challenge activities.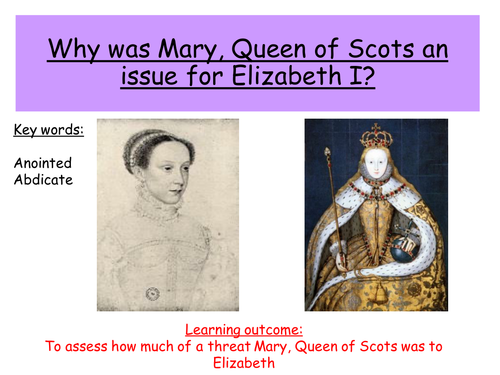 A double lesson that looks at why Mary, Queen of Scots was a threat to Elizabeth I, ideal for the new Edexcel GCSE course (could be adapted for AQA). Students will look at the reasons why Mary posed a threat to Elizabeth, key events upon Mary's arrival including what options Elizabeth had regarding what to do with Mary. Students will finish off with a 12 mark exam question looking at why the Catholic threat increased after 1566, looking at the Dutch Revolt and Mary's arrival in England. Includes a worksheet of printed notes, with questions to direct students and a timeline.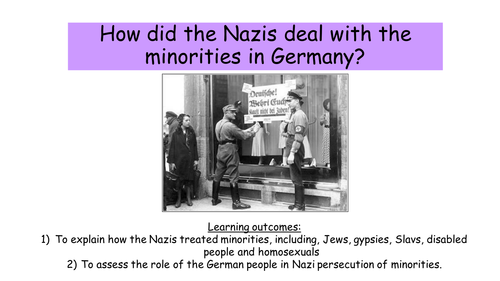 A lesson that focuses on how the Nazis dealt with minorities in Nazi Germany, ideal for the new Edexcel GCSE Germany course. Includes a handout for students to use as part of revision.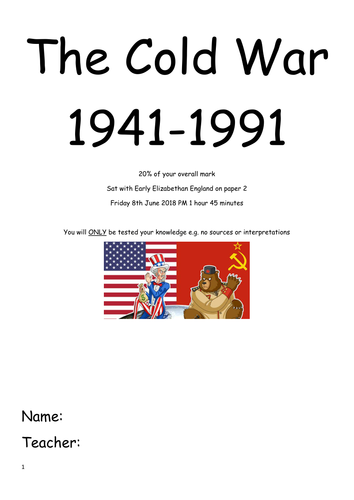 An extensive revision guide crated to support students through the new Edexcel 9-1 History GCSE (Superpower relations). This revision guide offers condensed notes, quick quizzes, exam questions and model answers.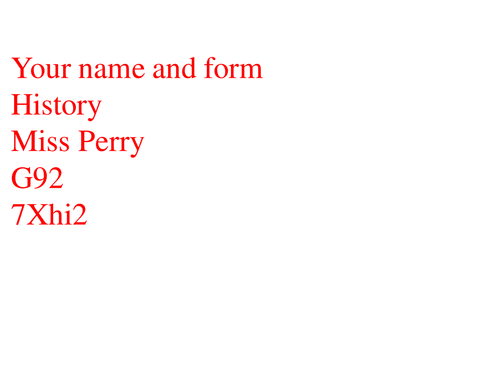 A powerpoint that goes through key skills like chronology, timelines, matching dates to centuries and source analysis skills. Ideal for a year 7 introduction lesson