KatePerry
Head of department. Teacher since 2013
203Uploads
35k+Views
22k+Downloads
Head of department. Teacher since 2013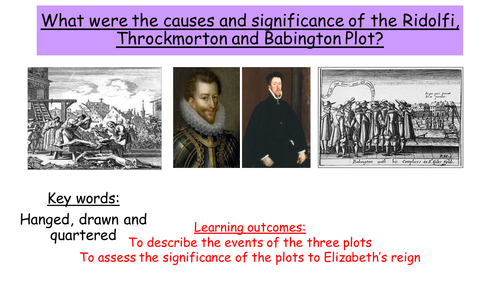 A lesson aimed at the new Edexcel 9-1 Elizabeth course (can be adapted for AQA), that looks at the events, causes and significance of the Ridolfi, Throckmorton and Babington plots. It includes a worksheet that is ideal for moving around the classroom as a carousel for students to acquire their knowledge. Also includes an exam question for students to consolidate their knowledge.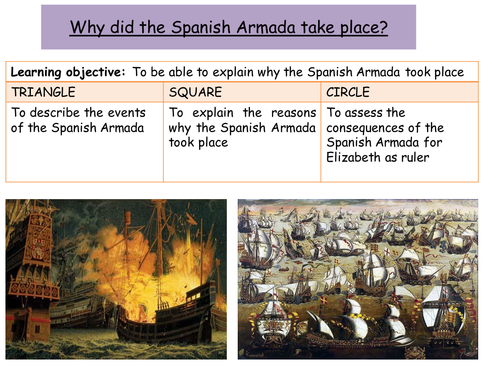 Two lessons looking at the causes of the Spanish Armada, what happened and why it failed. Differentiated activities for higher, middle and lower abilities and accompanying worksheets. No textbooks required.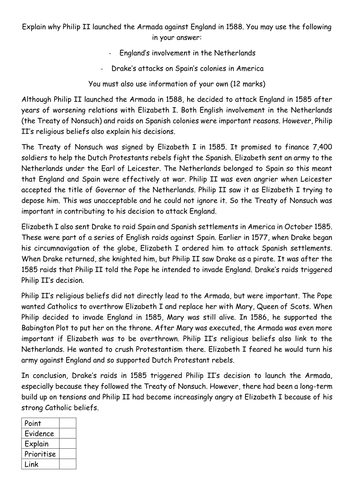 A lesson ideal for the new 9-1 Edexcel GCSE Elizabeth course. This lesson looks at the reasons for the launch of the Armada, the events, and the reasons for the defeat. It also looks at the significance of the victory for Elizabeth. Ends with a 12 mark question, with a model answer for students to annotate.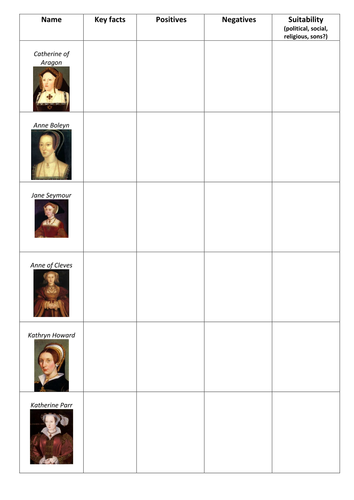 A take me out style lesson where students have to decide the personal qualities of each of Henry's wives, and which one was best suited for Henry. Differentiated worksheets and tables for higher, middle and lower ability. Lesson and resources graded outstanding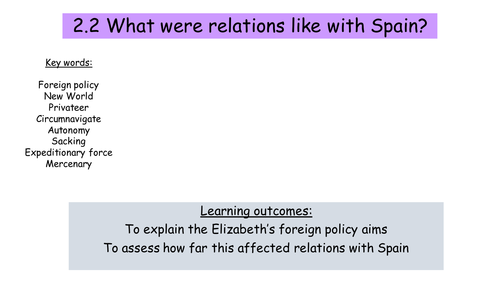 This lesson (will probably take 3 lessons), looks at relations with Spain (Specification point 2.2 on new 9-1 Edexcel Elizabeth course). Students will examine a number of different reasons for worsening relations including the deaths of William of Orange and the Duke of Alencon. Students will also look at Elizabeth's foreign policy aims, and the voyages of Drake. Ends with students consolidating their knowledge through a 16 mark question.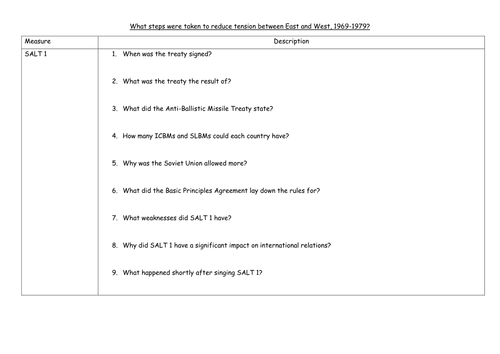 A lesson ideal for the new 9-1 Edexcel GCSE (adaptable to other exam boards) that looks at the period of detente, and steps that were taken to improve relations between East and West. Differentiated activities throughout; challenge and super challenge activities included.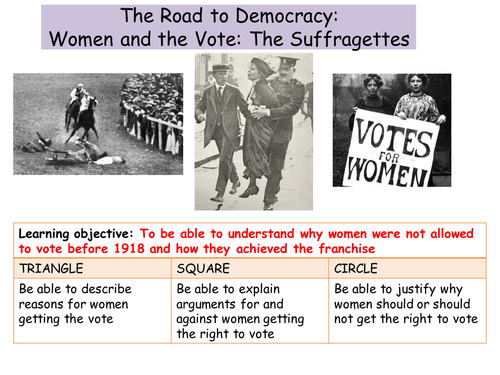 A series of 3 lessons looking at arguments for and against women getting the vote, tactics used by the women and why women won the vote. Attached is also an assessment that can be used at the end of the 3 lessons which follows the new GCSE style of questions. Ideal for KS3.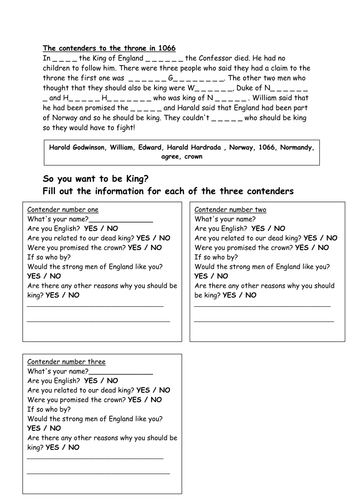 A very detailed scheme of work exploring the Battle of Hastings and the implications for England after the Battle of Hastings; 1- Who had the strongest claim to the throne in 1066? 1 - What happened at Stamford Bridge 2 - Who had the strongest army? 3- The events of the Battle of Hastings 4- Why did William win the Battle of Hastings? 5- Revision lesson and assessment, along with marking grid 6 - Feedback lesson on the assessment with model answers for students to improve their work Various resources for each lessons all differentiated, each activity includes a challenge and a super challenge. Graded outstanding in an observation. Assessments follow the new GCSE criteria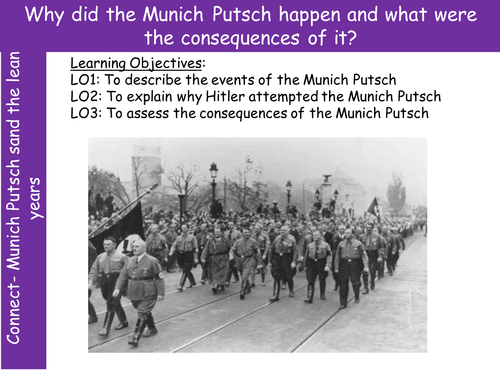 A lesson aimed at looking at how successful the Munich Putsch was for the Nazi Party. Includes a printed worksheet with notes for students to use and highlight, a lower ability resource and a resource for the higher ability. Also includes a 12 mark exam question. Ideal for the new GCSE Edexcel History course.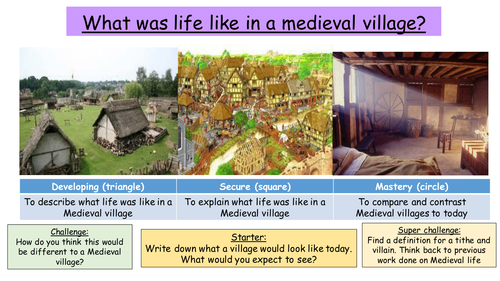 A lesson ideal for KS3 that looks at life in Medieval villages and towns. Two separate lessons including starters, challenges and super challenges on each slide. An ideal set of lessons for an introduction to Medieval life.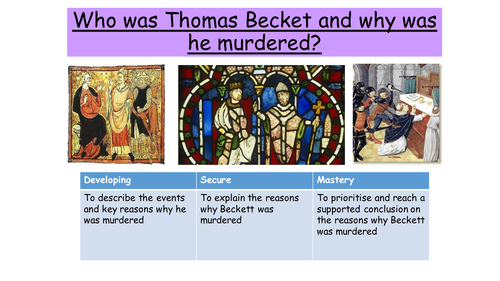 A series of lessons ideal for KS3, that looks at who Thomas Becket was, the story behind his death, and who was responsible for the death of Becket. Plenty of extended writing opportunities, with support provided. Differentiated activities throughout. If all activities are completed, the two lessons will take 3-4 lessons.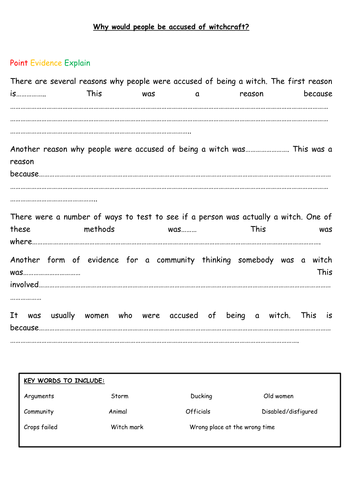 A lesson aimed at KS3 students that looks at witchcraft, and why people would be accused of witchcraft. Includes a card sort for students to work through, and a writing frame.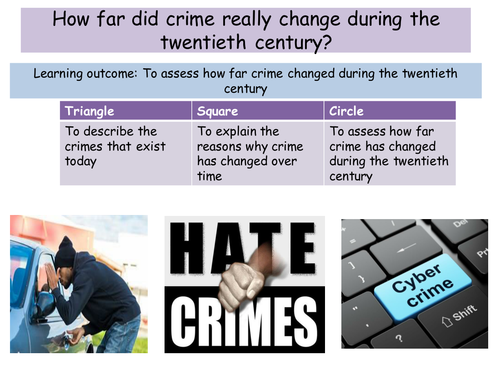 Ideal for KS3 who are looking at crime and punishment over time, or the new Edexcel GCSE course. This lesson looks at modern crimes, and how far they have changed, and the reasons behind it, with the focus on technology. Includes differentiated activities throughout. Required for this lesson is p.87 of the Hodder Education Crime and Punishment through time - althought I CAN EMAIL IT TO YOU IF YOU DO NOT HAVE THIS BOOK.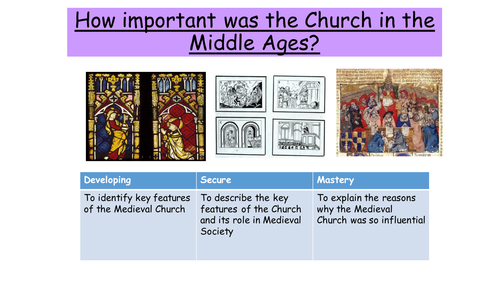 A lesson ideal for an introduction into how important the church was in Medieval England. Students are asked to decide the importance of church today, and then compare it to Medieval England. Students will complete an inference question on the doom painting, as well as looking at a card sort into the power of the church in Medieval England. An opportunity for some extended writing to summarize the learning, with support sheets included for weaker students. An entire scheme of work suited for the 9-1 Edexcel GCSE course focusing on Medicine through Time, including the case study on the British sector of the Western Front. All lessons include homework and exam questions, Any questions please ask - georgiaperry@hotmail.co.uk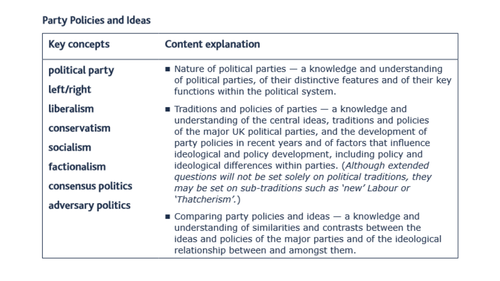 This bundle includes everything you need for teaching Edexcel's Government and Politics course (Unit 1 - Political Parties). Includes differentiated tasks, numerous exam questions, and group activities. Lessons can be brought separately for £2 each if required.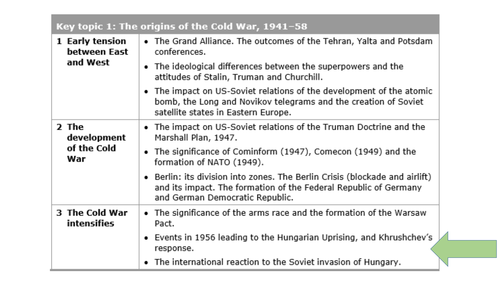 This lesson is ideal for the new 9-1 Edexcel GCSE Cold War course, looking at the significance of the Hungarian Uprising in the intensification of the Cold War. Covers the Hungarian Uprising, the reaction to this, and how important this was for Cold War relations.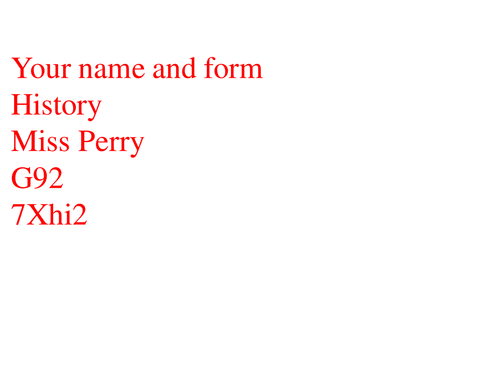 A powerpoint that goes through key skills like chronology, timelines, matching dates to centuries and source analysis skills. Ideal for a year 7 introduction lesson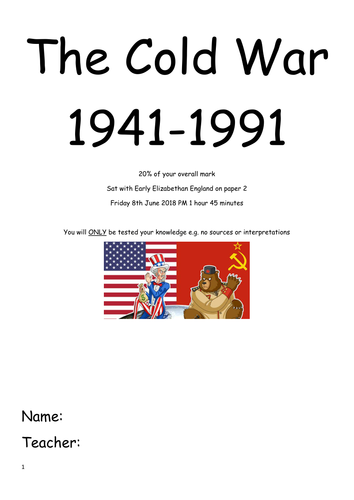 An extensive revision guide crated to support students through the new Edexcel 9-1 History GCSE (Superpower relations). This revision guide offers condensed notes, quick quizzes, exam questions and model answers.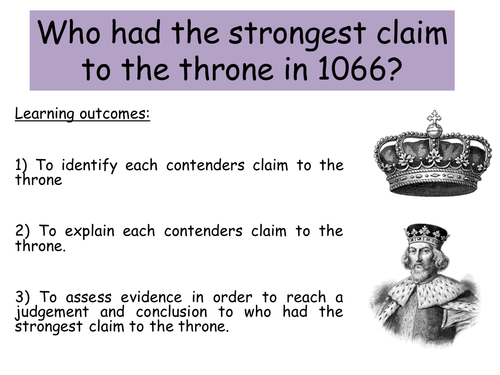 An overview of who should be King in 1066, looking at the contenders. Differentiated activities for different ability students.