Creative Learning Ltd.'s Shop
Teaching Resources for: Spanish Music ESL English Maths and more...
110Uploads
17k+Views
974Downloads
Teaching Resources for: Spanish Music ESL English Maths and more...

SPANISH SHORT STORIES with Comprehension Activities GRADES 5 AND ABOVE Includes: 10 Illustrated Short Stories EACH with a set of reading comprehension questions Total Pages 11 pages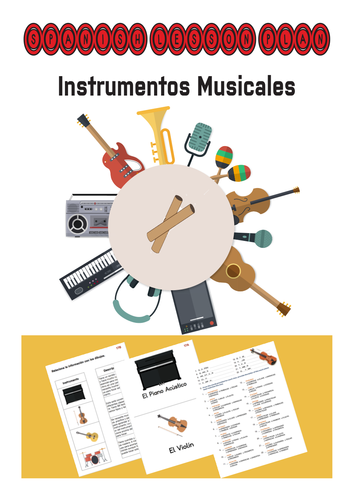 Contains: - Lesson Plan - 1 Crossword - 1 Word-search - 6 pages of Worksheets - 2 sets of 8 Flashcards each ANSWER KEY INCLUDED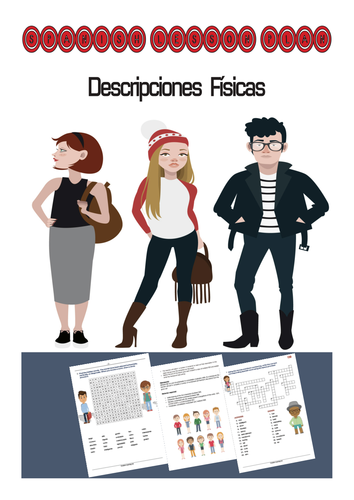 Contains Lesson Plan 2 Lesson Material| Revision sheet 1 Crossword 1 Word-search 6 pages of Additional Worksheets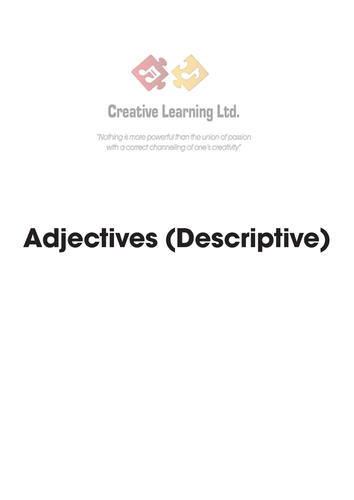 Set of worksheets suitable for secondary school. The primary objective of these exercises is to memorise adjectives and their meaning, would work well as an introductory set of exercises for the topic.

ESL ENGLISH Science Series 1 Activity Workbook is the introductory volume of a "Science-flavoured" ESL ENGLISH Activity series. It is aimed at Elementary level learners however, a number of activities included in the series have been designed to be easily modified in accordance with the level of the learners in question. This volume includes: - Classroom discussion based illustrated activity with the page being divided into 4 sections using a spidergram. Each section corresponds to 1 of the 4 elements ( Water | Fire | Earth | Air). The teacher will elicit students to come up with words|adjectives|nouns associated with the 4 elements - Short text on the 4 elements and comprehension activity - 6 pages of Illustrated Worksheets focusing on Vocabulary skills including - Crosswords - Word-searches - Spelling exercises - Word soups - Multiple choice questions - Word Mazes - Hidden Letters - Cover Artwork Total Pages 15 pages Answer Key Included

Includes 10 pages of Spanish Vocabulary Worksheets and puzzles on the Christmas theme ( Word-search, crossword, matching, spelling, jumbled words etc...) ANSWER KEY Included

COMMON CORE Writing activities for Grade 2 Includes: 12 illustrated Writing Activities covering the following skills areas: - Writing descriptive sentences - Building sentences - Editing and correcting sentences - Identifying story parts and more Total Pages 13

SPANISH UNIT WORKBOOK "El Medio Ambiente" Printables | Interactive activities | Writing activities includes: - Reading comprehension text on the environment - Writing activity related to the text - Cut & Paste Sentence Builders Cards - Sentence to Picture Matching Exercises - Interactive Activity: Design an Environment Poster in Spanish - 10 pages of Vocabulary Skills focused worksheets that include: - Crosswords - Wordsearches - Spelling exercises - Word soups - Multiple choice questions - Word Mazes - Word Shapes - Hidden Letters - Word Trails Total Pages 25 pages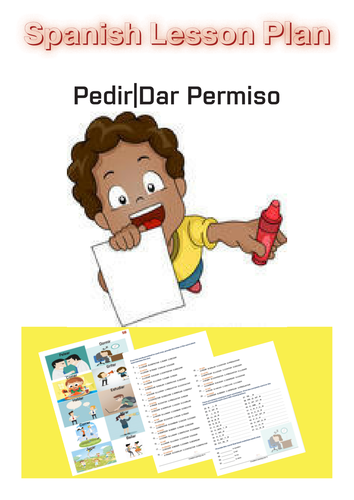 Contains: Lesson Plan 2 Revision sheets 1 Crosswords 1 Word-search 6 pages of Worksheets ANSWER SHEET INCLUDED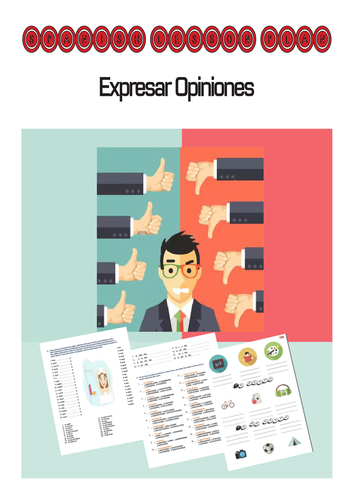 Contains: 1 Lesson Plan 2 Lesson Material|Revision sheets 1 Crossword 1 Word-search 6 pages of Additional Worksheets

Includes: - Crosswords - Word searches - Matching exercises - Vocabulary puzzles - Multiple choice Spelling questions - Fill the Gaps exercises - Shorts texts with missing words - High Resolution Graphics "ÁRBOL GENEALÓGICO" Cartoon Diagram Total Pages 22 Answer Key Included

The idea of Language Through Music is to learn Spanish by looking at modern popular hits from the Latin American music world. Songs are chosen following a specific criteria. They will generally cover topics of historical/social/political interest tackling issues affecting modern Latin American society, thereby creating opportunity for discussion and practice of oral skills. Furthermore it this gives the teacher the possibility interlink a wider range of activities within the same lesson/set of lesson. Some songs may be chosen due to a particularly interesting use of language and/or presence of particular expressions that are worth looking at in detail. Due to copyright reasons I cannot include the original audio file with the material, however all of the songs will be widely available on the net/Youtube/iTunes and I will provide a working link. The use of realia such modern songs in the learning process will give the student more of a feel of real-world application of his language skills as well as an enriching cultural experience in itself. In depth analysis of the song LATINOAMERICA" by Calle 13 feat. Toto La Momposina, Maria Rita & Susana Baca This song indirectly touches the topic of American Imperialism and its impact on Latin America, through the masterful use of metaphors and symbologies related to Latin American identity. Includes: - Full Lyrics text of the song - Comprehension & Analysis questions - Further exercise focusing on the interpretation of the metaphors used - Reading comprehension text on American Imperialism and Latin America - A Mind map outlining important points for a class discussion on the topic. This is advanced level material Youtube link to the song: https://youtu.be/DkFJE8ZdeG8 ANSWER SHEET is not included because many questions are discussion based however if you require answer guidelines I will be happy to provide you with a free copy.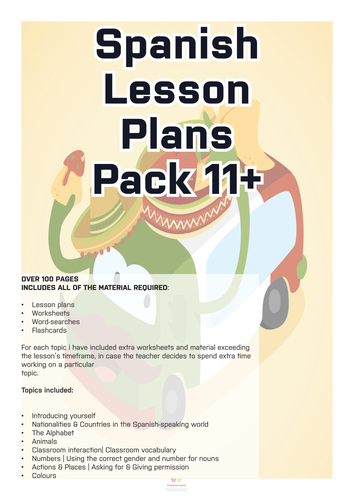 OVER 100 PAGES INCLUDES ALL OF THE MATERIAL REQUIRED: • Lesson plans • Worksheets • Word-searches • Flashcards For each topic i have included extra worksheets and material exceeding the lesson's timeframe, in case the teacher decides to spend extra time working on a particular topic. Topics included: • Introducing yourself • Nationalities & Countries in the Spanish-speaking world • The Alphabet • Animals • Classroom interaction| Classroom vocabulary • Numbers | Using the correct gender and number for nouns • Actions & Places | Asking for & Giving permission • Colours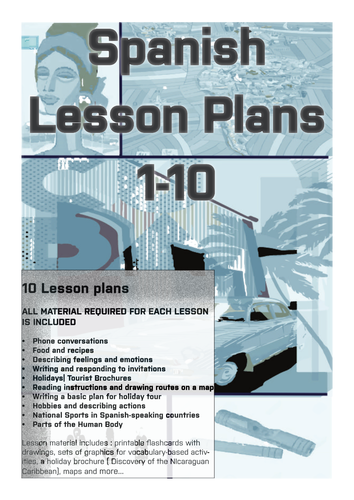 10 Lesson Plans (Interactive|Communication activities for both individual and group work, as well as whole-class activities) -Material required for each lesson is included Topics include Phone conversations Food and recipes Describing feelings and emotions Writing and responding to invitations Holidays|Tourist Brochures Reading instructions and drawing routes on a map Writing a basic plan for a holiday tour Hobbies and describing actions National Sports in Spanish - speaking countries Parts of the human body Lesson materials include: printable flashcards with drawings, sets of graphics for vocabulary-based activities, a holiday brochure, maps and more... Solutions to worksheets are included however if you require solutions|marking guidelines for other activities in the bundle I will be happy to provide free of charge.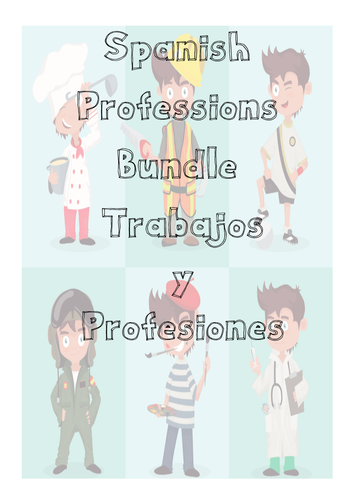 This bundle includes: - 31 pages of worksheet activities: Crosswords/Word-searches/Missing words/Sentence finishers/ Sentence match-ups/Multiple choice questions/ Picture match-ups/Secret trails/Magic squares - 12 pages of Classroom activity ideas/ games -17 flashcards of equal size ready for cutting-out -Answer sheets for worksheet activities. The material is aimed at beginners in general, however the layout and associated style of graphical illustration would make it particularly suitable for grades 7th-9th. Although overall level is beginner towards the end of the worksheet section there are a few worksheets which are a but more advanced ( Including translating/formulating entire sentences and job descriptions). This material is there to use in circumstances where there is a number of students that have a significantly higher level of Spanish proficiency than the rest of the class. Total no. of pages: 78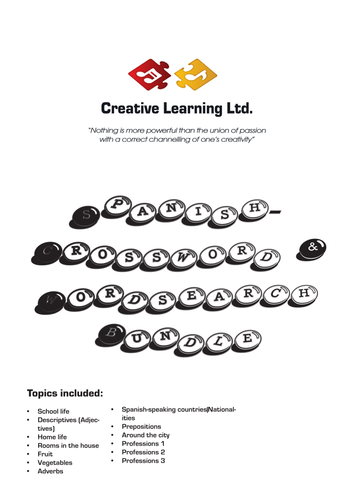 Spanish Crossword & Word-search activities for the following topics: School life • Descriptives (Adjectives) • Home life • Rooms in the house • Fruit • Vegetables • Adverbs • Spanish-speaking countries|Nationalities • Prepositions • Around the city • Professions 1 • Professions 2 • Professions 3 ANSWER SHEET INCLUDED

170 COLOURED FLASHCARDS approximately Topics covered: • Days of the week • Numbers • Clothes • Animals • Fruit • Vegetable • Parts of the body • Feelings|Emotions • Sports • Professions

Revision Poster: Each Musical note is a graphic designed to have the name of the scale along the notehead border and the sequential list of notes that are part of the scale on the inside of the notehead. 2 versions of the poster included Version 1: A4 size ( student's personal revision material) Version 2 : 18in x 24in wall poster (Classroom material)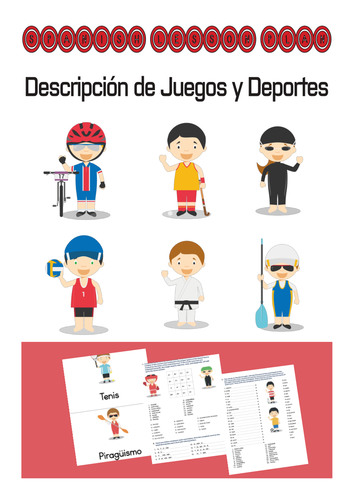 Contains: 1 Lesson Plan 1 Lesson Material|Revision sheets 1 Crossword 1 Word-search 6 pages of Additional Worksheets 22 Flashcards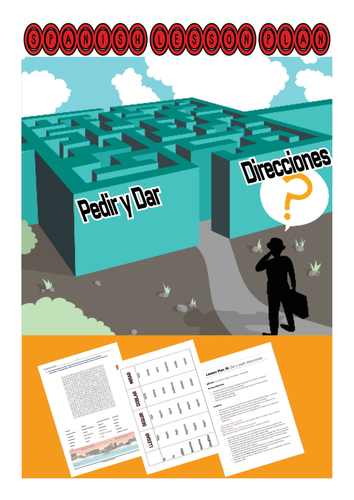 Contains: - Lesson Plan - Handouts for the lesson - 4 pages of Vocabulary practice worksheets 13 pages in total ANSWER KEY INCLUDED