69Uploads
12k+Views
468Downloads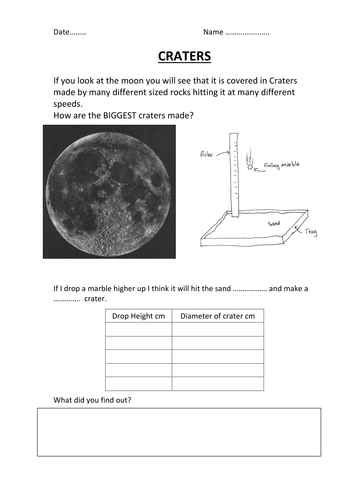 A set of experiments designed to get students thinking about possible VARIABLES that may make craters bigger or smaller. This can lead to a full investigation once the student has chosen a "good" (more controlable variable)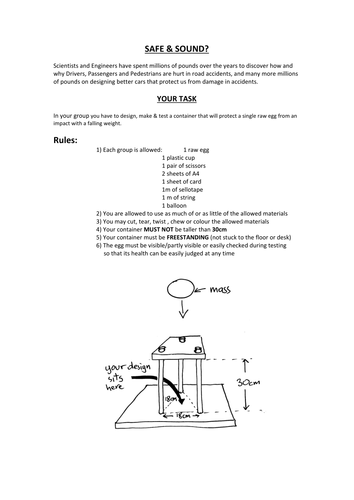 I use this often with many groups. The challenge is to protect their raw egg by only using specific materials and amounts (FAIRLY all groups are given exactly the same materials) how much they use is up to them, they can cut, bend etc what they want You must make a wooden jig, simple 2 bits of wood and 3 lengths of dowling, mine has lasted me 20 years so far and does not smell of eggs at all as it is washed everytime The best result I have ever had was a tube(crum,ple zone and balloon (airbag) affair which protected the egg from a 2kg mass dropped on it from over 2m height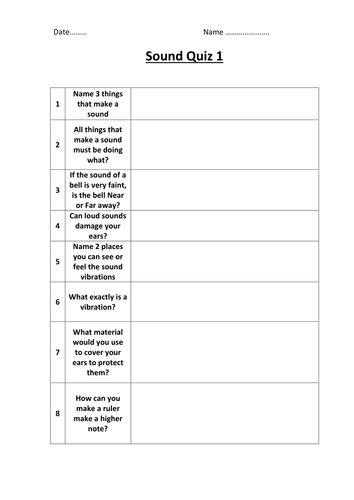 A nice sound quiz which gets more difficult as you go along. A good way to introduce a sound topic, generate discussion and assess how much the students know Using red & blue litmus to investigate different substances. Both red & blue results are required for correct results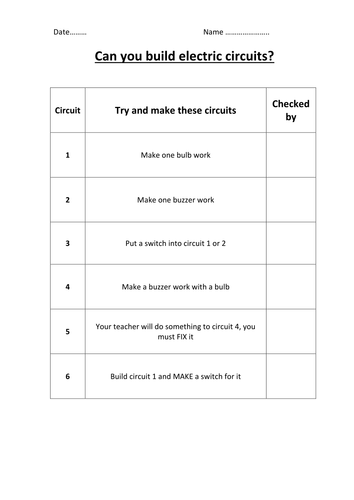 3 activities which I use in turn. As soon as the student has completed the first activity and had it checked, they get the next one. Students love the challenge. It is not a race! Students learn through trial and error as well as each other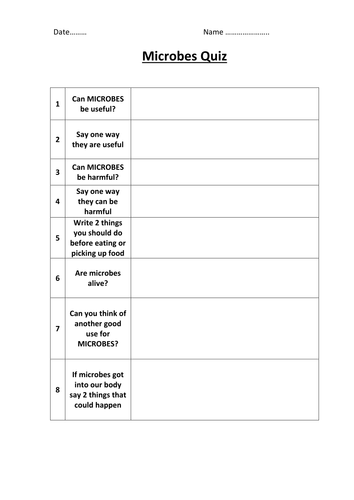 Short simple quiz that allows you to judge the understanding and level of your students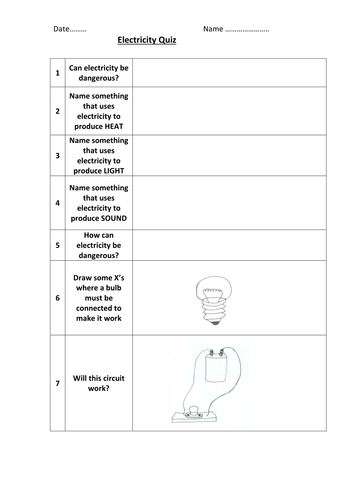 Short simple quiz that allows you to judge the understanding and level of your students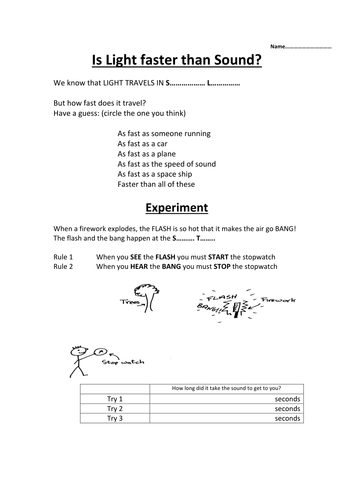 A beautiful demo with students timing with stopwatches. I typically do this around bonfire night, but if you buy some rockets (the banging type) you can do this anytime. You really need a school playing field with no sports or the like going on. Wedge the wooden stick of the rocket (any size will do) into the ground in one corner of the field, get students with stopwatches as far away from the rocket as poss (yes for safety..but more importantly the further the better results you get) YOU light the rocket and let students 200/300m away know that by usual jumpimg up and down or arm waving...students prepare to start stopwatches as soon as they see the FLASH (on the ground because the rocket is wedged into the ground)...the sound of course eerily does not get heard until a second or so later. Do this as many times as you have rockets, all results can be pooled and averaged later on. There is scope for this demo to be done a mile or 2 apart..using mobile phones and taking students to a nearby park..the rocket is released and explodes high up above school field...students do the timing thing from as far away as is practicable...Google maps will give you an accurate distance to calculate speed of sound should you wish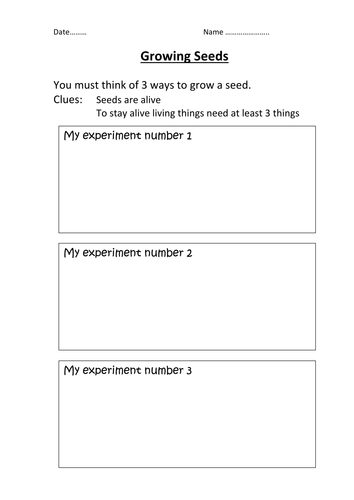 I love these activities...you must be prepared for all sorts of ideas from the students...but more importantly allow them to try it out..PLEASE DO NOT tell them "this won't work because" and then give them all the answers that are required by law and the curriculum....let them excercise their own problem solving skills and love you for letting them try it out..in a controlled way of course. Basically they need to find out/ try out/ explore what conditions seeds need to germinate successfully I have had students burn some seeds with a bunsen as they had seen plants growing after a forest fire..indeed you can discuss thet some seeds need extreme heat before they germinate. Other ideas students have had: put in freezer overnight, soak in water, hit with rock, put in acid, keep in dark, keep in light, and so it goes on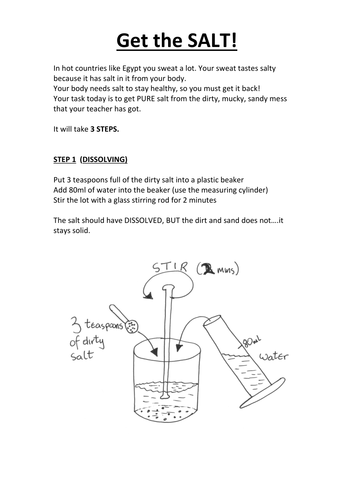 Students are given some dirty salt (salt +sand/soil..whatever you wish) I have even simulated urine(orange juice) to reinforce the plight of poor hygeine in some countries. The sheet takes students through the 3 steps of purifying the salt. The final step of evaporating the water using evaporating basins can be tricky if the heat is left on too long.....if no bunsens/heat is available you can just leave the solutions to "dry out" naturally..you can get nice crystals forming over a couple of days. Why not take the students out for fish and chips later on (keeping a sample of your salt to sprinkle on your chips)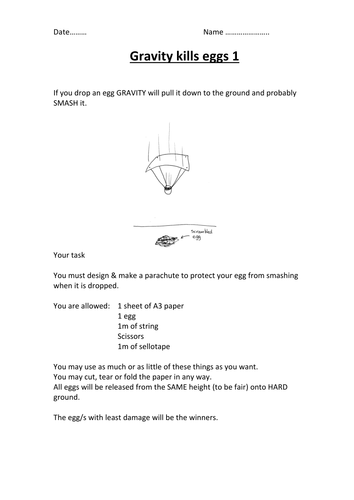 A simple activity which gets students thinking about how things fall and how they can be protected when they hit the floor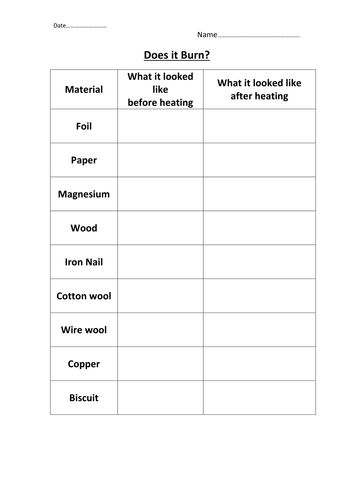 Lovely activity, not for the faint hearted. Give students a selection of materials which they examine and describe simply. They then (with the required H&S) heat the material/object using a bunsen(roaring or yellow...you decide), tongs, observe and describe the material afterwards. I have done this expt using tea light candles in a classroom, with bench mats and an extra pair of eyes it worked beautifully. This promotes many aspects of chemical changes, durability, suitability etc etc of materials for specific tasks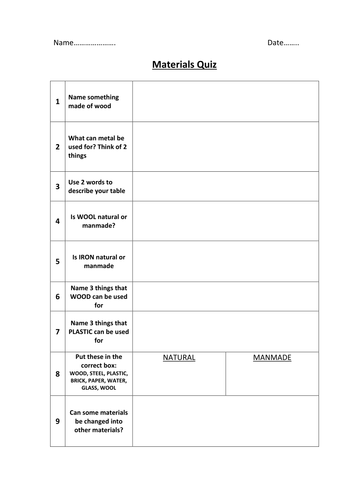 A simple quiz with well thought out and tested questions intended to stimulate thought and discussion about materials and their properties. There is no mark scheme as I have found that students come up with unexpected but valid answers which can engage the class and foster interest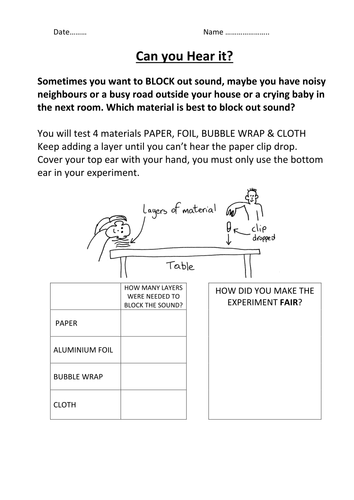 With limited resorces this gives students an opportunity to test out "sound proofing" You just need a table, paper clip, ruler and a selection of materials that may be useful in blocking out the noise from a noisy neighbour Give the students as much guidance as you like or alternatively, as I prefer, just give them the limited resorces and tell them to devise a "fair" test. Potential for discussion, competition and looking silly walking around with ear protectors made out of the winning material Worksheet that enables students to draw what they see under the microscope, suggested samples are on the sheet but of course you can add your own or even leave some blank for students to suggest. I have had students hunting for insects, leaves are popular, worms, ants are tricky but petri dishes are helpful, dust, finger nail dirt, etc etc Students love to enter the world of the microscopic..be prepared to allow a couple or 3 lessons to let their imagination soar.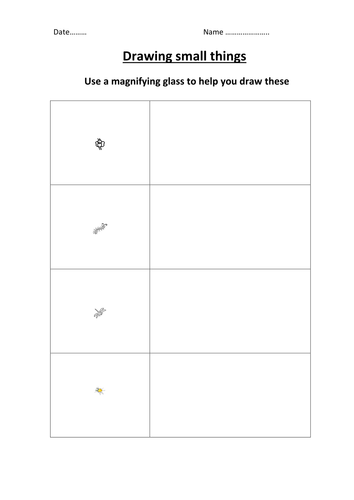 Students use hand lenses, magnifiers, whatever you have available....this can lead to a "not fair" discussion as some students only have low magnification. The worksheet contains pictures of very small living things with varrying amounts of legs, antenae, wings, spots, colours...students must use the magnifier to draw as carefully as they can the pictures. The students can then mark their own efforts after you tell them what detail you expected and they should have spotted..be prepared for lots of moaning and a bit of banter.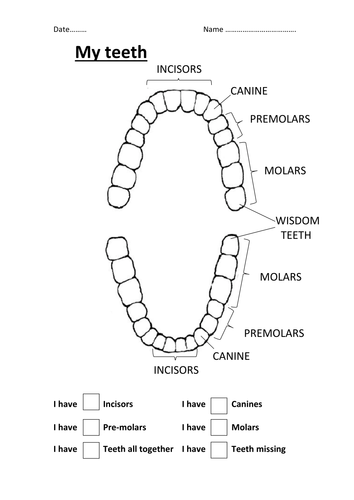 A simple activity which could last a few lessons..depending on what you/the students find. Possible extra apparatus you could use: mirrors, cotton wool buds to help counting (don't use cocktail sticks unless you have a few hors spare to fill in the incident forms). The clear picture on the worksheet shows students which teeth are which and all they have to do is count their own and record the numbers. They can try on their own in pairs, use their tongue to keep track or cotton wool buds to "tap" the teeth as they count. A mirror is very useful. The activity usyually lends itself to much discussion regarding missing teeth, extra teeth, decay, bad breath, bacteria, diet etc. I like it because you can just watch the students find out about "themselves" remind them it is not a competition, unless you want it to be.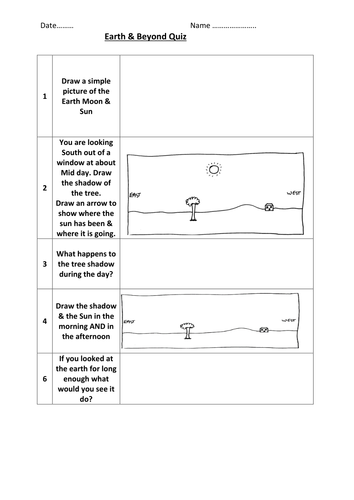 Short simple quiz that allows you to judge the understanding and level of your students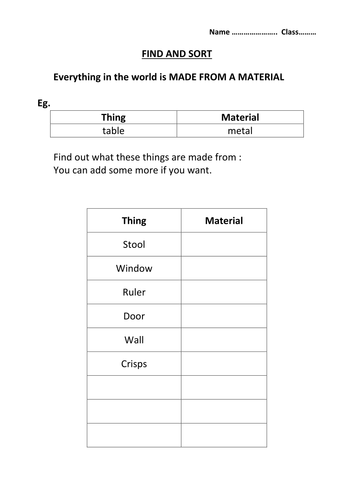 Simple worksheet that allows students to invstigate materials and their uses around school (at home for HW). Students can look at specific objects(chair) and write down what it seems to be from. Students are also encouraged to look for the material and say what it is used for...so that materials and properties are approached from both ways. Then the more tricky task of putting materials into groups, students can classify them in their own way..get ready for some unusual classification techniques. As an extension students can continue with materials/objects of their own choice..this usually introduces the student's own interests into scientific method.