3 GREAT SETS OF RESOURCES FOR MATHS MASTERY - SUITABLE FOR YEARS 1 AND 2
3 GREAT SETS OF MATHS MASTERY RESOURCES FOR YEARS 3 AND 4
IT / ICT COMPUTING COMPUTERS RESOURCES GREAT FOR ANY NEW AND EXISTING IT TEACHER PERFECT FOR GAMES AND ACTIVITIES AS WELL AS CLASSROOM DISPLAYS
3 EXCELLENT PACKS OF FOOD ROLE PLAY RESOURCES SUITABLE FOR KEY STAGES 1-2 BAKERY ROLE PLAY BAKE SALE 1950's AMERICAN DINER
4 GREAT SETS OF GEOGRAPHY RESOURCES ALASKA ANTARCTICA MAP LETTERING AND NUMBERS DIRECTIONS AND DISTANCES SIGNPOST
5 GREAT SETS OF CHRISTMAS RESOURCES 2 SETS OF STORY RESOURCES TIMES TABLES RESOURCES TO USE THROUGHOUT THE WHOLE OF WINTER CHRISTMAS ACTIVITIES AND CHRISTMAS POST OFFICE ROLE PLAY AND RESOURCES
5 EXCELLENT SETS OF ROLE PLAY RESOURCES AQUARIUM ZOO DRAGONS SEASIDE SHOP MUSEUM
SAVE MONEY WITH THIS 6 PACK BUNDLE OF RESOURCES -FAMOUS AUTHOR POSTERS -EOIN COLFER -JK ROWLING -ACTION AND ADVENTURE -READING PROMPTS -REASONS TO READ DISPLAY
2 GREAT SETS OF SCIENCE RESOURCES AS SEEN IN THE PICTURE, BE SURE TO CLICK ON EACH PACK TO SEE FULL CONTENTS
SAVE OVER 35% WITH THIS GREAT BUNDLE OF STORY SACK RESOURCES 20 STORIES INCLUDED
SAVE MONEY WITH THESE LIFE CYCLE ACTIVITIES AND RESOURCES (PLEASE NOTE THAT THIS BUNDLE INCLUDES A LADYBIRD PACK AND A LADYBUG PACK - THEY ARE IDENTICAL RESOURCES OTHER THAN THE SPELLINGS TO ALLOW THEM TO BE USED IN THE UK AND USA)
COLOURFUL DISPLAY AND TEACHING RESOURCES FOR EARLY YEARS LITERACY
A GREAT WAY TO SAVE MONEY WITH THESE LITERACY RESOURCES REASONS TO READ POSTERS WITH MINIONS DESIGN PUNCTUATION RESOURCES AND DISPLAY SPELLINGS FOR YEARS 3-4 AND 5-6
6 GREAT SETS OF RESOURCES TO SAVE YOU MONEY INCLUDING VOICE LEVELS DISPLAY CLASSROOM STORAGE LABELS QUICK CHALLENGES WORD SEARCHES AND LETTERING
NUMICON ACTIVITIES AND GAMES SHAPES POSTERS WITH FUNNY FACES COUNTING CANDY
12 GREAT SETS OF ANIMAL RESOURCES - BOUGHT TOGETHER SAVES YOU OVER 30%
Resources included are as follows: 2 5 P D F AND P P T files for you to print. A range numicon resources: small / medium / large numicon blocks to use for different activities or display, 2 dice with numicon pictures to use with board games, jigsaw cards to match picture and number, folder cover, board game, peg cards, worksheets to circle, full set of dominoes with numicon pictures, counting activity with flower gardens and a worksheet to draw and count, cut and stick activity, 4 piece jigsaws to match the number / blocks / pictures / numicon, game spinner, 1 0 sided dice, hopping and jumping game for indoor or outdoor use, large loop cards to 2 0, lucky dip game, full deck of cards to use for card games or matching pairs, more or less loop cards, number bingo with number on mats and matching numicon cards, numicon bingo game with numicon symbols on boards and matching number cards, dart board tally chart interactive game with animated Power Point, hook a duck game with numicon symbols of the base of the duck cards, treasure hunt game, display train – 6 A 4 pages in size with each train carriage containing a numicon symbol.
Resources included are as follows: Forty author posters - half with information and a photo of each other, and half showing different books that each author wrote. Title lettering in a matching zig zag pattern the same as the posters Matching pattered stars to use for display Writing and drawing frames for pupils work Booklet cover for project work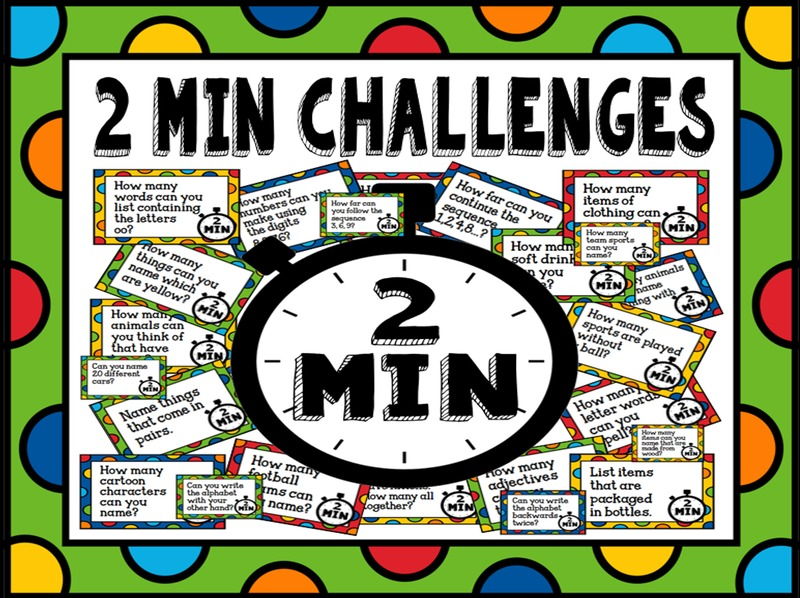 Resources included are as follows: Pdf file for you to print. 100 colourful cards – each with a 2 minute challenge for children to complete. 4 cards per A4 page. Challenges are suitable for all ages and you can pick which ones you prefer. Challenges can be used as starter activities, plenary, or as simple gap fills. Examples of challenges can be seen on the photo.
Resources included are as follows: 45 PDF FILES Story presentation – retelling he story. Dinosaur information pack, specific dinosaur facts posters for each species of dinosaur from the story, Posters for each dinosaur with picture / name / height / weight, Face masks in black and white and color. Hand puppets, story props. Large title lettering, alphabet flashcards, alphabet mats, reward charts, dinosaur topic word flashcards, story sack tag, Speech bubbles for display, character faces for display, dinosaurs for display, blue bucket for display or crafts, dinosaur coloring pages, Describe your favorite part of the story, draw a dinosaur, I like this story because, can/have/are writing task, true or false quiz, carnivore/herbivore./omnivore posters, fact writing cards, story boards to write, 2 label the dinosaur features worksheets and posters to match, learning objective tracker, make a dinosaur face craft activity, retell the story from the dinosaurs point of view, sentence writing sheets, writing booklet cover and writing borders. Train station sign, long banner, directions signs, lost property sign, please pay here sign, tickets available sign, thank you for visiting sign, tickets to make, printed tickets.
Resources included are as follows: Over 35 pdf files Resources for the following topics – taken directly from the curriculum as well as added questions and tasks: Addition and subtraction Multiplication and division Geometry Measurements Fractions Number and place value ALSO INCLUDES: Blank clock to make with hands Fractions chart at the appropriate level Operations signs to use for sums Number flashcards to use for any size sums Money denomination posters Coin pictures to use for calculations Number cards 1-100 in small size Number square Number bonds cards to 20 Counting cards n 2s, 5s and 10s Maths words flashcards Times tables posters for 2, 5 and 10 and a combined poster Shapes posters in 2D and 3D – A4 size Display background, borders, flashcards, numbers, lettering, punctuation, folder cover, resources sack tag, work booklet cover, lined paper, plain paper, and squared paper with patterned borders – all featuring our own version of the popular maths mastery character